How to Celebrate Your First Valentine's Day as an Engaged or Married Couple
Yes, it's different from every other VDay you've had together.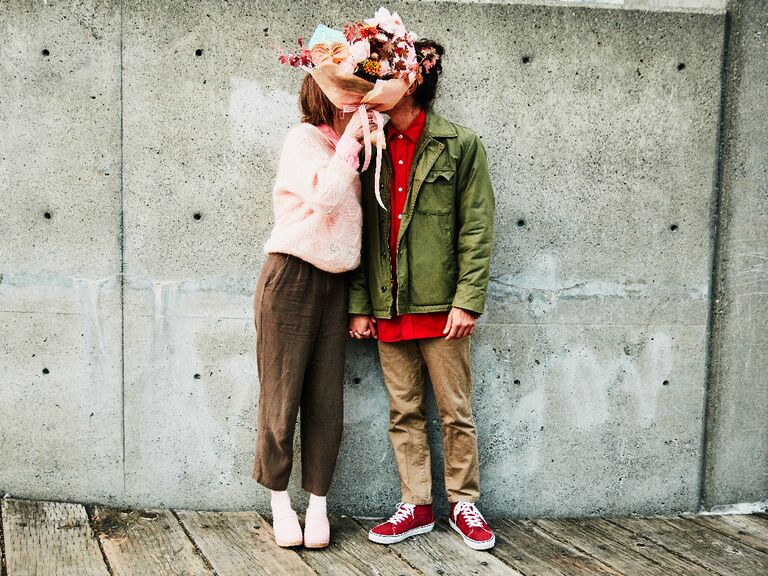 Thomas Barwick/Getty Images
We have included third party products to help you navigate and enjoy life's biggest moments. Purchases made through links on this page may earn us a commission.
Valentine's Day is the most romantic day of the year—and if you're newly dating, engaged or married, the holiday will feel extra special. In the past, February 14 might have included a gift, a card, and a bouquet of flowers or a nice dinner together. But on your first Valentine's Day as a married or engaged couple, you have every right to pull out all the stops and make it a milestone to remember.
What you do on your first Valentine's Day together depends on your personal preferences. Whether you and your S.O. love a night out on the town or tend to keep things low-key and casual, your celebrations should reflect what you both love. But if you need a few "first married Valentine's Day" ideas, we've got covered. We've rounded up 10 super-romantic ideas for your first Valentine's day married or engaged. Follow our top tips below to give your special someone a VDay celebration they'll never forget.
Buy a Meaningful Valentine's Day Gift and Card
How you celebrate your first Valentine's Day together is completely up to you, but it is customary to get your loved one a special gift and a card. Whether you prefer a present that's sentimental or funny, Valentine's Day gifts for your first year married should be tailored to what your partner really loves. If you aren't sure where to start, check out our roundup of the best Valentine's Day gifts for your S.O. For more niche ideas, we've also curated gift guides for foodies and chocolate lovers too. Once you've found the perfect gift, don't forget to get them a "first married Valentine's Day" card too.
Plan a Special Trip
On your first Valentine's Day as an engaged couple or as newlyweds, you can never go wrong with a special trip. This romantic holiday is an opportune time to plan that vacation you've been wanting to go on, whether it's a mountainous adventure or a tropical getaway. (After all, who doesn't want to lounge on the beach in the middle of February?) Where you jet off to doesn't matter, as long as it's a destination both you and your S.O. will love. (Psst: If you're married, this is a perfect occasion to use those cash gifts you may have received on your big day.)
Enjoy a Staycation
Conversely, your first Valentine's Day together doesn't have to include a flashy trip to a far-flung location. In fact, you can have just as much fun with a staycation close to home. Rent a room at a nearby hotel or Airbnb, or set aside time for an uninterrupted weekend in your newlywed nest. You'll have just as much fun in your hometown celebrating with a low-key romantic date night.
Watch Your Wedding Video
What should you do on your first married Valentine's Day? Watch your wedding video, of course! Light some candles, pop a bottle of bubbly, cozy up on the couch, and relive your favorite wedding memories on the most romantic day of the year. And if you aren't newlyweds just yet, this is your sign to invest in a videographer so you, too, can watch your wedding video on your first Valentine's Day married.
Open a Bottle of Your Wedding Wine
In keeping with the best ideas for your first Valentine's Day as a married couple, we recommend enjoying a bottle of your wedding wine (to go along with your wedding video watch party, of course). While not every couple selects a specific wedding wine blend for their big day, being intentional about your vino selection is a great way to personalize your nuptials and curate your menu. Plus, every time you enjoy a bottle in the future, you'll be flooded with memories of your big day.
Plan a Spa Day
Nothing says love quite like some R&R. This is particularly fitting for a newlywed first Valentine's Day. After months spent planning your wedding day, you'll both appreciate some time to prioritize self-care. Book a couple's session at a local spa for a day of facials, massages and sauna time.
Spice Things Up
February 14th is the perfect day to heat things up in the bedroom—especially if it's your first Valentine's Day as an engaged or married couple. Buying a couple's sex toy from a brand like LELO or Dame is a fun and spicy way to connect with your desires and celebrate this holiday all about love. (And if you're lucky, you might even be able to snag some great VDay sales on high-end toys.)
Treat Your S.O. to Their Favorite Things
Whether you're celebrating your first Valentine's engaged or married, you likely have a good sense of what your partner absolutely loves—so gift them their favorite things on this heartfelt occasion. You know your partner better than anyone else, so be thoughtful about how you show your appreciation for them. Do they always have a book in their hand? Treat them to a new reading lamp and a subscription to a book club. Are they always sprucing up your home with fresh flowers? Surprise them with a bouquet of their favorite blooms. Beyond looking for "first Valentine's Day married" gifts, also consider experiences that will mean a lot. Concert tickets, museum passes, cooking classes, or unique date night activities will create priceless memories you'll cherish for years to come.
Recreate Your First Date
Your first Valentine's Day as fiances or newlyweds is the start of a new chapter, but that doesn't mean you can't take it back to the very beginning. One of our favorite Valentine's Day ideas is to recreate your first date. Think back to your first night together. Where did you go, and what did you do? If you can, recreate this special memory as a nod to where you started, and to celebrate where you have yet to go.
Have an Unplugged Celebration
On your first Valentine's Day together, you probably want to give your special someone a sweet post on social media. After all, it's a great opportunity to share your favorite wedding or engagement photos. (And if you're looking for "first valentine's day married" quotes, we've got a list of great Instagram captions right here.) But there's also something invigorating about spending your first Valentine's Day as a married couple completely off-the-grid. Put your phones on Do Not Disturb, and focus your attention on each other for the holiday. It's a great chance to plan a special date night, a weekend getaway, or a cozy night at home. Set the mood with candles, your favorite meal and delicious drinks, and use your first Valentine's Day to strengthen your connection. Play some couple's games, have deep conversations, and soak up uninterrupted quality time with your S.O.
Host a Valentine's Party
Why not consider hosting a Valentine's Day party for your nearest and dearest? This fun Valentine's Day idea is particularly appropriate if you and the majority of your friends are celebrating your first holiday as fiances or newlyweds. Decorate in pinks and reds, stock up on candy hearts and chocolate, and plan a fun evening of dinner, drinks and games to enjoy with your inner circle. This fun Valentine's Day idea is ideal for couples who love to host, but be mindful of the timing of your party. Since most couples will have separate Valentine's Day plans, consider hosting your soirée a few days before or after February 14 so all can attend.