24 Sweet Valentine's Day-Inspired Details for Your Wedding
Cupid approves.
Whether you got engaged on Valentine's Day (it's one of the most popular days to propose, after all) or you just can't get enough of the most romantic day of the year, hosting a Valentine's Day wedding is the perfect excuse to pile on the lovey-dovey vibes. Sprinkle your February I dos with romantic decor and traditions inspired by the holiday, either by choosing a themed color palette, incorporating Cupid's arrow motifs, adding candy to your dessert table, surprising wedding guests with individual love notes—or all of the above. If you're planning a V-Day wedding, here are some handy tips to consider, plus 24 stylish ways to infuse the holiday into your big day.
In this article:
Tips for Planning a Valentine's Day Wedding
A wedding taking place on or near February 14 definitely calls for a sweet nod to the most romantic holiday of the year. Whether you're planning an entirely Valentine's Day-themed wedding or just looking for ways to add subtle inspiration here and there, these tips will help you get started.
Share your love story.
On any wedding date—but especially Valentine's Day—the main goal of your nuptials should be to share and celebrate your love story. Pull inspiration from your relationship and think about how those details could tie into the decor or experiences of the day. A few examples include serving the same type of food you ate on your first date, a signature drink inspired by your favorite vacation spot or wedding favors that speak to a hobby the two of you love.
Use a red and pink wedding color scheme.
Valentine's Day is synonymous with pink, purple and red, so use all three for your main color palette to really double down on the Valentine's Day wedding theme. If you're going for a more subtle take on V-Day, you can still work these tones into your wedding decor and other details. A classic black-and-white color palette can serve as your base. Then, add pops of pink, red and purple through the floral arrangements, stationery, wedding cake or tablescape decor. You can also branch out with lighter and darker accent colors, such as mauve or blush in place of bubblegum pink and dark burgundy in place of cherry red. Finally, adding hints of metallic gold or silver with vases, table linens, candlesticks and other small items will add to the luxe, romantic aesthetic.
Create a cozy lounge area.
A winter wedding is a great opportunity to set up cozy, romantic nooks throughout your reception space. For lounge or cocktail areas, a few faux-fur pillows or throws will soften the mood and encourage guests to hang out and relax. A lounge area is also a great place to honor all the love stories from generations before you by displaying photos of family members on their own wedding days. For the finishing touch, if a fireplace or fire pit is an option, by all means, light it—or create the illusion of a lit fireplace with dozens of candles.
Decorate with roses and other flowers.
Roses on Valentine's Day are a given, but there are other gorgeous winter wedding flowers that are just as lovely. When looking for red flowers, consider amaryllis, ranunculus or tulips. If you want pink or purple blooms, you can use hellebores, sweet peas, carnations and peonies. For white flowers, try calla lilies, orchids, paperwhites or anemones.
Find your kind of venue
From barns to ballrooms, discover reception venues that feel like you.
Set the mood with candles and soft lighting.
When the days are short, decorative lighting becomes even more important to set a cozy mood at your wedding venue. Strands of bistro lights and pin spotting create a classic setting, while neon signs, bright white LED lights and gobos help illuminate the dance floor if your goal is to party all night long. And of course nothing says romance like a candlelit dinner—the glow from the candles will be amplified even more if you choose sequined or satin table linens and mirrored accents. Tall candelabra centerpieces are ornate and formal, while small floating candles and tea lights are more intimate and low-key.
Serve a signature cocktail.
A Valentine's Day wedding calls for its own signature cocktail. Think pink by serving cosmopolitans or margaritas in pink sugar-rimmed glasses, or serve coupes filled with pink brut rosé and edible gold flakes. Other red garnishes, like pomegranate seeds, strawberries, cherries or raspberries instantly make any cocktail more festive. Lastly, consider swapping out the usual bar mix of peanuts for classic Valentine's Day candies, like conversation hearts, M&M's and chocolate kisses.
Play sentimental music.
There's a good chance your first dance song will be a sentimental one, but to keep the romantic mood going all night long, ask your guests to share their own favorite love songs when completing their RSVP cards. Mixing some of those tunes into your playlist is a great way to honor loved ones and help them relive their favorite memories.
Load up on sweet treats.
It's Valentine's Day, so you can bet that there will be no shortage of candy and sugary treats. For your wedding cake, pink and red flowers will pop against white buttercream or fondant. You can also choose flavors like red velvet cake or strawberry shortcake so that each slice has a hint of color. Aside from cake, we love the idea of serving decadent desserts inspired by Valentine's Day, such as chocolate-dipped fruits, macarons, or miniature chocolate cakes drizzled with raspberry syrup.
Write a love note for each guest.
Remember how much fun it was to send (and get) Valentine's Day cards at school? Recreate the childhood tradition by surprising each of your guests with a short handwritten card or note at their place setting. Alternatively, you can send everyone home with something sweet, like prepackaged candies—chocolate truffles or chocolate-covered espresso beans are a few examples—in boxes with name tags.
Valentine's Day Wedding Ideas
Need to visualize what a Valentine's wedding actually looks like? Check out these ideas from real weddings to see how other couples pulled the theme off, from heart-shaped decor to festive attire and desserts.
1. Valentine's Day Wedding Invitations
Your wedding invites don't have to be covered in hearts unless you want them to be. Otherwise, a pink and red palette will convey the Valentine-inspired theme to your guests and get them ready to celebrate.
2. Red and Purple Wedding High Heels
White high heels are classic, but we can't resist how fun these colorful red and purple pumps would be for a Valentine's Day Wedding. Designed by Vivienne Westwood, the heart-adorned shoes are like something straight out of Carrie Bradshaw's closet.
3. Red Wedding Dress
Colorful wedding dresses are here to stay as a major trend, and what better time to rock a red dress than on Valentine's Day? Alternatively, you could choose a gown in a pale blush tone or a white dress accented with red and pink embroidery.
4. Velvet Bridesmaid Dresses
The fall and winter months are prime time to outfit your bridesmaids in velvet dresses. A deep crimson shade is romantic and luxurious.
5. Pink and Red Wedding Bouquet
Flowers are one of the easiest ways to tap into your wedding color palette. This Valentine's Day wedding bouquet is ready for the occasion with pink roses, peonies, ranunculus, campanula and burgundy scabiosa.
6. Burgundy Wedding Tuxedo Jacket
Swap a blue or black tuxedo for a burgundy style instead. This shawl collar jacket is dapper and contemporary, while the black bow tie and minimal accessories keep the overall look timeless.
7. Heart-Shaped Sunglasses
Whether you wear them in portraits or only bring them out as after-party props, a pair of heart-shaped sunglasses just makes sense if you're getting married on Valentine's Day. If you want everyone to get in on the fun, hand them out as guests are heading to the dance floor.
8. Romantic Wedding Ceremony Backdrop
Create a picture-perfect backdrop for your heartfelt wedding vows by draping white organza or chiffon in front of a greenery wall. Red and pink flowers will pop in photos while tying into your theme.
9. Flower Wedding Ceremony Arch
You can't go wrong with a classic floral-covered wedding ceremony arch. Fuchsia and blush roses brought color to this design made of white hydrangeas.
10. L-O-V-E Marquee Letters
Marquee letters are great for filling out any random spaces at your wedding venue, such as an empty wall, venue threshold or restroom waiting area. For a Valentine's Day wedding, it only makes sense to spell out the word of the day.
11. Red Rose Petals Along Ceremony Aisle
Sometimes, you don't need to mess with the classics. For a quintessential Valentine's Day look, line your wedding ceremony aisle with red rose petals leading to the altar.
12. Heart-Shaped Balloons
Use heart-shaped foil balloons to create a quick, fun backdrop for the ceremony or your sweetheart table. They're a guaranteed photo op for your guests, too.
13. Wedding Lounge Area
A DIY lounge area gives guests a place to mingle during cocktail hour or after dinner. String lights and a vintage pink rug set the scene for these vintage upholstered rentals.
14. Cupid's Arrow Pillows
Decorate your sweetheart chairs or a welcome area with themed throw pillows, like these hearts with cupid's arrow.
15. Wedding Hashtag Sign
Encourage your guests to share the love—in other words, their photos—with a creative wedding hashtag sign decorated with some simple flowers.
16. Valentine's Day Wedding Escort Cards
Use patterned wallpaper or fabric to create the backdrop, then fasten your wedding escort cards to the display using cute heart-shaped pushpins.
17. Flower Wall with Red Roses
Going for a modern Valentine's Day wedding vibe? This wall of greenery and red roses is chic and understated with "amour" written in white neon letters.
18. Colorful Wedding Glassware
Finish your tabletops with red, purple or pink glassware that matches the theme.
19. Vintage Valentine's Day Cards
Avid thrifters and antique lovers will appreciate this idea. Incorporate vintage postcards and other Valentine's Day ephemera to your wedding decor, such as the centerpieces or signage, for a homey, one-of-a-kind look.
20. Wedding Flowers with Candles
Decorate your cocktail bar, welcome table or dessert table with a simple (but always classy) combination of red roses and white pillar candles.
21. Mailbox for Wedding Cards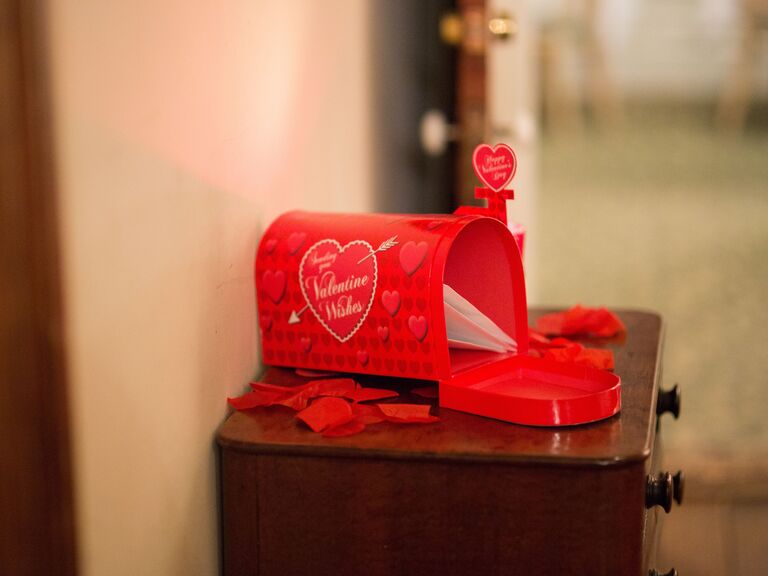 Skip the standard wedding card box and repurpose a vintage mailbox to collect cards and other gifts instead.
22. Red Rose Wedding Cake
For their winter wedding, this coupe transformed their five-tier cake with pink and red sugar roses cascading down the side of the design.
23. Pink Strawberry-Frosted Doughnuts
Doughnuts are a favorite late night wedding snack or take-home favor. Pink frosting is a must for Valentine's Day—even better if you add heart-shaped sprinkles.
24. Vintage Wedding Photo Booth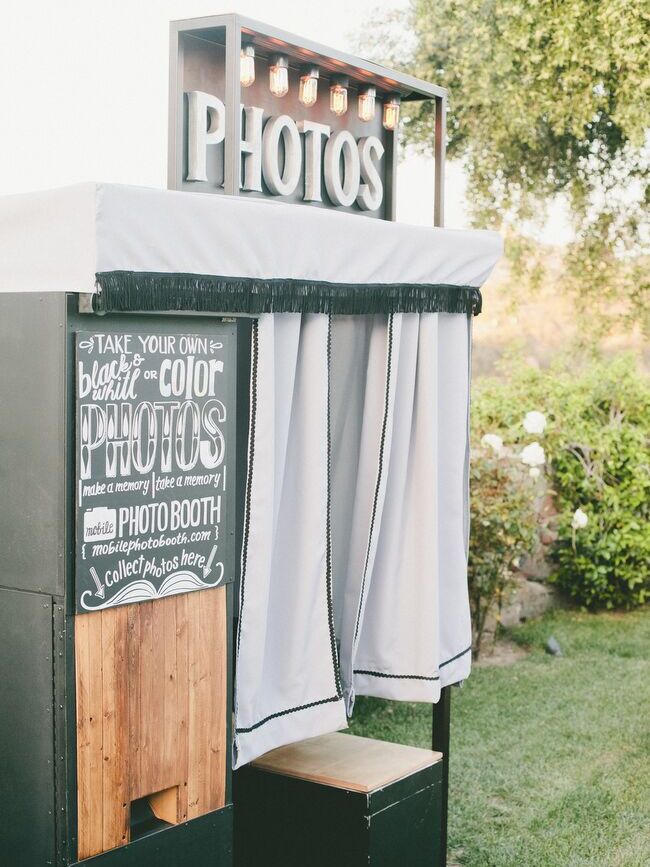 Guests will have a blast popping into a vintage photo booth during the cocktail hour and reception. Look for a photo booth that prints old-school black-and-white pictures for the most nostalgic effect.