21 Wedding Guest Book Signs So Good They'll Have to Stop
Get your guest book noticed with these nifty nuptial signs.
We have included third party products to help you navigate and enjoy life's biggest moments. Purchases made through links on this page may earn us a commission.
There will be tons of souvenirs from your wedding day, from your professional portraits and photo booth snaps to your wedding rings and highlight reels. But personal messages of love and congrats from your favorite people are keepsake-worthy as well. That's why having a wedding guest book sign to direct all your friends and family to your guest book table and encourage them to pen something poignant is so important. It'd be such a bummer to spend money on the perfect wedding guest book only to open it later and find very few entries from your special day.
As the newlyweds, you probably won't want to forfeit any precious social time during cocktail hour just to guarantee your guest book is fully autographed by night's end. So, to help take pressure off and allow you to relax and enjoy the day, let your table sign do the work. A few friendly, nonchalant reminders from your emcee or DJ throughout the wedding reception can also make your "please sign our guest book" point without sounding too much like a plea.
Ahead, check out 21 signs bound to inspire all the inscriptions.
Jill Means Watercolor Floral Guest Book Sign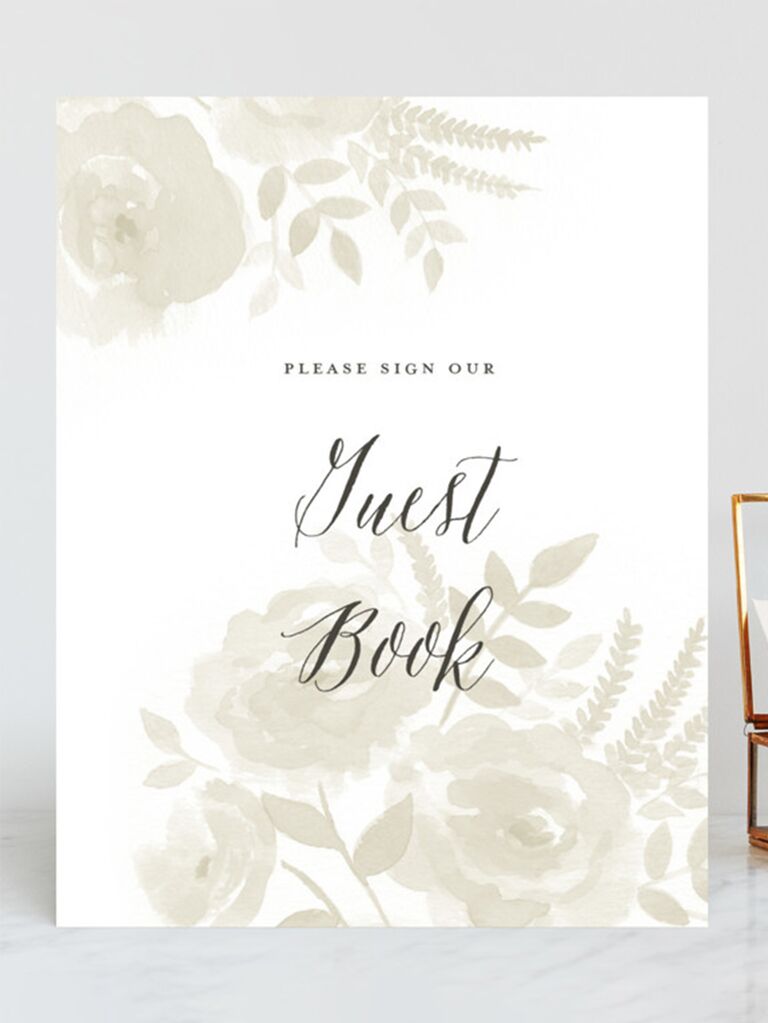 A great guest book sign will charm and engage your guests, but not distract them from the task at hand. Something like this dreamy watercolor floral design is pure magic. Pretty petals, luscious leaves and a springtime palette of pastels? Consider it apropos for a wedding, bridal shower, bridal luncheon or even your postwedding brunch.
Sweet Carolina Collective Please Sign Our Guest Book Acrylic Wedding Sign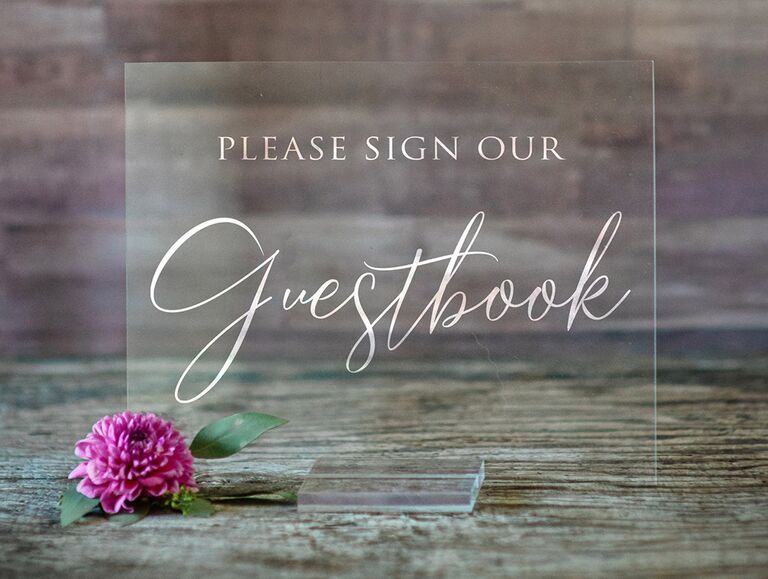 This modern acrylic guest book sign is clearly a winner, especially when surrounded by scattered flowers or a lush greenery-filled garland. We love the coupling of white paint calligraphy with classic print typography, and the fact that you can order the sign by itself or bundled with "Gifts & Cards" and "Forever in Our Hearts" placards.
Wishful Paper Boutique Printable Heart Guest Book Sign Template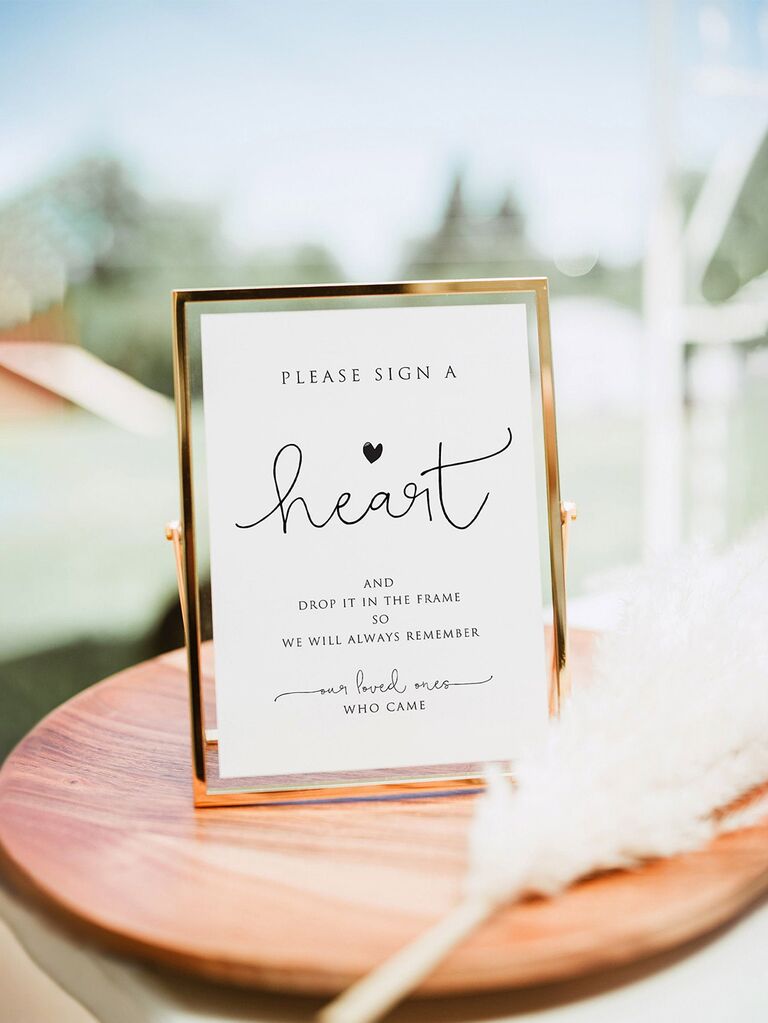 If you have a unique shadow box-style guest book, you'll need a sign that guests can follow. This super-cute printable with a memorable rhyme and whimsical hand-drawn heart tells guests they can sign and offer their well-wishes on cute wooden hearts, then drop them through the slot up top. You can even customize the template to mention your plans to hang it up in your home and cherish it forever.
Amy Payne Terrazzo Frame Guest Book Sign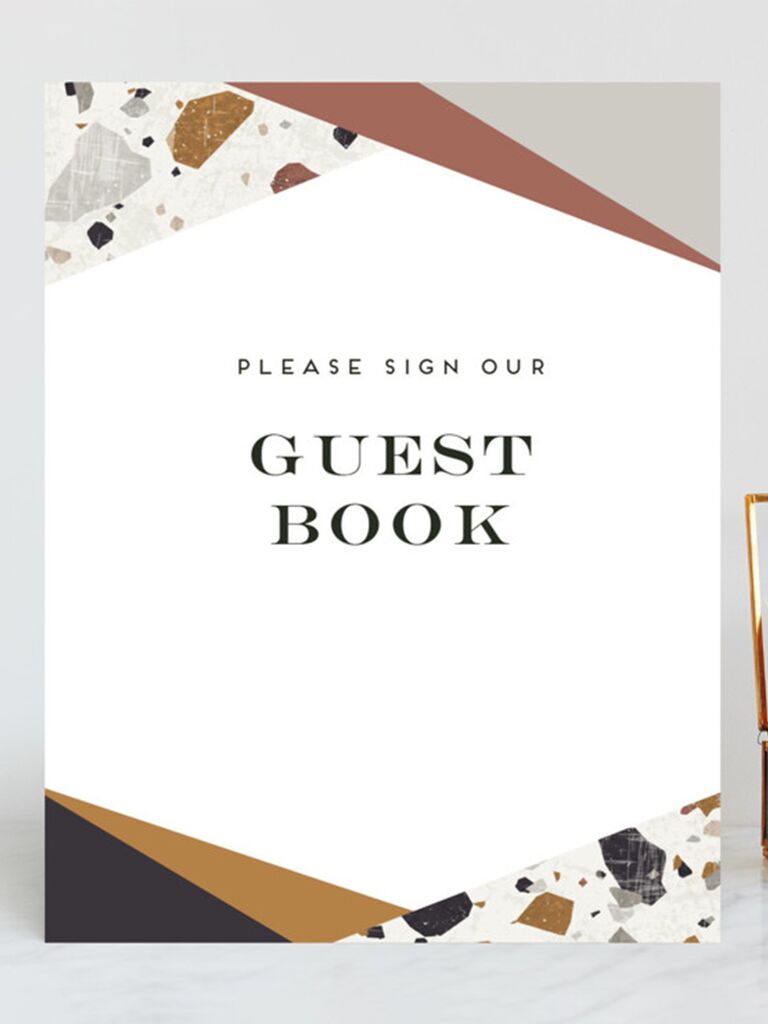 As we always say, your wedding day should be a total reflection of you and your partner's styles, so if the terrazzo trend has made it into your home decor, think about weaving the flecked interior fashion cues into your wedding decorations—guest book sign included. The earthy, ochre neutrals and rich-and-moody jewel tones are a perfect match for fall and winter weddings.
Salvaged Chic Design Laser Engraved Guest Book Sign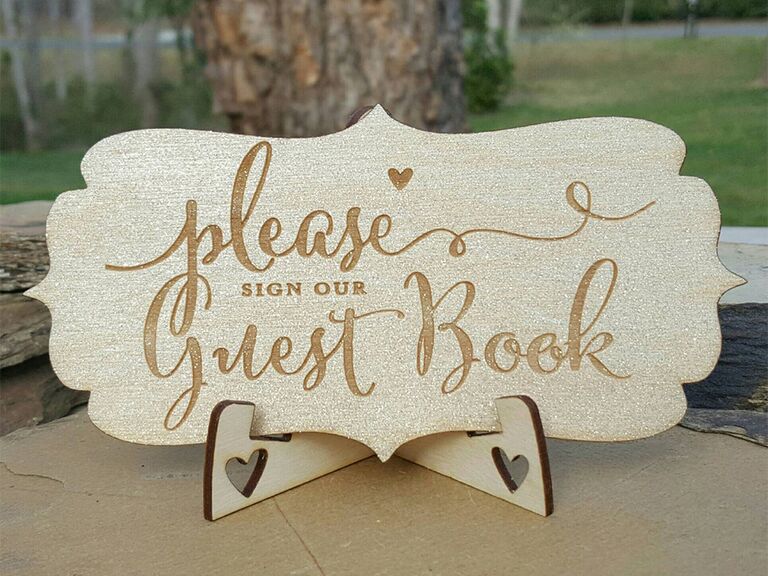 If a rustic wedding is in your future, a wooden guest book makes perfect sense. Keep the vibe going with a scalloped-trim wedding table sign that would look right at home at a summer-camp-style soiree or an open-air barn reception. Since the sign is laser engraved—with your choice of natural wood, silver or gold-sparkle finish—the impression won't fade or rub off.
The Knot Shop Personalized Date Night Sticker Sign for Wedding Guest Book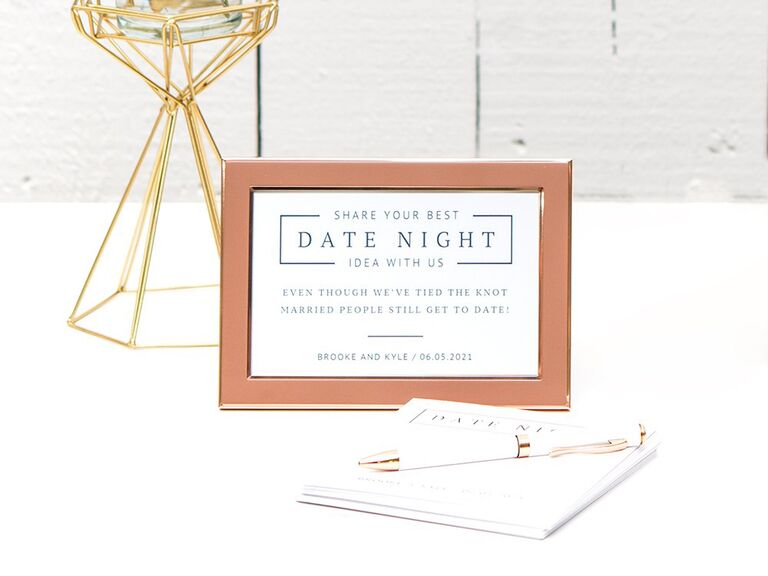 Traditional bound wedding guest books are great, but wedding guest book alternatives—like a date-night recommendation box—can also be a lot of fun. And of course, you'll need the right sign to go with your box. These vinyl stickers can be applied to most smooth surfaces, like glass picture frames. The best part? The stickers peel right off, meaning you can reuse the frame later with one of your wedding photos. If you'd like to change the message on the sticker, you can write your own unique one instead.
The Knot Shop Personalized Advice and Wishes Sticker Sign for Wedding Guest Book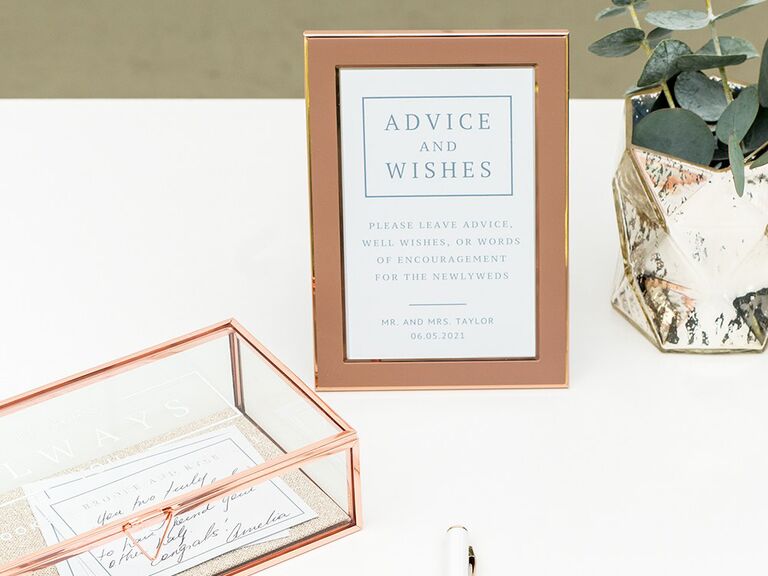 Date night advice is especially handy once your honeymoon phase has come to an end, but "keys to a happy marriage" wisdom is valuable any time after you exchange vows. Pair your glass or lucite collection box with a sticker frame that invites your guests to leave it all (the wishes and advice, in lieu of a simple signature, that is) on the table.
Charming Endeavours Greenery Please Sign a Jenga Block Printable Sign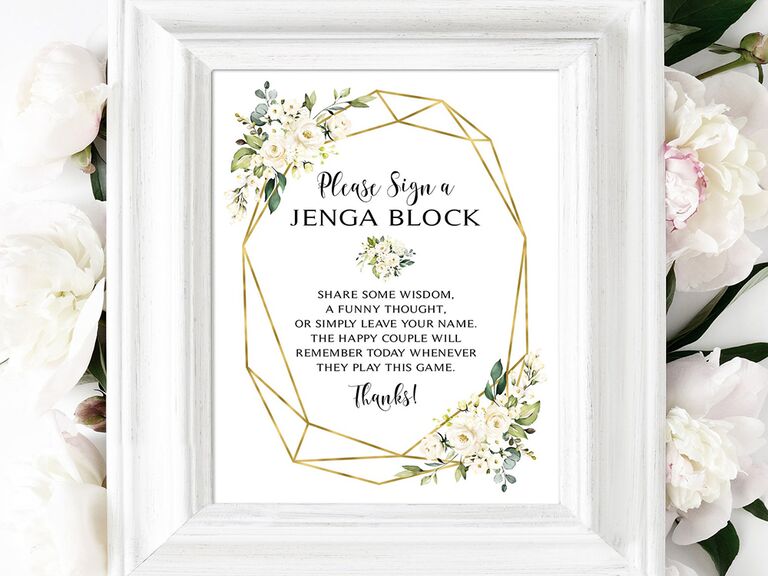 You can't hit the mark with a game-inspired guest book unless your guests step up to the plate with on-point personalized messages. If it's Jenga, that means a note on every block, so get your VIPs pumped with a sign that says "Share some wisdom, a funny thought, or simply leave your name. The happy couple will remember today whenever they play this game."
Linen and Copper Custom Fabric Sign for Guest Book Table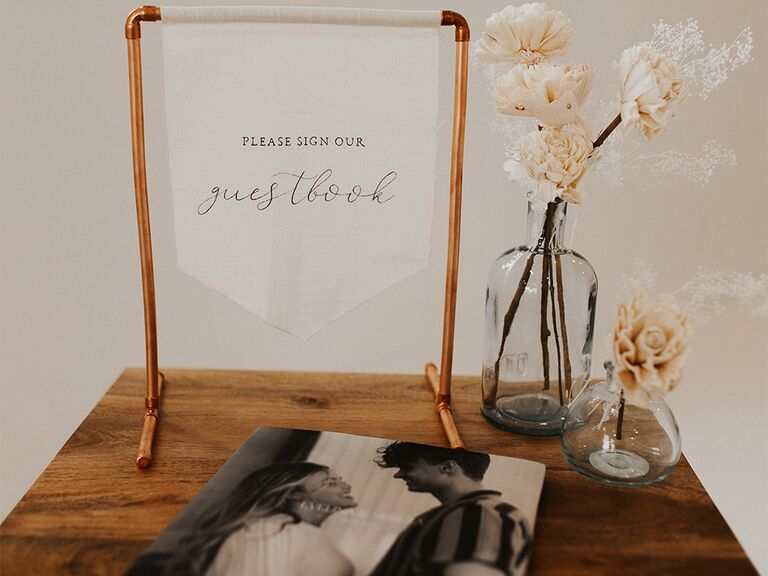 Made from high-quality linen, this custom fabric sign is a great choice for an industrial wedding or warehouse setting. Since it's handmade using no stencils, the lettering may vary slightly from order to order, but that's the beauty of a handmade item, right? Set the copper stand up next to a few glass bud vases or apothecary flower jars and leave your black-and-white photo guest book (and all of your beautiful engagement photos) out on display. It's a mood, alright, and we're so here for it.
Paper Canoe Printables Sign a Puzzle Piece Guest Book Sign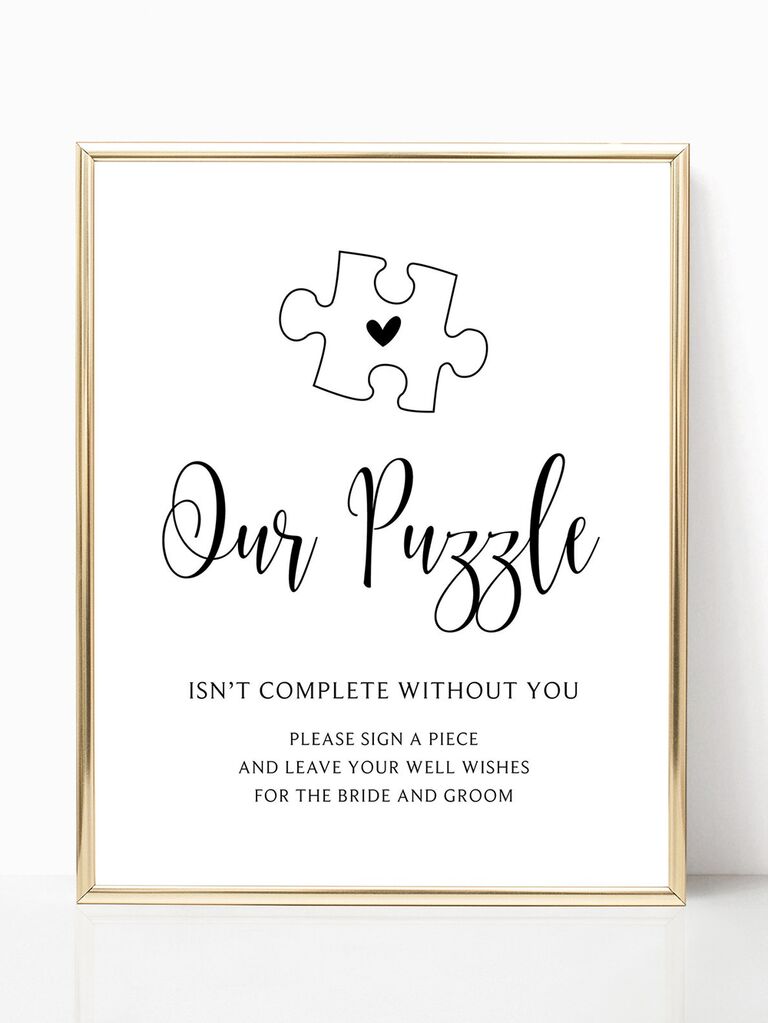 If wooden jigsaw puzzle pieces are what you want guests to sign, this printable template sets a major scene. As soon as your guests see that cute puzzle piece illustration, they'll put it all together.
Paper and Pine Co. Wooden Guest Book Sign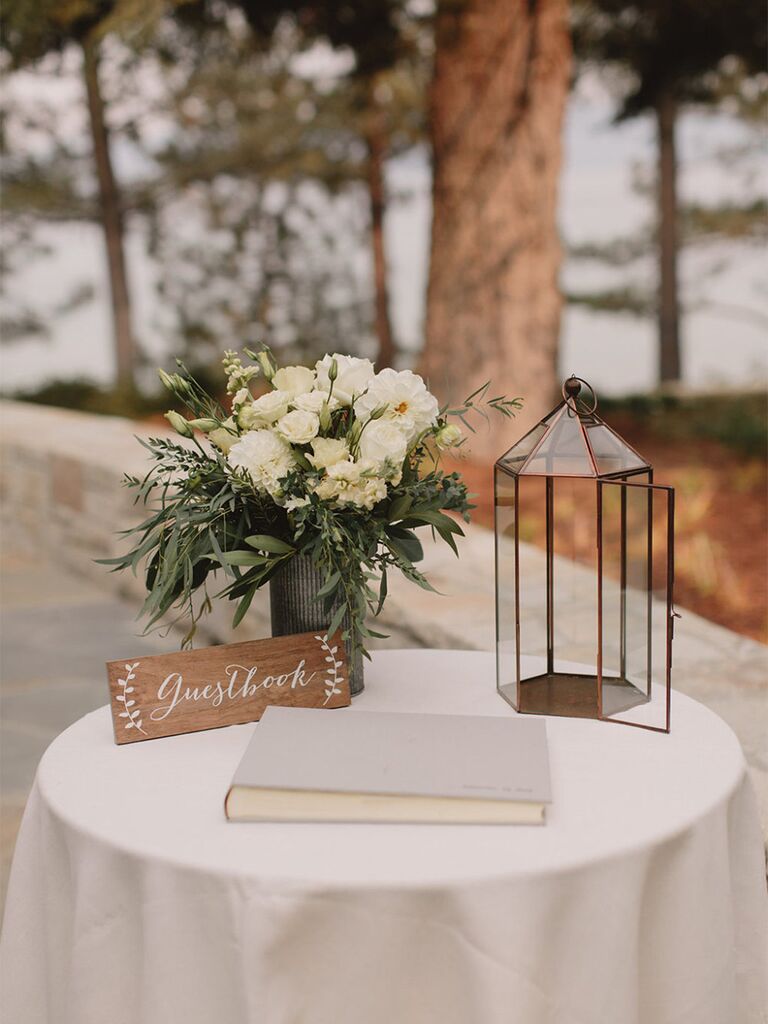 Sometimes, just seeing the words "guest book" is enough to get guests to put down their drinks, stop dancing and leave some love for the happy couple on their special day. That's what this minimalist birch-veneered plywood pick does with simplicity and botanical elegance (via those vines). While you can get a small stand to hold it in place, we're pretty obsessed with it as is.
Yippee Daisy Wedding Photo Guest Book Sign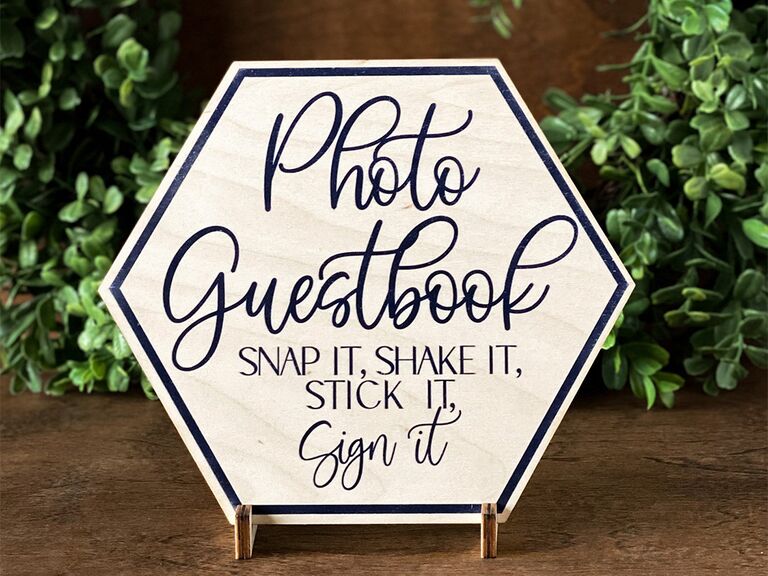 Want your guests to shake it like a Polaroid picture on your big day? Consider it done with this acrylic or baltic birch signage piece that highlights their must-dos (snap it, shake it, stick it and sign it) to leave you something memorable. Stands come with each purchase, but you can also use Command strips to affix the sign to your welcome table. Vintage cameras aren't included, but they're a worthwhile grab to keep friends and fam snapping all the way through your after-party.
Side Street Designs Printed Rustic Guest Book Sign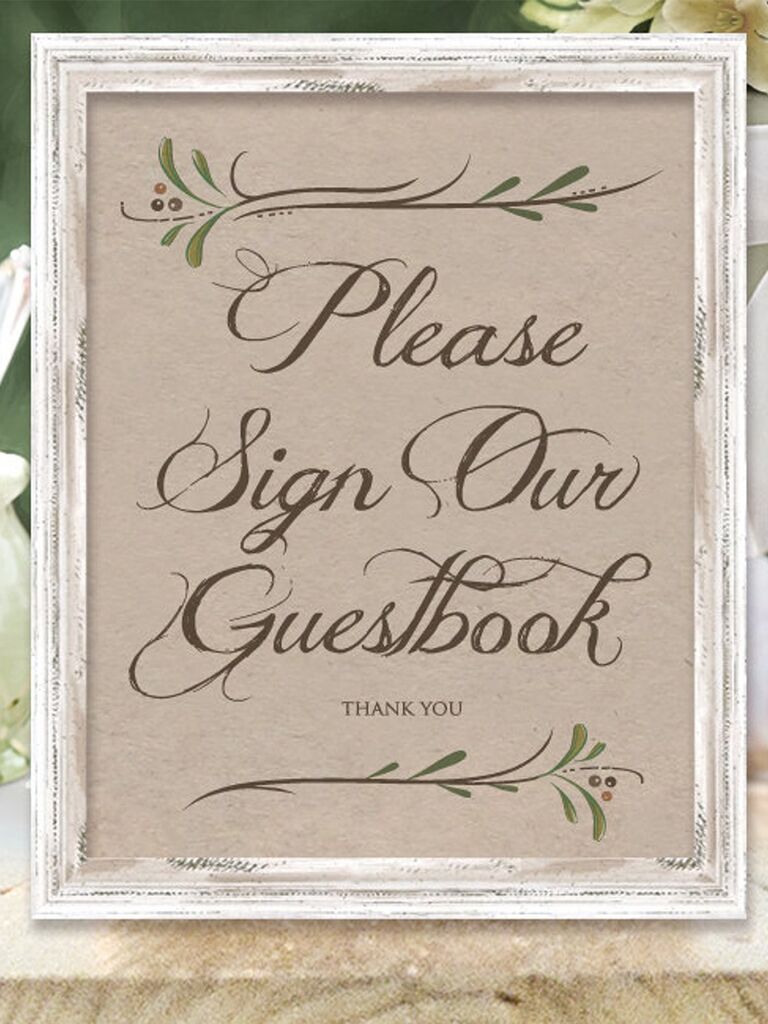 Nothing says rustic wedding more than Kraft-colored cardstock. This sign comes with cozy brown calligraphy and swirly sprigs of greenery for an even more elevated look. Place your print in a vintage farmhouse frame and finesse your tabletop with some fairy lights. Extra points for strands accented with mini leaves.
VG Invites Rustic Eucalyptus Greenery Wedding Guest Book Wooden Box Sign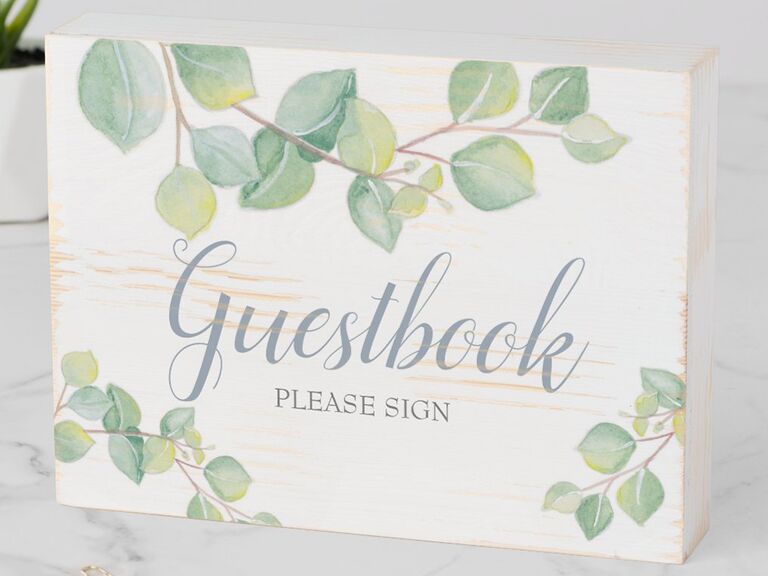 Garden weddings call for something full of life, and that's what we love about this whimsical wood sign. You can personalize two lines of custom text in calligraphy and block lettering, although "Guestbook" and "Please Sign" are nice and straightforward. The border of watercolor eucalyptus foliage art—in sundry shades of green—is ethereal, making for a sign that can easily stand up to any soft ivory or pastel linen-dressed table.
Vinyl Funk Vinyl Decal Sticker for Wedding Guest Book Sign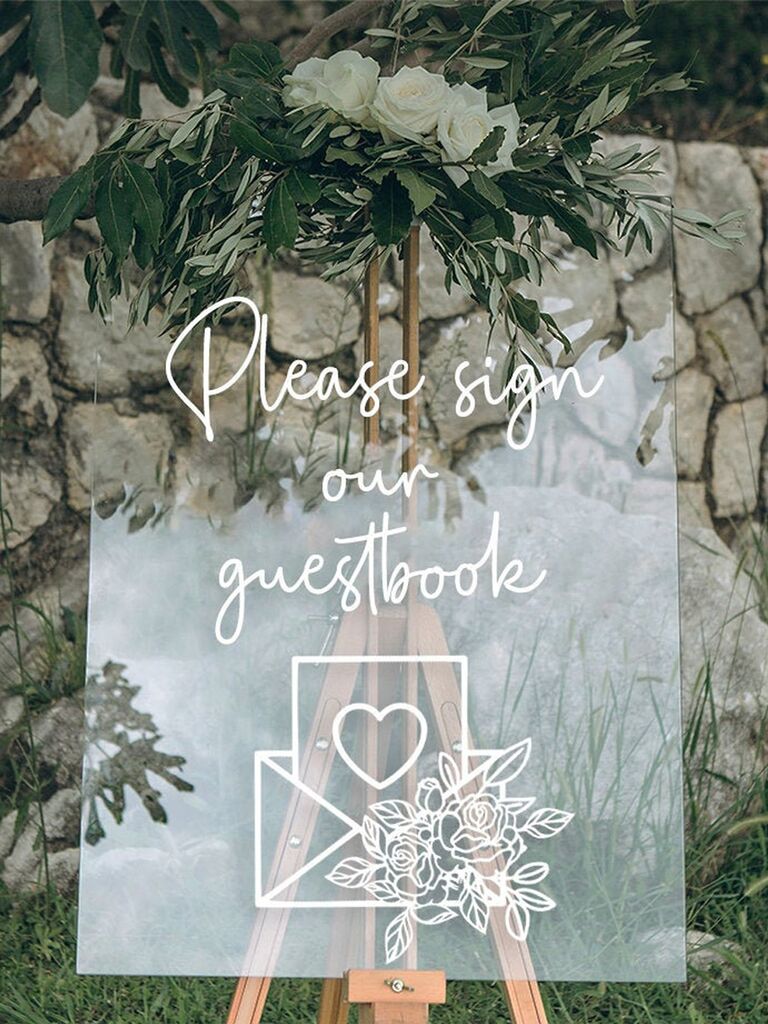 If you have some extra time on your hands before the wedding, you can always opt for a custom vinyl decal and then adhere it anywhere you'd like. Acrylic boards, mirrors, chalkboards, lucite or any smooth presentation-viable surfaces make the most sense, and being that the vinyl stickers come with transfer paper already, they're very quick and simple to apply. Drop the sign in an easel with some floating florals, and you're all set.
Modern Album Designs Guest Book Sign With Wood Stand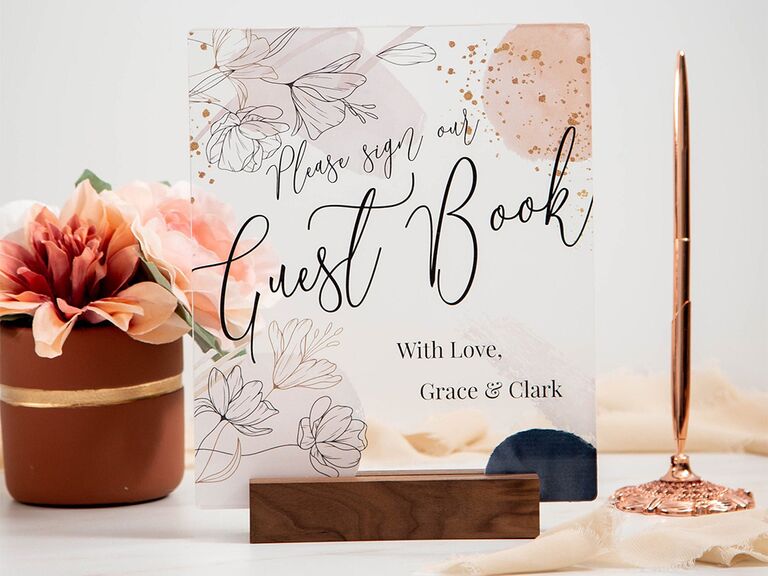 We just love this one for its beautiful, minimalist design. The watercolor detail, hand-drawn botanicals and splatter of metallics feel so modern and intentional, as does the fine-tipped calligraphy and "With Love" sign off.
Clouds & Currents Floral Wedding Wooden Guest Book Sign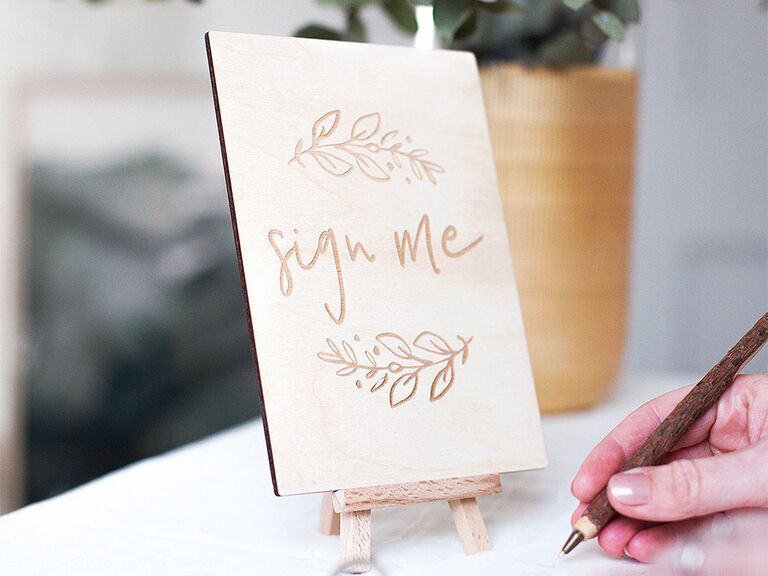 Looking for the perfect accessory for your homespun country wedding? Hold our twig pen for a second… Framed by a delicate floral wreath design, the words "Sign Me" beckon your guests to share well-wishes and dreams for your happily ever after. It doesn't come with the mini wooden easel that's pictured, but you can easily pick one up at any art supply store or studio.
Zinger Bug Simple Gold & White Please Sign Guest Book Sign Plaque
This self-standing plaque is fully customizable and perfect for a party with touches of gold in the color scheme. The faux gold-foil florals add a sophisticated touch, and would look fantastic among gold metallic tea lights or antique mercury glass votives.
Lulu and Isabelle Sunset by the Sea Guest Book Sign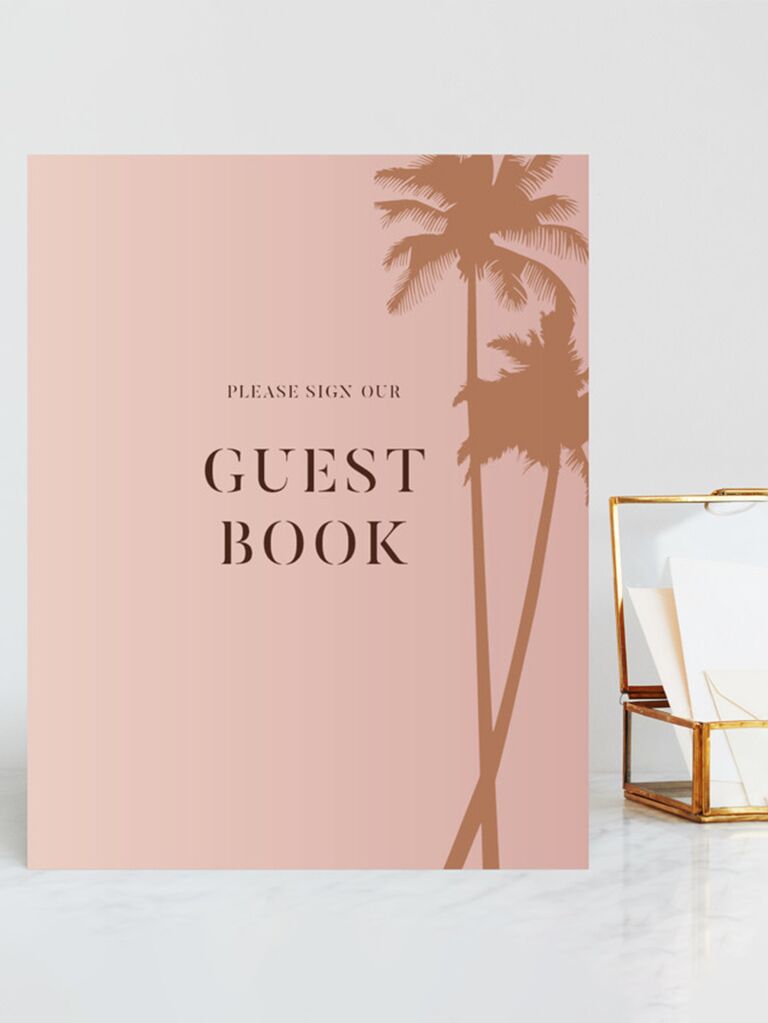 If you're having a destination wedding, something like a small sign included in welcome bags could be the perfect gentle reminder for loved ones to sign your guest book. This foil-pressed signage recreates the mood of a romantic sunset by the sea, with swaying, shimmering palm trees and a beautiful gradient sky.
Blush Paperie Modern Black Wedding Guest Book Sign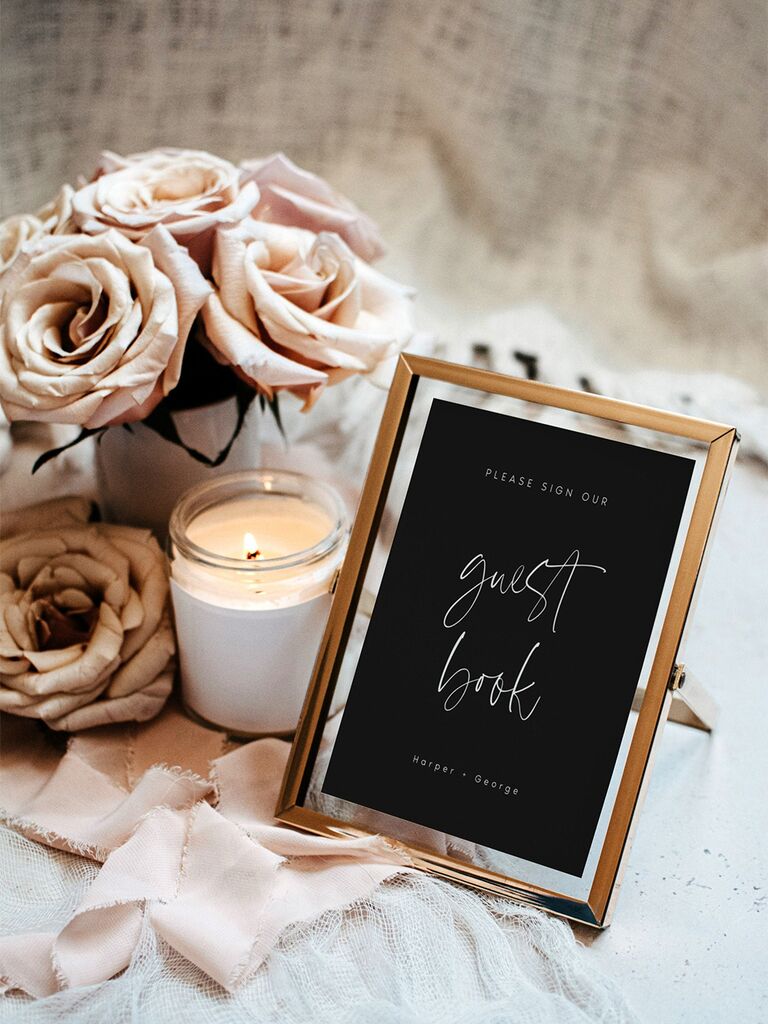 Instant download templates are amazing if you're on the hunt for a pretty and easy-to-customize wedding sign. All of the pertinent details are here, including your names and your "Please sign our guest book" request, and since you're purchasing the template, you don't have to worry about installing software or downloading fonts—they're yours for the day.
The Virginia Artisans Laser Cut Please Sign Guest Book Sign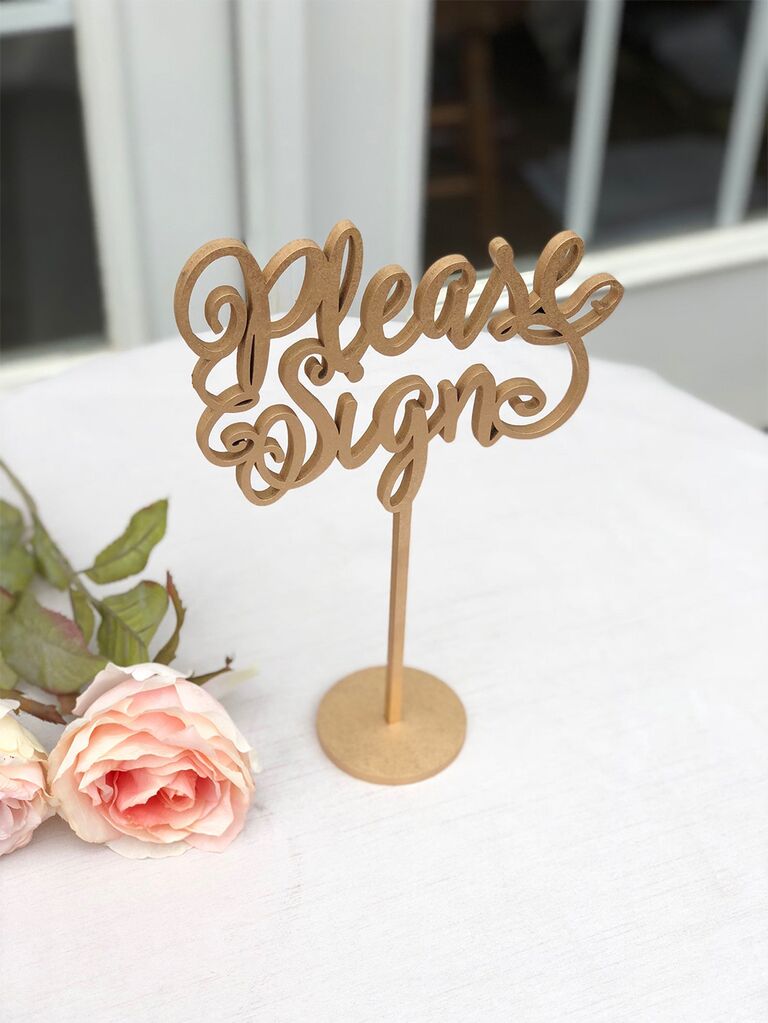 Reminiscent of a wedding cake topper, this gold, silver or natural wood table sign comes with a detachable round base that's easy to assemble for different styling options. You can use it with the base for a freestanding guest book table sign or without the base to be inserted in a floral centerpiece.