Top Tips for the Best Wedding Hair and Makeup
Beauty guru Brittany Lo gives the scoop on getting flawless wedding hair and makeup.
by Shelley Brown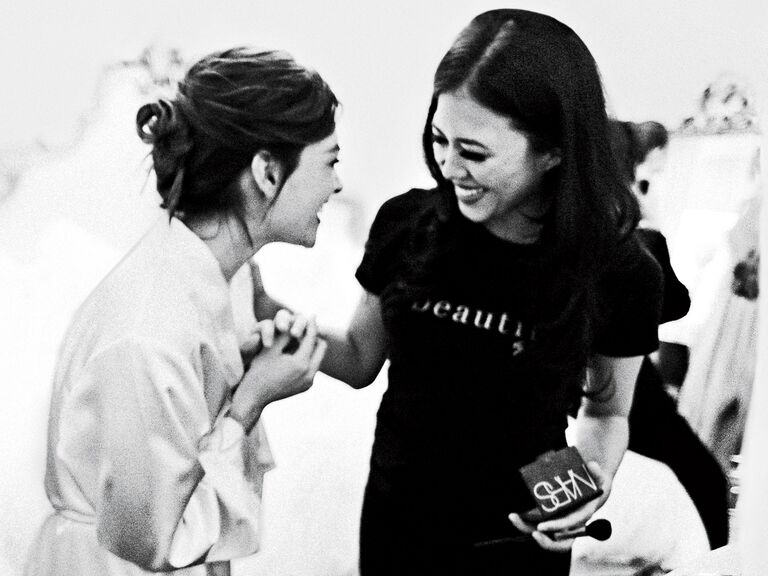 If anyone knows the dos and dont's of wedding hair and makeup, it's Beautini founder and CEO Brittany Lo. Since launching the bridal beauty company in 2015, she's helped thousands of brides—as well as bridal parties and guests—look their most photogenic. We sat down with the bridal beauty expert to get the scoop on finding the best inspo for you, working with a pro and the biggest mistake brides make with their hair and makeup. 
Where's the best place to find beauty inspo?
Start with Pinterest and see what looks you're gravitating toward—it's okay if they're all alike or they're totally different. Then, go through recent photos of yourself at other weddings or events and figure out what hair and makeup looks good on you. That way,  you can narrow down your options based on what you like plus what works for you. 
What's the biggest mistake brides make when choosing their hair and makeup?  
Some brides get so caught up in the idea that their wedding is an important day that they'll ask for dramatic hair and makeup that doesn't look like them—and they end up regretting it. Remember: You should still look and feel like yourself walking down the aisle.
What's your advice for brides who don't usually wear makeup? 
Go to a department store and familiarize yourself with different products so you can communicate your likes and dislikes to your glam team. Keep in mind there's a difference between your more natural, everyday look and makeup that photographs really well—so don't freak out if you end up wearing more than you're used to.
How important are viral trends like heavy contouring and "Instagram brows" where your wedding day look is concerned?  
In short: not important. It's tempting to want to look like Kim Kardashian, but you have to consider how heavily edited photos on social media are. The goal of your hair and makeup trials should be a beautiful look that works for you, not what's hot right now on Instagram.
What are your tips for working with hairstylists and makeup artists?  
When it comes to working with any wedding pro, the more communicative and appreciative you are, the harder they'll work for you. Your vendors want to make your wedding the best day of your life, so treating them with kindness and voicing feedback respectfully goes a long way.