The Top 6 Wedding Hair Trends in 2023 According to Experts
Wedding hair has never looked so good.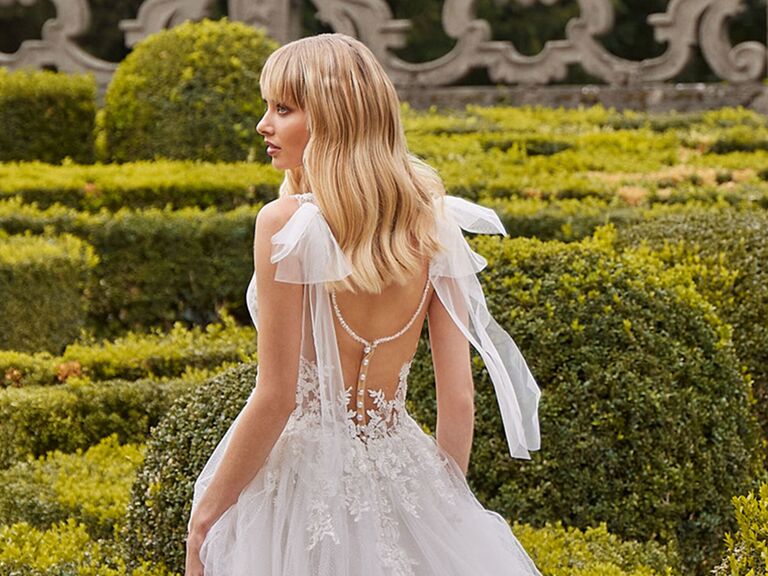 Ines by Ines Di Santo
Still trying to nail down your wedding hair? Every element of your bridal look should reflect your personality and style—and your hair is no exception. This year, we expect to see the return of many beloved wedding hair trends, like effortless waves and sleek buns, but there are also some new, out-of-the-box styles on the horizon. The recent wedding boom proved that there are no rules when it comes to style, and this still rings true in 2023.
Below, we've got the inside scoop from the experts on the hottest bridal hair trends of 2023, from grunge-inspired updos to statement hair accessories and natural textures. Once you find your hair inspiration, get in touch with a professional stylist who can recreate the look IRL. Keep scrolling to see the stunning styles you should add to your inspiration board right now.
In this Article:
1. High Updos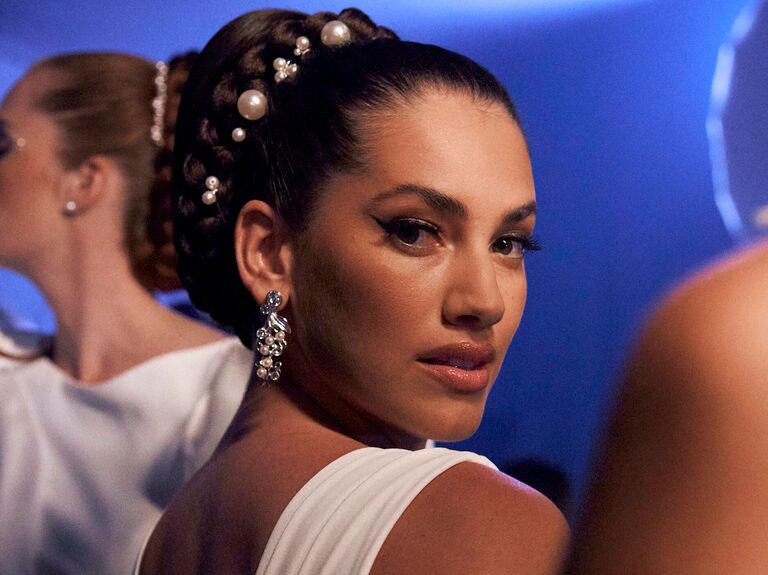 Where You've Seen It: High updos are back—with a modern twist. Celebrities and brides alike have recently adopted the iconic '90s style, once worn by celebrities like Cindy Crawford and Alicia Silverstone. "The trend began at the end of 2022, when Kim Kardashian wore a Pamela Anderson-inspired hairstyle," says Jordan Hix, San Diego bridal hairstylist and TikTok creator. "Kim's hairstylist, Chris Appleton, often recreates the look on her and his other celebrity clients."
Who It's Perfect For: This look was made for the bride who wants to feel sexy and make a statement on her wedding day. While this style is ideal for long hair, it can work with a variety of hair textures, from curly and straight to fine or thick. Try pairing a high updo with a silk slip dress with a high halter neckline or a v-neck gown with a statement necklace for a reception look that is sure to turn heads.
Get the Look: Ask your stylists for a top bun with messy curls piled high and piece-y tendril bangs. "Chris Appleton has shared many tutorials on how to easily achieve the look," says Hix. "Embracing texture and focusing less on perfectionism is the key to recreating the high updo, as it's very authentic and unposed." Be sure to have a curling iron, hot rollers and volumizing hairspray on hand if you want to recreate the look at home. Talk about #hairgoals!
2. The Sleek Bun
Where You've Seen It: "This signature "model off duty" look is still having its moment on the runway and will continue to make its way into bridal fashion in 2023," says Daphne Durmaz Cardoso, stylist for Maria Elena Headpieces and wedding planner and founder of Daphne Ashley Events. "From Hailey Bieber to Paris Hilton, we've seen this slick and sophisticated style continue to be a favored wedding day look for brides."
Who It's Perfect For: If your style is refined elegance, a sleek and architectural bun is the epitome of what you are looking for. The simplicity of the look will stand the test of time and can work on both medium and long hair lengths. Plus, it will look extra chic with a variety of wedding dresses and venues, whether you're rocking a sheath dress at a contemporary loft or a ball gown at a Parisian chateau. Did we mention this style is also adorable on flower girls?
Get the Look: Keep the sleek bun minimalist or, as Cardoso recommends, add a statement hairpiece. "A bride's accessories can completely transform and elevate her bridal look—a sleek bun effortlessly lends itself to a headpiece as it acts as a canvas for a crown, comb or even a dramatic veil," she says.
3. Side-Swept Curls
Where You've Seen It: Side-swept curls are a timeless red carpet staple; everyone from Rihanna to Jessica Chastain has sported this look at one point. We love this style for two reasons: It's both easy to achieve and looks super polished. To give this trend a 2023 upgrade, add a pearl or rhinestone clip to the side opposite of the curls, for an extra-glamorous effect.
Who It's Best For: Thick hair is ideal for side-swept curls as it creates fullness. If your tresses are on the thinner side, don't fret. Consider asking your stylist to add extensions to amp up the volume. Also, depending on the length and density of your hair, you will likely need to add bobby pins to help keep the hair to one side. The end result? One red carpet-worthy 'do.
Get the Look: Hix recently styled side-swept curls on natural hair in this TikTok. We got the deets on how she did it: "I used Authentic Beauty Concept Solid Pomade to slick back the sides and sprayed it with Authentic Beauty Concept workinghairspray. I also made sure to hide the bobby pins securing her hair back by draping her gorgeous curls over them." she says.
4. Center Part with Tucked-Back Bangs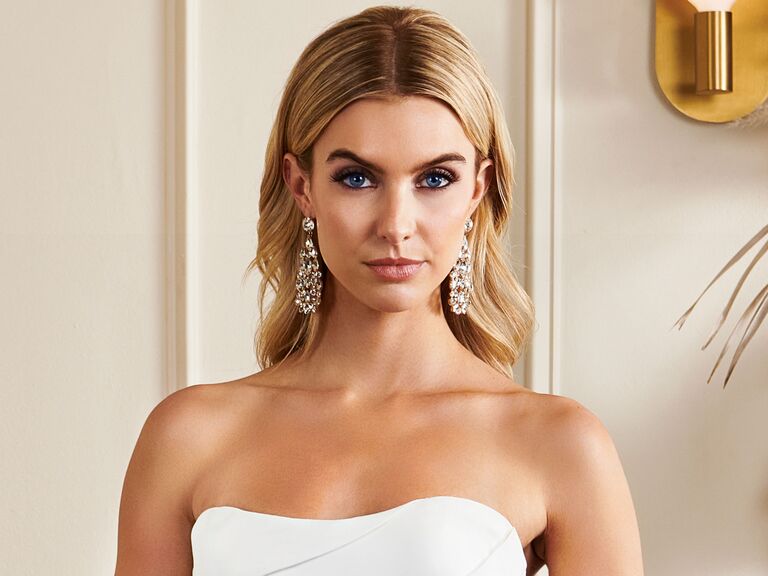 Where You've Seen It: The center part has always been a popular style choice for brides because it creates beautiful balance and facial symmetry. In 2023, this wedding hair trend is getting a touch of old Hollywood by tucking the bangs back. A big pro of this new iteration on the standard? It draws the eyes to the face and highlights your features even more.
Who It's Perfect For: This classic hairstyle is serving "cool girl." Not only is it incredibly sophisticated, but it's practical too, keeping your tresses out of your face. Not to mention, this style looks good on nearly all hair types and textures, whether you're a guest, a bridesmaid or the bride.
Get the Look: Ask your stylist for glossy locks with a center-part and the bangs tucked behind your ears. You can even use an accessory to keep them in place, such as the ultra-chic Lulu Barrettes from Maria Elena Headpieces. "Barrettes add a sweet and feminine touch to any hairstyle. "They're perfect for a bride who wants to wear her hair down while also keeping it out of her face," says Cardoso. "I also feel they're a touch nostalgic, as many of us wore barrettes as young girls—so on brand with the current Y2K comeback."
5. Wispy Tendrils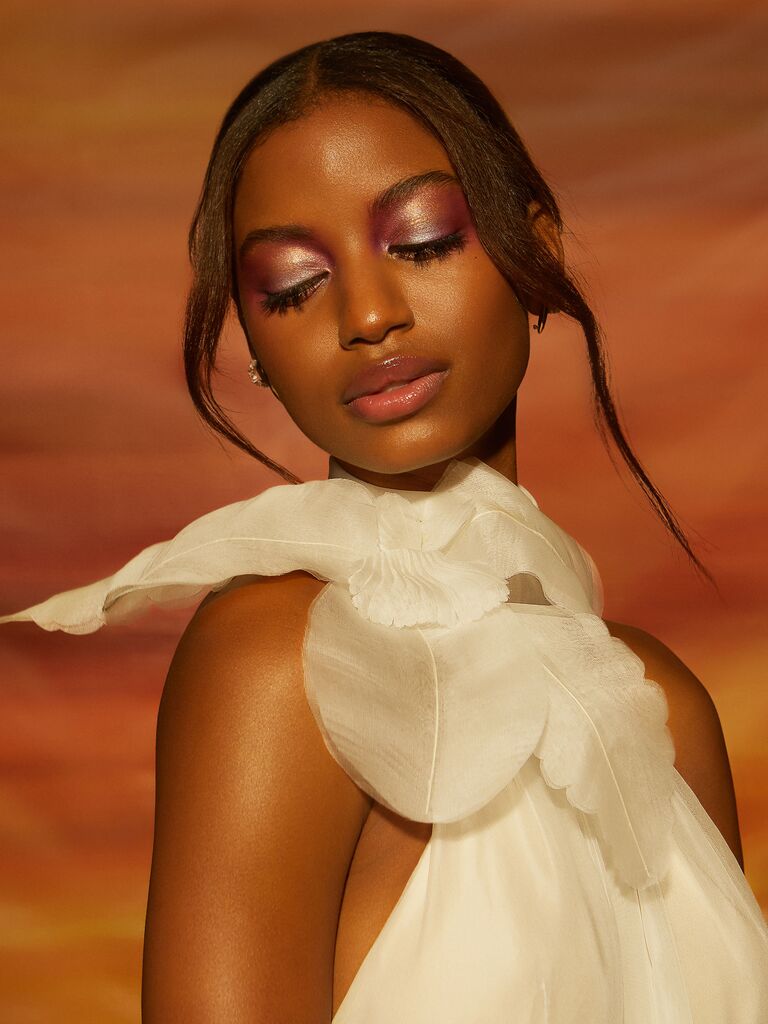 Where You've Seen It: While long curtain bangs have dominated the past few years, we're starting to see simple, face-framing sections come back into the spotlight. For actress Sarah Hyland's California winery wedding, celebrity hairstylist Ryan Richman created textured tendrils and a slightly undone updo—it's a must-add to your hair inspiration to show your hairstylist.
Who It's Perfect For: If you're trying to add a little personality to your wedding hairstyle, this one's for you. Rather than the blunt bangs you may have given yourself in high school, this slightly textured style is strategically cut and styled to have textured dimension. This wedding hair trend will look absolutely fab for both half-up styles and traditional updos—plus a variety of bang lengths.
Get the Look: "Dry texture sprays are a girl's best friend for that tousled texture!" Hix tells us. "Aiir Professional and Authentic Beauty Concept's Airy Texture Spray is one of my current favorites; just simply spray, tousle, and go!"
6. Effortless Curls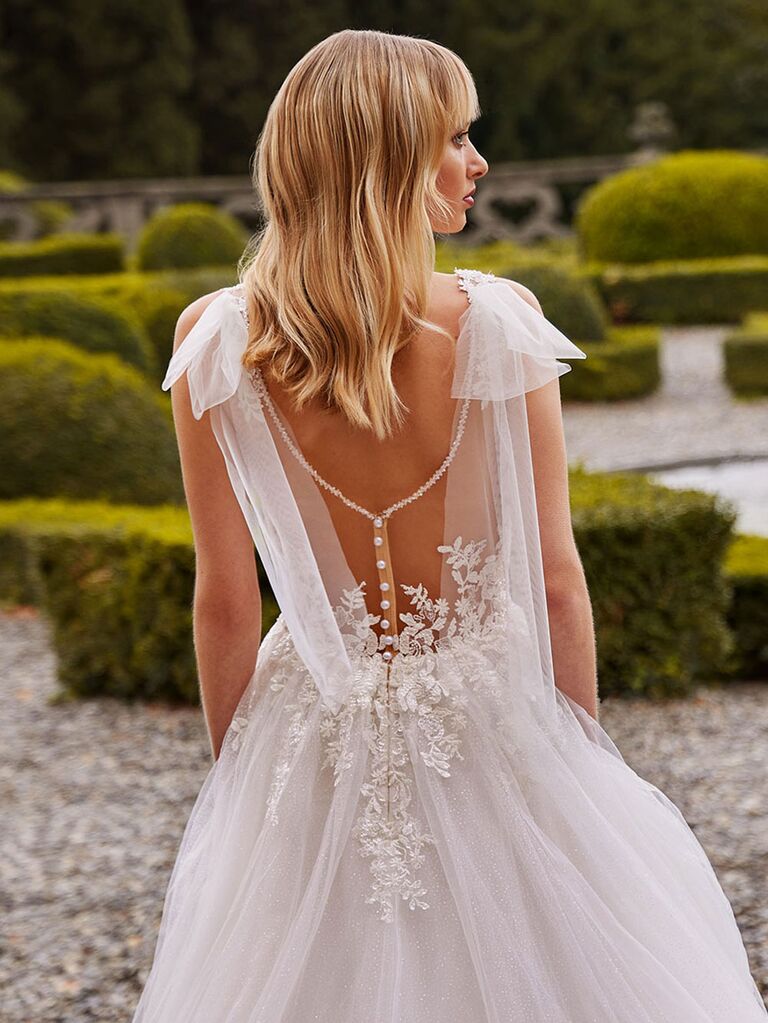 Where You've Seen It: Natural beauty continues to reign in 2023, and effortless waves are no exception. Former Bachelorette contestants JoJo Fletcher and Madison Prewett both chose to wear natural waves on their wedding days. It's the definition of sweet and simple—no complex styling needed!
Who It's Perfect For: If you're a minimalist, then effortless waves make total sense. They can be a saving grace for anyone who doesn't want to use a ton of product in their hair or spend their wedding night pulling out bobby pins and clips. We're confident that it will look just as stunning as any other intricate 'do.
Get the Look: A professional hairstyle can help you create that effortless look, but if you're planning to DIY, use a curling wand like this T3 SinglePass wand to curl 1- to 2-inch sections. To maintain a natural finish, alternate the curling direction. Gently brush it out after for a truly natural finish, and voilà!