If you're unfamiliar with Islamorada, a cluster of small islands in the Florida Keys, you're in for a treat. Less known—and thus, less crowded—than Key West, Islamorada sits about 85 miles from Miami. Acclaimed for its sportfishing scene, coral reefs and out-of-this-world sunsets, Islamorada is, simply put, a slice of tropical paradise—and who wouldn't want to wed in that? Although you'd be hard-pressed to find a spot along its shores that isn't completely jaw-dropping, we've rounded up our favorite destination wedding venues to help you narrow down your search.
Resorts and Hotels
Getting hitched at a hotel has many perks. Among them: Your guests will be able to stay in one place, making it easier to sync up for activities and excursions (not to mention the after party!).  

Casa Morada
Perhaps the biggest draw of this renovated 16-suite mid-century hotel is its very own private island, reached by a charming footbridge and featuring a freshwater pool, cabana and open-air bar primed for catching those famous sunsets over Florida Bay. Around the property, lush gardens and tropical vegetation provide exquisite photo ops, and its tucked-away location on a quiet side street will make you feel as if you have the island all to yourselves.
Venue 411: Casa Morada offers two wedding packages: one for up to 20 guests, with the nuptials taking place on the property's sandy pier, or—if you book all 16 suites—a larger event for up to 80 on the private island. (And if you're a couple looking to make a grand entrance, you could even arrive by boat!)


Cheeca Lodge and Spa
Built in 1946, this 214-room resort is both a local institution and a world-class destination. With three restaurants, a golf course, saltwater lagoon, watersports facility and an oceanfront tiki bar—sold yet?—you'll have just about everything you could want at your fingertips. All that, and it's surrounded by 27 acres of tropical gardens and a stretch of private beach. 
Venue 411: The Cheeca Lodge and Spa has seven event spaces to choose from—including a grand ballroom that opens up to a sweeping oceanfront terrace, and an intimate, Tahitian-inspired island awash with picturesque palms and waterfalls—but you can also say "I do" just about anywhere on the property. For outdoor events with over 120 people (capacity is 200), a tent rental is required.


La Siesta Resort and Marina
Cozy fuchsia, periwinkle and tangerine abodes dot this hidden gem of a retreat, making for a charming rainbow of low-slung bungalows. For larger groups, there's also sleekly designed multi-bedroom houses, guaranteed to tickle any architecture fan's heart. The Atlantic-facing resort also boasts six acres of unspoiled coastline, an onsite marina, a heated freshwater pool and a poolside cantina.
Venue 411: La Siesta Resort and Marina offers two wedding packages, with the more deluxe version including a three-night stay in the five-bedroom Starfish House. You'll have your choice of two beach locations for your ceremony, followed by a reception for up to 200 guests.
Restaurants
If exceptional food, top-notch service and built-in décor are among your priorities, consider a well-appointed restaurant to host your wedding. Another bonus? Doing so means you won't have to shell out for things like tables, chairs and linens.
Whale Harbor Restaurant
It may be known for its seafood buffet, but the waterfront restaurant offers so much more than an impressive spread. Indeed, through its offshoot Harbor Events, the sprawling spot has professionals dedicated to helping you pull off your wedding vision, whether that be a beachside ceremony; an expansive rooftop patio reception with panoramic views of the water; or a grand ballroom celebration overlooking the Atlantic.
Venue 411: Besides five indoor and outdoor event areas—which can hold between 75 and 300 people—Whale Harbor can also arrange a more intimate affair aboard a yacht at its adjacent marina. And while the space restrictions at many restaurants don't allow for live musicians, that's not the case here, which means you can book that band you've been dreaming of.


Pierre's Lounge and Restaurant
To say that this upscale restaurant takes its design and décor as seriously as the French-fusion cuisine it serves is an understatement. The interior of the grand, two-story house, decorated with centuries-old artifacts from Morocco and India, is nothing less than stunning. Outside, wraparound decks on both levels provide unparalleled views of Florida Bay and a sliver of beach dotted with picture-perfect leaning palm trees. For family and friends looking to make a vacation out of it, Pierre's sister property, The Moorings Village—probably most famous as the gorgeous backdrop of Netflix's Bloodline—offers 18 private villas.
Venue 411: Pierre's Lounge and Restaurant offers two venues: For weddings of more than 100 guests, both the ceremony and reception is held on the white sand beach, with exclusive access to the lower-level veranda and downstairs lounge. A smaller event of fewer than 40 people is also held on the beach, followed by dinner in the restaurant's second floor VIP room.
Marker 88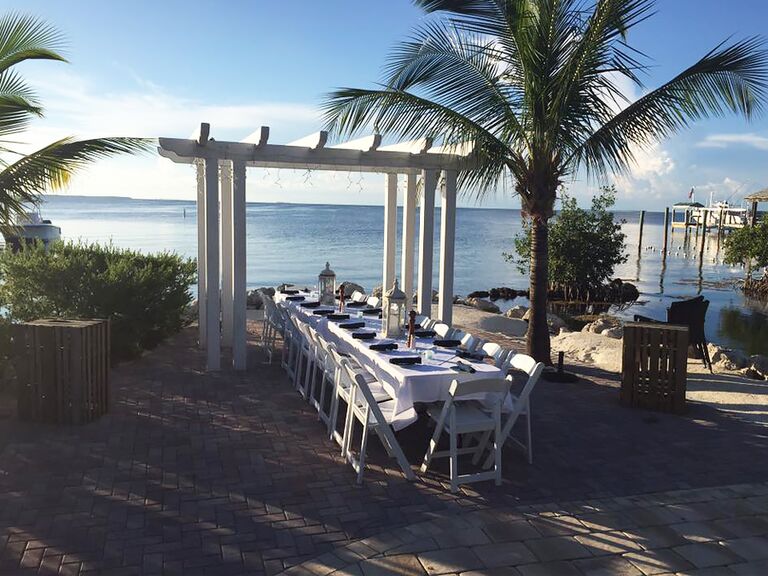 If a sunset ceremony is on your wedding wish list, this restaurant boasts a postcard-perfect view—with a killer seafood menu to boot. The combo of sandy beachfront, rock-rimmed shoreline and a picturesque pier stretching into the horizon make for an unforgettable backdrop to your celebration. Want to savor the romantic feeling after the sun goes down? Stroll out along the lantern-lit pier hand-in-hand while your photographer captures the moment from the shore—a frame-worthy photo op, for sure. 
Venue 411: With four event spaces fitting from 15 to 250 guests, Marker 88 can accommodate everything from an intimate gathering to a big blowout. An on-site event planner is also on hand to help customize your reception menu—whether it's buffet-style, a seated dinner or even cocktails and apps.
Learn more about why you should consider the beautiful setting of Islamorada for your wedding here.