Is the KitchenAid Stand Mixer Worth It? Read This
Here's everything you need to know about the cult-classic KitchenAid Stand Mixer before adding it to your registry.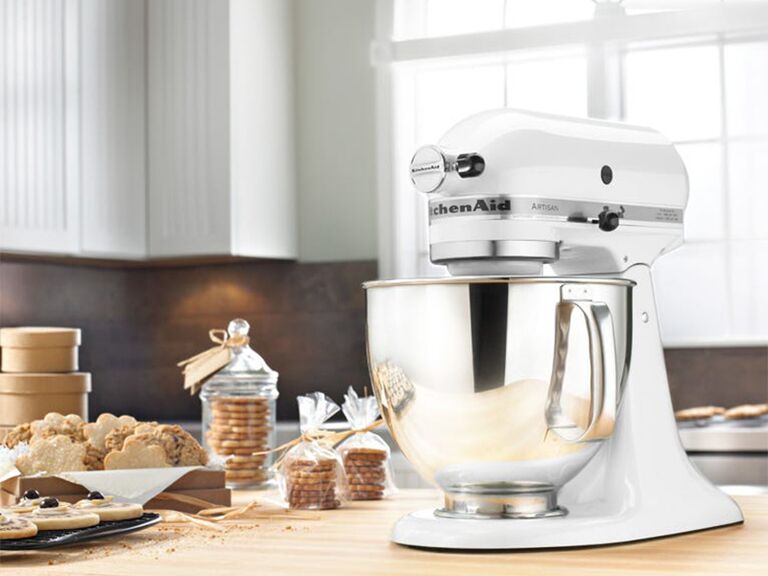 We have included third party products to help you navigate and enjoy life's biggest moments. Purchases made through links on this page may earn us a commission.
If you're reading this, you're probably already familiar with the beloved KitchenAid Stand Mixer. You've heard the accolades and seen its iconic design holding court on the countertops of the most stylish kitchens. But is a KitchenAid mixer really worth it?
Favored by bakers and chefs alike, the KitchenAid Stand Mixer has the reputation of being a complete workhorse in the kitchen. It's amazing for everything from mixing ingredients to kneading dough. Plus, with a slew of available attachments, couples can use it to make everything from fresh pasta and ice cream to homemade sausage. It can even double as a food grinder, juicer and food processor. Throw in the fact that it looks beautiful displayed on any counter space and it's not surprising that the KitchenAid Stand Mixer is one of the most popular wedding registry items. However, you may be wondering if the iconic gadget is really worth the hype.
There's no way around it: the KitchenAid Stand Mixer is an investment piece. The piece is incredibly well-crafted and designed to last for decades, but this quality and versatility are reflected in the cost.
Just because people love the KitchenAid Stand Mixer doesn't necessarily mean it's the right pick for you and your partner. Maybe you'd prefer a stand mixer that can easily be stashed away in a cupboard or one that is designed just for baking. The good news? There are plenty of great stand mixers for every kind of home cook and budget.
Not sure whether you should register for a KitchenAid Stand Mixer? Below we've highlighted everything you need to know about the go-to appliance so you can decide once and for all whether the KitchenAid Stand Mixer is worth it to you.
A Brief History of the KitchenAid Stand Mixer
KitchenAid Stand Mixers have been helping cooks make delicious treats for over 100 years. The original version was invented in 1918 by an engineer at the Hobart Manufacturing Company in Ohio. After watching a baker mix bread dough with a heavy iron spoon, he decided that there had to be a better way to perform this labor-intensive task. The oringinal mixer, named The Hobart, was initially designed for commercial use and even served aboard US Navy ships in Ward War I. As the story goes, when a home model was introduced, a wife of one of the company's salesmen took it for a spin and declared, "I don't care what you call it, it's the best kitchen aid I've ever had." Hence, the KitchenAid brand was born.
The current silhouette of the KitchenAid stand mixer was designed in the 1930s by industrial designer Egmont Arens. The popular kitchen item has remained the gold standard in stand mixers ever since—even Julia Child was a fan! While she never officially endorsed the product, her beloved blue KitchenAid Stand Mixer was a fixture in her kitchen where she taped The French Chef and other television series. It now resides in an exhibit at the Smithsonian museum, along with the rest of her kitchen.
Over the years, the KitchenAid stand mixer has remained popular, for the simple reason that it works incredibly well. It's also loved for its versatility and multitude of attachments, including a food processor, meat grinder, spiralizer, pasta roller, ice cream maker and juicer—just to name a few. Available in dozens of beautiful colors, the streamlined design of the KitchenAid Stand Mixer makes it an appliance you want to leave out on your countertop for all to see.
Why Are KitchenAid Stand Mixers So Expensive?
Part of the reason KitchenAid Stand Mixers cost more than other similar products on the market is because they're made with high-quality craftsmanship and heavy-duty parts that are designed to last. Unlike many other appliances, which are designed to be replaced every few years, the KitchenAid Stand Mixer is crafted to last as long as its owner needs it.
The KitchenAid Stand Mixer is intended to be an investment piece. In fact, every model released since 1937 works with every attachment made since then. The locking mechanism on the KitchenAid Stand Mixer also accommodates the traditional stainless steel mixing bowl or newer glass bowl, and can even fit one of the new decorative ceramic bowls, which are titanium reinforced.
Not only is the craftsmanship beautiful, durable and reliable, but a KitchenAid Stand Mixer also makes mixing virtually anything a breeze, thanks to a powerful motor and the unique "planetary" action of the beater, which boasts two orbital directions that provide a fold-over motion, rather than just fast stirring (this is perfect for making anything that involves whipped eggs, such as meringue). This—combined with other features like a high-quality stainless steel bowl, wire whisk, dough hook and flat beater—allows the KitchenAid Stand Mixer to provide home chefs with professional-grade ease and results.
What Can You Make With a KitchenAid Stand Mixer?
With over 14 different attachments, you can make nearly anything you can think of using a KitchenAid Stand Mixer! The gadget is ideal for making traditional items like cookie dough, cake batter, pizza dough, whipped cream and mashed potatoes. On the other hand, carnivores will love the meat grinder attachment, which is perfect for mixing up meatballs and homemade sausage. There's also a gourmet pasta press and pasta roller that's fantastic for making your own fresh pasta, and a spiralizer for making your own veggie "noodles." Oh, and don't forget the ice cream maker and juicer that you can use to make your favorite refreshing treats.
While you can use the attachments with any of the KitchenAid Stand Mixers, a stand mixer with a bowl-lift design is best for easily kneading dough or making pasta. A mixer with a bowl-lift design can also handle large batches of ingredients. On the other hand, if you're short on counter space, a tilt-head bowl design is easier to store since it's shorter and lighter.
The KitchenAid Stand Mixer Couples Love
KitchenAid Artisan Series 10-Speed 5 Qt. Stand Mixer
KitchenAid makes a variety of stand mixer styles including Artisan Mini, Artisan Tilt-Head stand mixer and bowl-lift stand mixer models. KitchenAid also offers hand mixers, which are also popular with to-be-wed couples.
With so many options, it's hard to know which is the best KitchenAid Stand Mixer. If you're wondering which KitchenAid Stand Mixer you should get, why not go with the one that's most popular with couples? The KitchenAid Artisan Series 10-Speed 5 Qt. Stand Mixer is one of the most popular registry items and the winner of a 2021 The Knot Registry Award. Perfect for couples who love to cook together, it makes blending ingredients and kneading dough a breeze, with a powerful motor and a stainless-steel bowl that can hold up to 5 quarts of ingredients. Available in a variety of beautiful colors, this kitchen favorite will look great on your countertop for many years to come.
KitchenAid Stand Mixer Alternatives
However popular it is, the KitchenAid Stand Mixer isn't the only countertop appliance that our couples love. There are a handful of other gadgets that are perfect for beating egg whites, kneading dough, mixing cake batter or perfecting your favorite chocolate chip cookie recipe. Find the perfect stand mixer for your needs and budget below.
Cuisinart Precision Master 5.5 Qt. Stand Mixer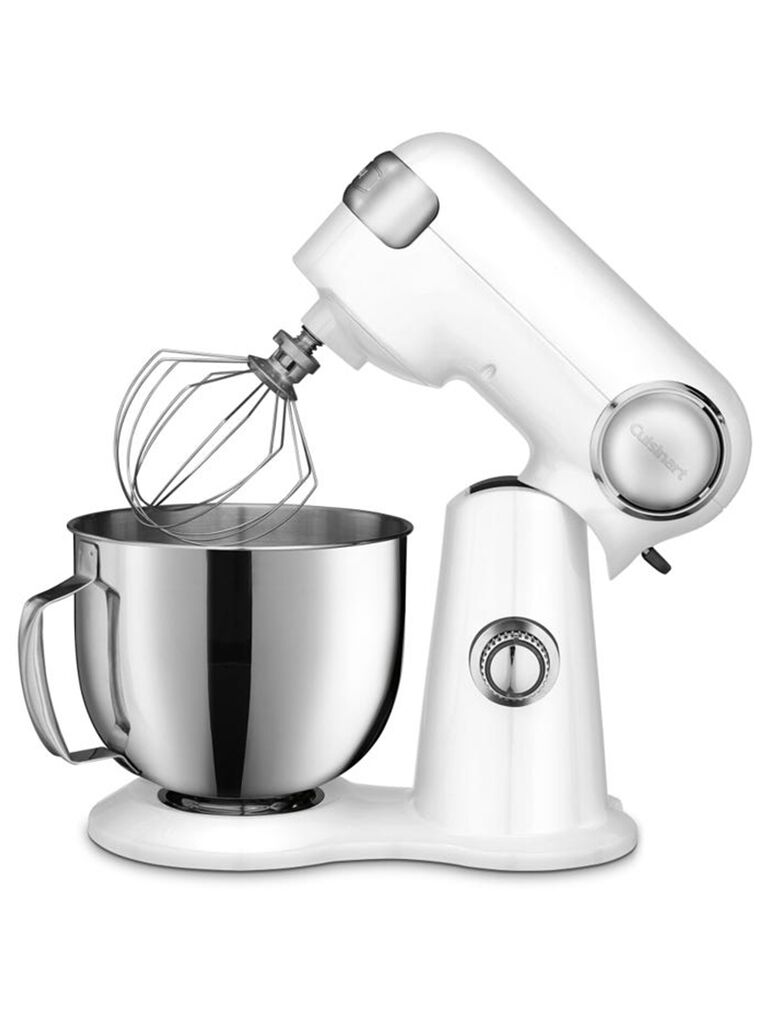 Cuisinart is another iconic brand that's synonymous with high-quality kitchen products. The Cuisinart Precision Master 5.5 Qt. Stand Mixer features many of the same features as the KitchenAid Stand Mixer, such as a heavy-duty stainless-steel mixing bowl and dough hooks, however it also boasts two additional mixing speeds and a pouring shield. This 5.5-quart tilt-head stand mixer is perfect for couples who are looking for a versatile stand mixer with attachments at a slightly more budget-friendly price point.
Hamilton Beach 4 Qt. 7-Speed Stand Mixer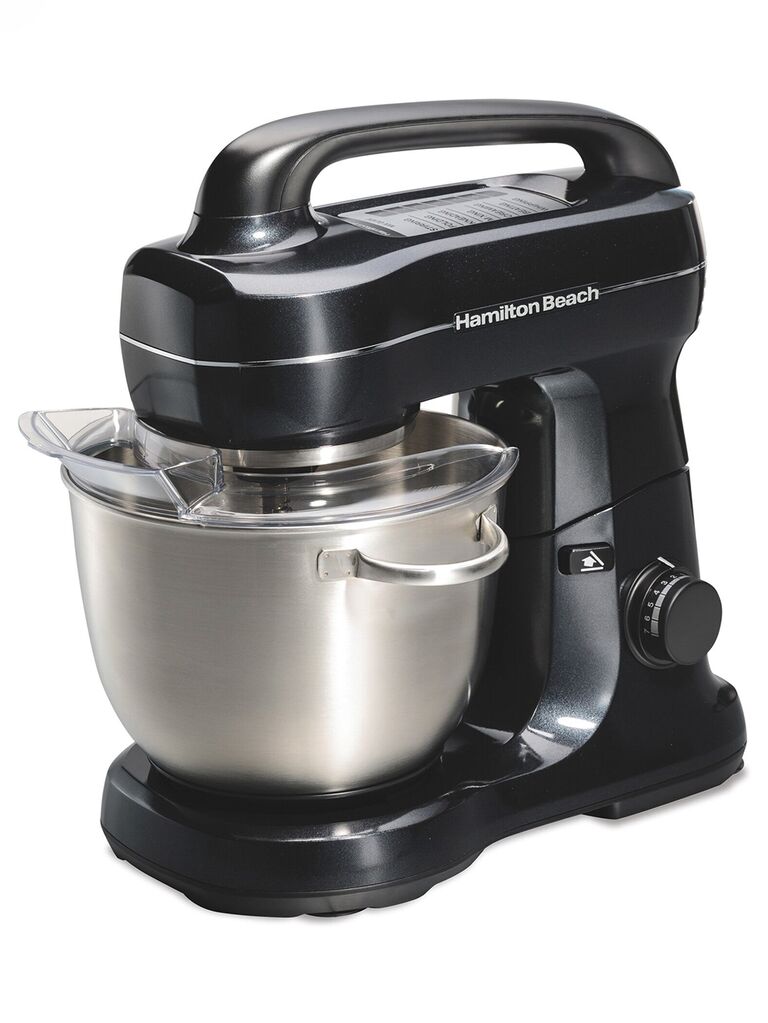 Calling all bakers! This Hamilton Beach stand mixer can take on any task, from kneading bread dough to whipping up the perfect meringues and other sweet treats. It features seven speeds, along with a splatter shield, dough hooks and dishwasher-safe parts. Designed specifically for mixing dough and batter, this stand mixer is perfect for couples who are mostly going to use it for baking.
Dash Everyday 3 Qt. 6-Speed Stand Mixer with Dough Hooks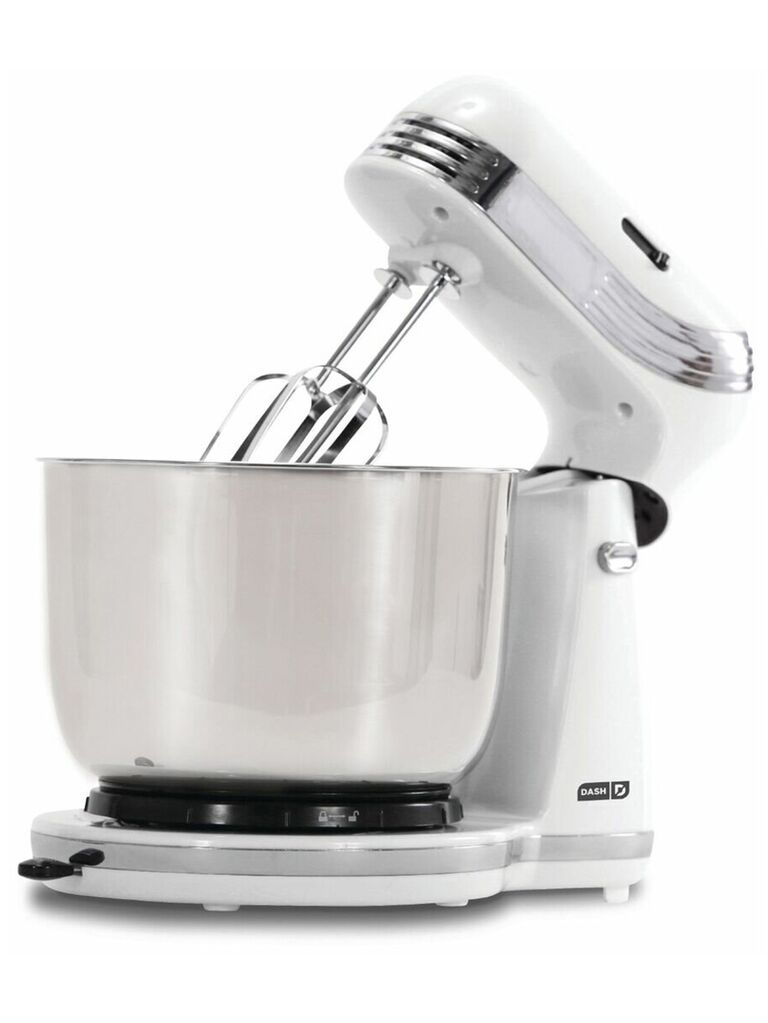 Love baking but short on space? Lightweight and compact, the Dash Everyday 3 Qt. 6-Speed Stand Mixer comes with dough hooks and beaters so you can whip, mix and knead. Smaller than the KitchenAid stand mixers, this counter space-saving, budget-friendly stand mixer is perfect for duos who live in a small space like an apartment or condo, but still want a stylish stand mixer that comes in a variety of cute colors.