Why Couples Are Still Eloping
From glam getaways to intimate gatherings, here's what it looks like to elope today.
by Catherine Jessee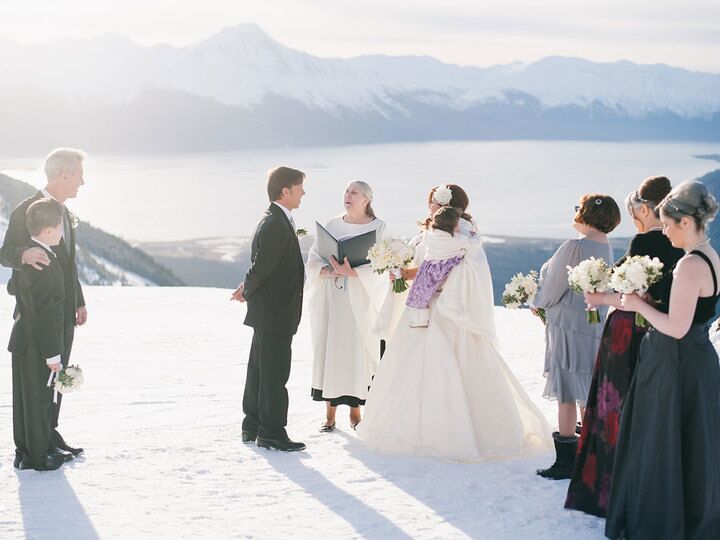 The idea of "eloping" may feel antiquated, and it's true—it's easy to hear that term and think about eager lovers running away and tying the knot without their families' approval. But modern couples are redefining what it means to elope when you do have your parents' blessings—and it doesn't involve any running. Here's how you can celebrate solo.
Take an Adventure

If your wedding guests aren't up for hiking to that gorgeous vista where you've dreamed of saying "I do," eloping is an opportunity for adventure with just the two of you. You'll cherish that peaceful moment forever.
Get Fancy—If You Want

When your ceremony is private, there's less fuss to be had about your choice of destination and less pressure to have a formal affair, but you shouldn't have to forgo gorgeous flourishes if you don't want to. According to The New York Times, many couples remain committed to finding the perfect floral arrangements, food and photographer to make their private ceremony special. Some celebrities have led the charge on glam, intimate getaways. In her beachside wedding to Diego Ferrero, Brazilian model Isabeli Fontana wore a gorgeous white bandeau bikini set paired with an elegant sheer cover up by Água de Coco, proving that your solo ceremony can be stunning, even if it's small and relaxed.
Include Your Closest Friends and Family Members
There's no rule saying an elopement has to be just the two of you. Consider including your best friends or closest family members as witnesses or inviting a few guests to witness your city hall nuptials. Be sure to notify and invite your special guests well ahead of time so they can plan. And it's a sweet gesture to share photos and details about your day with other friends and family members when you return.
Throw a Party
If you plan to elope, consider having a reception when you're back. If you opt for a small-scale ceremony, a separate bash after your "I dos" is a great way to celebrate with loved ones and include them in your nuptials. (It's also a tactful way to appease any hurt feelings). And whether you dressed up or down for your ceremony, it's a perfect excuse to wear your wedding attire again.

Exchange Truly Heartfelt, Personal Vows
Whether or not an elopement is your style, couples who opt for an intimate getaway remind us that vows aren't about validation or the number of people at your wedding—they're about your commitment and love for one another.