The Biggest Engagement Ring Trends By Decade
Shop the trendiest sparklers inspired by bygone eras—plus, what's trending right now.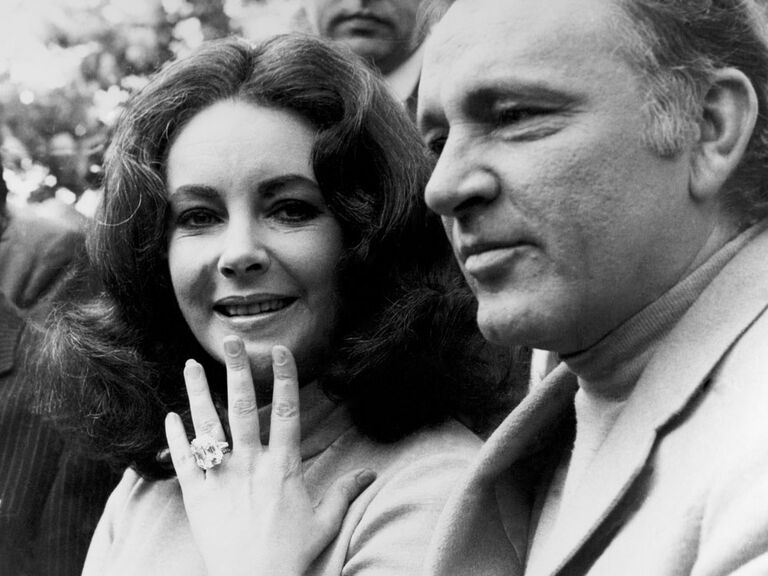 Getty Images
We have included third party products to help you navigate and enjoy life's biggest moments. Purchases made through links on this page may earn us a commission.
Diamonds are forever—but starting in the 1980s sapphires became all the rage too, thanks to Princess Diana.
Just like wedding fashion in general, engagement ring trends are constantly evolving. Even though every ring is beautiful in its own right, some shapes, cuts and metals have simply surged in popularity more than others. That's why we asked Ashley Zhang, fine jewelry expert and founder of Ashley Zhang Jewelry, a collection of both vintage and vintage-inspired pieces, to walk us through the biggest trends from every decade. Read on for a quick history lesson on how engagement rings have changed over time—plus vintage and vintage-inspired options you can shop now.
The 1960s
During this time period, extravagant diamonds in streamlined white metal settings were considered ultra-glamorous and modern (think: Elizabeth Taylor's massive 33-carat rock from Richard Burton). However, the '60s weren't just about large-and-in-charge diamonds in simple settings. Engagement rings with unexpected center stones and settings were also trending, like actress Sharon's Tate large opal surrounded by rubies and First Lady Jackie Kennedy's toi et moi style (read: two stone ring) with a diamond and green emerald.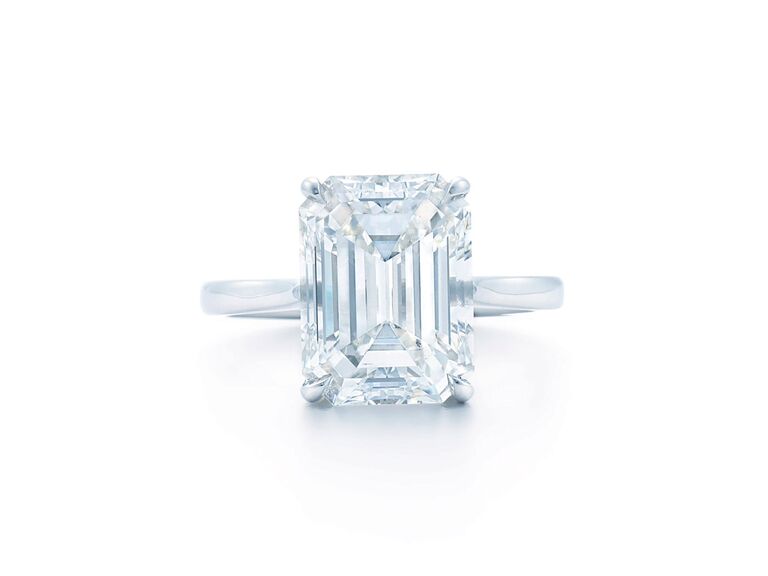 Kwiat Emerald Cut Diamond engagement ring, from $1,500, Kwiat.com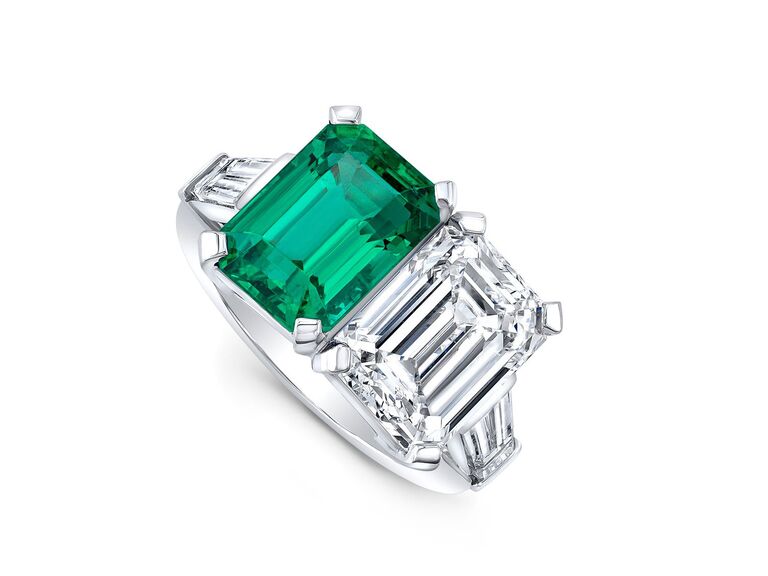 Alexandra Jules Bespoke Emerald and Diamond ring, Inquire for Details, AlexandraJules.com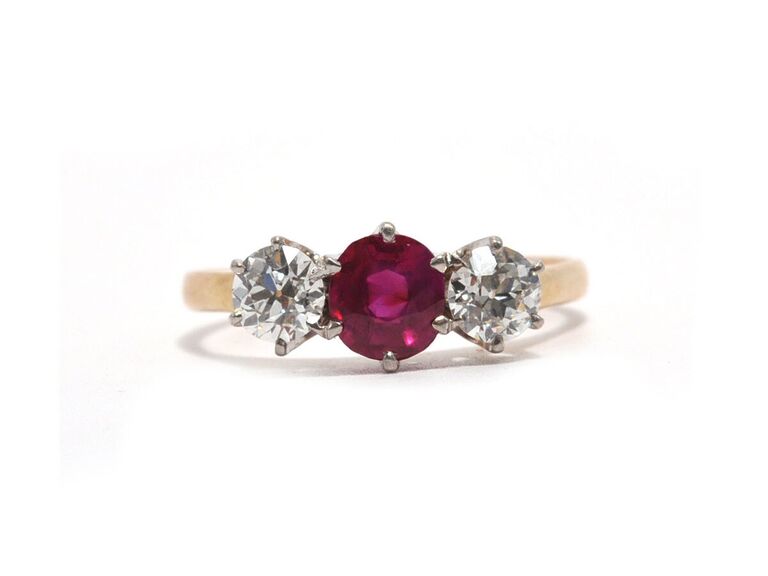 Ashley Zhang Jewlery Francine Burmese ruby and diamond ring, $5,280, AshleyZhangJewelry.com
The 1970s
The now-ubiquitous princess-cut diamond may have originated in the '60s, but it didn't totally hit its stride until the '70s, when angular styles really began to catch on. Yellow gold, which also started to catch on in the '60s, became a popular choice for all jewelry during this time period, with bold shapes, and cocktail-inspired statement rings.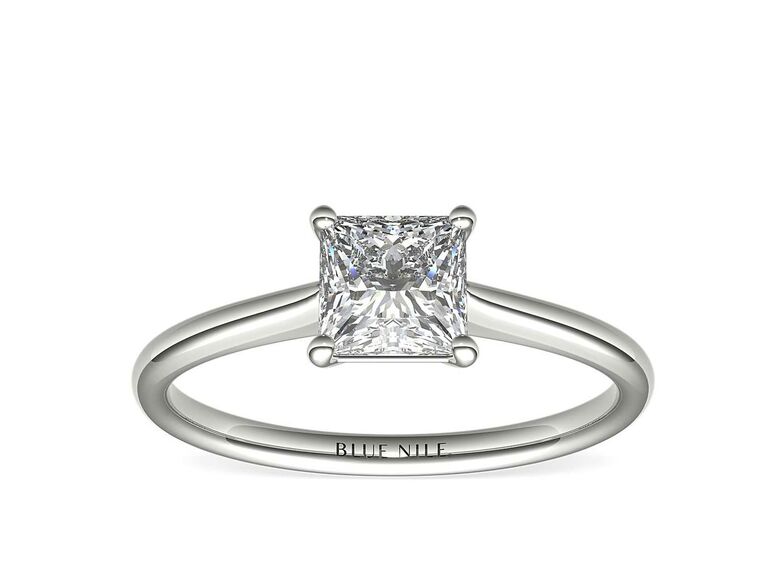 Blue Nile Petite Solitaire engagement ring in 14k white gold, from $490, BlueNile.com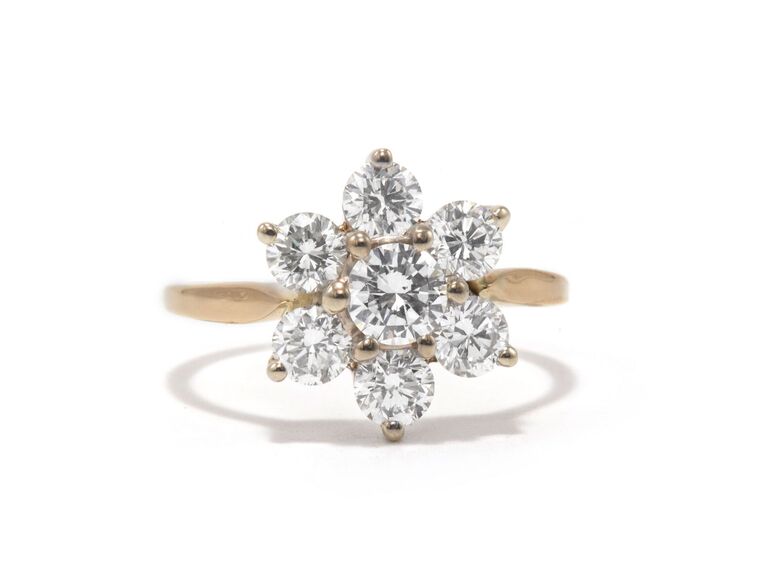 Ashley Zhang Jewelry Diamond Flower Cluster ring, $3,600, AshleyZhangJewelry.com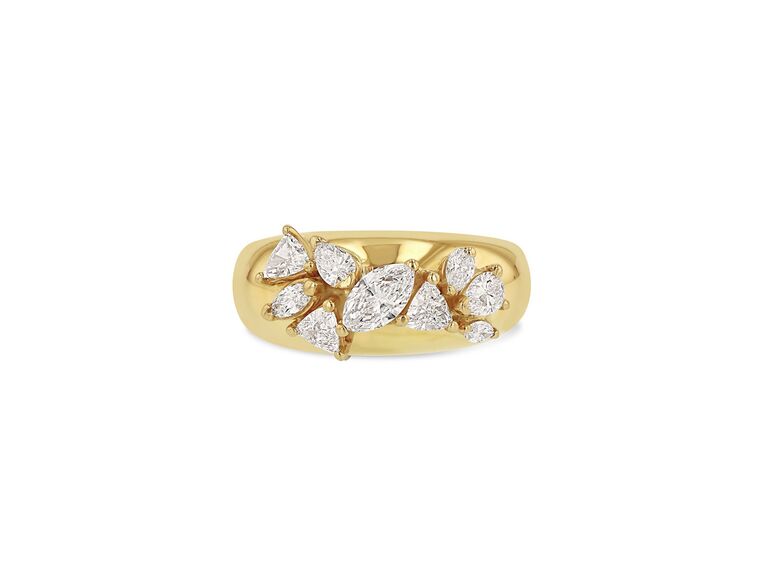 Grace Lee Demi Globe Plus 9 ring, $9,980, GraceLee.com
The 1980s
Maximalist fashion defined this decade (hello, puffy sleeves and shoulder pads). It goes to follow, then, that the wedding rings of the time were also about making an over-the-top statement. Elaborate fancy-cut diamonds such as pears, emeralds and cushions became increasingly popular during the '80s. While white metal was still a classic choice, yellow gold settings that started trending in previous decades became the new standard. The '80s also introduced thicker bands and more blinged out settings in general. TLDR; More was more.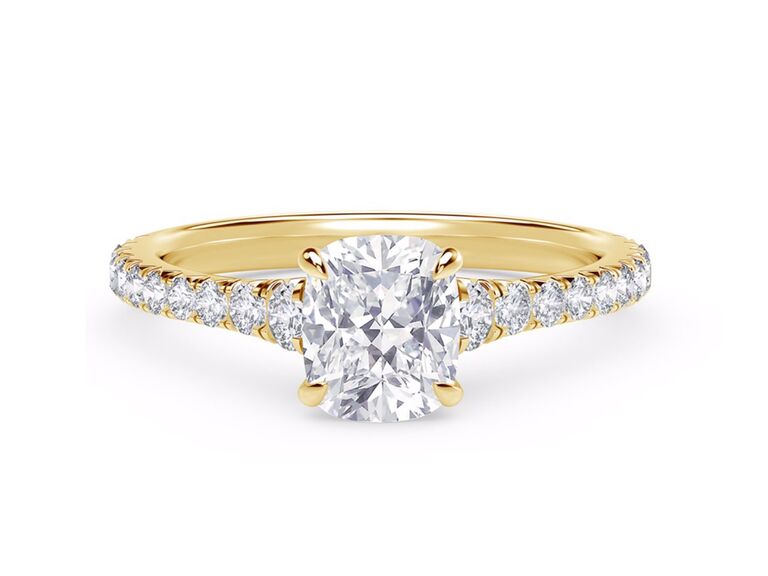 Forevermark Icon™ setting cushion engagement ring with diamond band, from $3,395, Forevermark.com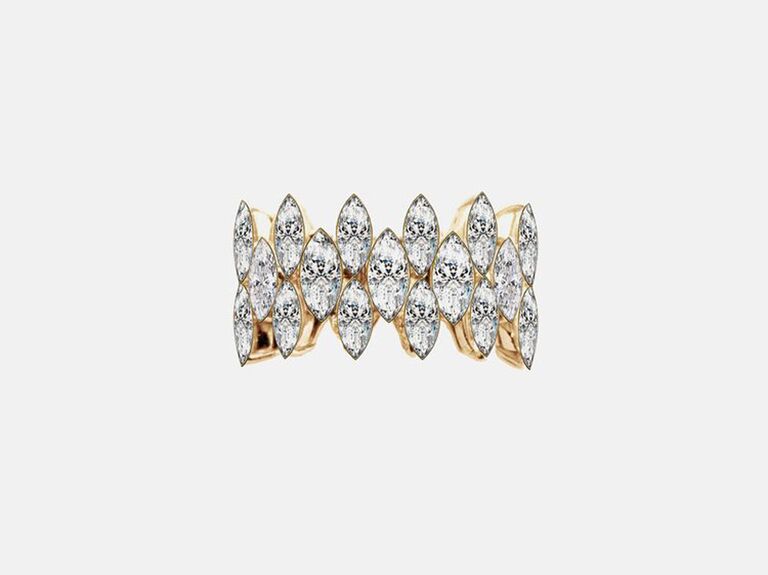 KATKIM Marquise Cove ring, $16,200, KatKimFineJewelry.com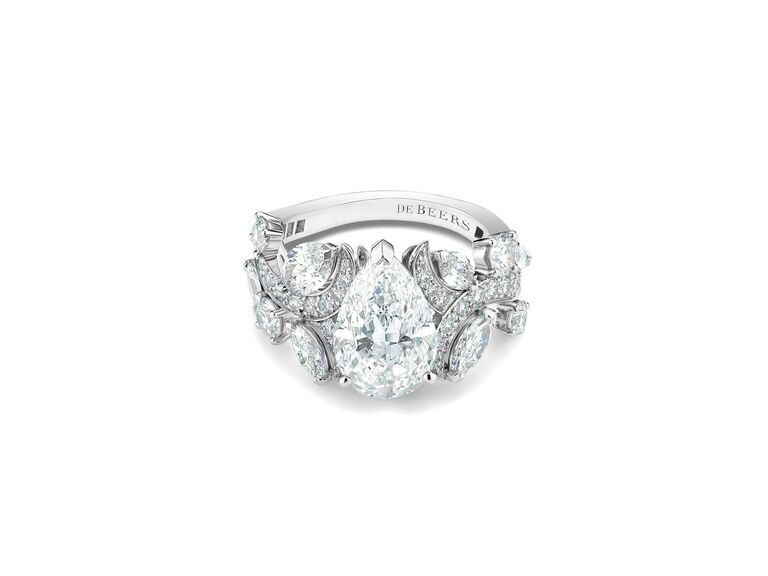 De Beers Adonis Rose pear-shape diamond ring in platinum, from $106,500, DeBeers.com
The 1990s
One word: simplicity. Fashion in the '90s became an increasingly minimalistic reaction to the excess of the '80s, and this influenced engagement rings too. The solitaire setting became popular again, as did rings with larger center stones or petite side diamonds. (Read: Settings that weren't as heavy at the rings of the '70's but also weren't as dainty as the rings of present day). Also, marquise-shaped stones, originally invented during the 18th century reign of King Louis XV of France, experienced a fine jewelry revival. And remember yellow gold? That quickly dropped off in popularity, ushering in a resurgence of white metals like white gold and platinum.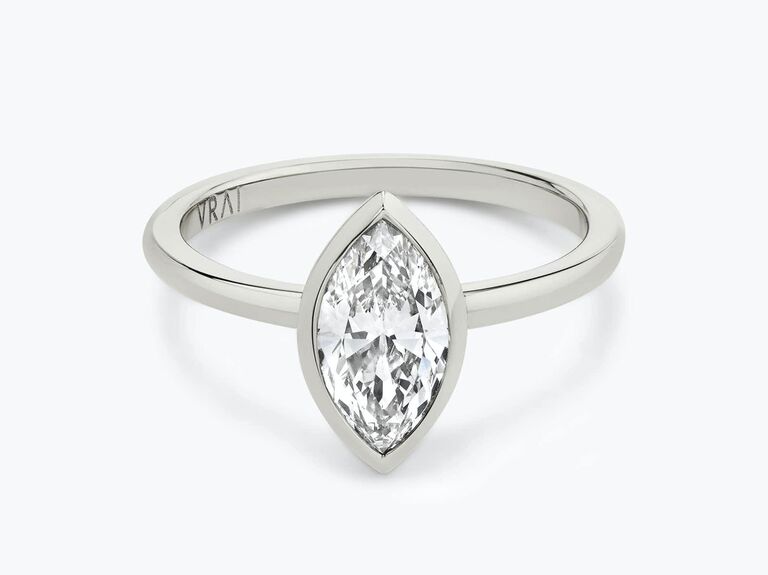 Vrai The Signature Bezel marquise engagement ring, from $1,250, Vrai.com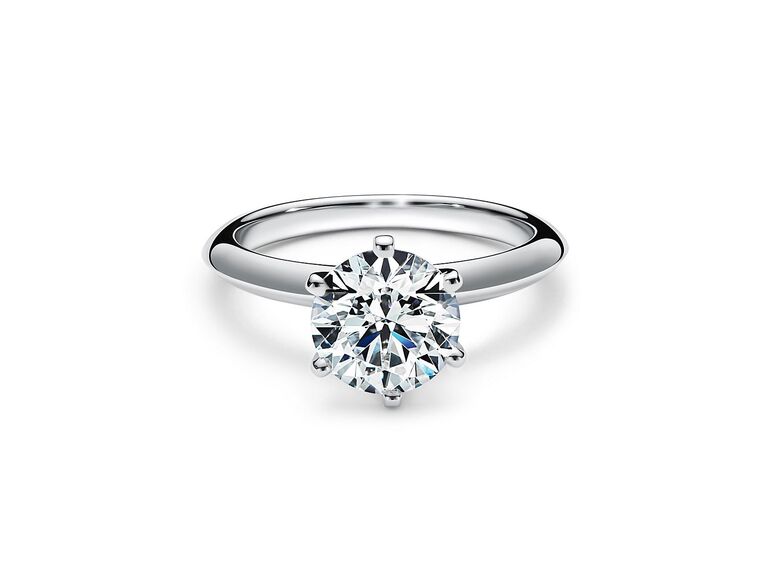 Tiffany & Co. The Tiffany Setting engagement ring in Platinum, Inquire for Details, Tiffany.com
Shahla Karimi 3-Stone Marquise + Half Moon ring, $2,990, ShahlaKarimi.com
The 2000s
Halo, is that you? The early 2000s were all about the halo setting, a style with pavé diamonds (or other small gemstones) that encircle the center stone. A huge plus of this sparkly trend? Halo settings tend to make a center stone appear larger and also have an über-glam feel. Double and even triple halos also had a moment, as did geometric (read: square, rectangular or hexagonal) and colorful halos. Additionally, pavé-encrusted bands began to surge in popularity.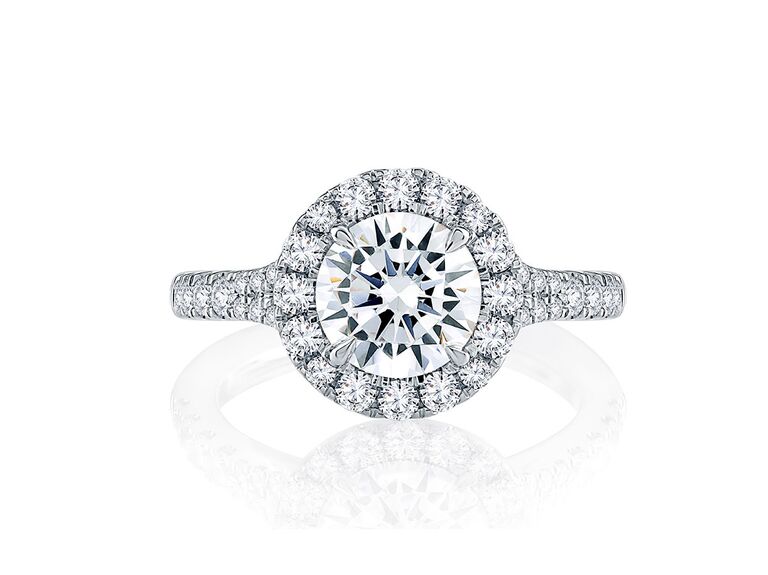 A.Jaffe Modern Halo Round Cut Diamond engagement ring, Inquire for Details, AJaffe.com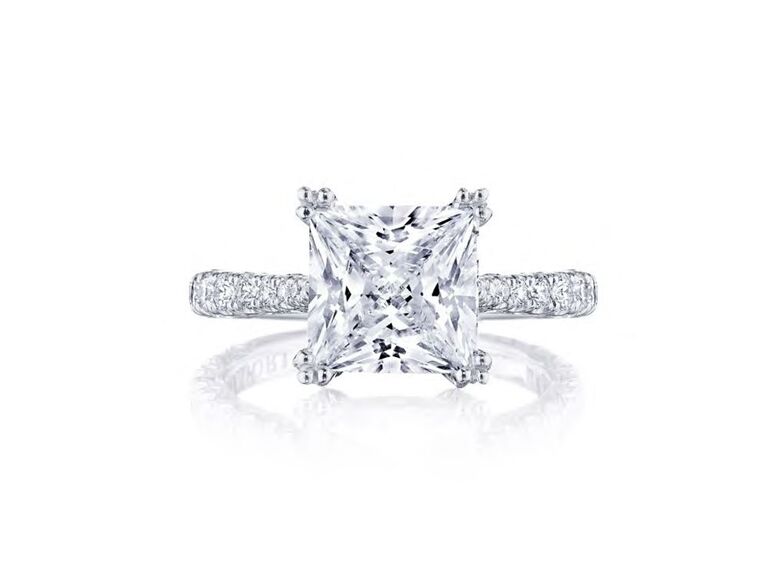 Tacori RoyalT princess cut diamond engagement ring, Inquire for Details, Tacori.com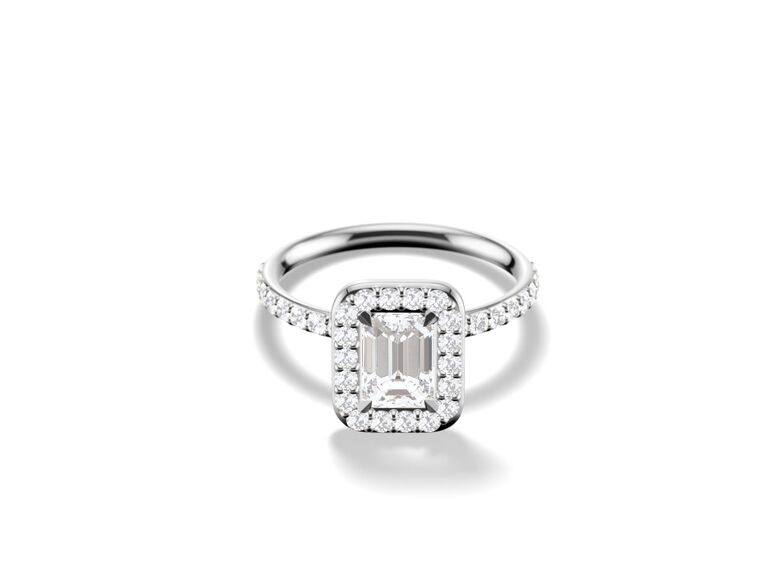 Gemist The Emerald Halo Pavé engagement ring, $9,875, Gemist.co
The 2010s
After the royal engagement of Kate Middleton and Prince William, colored stones had a serious moment, emerging as both the focal points and subtle accents of rings. Of course, the Duchess of Cambridge wears Princess Diana's sapphire surrounded by diamonds—and women everywhere began to imitate the look of her historic ring. From 2011 to 2017, pavé-encrusted bands and cushion-cut diamonds continue to trend. Additionally, romantic rose gold began to emerge, and with it, mixed metal designs and mismatched rings stacks became the hottest way to make a fashion-forward statement.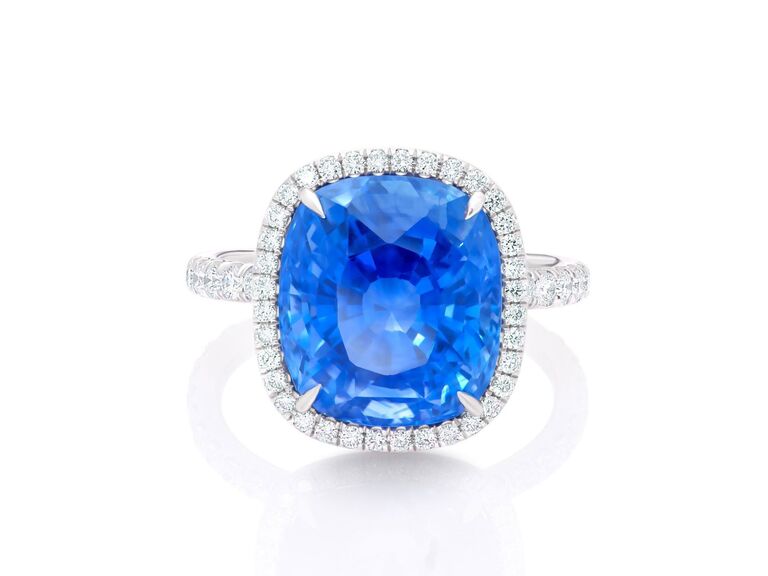 Nicole Rose Fine Jewelery Platinum Sapphire Diamond Halo ring, $49,000, NicoleRoseJewelry.com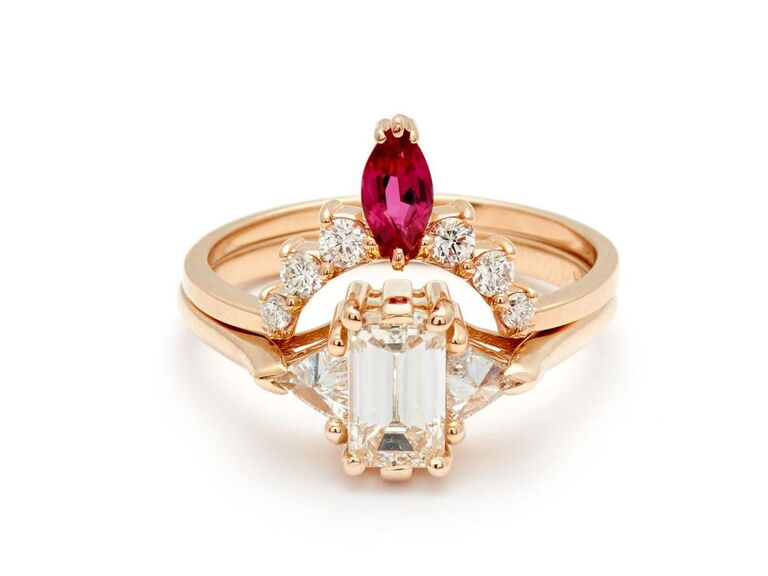 Anna Sheffield Bea Suite No. 16, $10,500, AnnaSheffield.com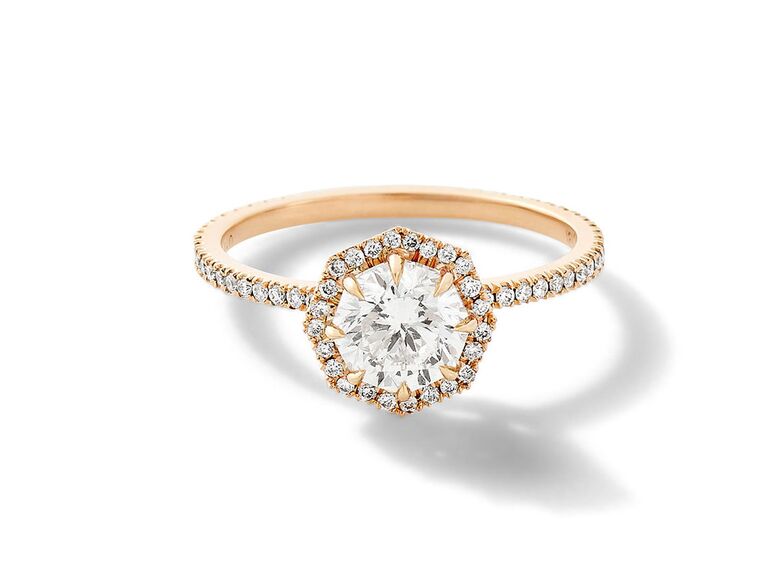 Eva Fehren The Octillion 18k rose gold diamond engagement ring, $14,750, EvaFehren.com
2018 and Beyond
Another royal engagement gripped the world—this time, between Meghan Markle and Prince Harry. The Duchess of Sussex's three-stone ring sparked a comeback of this time-honored setting. Of course, oval-shaped diamonds are also surging in popularity too, thanks to celebrities like Hailey Baldwin.
However, we predict more nontraditional styles will be all the rage in the years to come. The bottom line about choosing a wedding ring that feels au courant in 2021 and beyond? Anything goes. Alternative center stones, open settings, toi et moi (or two stone) rings, unisex statement bands and reimagined signet rings are all coming to fingers near you—and we're all for it.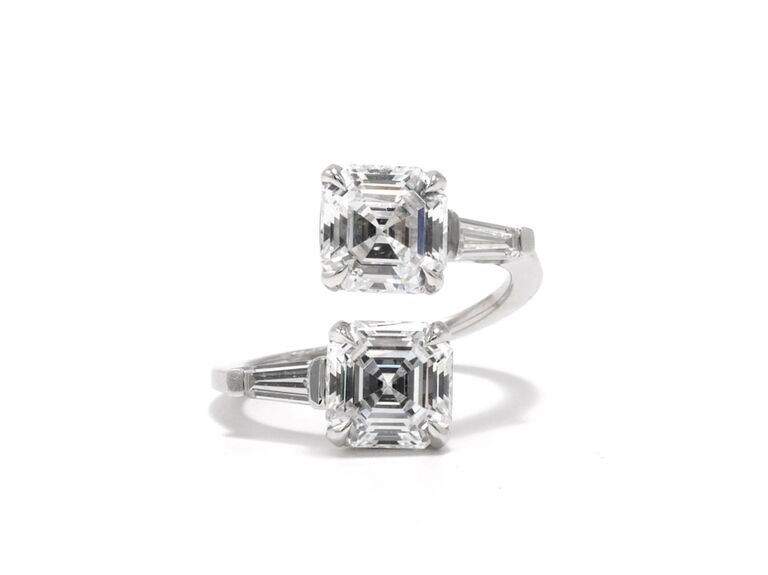 Ashley Zhang Jewelry Margaret Asscher Cut engagement ring, from $18,000, AshleyZhangJewelry.com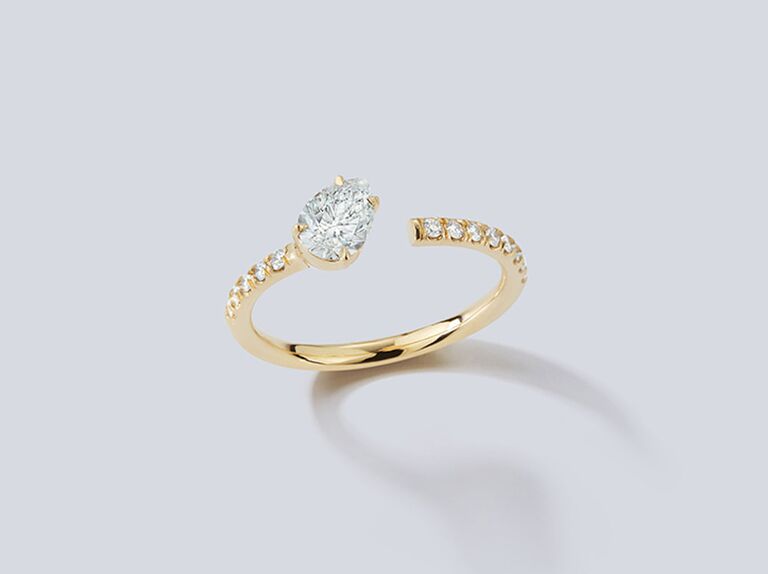 Jemma Wynne Prive Diamond Pear Open ring, $7,560, JemmaWynne.com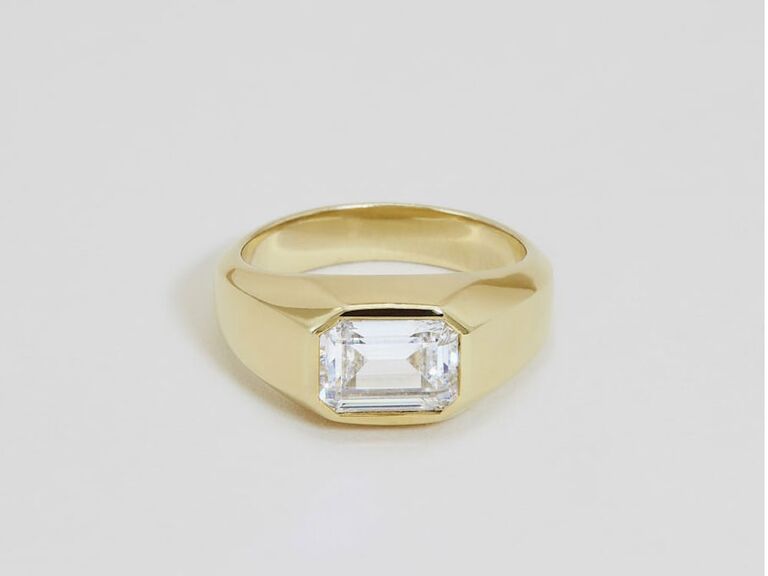 Ceremony Sienna emerald cut signet ring, Inquire for Details, Ceremony.us