7 Reasons Why Having A Donkey At Your Wedding Is A Great Idea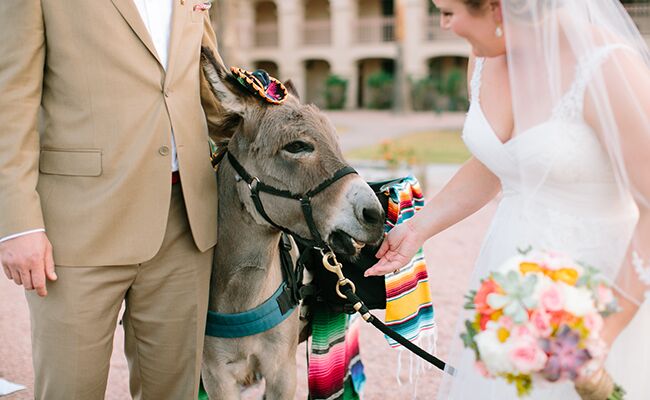 Vienna Glenn Photography
Entertaining two different families at your wedding can be hard, and full of potential awkward pauses in conversation. Enter the beer burro. That's right: adorable donkeys dressed in traditional Southwestern garb (or outfitted to match your dress and wedding colors!) who serve beer, wine, soda — or any other beverage you request — at your rehearsal dinner or your cocktail hour. Guests can give these long-eared friends a hug, a treat (donkeys love carrots), or they can simply take a photo to remember the experience forever. Vanessa Rice, owner and creator of — ahem — Haul N Ass Productions in Arizona, got the idea from her brother's destination wedding in Mexico. There, it seemed to be common place to pack a donkey with a load of Coronas to get the party started. So, if it was so much fun in Mexico, why not here? We're breaking down the seven reasons why having a donkey at your wedding kicks some major ass.
Donkeys Will Love Your Guests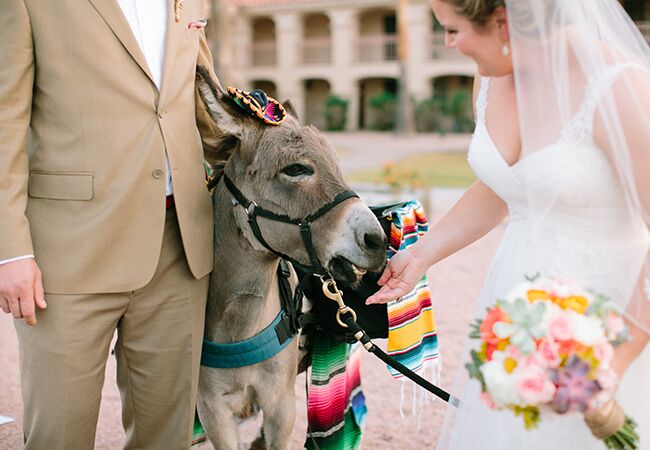 Miija, Burrito and Deniro love humans and can't wait to pack up and go to a wedding because that means a warm shampoo, a good grooming and most importantly, lots of treats. "The donkeys go in hotels, restaurants — they go everywhere. The first thing guests want to do is touch their ears so they have to be very tolerant and they genuinely love people," Rice says. "The main thing is that they are trained to stand still and they're rewarded for their good behavior."
They're Perfect Conversation Starters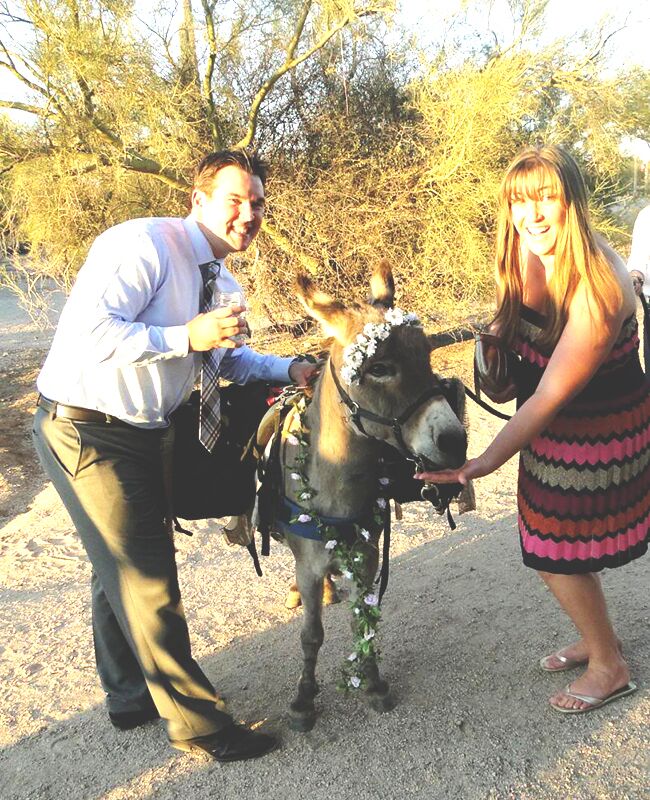 Guests love the donkeys because they totally kill an awkward vibe, Rice tells us. "At weddings, you've got people that have never met, and before you know it, they're hanging with the donkey, meeting over the donkey and helping each other take photos. It's just a great ice-breaker."
Your Event Will Be One-Of-A-Kind
It's easy to see why guests will be chatting about "that wedding with the donkey" for ages after the event. "It's something people don't expect," says Rice. "Having the beer burro sets the tone and makes the event memorable."
Your Pics Will Be Priceless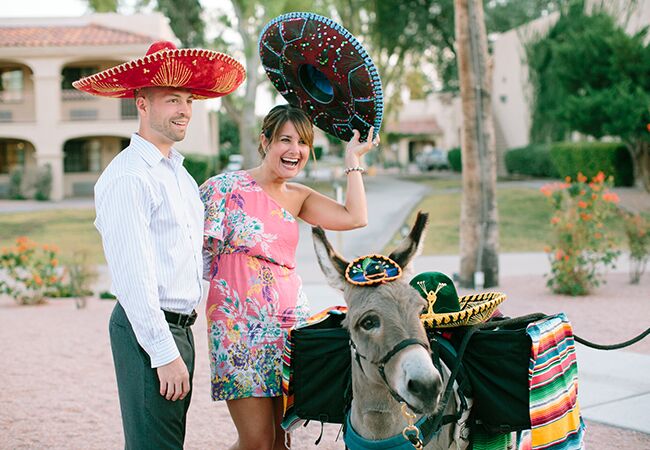 Pictures from a beer burro wedding also have considerable charm. "Everyone wants to get photos with the donkey," says Rice. "People get creative with the type of photos they want. They take pictures kissing the donkey and a lot of times, it's funny when the bride stands next to the burro and it tries to eat her bouquet."
They Don't Make A Mess. Really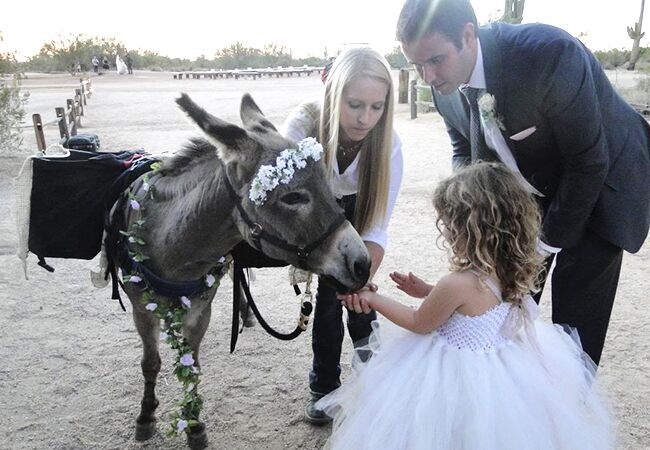 Don't worry about a mess, says Rice. Since the donkeys aren't around for more than two hours, they rarely create problems, but just in case, they accessorize with a discreet donkey diaper.
They Double As Waiters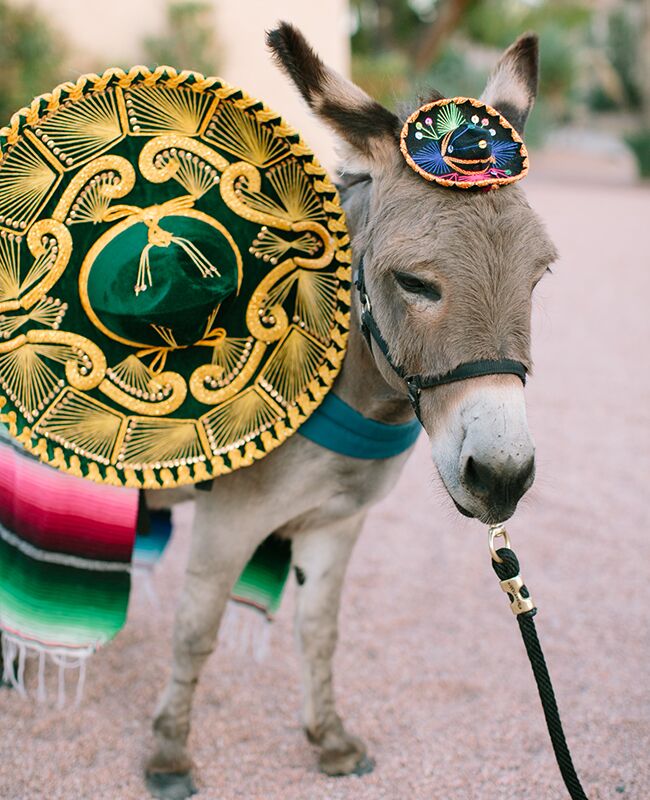 These animals have been around forever and have always been put to work, whether that meant carrying riders, packing supplies or helping out around the farm. "Whole economies have been reliant on burros," Rice explains. Plus, the beverage packs that Haul N Ass donkeys wear amount to only about 40 lbs, a negligible amount to their 350 lbs bodies.
Let's Be Honest, Those Sweet Faces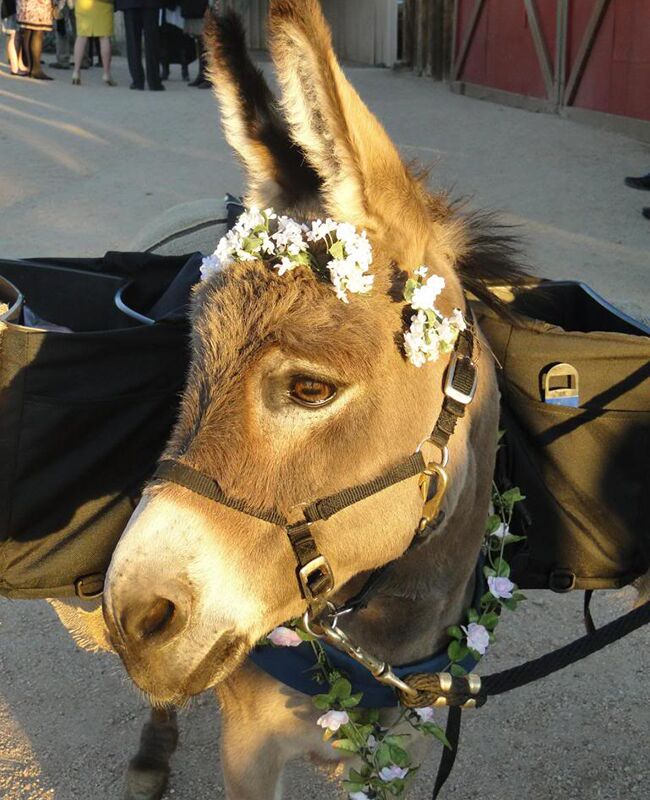 Can you seriously look at this donkeys face without melting? Your guests won't know what to do with themselves.
How much will a beer burro set you back? Rice says that the typical price for two hours of long-eared brewskis is around $500. To check out more pictures of these gentle giants getting down with guests at cocktail hour, head to Haul N Ass's Facebook page.
Want more? Of course you do!
> A Fiesta-Inspired Wedding In Scottsdale, AZ
> Trend Alert! 9 Animal Motif Ideas