These 20 Art Deco Wedding Invites Will Add Jazz-Age Glam to Your Affair
These gleaming wedding invites are the bee's knees.
We have included third party products to help you navigate and enjoy life's biggest moments. Purchases made through links on this page may earn us a commission.
Nothing says glamour like the gilded geometry of Art Deco design. If you're getting married and hoping to dress up your big day with a little Jazz Age intrigue (à la "The Great Gatsby"), then you'll want to start with some striking Art Deco wedding invitations that capture the aesthetic. Think: elegant linework, rich color palettes and vintage-inspired turns of phrase to set the tone for the event.
Whether you're hosting a fête that rivals the stateliness of Jay Gatsby's parties or planning something a little more cozy and eclectic (perhaps at a speakeasy bar), you can find wedding stationery fitting of any iteration of the Art Deco era. Ahead, check out our favorite Art Deco invitations worthy of your Roaring '20s wedding—including designs from our own The Knot Invitations. They're so decadent, whimsical and ethereal, they'd make Daisy Buchanan herself RSVP with reckless abandon (that's a good thing, BTW).
1. The Knot Diamond Deco Wedding Invitations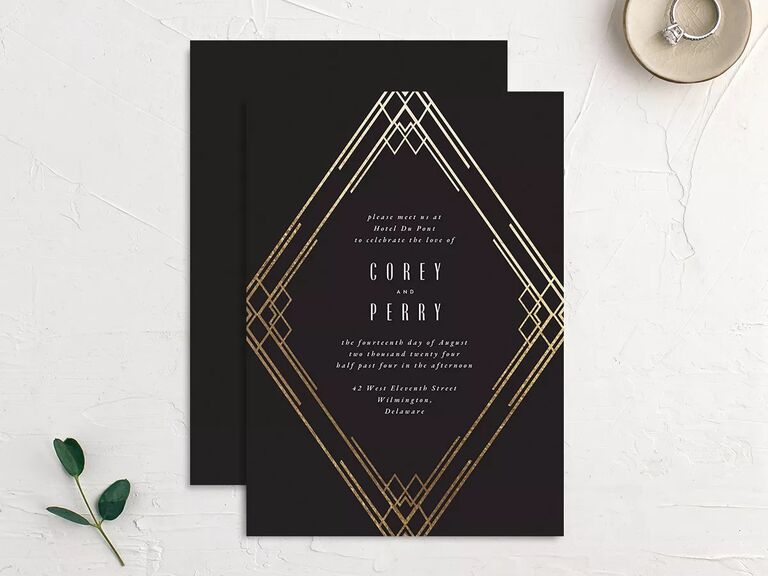 Black and gold is a hallmark color duo in Art Deco design and this invitation showcases it with minimalist elegance. The gilded foil frame encases your event details, with your names in full caps and the rest of the wedding wording in delicate italics. And if you're looking for a more unique color pairing, you can achieve a similarly dramatic effect with white and gold foil or black and silver foil (which actually shines like platinum). A flat-print version without the foil is available, too (see: Formal Deco Wedding Invitations).
2. The Knot Vintage Deco Wedding Invitations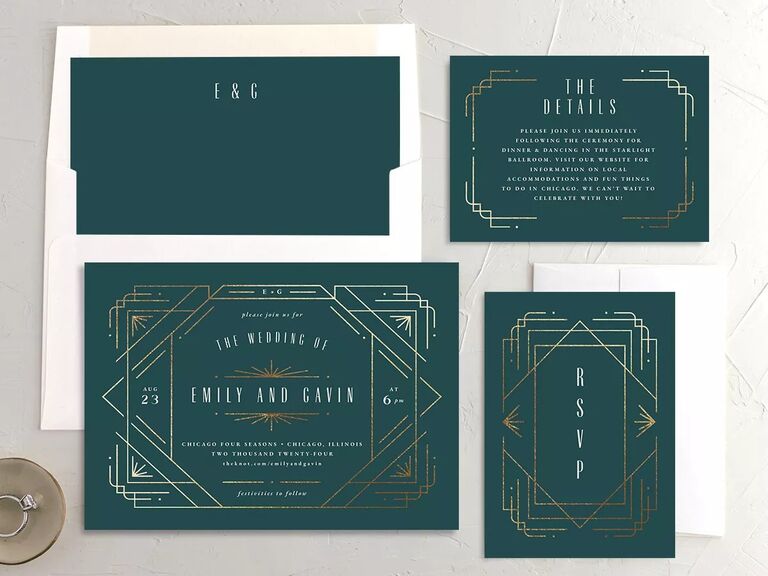 If you'll be hosting your wedding at a vintage theater or perhaps an open-air venue where you'll be setting off metallic fireworks to end the night, then sending out this intricate, geometric invitation is just the ticket. Your wedding specifics are styled in a Roaring '20s-inspired font elevated with gold foil and set atop a matte background. We also love the eye-catching alternating horizontal and vertical printing of the matching details and response cards.
3. The Knot Modern Deco Wedding Invitations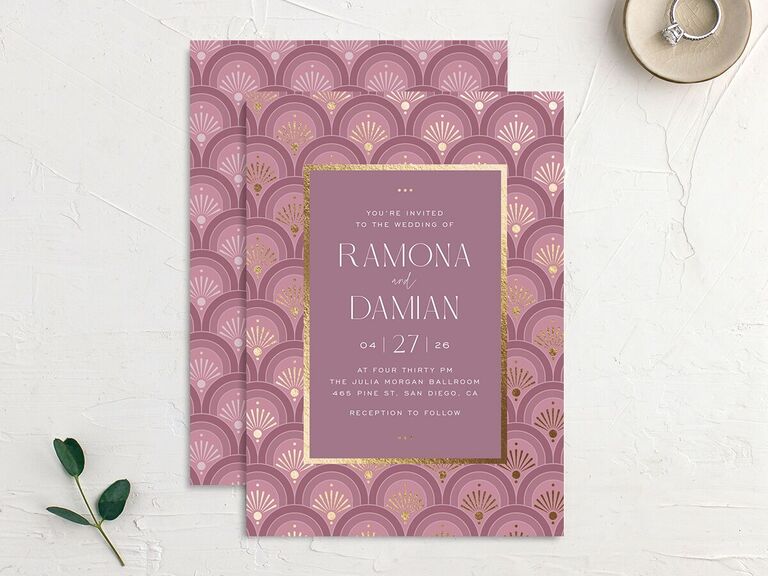 Want to pay tribute to classic Art Deco motifs in a more creative way? You can certainly do it with these wedding invitations, featuring modernist Art Deco stamps (arches and sunbursts) in gorgeous colorways like pinkish purple, baby blue and mint green. The design is a great option for couples using pastels as their wedding colors, as they can still get that Deco design punch while embracing the softer hues they love.
4. My Lovely Store Art Deco Gatsby Acrylic Invitations
Acrylic is the element you didn't know you needed when you first brainstormed your Gatsby-themed wedding, but now that you see it, you have to have it, right? This wedding invitation suite is perfectly assembled, including the acrylic main invite adorned with gold art as well as crisp white supporting cards (add whichever ones you'd like). You can also opt for decoratives that pull the whole theme together, like a custom band with a quote from F. Scott Fitzgerald: ''There are all kinds of love in this world, but never the same love twice.''
5. The Knot Written in the Stars Wedding Invitations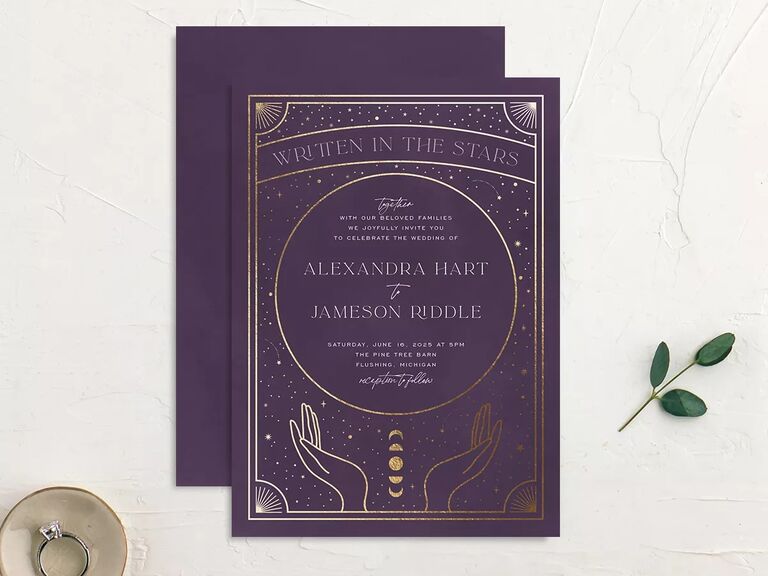 It might not be as traditionally Art Deco as the other options on this list, but you can see evidence of Deco inspiration in the linear gold border and the sunbursts in each corner of this moody wedding invitation suite. The details of your celebration are encased inside a crystal ball with hands reaching up toward it, below a "written in the stars" arc that makes us muse on soul mates. And if you're a history buff about the '20s and '30s, you'll know that fortune tellers became in vogue in the era, so this occult-inspired design has more Art Deco ties than first meets the eye.
6. Iveta Angelova Deco Frame Letterpress Wedding Invitations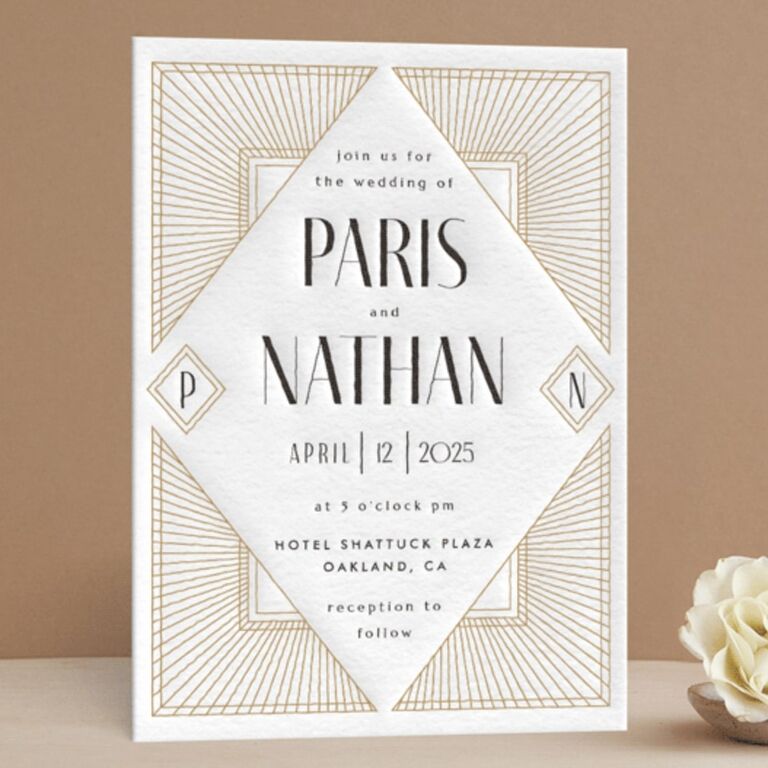 This invite kicks things up a notch with textured letterpress printing (which always adds a luxe touch to stationery). Every other detail is simple and sophisticated, including the faux gold and soft black colorway. Our favorite part, though, might just be your initials standing out in their own respective diamond boxes. We can foresee those design features being mirrored in your day-of wedding personalizations (read: a ceremony backdrop with floating gold diamonds or 3D geometric chandeliers above your sweetheart table).
7. Designed by Idka Velvet Emerald Art Deco Wedding Invitations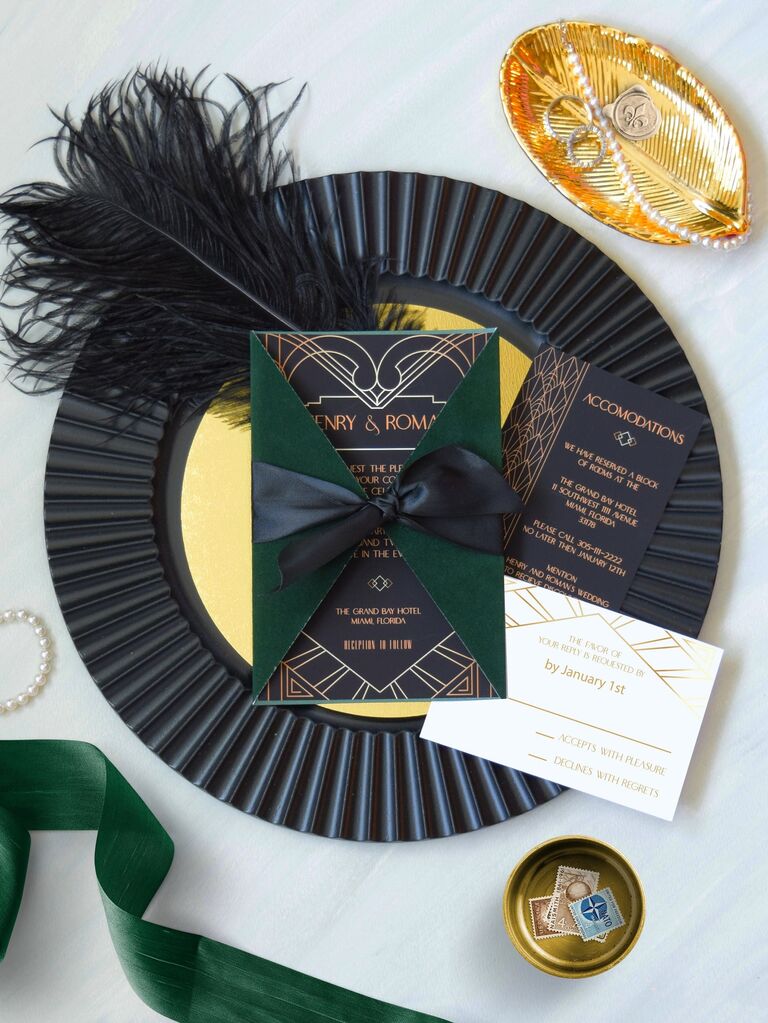 This luxe invitation's construction brings to mind a slick tuxedo, featuring two deep green velvet panels tied together with a silky sapphire bow. When invitees untie the ribbon, they'll be greeted with an eye-catching chevron-and-arch pattern that'll transport them straight to the Jazz Age. We love that this colorway includes multiple metallics and deep jewel tones, so it gives more nuance and play to the classic Deco color palette.
8. Kelly Schmidt Art Deco Foil-Pressed Wedding Invitations
A crisp white invitation adorned with rich gold or silver foil? Timeless. The delicate frame and sunburst details add just enough interest, since we feel the melodic invitation wording is the star here: ''Together with our families, we joyfully invite you to our wedding.'' It just tugs at the heartstrings #frameworthy.
9. Papier Decor Pillar Wedding Invitations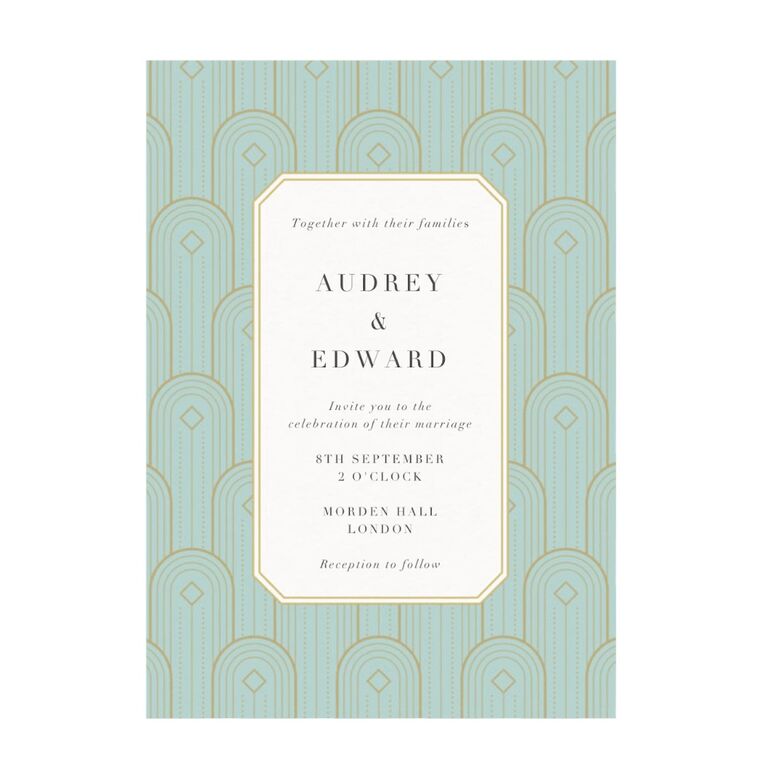 Those arches are a classic element of Art Deco design, and they look really good in mint and gold, don't they? And they look even better framing the emerald-shaped central silhouette with all of your event proceedings. To keep the color theme going, consider upgrading to one of Papier's custom-hued envelopes—the mint liners are adorable!
10. Ana de Sousa Deco Starburst Foil-Pressed Wedding Invitations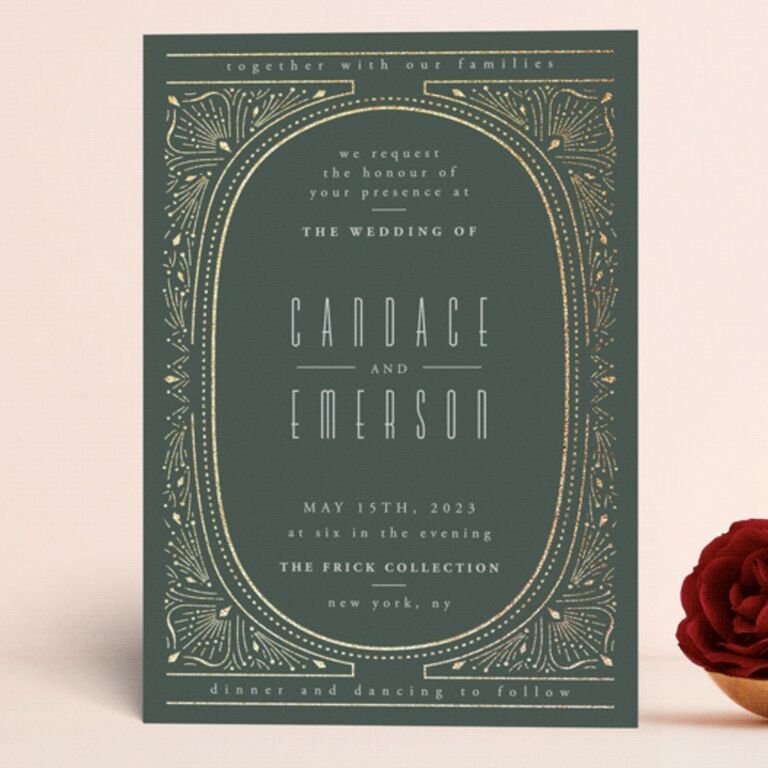 Ornate hand mirror from the Jazz Age or Art Deco wedding invitation? Obvi it's the latter, but come on, doesn't that gold framework immediately bring a vintage boudoir to mind? We love how this design isn't too crowded—the main invite is balanced with the formal invitation proposal in the center and banners at the top and bottom that read: "together with our families" and "dinner and dancing to follow," respectively.
11. Cartalia Art Deco Personalized Gatefold Wedding Invitations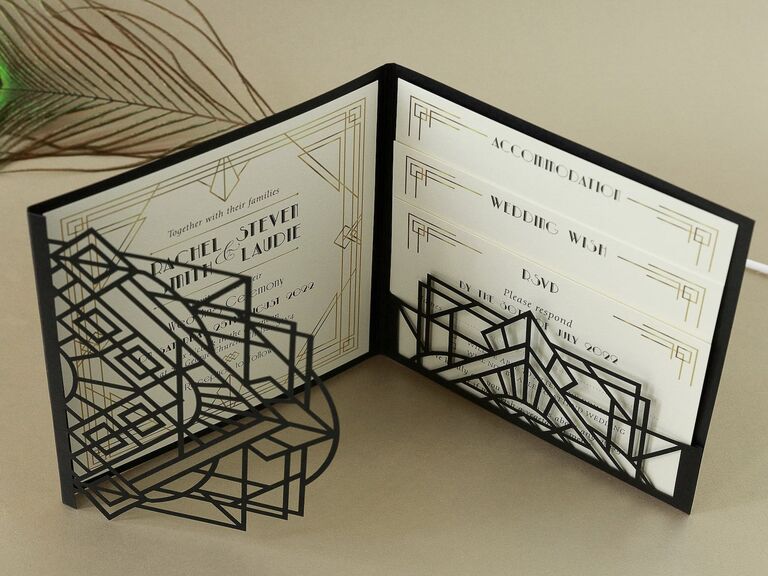 If we could sum this invitation up in one word it would be: opulent. Premium paper with a fine laser cut? Check. Three inserts, including your guest accommodations, wedding wishes (i.e. info on your dress code and reception considerations) and response cards displayed in a tier effect that mirrors Art Deco stepped form? Check. Choice of black or gold cover? Check. Your guests might want to throw their own glam event after receiving this in the mail.
12. Hooray Creative Beaded Edge All-in-One Foiled-Pressed Wedding Invitations
Does your wedding outfit have beaded fringe or pearl details reminiscent of flapper dresses? Because you can use your ensemble as inspo for your invites! Hand-pressed with real foil (in your choice of eight metallic and glitter-metallic hues), this all-in-one invitation streamlines your invitation suite, since it folds in unto itself and doesn't require an envelope. All you need to do is fold, seal with the included clear stickers on the center and both sides of the flap, and send.
13. The Knot Ornate Elegance Wedding Invitations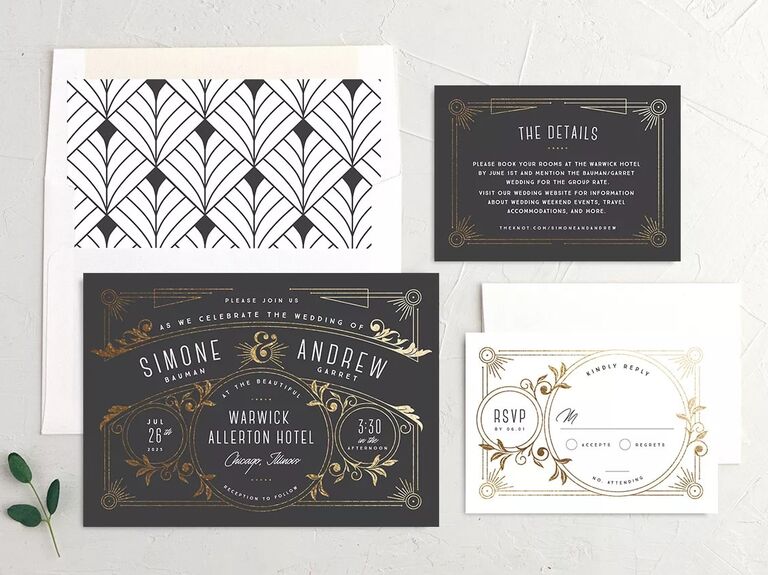 This invite combines the clean lines indicative of Deco design with organic shapes and symbols that frame your details perfectly. The wedding whos, whens, wheres and hows are perfectly printed in vintage-inspired fonts, while gold foil, sunbursts, fans and flourishes add some extra oomph. We're especially smitten with the add-on RSVP card, because your guests are sure to feel elite with their names framed so artistically.
14. GeekInk Design Deco Garden Wedding Invitations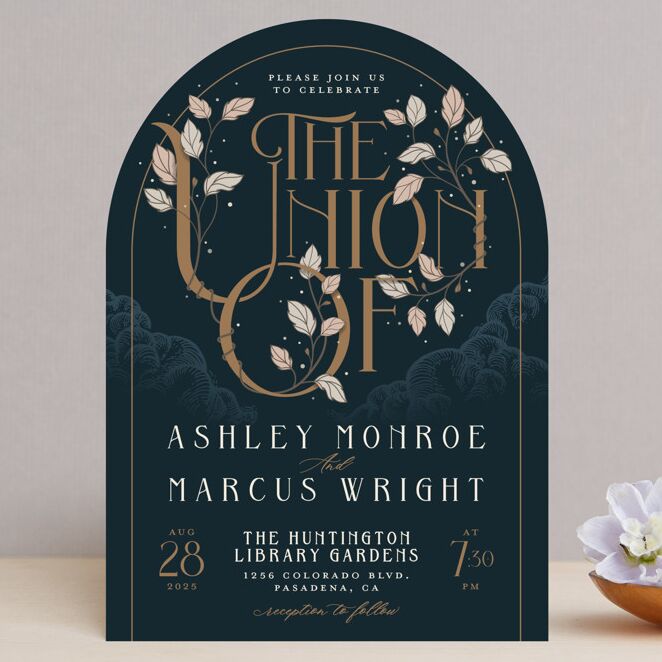 Deco, but take it outside under the stars. That's exactly what this invitation is giving with its arched silhouette, large gold script and celestial, leaf-covered vines. The fluffy clouds in the background will give your guests a hint that they'll be dining and dancing in an enchanted garden setting.
15. Design Lotus Captivating Foil-Pressed Wedding Invitations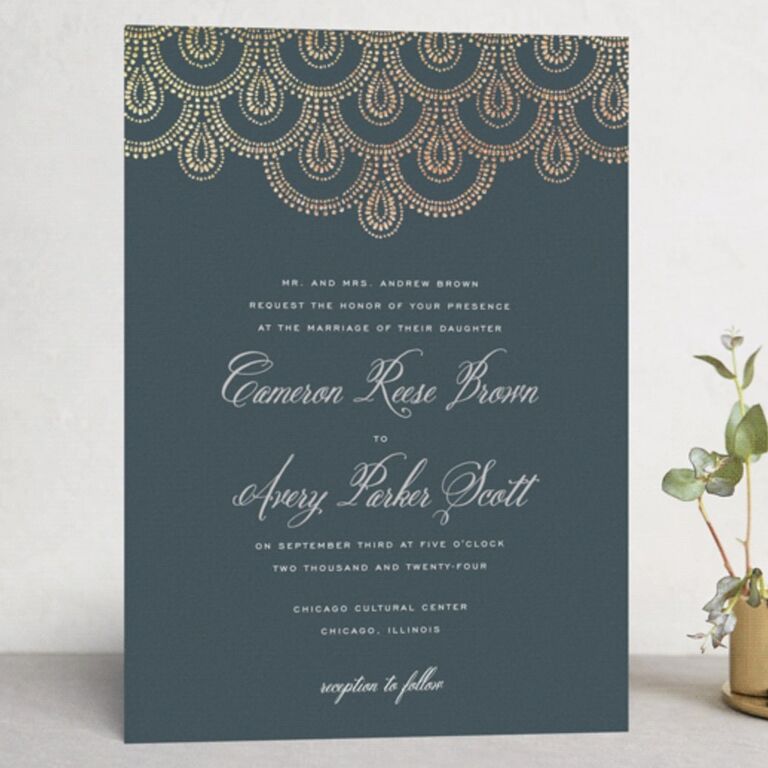 An elegant wedding with an Art Deco theme will undoubtedly encourage your guests to bring the glam like characters in the Baz Luhrmann film version of "The Great Gatsby." In turn, let your wedding invitations provide a sneak peek of the cinematic elegance that they're in store for on your special day. Pro tip: Bring that peacock-style vintage gilding adorning the top of the invite into your cocktail hour with beaded lamp shades or Deco-style crystal chandeliers.
16. Nikole Gramm Deco Arches Wedding Invitations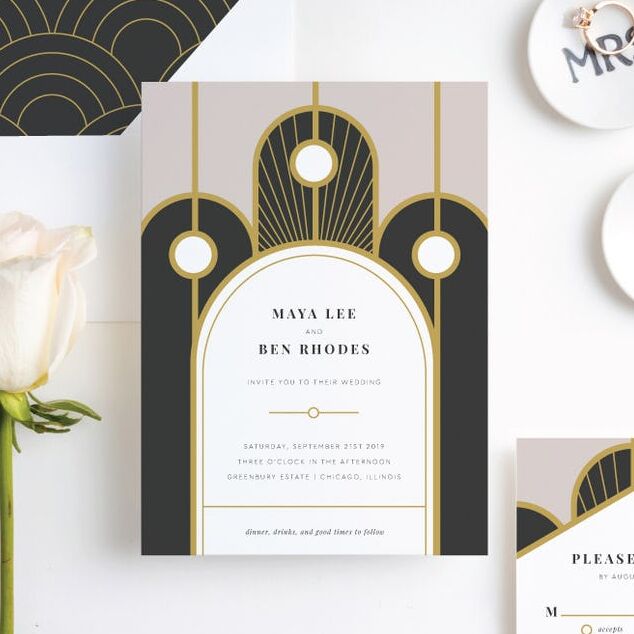 The gorgeous arch details adorning these invitations bring to mind an ultra-glam NYC hotel from the '20s. Here, your important wedding details are accented with bright gold lines and classic motifs. When your guests flip the card over, they'll get double the eye candy with even more Deco details.
17. Nazia Hyder Minimalist Deco Foil-Pressed Wedding Invitations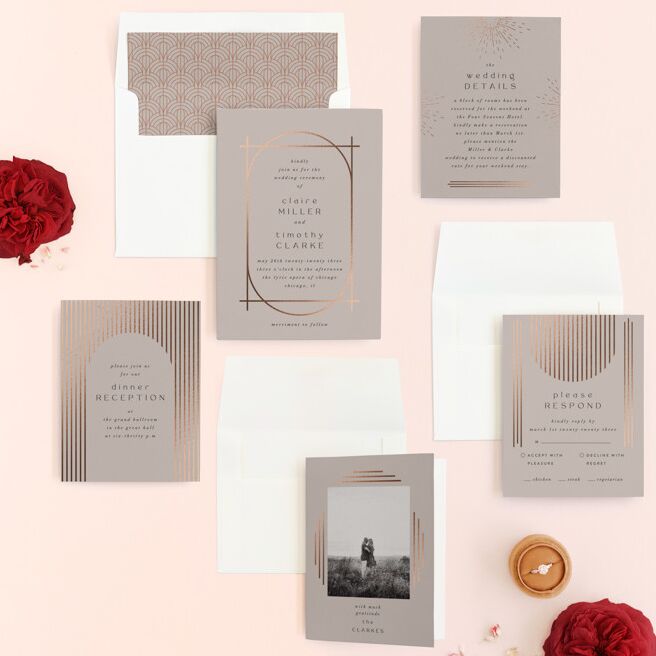 With Art Deco, you don't always have to go Gatsby-level fancy with themed invitations. Instead, you can play with just one or two facets of the style. This invitation suite features the metallics and the motifs (clean lines, sunbursts, arches, etc.) that are oh-so-iconic in Deco design, but on a clean backdrop. For a 2020s-style Art Deco rendition, we like the soft neutral color options like fawn and blush paired with gold and rose gold, respectively—or gold and bronze paired with rich jewel tones for fall and winter Art Deco weddings.
18. Nikole Gramm Art Deco Wedding Invitations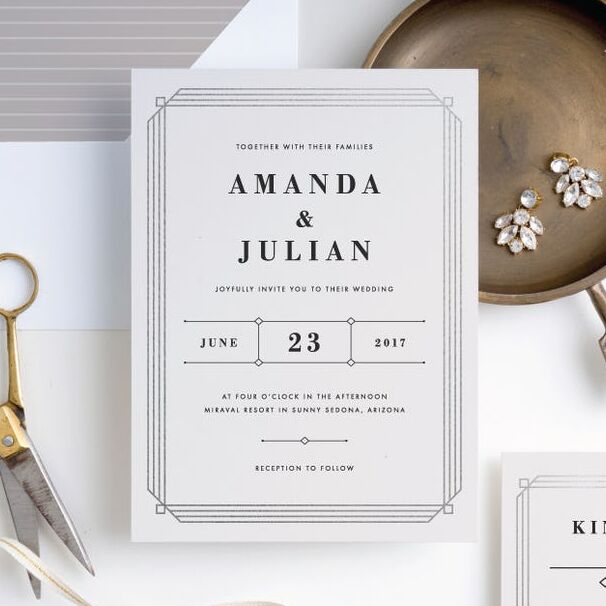 These invites will have your guests-to-be raising a glass well before the wedding day. The suite features lofty geometry and angular lines that reflect the timeless elegance of your upcoming nuptials. And if the real gold foil is a bit beyond your stationery budget, no worries! You have the option to do a flat print, which is considerably less expensive and still gorgeous.
19. GeekInk Design Ornate Deco Foil-Pressed Wedding Invitations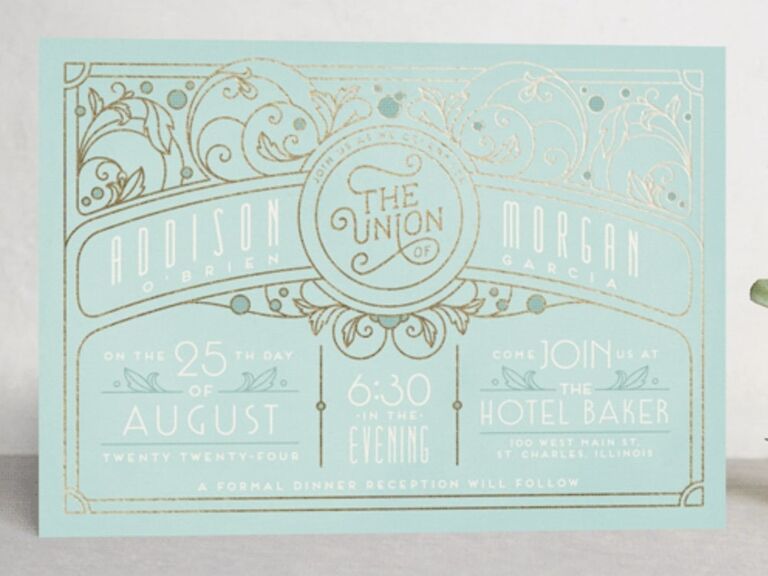 Want to go even more opulent? Then choose a Deco design with a kiss of Art Nouveau. This fanciful invite clearly embraces Deco in its linear borders, but all of the leaf florals and curvy, luxurious embellishments lean more towards Art Nouveau. It works together to create an invite that recalls vintage entertainment posters, and the celebratory styling is ideal for your big bash.
20. Papier Art Deco Wedding Invitations
Simplicity is the star in this Art Deco-style invite. Its classic black and white colorway gets a charming touch with the fanned border. And if it's not extravagant enough for your wedding, fear not: There's a party invitation that would work perfectly as an engagement party or rehearsal dinner invite, you'd just need to tweak the wording to fit the occasion.