20 Beach Save-the-Dates to Beckon Your Guests to the Coast
If sand and sun are part of your special day, send out a postcard to paradise.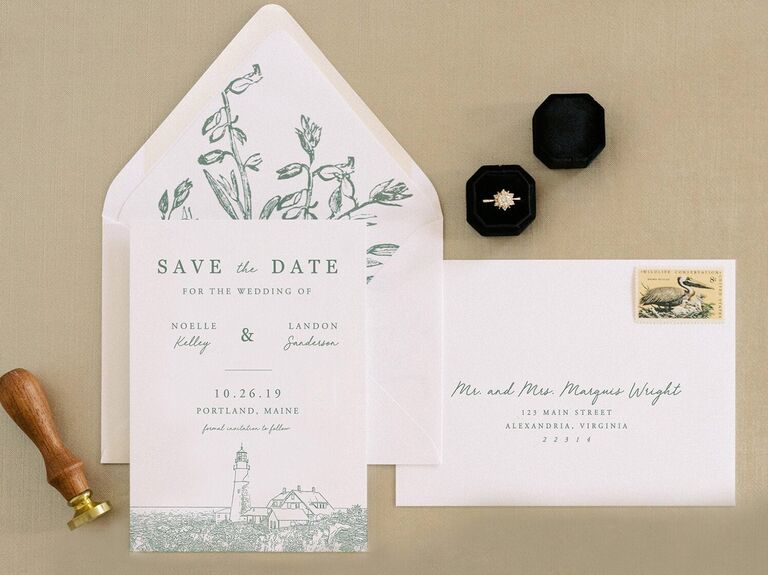 We have included third party products to help you navigate and enjoy life's biggest moments. Purchases made through links on this page may earn us a commission.
Beach wedding planning is not always a sea of calm—from the permit and budget parameters, to weather contingencies, to waterfront wardrobe queries and countless other considerations. But if you've chosen a date and snagged a worthy beach wedding venue, then you'll probably want to send out beach save-the-dates next. Luckily, you'll have no problem sourcing something appropriate for your beach-bound soiree—whether it's a tropical destination wedding weekend or domestic "I do"s in a surf-and-sand setting.
We've rounded up some of our favorite beach save-the-date ideas, guaranteed to tide your guests over until the big day. From minimalist postcards featuring the sweetest sandpiper illustration atop your wedding details to splashier sunset-silhouette cards, these beach save-the-dates—including several from The Knot Invitations—promise future fun in the sun. And we're RSVP-ing "YES!"
1. The Knot Elegant Lighthouse Save-the-Date Postcards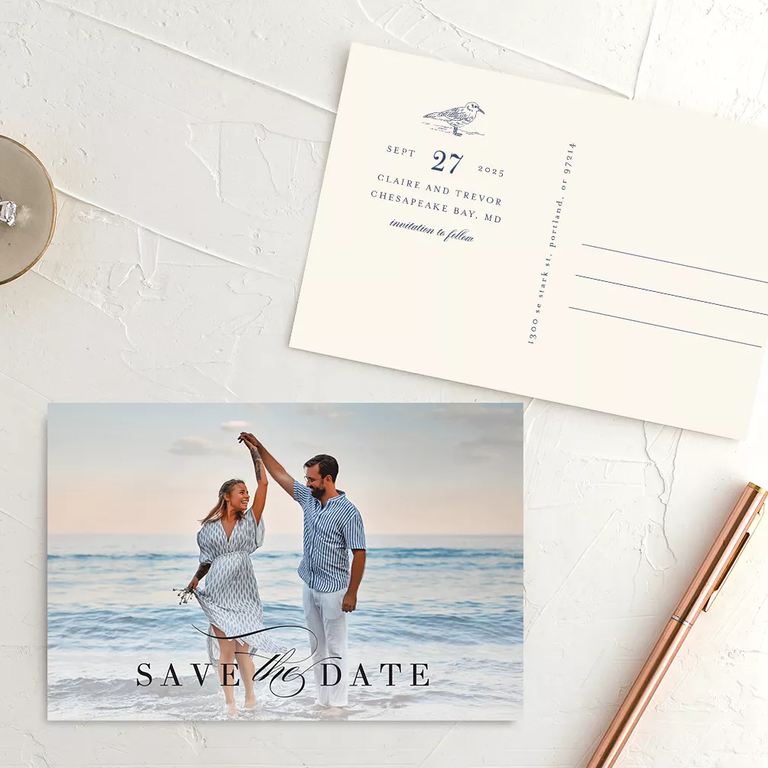 Trying to find the perfect stationery to show off your favorite oceanside engagement photo? Look no further than this simple postcard design, available in eight coastal wedding colorways, with the words ''Save the Date'' splashed across the front in a mix of serif and cursive fonts. The traditional postcard layout on the back teases your wedding date (the special day in bold) with your names and wedding location underneath. And how cute is that little peeping sandpiper at the top?
2. The Knot Watercolor Wash Save-the-Date Cards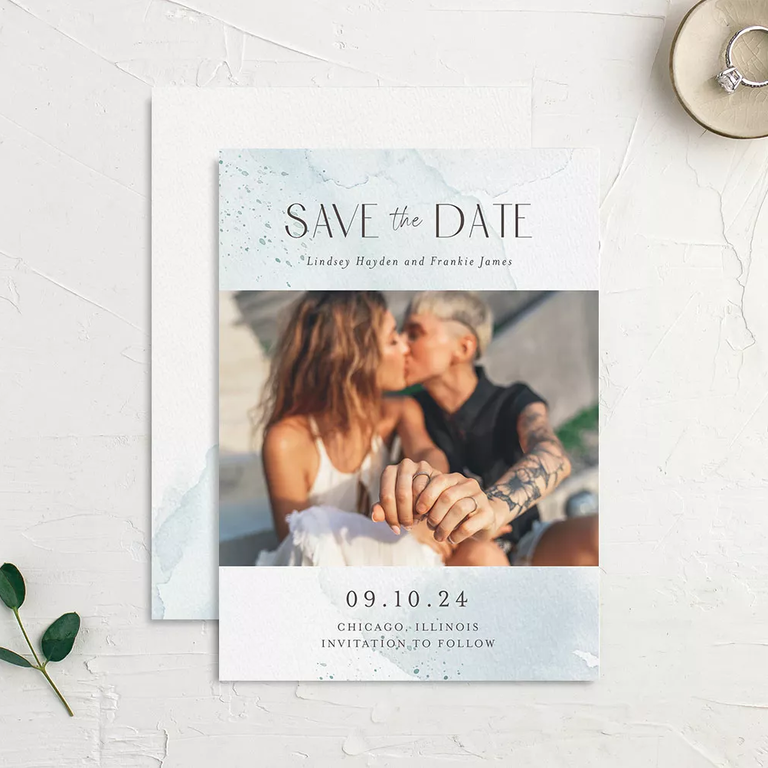 Leave your guests to soak it all in (all the important info about your nuptials, that is) with this impressive watercolor wash save-the-date. Sandwich your best couple pic between your names, those three magic words, the special date and your "I do" locale. All while your pick of neutral or pastel color froths up in the background. You already know this, but bring on the blue for a truly beachy look.
3. The Knot Coastal Love Save-the-Date Cards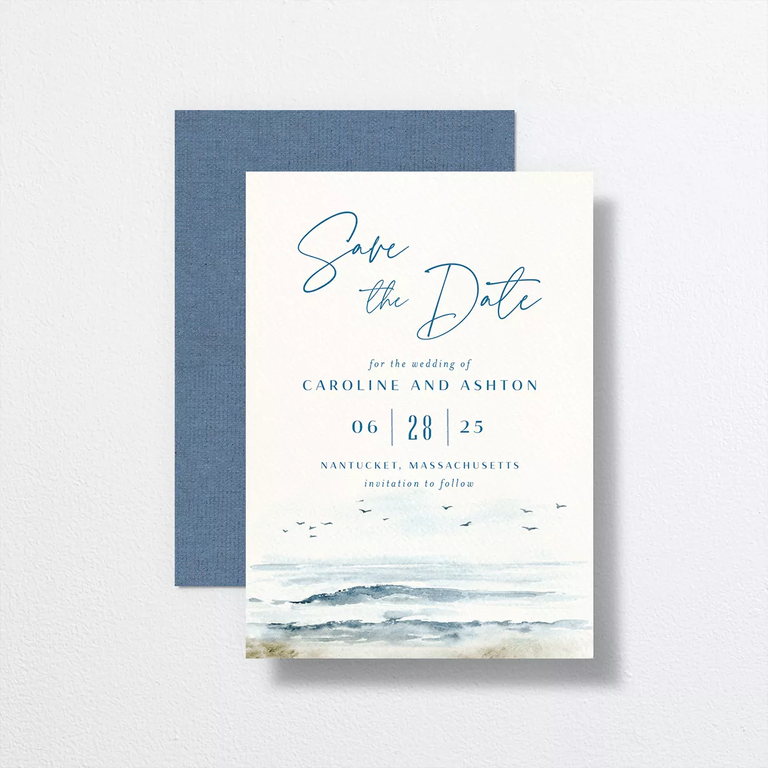 Every detail in this save-the-date is memorable, from the blue and gray ethereally painted coastline to the big-day details splayed across the bird-busy sky. That nautical theme on the horizon comes through clear with an anchor-flanked monogram on a textured reverse side. Your guests are probably already thinking about the burlap welcome totes awaiting their wedding weekend arrival. Get those salty kettle chips ready to tuck inside for some beach snacking!
4. Morgan Ramberg Destination Bound Save-the-Date Cards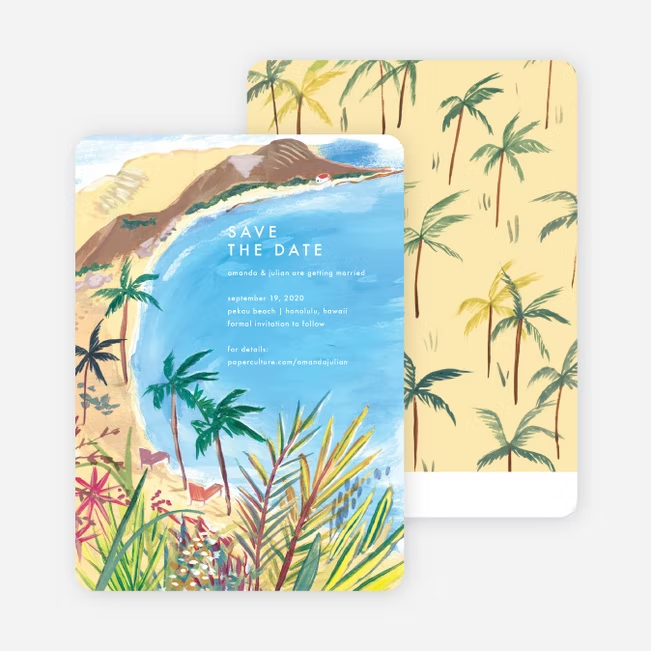 Before you can send a destination wedding invitation, you need to send a noteworthy save-the-date for your approaching nuptials. And we can say, without a doubt, that you'll have your guests' full attention with a colorful card like this. All of your wedding particulars are written in white on the water—with a "for more information" callout to your wedding website just below. A bonus for eco-minded couples: This save-the-date is printed on recycled paper and, for every order, Paper Culture plants a tree in your honor.
5. The Knot Sparkling Tropics Save-the-Date Cards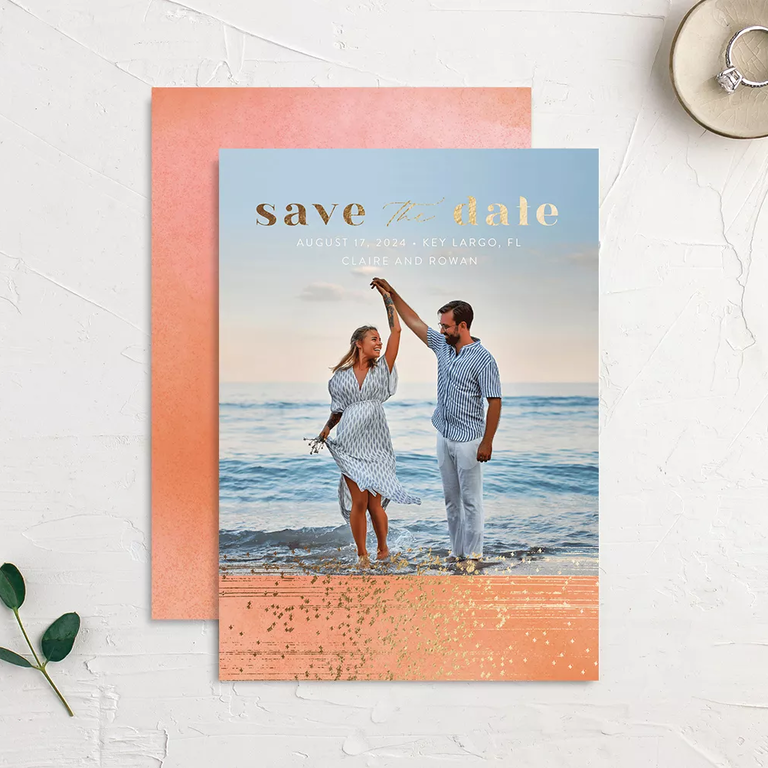 The way that almost-setting sun hits on the water? It sparkles. Just like your romance. That's why a foil-speckled design, like this one from our own in-house stationery studio, is so fitting. Extra points for matching your wedding palette to the scintillating glow of the beach at dusk. Need a hint? The purple colorway with gold foil is oh-so-reminiscent of Florida's cotton candy skies and sugar-sand beaches.
6. The Knot Abstract Beach Save-the-Date Postcards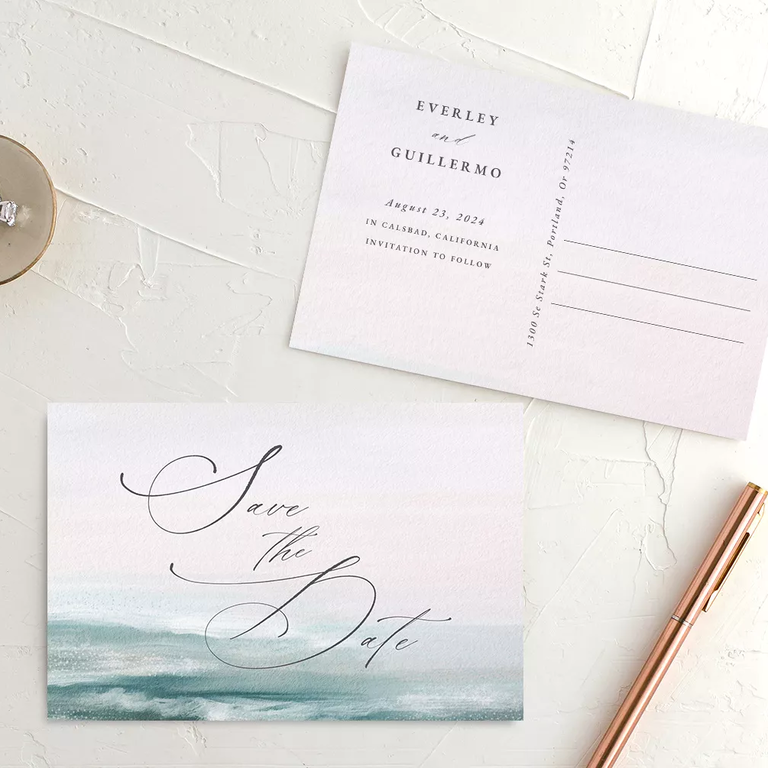 A beach wedding theme doesn't have to pummel your guests as soon as they open your save-the-date envelope. You can still set the scene with an abstract watercolor wash that resembles rolling ocean waves. The back of this card presents you and your partner's names—capitalized and separated by a whimsical cursive ''and''—alongside three open lines for your guests' names and addresses. Oh, and don't worry about where to put your return address—it's written in delicate italics, smack dab in the middle of the card.
7. Inviting Card Creation Beach Chairs Save-the-Date Cards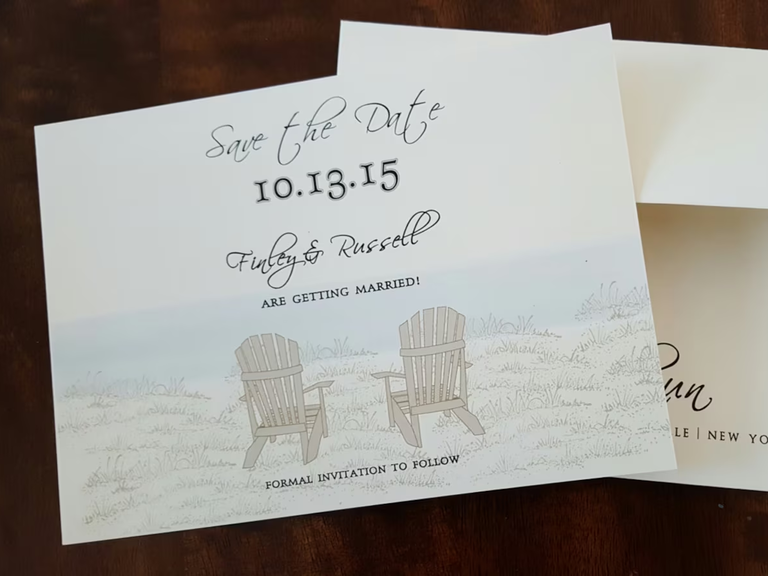 Anyone else feel completely at ease looking at these Adirondack chairs pointed at an undisturbed beach and motionless ocean? Because we're definitely there. Your wedding date is a focal point in block lettering and your names and ''Save the Date'' are impressively calligraphed. Just remember to follow up with a formal beach invitation that's just as entrancing.
8. The Knot Vintage Island Save-the-Date Postcards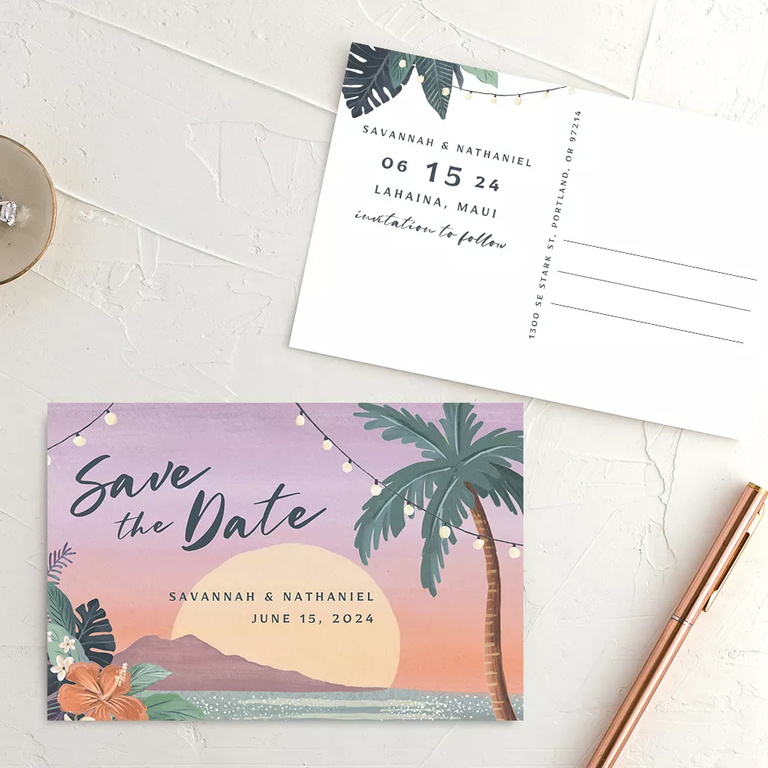 There's a wedding in paradise—and you're invited! That's exactly what this Hawaiian save-the-date postcard is serving. A towering palm to the right, volcanic mountains in the back and string lights in the foreground that frame your names and date come together to create a vibe that's straight out of a vintage postal stamp. We're totally here for it!
9. The Knot Something Blue Save-the-Date Cards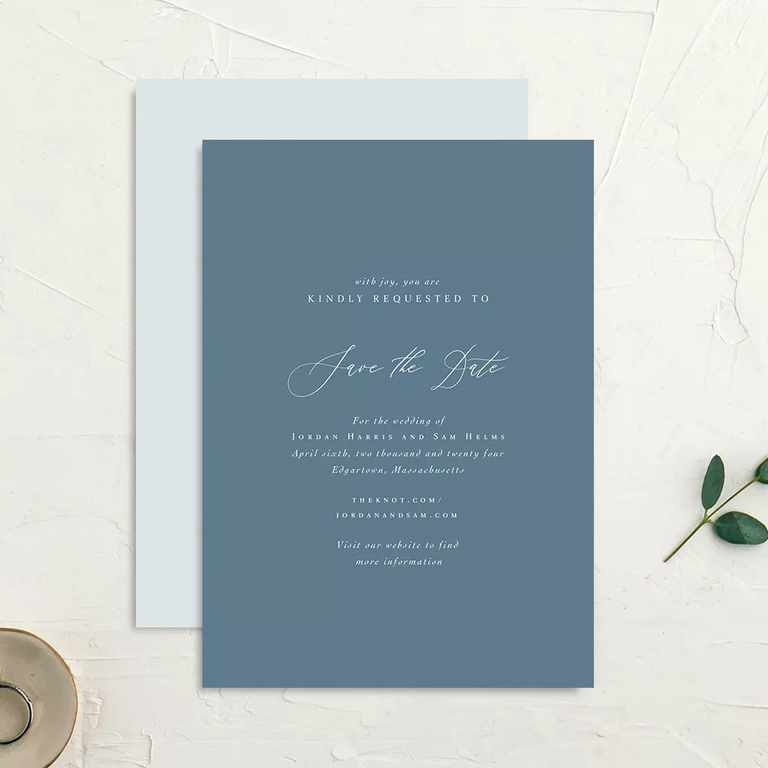 Leaning into the something blue tradition is easy with this contemporary beach wedding save-the-date card. The dusty blue background, overwritten with your wedding details in cloud white, complements your celebration swimmingly. As does the elegant scripted monogram on the back.
10. Cork Country Cottage Beach Save-the-Date Postcards
Beach save-the-date postcards, but make them beech wood. How fun are these laser-engraved save-the-date postcard magnets? You can choose from six different wood bases or go with a mix of all of them and have all of your wedding details etched in style. Just be sure to ask the seller what you should do for envelopes.
11. Megan Galante Pretty Petals Save-the-Date Cards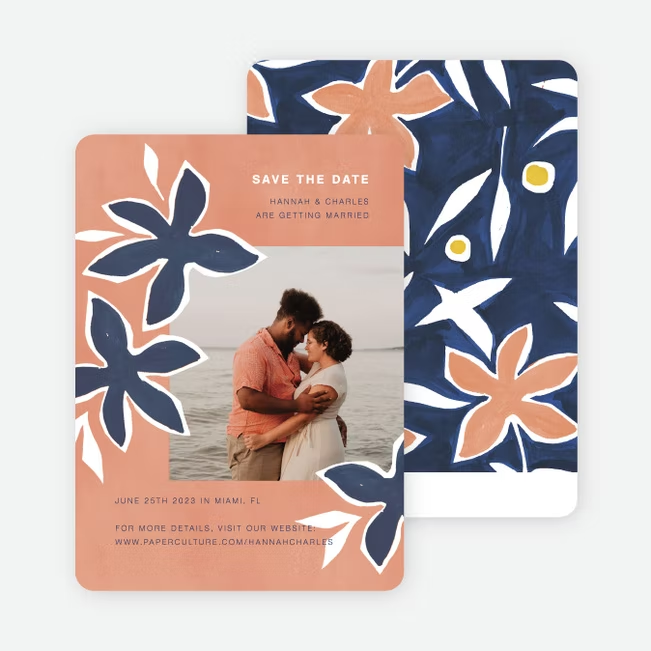 Are your nuptials set to take place at a locale laden with tropical blooms? If that's the case, you can be sure your guests get the picture with these beach save-the-date cards. Your names, wedding date and a favorite photo are on display on the front, with hand-drawn tropical botanicals on the back.
12. Mospens Studio Hilton Head Island Map Save-the-Date Cards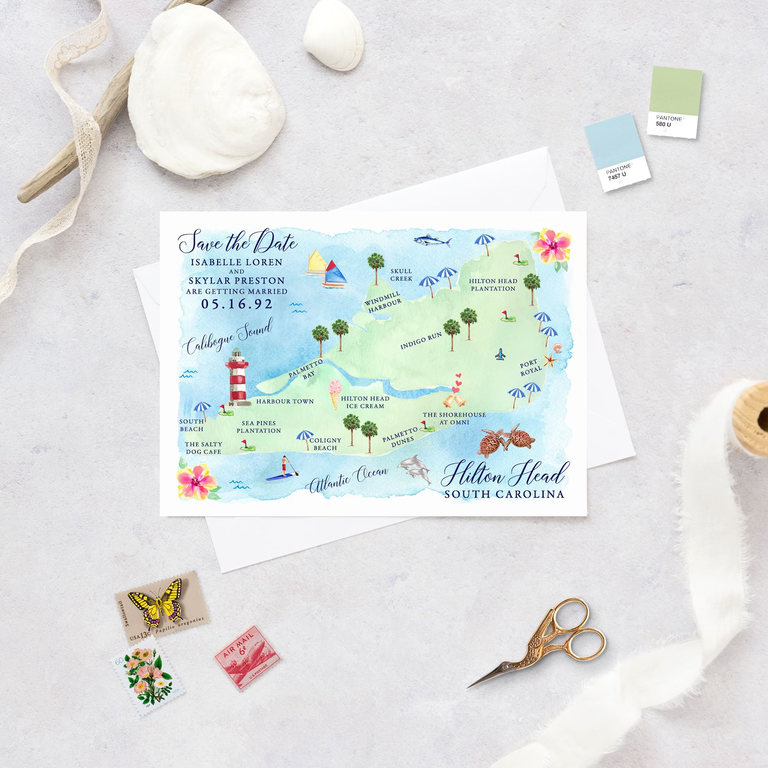 One of our favorite ways to personalize wedding stationery is to commission an artist, calligrapher or graphic designer for a custom wedding map or venue illustration. These playful map save-the-date cards feature a 100% original hand-painted printed watercolor map of Hilton Head, South Carolina (but the Etsy shop owner has a number of other cool beach wedding spots in her rolodex). If you'll be getting married somewhere you both know well, what better way to get your guests excited to come along with you?
13. The Knot Vintage Nautical Save-the-Date Cards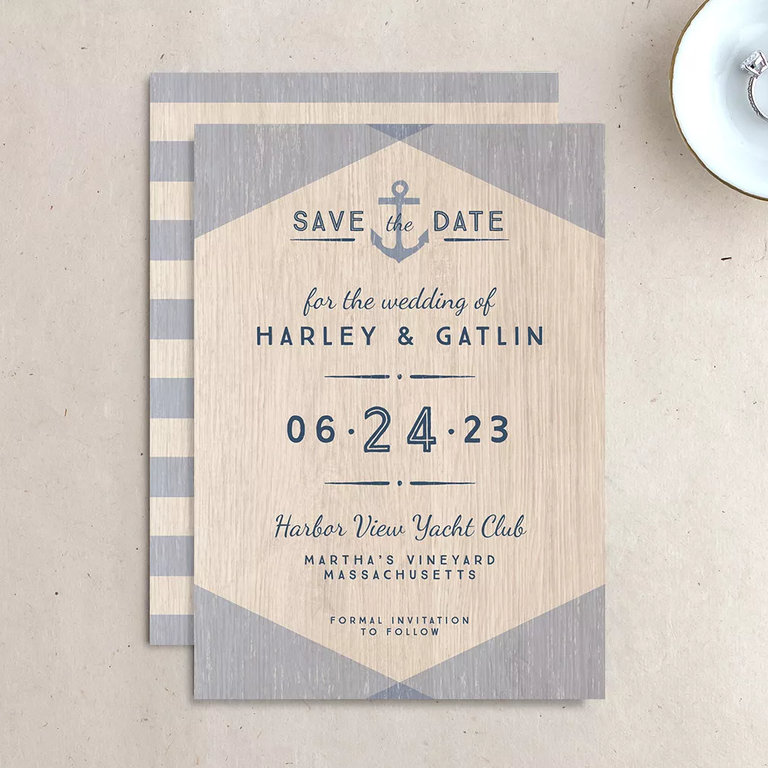 Is your wedding happening at a yacht club or beneath a sailcloth tent on the grounds of a historic estate? If so, you'll need the perfect ocean or beach themed save-the-date to commemorate your upcoming occasion. The powder blue and khaki palette is nautical, with a dose of whimsy, and we can't help but wonder if it was inspired by all the collegiate love stories/meet-cutes that happened on New England college campuses.
14. Longest Time Design Portland Maine Save-the-Date Cards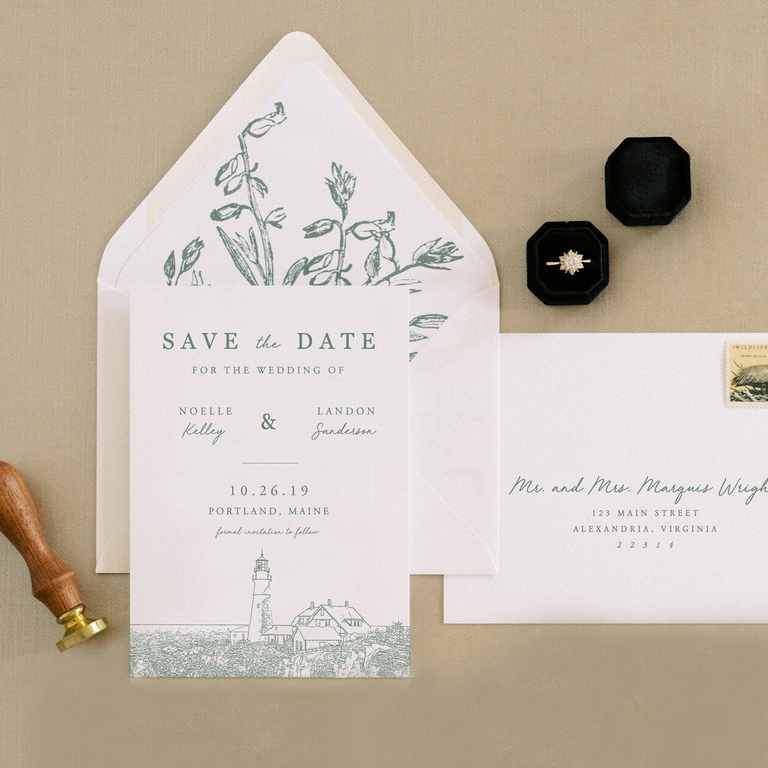 Will your wedding take place by an enchanting harbor or bay? Because we have the perfect design for your day. This semi-custom wedding stationery is unique, with its lighthouse illustration and earth-toned inks.
15. Papier Shell Grotto Save-the-Date Cards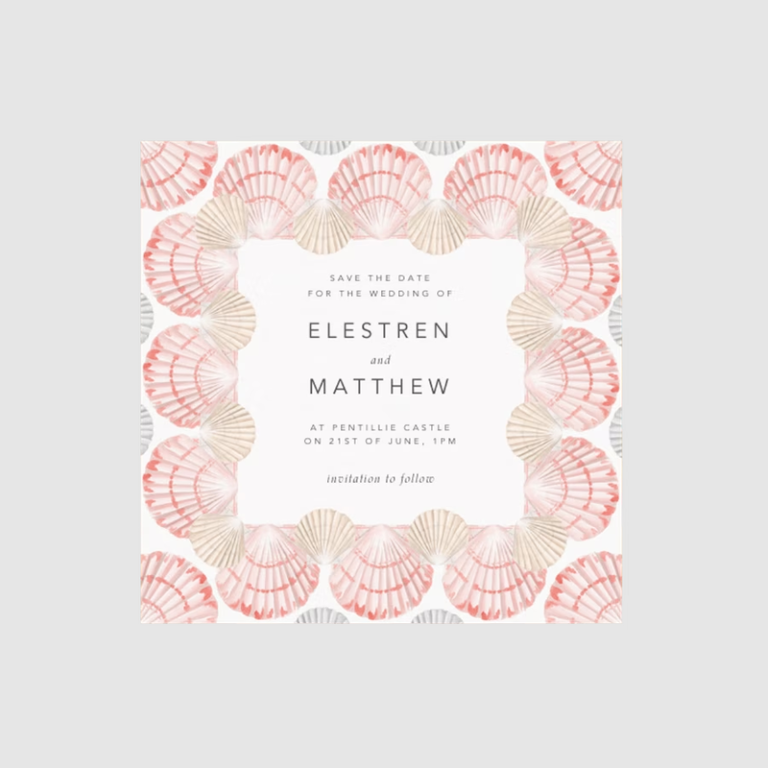 Red, gold and silver seashells dance around your details in this modern save-the-date with a beach theme (with hints of Art Deco styling). The square card format is unexpected and fun, and the serif lettering is bold and unmissable. Your nearest and dearest are in for a glamorous time at your stunning beachside soiree (be it in coastal Rhode Island, Georgia's Golden Isles or a decadent surf club in Montauk).
16. Ambrosia Prints Ocean Wedding Save-the-Date Cards Download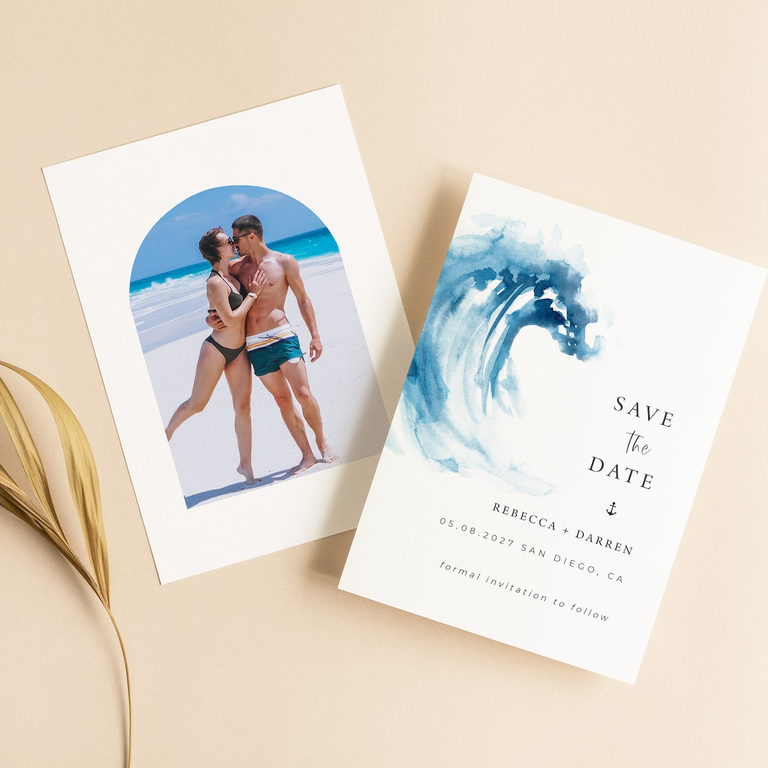 If you've just picked your wedding date and place, and can't wait to get out save-the-dates, then opting for an instant download is a great choice. This template highlights all of the important aspects of your wedding—from your names to your wedding date (and location, if it's booked already)—beside an instantly recognizable watercolor ocean wave. And if that isn't telling enough, the teeny tiny anchor under your event specifics is another Easter egg. Just be sure to find a reputable local printer.
17. The Knot Lavish Palm Save-the-Date Cards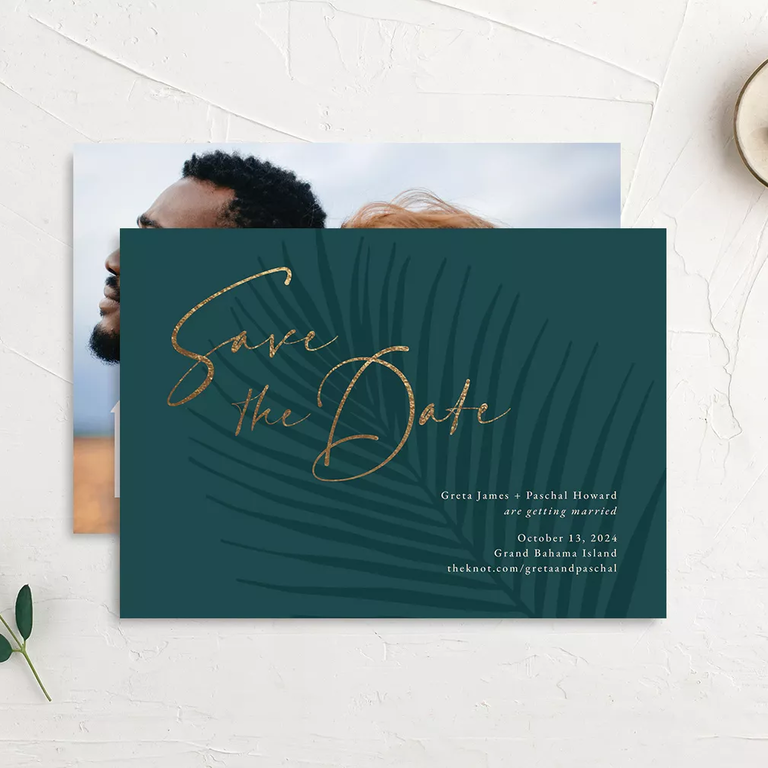 What's a destination beach wedding without some palm fronds? We're loving the simplicity and modernity of the tropical flora on this horizontal card, and the gold foil detailing on the words ''Save the Date'' offers the perfect finishing touch. This is all on the back, though, we can't forget the front! Your faces plus the start date of your forever. This elevated beach save-the-date is one for the books.
18. Papier Nautical Save-the-Date Cards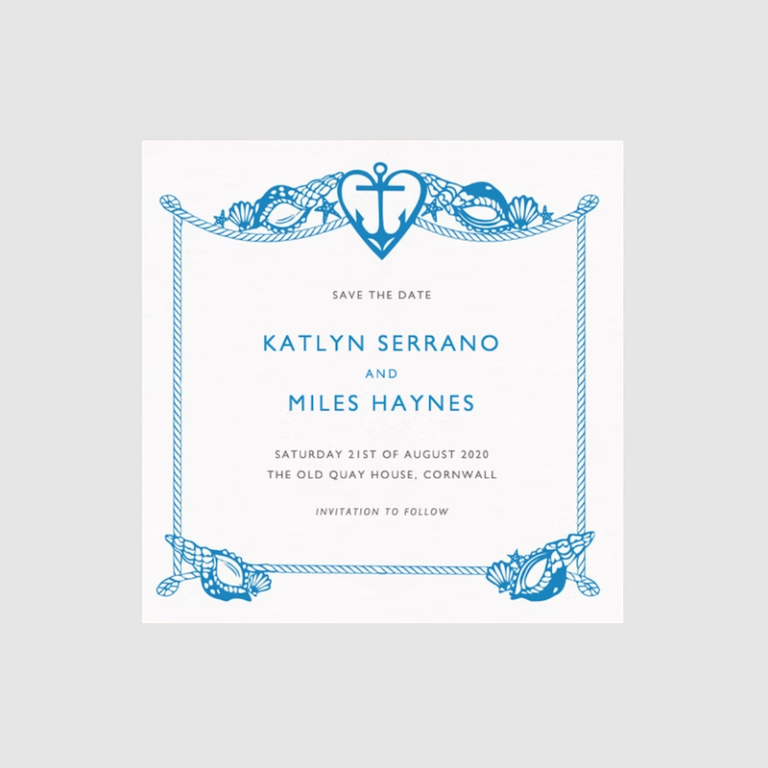 Next up is a nautical hot take, courtesy of this cerulean-blue-on-stark-white square card. Your names stand out in the center, while the rest of the wedding details hover above and below in gray typeface. And how iconic is that sailing rope frame, dotted with shells, conches, starfish and a heart anchored by your amour? We're obsessed.
19. Yellow Dodo Wedding Sand Dollar Save-the-Date Magnets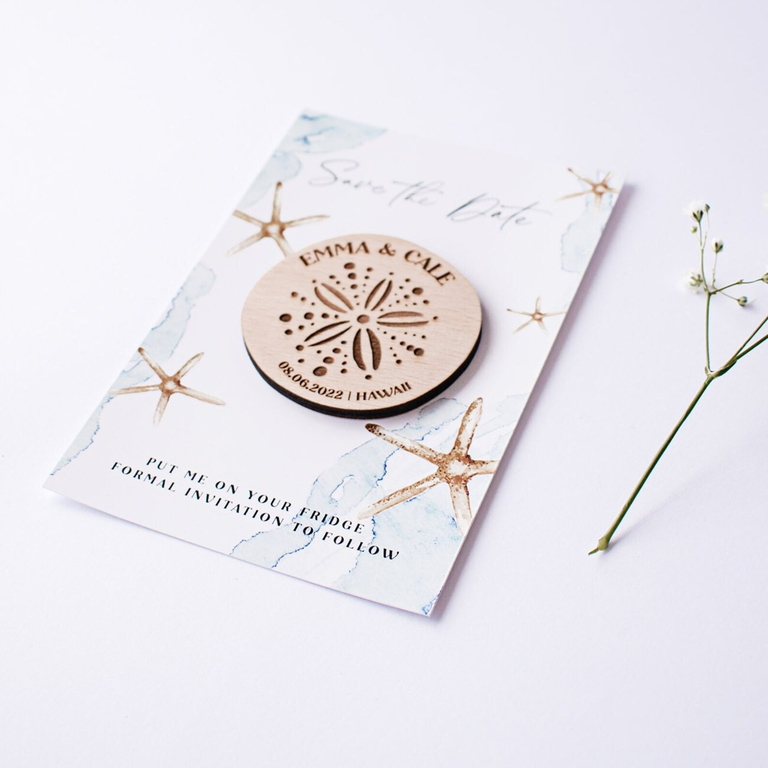 We started with a sandpiper and now we'll end with a sand dollar. Your guests will get these too-cute wooden beach save-the-date magnets up on their refrigerators ASAP and mark their calendars with your special day, by the same token. Everything from your names and wedding date to your lustrous locale and wood preference (oak, beech or birch) is fully customizable—just send the Etsy artisan a message with your wishes and they'll send you a free digital proof before purchase.
20. The Knot Beach Party Save-the-Date Postcards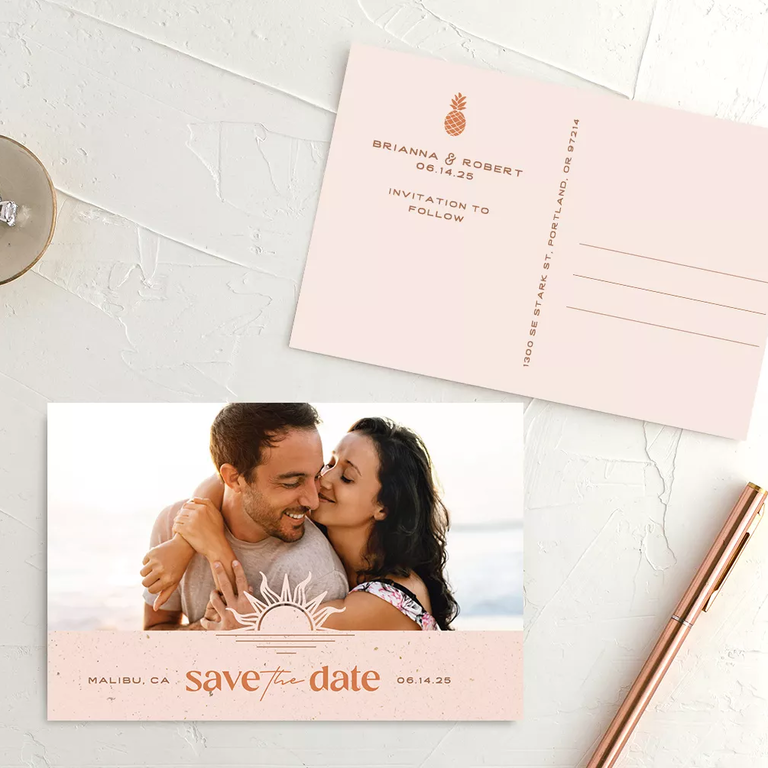 If anything beams brighter than this sprawling sunshine, it's got to be your love—right? These save-the-date postcards showcase your smiling, all-in grins above a depiction of a setting sun. The reflection of which points directly to your come-to-our-wedding request. That pineapple above your names on the postcard side, though, might just be our favorite beach party beacon yet.