The Best Barware and Serveware To Add To Your Wedding Registry
The best barware and serveware to add to your wedding registry, chosen by the pros at The Knot for our 2019 Registry Awards.
We have included third party products to help you navigate and enjoy life's biggest moments. Purchases made through links on this page may earn us a commission.
You're going to have a lot to celebrate over these next few months—so we're here to make sure you're set up with everything you need to party properly. From glassware and bar tools to cheese plates and cake stands, we've rounded up the best barware and serveware for your registry.
In this article:
Best Platters and Bowls
Even takeout food can look like a million bucks if presented on the right serveware. Ensure you're ready for whatever type of party life throws your way with these gorgeous (award winning!) serving pieces.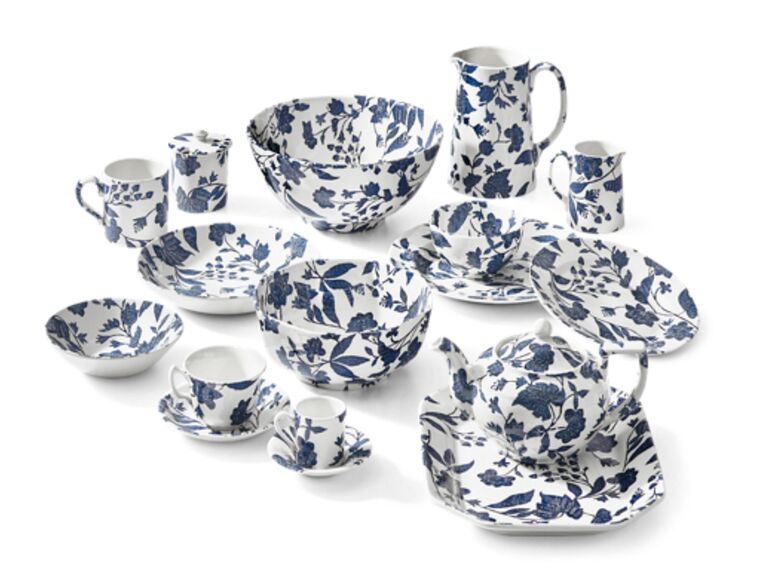 Editor's Pick: Ralph Lauren Burleigh Collection, from $32, RalphLauren.com
This gorgeous floral collection from esteemed design house Ralph Lauren has some serious heritage. Made in partnership with ceramic house Burleigh, it's the first time the manufacturer (beloved by the Royal family!) has used an outside pattern in over a hundred years. The pieces in the collection, ranging from bowls to pitchers and trays, are sure to become family heirlooms. Add these serving piece to your wishlist with our Universal Registry tool.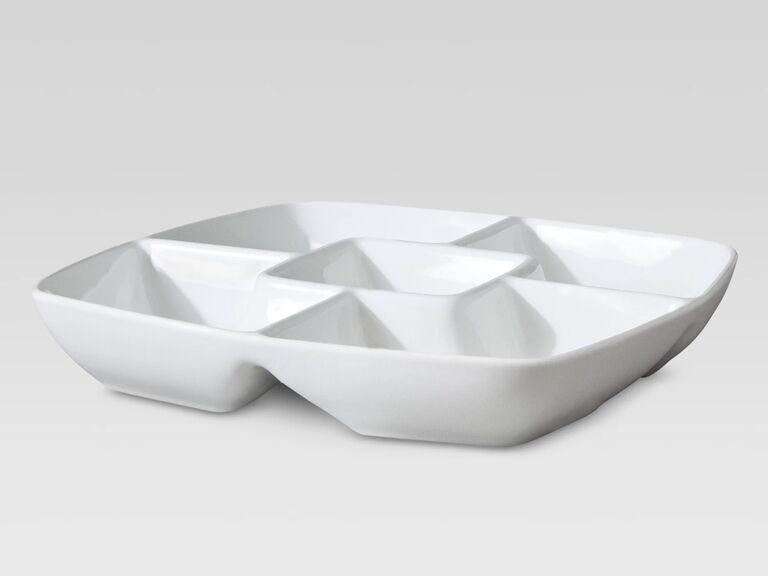 Couple's Pick: Target Porcelain Divided Serving Platter, $20, Target.com
Keep your chips separate from your guac and your strawberries away from your grapes with this nifty serving platter chosen by our couples. Divided into five different dishes, it's a great way to present a veggie or fruit platter (just throw your dip in the middle!).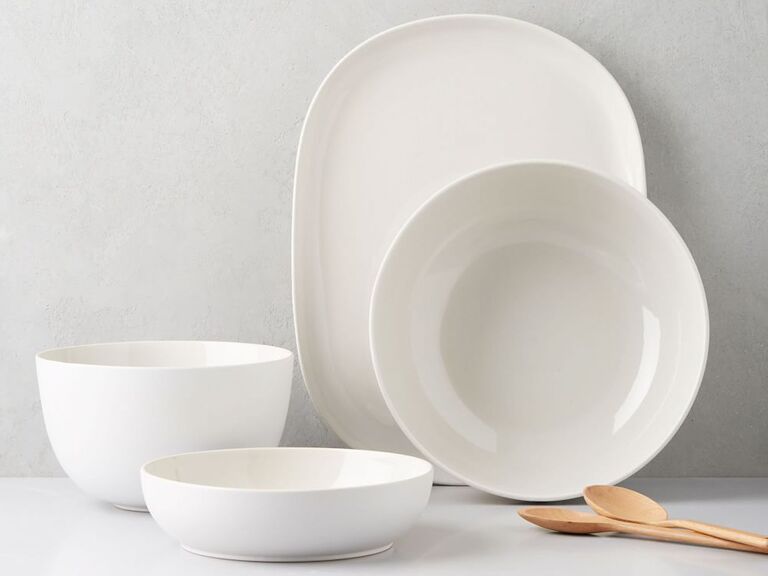 Best Basic Serveware: West Elm Kaloh Serveware, from $23, WestElm.com
No list summing up the best serveware on the market would be complete without a classic set of white serving pieces. The chic rounded shape feels very fresh and crisp white is known to make your food pop and look extra appetizing.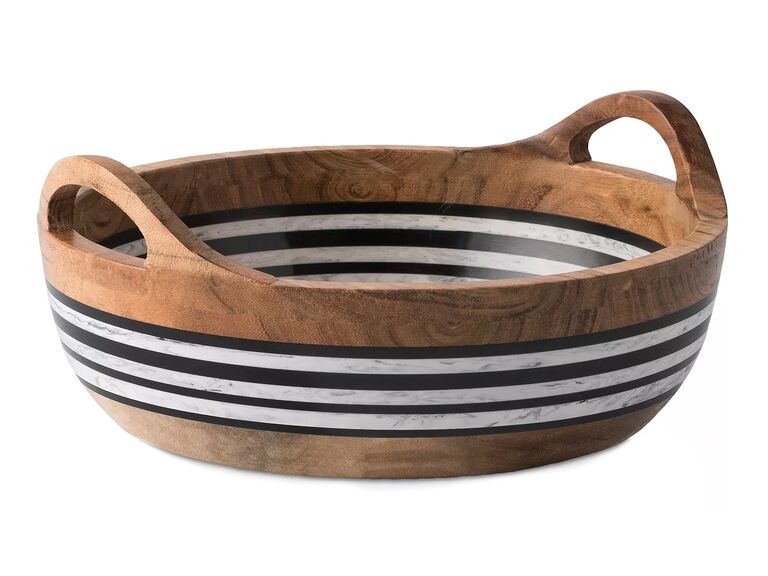 Best Wood Bowl: Juliska Stonewood Stripe Round Serving Bowl, $215, Bloomingdales.com
Guys, we're so obsessed with this serving bowl. It's a stunning combination of acacia wood, marble and resin, and looks like it'd be at home at any French chateau or market. It's a bit of a splurge, but guests will love gifting you a timeless piece they know you'll put to good use for years to come.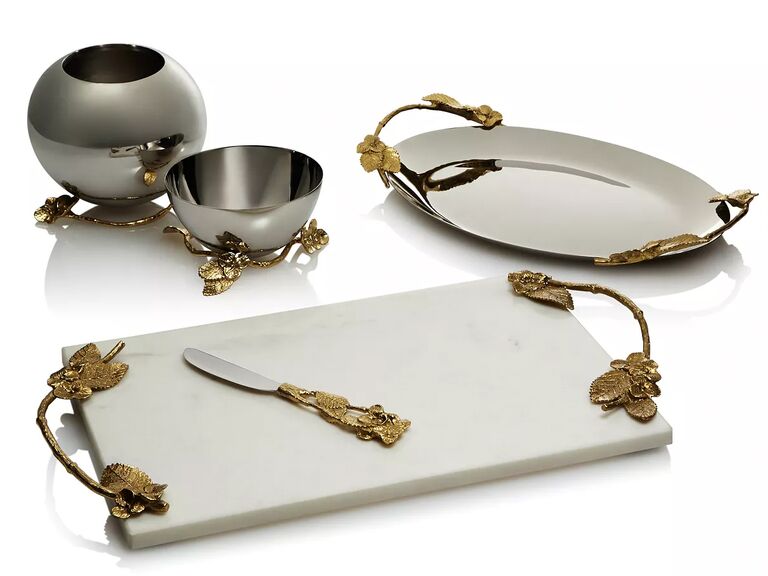 Best Special Occasion Serveware: Michael Aram Hydrangea Collection Serveware, from $65, Bloomingdales.com
Looking for something a bit more luxe? These floral-inspired serving pieces from Michael Aram combine brass, marble and stainless steel for a collection of one-of-a-kind pieces that will seriously wow your guests.
Best Cake Stands and Tiered Servers
Elevate your baked goods (or even party appetizers) on a gorgeous stand for bites that look instantly more appetizing. We love the idea of registering for a beautiful cake stand to use on your wedding day and then again throughout your lives together. Sweet, right? We suggest the below cake stand—plus all the other pretty pieces below.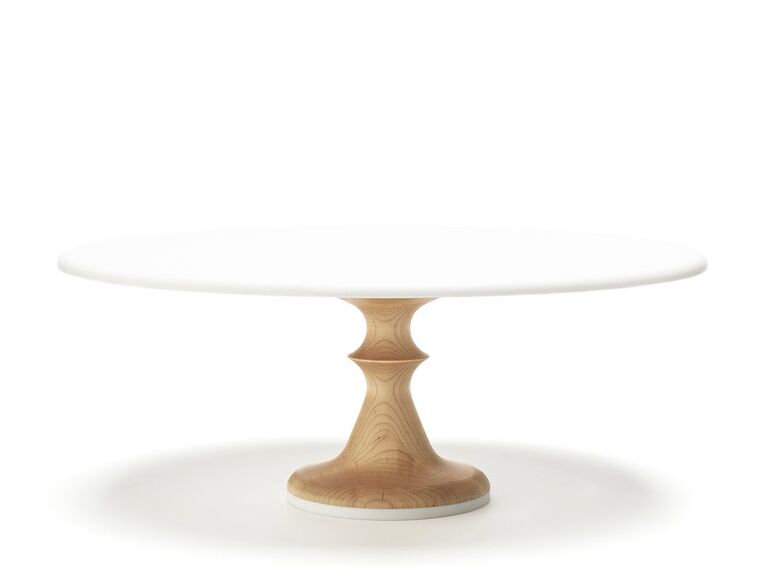 Editor's Pick: American Heirloom Wedding Cake Stand, from $155, AHeirloom.com
This sweet and simple cake stand looks like something Joanna Gaines would style into one of her houses on Fixer Upper. Featuring a carved maple based, our pick for best cake stand comes in a variety of sizes (12", 14" and 16") so you can choose the one that sized to your wedding cake or favorite dessert. Add this cake stand to your wishlist with our Universal Registry tool.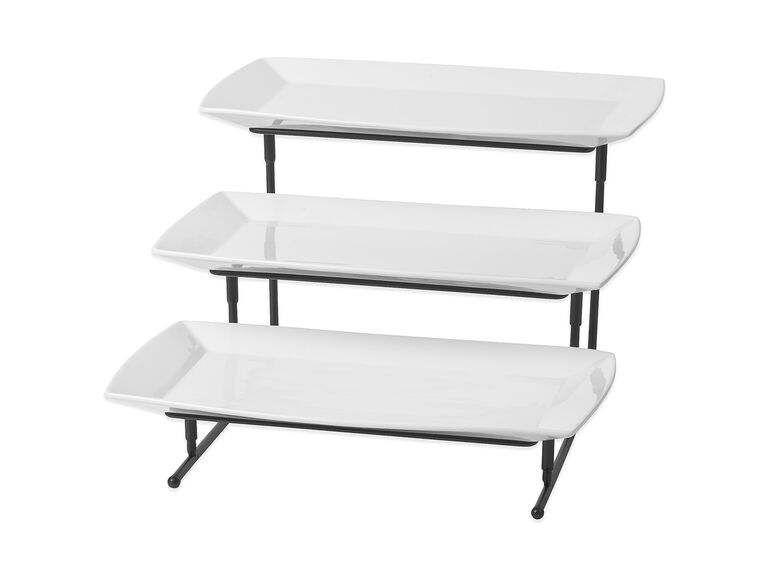 Couple's Pick: B.Smith 3-Step Server, $30, Amazon.com
If you're big on entertaining, then you're definitely going to want to add this tiered server to your registry. The porcelain trays are dishwasher and microwave safe and the black metal step stand allows you to display tons of appetizers without taking up a lot of countertop space.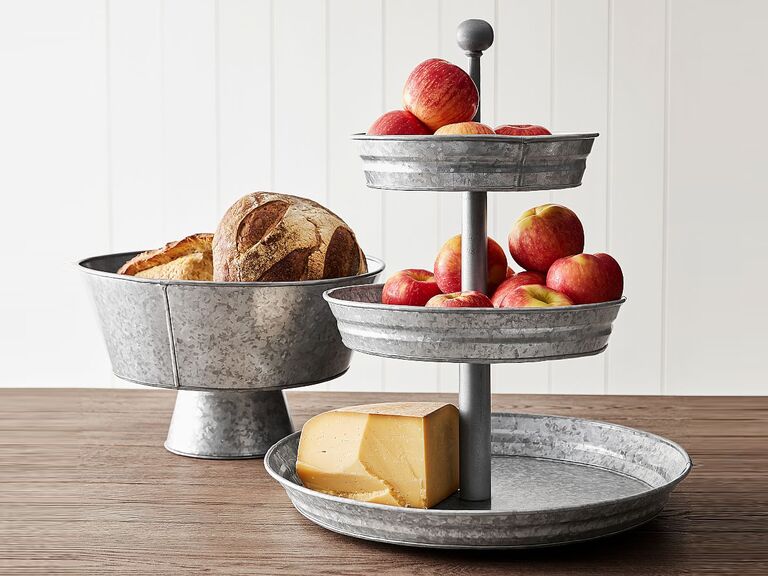 Best Rustic Server: Pottery Barn Galvanized Metal Three Tiered Stand, $69, PotteryBarn.com
If wedding styles are any indication of design taste, then rustic home decor is a big home run for our users. We have a feeling you'll love this farmhouse-inspired serving set as much as we do. Made out of galvanized metal, it features three tiers you can use to display everything from bread and cheese to a daily assortment of fruit. And with several other similar metal pieces to choose from at Pottery Barn, you can register for an entire set.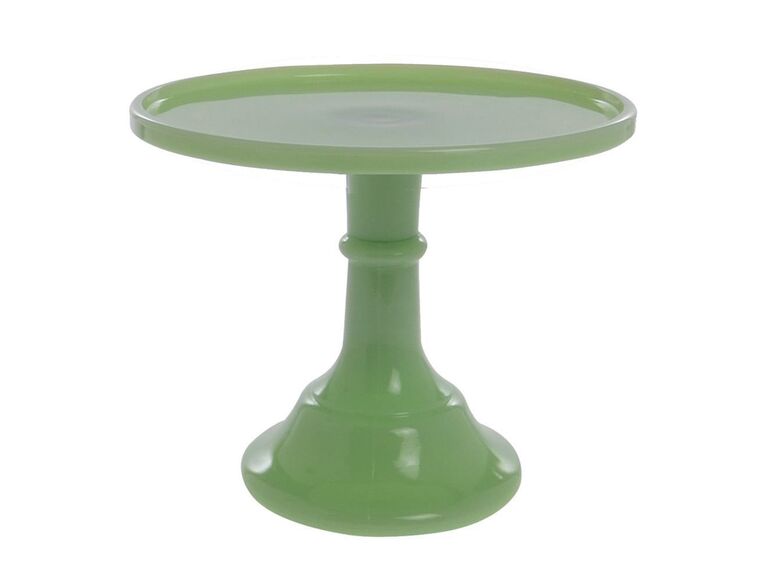 Best Colorful Cake Stand: Mosser Glassware 9" Footed Cake Plate, $53, Amazon.com
You've probably seen a ton of Mosser glass products around, even if you haven't realized it. The iconic American company has been producing heirloom-quality pressed glassware for decades and among their most iconic pieces are their cake stands. They're available in a bevy of sweet shades, but we love this calm green the most.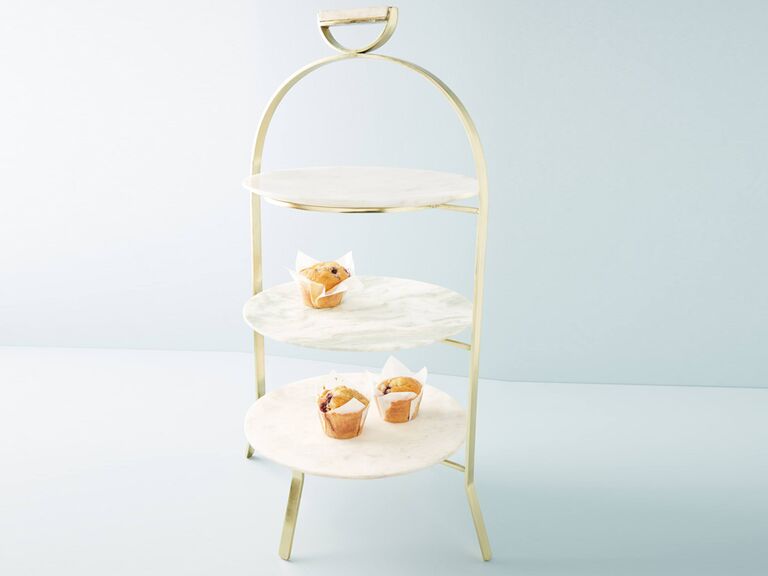 Best Special Occasion Tiered Server: Anthropologie Irina Serving Stand, $198, Anthropologie.com
This gorgeous tiered server looks like it's straight out of tea at the Plaza Hotel. It features on of our favorite decor combos—gold and marble—and three generously sized platforms large enough to hold everything from muffins and cupcakes to mini sandwiches and parfaits.
Best Cheese Boards
We know you guys are our kind of people—which means you must love a good meat and cheese platter right? Thought so. To help you own your next wine and cheese Bachelor Monday or antipasto date, we've selected a few of the best cheese boards out there for your wedding registry.
Editor's Pick: Anthropologie Agate Cheese Board, $78, Anthropologie.com
Anthropologie's agate cheese board is such a showpiece—it comes in five different color options, all made from beautiful marbled agate stone and finished with gold detailing around the edge. You'll want to be careful chopping and cutting on it, so plan to just use it for serving (and wow-ing your guests).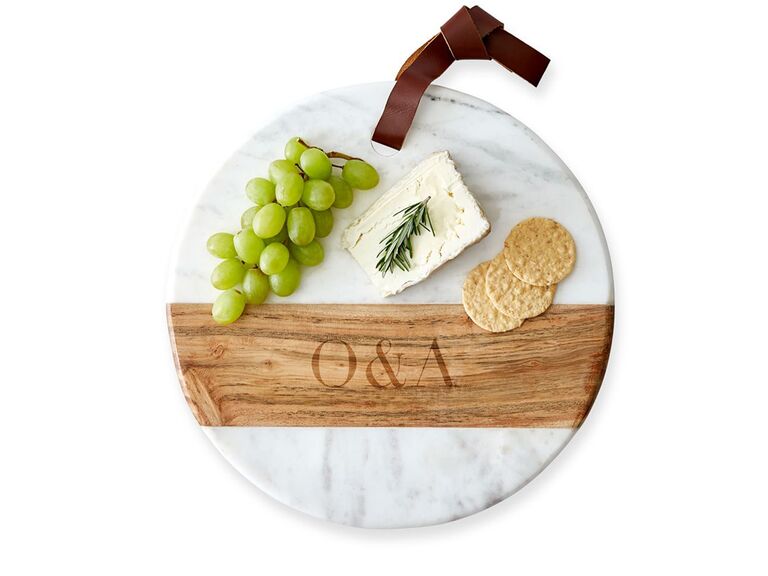 Best Monogrammed Cheese Board: Mark and Graham Wood and Marble Cheese Board, $59, MarkAndGraham.com
With your wedding looming large, you're probably excited to slap your new (or combined!) monogram on everything from your towels to your luggage. So why not add a cheese board to that list? This personalized piece from Mark and Graham is chic and timeless, making it a great addition to your new lives together. Add this cheese board to your wishlist with our Universal Registry tool.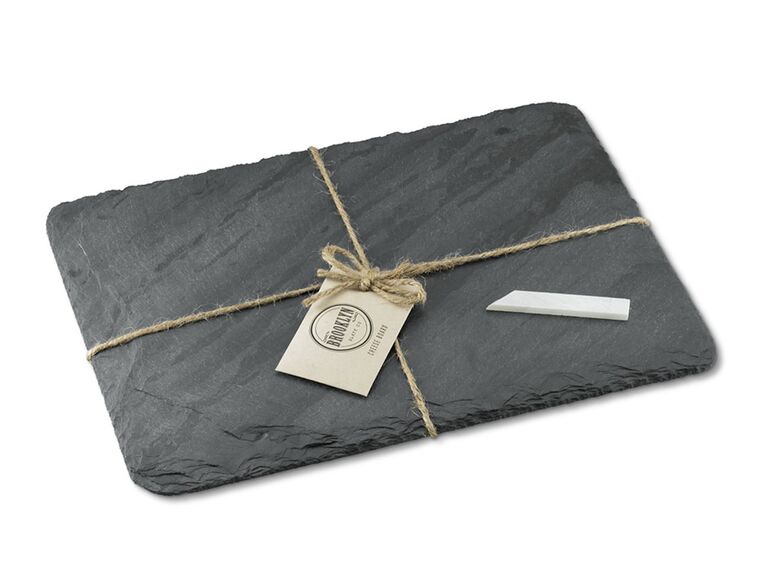 Best Slate Cheese Board: Brooklyn Slate Co. Cheese Board, $50, Williams-Sonoma.com
Restaurants and chefs alike love serving meat and cheese on slate for its rustic appeal. This slice from NYC-based company Brooklyn Slate Co. is made from a hand cut slice of slate that is non porous and food safe. Bonus: it comes with a piece of chalk so you can denote the difference between your guoda and your brie.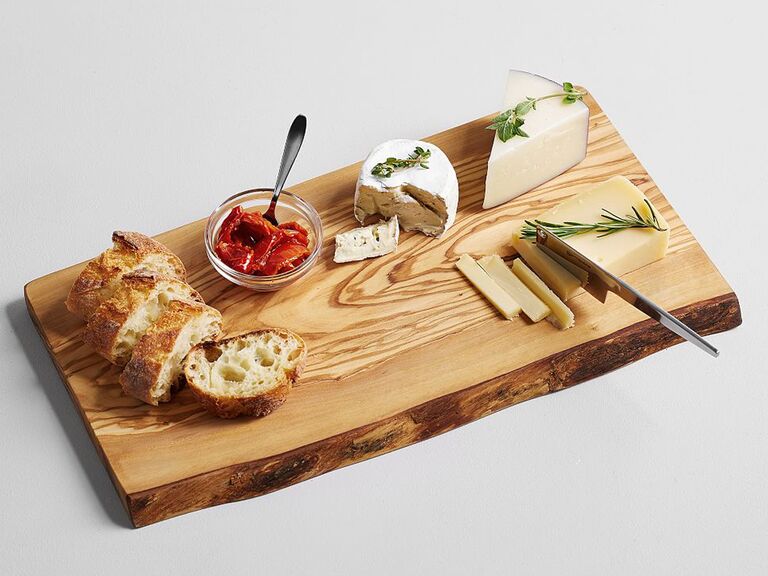 Best Wood Cheese Board: Pottery Barn Olive Wood Rustic Edge Cheese Board, $50, PotteryBarn.com
Prep and serve all in one place with this natural olive wood cheese board from Pottery Barn. The surface is durable, so it can hold up to a little slicing and dicing, eliminating the need for more dishes (ugh) and added prep work (ugh). Just maintain the surface with a little olive oil polish in between uses and it will look beautiful for years.
Best Modular Servers
Sometimes serving—and entertaining, for that matter—isn't one size fits all. That's why we love this next category packed full with modular mix-and-match servers that cater to your needs. Use just a piece or the whole setup for your next bash.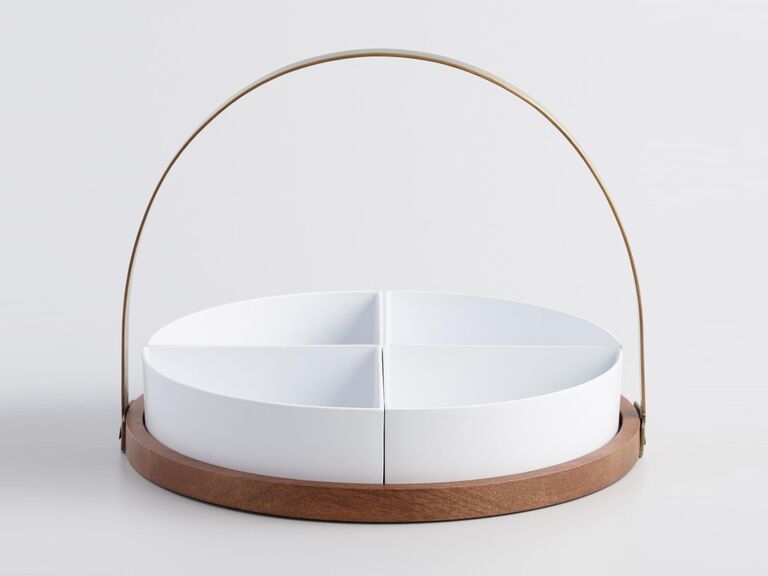 Editor's Pick: World Market Wood and Antiqued Brass 5 Piece Hudson Condiment Tray, $18, WorldMarket.com
Our editor fell in love with this savvy serving piece from World Market because of its seamless combination of form and function. When completely assembled, the wood and ceramic modular server is chic and stylish. But if necessary, you can also break the pieces of the "bowl" apart, allowing you to scatter condiments or toppings around a table during say, a taco party. Also, please invite us to said taco party. Add this serving piece to your wishlist with our Universal Registry tool.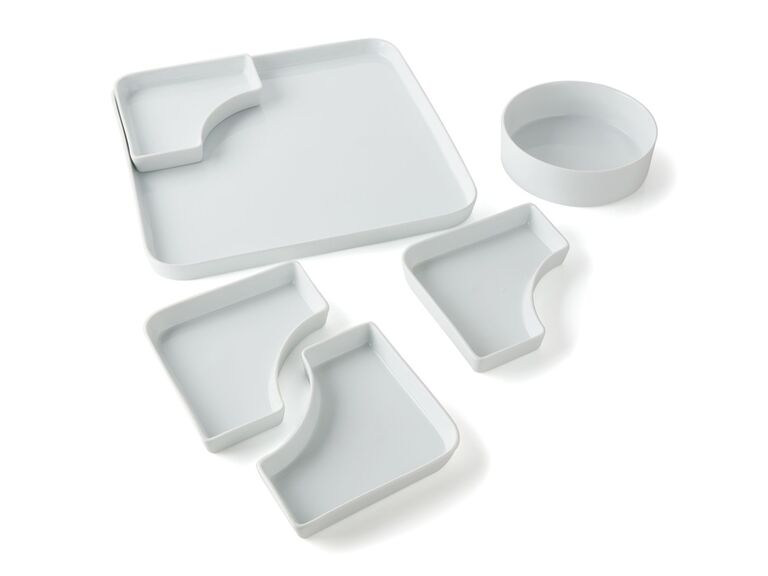 Best Basic Modular Server: Crate and Barrel Modular 6-piece Serving Set, $30, CrateAndBarrel.com
White dishware will always be a classic look and that same sentiment extends to your serving pieces as well. This modular server from Crate and Barrel is totally flexible—it's perfectly suited to a quiet Sunday dinner at home or a roaring summer picnic with friends.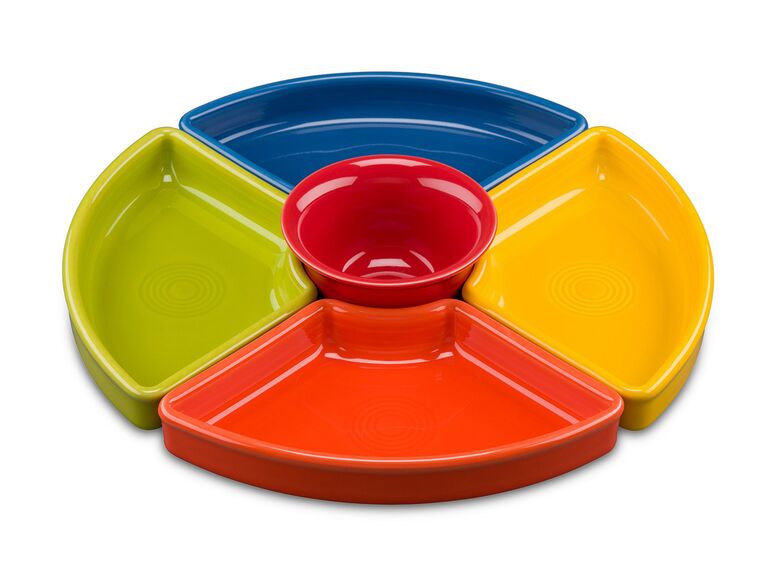 Best Colorful Modular Server: Fiesta Mixed Colors 5-piece Server, $105, Macys.com
The Fiestaware brand is iconic for its use of bold, saturated colors on their ceramics. This five piece modular server pairs primary brights with a classic "chips and dip" style serving piece for a playful combo that will liven up any party—and your registry.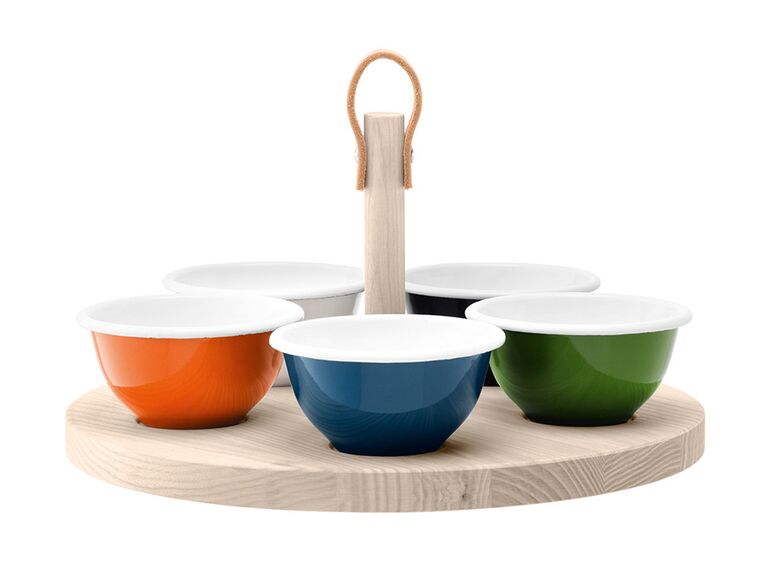 Best Tapas Modular Server: LSA International Utility Tapas Set, $135, Amara.com
How charming is this tapas-style server from LSA International? We love the combination of colors, wood and leather and the bitsy bowls make it perfect for holding toppings or pre-dinner finger food. Too cute! Add this serving piece to your wishlist with our Universal Registry tool.
Best Everyday Glassware
Glassware may not be the first thing on your mind when it comes to starting your wedding registry, trust us on this one—it's a great time to stock up on those kind of basics or upgrade what you already have. Whether your prefer something simple so you don't feel guilty when you break one (been there, done that) or a style that's a bit extra, we have our best everyday glassware picks for you.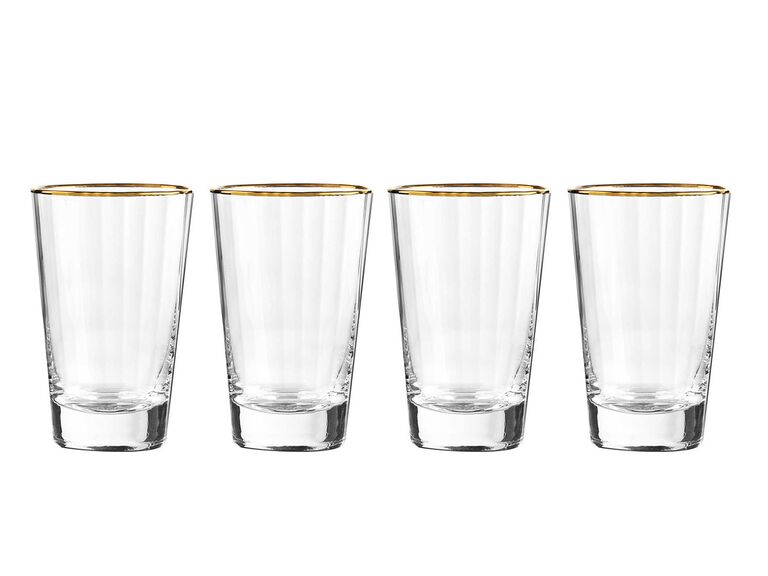 Editor's Pick: Qualia Dominion Highball Glasses in Gold (Set of 4), $52, BedBathAndBeyond.com
Here at The Knot, we love the idea of elevated basics—which is why this set took the cake as our editor's favorite in the everyday glassware category. The stylish gold rim adds just a little something extra to your basic drinking glass. Who knows, maybe it will encourage you drink more water?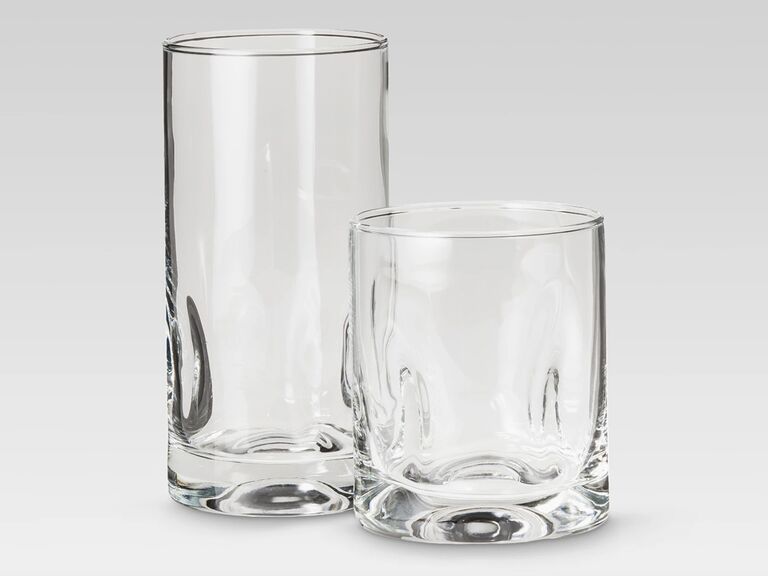 Couple's Pick: Threshold 12-piece Glass Tumblers, $20, Target.com
At first glass, this set may look like just your basic glasses. But check out those grooves towards the base—not only do they look a bit fun and decorative, but they'll also make for an easier grip on your glassware. The set comes with 6 tall and six short glasses, so for a cool $20 you can pretty much refresh your entire collection.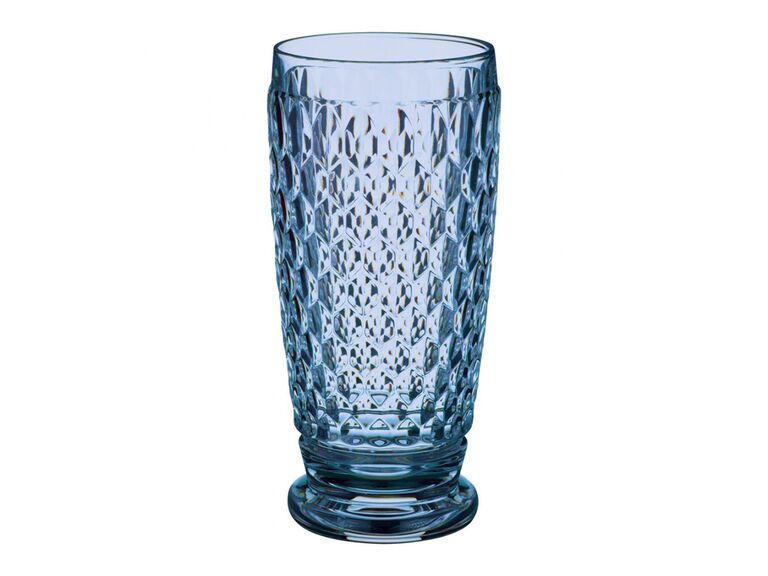 Best Colorful Everyday Glassware: Villeroy & Boch Boston Colored Hiball Glass (Set of 4), $45, Villeroy-Boch.com
Believe it or not, your glassware can be a great way to add a pop of personality or color to your tabletop decor. Just take these Villeroy & Boch glasses as an example. Made in a serene ocean blue and featuring a pretty textured detail, they instantly elevate a utilitarian piece into something more special. Add these glasses to your wishlist with our Universal Registry tool.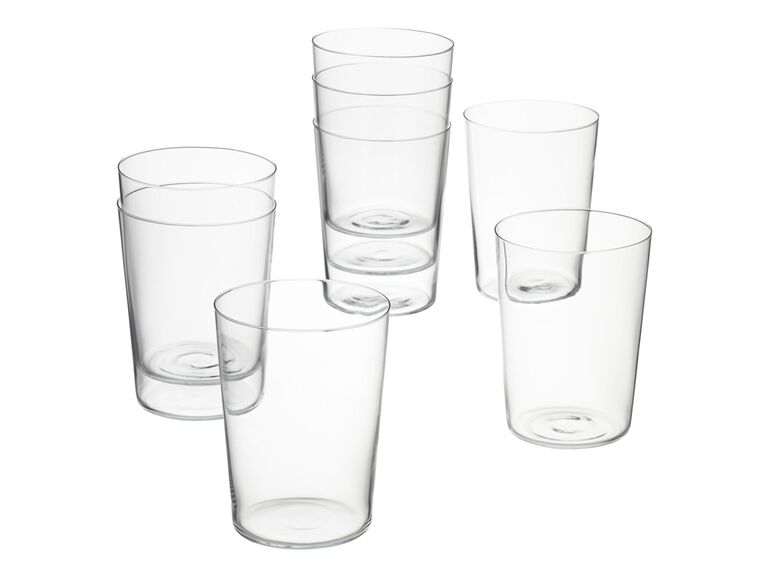 Best Modern Everyday Glassware: CB2 Set of 8 Marta Coolers, $20, CB2.com
For the couple that prefers a more modern aesthetic, try out this sleek set from CB2. Whisper thin glass takes on a very modern, streamlined shape for a set of barely there glasses that scream sophistication.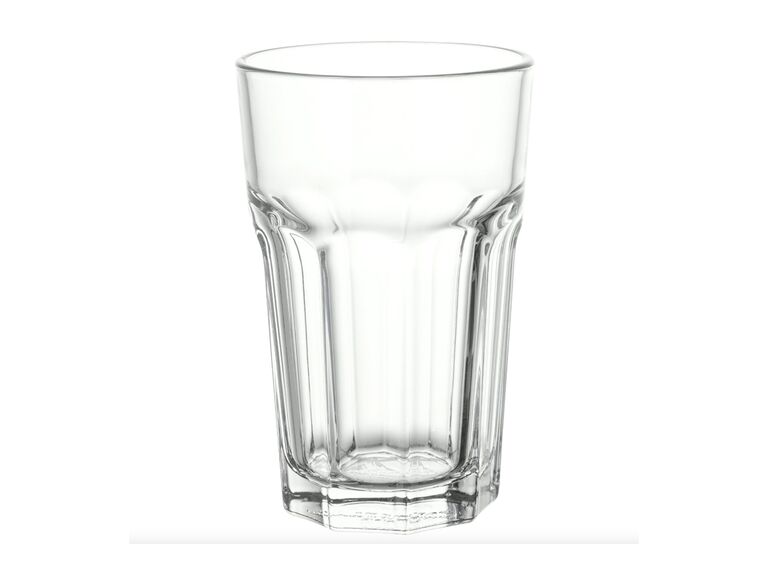 Best Basic Everyday Glassware: IKEA POKAL glass, $1, IKEA.com
We're sure this next glass looks familiar—probably because you've seen it at almost every diner and old-school restaurant out there. They're easy to grip, sturdy and best of all, crazy-inexpensive. Stock up on a ton so you have extra for company (or when you break one or two!). Add these glasses to your wishlist with our Universal Registry tool.
Best Barware Glasses
You're heading into an exciting few months—you're planning your wedding (and your lives) together and celebrating your engagement with friends and family at every turn. We suggest ensuring you have a glass for every bottle of bubbly or chilled rose gifted to you over this celebratory season, which is why we've rounded up the best barware glasses you need for your registry ASAP. Now, pop that champagne!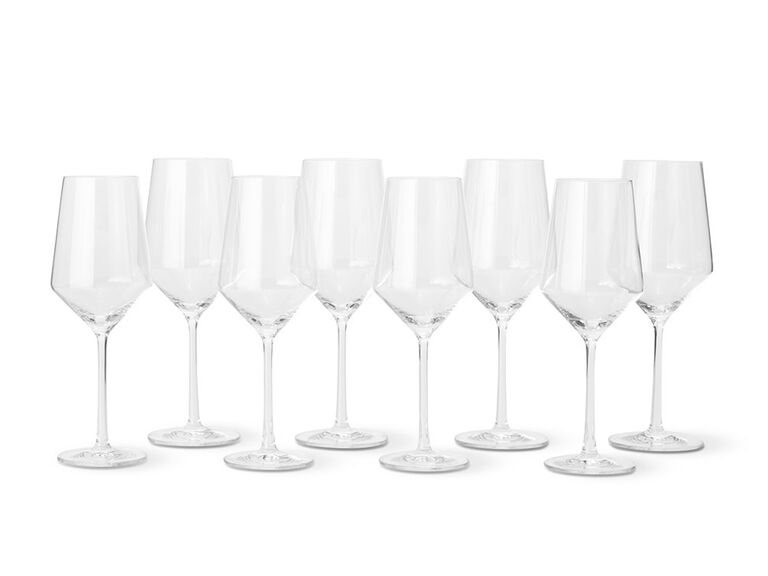 Editor's Pick: Schott Zwiesel Pure Mixed Cabernet & Sauvignon Blanc Glasses (Set of 8), $100, Williams-Sonoma.com
Schott Zwiesel makes great quality glassware with a focus on trademarked crystal that maintains its sparkle through years of use. This set caught our editor's eye for the best bareware glasses category thanks to its unique mixed-varietal combination. With it, you'll get four glasses suited to full-bodied red wines (like cabernets) and four glasses suited to light white wines (like sauvignon blanc). Each has a sophisticated angled shape and slim stem for a very modern look.
Couple's Pick: Crate and Barrel Tour Wine Glasses, from $10, CrateAndBarrel.com
If you're looking for a comprehensive (and extensive) glassware collection, our couples have you covered with their pick for best barware glasses. The Tour set from Crate and Barrel boasts everything from champagne and stemless wine glasses, to martini and double old-fashioned glasses, ensuring your whole bar beverage look is cohesive and on point.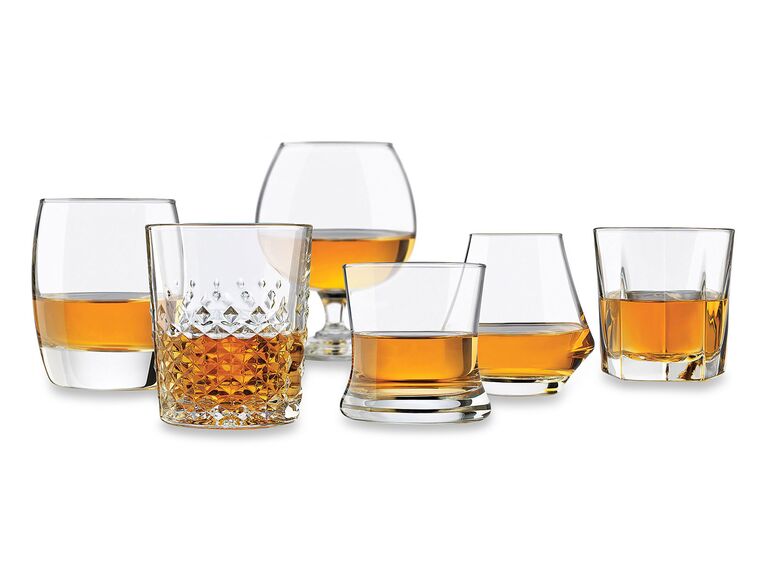 Best Barware Glasses for Whiskey Fans: Libbey Whiskey Tasting Glasses (12 piece set), $39, Amazon.com
Spirits more your style? Then look no further than this glass set from Libbey, which includes everything you need to indulge in your favorite whiskey, including niche glassware suited to Canadian whiskey, scotch, Irish whiskey, bourbon and rye.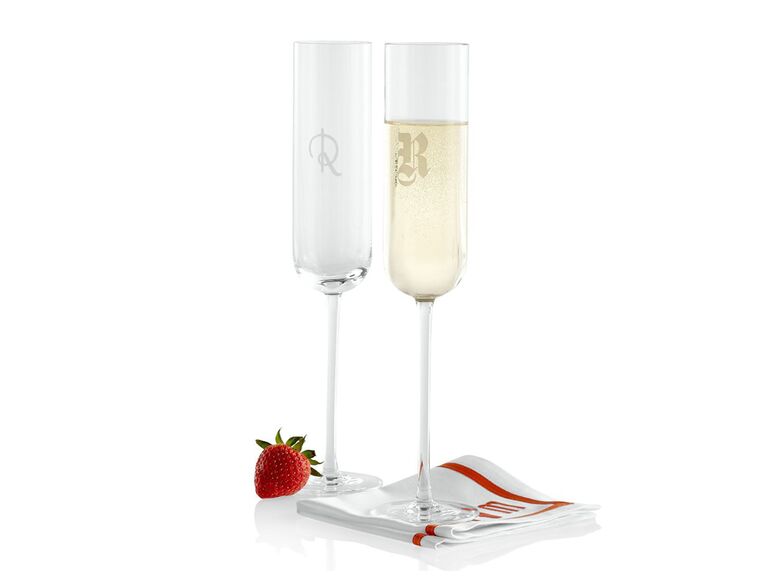 Best Personalized Barware Glasses: Mark and Graham Classic Handblown Champagne Flutes (set of 2), $25, MarkAndGraham.com
If you're planning a champagne toast during your reception, you'll want to add these chic personalized glasses to your registry early to get them in time for your clink clink. Mark and Graham has a variety of monogram options to choose from (all laser engraved), so whether you prefer romantic script or sleek block letters, there's a style for you. Add these flutes to your wishlist with our Universal Registry tool.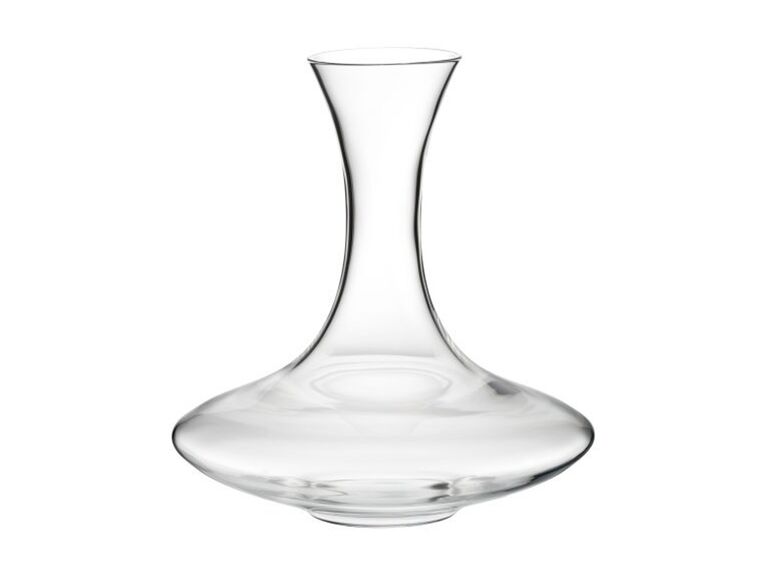 Best Wine Decanter: Riedel Ultra Decanter, $152, Amazon.com
Your wedding is the perfect time to add a few specialty pieces to your bar collection that you wouldn't normally splurge on. If you haven't already heard, decanting wine can make a huge difference when it comes to flavor, so why not add a luxe decanter to your registry? This crystal Riedel style looks beautiful on display and will bring out all the unique notes in your favorite red.
Best Barware
Getting the most out of your wine, beer and spirits is all about having the right tools on hand to enjoy them with. We've rounded up our picks for best barware gadget that well help you uncork, pour and savor all your favorites year-round.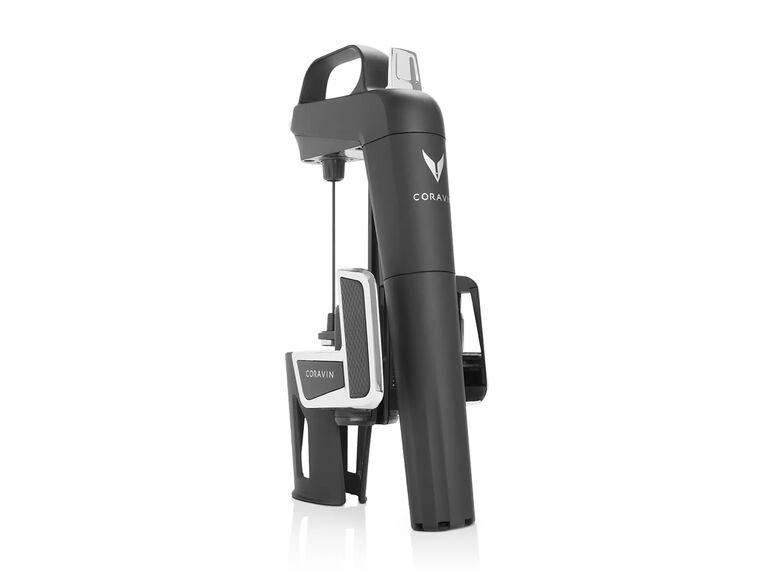 Editor's Pick: Coravin Model Two Elite Pro System, $400, Bloomingdales.com
You may not think investing in a wine opener is all that important, but you'd be wrong—at least when it comes to the Coravin. This gadget goes way beyond just decorking your favorite blend. It actually uses a fine needle to pierce the cork and pours out wine using pressurized argon gas. Translation: you never have to "officially" open your bottles, meaning they'll last way longer, especially if you're the only wine drinker in the marriage.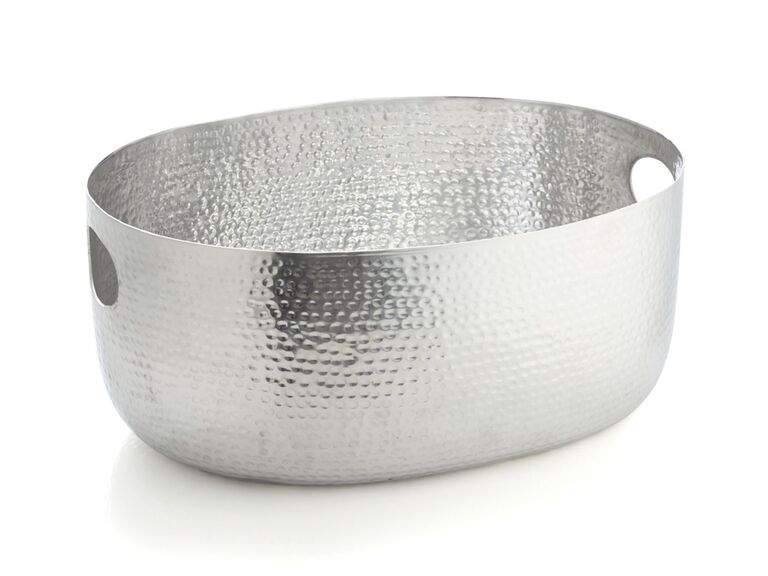 Couple's Pick: Crate and Barrel Bash Silver Beverage Tub, $90, CrateAndBarrel.com
Our couples love entertaining a crowd, so it makes sense that they'd select this beverage tub as their best barware pick. The generous size can hold multiple full-sized bottles of wine or champagne and tons of beers, so it's the perfect accessory for your next BBQ bash.
Best Barware Set: ALOONO 11-piece Cocktail Shaker Bar 2, $38, Amazon.com
Master mixology (or just make a really good vodka soda) with this comprehensive set. It has literally every gadget you need, including a shaker, jigger, muddler and spoon, to mix up every recipe you're currently testing for your signature cocktail wedding menu.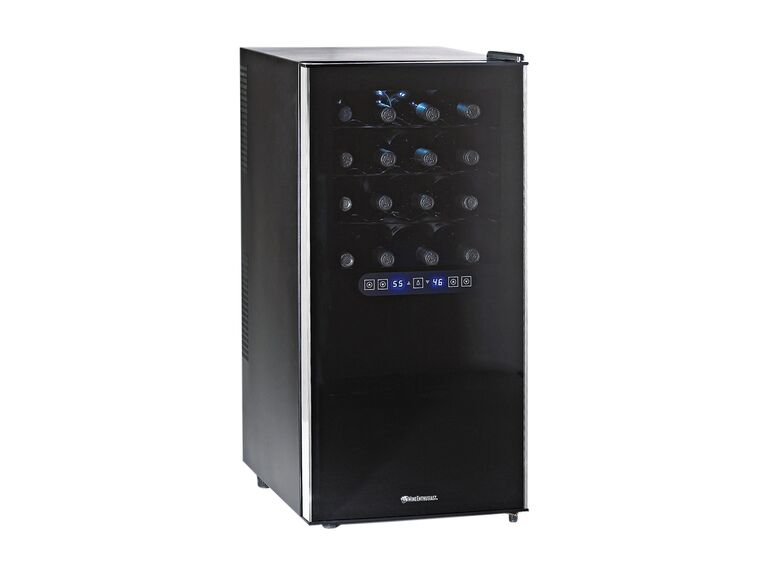 Best Wine Fridge: Wine Enthusiast Silent 32 Bottle Dual Zone Touchscreen Refrigerator, $360, WineEnthusiast.com
If keeping your wines chilled to the right temp is your concern, then look no further than this fridge from Wine Enthusiast. It has two zones with independent temperature controls, so you can keep your wines and reds at the proper temp. And with a 32-bottle capacity, you have plenty of room for all the bottles from your new wine club membership. Add this fridge to your wishlist with our Universal Registry tool.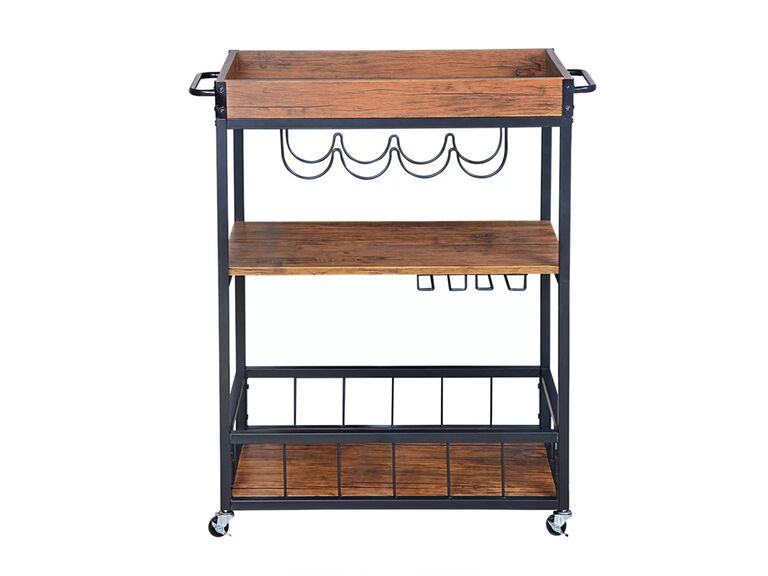 Best Bar Cart: Gracie Oaks Castellon Rustic Industrial Bar Cart, $180, Wayfair.com
If you've got the room for it, a bar cart can be a charming furniture addition to your living room or dining room. Sure, you can use it to store your favorite bottles (hence why we're including it in the best barware category) but even if you're not big drinkers, you can still add one to your registry. Use it to hold your favorite plant babies instead or maybe pile it high with books like a mini mobile library.
Serveware and Barware Cash Fund Ideas
One of the best things about getting married in 2019 is the ability to register for anything (and we mean anything!) you want. Here at The Knot, we want to make that as easy for you as possible, which is why we offer Cash Funds. They're a simple way to add the things you really want to your registry and allow your guests to contribute any amount they desire towards your goals. Into wine-ing and dining? Here are some of our favorite cash fund ideas to upgrade your fun:
Editor's Pick: A mixology class cash fund
Switch up your basic date night activity with a mixology class for two, courtesy of your friends and family. You can take a beginners class to learn the basics on your favorite drinks, or try out something a bit more wacky, like a Harry Potter-themed cocktail "potions" class (yep, that's a thing!). Sounds like a pretty great way to spend a Saturday night, right? Start your cash fund here.
Couple's Pick: A cash fund for a winery or distillery tour
Take inspo from our real couples and peep how your favorite spirit or wine gets made with a cash fund for a winery or distillery tour. You can indulge locally or ask your friends and family to contribute towards one at your honeymoon locale.