The Best Wedding Congratulations Cards You Can Buy Online
Shop our faves, from the funny and cute to the totally customized.
We have included third party products to help you navigate and enjoy life's biggest moments. Purchases made through links on this page may earn us a commission.
We know how it goes: Between requesting time off work, arranging travel and picking out the perfect outfit, sometimes you forget about the wedding card until you're already on your way. Our suggestion? Start looking for the perfect one as soon as you RSVP. This way, you'll have plenty of time to find something that makes the happy couple feel extra-special. But if you're searching for wedding cards online, you might not know where to look— that's why we've done the shopping for you. Whether you're congratulating your best friend from college or a close family member, there are lots of ways to show you care. Check out some of our favorite options below, so you can stock up ahead of wedding season. (And don't worry—when you open up the card and feel intimidated by all that white space, we've got your back there too.)
Simple and Sweet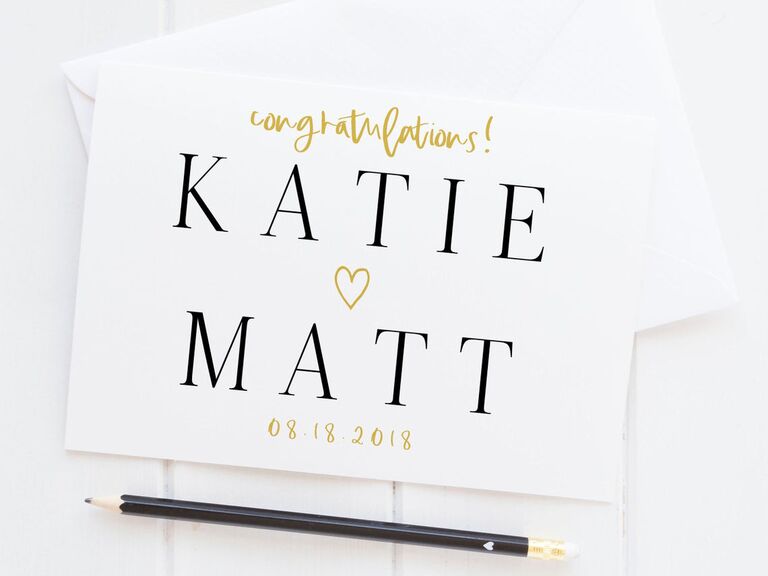 Customized wedding cards are a great way to show the couple just how much you love them, and nothing says "I'm so happy for you!" quite like big, bold lettering. Get this one printed with the newlyweds' names and wedding date. Then, give it a final personal touch by choosing the envelope and font color yourself.
Alex & Co. Printables personalized wedding congratulations card, $4, Etsy.com
Time for a Toast
Doesn't this design just make you want to smile? Pair this sweet illustration with some heartfelt words of congrats for a card they'll want to keep forever. With no printed message inside, this DIY wedding card is all yours to personalize.
Nuts 4 Stampin funny wedding card, $6, Etsy.com
Words of Excitement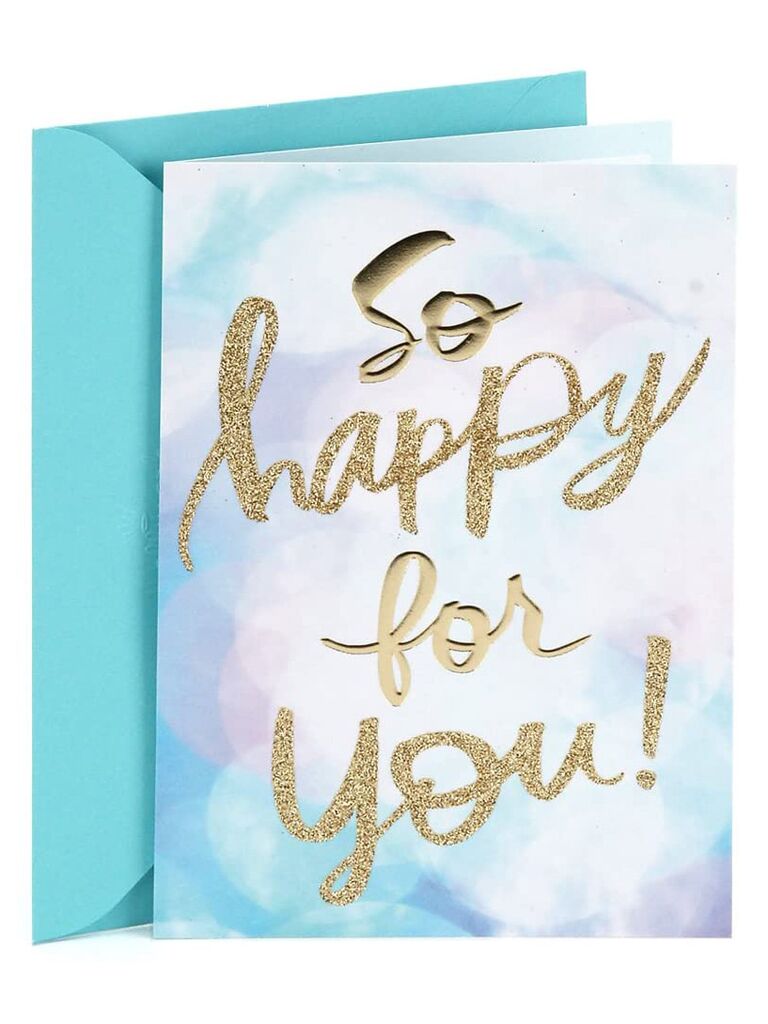 Looking for a cute wedding card that expresses exactly how you feel? Give the proud pair a sparkling send-off with this glittering message of love.
Hallmark congratulations card in So Happy for You, $4, Amazon.com
Cheers to the Grooms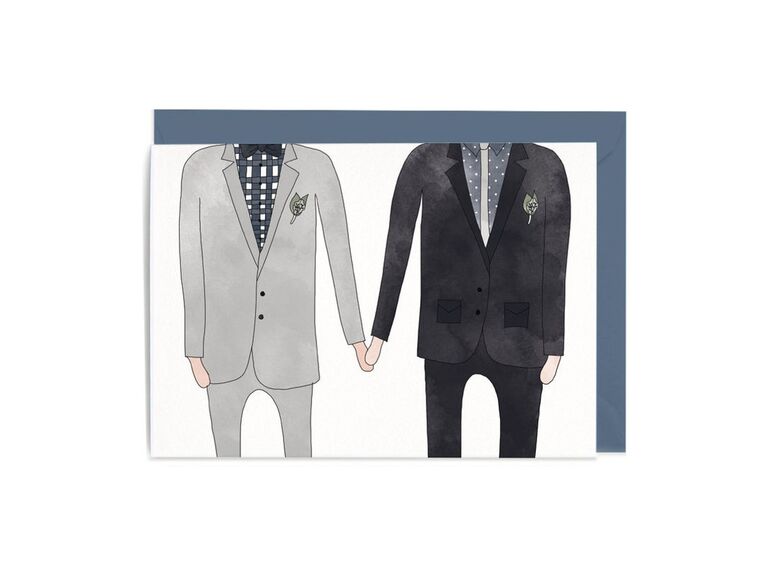 This stylish and unique stationery makes a sweet tribute to two dapper grooms. The inside comes blank, giving you the chance to really customize your message.
In the Daylight wedding gay couple illustrated greeting card, $5, Etsy.com
Map It Out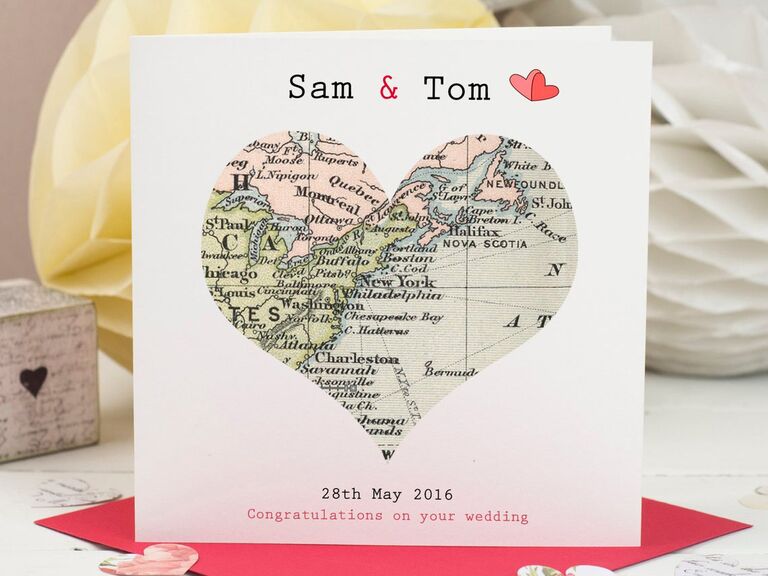 This ultra-unique personalized wedding card comes printed with a map of a meaningful place—be it their wedding location, the city they met in or anywhere else that'll warm their hearts.
Lisa Marie Designs special location map wedding card, $8, Etsy.com
Elegant Florals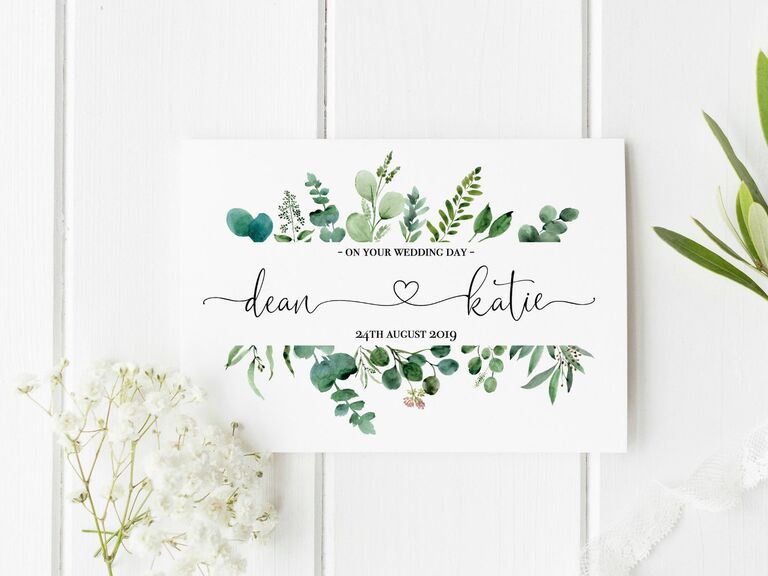 Looking for an affordable wedding card that doesn't look cheap? This gorgeous greenery design delivers a personalized congrats to the newlyweds without breaking the bank.
Tatty & B personalized congratulations wedding card, $3, Etsy.com
A Touch of Magic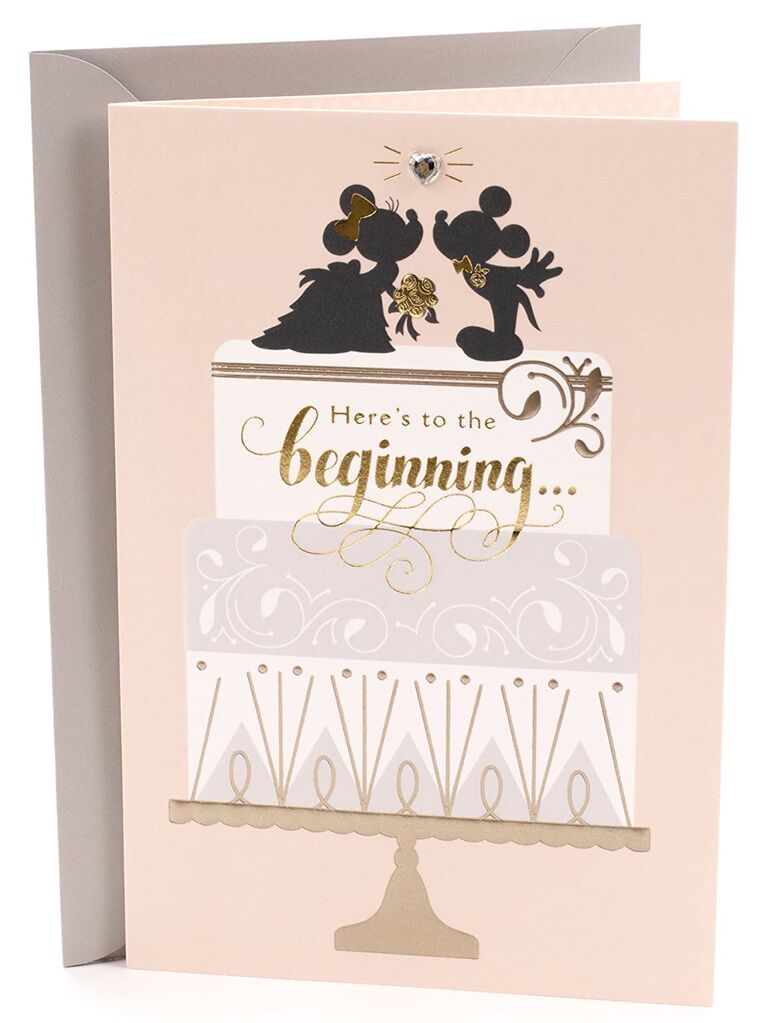 This Disney wedding card is the perfect way to congratulate the couple planning a fairy-tale celebration. Show them your support for their happily ever after!
Hallmark Disney wedding card in Mickey and Minnie Classic Romance, $5, Amazon.com
Congratulations, Brother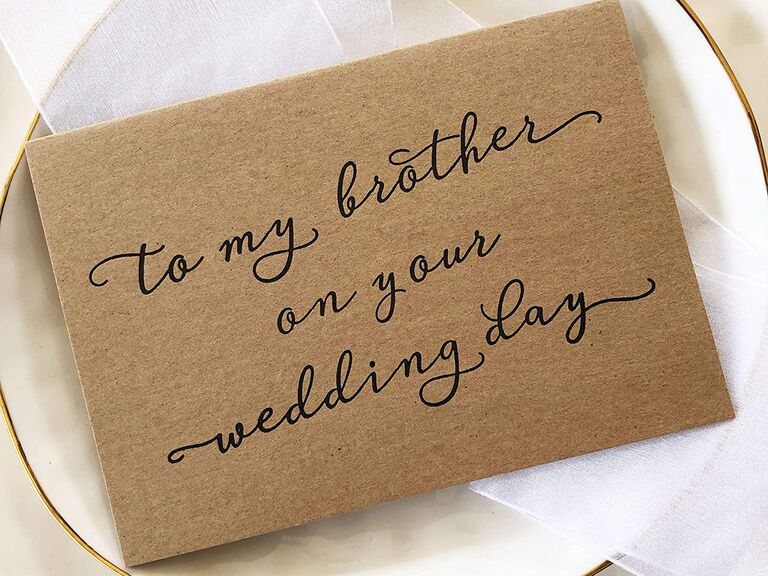 Is your brother getting ready to tie the knot? Let him know you'll always be there with this beautifully rustic stationery. Bonus: This handmade wedding card is printed on sustainable paper for an eco-friendly congratulations.
Coco Press wedding day card for groom, $4, Amazon.com
Congratulations, Sister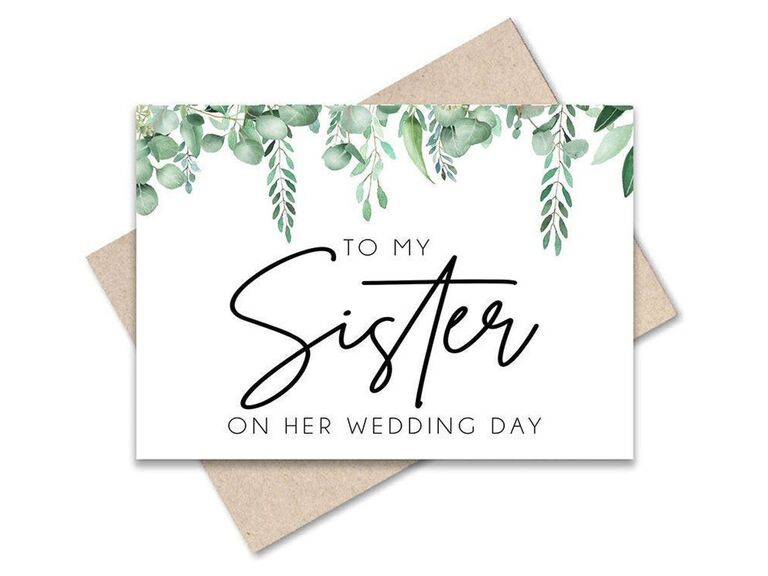 Short on time? Printable wedding cards are the way to go. This beautiful design can be downloaded instantly and printed at home. Showing love to your sister has never been so easy.
Cat & Bru To My Sister On Her Wedding Day wedding card, $4, Etsy.com
Heartfelt Excitement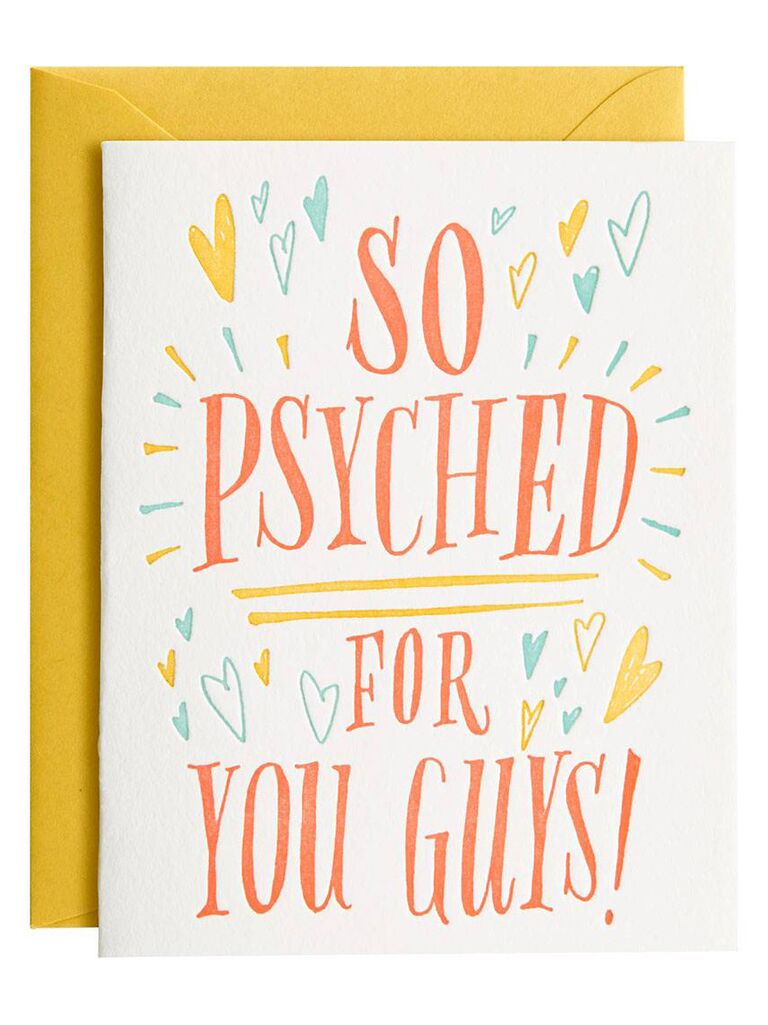 This colorful wedding congratulations card is bursting with excitement. If you can't wait until the wedding day, congratulate them on their engagement and pop it in the mail ASAP.
Paper Source So Psyched for You Guys congratulations card, $6, PaperSource.com
A Beachy Tribute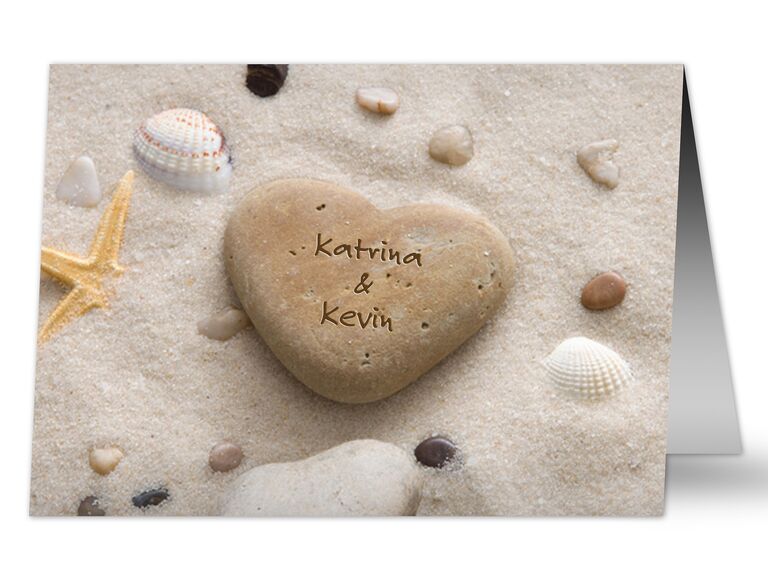 Looking for wedding card ideas that match the happy couple's theme? This beach-inspired design is perfect for boho celebrations by the sea.
Personalization Mall heart rock personalized greeting card, $4, PersonalizationMall.com
Mrs. and Mrs.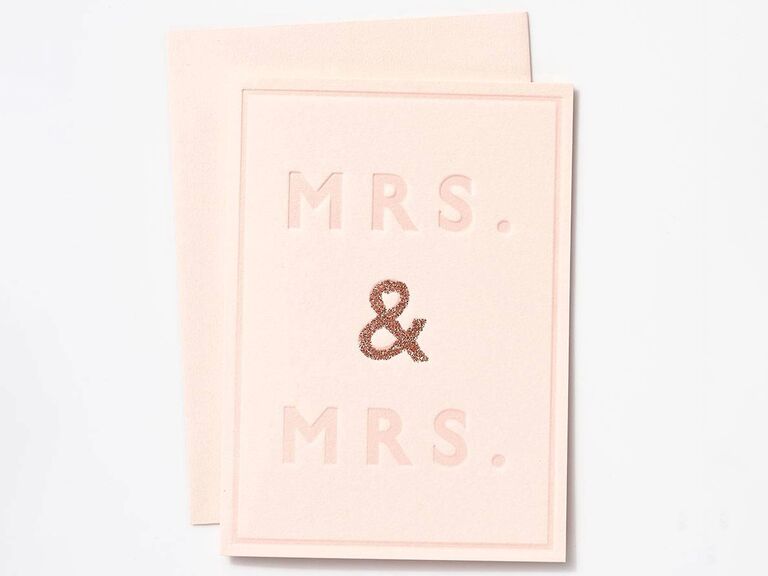 Show your love and support for the brides-to-be with this elegant congrats wedding card. The sparkly ampersand adds a unique, celebratory touch.
Paper Source Mrs. and Mrs. wedding card, $7, PaperSource.com
Cheeky Humor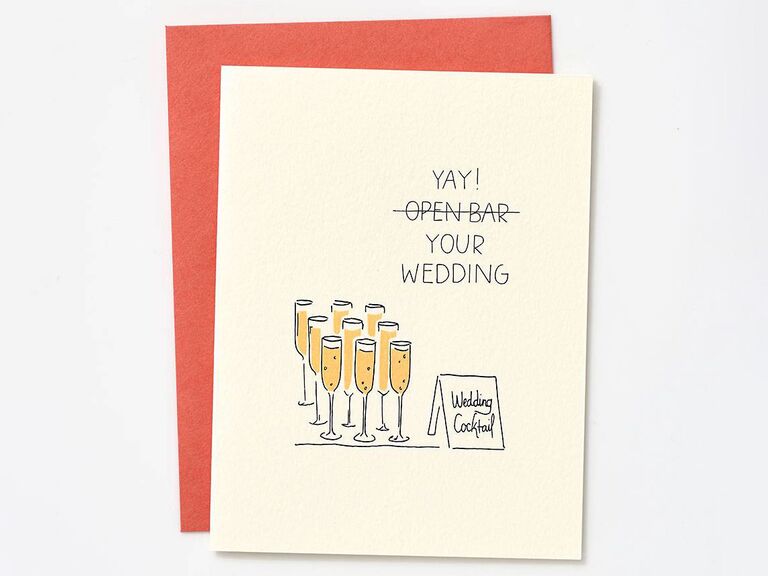 This one's for the college roommates and designated drinking buddies. Show your BFF how much they mean to you by leaving a heartfelt note inside this funny wedding card.
Paper Source Open Bar wedding card, $6, PaperSource.com
Personalized to Perfection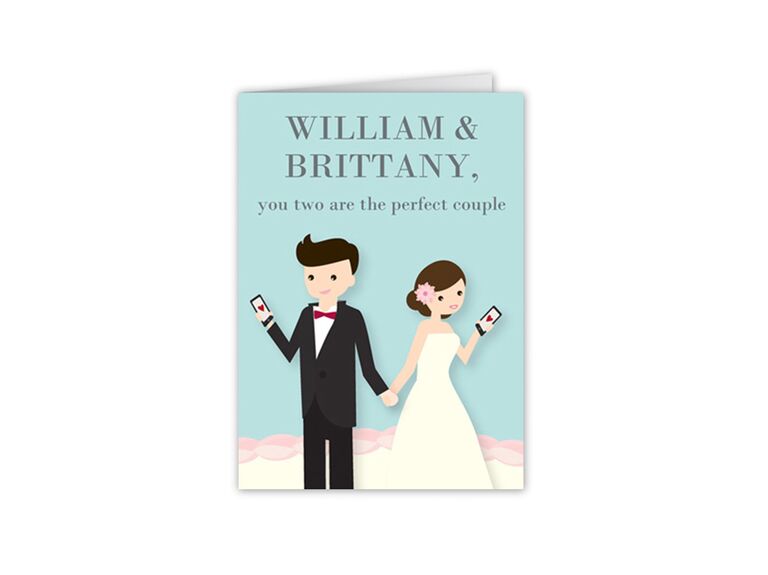 These days, more and more couples are brought together by the internet. Celebrate their love story with this cute wedding card for the couple who met online.
treat. Sweet Pair wedding card, from $3, Shutterfly.com
Love Is Love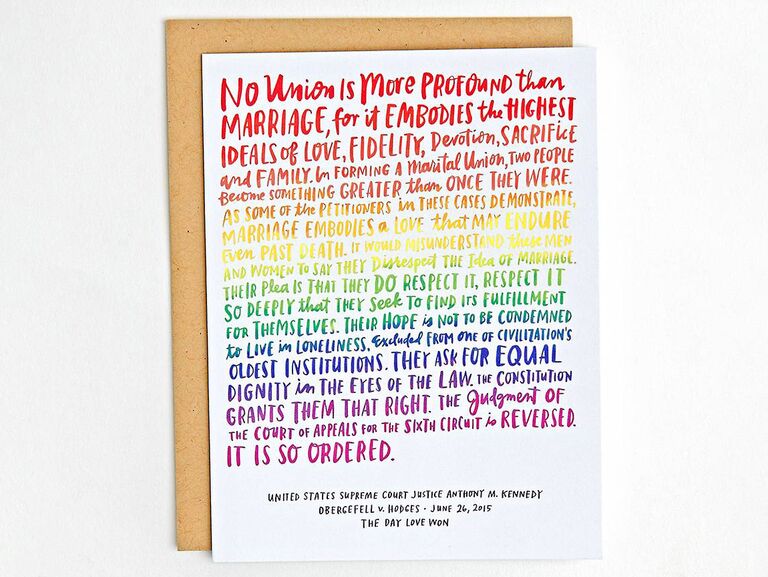 This LGBTQ+ wedding card says it all so you don't have to. Simply sign your name inside and send it off.
Paper Source The Day Love Won wedding card, $6, PaperSource.com
To a Dear Son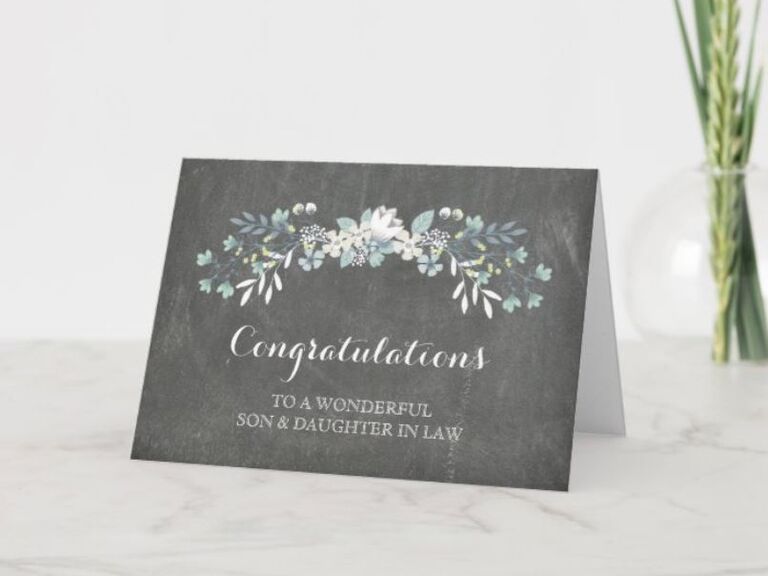 Show you're a proud parent with this congrats wedding card to a wonderful son and their partner (customize the text however you like). With a chic chalkboard design and a heartfelt printed message, what's not to love?
Dreaming Mind Cards son congratulations wedding card, $4, Zazzle.com
To a Dear Daughter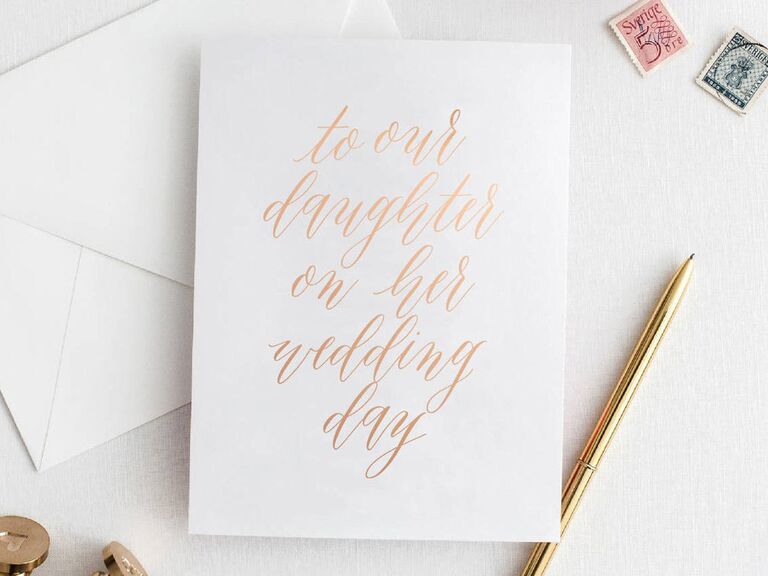 This metallic wedding card for your daughter is a classy testament to a sophisticated celebration. You'll both be holding back tears when you hand this one over.
Shop Gabrielle To Our Daughter On Her Wedding Day card, from $5, Etsy.com
Adorable Illustration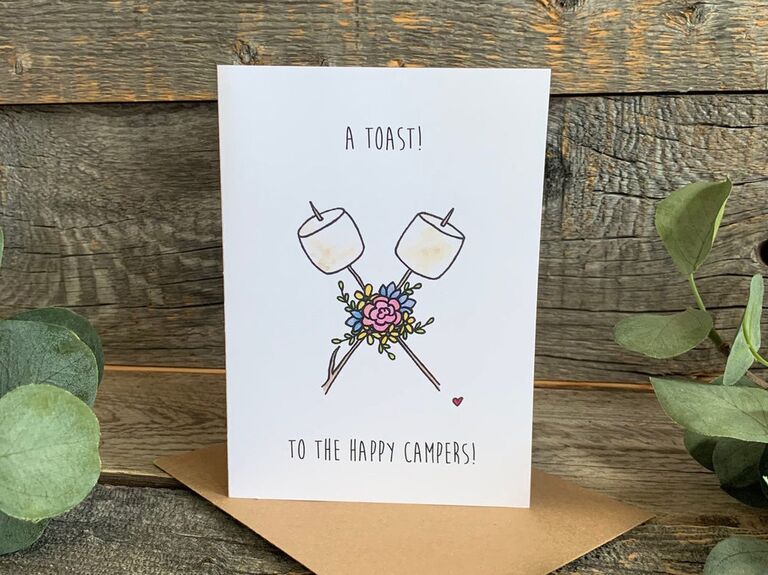 On the hunt for something cute and playful? Look no further than this charming s'mores-themed wedding congratulations card, made just for the happy campers.
The Sea House Co A Toast to the Happy Campers congratulations wedding greeting card, $6, Etsy.com
Congratulations, Cousin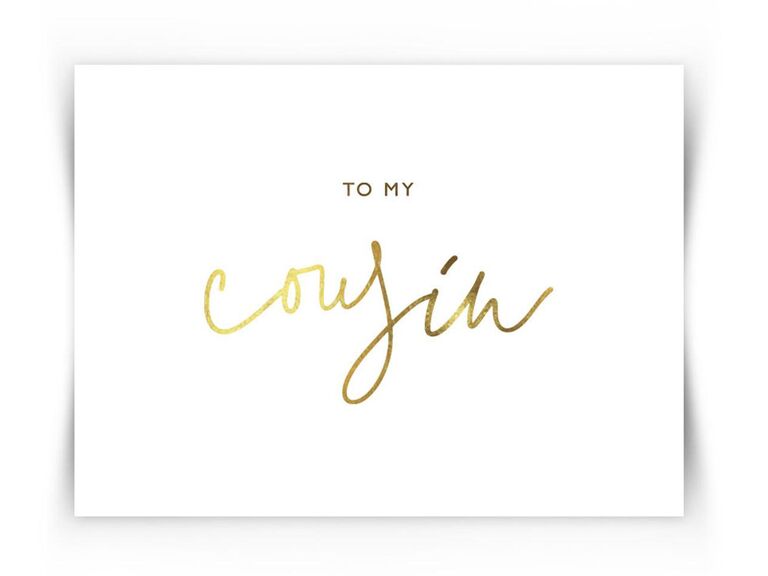 Remind your cousin that you'll always be there for them on their special day. With a few stylish tweaks, you can make this design your own. There are a choice of colors for the font and envelope for a truly customized wedding card. Bonus: The inside is blank, leaving plenty of space for a whole-hearted congratulations.
Pineapple Card Store To My Cousin wedding card, from $4, Etsy.com
Love Is Patient
Celebrating a couple who faced a change of plans? Lend some words of encouragement by gifting them this card on their would-be wedding day or their new wedding day.
Never Knew I Needed Love Is Patient postponed wedding card, from $4, Etsy.com
Words of Sincerity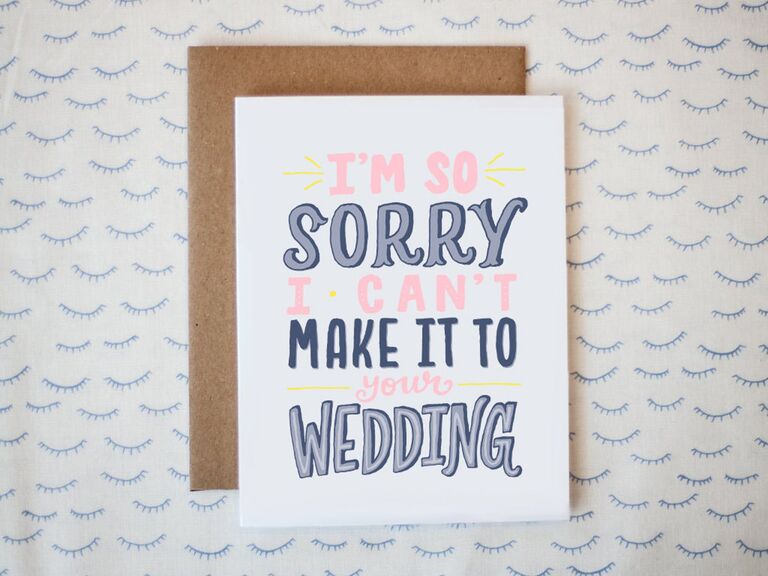 Wish you could be there but life got in the way? This wedding congratulations card doubles as a cute RSVP to let them know you can't make it.
Better Left Said I'm So Sorry I Can't Make It To Your Wedding RSVP greeting card, $5, Etsy.com
To New Beginnings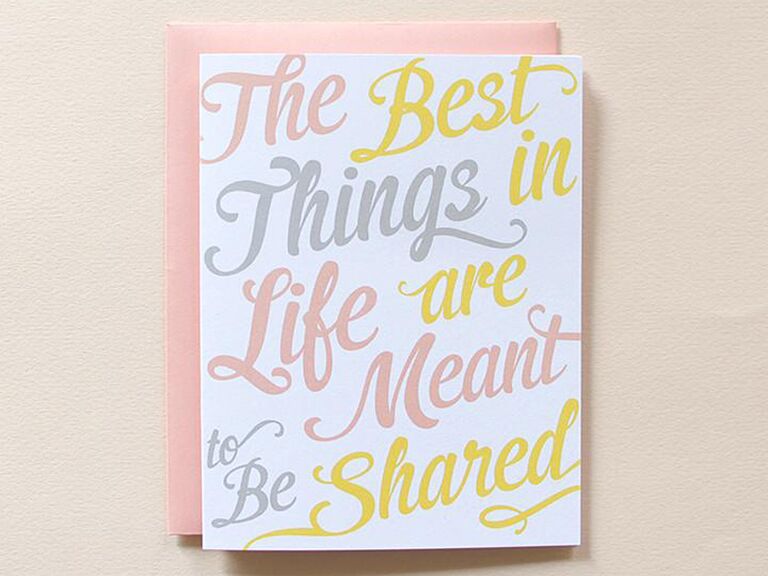 Start the newlyweds off with a sweet reminder of how amazing their new shared life is going to be. Group gifting this card? Ask everyone to write something that's better shared in their note. (Funny or serious, you can't go wrong.)
Brianna Bulski The Best Things in Life card, $5, LittleArrowStudio.com
Make Your Own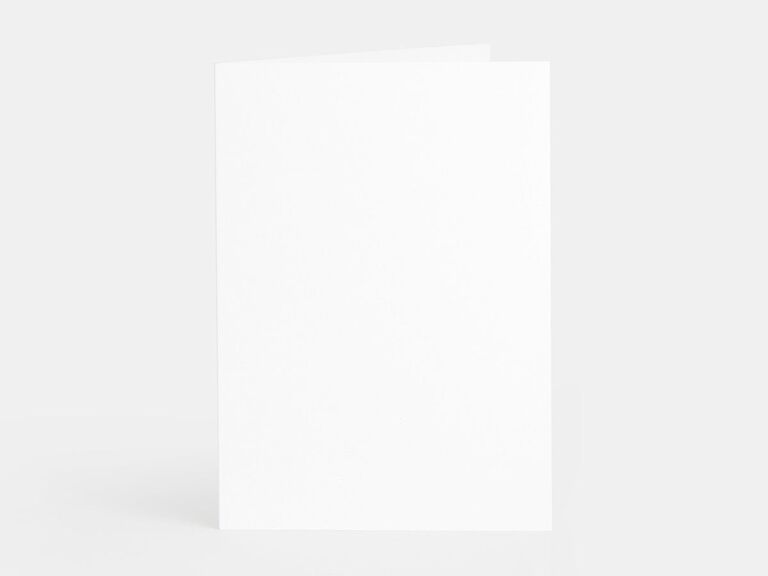 Got an artistic flair? DIY wedding cards are a great way to show the happy couple just how much they mean to you. By doing it on premium quality recycled paper, you'll be showing love to the environment too.
Artifact Uprising design your own folded cards, from $2, ArtifactUprising.com