24 Gorgeous Engagement Rings to Inspire Your Future Ring
Trendy two-stone rings, new classics and lots of asymmetrical coolness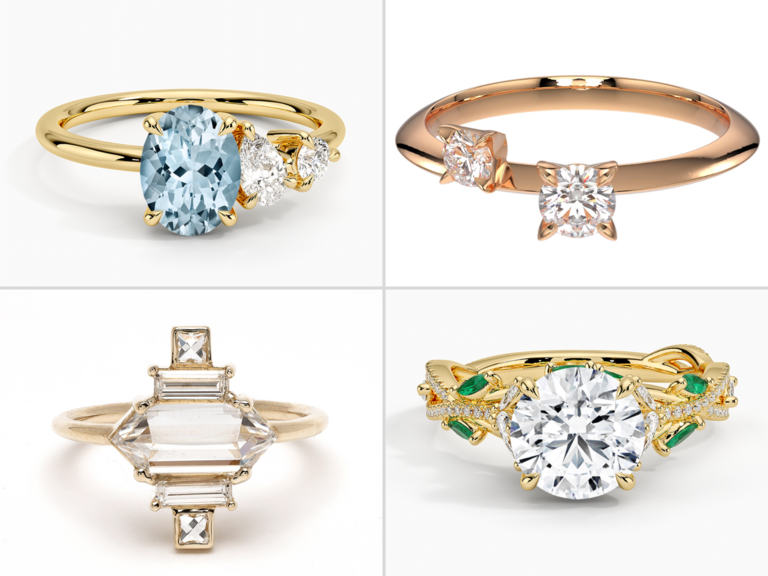 We have included third party products to help you navigate and enjoy life's biggest moments. Purchases made through links on this page may earn us a commission.
Diamonds are forever, but nowadays many couples are bucking tradition and opting for gorgeous engagement rings featuring colored gemstones in unconventional shapes and sizes to better reflect their own unique personality and personal style. Horizontal settings, mixed metals, multi-stone and sustainable, ethically-sourced rings are also trending right now. That's not to say the classic single-stone diamond engagement ring is going anywhere anytime soon though (it's not).
Whether you've been dropping subtle hints to your partner (or their iPhone) or are just looking for some much-needed inspo to design your own rock, we've rounded up the best modern, vintage-inspired and eco-conscious rings on the Internet you can buy right now. Save these stunning designs to your Pinterest board stat.
In this article:
24 Gorgeous Engagement Rings
From trendy toi et moi rings and modern stones that bring a burst of color to timeless diamonds for the romantic at heart, we've curated the most gorgeous engagement rings to inspire your own and help you find "the one".
Brilliant Earth Luxe Secret Garden Lab Emerald and Diamond Engagement Ring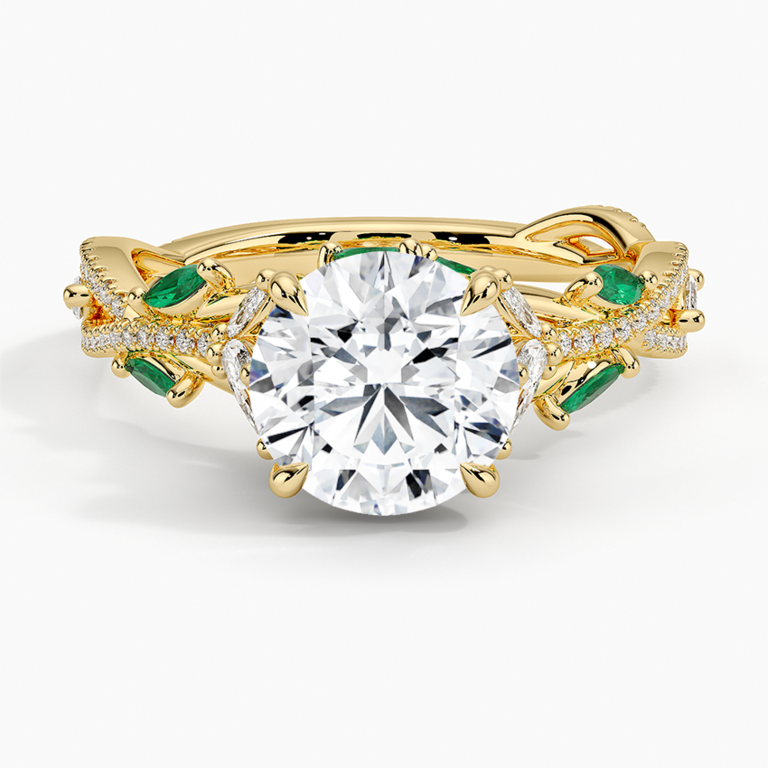 Taking inspiration from nature, this gorgeous 18k yellow gold engagement ring is unlike anything you've ever seen. Marquis-shaped lab-grown emerald buds decorate delicate vines of tiny diamonds for a whimsical look that's sure to enchant.
The Clear Cut Julia Toi Et Moi Ring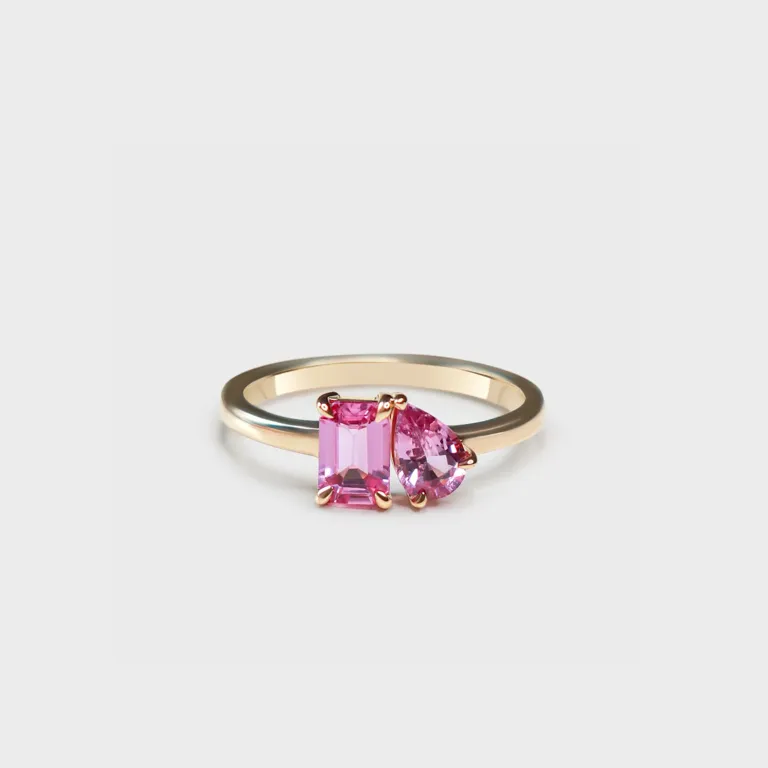 A roundup of 2023 engagement rings wouldn't be complete without a bold Barbiecore-inspired rock. This hot pink toi et moi ring is anything but cookie cutter, with two pink sapphires in contrasting shapes to create a cool contemporary look. If pink isn't your color, opt for blue sapphires instead.
VRAI The Signature Emerald Engagement Ring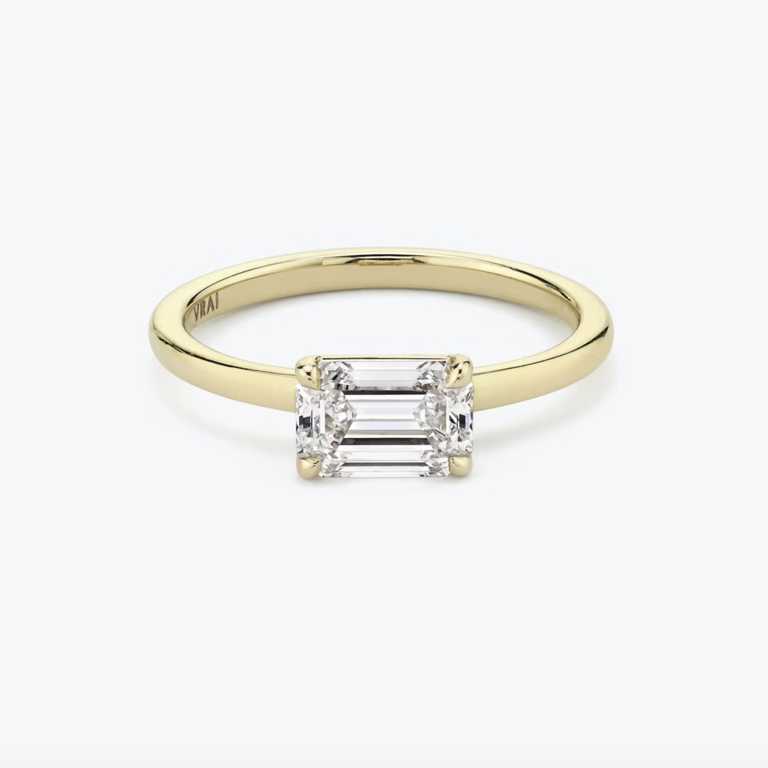 East-west rings are having a major moment so if you're looking for something sustainable and different, yet still completely classic, you can't go wrong with Vrai's Signature solitaire ring in 18k yellow gold with a sparkly emerald-cut, lab-grown diamond. Simple but so chic.
Aurate Princess Cut Floral Diamond Ring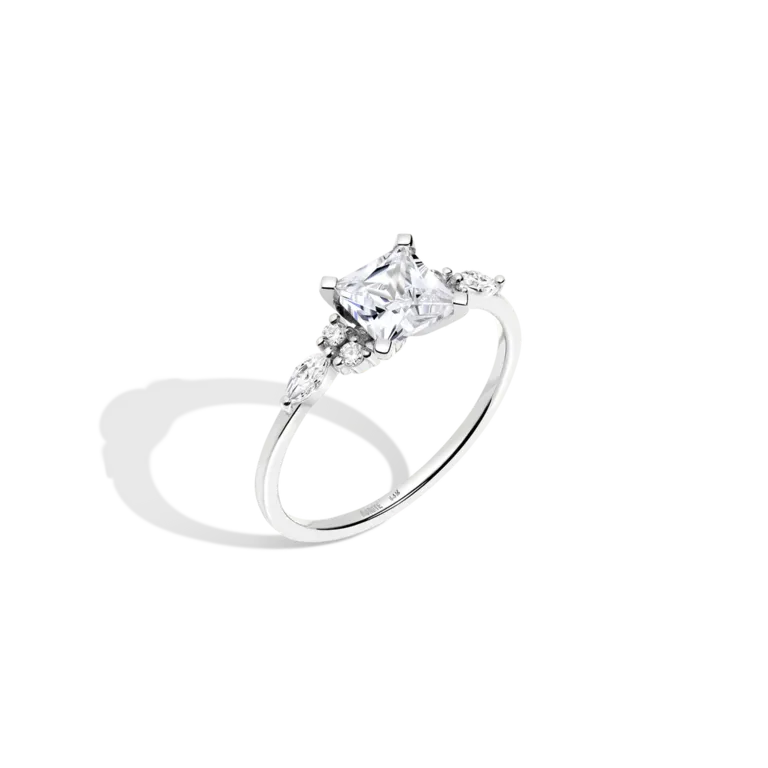 The prettiest bouquet of diamonds you ever did see. If you're on the hunt for an ethically-made gorgeous ring you can feel good about wearing, this sparkly princess cut floral diamond ring is a dreamy choice. Made with 99% recycled gold and high-quality lab grown or natural diamonds (your choice), it's beyond beautiful.
Mejuri Oval Diamond Bold Beaded Ring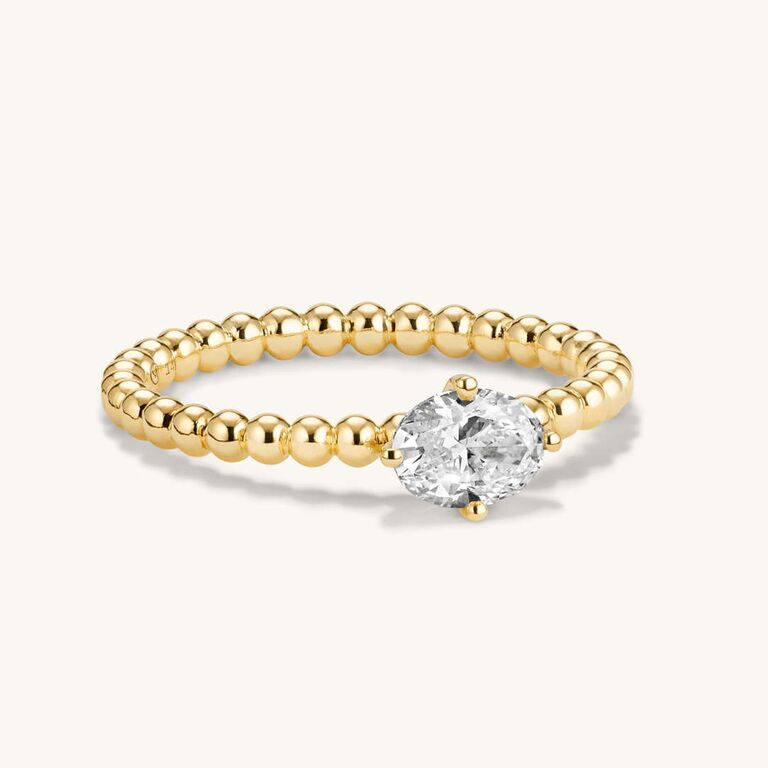 We're obsessed with the beaded band of this simple oval diamond engagement ring, which proves you don't need a huge rock to make a statement. This piece speaks for itself and would look stunning stacked with more delicate yellow gold rings.
VRAI The Signature V Round Brilliant Engagement Ring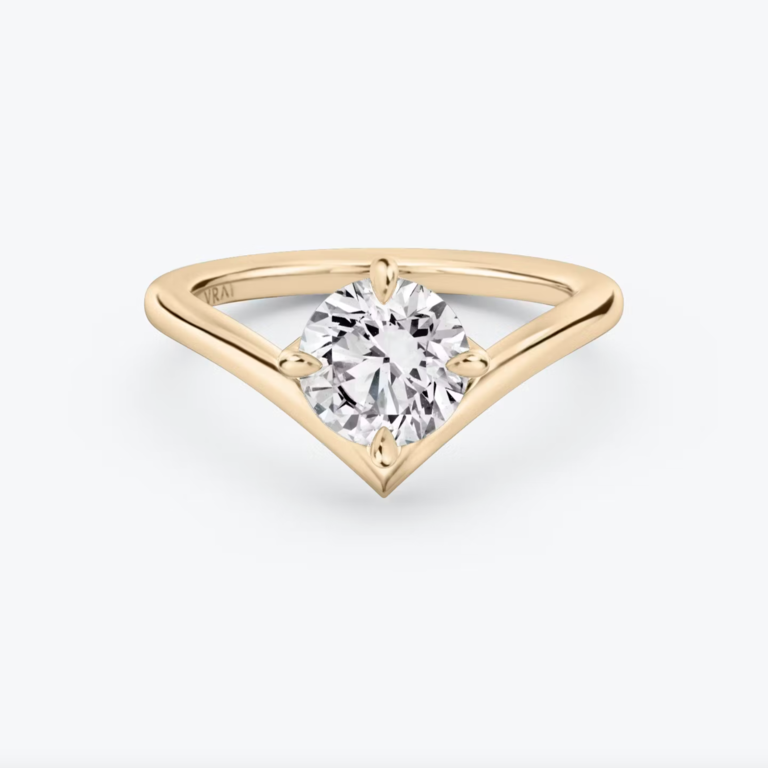 A new classic, the Signature V engagement ring is perfect for those who love the look of a traditional round diamond but still want to play around with shapes. The V can be worn facing in or out so you can switch up your look on the regular. Snag it in 14k rose gold, platinum, 18k yellow gold or 18k white gold.
Blue Nile Classic Pear Shaped Sapphire Engagement Ring In Platinum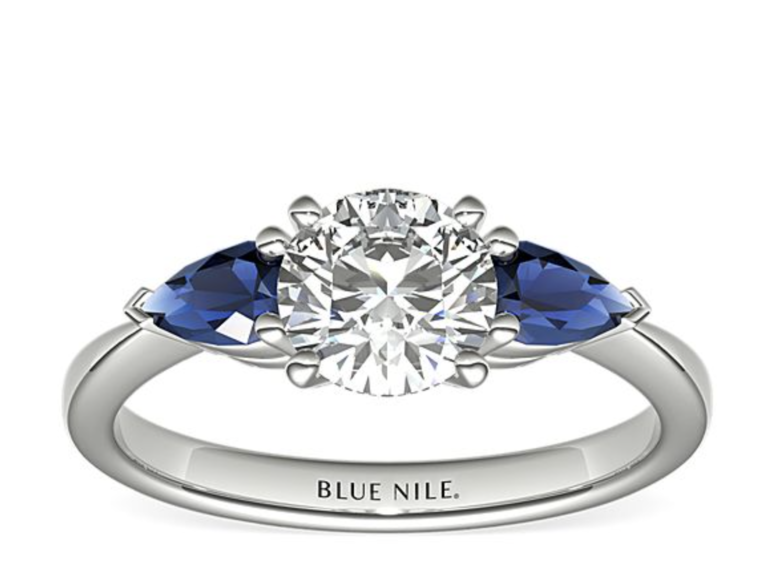 You don't have to choose between a classic diamond and a colorful gemstone. This stunning three-stone, pear-shaped sapphire engagement ring in platinum is the best of both worlds and is guaranteed to rake in the compliments. Hot tip: mix and match stones for a look that's uniquely you!
Jennie Kwon Emerald Lexie Ring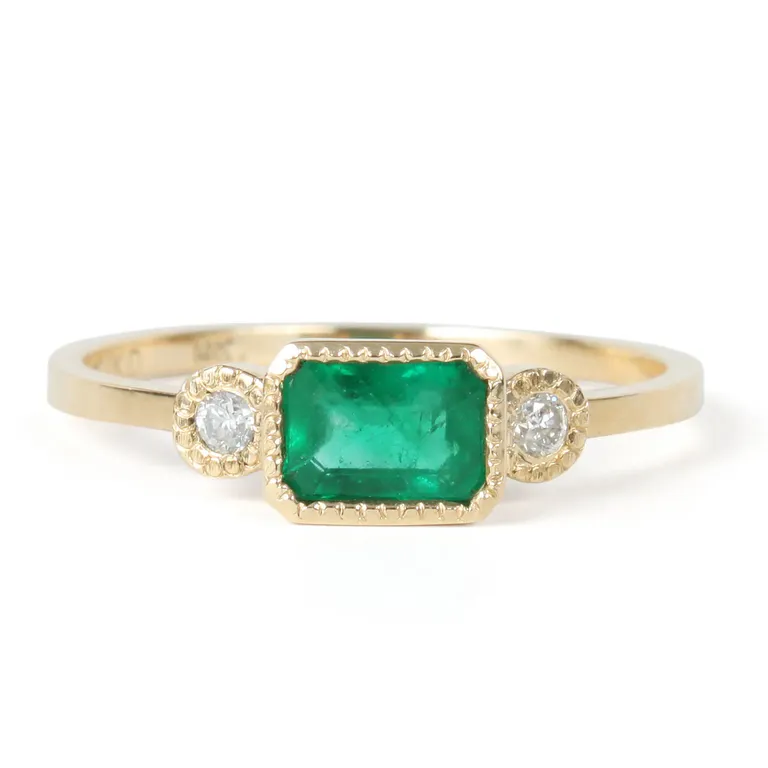 Catbird is our go-to for unique jewelry that won't break the bank. This gorgeous emerald engagement ring is flanked by two precious diamonds and feels like something your grandmother would wear but reimagined for the modern woman.
Stone And Strand The Jacqueline Ring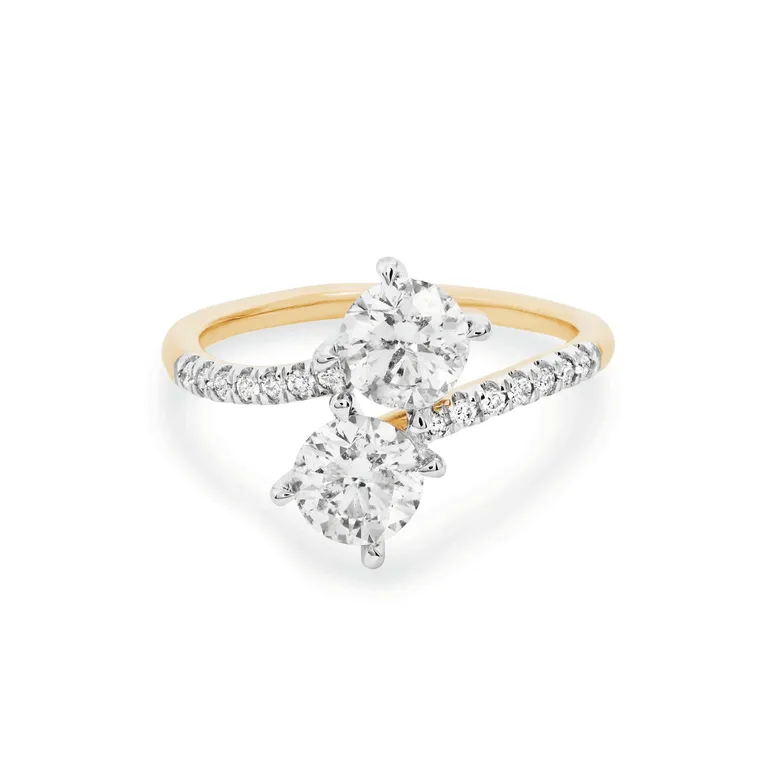 Make it official with this small but mighty ring which dares to be different. A beautiful blend of vintage-inspired meets modern design, the Jacqueline Ring features handpicked, full-cut and conflict-free diamonds in a unique setting designed to enhance their shine.
Greenwich St. Jewelers Emerson Kite 1.16ct Salt & Pepper Diamond Engagement Ring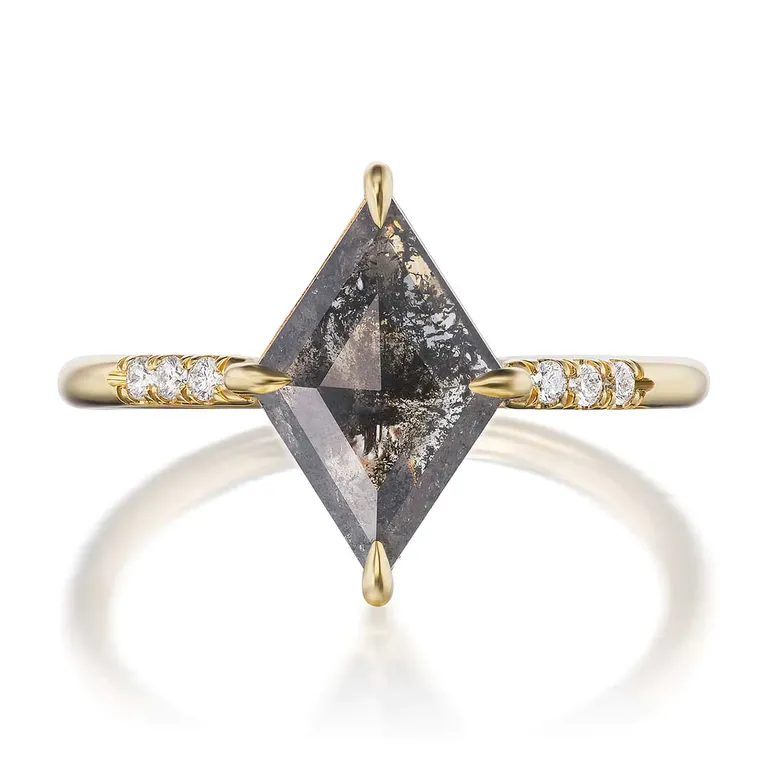 This one-of-a-kind, salt and pepper kite ring is such a cool choice for the edgy bride-to-be. Made in NYC using recycled precious metals and conflict-free diamonds, it's a gorgeous piece you'll take pride in rocking.
James Allen Lab-Created Princess Cut Diamond Petite Pavé Crown Engagement Ring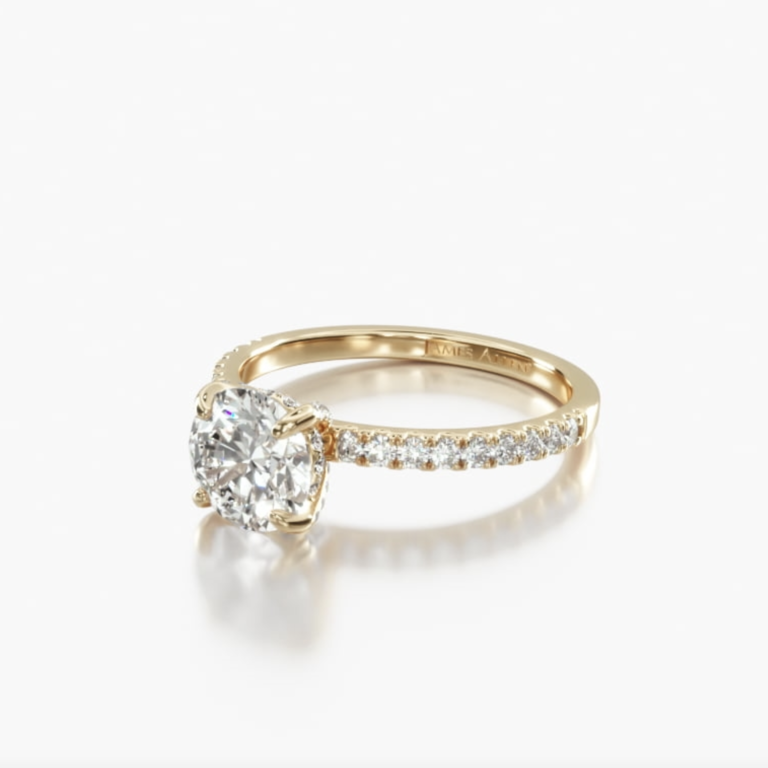 Fit for a modern princess, this extra sparkly petite diamond ring has all the bling you could ever want without being "too much". Pair it with a simple yellow gold wedding band for a sophisticated stack.
Melanie Casey Windlass Ring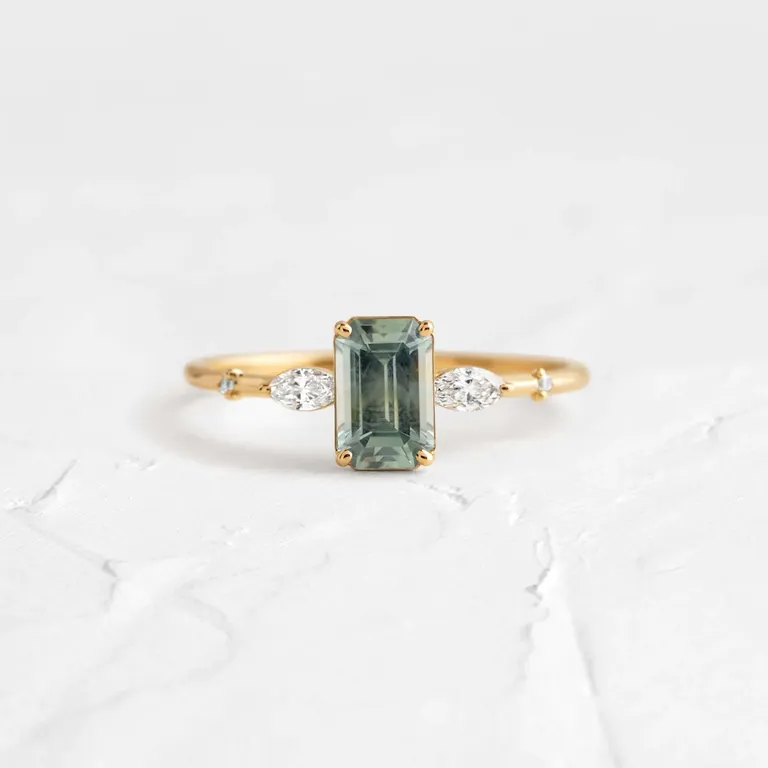 There's something so earthy and serene about this handcrafted ring, you can't take your eyes off it. Two pairs of tiny round cut and marquise diamonds surround a radiant emerald cut sapphire in the center. It's one of those rings you'll get stopped and asked about a thousand times.
Stag & Finch Tracy Ring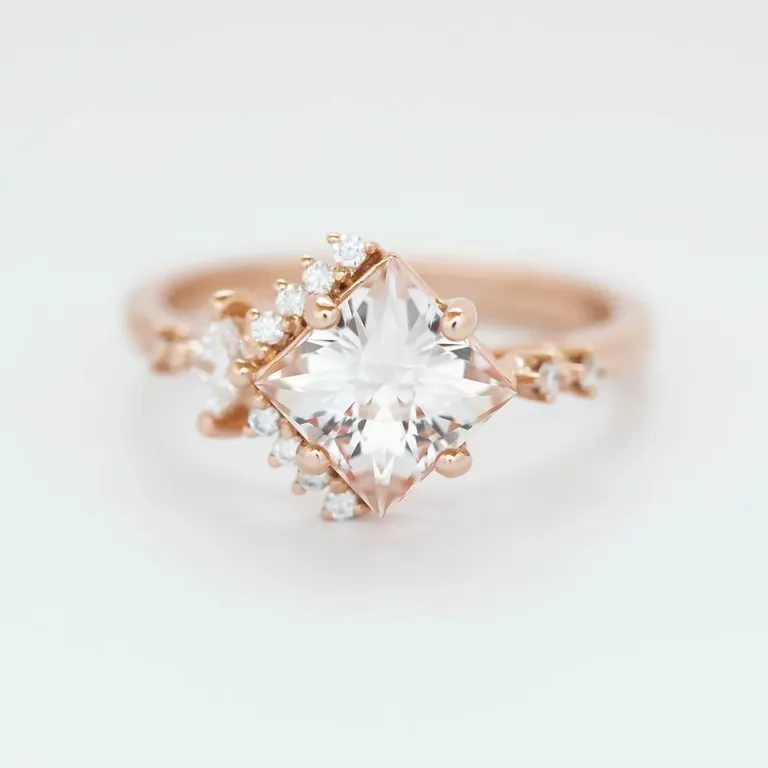 NGL, we're in love. Another rising trend many modern brides are embracing is the asymmetrical cluster ring look, and this gorgeous ring nails it. Lab-grown diamonds flank a precision princess-cut gemstone of your choice for a custom contemporary look that's also ethical.
Olive Ave Florence Ring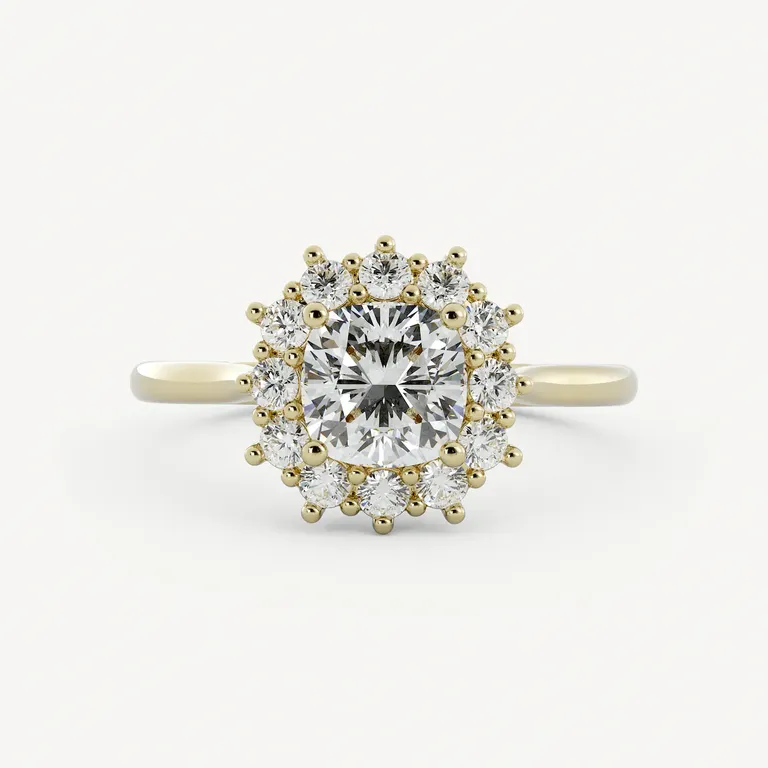 Isn't she one of the most gorgeous engagement rings you've ever seen? Bursting with rare beauty, this super unique ring marries timeless style with trendy touches for a one-of-a-kind look that'll leave you speechless.
Badgley Mischka Heart Lab Grown Diamond Side Stone Engagement Ring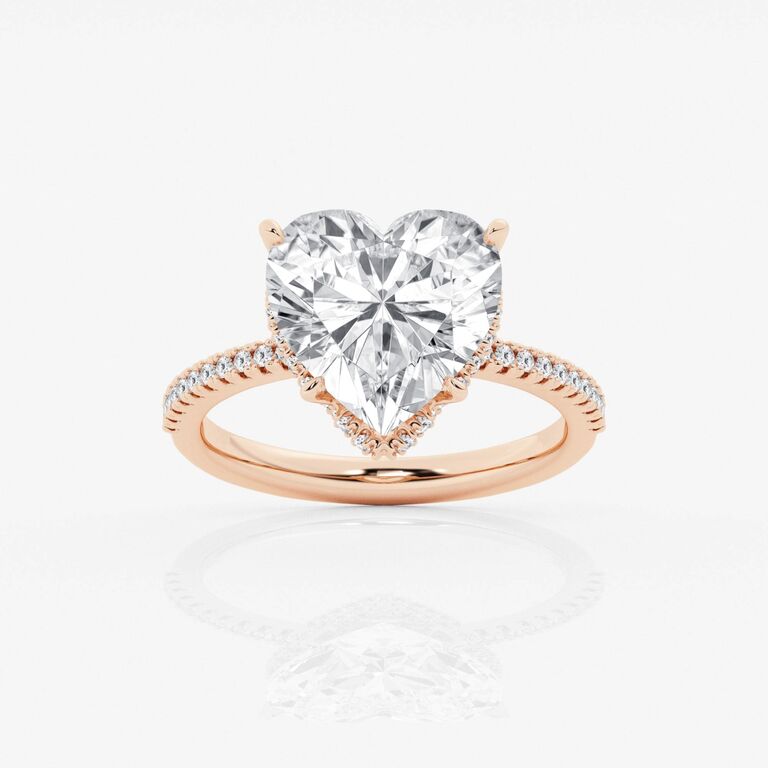 Wear your heart on your finger with this brilliant Badgley Mischka lab-grown diamond engagement ring. A huge 4 ⅓ carat heart is surrounded by smaller star-like diamonds so you always shine bright.
Marrow Art Deco Sunrise Ring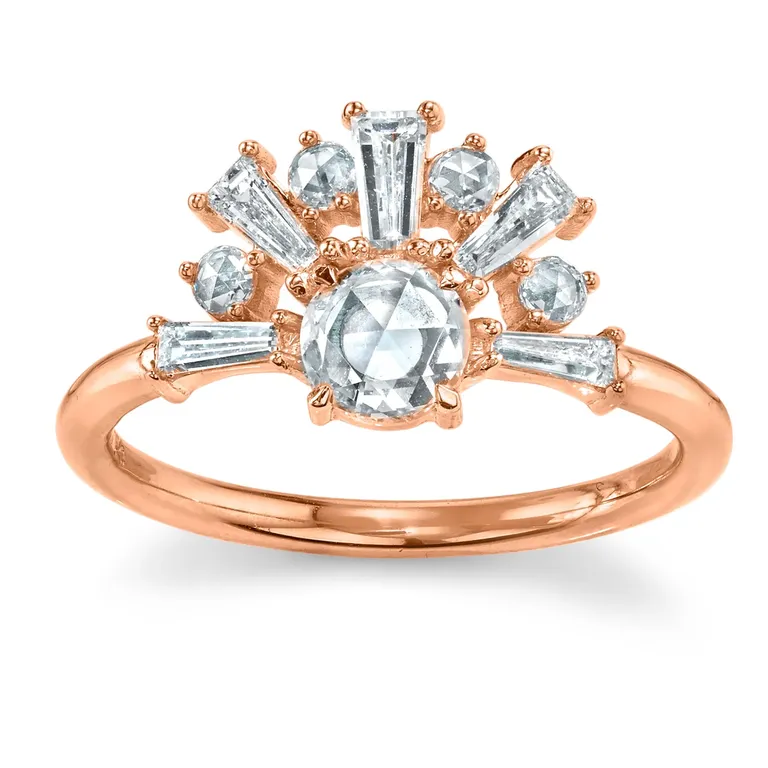 Here comes the sun(rise) ring! This dazzling, 14K rose gold art deco-inspired ring is right on trend and unlike anything your married or engaged friends are currently wearing. While unconventional, it's perfect for those who want something ethereal and out of the box.
Catbird Hall of Mirrors Ring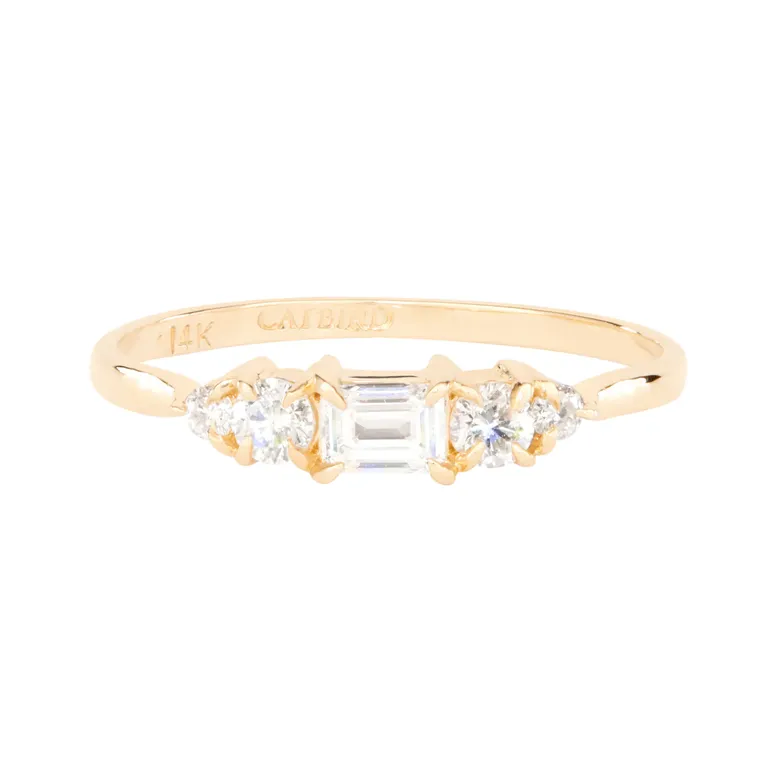 Mirror, mirror on the wall, who has the most gorgeous engagement ring of them all? You'll shimmer and shine with this multi-stone Hall of Mirrors ring, which is a showstopper worn solo or slays in a stack. It's made with 100% recycled and solid 14k gold or platinum (you pick), as well as recycled white diamonds.
Swarovski Intimate Ring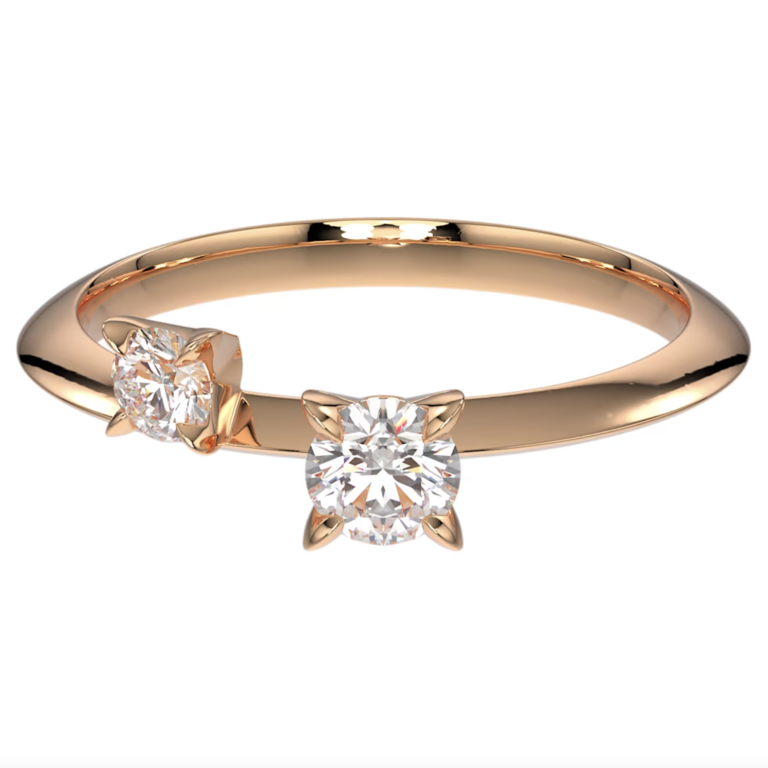 Double the dazzle! This gorgeous ring is all about the understated elegance with two environmentally conscious Swarovski-created diamonds set on a solid 14k rose gold band. At only $700, it's a steal.
Brilliant Earth Aquamarine Côte Asymmetrical Diamond Ring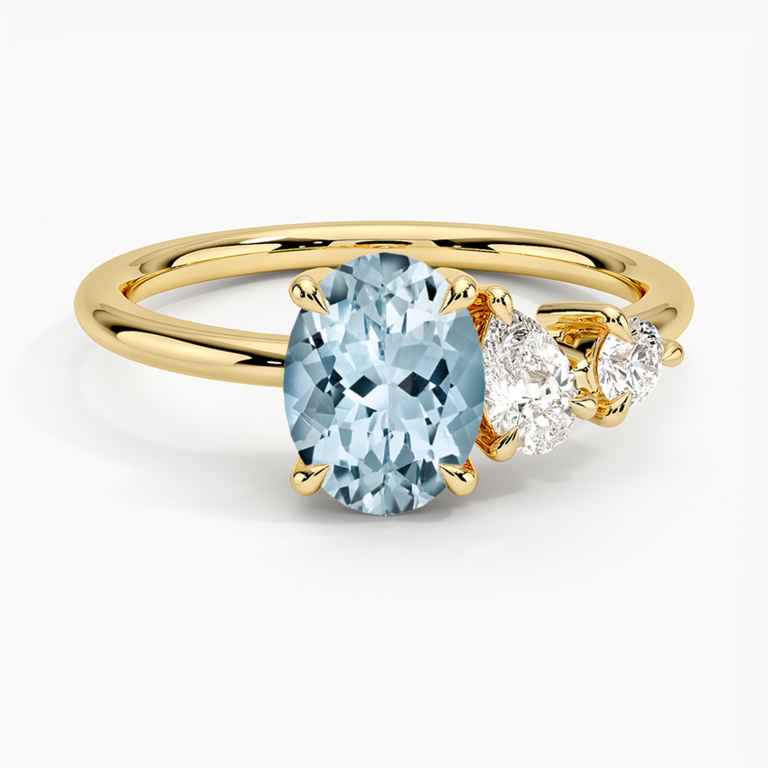 If you're drawn to asymmetrical rings, you'll swoon over this dreamy aquamarine ring from Brilliant Earth. You pick the center stone shape (round, pear, cushion, oval or emerald) and a pear and round diamond sparkle next to it.
Sofia Kaman I Deco Dare You Hexagonal Cut Lab-Grown Diamond Ring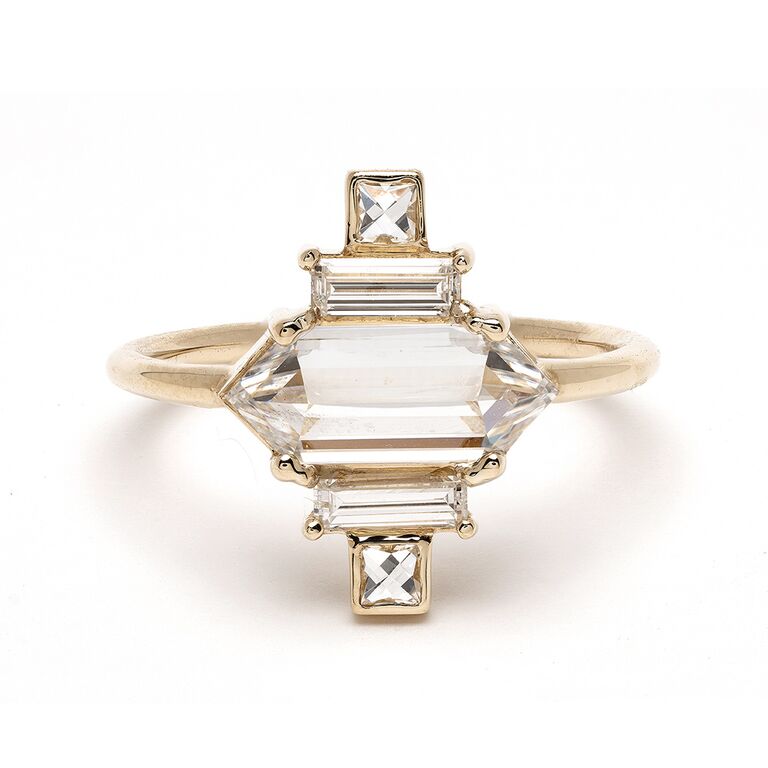 Geometry may not have been your subject, but this innovative, inverted-set hexagonal ring is one for the books. It's bordered by symmetric diamond baguettes and gives off serious cool girl vibes. You'll never want to take it off.
Megan Thorne Wood Nymph Faye Cathedral Ring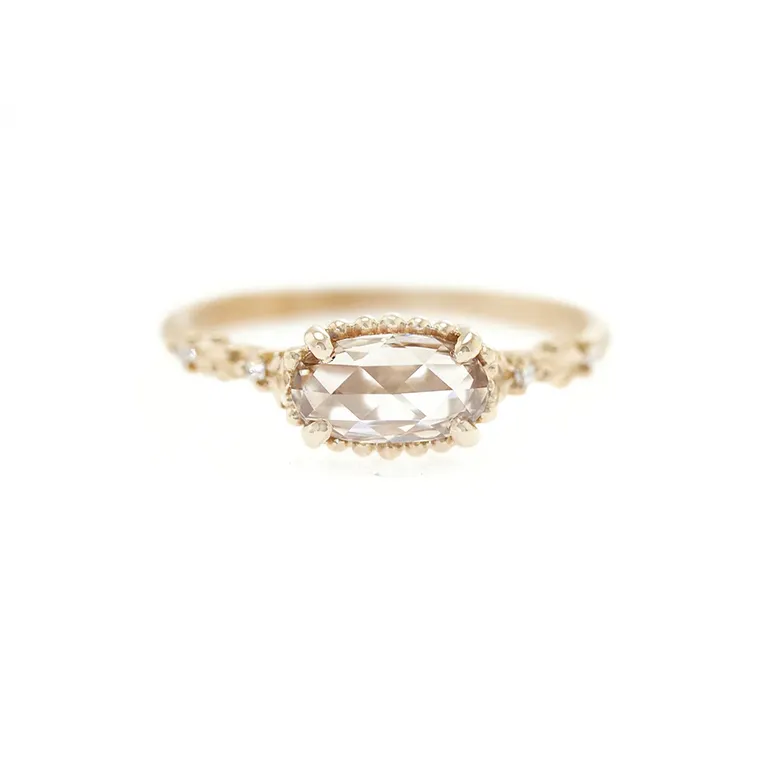 If you've got champagne taste and the budget to match this romantic and drop dead gorgeous engagement ring is a rare find. It features hand-carved garland shoulders, a diamond dew and a raised soft champagne rose-cut diamond in a sophisticated oval shape. So stunning.
Clean Origin Classica Ring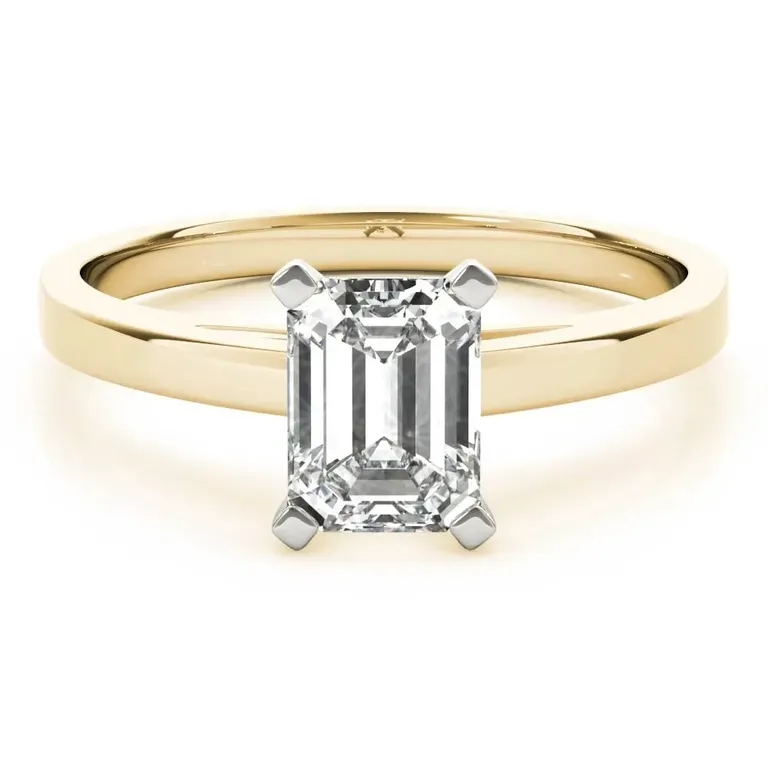 We love a good classic, and this simple solitaire ring is so elegant, pairing perfectly with all your other rings. It's perfect for the person who wants some sparkle sans all the flash.
Brilliant Earth Parker Solitaire Engagement Ring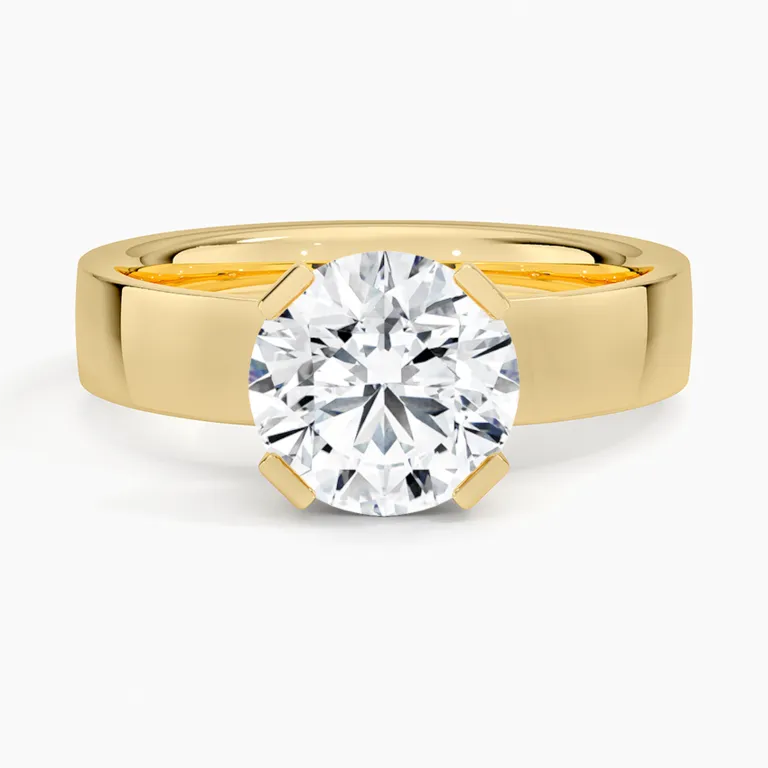 Whether you have a hands-on job or are super active, wide band engagement rings offer a unique look and lots of durability. This gorgeous engagement ring makes a statement while still making sure the diamond takes center stage.
Blue Nile Ruby And Diamond Two-Stone Ring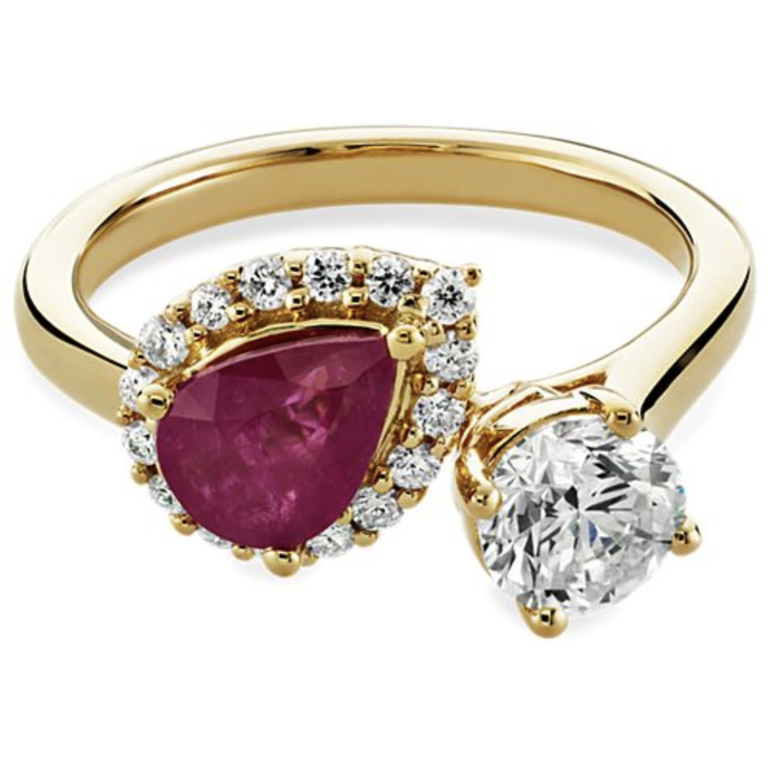 This two-stone ring gives us all the eclectic, cool and bohemian vibes. We love the dark contrast of the ruby paired with the brilliance of the diamond.
The Elements Of A Gorgeous Engagement Ring
So what makes a gorgeous engagement ring, well, gorgeous? There's a lot to consider, whether you're shopping for a traditional diamond rock or a colored gemstone. While quality matters most, the setting and style of the ring play a big role too.
Quality
If you've done your homework, you've likely heard about the 4C's of diamonds: carat, clarity, cut and color. All of these things together help determine the value of your rock, and thus, the price. A well-cut diamond is perhaps the most important if you're looking for a ring that will shine brighter and more brilliant, while carat size (the weight of your diamond) is more a matter of preference. Worth noting though, just because a diamond weighs more doesn't mean it'll look bigger on your finger.
As for clarity, less imperfections doesn't necessarily mean better but it does mean pricier. Oftentimes, you can save money on a diamond which looks perfect to the naked eye but has inclusions when magnified.
Setting
The setting, AKA how the ring's stones are mounted, can make all the difference between a ring that stands out and one that feels a little lackluster. In fact, certain settings can actually boost your ring's sparkle or make your rock look bigger. Whether you're more of a traditional girl or want something super modern, there are endless ring settings to choose from and what strikes your fancy, again, will really be a matter of preference.
Style
Personal preference always takes precedence. What's gorgeous to me and you may be unattractive to someone else. When shopping for the perfect engagement ring, it's important to focus on what you love, not what everyone else thinks is pretty or trendy. Go for the unconventional but simple sapphire ring if that's more your style. If you have your set on something classic and ultra glam, don't talk yourself out of it.
Popular Engagement Ring Shapes
With so many different engagement ring shapes to choose from, it can be tough to know where to begin or what will look flattering on your fingers. While your best bet is to go try some rings on in person, here's a good starting point to guide you in the right direction and help shape your choice.
Round: By far the most popular and universally-flattering shape, round diamonds are a timeless choice and really maximize the sparkle of your rock, which is a big selling factor

Princess: This square-shape stone, which resembles an inverted pyramid, offers all the brilliance and shine of round stones but has a more modern, angular look that's right on trend

Emerald: A timeless rectangular shape characterized by clean, straight lines and cropped corners, the emerald is renowned for its shiny "hall of mirrors effect", as well as the fact that it can appear larger on your finger than other shapes

Oval: With the same brilliance and sparkle of round diamonds, ovals are a popular and feminine choice thanks to their durability, ability to elongate fingers and give you bigger (literally) bang for your buck if size matters

Cushion: A square or rectangle shape with rounded corners, the cushion-cut diamond is a must if you're in the market for something vintage-inspired
Beautiful Engagement Ring Metals
While yellow gold is all the rage right now, there are so many beautiful engagement ring metals to choose from. Appearance will play a major factor in what you initially gravitate toward, as you need to love the way it looks on your hand, however you'll also want to consider durability and how well your metal will hold up over time. Of course, the color of your stone and what complements it will also influence your choice. Here's a quick breakdown of the most popular engagement ring metals.
White Gold: A hugely popular metal, white gold is durable and budget-friendly but may require replating over time

Rose Gold: If you're looking for something durable and trendy with a vintage vibe, rose gold rings with their pinkish tint are so romantic

Yellow Gold: Easy to care for and as pure as gold goes, yellow gold is rising in popularity and looks stunning paired with most skin tones (especially warm) and lower color grade diamonds

Platinum: The most durable and expensive metal of them all, platinum has a natural silvery white appearance and is known for being low-maintenance, hypoallergenic and tarnish-proof

Palladium: A more affordable version of platinum with a similar look, palladium is a good metal choice for those looking for a lightweight ring that's scratch-resistant and hypoallergenic