12 Fall Wedding Color Combos to Steal
Earthy hues and rich jewel tones like purple, green and red set the mood for a bold Autumnal wedding. Find inspiration from these wedding color combos perfect for fall.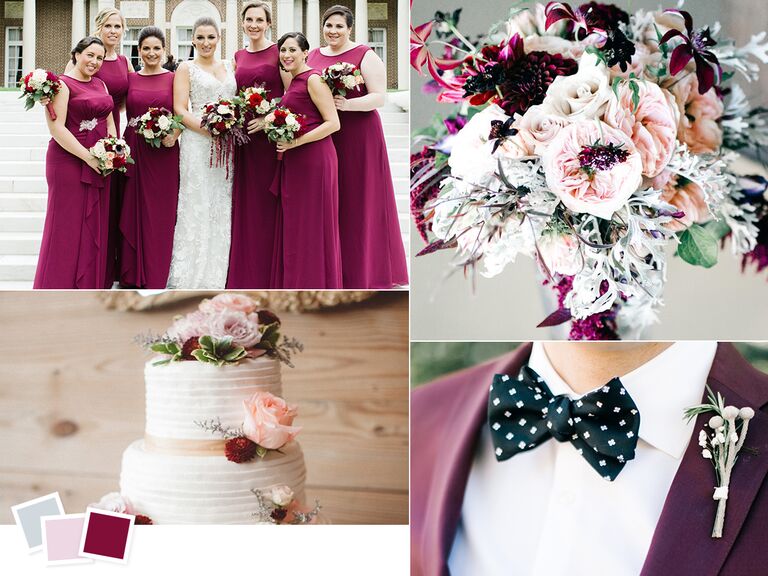 Frost, Blush and Boysenberry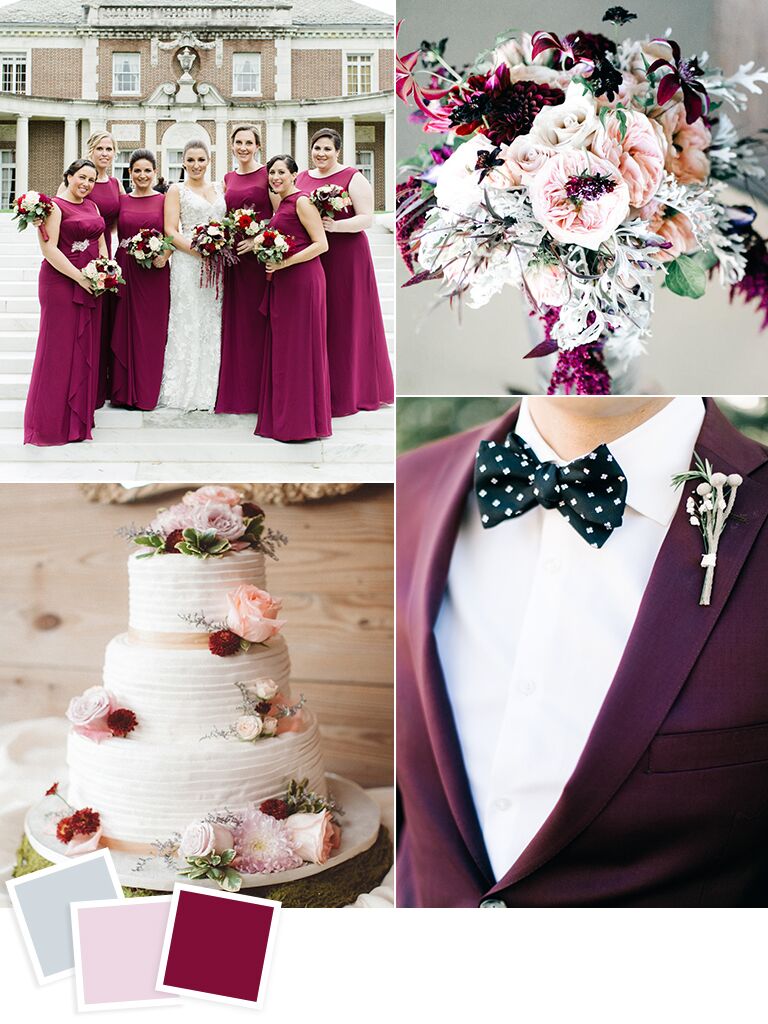 A pair of soft hues like silvery frost and barely there blush soften the hard edges of a darker jewel tone like boysenberry. You'll find plenty of florals in this palette, but the real statement makers are the fashion choices. A suit that's borderline maroon and bridesmaid dresses in this regal hue will stand out in photos—and it's universally flattering.
Silver and Dove Gray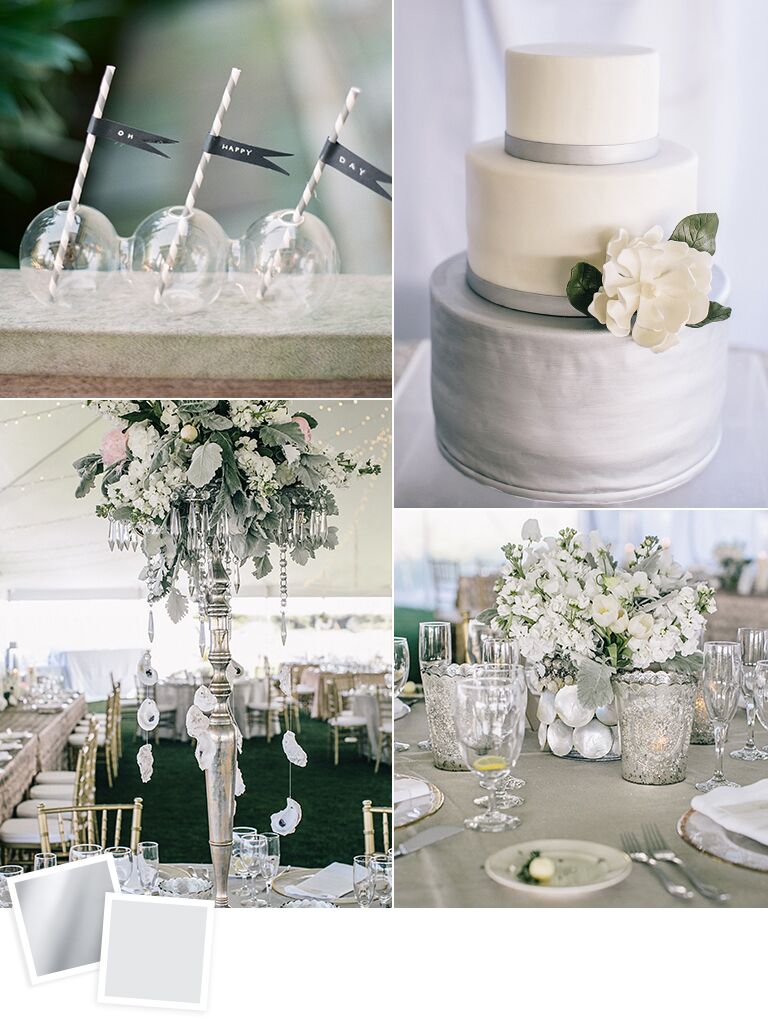 Usher in the chilly weather in the most glamorous of ways with an iridescent color scheme of soft gray and silver.. Think: The inside of a sea shell meets a glamorous dinner party. Scatter tealight candles in mercury glass votives and don't be shy with dusty miller foliage. The perfect home run detail? Treat your guests to a cocktail hour with a seafood bar of oyster and mussel hors d'oeuvres.
Gray and Navy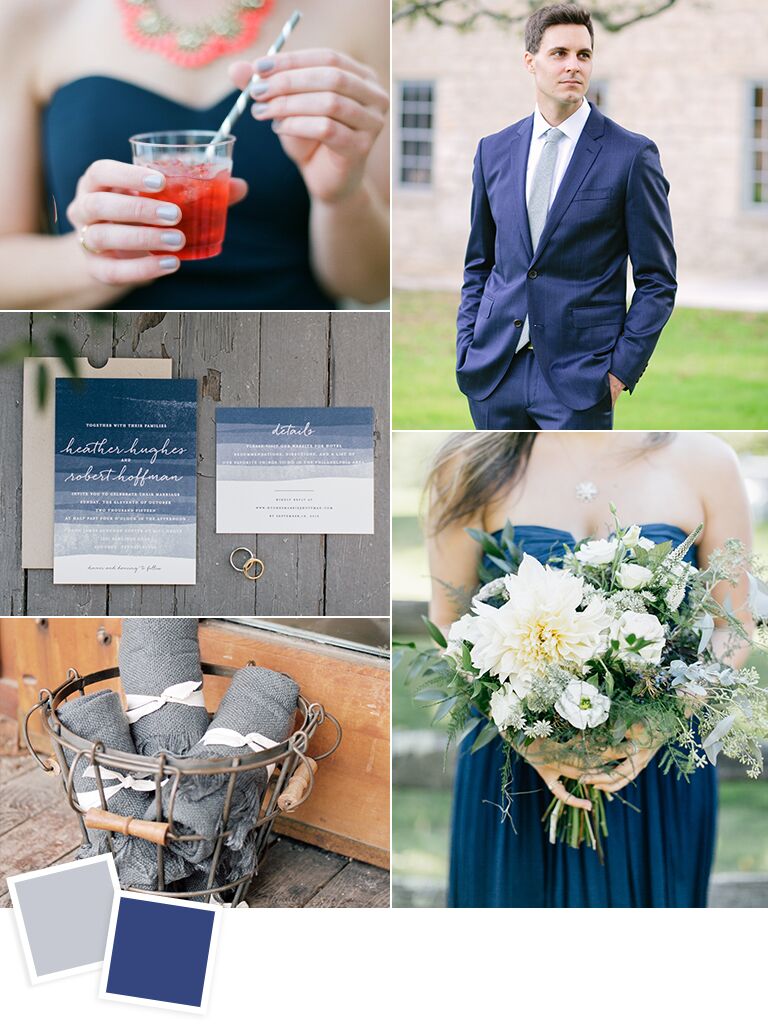 For a low-key yet elegant color scheme, gray and navy make a perfect pair. Let the color scheme be the main attraction with all-white flower arrangements. Enhance it with mood lighting: Come nighttime, overhead bistro lighting will combine with the gray and dark blue hues to create a whimsical, enchanted evening atmosphere.
Lilac and Violet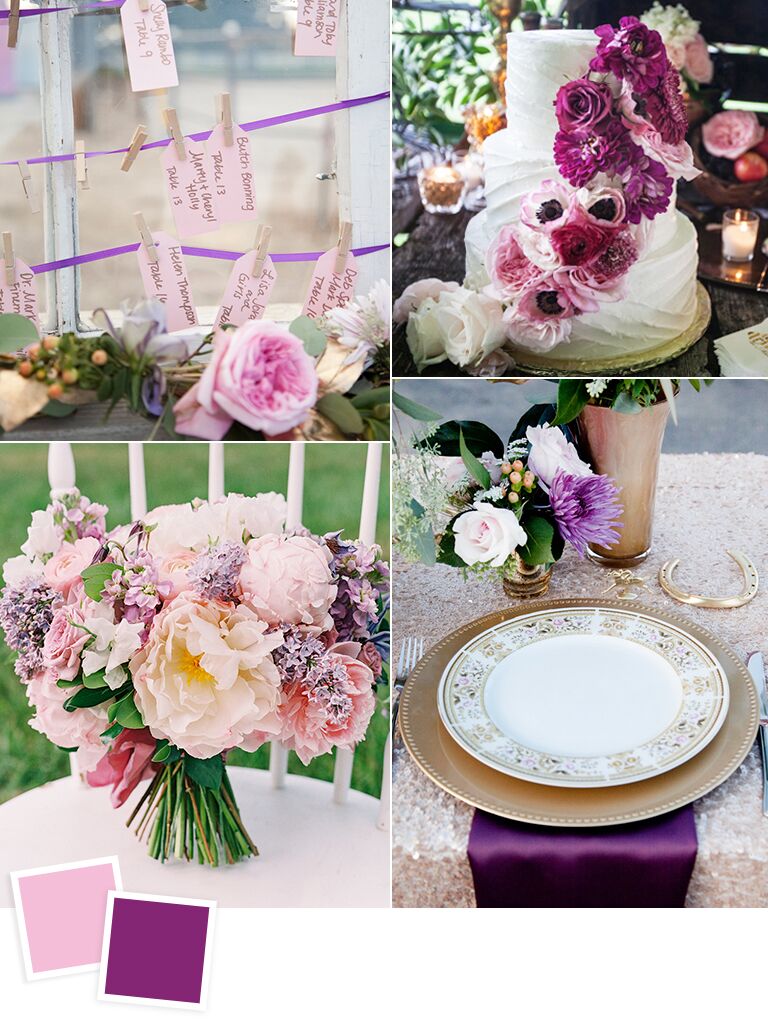 Going for that "garden party planned by a ballerina" type of vibe? Florals are key. Fill your arrangements with lush lilac, garden roses and dahlias to set the mood, then balance the feminine details with ornate elements like gold chargers and luxe linens.
Cardinal Red and Pineapple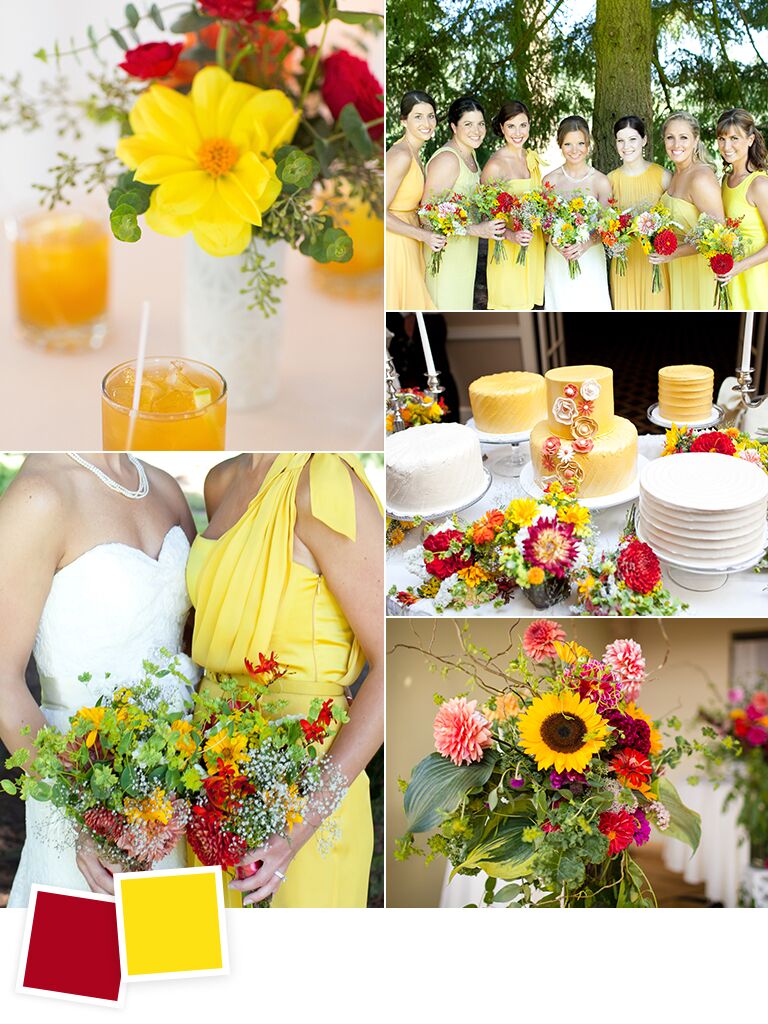 Combining two vivid hues like red and yellow make for a bold wedding color palette that's both impressive and cheerful. Let yellow be the dominant color and red the accent (it really only needs a pop here and there to make a statement). Start by sending out your wedding invitations in bright yellow envelopes to get your guests' attention right away.
Peach, Cherry Red and Orange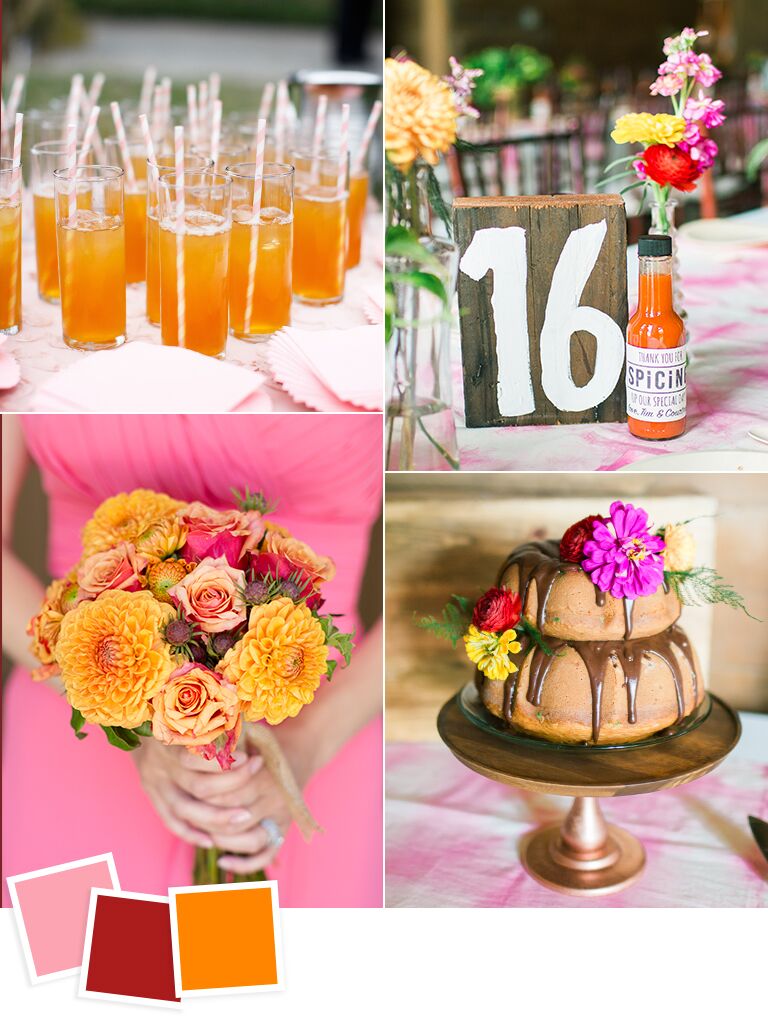 If your fall wedding is bridging the gap between September and November, and you're wondering whether to lean toward summer or fall colors, go with both. Red and orange look very autumnal, but it's brightened up with a peach pink that's reminiscent of summer sunsets.
Maroon, Cameo Pink and Aegean Blue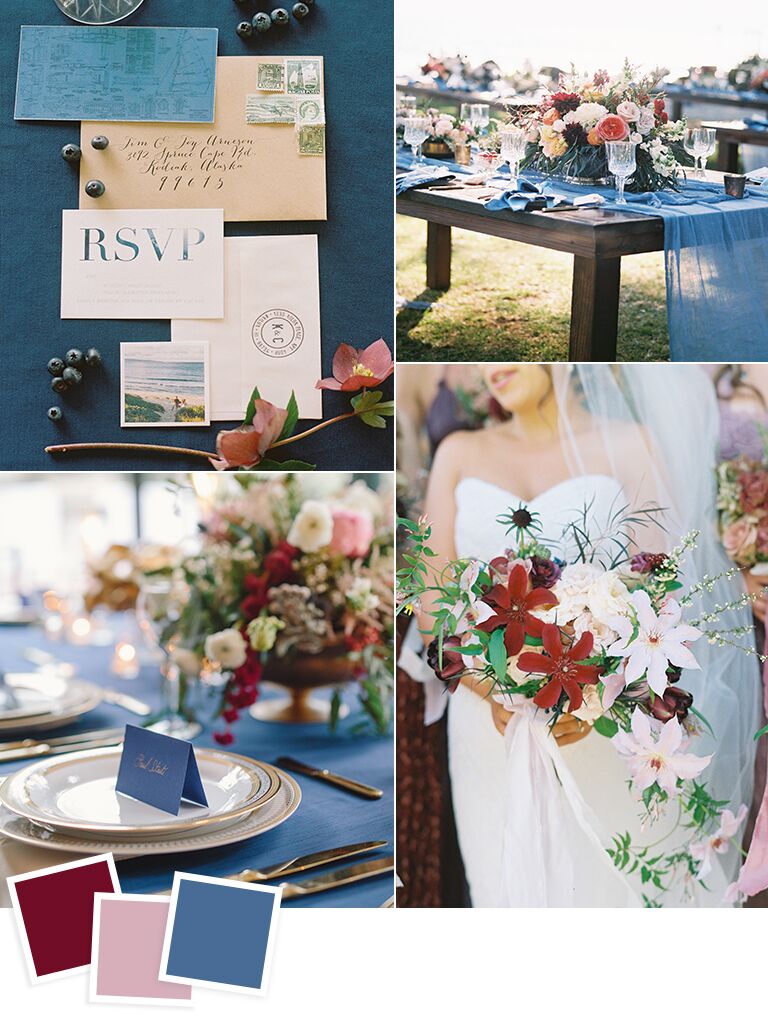 Texture is key to a flawless delivery of this "November in Cape Cod" trio. Watercolor calligraphy is a breezy detail that will carry the vibe from the escort card table to the reception tablescapes, then let sheer table linens lend a flowy and ethereal feel to the overall décor. Nothing should be too structured: Overflowing blooms, billowing fabrics and a barely frosted cake with berry embellishments will bring everything together.
Brown, Orange and Hunter Green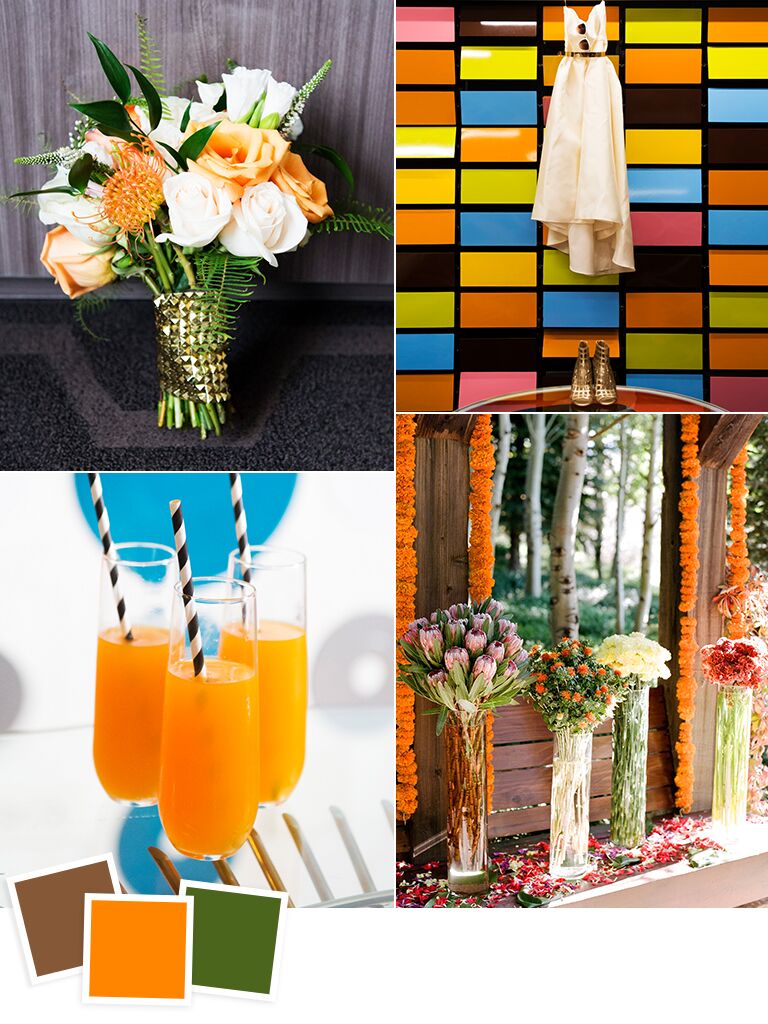 Brown, orange and hunter green have all the makings of a retro rustic wedding. Decorate with bold patterns, glam it up with gold details and have fun with it. Unique food stations and craft beer tastings are sure to delight your guests, as will a few fun interactive moments like a photo booth with props.
Dusty Yellow and Maroon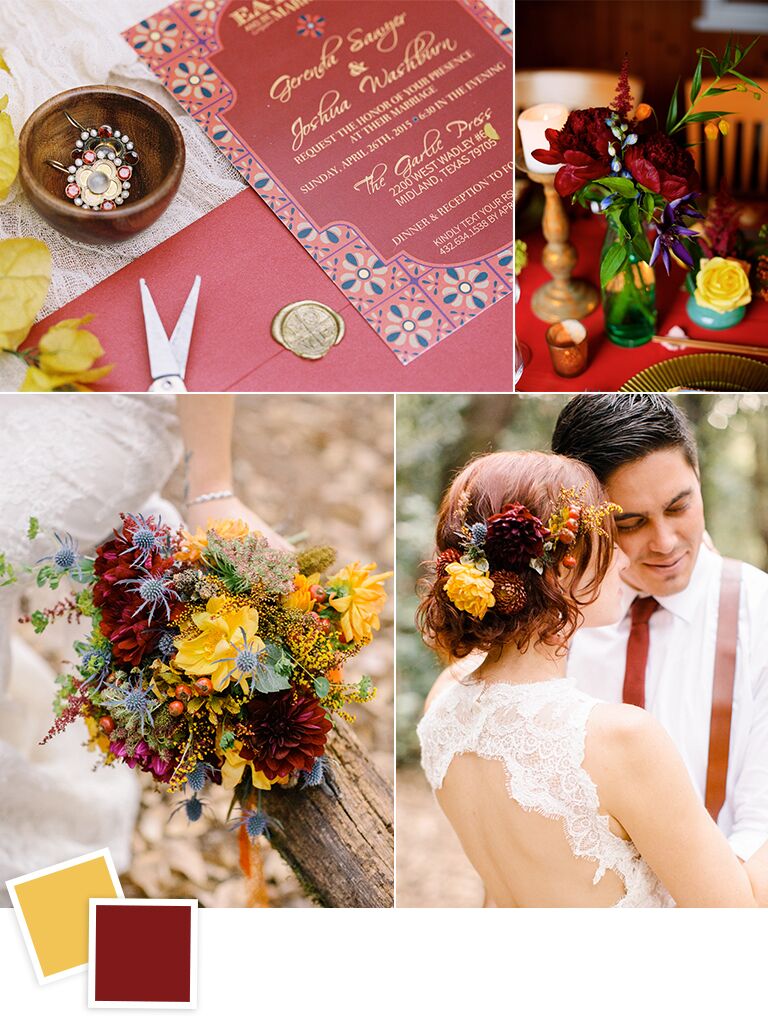 Have you been dying for sweater weather and apple picking? You need to go full-on fall. Dusty yellow with deep maroon carry the essence of the changing leaves more than any other palette. Keep the ambience going strong at the reception with treats like caramel apples, a gourmet coffee or hot chocolate bar, and cozy blankets or pashmina scarf favors to keep guests warm.
Navy and Burnt Orange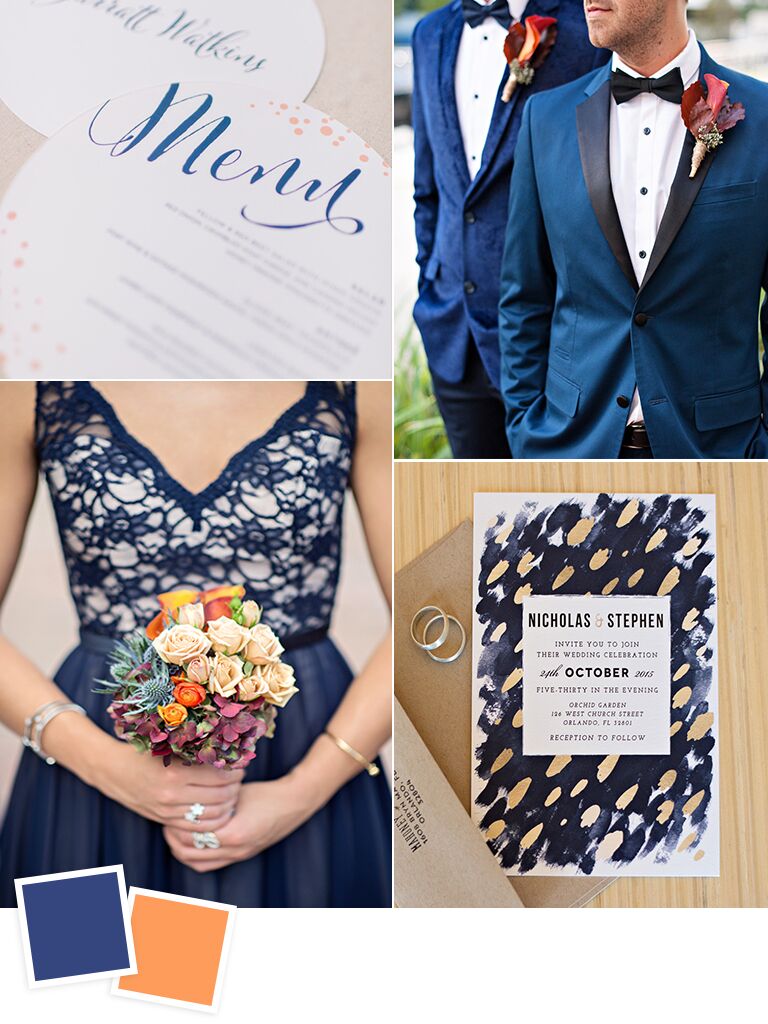 Burnt orange may not come to mind when contemplating your black-tie wedding color scheme, but when paired with navy the duo can come together for quite a sophisticated look. Pair it with formal touches like floor-length bridesmaid dresses, a champagne cocktail hour with a live jazz band and traditional three- or four-course dinner. The lasting impression? A favor box of macarons.
Grape and Walnut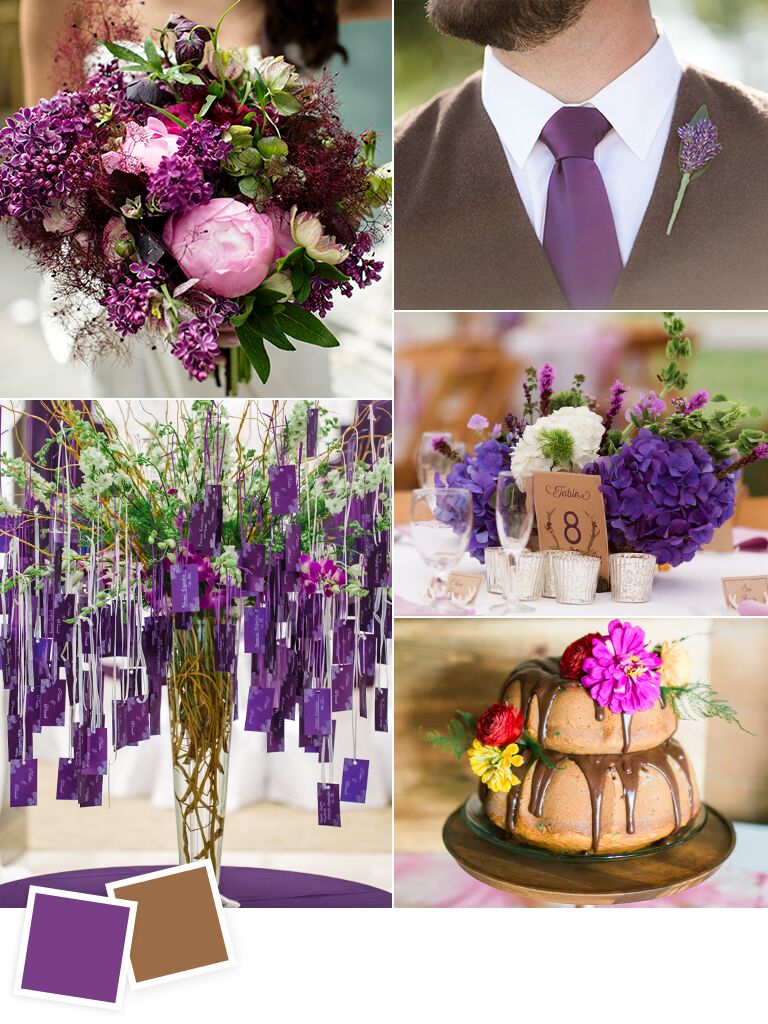 If your venue has a lot of natural wood showing, like a renovated barn, ranch or country vineyard, don't fight it. Welcome it into your color scheme and pair it with just one other strong color like purple. Choose a shade to match the formality of your theme since different hues can lean more toward formal than casual and vice versa.
Yellow and Royal Blue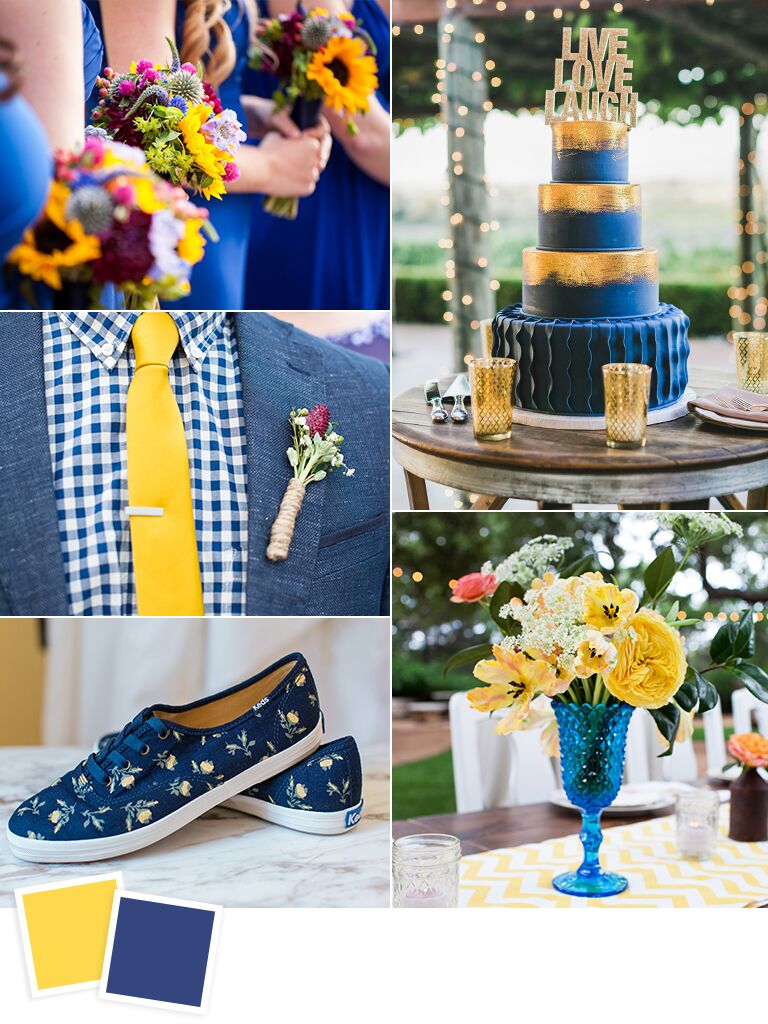 For a casual outdoor fete yellow and blue are both welcoming and stylish. Play with accents like colored glass and table runners then add metallic gold accents to amp up the party vibe. Gingham shirts for the guys are made just a touch more formal with chambray sport coats while cocktail-length dresses for bridesmaids are perfect for getting down on the dance floor all night.