20 Dreamy Fall Wedding Invitations You'll Pick Quicker Than an Apple
Cue the cashmere sweaters and Stevie Nicks soundtrack.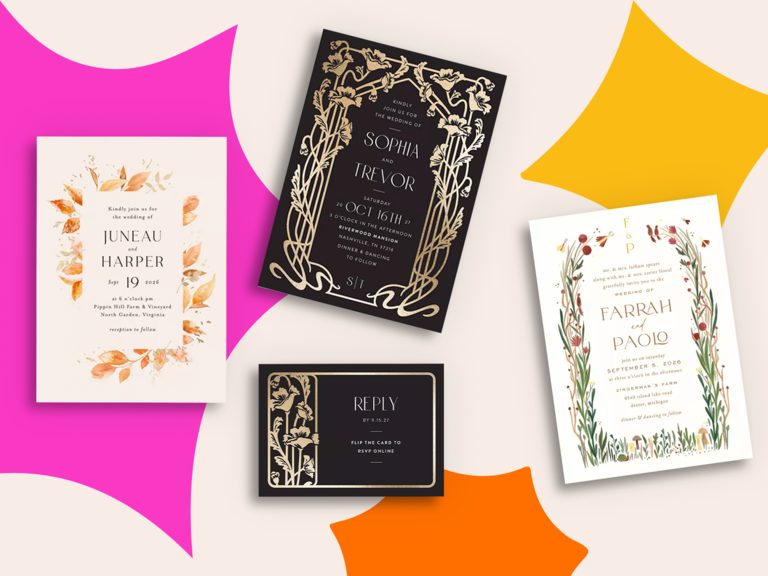 Design: Tiana Crispino for The Knot
We have included third party products to help you navigate and enjoy life's biggest moments. Purchases made through links on this page may earn us a commission.
If your ceremony is set some time between early September and late November, you'll need some special fall wedding invitations to set the stage. Maybe you're saying "I do" at a mysterious Victorian manor like the one in "Practical Magic" (sans any demon ex boyfriends buried in the yard)—or in a quaint New England town that would give Stars Hollow a run for its money. Perhaps your aisle is the space between apple orchard trees or your ceremony spot is a wooded clearing under vibrant leaves swaying in a breeze just crisp enough to break out leather jackets again (this editor rejoices). Whatever your preferred autumnal aesthetic, we've got fall wedding invitation ideas to suit your seasonal style.
All of our picks are from The Knot Invitations' just-dropped Fall Wedding Invitations Collection (so you might just be one of the first soonlyweds to scoop up one of these exclusive designs). This stunning stationery covers all the latest fall trends we've seen on the paper front—from invites inspired by the season's whimsical flora and fauna to moody, elegant correspondence that feels like a summons to a midnight affair at a moonlit manor. We've rounded up a few of our favorites below, but you can find so many more designs here.
Themes in this article:
Autumnal Opulence
These elegant fall wedding invitations feel ultra royal, decked out in rich blacks, browns and jewel tones. Ornate floral touches bedeck the corners and play out in pattern in a subtle way across each design, evoking intricate tapestries hanging on castle walls. A final sparkling touch: Many of these invitations feature gilded frames—like a crown. They'll make you want to get locked in a tower and kiss a frog in the best way.
The Knot Baroque Border Wedding Invitations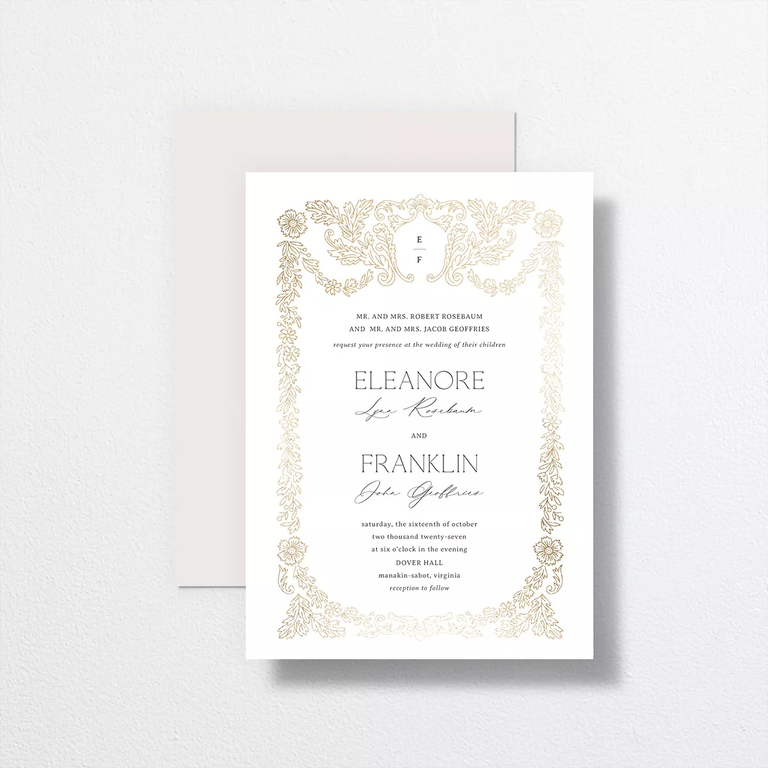 We can't get over the sheer elegance of these fall floral wedding invitations, bordered with draped gilded garlands. They truly feel like correspondence inviting the reader to a royal ball, complete with vines hanging from the chandeliers (which would glimmer just like the foil accents on this invite). You and your love's first initials are the crowning touch at the top.
The Knot Gilded Nouveau Wedding Invitations
Oh, these sparkling invitations are so striking. They're evoking the Gilded Age—both aesthetic-wise with the Art Nouveau-inspired florals around the border and literally, with the weighty gold (or silver or bronze) accents. Choose from a slew of pretty jewel-toned fall wedding colors or go with the black colorway for the most eye-catching contrast with the foil—like the harvest moon against the autumnal night sky.
The Knot Delicate Vines Wedding Invitations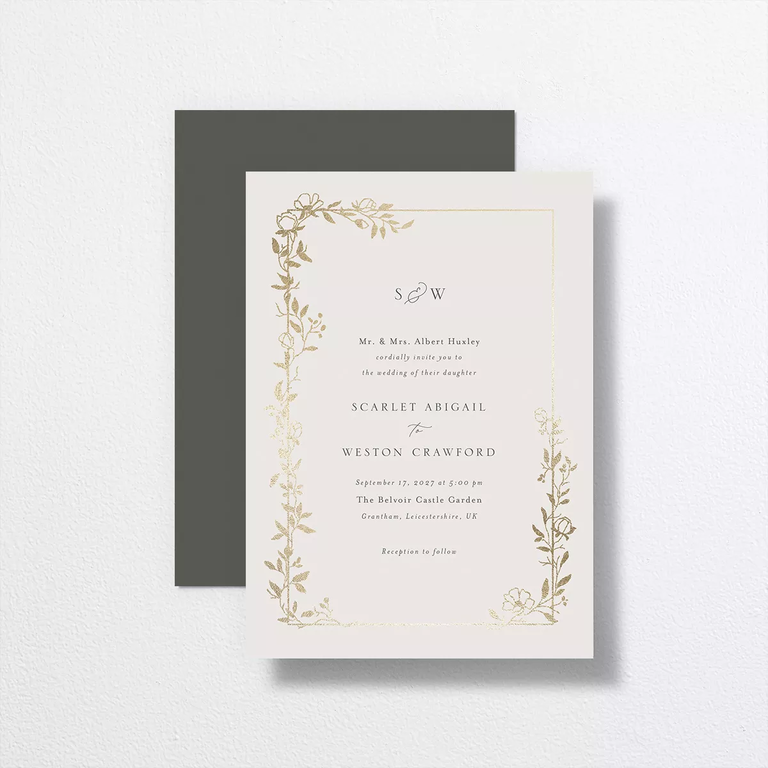 Your invitation doesn't have to be overly ornate or showy to be considered opulent. Rather, it just should evoke a sophisticated energy, with a few thoughtful details that draw your eye in. These classic fall wedding invites are the perfect example. Tiny autumnal leaves and flowers bedeck a thin vine that snakes up and along the stationery's sides, shimmering in foil. Choose from myriad soft, dusty hues that are perfect for a fall affair—some of which cover the front and back of the card and others that just adorn the reverse side with a splash of color.
The Knot Climbing Leaves Wedding Invitations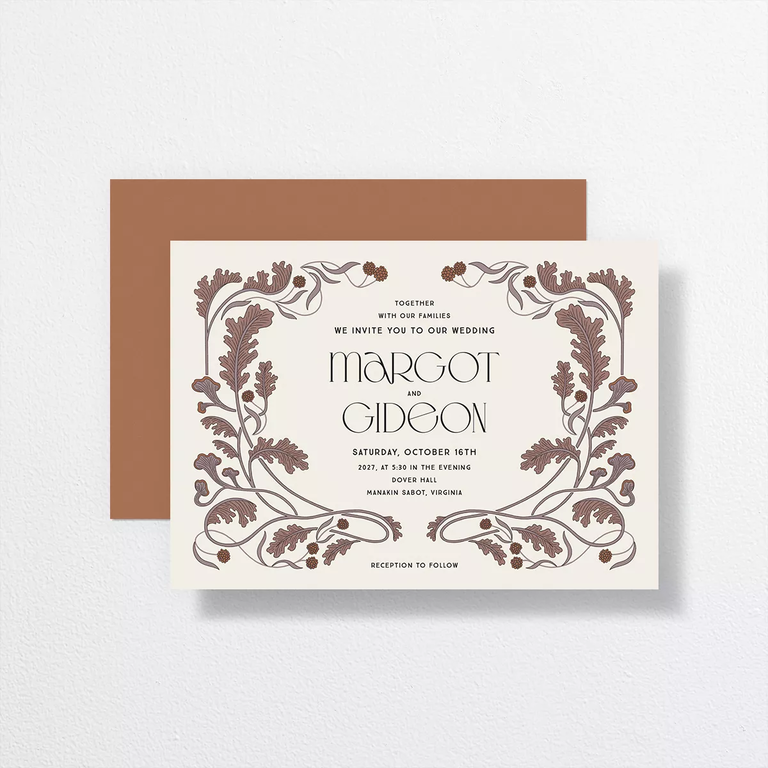 We're crushing hard on these horizontal invites, which feature a dreamy botanical border that's Art Nouveau-meets-fall forest. The earthy tones in the orange colorway are so enchanting and make this card feel like the cover of an old book of fairytales. Plus, the font that displays your names in the center is so unique, with a kiss of vintage sophistication.
Fall Foliage
Is there anything more magical than catching the first glimpse of crimson and golden yellow leaves come late September? The answer is yes, just one thing: these leaf-inspired autumn wedding invitations. Featuring feathery pampas grass, rust-colored blooms and—of course—all manner of cascading fall leaves, this stationery is taking us straight to the forest or the fall-set final scene in "You've Got Mail."
The Knot Soft Pampas Wedding Invitations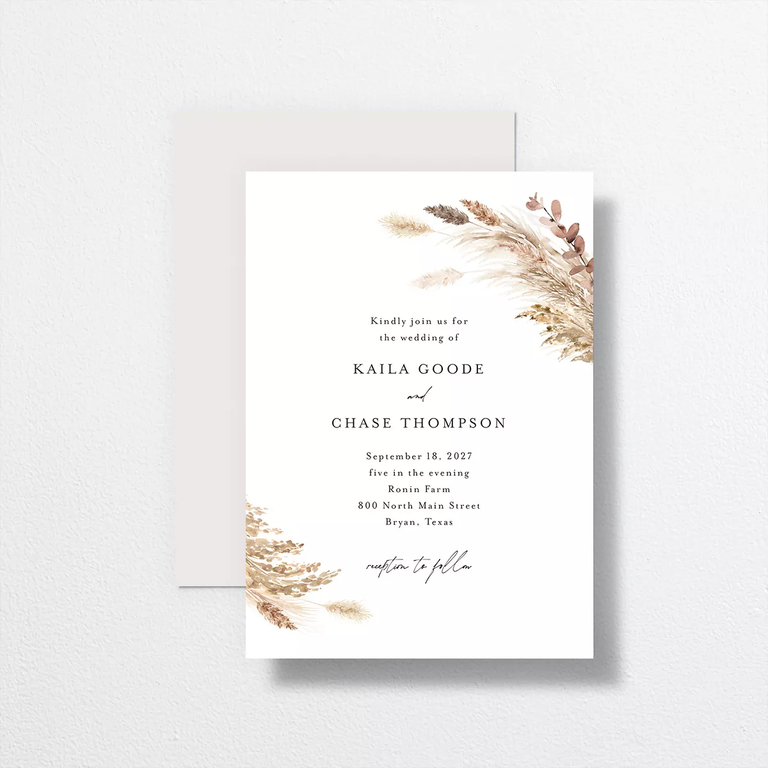 Watercolor pampas grass depicted in soft beiges and neutrals is the star of these fall-themed wedding invitations. Two bundles subtly frame the day-of details from opposing sides of the card, with sprigs of autumn wheat and eucalyptus leaves to add a little interest. They truly look like they're swaying in the autumn breeze.
The Knot Autumn Frame Wedding Invitations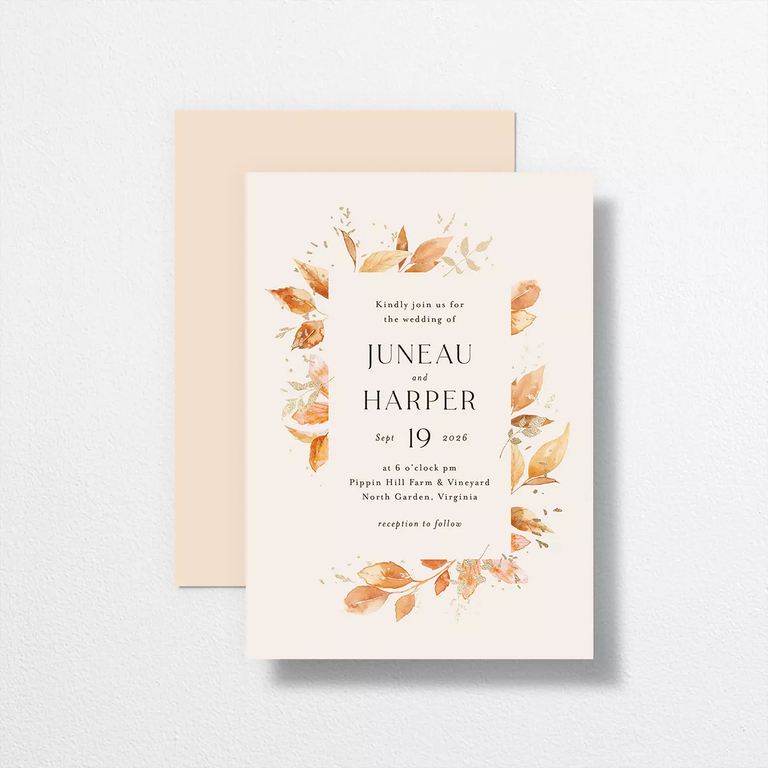 Are these not the most perfect October wedding invitations? A borderless rectangle at the center makes your wedding details stand out against a backdrop of cascading autumn leaves that are made only more lovely by foil accents. The elite combo for a fall soiree: the orange colorway with either gold or rose gold foil touches.
The Knot Minimal Wildflower Wedding Invitations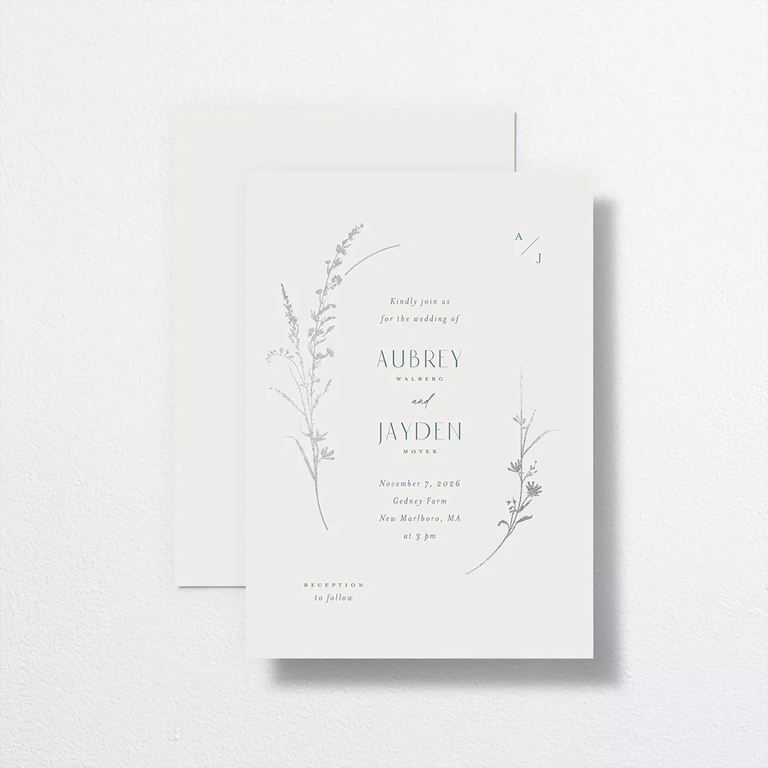 A little minimalism can go a long way, especially when it comes to these wildflower fall wedding invitations. They feel like blooms plucked from a field alongside an apple orchard, feathery and delicate. Each foil-adorned stem bends toward the center just slightly to encircle your particulars for a soft and elegant look. Choose between classic white or a few warm autumnal tones.
The Knot Falling Leaves Wedding Invitations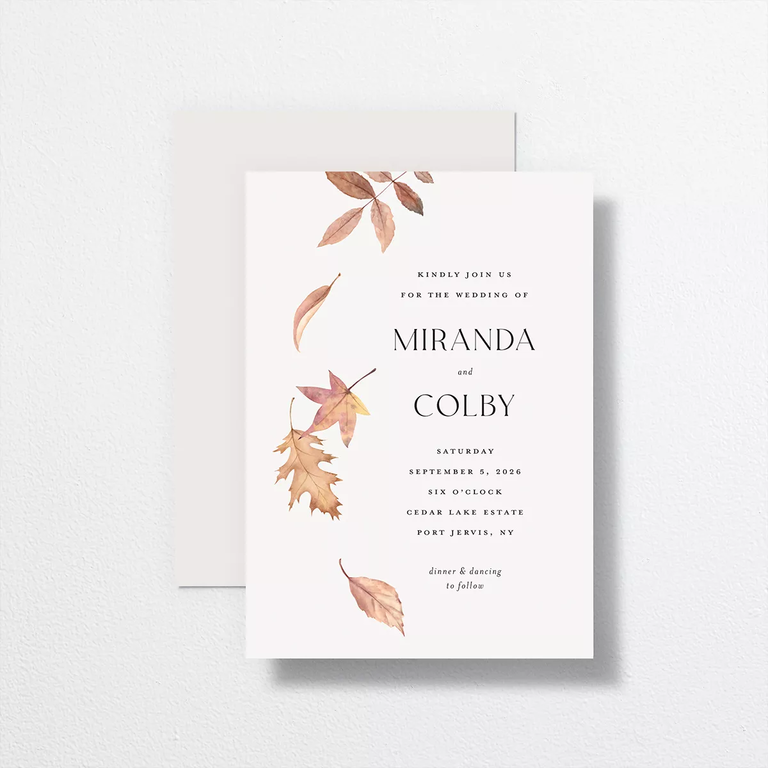 Maple and oak leaves cascade down the left side of this stationery as if they've been just plucked from their branches by the autumn breeze. And truly, that's all the adornment you need when it comes to fall wedding invitations. We love the slew of spice-colored hues you can choose for the background. You might even be inspired to place a few leaves in your fall wedding centerpieces, if you haven't chosen to already.
Flora & Fauna
These sweet and rustic fall wedding invitations feel fit for Snow White or a forest fairy. Bunnies, fawns and autumnal animals scurry across watercolor-like depictions of country rolling hills and find themselves intertwined in whimsical patterns with mushrooms and wispy early-fall wildflowers. Sturdy trees flank other designs—apple orchard nuptials, anyone?
The Knot Peaceful Valley Wedding Invitations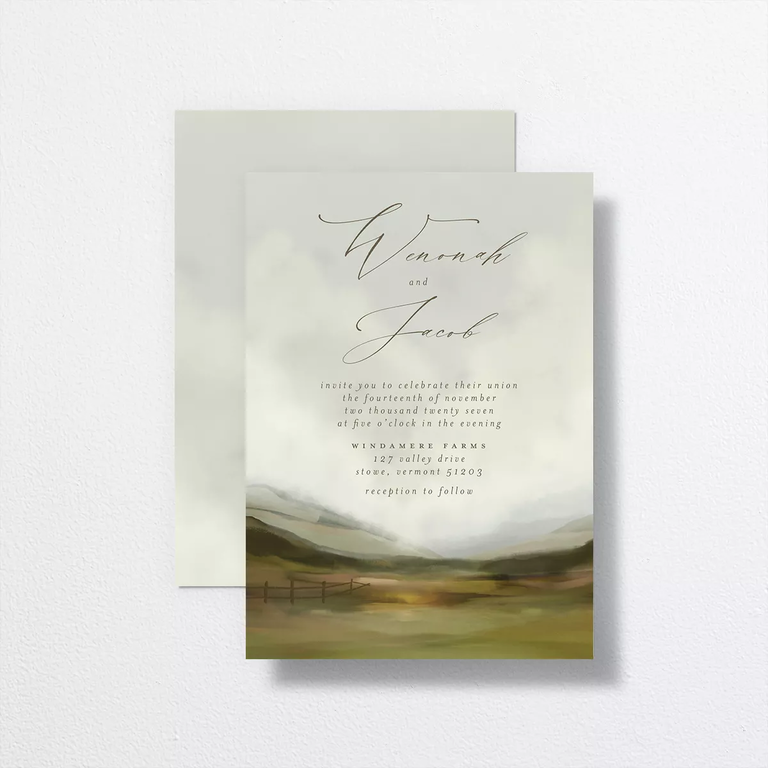 Are you looking out over a valley vista as you and your love say your "I do"s? Let these watercolor landscape invites give your guests a taste of what they're in for on the big day. They're moody, yet still ethereal, and would be the ideal correspondence for an autumnal orchard or barn wedding.
The Knot Woodland Whimsy Wedding Invitations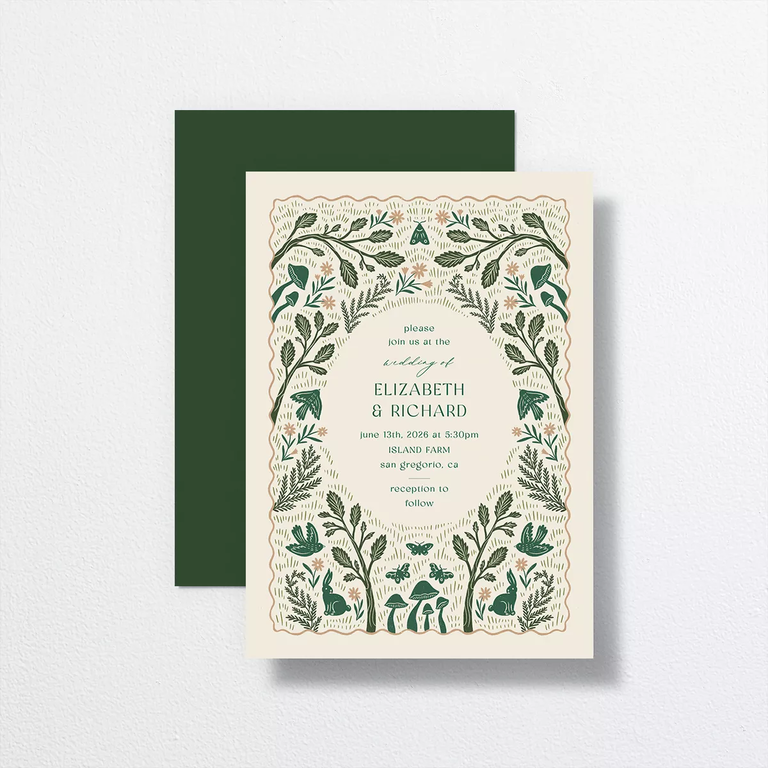 These feel like if Wes Anderson directed a wedding invitation. The whimsical, Dutch-like pattern features bunnies and toadstools, along with branches and fall flowers. And with six autumn-approved moody colorway options, they're perfect for your seasonal storybook romance.
The Knot Arboretum Archway Wedding Invitations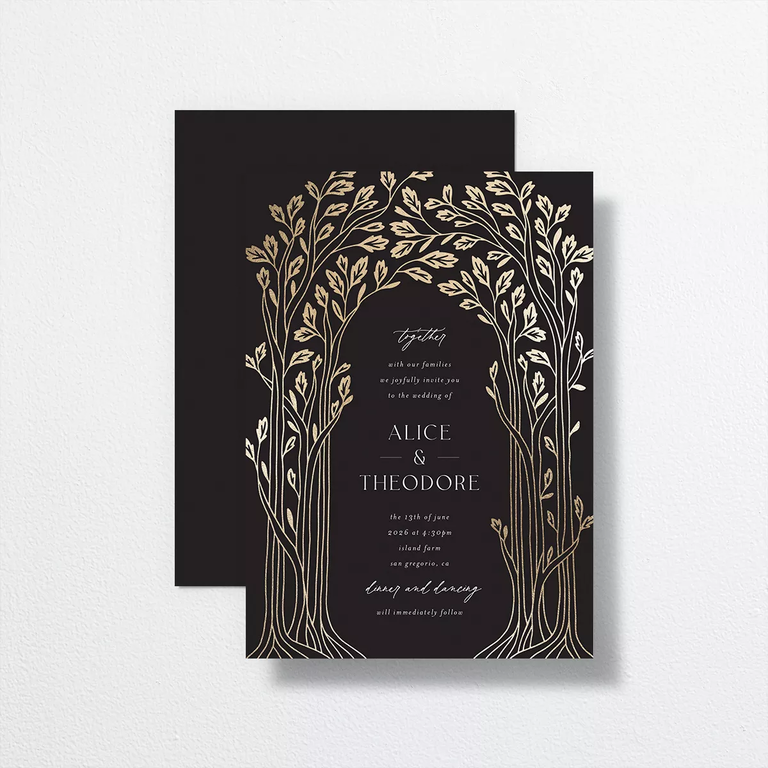 Wedding invite or gilded gateway to an enchanted forest? An arch of sturdy trees that shimmer in metallic foil make the perfect frame for your wedding-day details, which begin with the most important word: "together." Choose the black and gold or green and gold for an especially gorgeous autumn wedding invitation.
The Knot Wildwood Wedding Invitations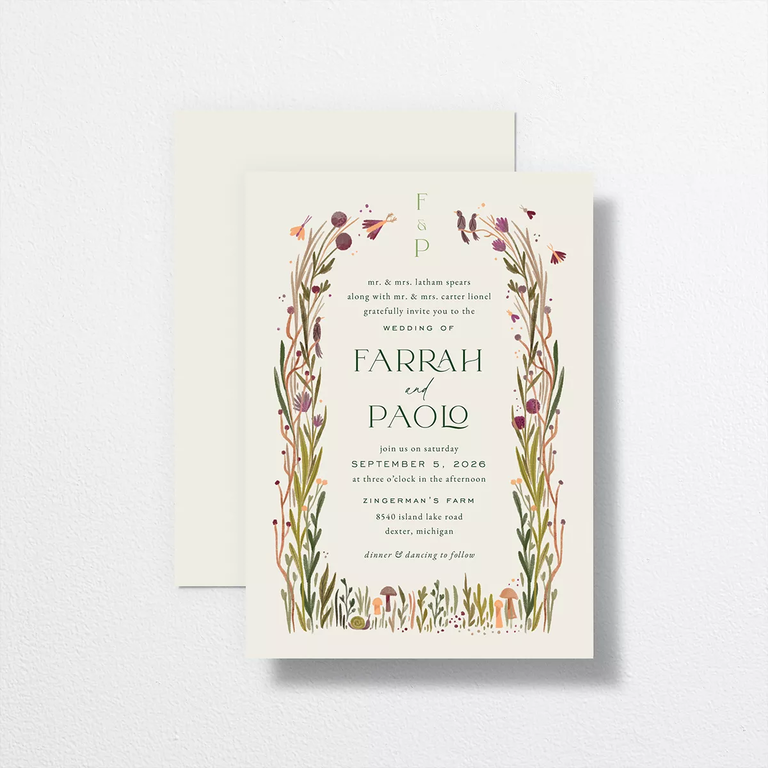 If the theme of your fall nuptials is "whimsical woodland," we've got your perfect stationery right here. We can just imagine how magical your forest setting will look with the golden sun peaking through the turning leaves. The wildflower and mushroom border (with a few cute critters sprinkled throughout) is also a lovely take on a garden wedding for fall.
Moonlit Manor
Spending your autumnal nuptials on the grounds of a gothic estate dancing under a full harvest moon? Let these mysterious and elegant invitations be your inspiration. There's something so romantic about a mystical (dare we say: witchy) mood for a fall wedding and many of these stationery pieces have twinkling foil accents that'll make your guests feel like magic is in the air. Though, there are no love spells needed when it comes to you and your fiancé.
The Knot Storybook Filigree Wedding Invitations
If you were a character in an 18th-century romance novel that received a letter from their lover asking you to run away with them, we imagine it would look something like this wedding invitation. The gilded floral filigree is bewitching and the serif font at the center is the perfect clean counterpart to the other ornate details. Choose the teal, blue or black with silver or gold foil for major autumn moonlight energy.
The Knot Rustic Kingdom Wedding Invitations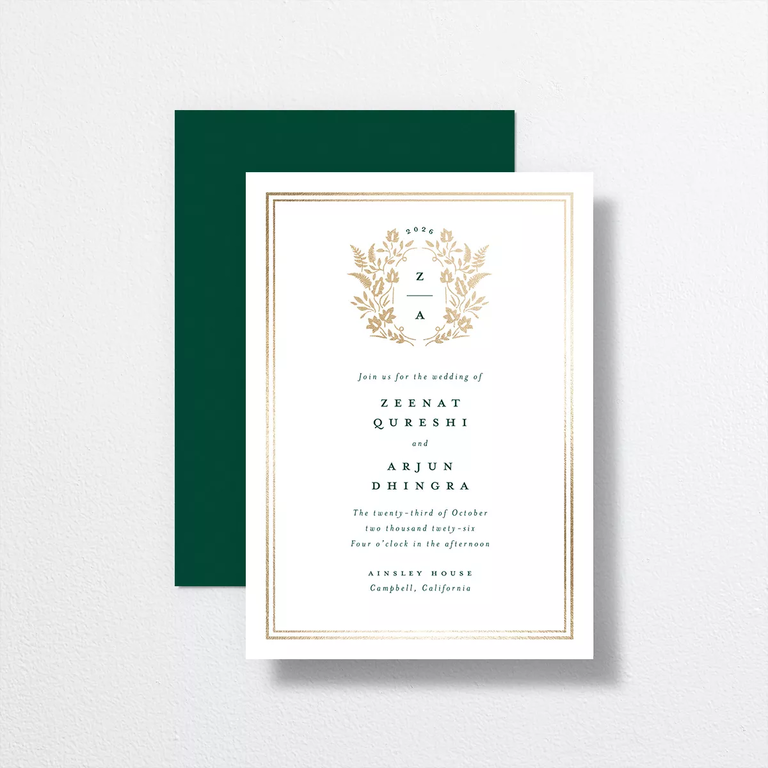 This fall wedding invitation's design feels like a cover of a collector's edition Jane Austen novel—one you would read near a crackling autumn fire. The wildflower crest at the top adds a lovely lightheartedness that contrasts with the thick, traditional border. And no matter which rich fall color you choose, you'll get a hefty dose of sparkle from all the foil details.
The Knot Moonlit Garden Wedding Invitations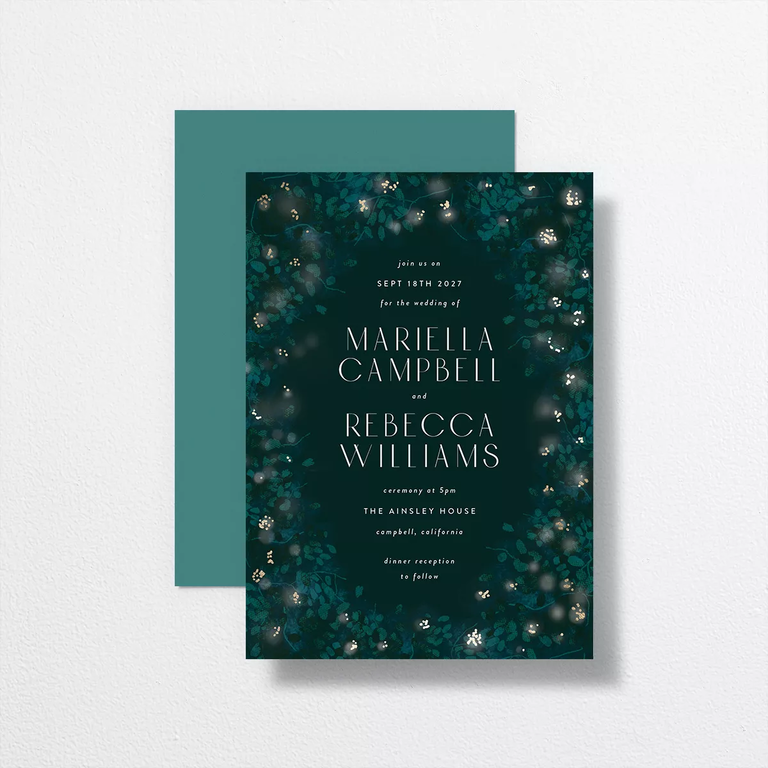 The name of these invitations says it all—they beckon you into a moonlit secret garden on a crisp November night, perhaps one at a mysterious manor with tall hedges and magical surprises around each bend. A leafy border surrounds your day-of details, while the tiny berries on each branch sparkle with metallic foil. And the way they cast glowing halos is simply ethereal.
The Knot Timeless Bouquet Wedding Invitations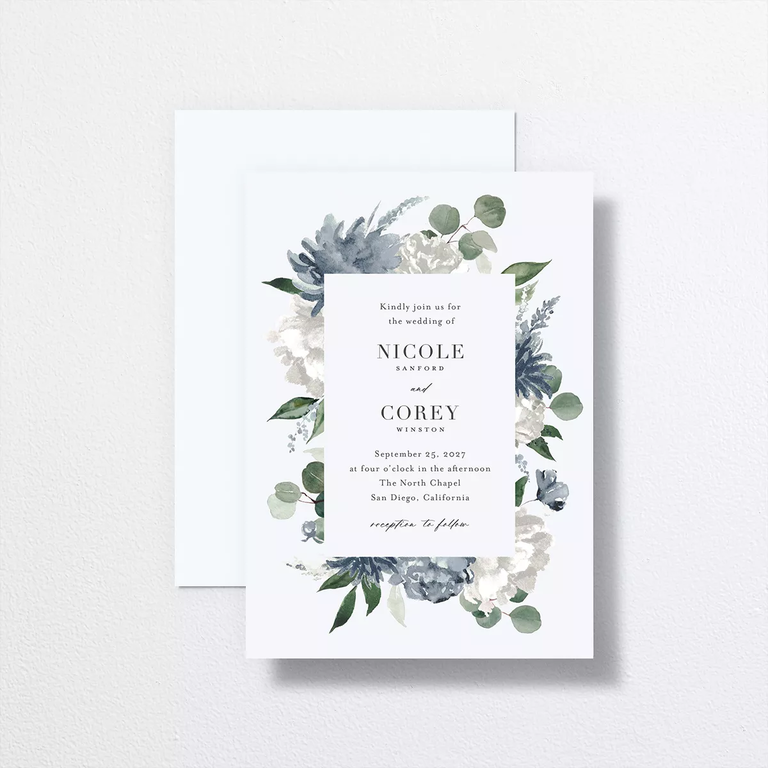 The grayish-blue blooms on this wedding invitation give the stormy, moody energy of late fall without being on the nose with bright oranges and reds. But if you'd prefer something a little more fall-themed, choose from eight different color options. Regardless, your invitation will feel classic and romantic.
Striking Simplicity
We can all agree that fall is a season steeped in so much beauty and color. That said, it's okay if wedding invitations for fall go the simple route and let the beautiful details of the season shine. Simple doesn't mean boring, though. It means sweeping scripts, spidery-thin serif and sans-serif fonts—with soft, neutral hues (like those of a classic fall sweater) as a backdrop.
The Knot You Are Mine Wedding Invitations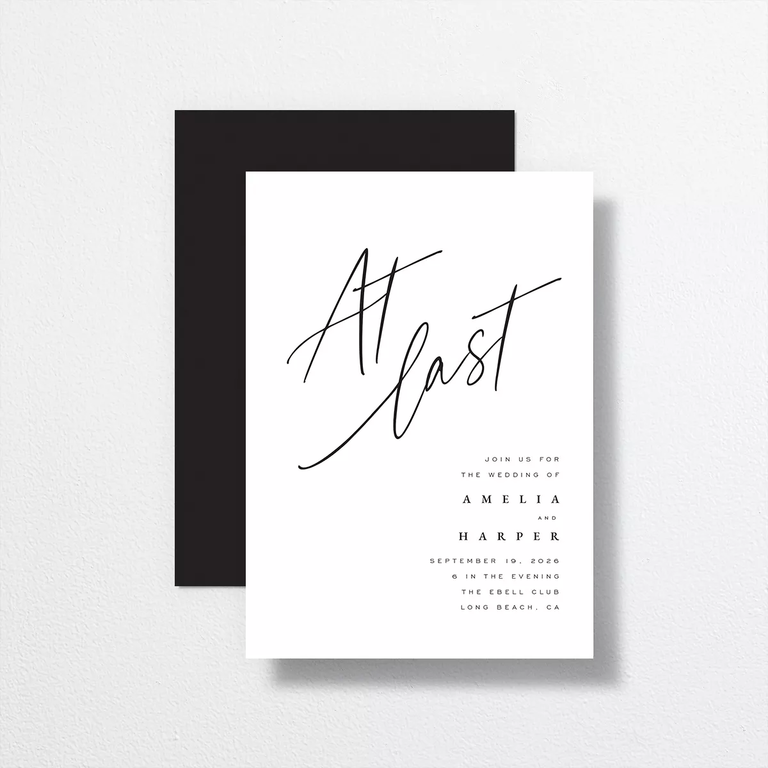 Cue the Etta James! These are perhaps the most romantic minimalist wedding invites we've ever seen (and we've seen a lot of of them). Featuring the iconic opening line from the crooner's "At Last" front and center, these invitations keep everything else simple and chic, with your details relayed in serif and sans serif fonts in the bottom right. At last, you get to marry the love of your life!
The Knot Elegant Nuptials Wedding Invitations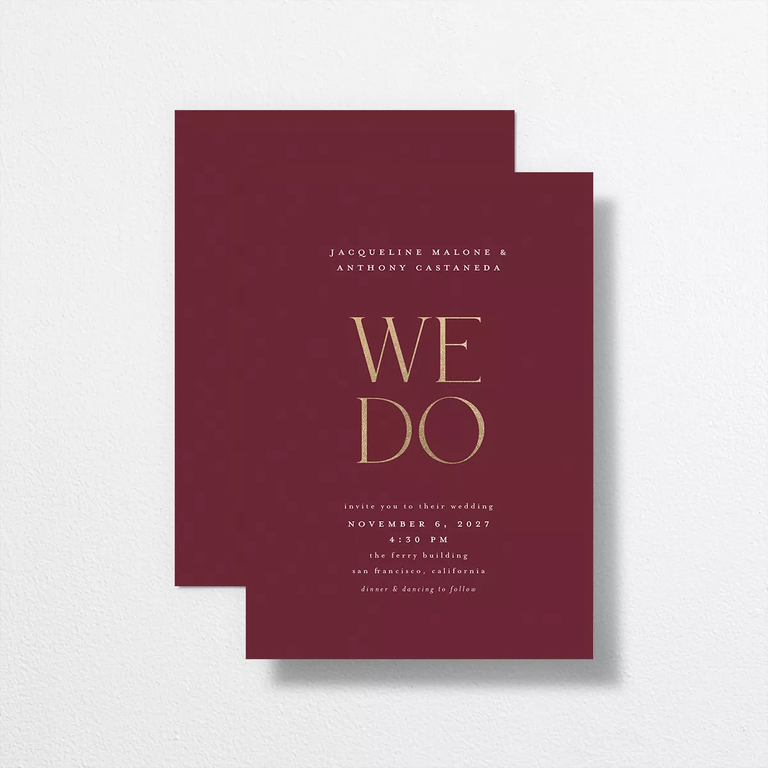 This invite highlights the words you and your love are so excited to say, in sparkling foil no less. The look is pure simple sophistication, with an array of fonts that add dimension and quite a few colors to select from. It'll pair well with fall nuptials of all kinds, from the manor to the orchard.
The Knot Striking Scene Wedding Invitations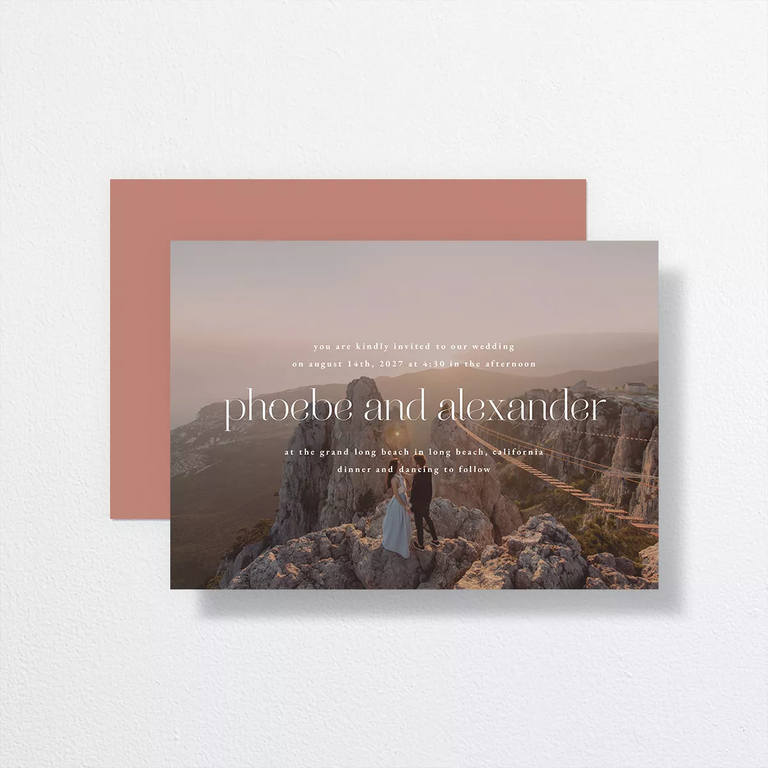 Got a shot from your engagement session you can't stop looking at? Make it the focal point of your big-day correspondence with this photo wedding invitation. We love that you and your sweetie are the shining moment here, with a pretty, slightly retro font spelling out your names. It's a party in the back, too, with your first initials and wedding date coming together to form a custom crest.
The Knot Accent Arches Wedding Invitations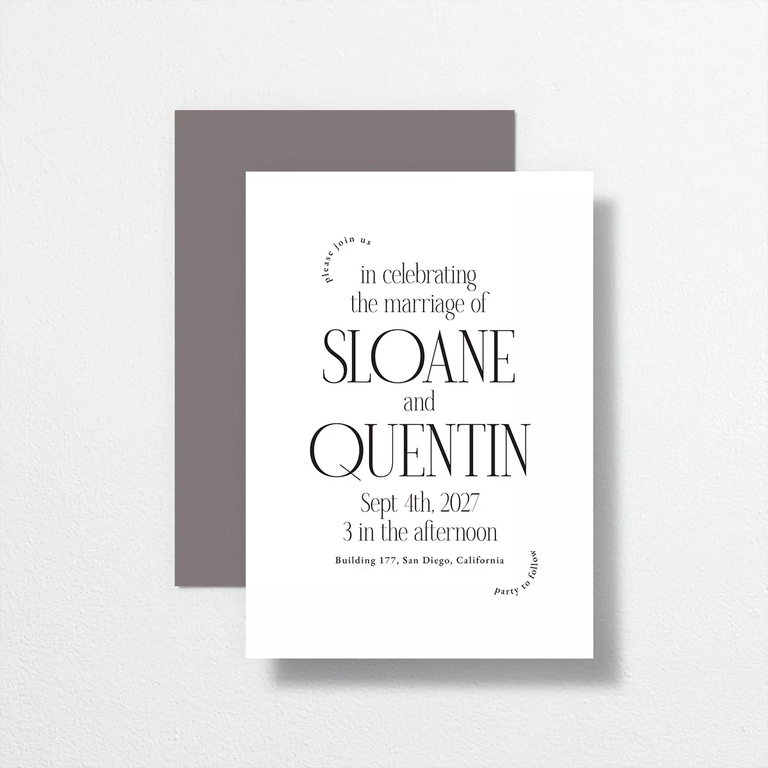 Imagine these modern invitations for a cozy city loft wedding in October. We adore the ultra-unique fonts that feel chic and whimsical, with perhaps just a touch of Wednesday Adams energy with their spindly silhouettes. And with select bits of text displayed in arch shapes, your guests are sure to smile in anticipation of your upcoming love bash.