20 Moody Wedding Invitations Guaranteed to Make Your Guests Feel Something
These aesthetic wedding invites are perfect for a luxurious affair all about dark romance.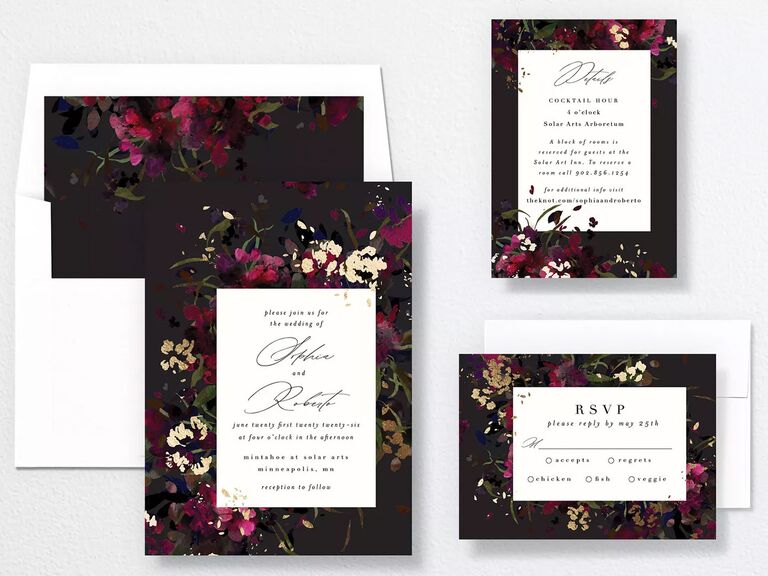 We have included third party products to help you navigate and enjoy life's biggest moments. Purchases made through links on this page may earn us a commission.
What is a moody wedding? It's an affair that's dark, passionate and poetic with a touch of mystery. And the moody wedding invitations to match such a soiree are just as entrancing (more on that later). If you're coveting a moody wedding, you're probably incorporating deeply saturated jewel tones, darker florals and a few ornate (or even gothic) elements for good measure. You may or may not be inspired by Lana Del Rey as you try and channel the right vibes.
Whether you're having a cocktail-style reception at a geological museum, an epicurean-worthy celebration at an urban winery or even an intimate dinner in a historic mansion's library, you can set the mood for your fete with stationery that makes a lasting impression. We've bookmarked a ton of moody wedding invitations from our own repertoire (The Knot Invitations) and a few of our favorite stationers. So, feel free to choose your muse.
1. The Knot Shimmer Dust Wedding Invitations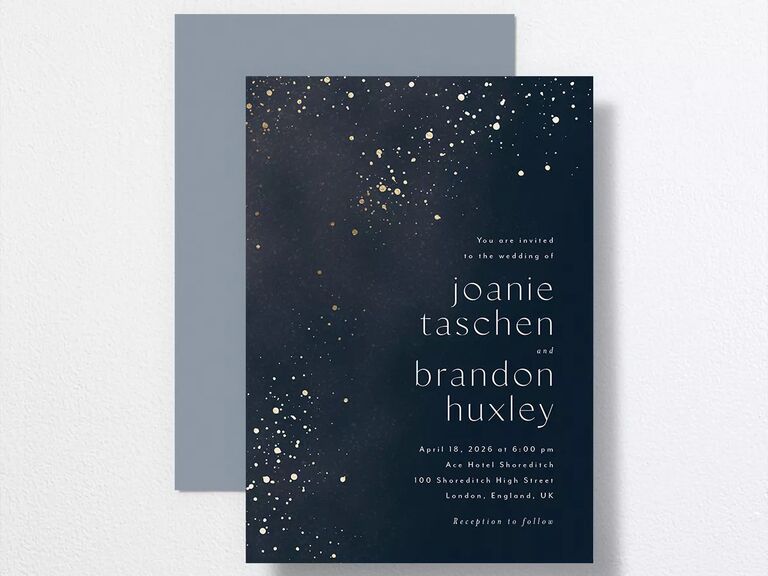 If you're aiming for a moody feel, a deep color palette is always a good place to start. This wedding invitation card has seven different design colors, most of which err on the darker side. Your names and event details are flush against the right in a modern typeface (we love how your names stand out in lowercase lettering), while dots and splatters of sparkling foil dress up the rest of the card. It's watercolor, but with a little something extra.
2. The Knot Written In The Stars Wedding Invitations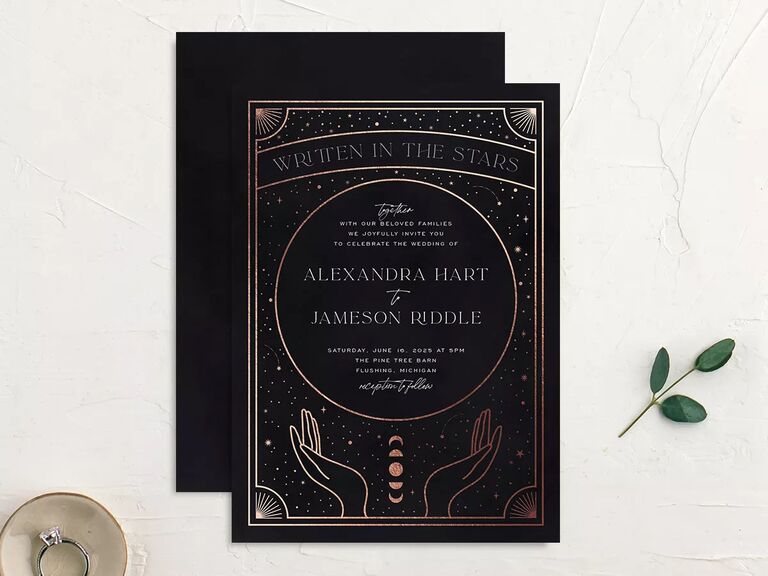 Play up your fated romance with this occult-y invite. This creative design puts your names and the facts about your future wedding in a crystal ball that hangs in a star-studded sky. The black and jewel tone color offerings—purple, green, blue and burgundy—are gorgeously offset by your choice of foil for a celestial look. Perhaps you have some creative reception entertainment in the form of a fortune teller or tarot card reader these invites can nod to?
3. The Knot Gothic Gate Wedding Invitations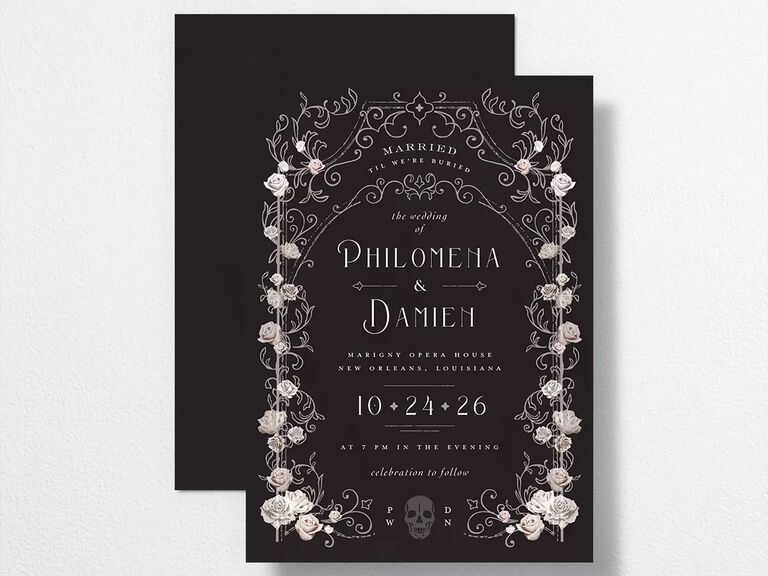 To be honest, we're not sure which came first, this goth wedding invitation or the dark academia wedding trend; either way, we love them both. The wrought iron gates look like they were pulled straight out of Nevermore Academy (a la Netflix's "Wednesday") or any of the gothic wedding venues across the U.S.—we can't take our eyes off the rose vine swirls and flourishes. Opt for the blue, purple or white color themes for the ultimate chic-yet-cryptic vibe. And don't forget to call back to those skulls on your reception tables. Make no bones about it, this invitation pays homage to a moody macabre day in the best way possible.
4. The Knot Elegant Ethereal Wedding Invitations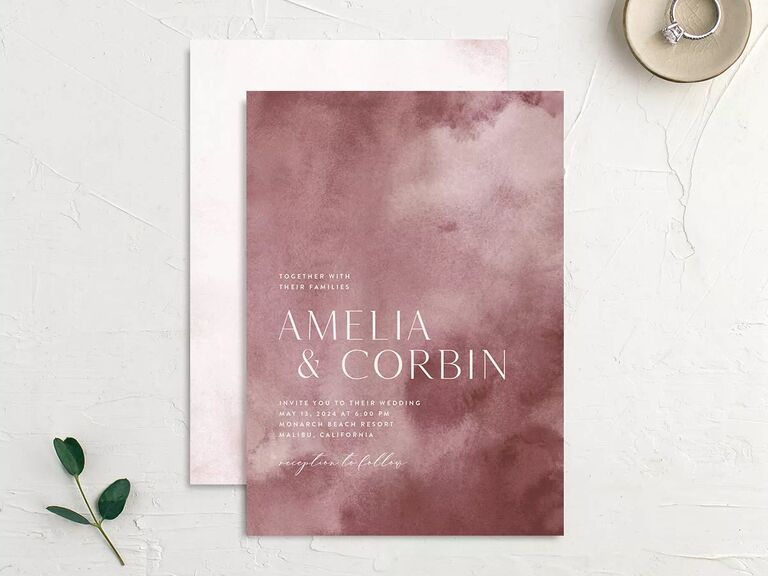 You can do moody with black wedding invitations, but you can also capture the vibes with a stormy blue or purple palette (and this watercolor print is seriously ethereal). Designed by Christine Llewellyn, these moody wedding invitations feature a mix of sleek modern and dramatic script fonts. You might want to replicate the white cursive spelling out "reception to follow" in your escort card displays or white-on-black bar signage on the big day.
5. Hooray Creative Moody Marbling Wedding Invitations
There are too many elements we adore about this moody wedding invitation: First, the use of multiple font styles like script, serif and sans-serif lettering. Second, the otherworldly quality of the background—the marbling effect is truly mesmerizing. Third, the abundant texture that comes with shimmering foil available in eight dynamic colors. This invitation really has it all.
6. The Knot Subtle Romantic Wedding Invitations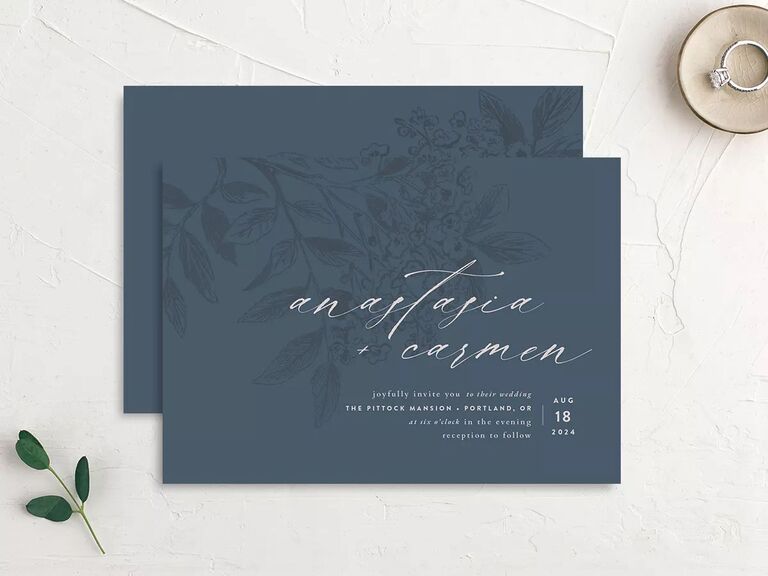 Since most wedding invitations are composed in a vertical orientation, the simple fact that these are aligned horizontally makes them special. A whispering botanical watermark makes for a stunning silhouette on these moody floral wedding invitations to support your calligraphed names and following day-of details. The rich, moody blue is our favorite colorway, though all are stunning. Peep that blue-on-blue shadow in the back.
7. Design Lotus Raptured Wedding Invitations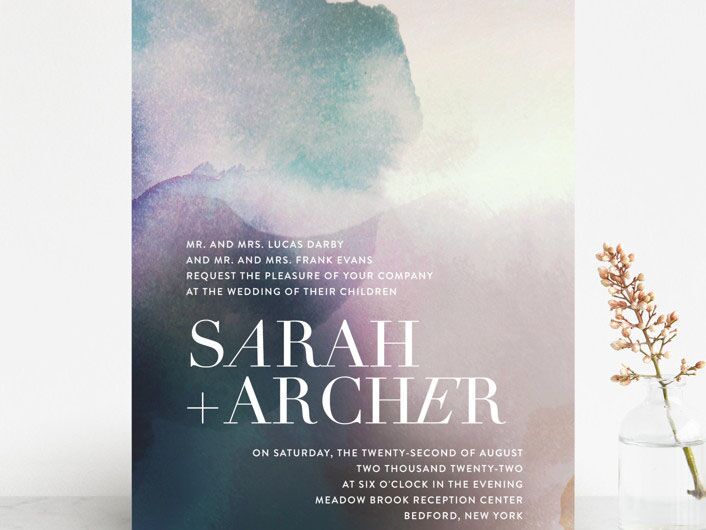 When you're in love, you exist in a constant state of rapture—and that's exactly what this watercolor design is giving. Not only are the color themes evocative, the fonts are, too. Your names—with a quirky treatment on some of the letters—are the focal point despite the ethereal backdrop (as they should be).
8. The Knot Modern Canvas Wedding Invitations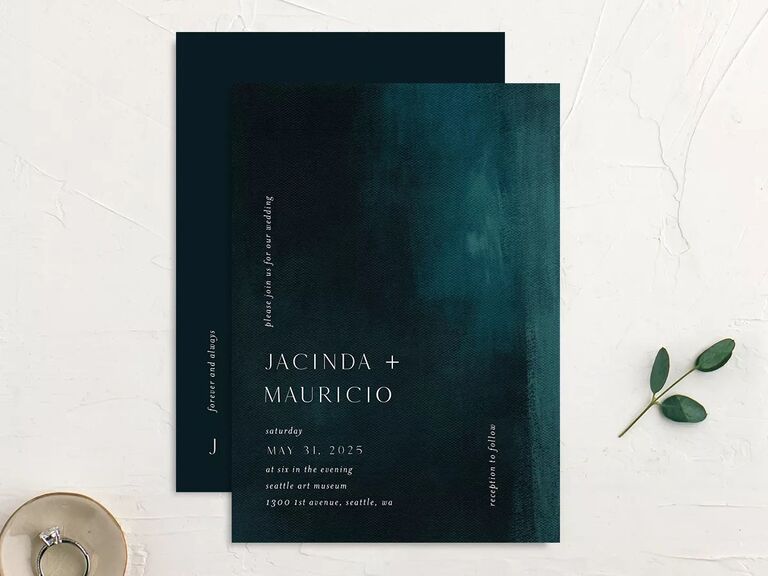 These dark moody wedding invitations are minimalist, but still feel sexy. Your names and your wedding details are aptly cushioned between two vertically ascending phrases (which parallel the impressive brushstrokes in the background). And the back of the card matches the colorwash, adorned with your initials and a fitting "forever and always" nod to your impending nuptials.
9. Magnolia Street Paper Elegant Vintage Goth Wedding Invitations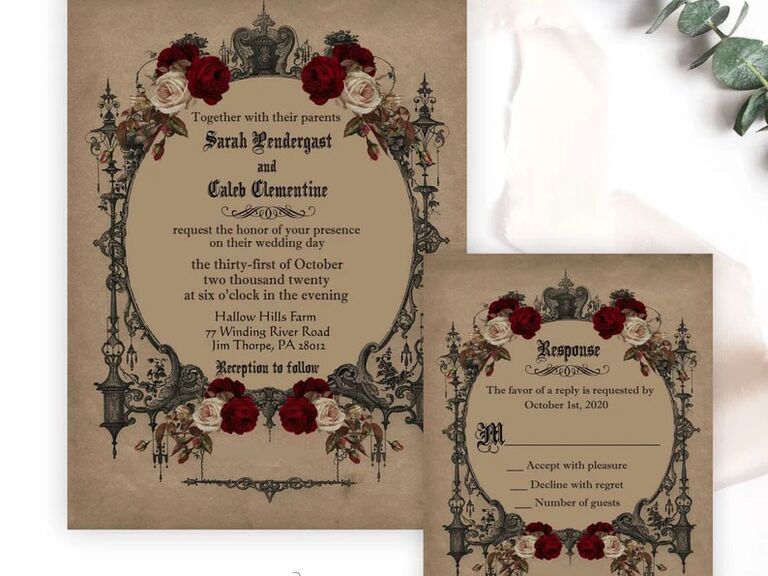 The blush and red roses against the deep parchment-hued background are already giving off some serious old-world love letter energy. But it's the iron gate like-filigree and scroll frame around your details that truly pushes this invite into moody, mysterious territory. A little touch of Gothic font completes the look. Though you can just purchase the digital file for $23 and find a reputable printer, we recommend opting for the pre-printed option to ensure quality.
10. The Knot Celestial Arch Wedding Invitations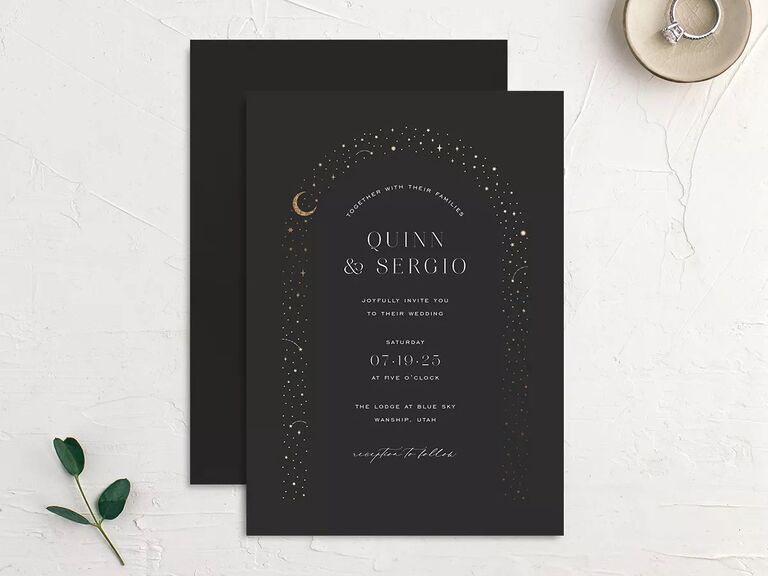 If you'll be saying "I do" under the stars, then you might want to lean into your wedding locale for invitation inspiration. We're over the moon for this celestial-themed moody wedding invitation, featuring an arch of sparkles and shooting stars as well as foil details that lend a most stellar semblance. You'll definitely want to go for a rich cool tone with your design color to maximize the moodiness.
11. Phrosne Ras Gardener's Palette Wedding Invitations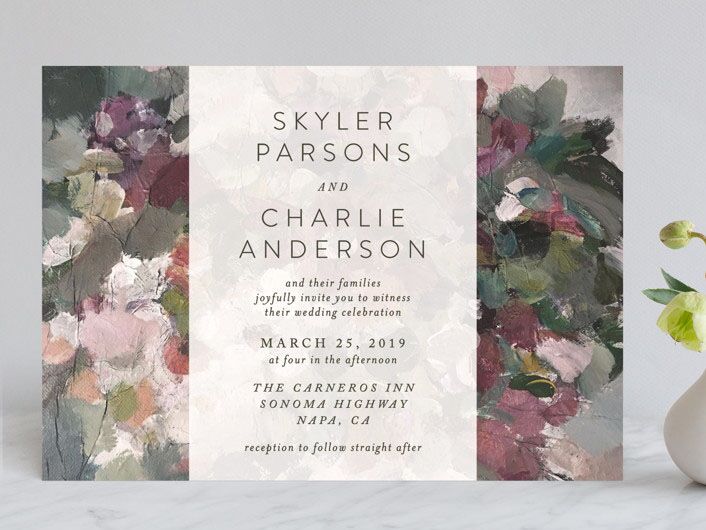 This Impressionist-like invite is the perfect choice for two creatives who fell in love in their college art class or at a moody art gallery. Each card has a cream textbox filled with the wedding details in serif and sans serif typefaces for a touch of modern elegance.
These invites might even encourage you to commission a live wedding painter for your reception.
12. The Knot Contemporary Floral Wedding Invitations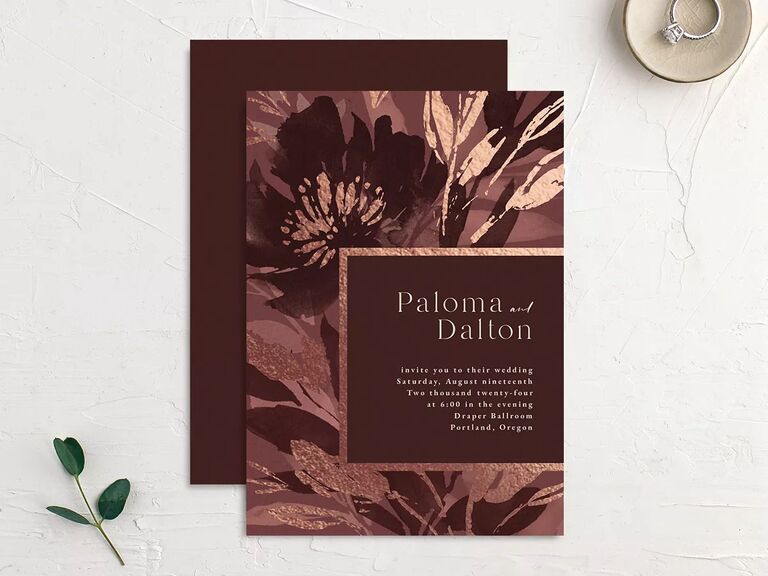 Any arrangement can be moody with the right hues (velvety petals, dark foliage etc.), but we find anemone bouquets to be particularly evocative and this abstract rendition is truly mesmerizing. Your wedding details are displayed in a black text box (unless you choose one of the lighter colors) and, when you select your foil color, you'll see the floral stems and leaves come to life. Teal with silver, burgundy with rose gold and black with gold are the most poignant pairings.
13. Fawcett Ave Paper Co. Moody Black Watercolor Wedding Invitations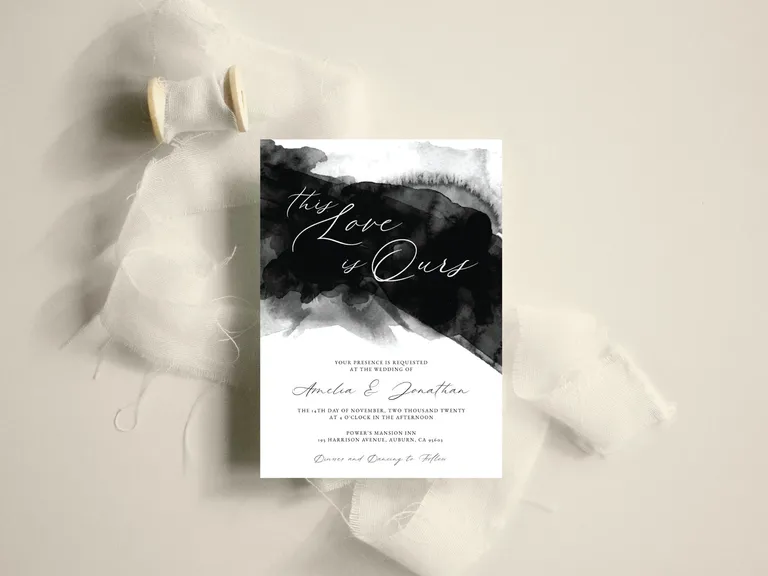 Does wearing a black wedding dress on your special day make more sense to you? If the answer is yes, then you might want to tease out your unconventional, yet fashionable theme from day one. Including a main invitation, details card and RSVP card, the watercolor-adorned set can be fully edited with your unique celebration considerations. Note: These will arrive instantly as digital files, so be sure to find a reputable printer in your area.
14. The Knot Minimal Ethereal Wedding Invitations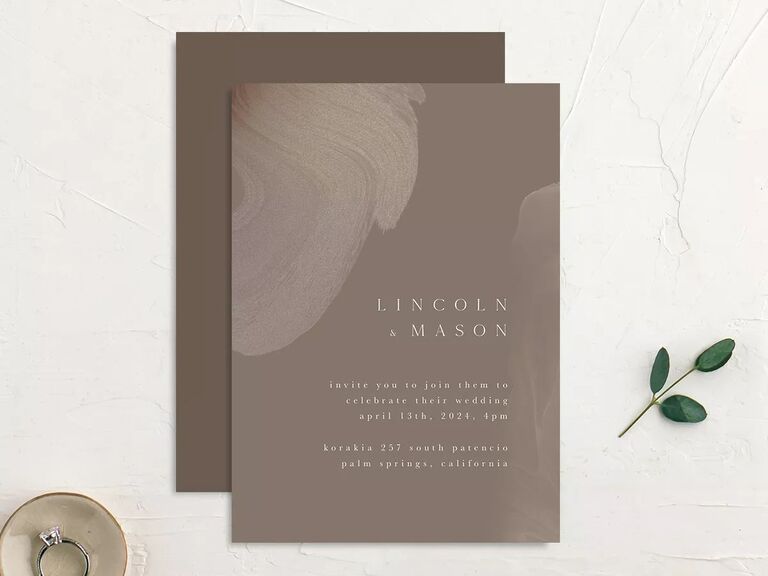 Simple doesn't mean lacking impact—it's quite the opposite. With these soft, smoky invitations, it's almost like your wedding day information—presented in a sophisticated serif font—escapes the whirl. It's pretty poetic, too, because your relationship and love for one another is clear and unopposed. Keep the tonal hues of whichever colorway you select in mind for your reception: We bet your guests would love to see them again in the form of gauzy muslin table runners.
15. Papier Fairy Tale Wedding Invitations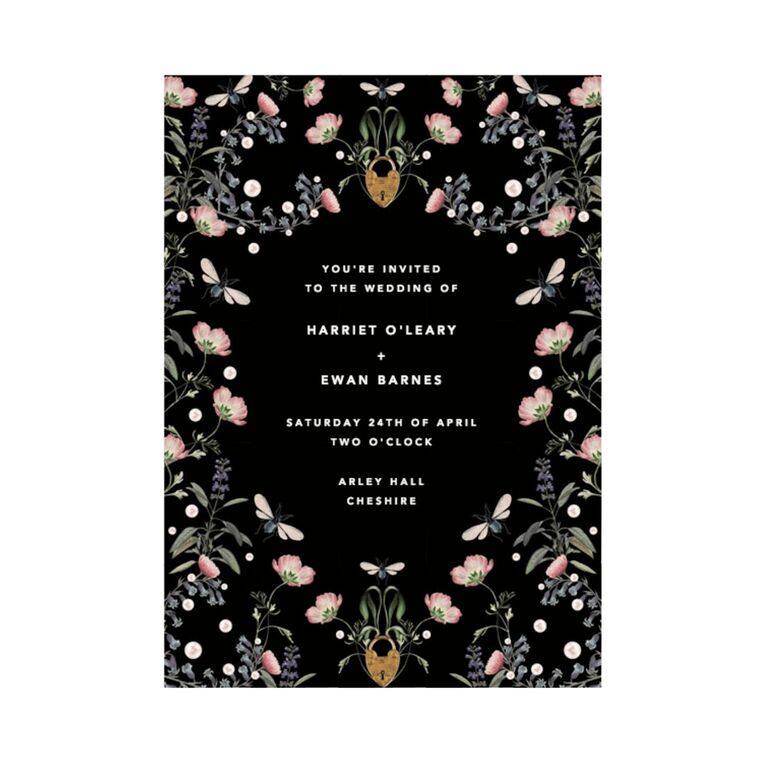 There's so much coolness to take in when it comes to this moody floral wedding invitation. We'll start with the heart-shaped locks, because you and your partner have keys to each other's hearts and, in marriage, you're unlocking a future full of love and laughter. The butterflies also deserve a mention, which definitely lend a mysterious and ethereal feel. This moody invitation alone may be all you need to give your bakery for wedding cake inspiration.
16. The Knot Enchanted Evening Wedding Invitations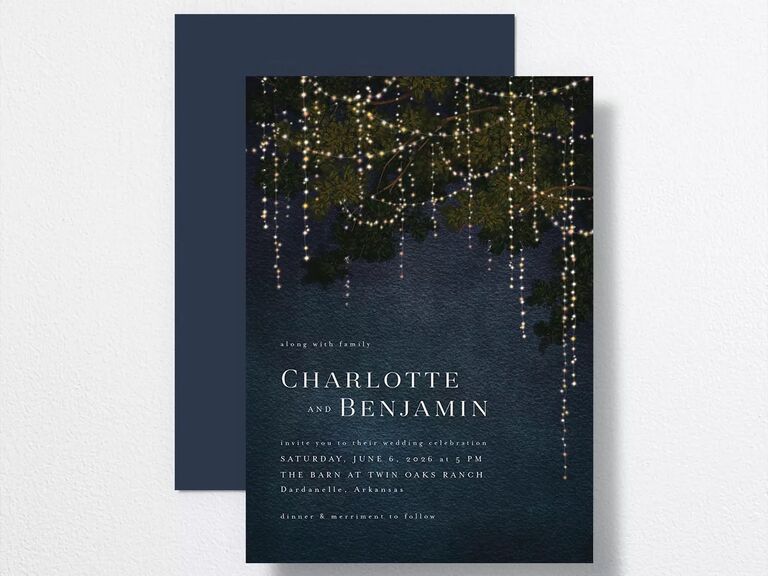 A moody wedding invitation that features the soft glow of twinkle lights against an inky night sky? Sign us up. From our new spring collection comes this magical invite that's the perfect suggestion to a reception held on a balmy evening under the sparkle of stars and the whisper of willow trees.
17. White Lace Design Forest Wedding Invitations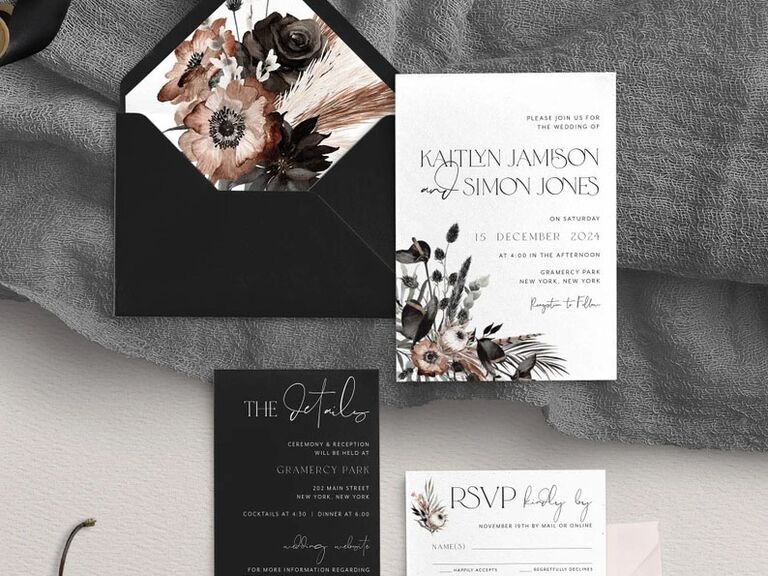 This ensemble—complete with an invitation, response card and details card as well as two sizes of stylish envelopes—is pure moody style. It's sure to raise some exciting questions about your big day from guests: Will wildflowers be making their way into the boho bouquets and arrangements? Will the bridesmaids wear black dresses? Your guests will be accepting happily in seconds to see what you have in store.
18. The Knot Midnight Floral Wedding Invitations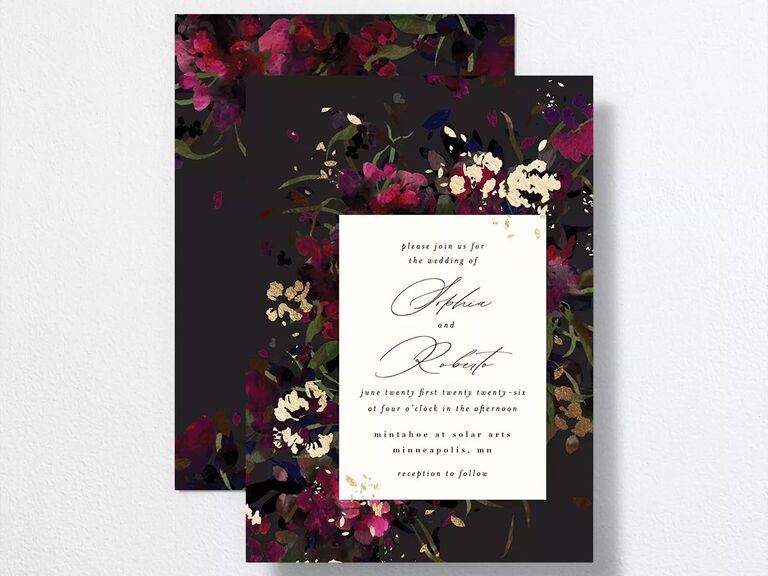 When Pantone says Viva Magenta is the color of the year, then you look for ways to incorporate it into your wedding day. And vivacious pink florals are certainly one way to do it. This invitation uses a tumble of painted blooms and foil accents to stir a sense of romance and intrigue, so if you're wondering if it checks the box for moody, the answer is yes.
19. Papier Scarlet Rose Wedding Invitations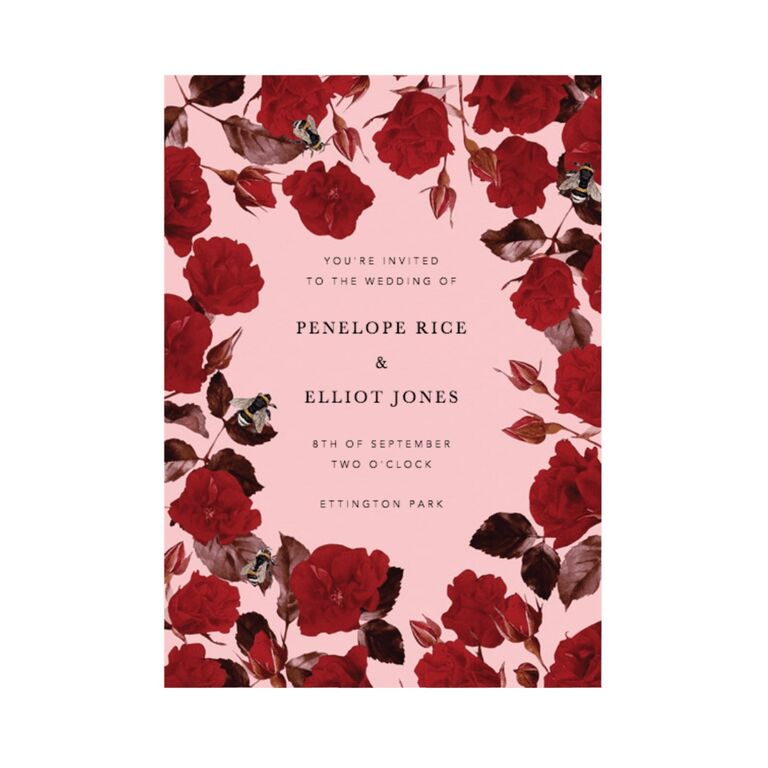 The beauty of this romantic moody wedding invitation is balanced between how simple the wording is (in both visual character and content) and how wild the rest of the passion–centric scarlet rose design is—bees included. Even though they're a bit of a quirky and whimsical choice, bees are a symbol of good fortune, happiness and harmony. What more can you ask for ahead of your union?
20. The Knot Modern Rose Wedding Invitations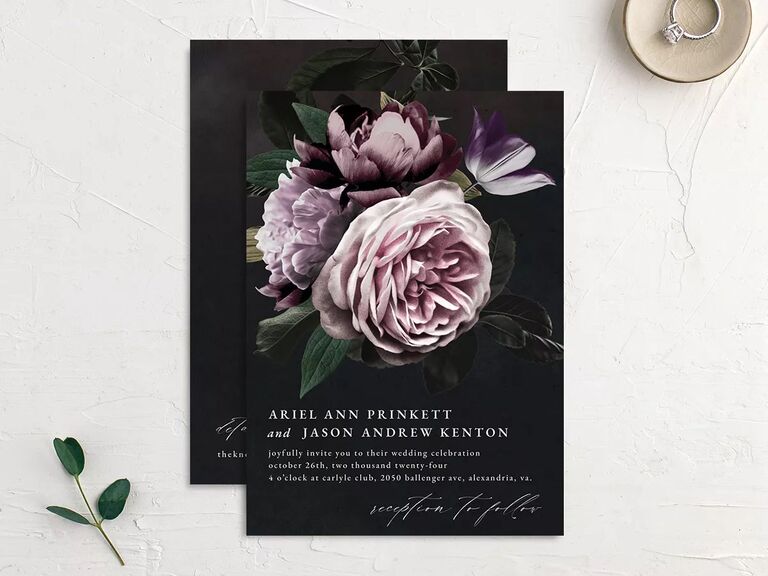 Daytime garden weddings can go the way of Regencycore or cottagecore, but a botanical garden venue after dark is the perfect case for a moody aesthetic. And this garden rose invite is it. The classic serif font, in white, pops against the black invitation card and the elegant script "reception to follow" will have your guests wishing your wedding day was already here.