33 Gorgeous Fall Wedding Centerpieces That Are Anything But Basic
From rustic to moody, here's inspo for every style.
There's a reason the most popular wedding dates happen during the fall. Between the pretty autumn leaves, the cozy bonfires and the pumpkin spice treats, the season provides a dream setting for your nuptials. To prove it, we found 33 fall wedding centerpieces that capture the beauty of autumn—and spoiler alert, there's plenty of inspiration for your wedding day. Whether you're searching for rustic fall wedding centerpieces, elegant fall wedding centerpieces or something dark and spooky for your Halloween wedding, we've got ideas for every kind of couple.
And as much as we love fresh flowers, the fall season is the perfect time of year to incorporate other details into your centerpieces too. Consider swapping traditional greenery for branches of colorful red and orange leaves, or add pine cones, gourds and dried grasses if you're going for something more rustic. Candles can work wonders for setting the mood at your wedding reception as the days grow shorter. Feeling stuck? A professional wedding florist or wedding planner can help you narrow down which centerpiece design is right for you.
In this article:
Fall Flowers for Wedding Centerpieces
Since fall is a transitional season, your options for fall florals are nearly endless—you'll still be able to capitalize on some of the best summer wedding flowers as that season winds down, while also tapping into quintessential autumnal blooms and accents.
"I love using a mixture of colors to create a fall wedding centerpiece that doesn't look too Thanksgiving-ish," says Bukky Garcia, owner of Exquisite Events and Floral Design in Chicago, Illinois. "Fall centerpieces don't have to be all orange—play with maroon and soft colors like blush pink to give a modern twist to your fall centerpieces."
And the possibilities don't stop there. Light-colored flowers will bring contrast to the season's inherently earthy tones, while warm-colored flowers will add a sense of coziness to your wedding venue (perfect for those crisp fall evenings). If you're looking for something moody and sensual, consider a dark-hued floral arrangement. Greenery, such as eucalyptus or boxwood, is also a fool-proof choice, as it'll accent the colorful fall foliage and fill out the arrangements.
Selecting wedding flowers that are in-season is a budget-friendly way to achieve the decor of your dreams. In-season flowers tend to cost less because their supply is higher, which means less work for your florist when it comes to placing the order. Garcia says some of the most popular fall wedding flowers include:
Asiatic lilies
Aster
Calla lilies
Chrysanthemums
Dahlias
Gerbera daisies
Gladiolus
Hydrangeas
Marigolds
Roses
Sunflowers
Zinnias
Fall Wedding Centerpiece Ideas
Not all fall wedding centerpieces have to be rustic (though they certainly can if that's your style). "I'm a wedding decorator that believes going outside the norm is a creative way to bring light to what we normally don't consider," Garcia explains. "If I have to create a rustic centerpiece, then best believe it will be 'rustic glam.'" Below, check out our favorite fall wedding ideas for your tablescapes.
1. Light Orange and Ivory Wedding Centerpiece
Make a classic blush arrangement more seasonal by adding dried flowers and dark blooms.
2. Mauve and Burgundy Wedding Centerpiece
Warm-toned hues like mauve, gold and burgundy will make your space feel chic and cozy.
3. Autumn Wedding Centerpiece with Taper Candles
Orange candles and seasonal fruits create a unique festive centerpiece.
4. Emerald and Caramel Wedding Centerpiece
Emerald and caramel is a timeless color palette that will accent the fall foliage beautifully.
5. Peach-Colored Wedding Centerpiece in Ceramic Vase
A combination of light, bright hues (like peach and terracotta) instantly evoke a cheerful vibe, while a decorative vase adds a unique touch.
6. Greenery and Wildflower Wedding Centerpiece
Mix greens and wildflowers together for an edgy boho fall wedding centerpiece.
7. Sweetheart Tablescape with Black Candles
Pay homage to spooky season with a chic, moody centerpiece for your sweetheart table. Mix black candles with oversized blooms and decorative greenery.
8. Pastel Fall Centerpiece and Table Setting
Embrace the glowing fall sunshine with white flowers and dried palms.
9. Bold, Bright Wedding Centerpiece with Fall Foliage
Since the colors of the season are so bright, even a small centerpiece can make a big statement. Place a few colorful leaves in a glass vase to achieve a stunning fall centerpiece without going overboard.
10. Dramatic Hanging Wedding Centerpiece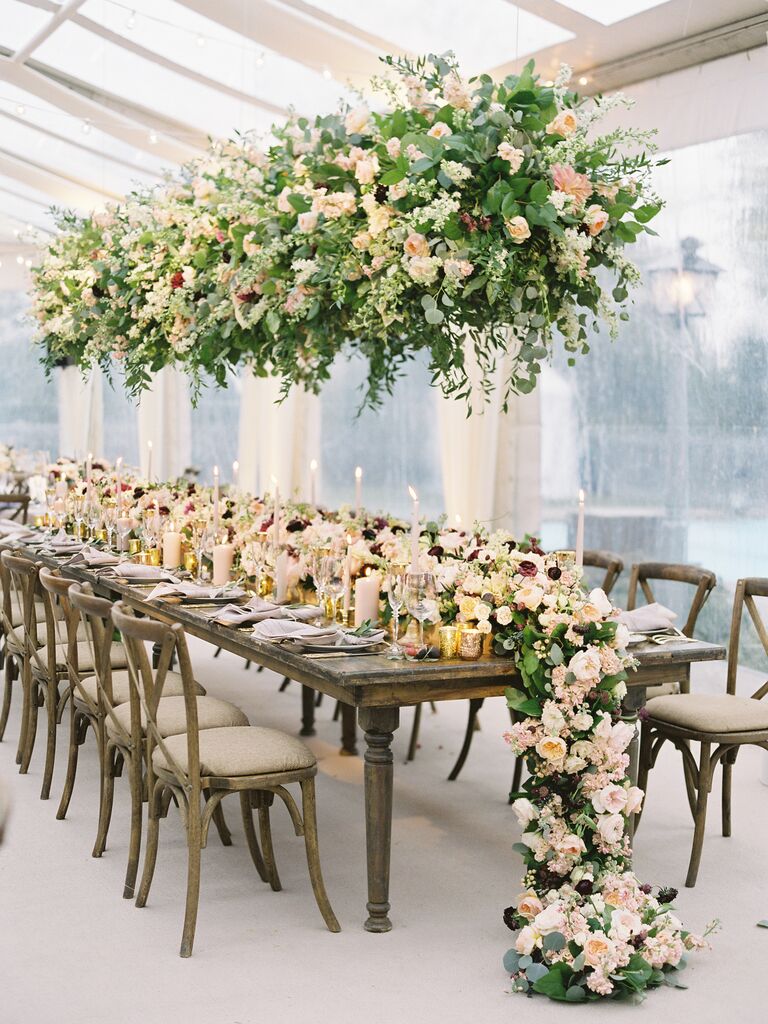 While rustic fall wedding centerpieces are popular, you can also create a glamorous setup. Sprinkle in darker flowers into a hanging floral installation and a matching table runner for a dreamy aesthetic.
11. Dried Wheat Stalk Wedding Decor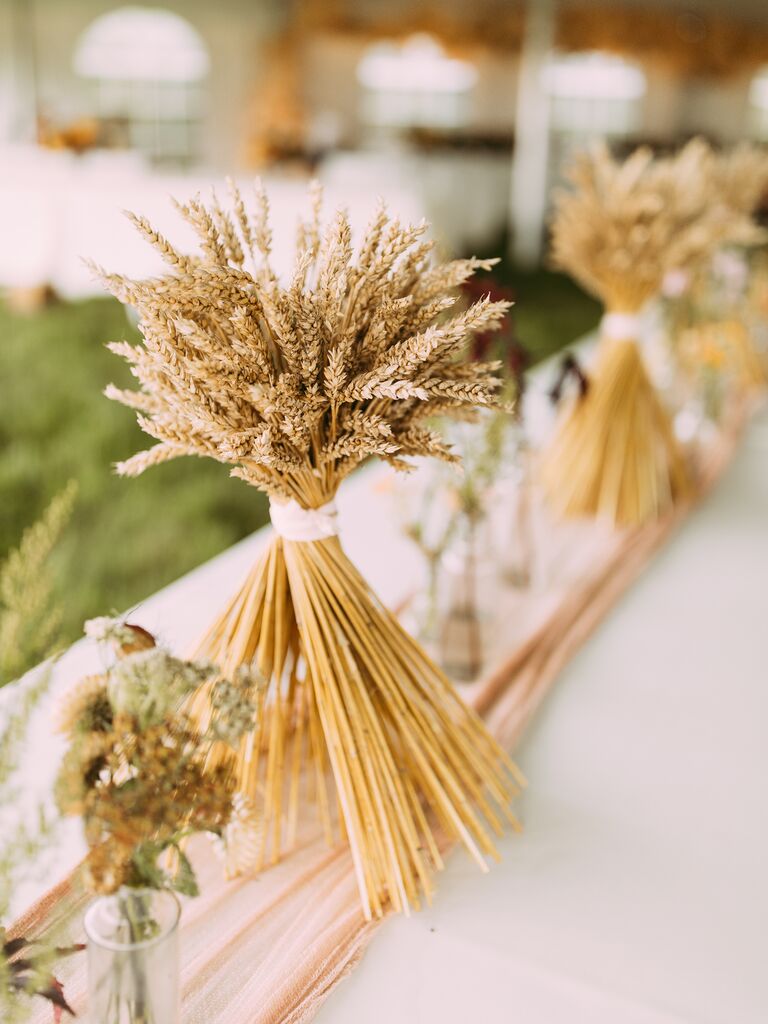 Embrace a rustic wedding theme by wrapping dried wheat stalks together with twine. It's a simple, DIY fall centerpiece that'll look stunning in wedding photos.
12. Rustic Lantern Wedding Centerpiece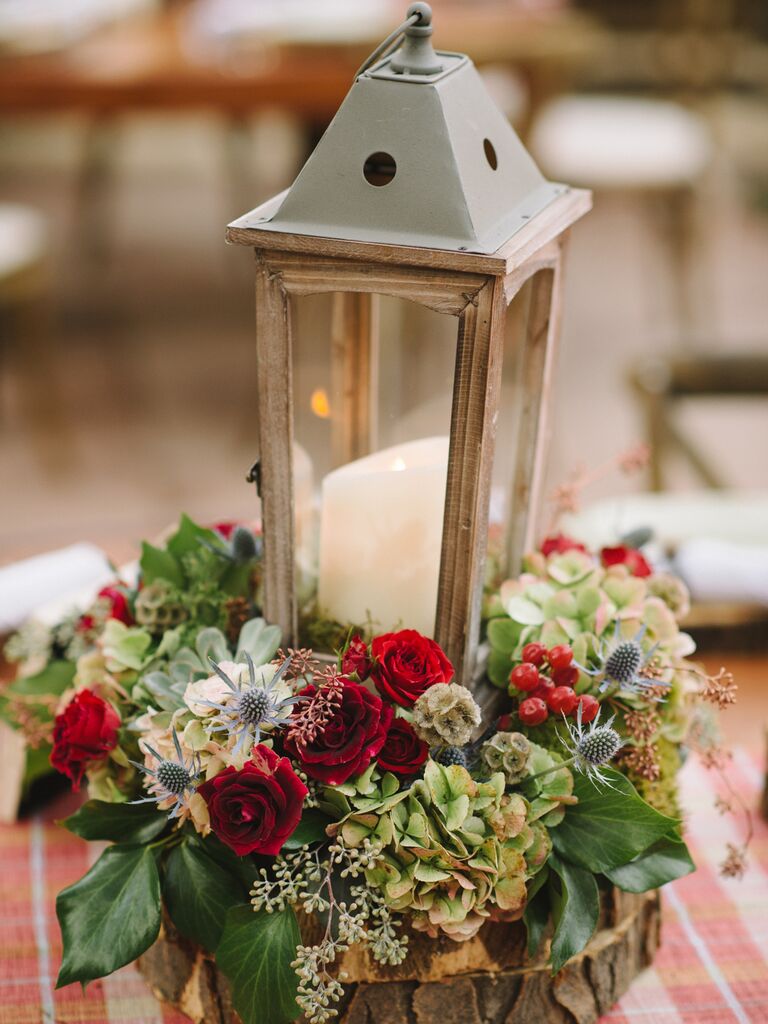 If you're looking for fall wedding centerpieces with a lantern, we've got you covered. Pair a simple lantern with a wooden tree stump for a charming rustic look.
13. Low Wedding Centerpiece with Leaves
Combine fresh flowers with greenery and colorful foliage, like these ombré burgundy leaves, for a whimsical and seasonal effect.
14. Wildflower Centerpiece with Glass Jars
Place small clusters of wildflowers in assorted ornate glass jars for an effortlessly cool boho-chic vibe. Our tip: Source the glass jars and bottles from your wedding florist, a thrift store or repurpose jars you've saved up at home throughout your engagement.
15. Wedding Centerpiece with Cloche Jar
Create a terrarium on each table by placing moss and flowers inside a glass container that serves as a unique display case. It's a creative fall wedding centerpiece your guests will love.
16. Modern Tropical Fall Wedding Centerpiece
A tropical theme might sound synonymous with summertime, but by adding a few burgundy floral accents, the vibe works for a seasonal fall wedding centerpiece.
17. Pink, Cream and Orange Centerpiece in Metallic Vase
Place pink, cream and rust-colored florals together in a pretty copper vase.
18. Acrylic and Wooden Table Numbers
Transform a simple, bright arrangement into a fall wedding centerpiece by incorporating greens and dark accents (like black table numbers) into your tabletop design.
19. Garden Rose Wedding Centerpiece with Dark Greenery
Surround a blush-colored arrangement with dark, leafy greens for a stunning fall wedding centerpiece that's elegant and romantic.
20. Metallic Compote Vase on Wood
Seasonal blooms in a metallic vase atop a tree bark base make a boho-yet-rustic fall wedding centerpiece.
21. Wedding Centerpiece with Moss, Greenery and Fall Leaves
Not into flowers? Not a problem. Mix moss, greens and fall foliage for a seasonal, edgy centerpiece.
22. Monochrome Mauve Wedding Centerpiece
If red and pink are among your fall wedding colors, this mauve arrangement with dried palm fronds is an Insta-worthy centerpiece.
23. Eucalyptus Wedding Centerpiece with Glass Bottles
Calling all minimalist couples: Fill glass apothecary bottles or mason jars with eucalyptus branches and baby's breath for a simple, stunning centerpiece.
24. Numbered Lanterns and Greenery Wedding Centerpiece
You can create beautiful fall wedding centerpieces with lanterns. Case in point: this simple setting with a numbered lantern and greenery accents.
25. Pincushion Protea and Rose Wedding Centerpiece
Pull inspiration from the gorgeous autumn foliage and create an electric fall wedding centerpiece with orange, yellow and red flowers.
26. Blush Taper Candle Wedding Centerpieces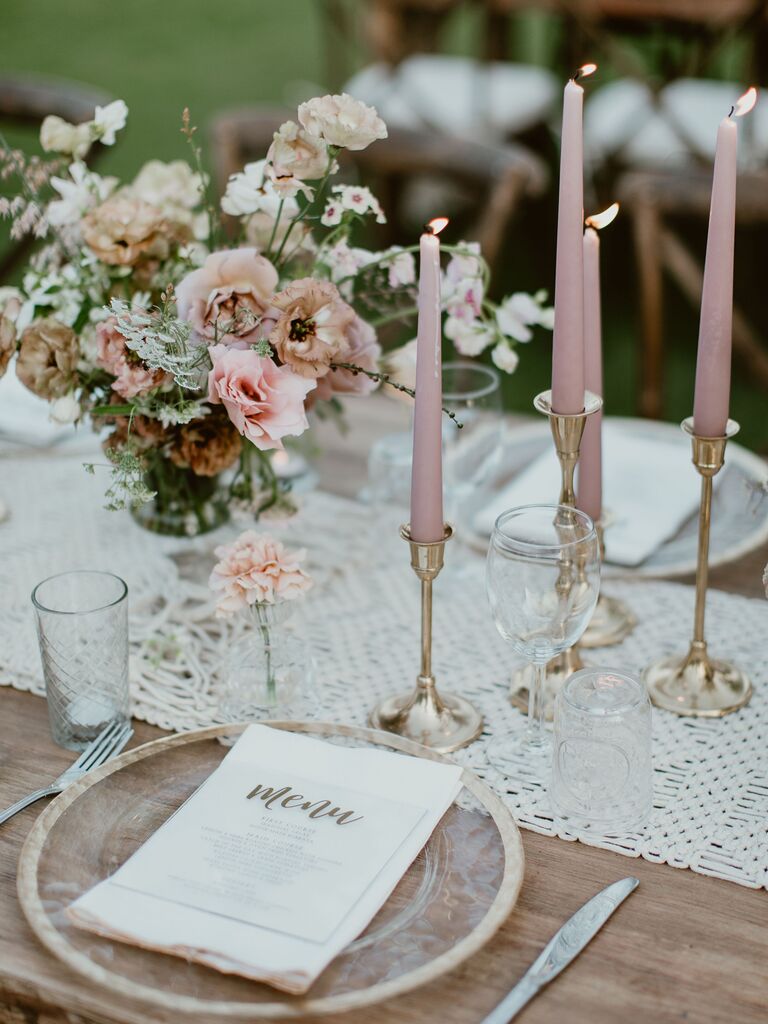 Colored candles are a small way to make your wedding tables more dramatic and customized, versus standard white candles. This blush-hued setup with gold candle holders and cream accents would work for a transitional winter wedding as well.
27. Amethyst Wedding Centerpiece
Jewel tones look absolutely stunning in the fall, which is why we love this ombré amethyst setting. The low, wide vessel means your guests' views won't be blocked by the lush floral centerpieces as they converse across the table.
28. Candles and Acorns on Wooden Stands
If you need fall wedding decorations aside from your table decor, create a seasonal setup with wooden stands, pillar candles and acorns. Use this combination to fill blank spaces throughout the venue, such as the welcome table, escort card display or entryway.
29. Succulent Wedding Centerpiece
We love the idea of using succulents for your fall wedding centerpiece if you're going for an earthy, eco-friendly aesthetic. Plus, their muted green color scheme will let the fall foliage shine.
30. Fall Fruit Wedding Centerpiece
We're here for incorporating fruit into your fall table centerpieces—it's a unique way to pay homage to the season (especially if you're looking for alternatives to fresh flowers). Use fruits like apples, pears, figs, pomegranates and cranberries in fall colors.
31. Tall Wedding Centerpiece with Cascading Greenery
Tall wedding centerpieces undoubtedly make a statement, and they're ideal for filling larger spaces with high ceilings. Lean into your boho style with cascading greens and oversized, pillowy blooms like dahlias, garden roses and hydrangeas.
32. Dark and Moody Wedding Centerpiece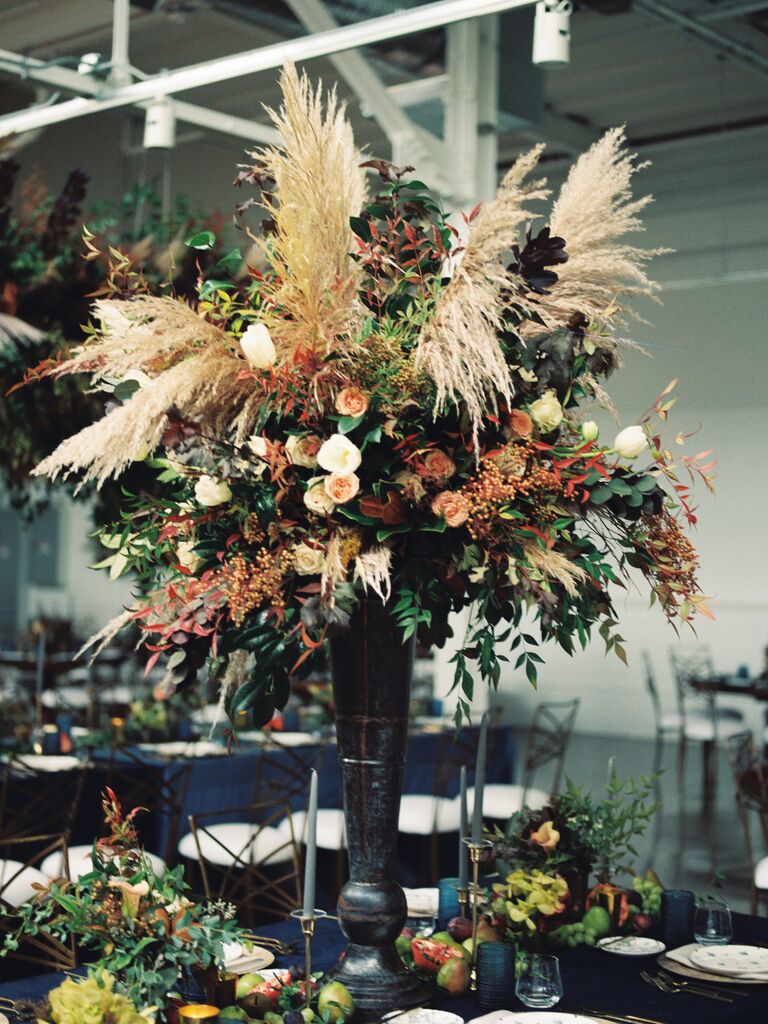 Here's another way to create a showstopping tall wedding centerpiece: Put orange and burgundy-colored blooms in a bronze vase, then accent with pampas grass.
33. Fall Wedding Centerpiece with Pumpkins
We can't talk about fall wedding decor ideas without mentioning pumpkins. If the usual orange ones aren't your style, fill a stone urn with white pumpkins for a chic way to pay homage to the season.