38 Modern Ways to Decorate for Your Spring Wedding
From pastel hues to flower-filled decor, here are our favorite seasonal ideas.
Spring is a prime time for nuptials. Not only do you get to enjoy warmer weather, longer days and beautiful blooms when spring rolls around, but the season brings a renewed sense of romance and happiness following the winter months, making it a perfect time to get married. If you need even more convincing, these wedding ideas for spring will seal the deal. Ranging from mid-March to June, spring weddings are all about fresh flowers, airy color palettes, romantic settings and whimsical, garden-inspired details that complement the season. Below, we're sharing 38 editor-approved ideas to nail a modern, chic spring wedding theme.
In this article:
Wedding Color Ideas for Spring
While pastel wedding color palettes are definitely a popular choice for the spring season, you're not restricted to Easter egg-inspired hues (unless that's your thing). An all-white wedding color palette will create a modern, sophisticated look that aligns with the season's sense of renewal and rebirth. Classic colors like navy blue and black will add contrast and drama to lighter hues.
Spring Wedding Attire
Whether you're shopping forspring wedding guest dresses or pulling inspiration for your own ensemble, spring weddings generally provide more flexibility when it comes to the attire. Daytime events, such as a brunch wedding or afternoon ceremony, call for more casual styles (and lots of floral prints, of course). With the weather getting warmer, dress hemlines can be higher and fabrics can be lighter.
Spring Wedding Flowers
From peonies and tulips to daffodils, roses, hyacinths and lilacs, nearly all of the most popular wedding flowers are in bloom during the spring season. Mother Nature is also bursting with some of the most beautiful nontraditional wedding flowers during spring, like cherry blossoms, dogwood branches and various greenery.
Sticking to flowers that are in season around the time of your wedding will give you the best chance at finding the freshest, budget-friendly blooms. Tulips and daffodils are affordable yet classic spring wedding flowers, and both flowers come in a range of colors and varieties. Sweet peas, hyacinths and lilacs will create spring arrangements with a whimsical, playful feel. If understated elegance is more your vibe, take a cue from one of the most famous spring brides of all time, the Princess of Wales, who carried a bouquet composed of Lily of the Valley, myrtle, sweet William, hyacinths and ivy. We recommend chatting with your florist to decide on flowers that will work for your wedding vision, but in the meantime, here are some ideas.
1. Freesia Wedding Boutonnieres
Fragrant and elegant, this quintessential spring flower looks stylish all on its own as a boutonniere.
2. Flower-Lined Wedding Ceremony Aisle
When it comes to spring wedding decor, we say pile on the flowers. Create a dreamy backdrop for your vow exchange by lining the aisle with oversized arrangements and tons of petals.
3. Simple Spring Wedding Centerpieces
These chic centerpieces feature white amaryllis and tulips, but you could recreate a similar look using any spring wedding flowers. Use one flower variety and color for each arrangement to tap into the monofloral trend.
4. Flower Dog Collar
If your pet is playing a role in your wedding day, don't forget to dress them up in a special outfit or accessory, like a floral collar or greenery-adorned leash.
5. Garden Rose Wedding Centerpiece
Display centerpieces using low stone vases (instead of glass or metal) for a sweet cottage-inspired look.
6. Floral Wedding Ceremony Arch
White birch branches are the perfect backdrop for springy white flowers, such as the hydrangeas, dogwood blossoms, lilacs and chamomile on this ceremony arch.
7. Classic Spring Wedding Bouquet
Add spring elements, like pieris japonica and white scabiosa flowers, to bring a seasonal touch to a classic bouquet of roses.
Find your kind of venue
From barns to ballrooms, discover reception venues that feel like you.
8. Monogrammed Greenery Wreath
A fresh wreath is perfect for gates, doors, your getaway car or any other area at your wedding venue that needs a bit of sprucing up.
9. Hellebore Wedding Boutonnieres
These underrated flowers naturally bloom during the winter and early spring. The green color reflects the refreshing energy of seasons changing, but you can also find them in ivory, mauve, peach and dark purple hues.
10. Green and White Wedding Bouquet
Use white flowers to contrast with a bouquet of maidenhair ferns and other whimsical greenery.
11. Blush Wedding Bouquet with Ribbons
Small bouquets are perfect for bridesmaids or anyone who doesn't want to be weighed down by carrying a heavy arrangement. This sweet design is dressed up with soft blush ribbons that complement the flowers.
12. Tulip Wedding Centerpiece
Think outside the vase and use hollowed-out logs or wooden troughs for your spring wedding centerpieces instead. The addition of potting soil in this arrangement creates the illusion that the tulips are planted right on the table.
13. Elegant Spring Wedding Bouquet
For an early June wedding, tropical orchids are a subtle nod to the upcoming transition between spring and summer.
14. Cherry Blossom Wedding Centerpiece
Flowering cherry blossom branches will instantly bring a touch of spring to your wedding decor. Use them in centerpieces or to accent other spaces throughout the venue, such as the welcome table.
15. White Lilac Wedding Bouquet
Keep your bouquet simple by carrying a small posy of lilacs, which can be found in white, purple and pink varieties. What the arrangement lacks in size will be made up by the heavenly smell.
Spring Wedding Decorations
The spring season is one of the best times to draw inspiration from Mother Nature for your wedding decor. Whether you incorporate floral motifs into your wedding invitations, add hollow eggshells to your centerpieces or deck out your reception venue with a canopy of wisteria, there are so many pretty ways to amp up your spring wedding decor. If you're getting married at a garden venue, use moss, butterflies and terracotta pots for a vibe inspired by a gardener's potting shed. For a more classic approach, drape lush flower garlands across chairs and banisters, or decorate with vintage botanical illustrations inspired by John Derian.
16. Greenery Chandeliers
Whether suspended above your ceremony altar, wedding sweetheart table or dance floor, a greenery covered chandelier gives off the prettiest fairytale vibes.
17. Lattice Wedding Stationery Suite
You already know that your wedding invitations should reflect the theme of your special day, and what better way to do that for a spring wedding than with a garden-inspired design? This vintage-style lattice motif is perfectly complemented by the traditional calligraphy script.
18. Fern Wedding Ceremony Aisle Markers
Looking for spring wedding ideas that don't rely on flowers? Try using fresh greenery instead. Statement greens, like these sword ferns, bring a fresh, natural theme to your wedding space. They can look amazing as part of the decor all on their own—and you can add as many or as few flowers as you'd like.
19. Butterfly Wedding Seating Chart
Butterfly details are some of our favorite wedding ideas for spring. Add butterfly illustrations to your wedding stationery and other paper goods, or incorporate them through 3D accents like this seating chart display.
20. Potted Plant Wedding Decor
If you need to camouflage a functional element at your wedding reception (like this DJ booth), potted plants are just the trick. They're low-maintenance and decorative at the same time.
21. Classic Blush Wedding Invitations
Finish your wedding invitation suite with a blush pink envelope liner to bring a hint of spring to a classic black and white design.
22. Roman Bust Statue
Add stone busts or other statues to your spring wedding decor for a setup that's inspired by antique portraits and oil paintings of flowers.
23. Flower Petals
Have fresh flower petals packaged and ready for guests to toss as you exit the ceremony or reception.
24. Simple Wedding Place Setting
Dress up your wedding place settings by tucking flowers into folded napkins along with individual menu cards.
25. Wedding Chair Decor
Whether you're seated privately at your sweetheart table or dining alongside your wedding party, we love an excuse to decorate your chairs with flowers, garlands or ribbons for an extra-special effect.
26. Bud Vase Wedding Escort Cards
These tiny bud vases double as escort cards and little mementos that your guests can take home at the end of the night.
27. Vintage Stamps
Stamps are a necessity when mailing your invitations, so why not get creative with your wedding postage? Vintage stamps will add one-of-a-kind charm to the envelopes and elevate the overall design. We recommend chatting with a professional stationery designer for their advice about using vintage stamps, since it can be tricky to estimate the right amount of postage.
28. Folding Wrought Iron Chairs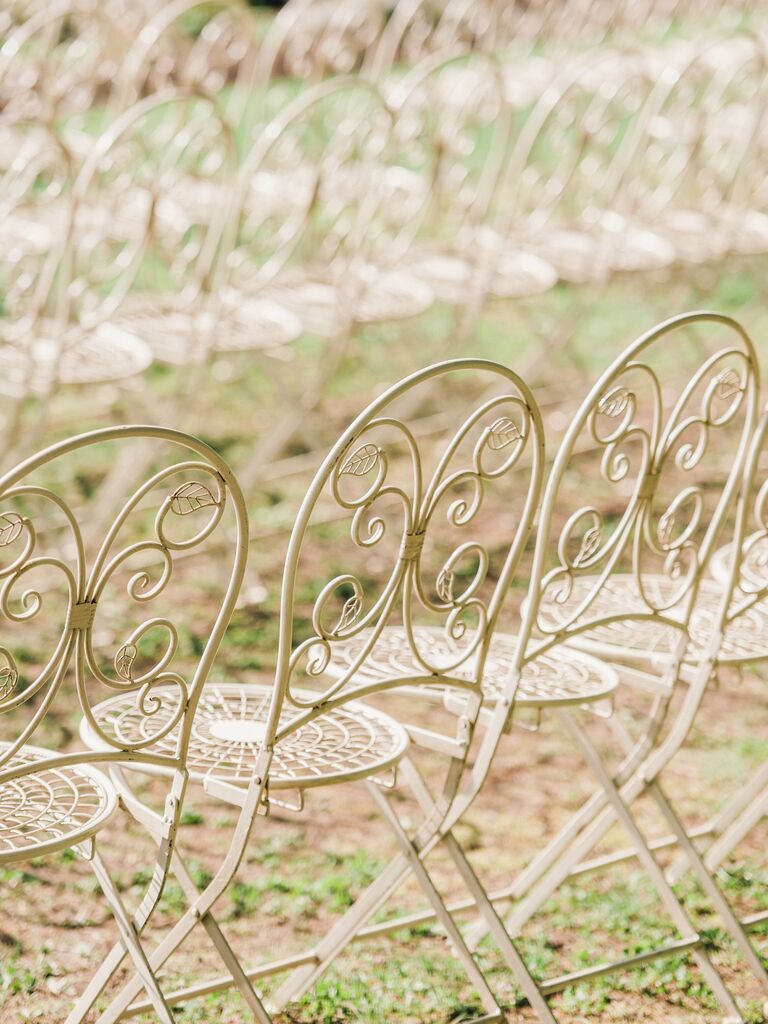 With or without cushions, vintage metal chairs are so cute for an English garden-themed wedding in the spring.
29. Terracotta Pot Escort Card Display
This display of potted tulips, hyacinths and cloche jars looks like something straight out of a gardener's potting shed. Recreate it for a unique wedding seating chart that guests will love.
30. Black and White Wedding Invitations
You can't go wrong with a black and white wedding color palette. For your invitations, tap into the spring season by adding floral sketches.
Spring Wedding Cakes & Food
With temperatures rising, light fare and refreshing drinks are a great way to keep guests fueled for a spring wedding. For the reception meal, consult with your wedding caterer to design a menu that highlights the season, whether by using in-season veggies like asparagus or serving quail eggs on demitasse spoons for a chic appetizer that references Easter.
White wine sangria garnished with fresh lemons and seasonal fruits is a simple signature cocktail for a spring garden wedding. Mint juleps are a nod to the Kentucky Derby if you're having a May wedding around the time of the Triple Crown, while French 75s, mimosas and watermelon or strawberry mojitos are other cocktail hour favorites inspired by the season.
31. Seared Tuna Appetizers
For March and April weddings, embrace the transition away from heavier winter foods with fresh seafood appetizers, like these tuna and wasabi salad bites.
32. Floral Wedding Cake
It's no surprise that most wedding cake ideas for spring revolve around decorating with flowers—either real or sugar. This elegant three-tiered design has roses and orchids to add texture to the smooth buttercream.
33. Fresh Lemonade Dispenser
A self-serve drink station comes in handy on sunny spring days when the weather is unexpectedly warm. Homemade lemonade, cucumber water and fruit-infused water are all refreshing options.
34. Ivy-Covered Wedding Cake
Understated and elegant, this ivy-covered cake is another way to pull inspiration from nature for your spring-themed wedding.
35. Bite-Size Sandwiches
For an afternoon spring wedding, serve bite-sized sandwiches with flavors inspired by English afternoon tea, such as shrimp, cucumber or ham.
36. Coupe Cocktail Glasses
Why sip from ordinary champagne flutes or cocktail glasses when you can use coupes instead? Their vintage-inspired look goes along with the aesthetic of a garden soiree.
37. Seasonal Spring Salad
Turn to ingredients like arugula, strawberries, radishes, asparagus and other spring produce to bring seasonal flavor to your dinner courses.
38. Custom Wedding Macarons
Treat guests to macarons as a late-night dessert or hand them out in prepackaged boxes as edible wedding favors.