23 Groomsmen Cards to Invite Them to Your Wedding Party
Here's how to ask the guys to suit up for your special day.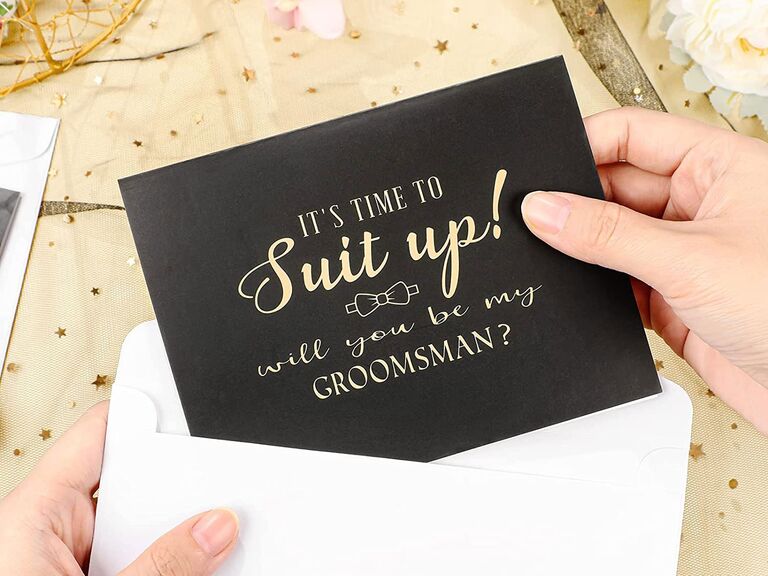 We have included third party products to help you navigate and enjoy life's biggest moments. Purchases made through links on this page may earn us a commission.
You already know you want your closest guys to be part of your wedding day, and best man and groomsmen proposal cards are just one way to make it official. Whether they're the finishing touch to gift boxes or a small surprise in the mail, a handwritten card is a nice gesture to convey exactly how important your wedding party is to you. So if you're ready to pop the next question (aka, "Will you be my groomsman?") we've got you covered. From scratch-off cards and designs with funny puns, to alcohol-themed motifs and more, your future best man and groomsmen (or groomswomen) will really appreciate one of these groomsmen cards.
1. H.macdo Paper Co. Your Service Is Requested Groomsman Card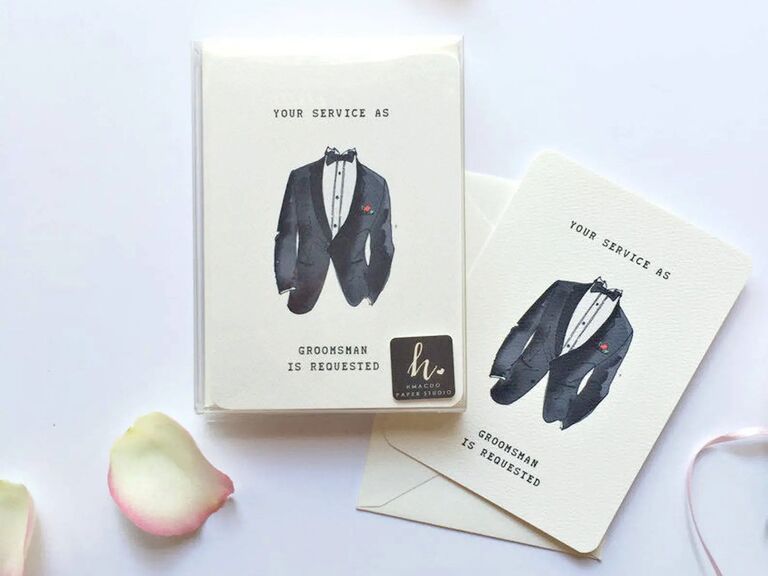 Give your groomsmen a preview of their wedding attire with this card. The front features a watercolor tuxedo illustration with the message "Your service as groomsman is requested." The inside is blank with plenty of room for a handwritten message and the white envelope is included. We suggest pairing these invites with a tie or cuff links for a dapper groomsmen proposal.
2. Abbey Ratcliff Letterpressed Groomsman Proposal Card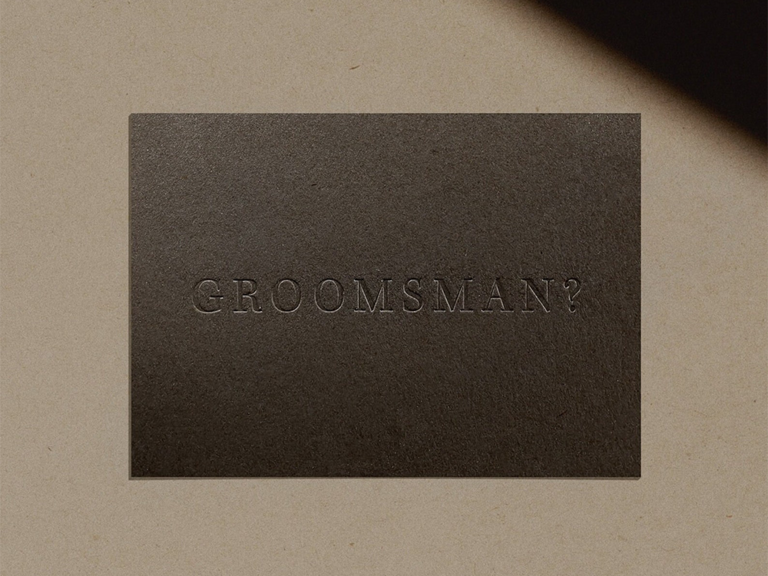 If you and your groomsmen's style is sleek and understated, you'll both love this minimalist card design. The letterpressed card bears the simple phrase "Groomsman?" to ask your wedding party without all the bells and whistles. The shop also has designs for your best man, bridesmaids and maid of honor so everyone can have the same sleek stationery.
3. Creative Union Design Rustic Chalkboard Card
This groomsmen proposal card will really sell your loved ones on the role (though we're sure they'll accept regardless). The cover jokes, "Let me start by saying there will be an open bar" and is personalized with each groomsman's name. You can then write a custom note to be printed on the inside—a big bonus if you don't have the best handwriting.
4. This & That Creations Inc. Bro Do Me a Solid Groomsman Proposal Card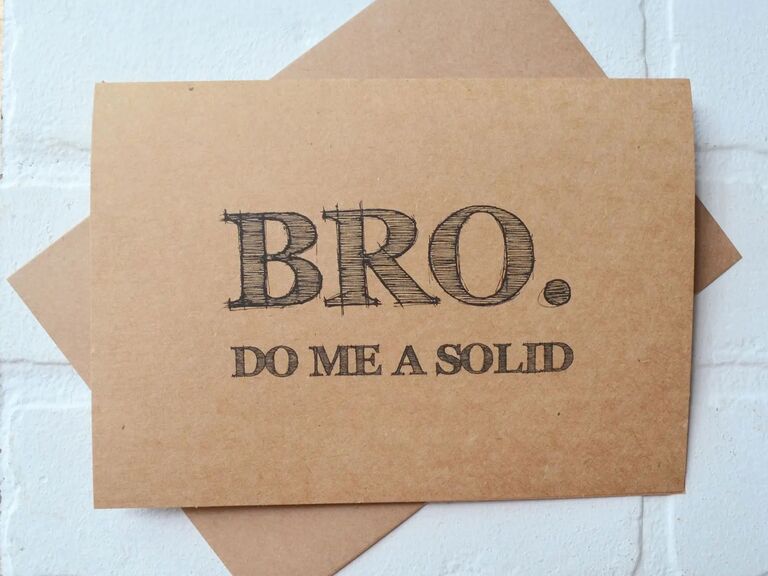 How about something short and—er—sweet. This groomsman card states "Bro. Do me a solid." on the front, with the ever-important question printed on the inside. It's made from kraft paper for a casual groomsmen proposal card.
5. Spakon Time to Suit Up Groomsman Cards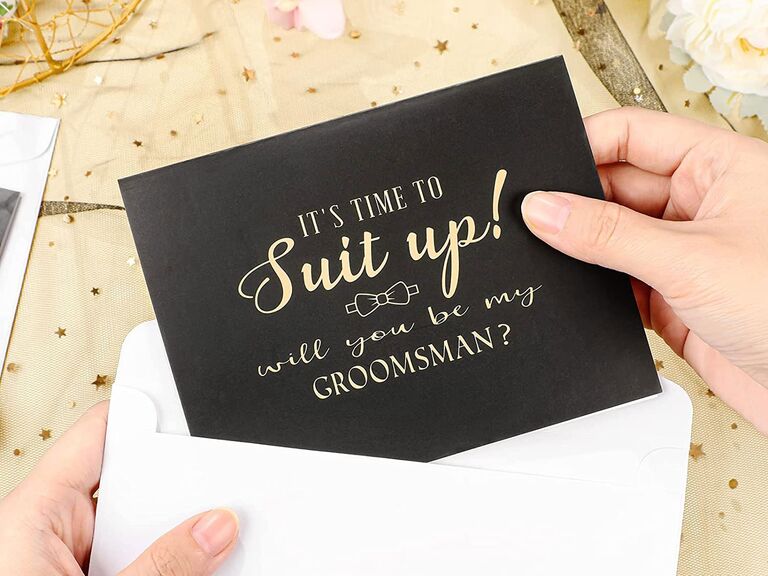 Tell your buddies it's time to break out their formalwear with these groomsmen proposal cards. Printed on black cardstock, "It's time to suit up! Will you be my groomsman?" pops in gold lettering. They're sold in sets of 10 with two dedicated for best men so you have enough for everyone in your party.
6. JD Designs Vintage Gent Best Man Card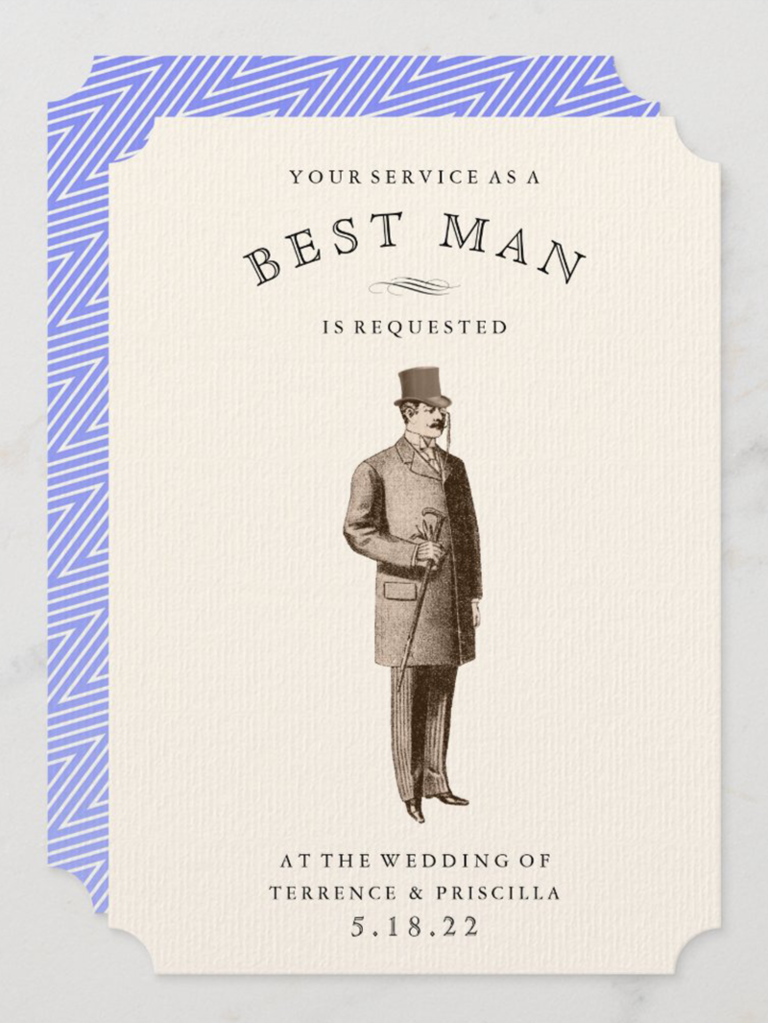 If your future best man is the person who has been in your life the longest, this vintage-inspired groomsmen card is a fitting choice. The illustration of a man in a suit with a top hat and monocle will show him just how prestigious this ask is. You can even personalize the text with your names and wedding date so they know your fiancé wants them to fulfill this role too.
7. Secret Garden Paperie Printable Groomsmen Information Card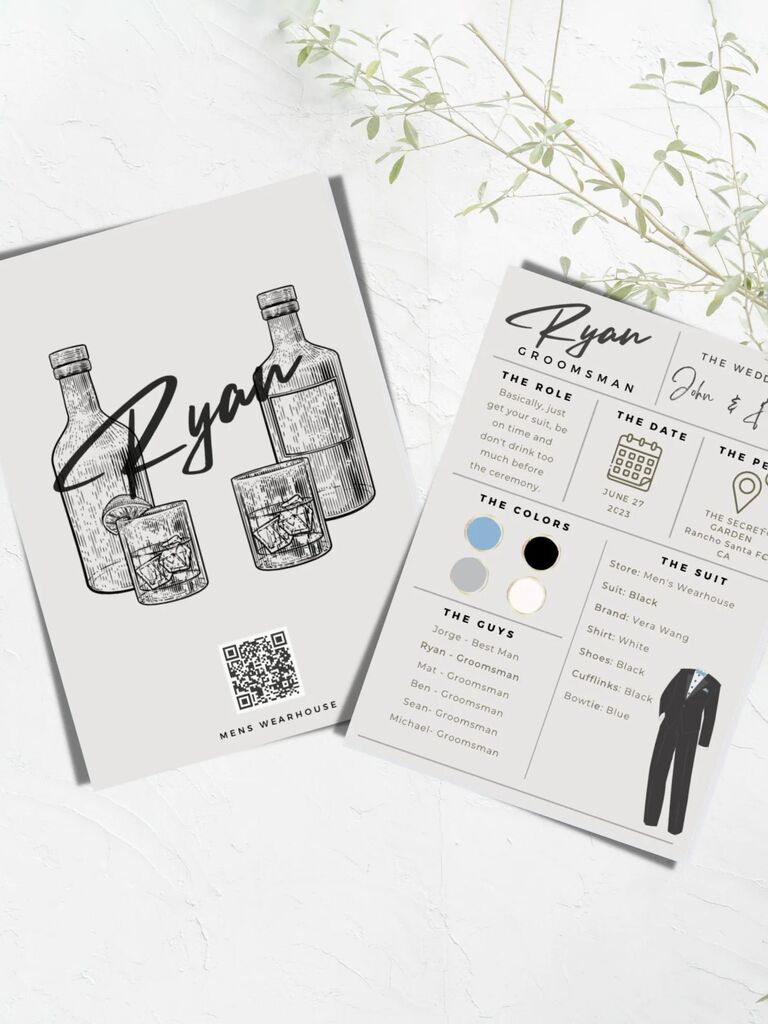 Don't just ask your friends and family to be groomsmen, also tell them what the role entails. This card is actually a digital download so you can personally customize it with everyone's names and your wedding details like the date, location, color scheme, dress code and who else will be part of the big day. Then, just print it yourself to hand over or send it as an e-card.
8. Gonzey Funny Groomsmen Card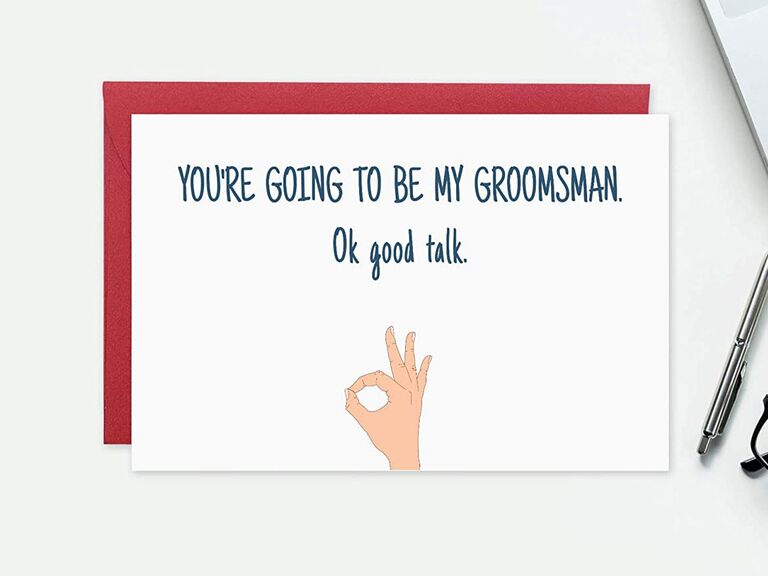 Don't ask, tell! This good-hearted groomsman card reads, "You're going to be my groomsman. Ok good talk." The inside is blank for you to handwrite a personal note.
9. Petal Paper Co. Save the Date Groomsmen Proposal Card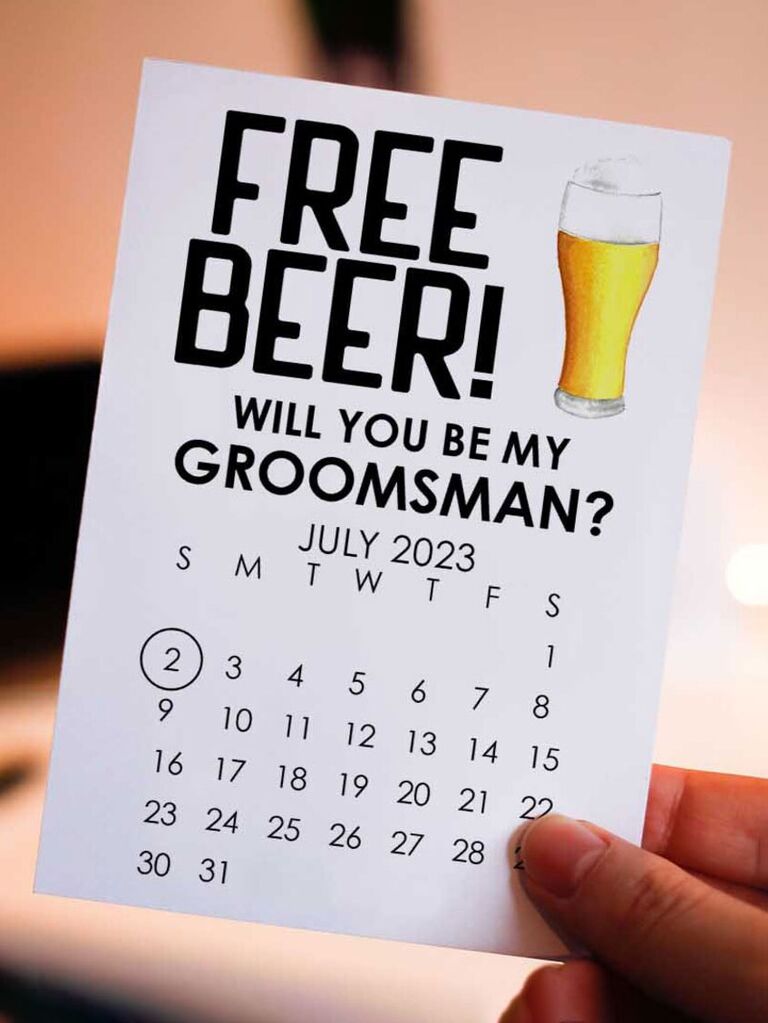 Your crew won't be able to resist this sales pitch! This groomsmen proposal card exclaims "Free Beer!" It doubles as a save-the-date so they know exactly what day their presence is required.
10. LOVELYWOW studio Best Man Job Proposal Invitation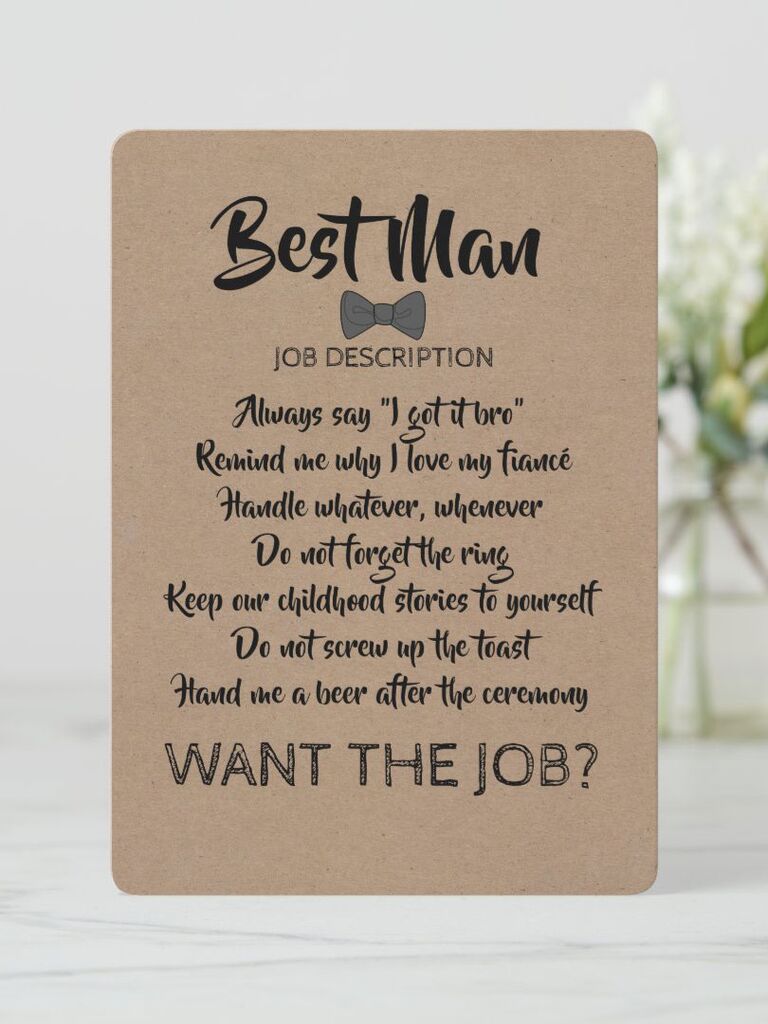 Lay out the role and responsibilities for your best man with this proposal card—don't worry, they're mostly light-hearted requests, like "Always say 'I got it bro'" and "Do not screw up the toast." You can even personalize the job description to be ultra-specific to your right-hand man.
11. Mor Mor Cards The Hangover Card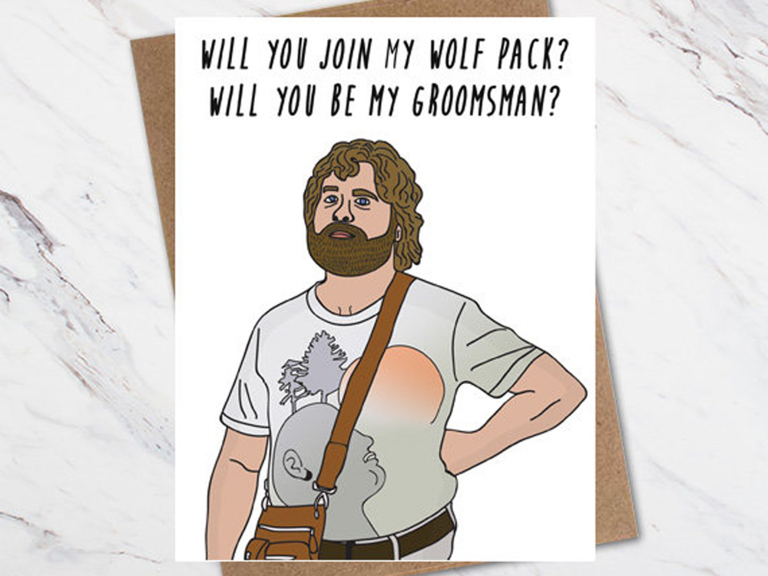 If The Hangover is one of their favorite movies, this card is sure to get a laugh. (Just make sure you don't mimic their bachelor party escapades and nearly miss your wedding day.) It features an illustration of the character Alan (Zach Galifinakis) and references his iconic bit with "Will you join my wolf pack?" Each card comes individually packaged with a brown kraft paper envelope.
12. Andaz Press Game On "Will You Be My Groomsman" Cards
If you have a big gaming squad, these "Will you be my groomsman?" cards are a great choice. They come in a set of 16 and read "Game on" with a controller on vibrant card stock. They can respond "yes" next time you're both online.
13. Vibrant Disenyo Groomsman Scratch-Off Card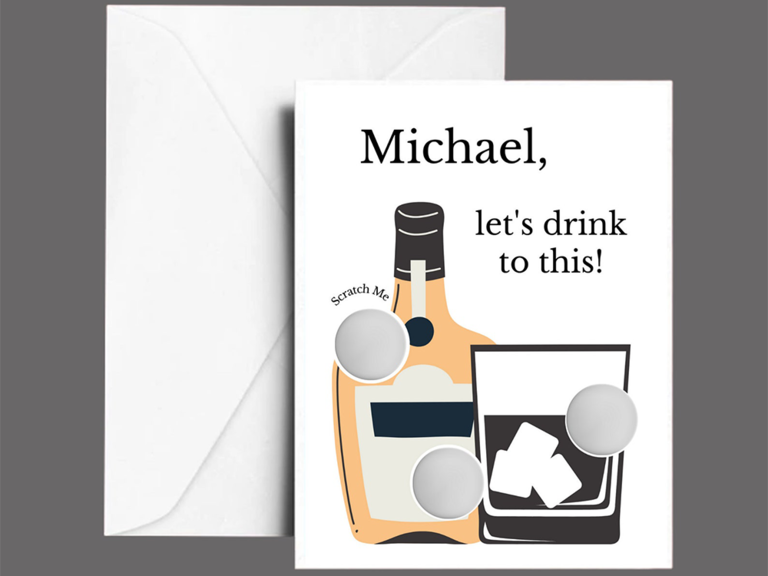 This groomsmen proposal card has three scratch-off bubbles to reveal your very important question: "Will you be my groomsman?" Choose from two designs, including a bow tie illustration or a glass of whiskey (the latter is also an opportunity to pair the card with a great gift—a bottle of his favorite liquor).
14. Creative Union Design Groomsman Proposal Postcard With Photo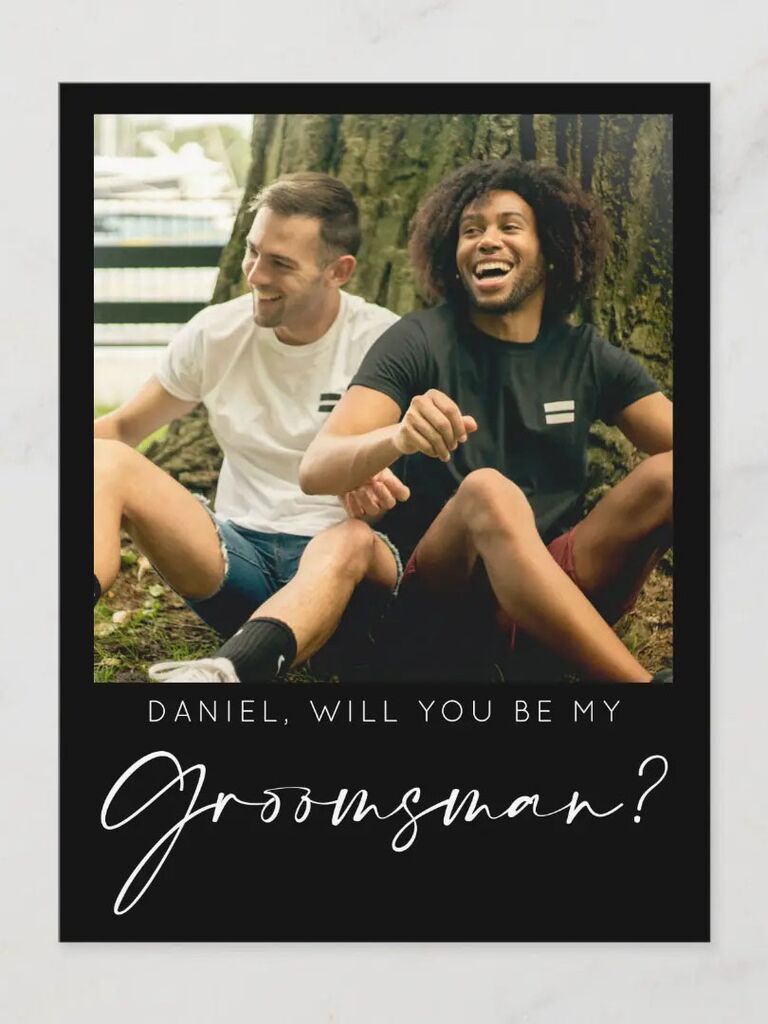 How about something simple and sentimental? Customize this groomsman postcard with a photo of you two for a super-personal proposal. It'll remind them of all the good times you've already shared and get them excited for future memories as a member of your wedding party.
15. Tagooey Gym Spot "Will You Be My Best Man?" Card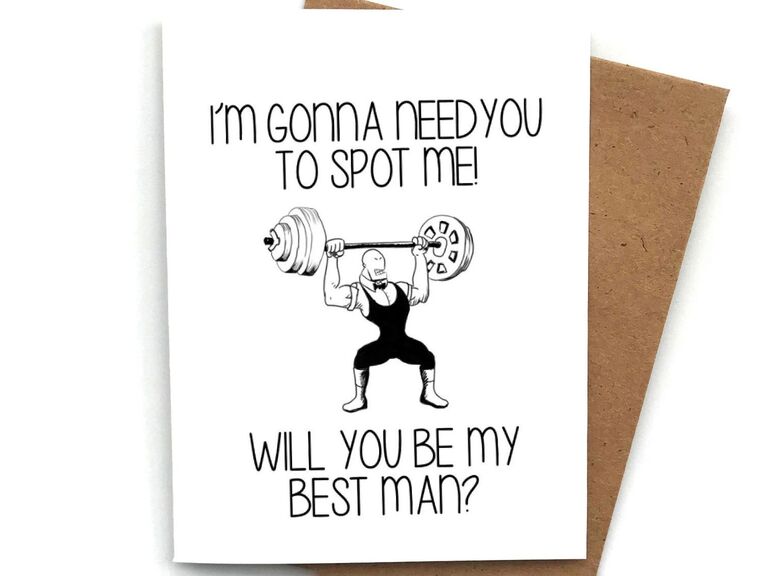 This card is dedicated to your gym bro. It reads "I'm gonna need you to spot me!" with a cartoon weightlifter. Simply choose the recipient—whether it's your best man, a groomsman or even a "brosmaid"—then handwrite a personal note inside once it arrives.
16. Nessys Treasures Shop Mustache Groomsmen Card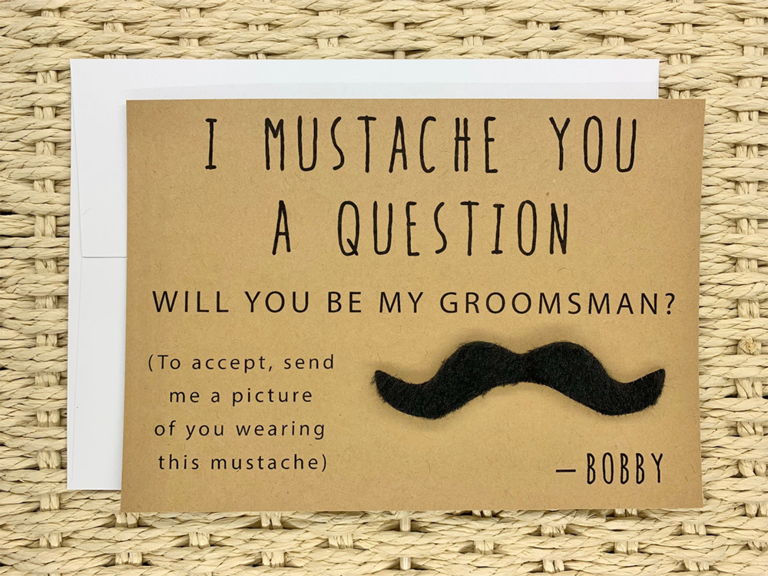 This punny card will be a hit with all the jokesters in your crew. The card includes a handlebar mustache prop and instructs each groomsman to send a photo wearing the 'stache to let you know they accept the role. It's bound to stir up some laughs in the group chat.
17. Teemixer LGBTQ Wedding Squad Card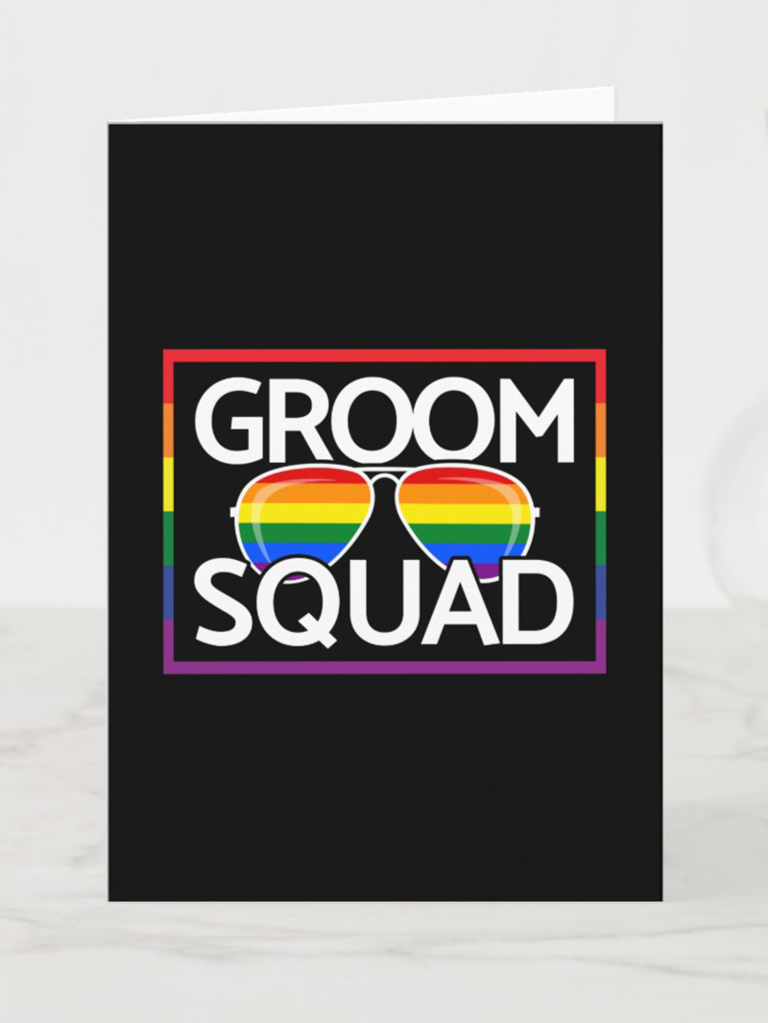 Rally your future wedding crew with these cards that say "groom squad" over the pride flag. The inside is blank so you can personalize each card with a handwritten note.
18. Foxes On Boxes Personalized Groomswoman Card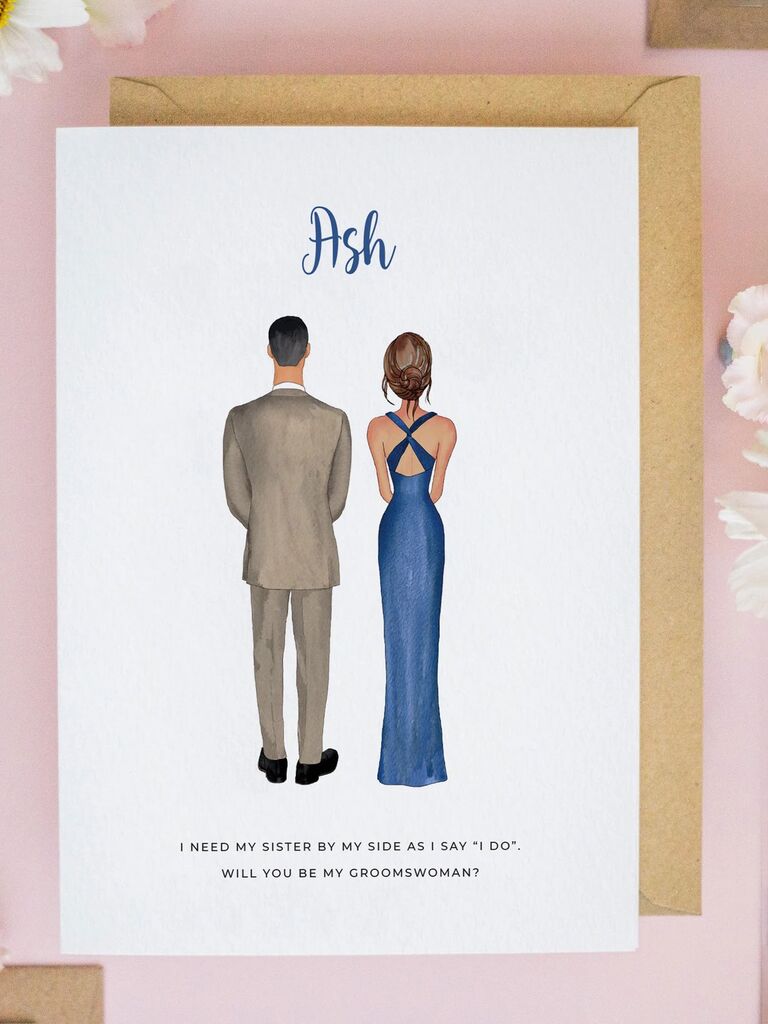 Having a groomswoman? This card features a custom illustration of the two of you for a tearjerking proposal idea. Personalize the text with their name and a short-and-sweet note like this: "I need my sister by my side as I say 'I do'."
19. Tagooey Funny Groomsman Proposal Card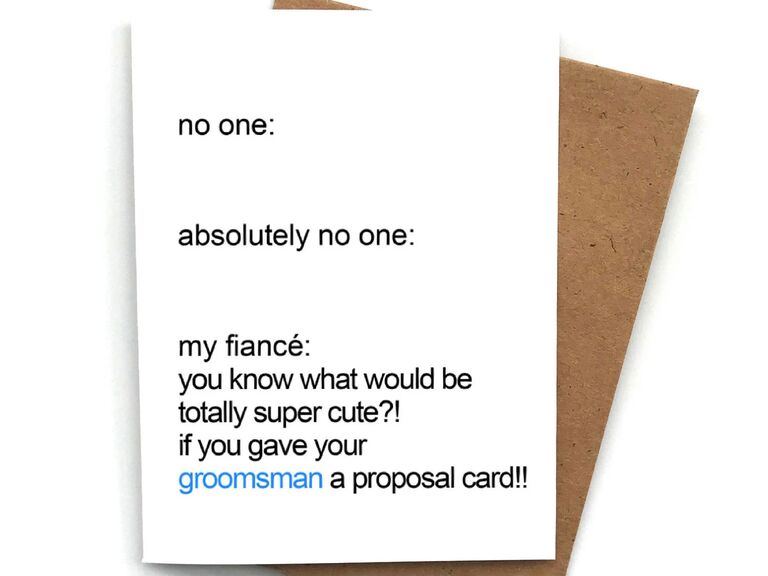 If you two are always cracking up at the latest memes, give them this card for a funny groomsmen invitation. It jokes that it was your fiancé's idea to give them a written proposal—though, even you have to admit it's a nice gesture. You can customize the card with three different font colors and 19 recipient options.
20. Mor Mor Cards Step Brothers Best Man Proposal Card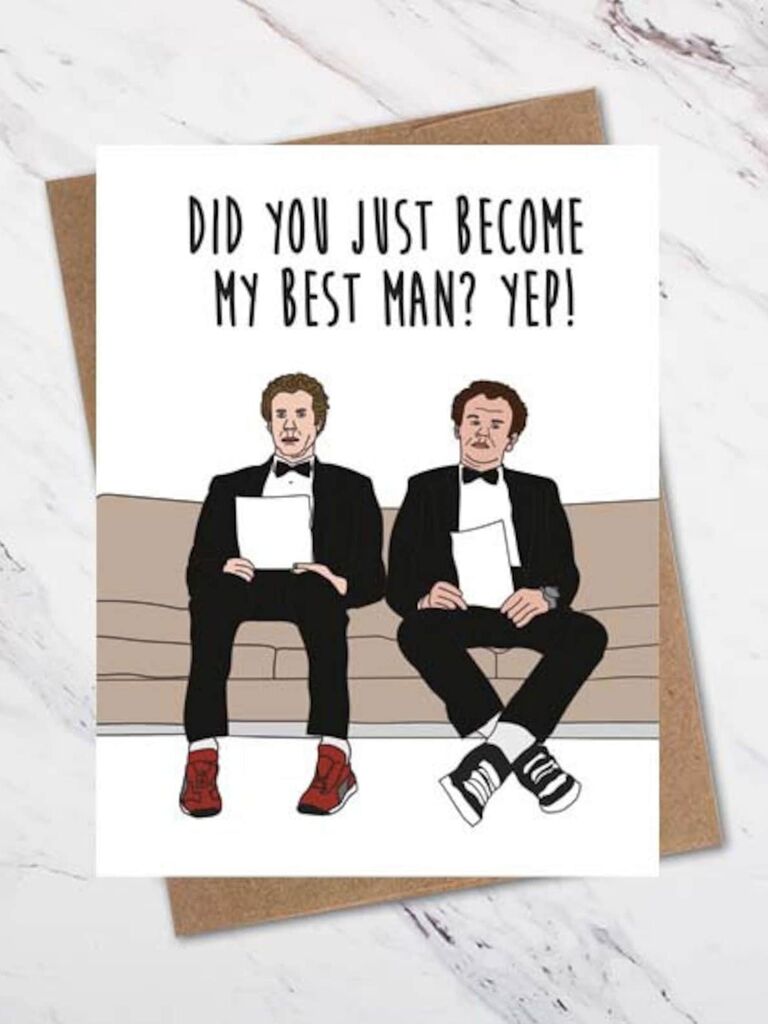 Are you and your closest always quoting Step Brothers? If so, your best friend will get a kick out of this best man proposal card. It shows Brennan and Dale, played by Will Ferrel and John C. Reilly respectively, in their tuxedos and spins their iconic quote to "Did you just become my best man?"
21. BEST DAY EVER Gold Foil "Will You Be My Groomsman" Invitations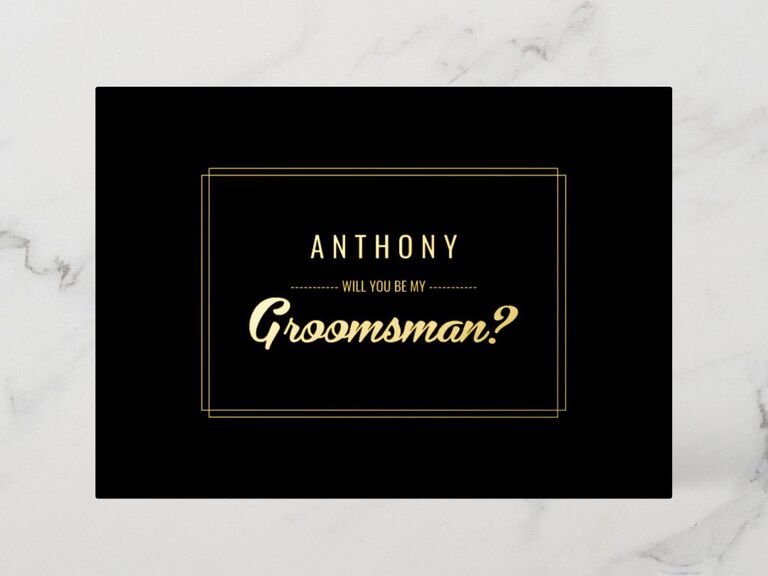 If simple and straightforward is your vibe, cut to the chase with this luxe black and gold foil proposal card. It's personalized with each of your squad's names before popping the question, "Will you be my groomsman?"
22. This & That Creations Inc. Brother Groomsman Proposal Card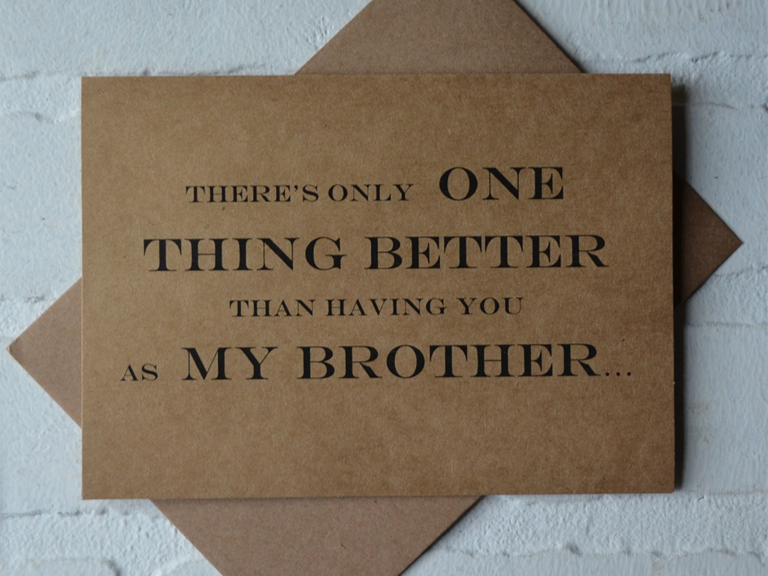 If you're planning to ask your brother to be a groomsman or best man, this design is perfect for doing so. The front of the card reads, "There's only one thing better than having you as my brother..." while the message continues inside to say "...Having you by my side! Will you be my groomsman?" Aww!
23. Tagooey Fish Pun Groomsman Proposal Card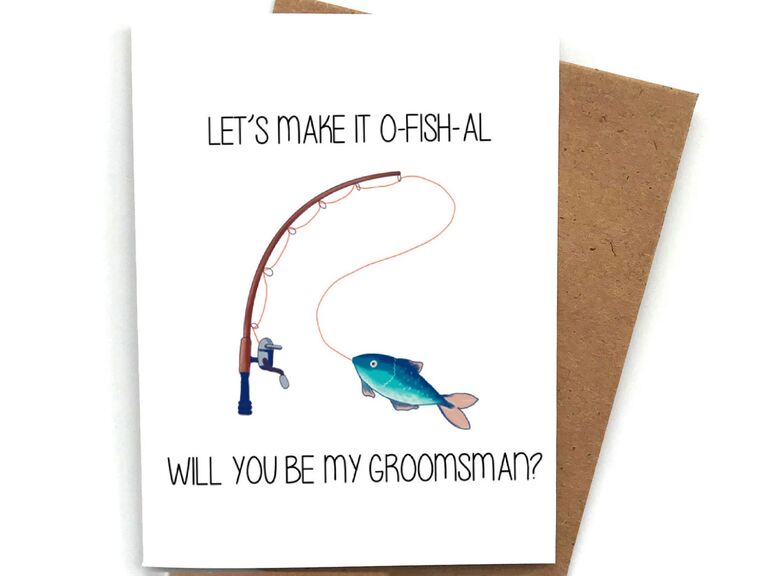 Looks like a group fishing trip is in order! Give this groomsman card to your lake buddy who knew he'd be picked before you even got engaged. It jokes "Let's make it o-fish-al, will you be my groomsman?" with a cartoon of a hooked fish.