19 Groomswoman Gifts That Are as Cool as She Is
A unique role deserves an equally unique thank you.

We have included third party products to help you navigate and enjoy life's biggest moments. Purchases made through links on this page may earn us a commission.
Never mind traditional wedding rules. These days, groomswomen, bridesmen and best people are becoming common roles on both sides of the aisle. But there is one wedding convention that's not going anywhere: honoring your wedding party, whatever their roles, with a thank-you gift. When shopping for a groomswoman gift, the same rules apply as when shopping for groomsmen: Gifts should be practical and thoughtful, and personalization never hurts. It's up to you if you want to find a gift that complements the rest of your wedding party or is something special to her. Whatever you pick, we've found 19 great options. Scroll on for some of our favorite wedding party gifts that any groomswoman would love to receive.
Marigold & Grey Cozy at Home Gift Box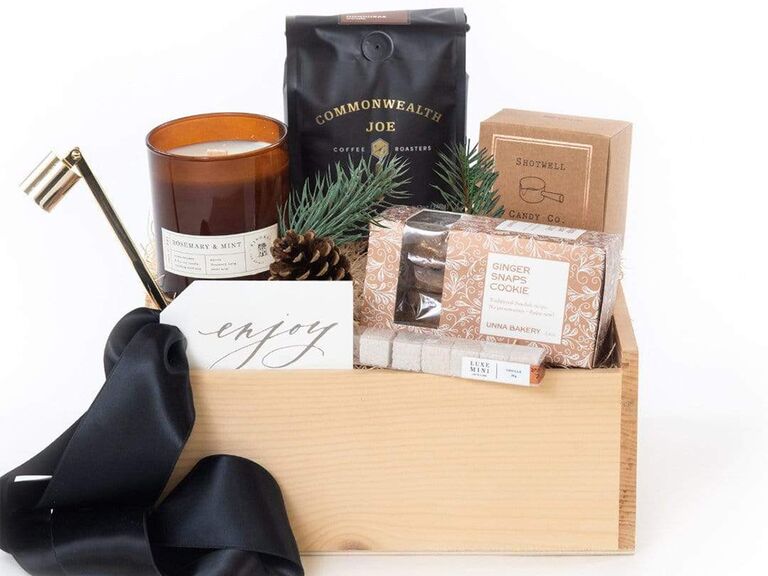 This laid-back gift set is designed to be gender-neutral, so you can gift it to your entire wedding party if you want. Inside, they'll find several small-batch, artisanal goods made by small businesses around the US. The attached card can be used to thank your wedding party, but Marigold & Grey also includes the option to use it as a wedding party proposal box, including a card that will ask someone to be your groomswoman or man as well as bridesmaid or bridesman.
The Knot Shop Large Personalized Makeup & Toiletry Bag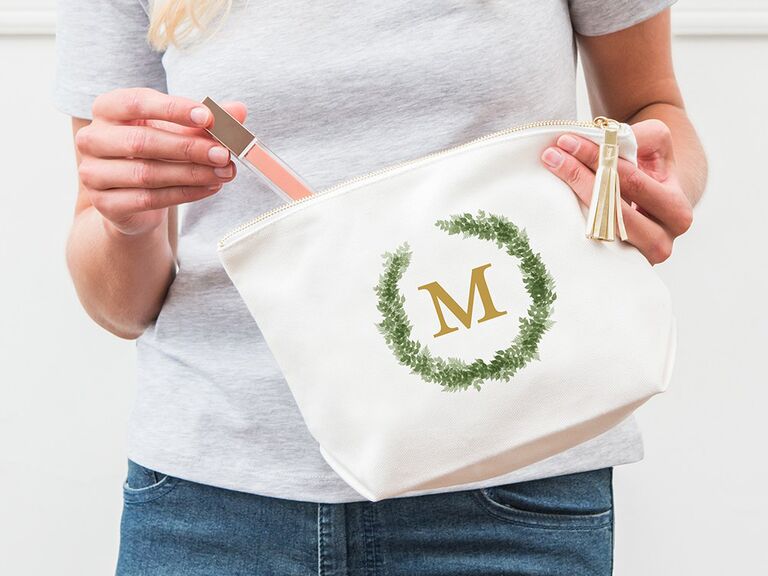 Dopp kits are a classic groomsman's gift, but if a more utilitarian gift isn't her style, this monogrammed toiletry bag is an elegant alternative. Made from durable canvas, this makeup bag is the perfect place to store some bronzer or lip gloss on your wedding day, so she can touch up in between the festivities.
The Knot Shop Personalized Wooden Wedding Clothes Hanger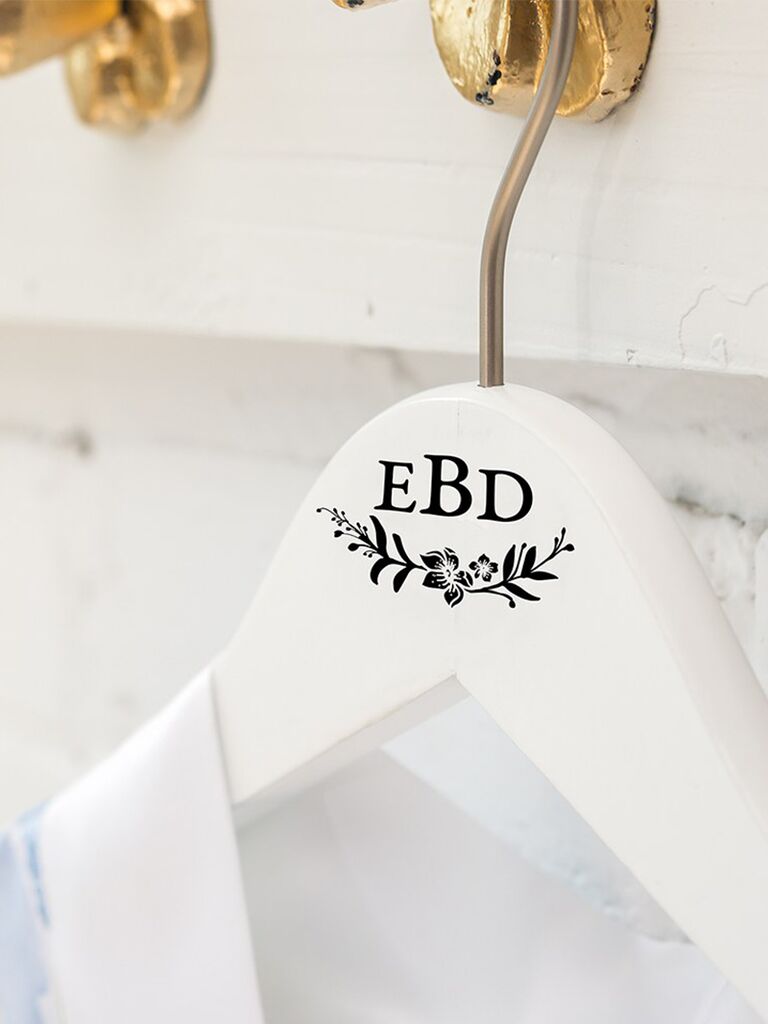 Whether she dons a suit or a coordinating dress on the big day, this hanger will keep her wedding outfit safe and sound as she gets ready. But back at home, it'll serve as a useful addition to her closet—one that will leave her with warm memories every time she sees it.
Tuxedo Wedding Thank You Groomswoman Corkscrew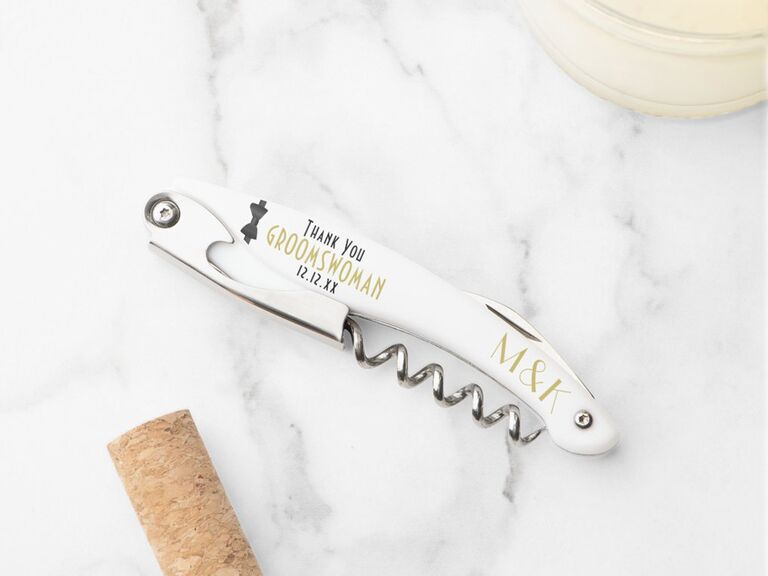 For a small token of your appreciation, this corkscrew is equal parts useful and sentimental. Pair it with a nice bottle of her favorite wine to make it feel extra-special. The corkscrew is also editable, so you can make several versions, one for every member (and role) in your wedding party.
The Knot Shop Custom Fanny Pack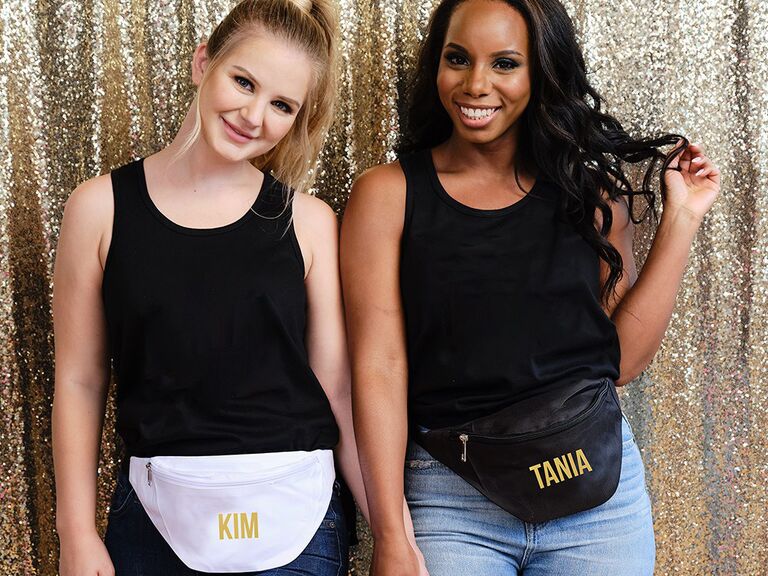 If "serious" thank-you gifts aren't really your thing, allow us to take you on a different route. Perfect for totting around essentials for a bachelor party, these fanny packs can be personalized with each person's name or role in the wedding party. Fill them with tokens of your appreciation and other wedding essentials, like nips of their favorite alcohol or gum.
Megan Taber Self-Love Rose Petal Gift Set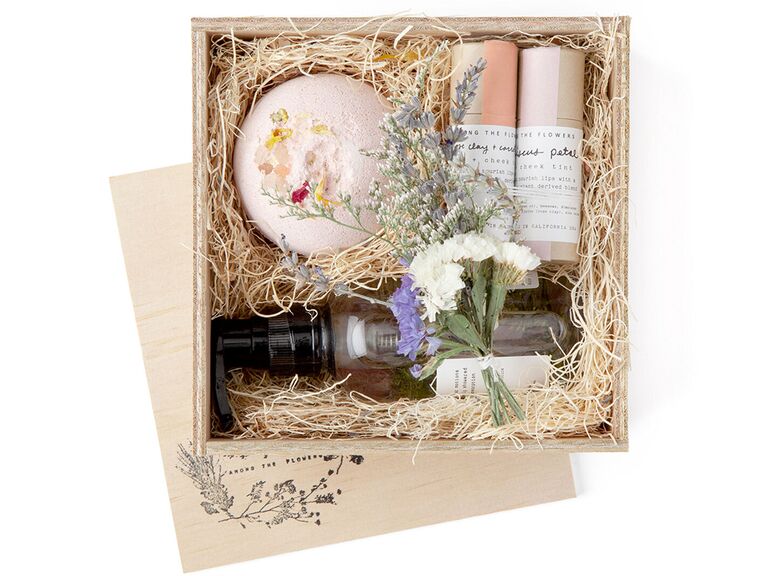 Everyone needs a little self-care sometimes! This all-in-one self-care kit will be like giving her a relaxing day spa day right at home. (And after your wild wedding weekend, she may actually need one to recover.) The luxurious bath bomb comes packed with essential oils, nourishing rose clay, flower petals and shea butter.
The Knot Shop Personalized Fold-Over Velvet Clutch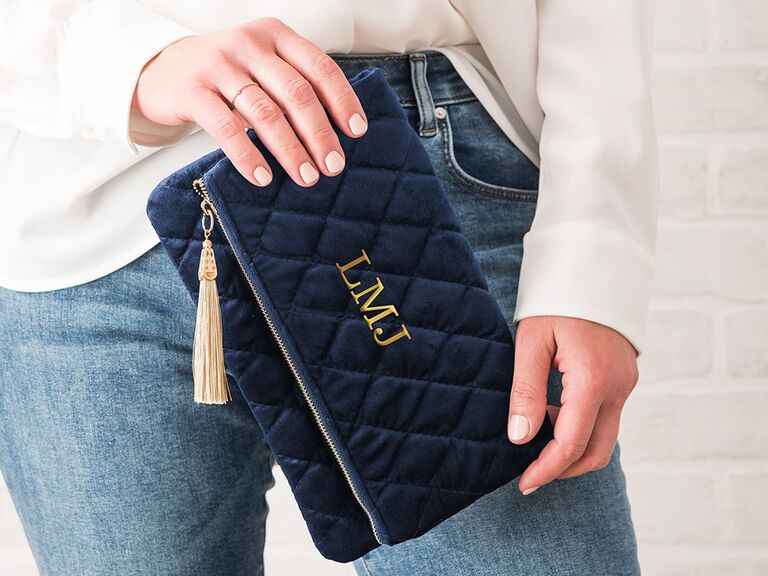 The diamond-quilted bag is made with super-smooth velvet that's soft to the touch and can be embroidered with her initials on the front. Bonus: It's also a great option if your bride wants to coordinate your groomswoman gifts with her bridesmaid gifts for a cohesive look.
Zazzle Blue Watercolor Orchid Mug
Perfect as a thank you or for a groomswoman proposal, this sweet and simple mug is also budget friendly. Personalize it with your upcoming wedding date, as well as your friend's role in the wedding. For another cost-efficient touch that still feels special, you can fill it with her favorite candy or a gift certificate to a coffee shop.
Rachel Glarner Birth Month Gemstone Flower Candle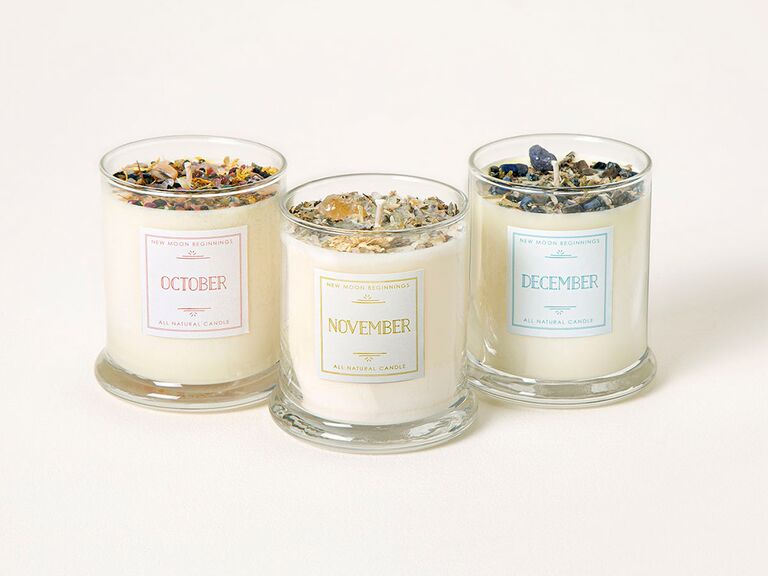 Candle gifts are always a good choice. No one's ever going to think, "Oh, I already have a candle," when opening it. These add a personal touch by allowing you to give one inspired by her birth month. Each candle is hand-poured in the US with a burn time of 60-80 hours and incorporates a mixture of flowers, herbs, crystals and essential oils to give it a light and pretty scent.
The Knot Shop Large Personalized Off We Go Weekender Bag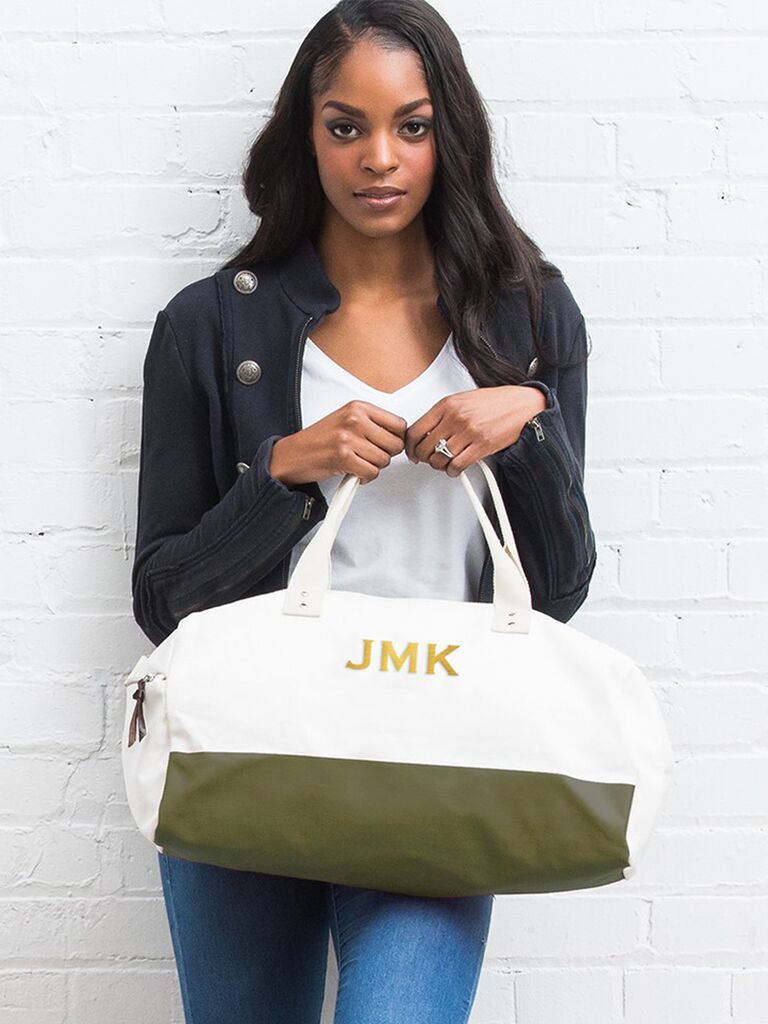 A solid weekender bag is basically a wardrobe staple for anyone. We love the versatility of this one, with its soft cotton canvas design, roomy interior with multiple compartments and army green bottom that gives it a gender-neutral style. Gift it to your entire wedding party in time for any overnight wedding-related events.
Tipsy Cheers Labels Best Woman Duties Wine Bottle Label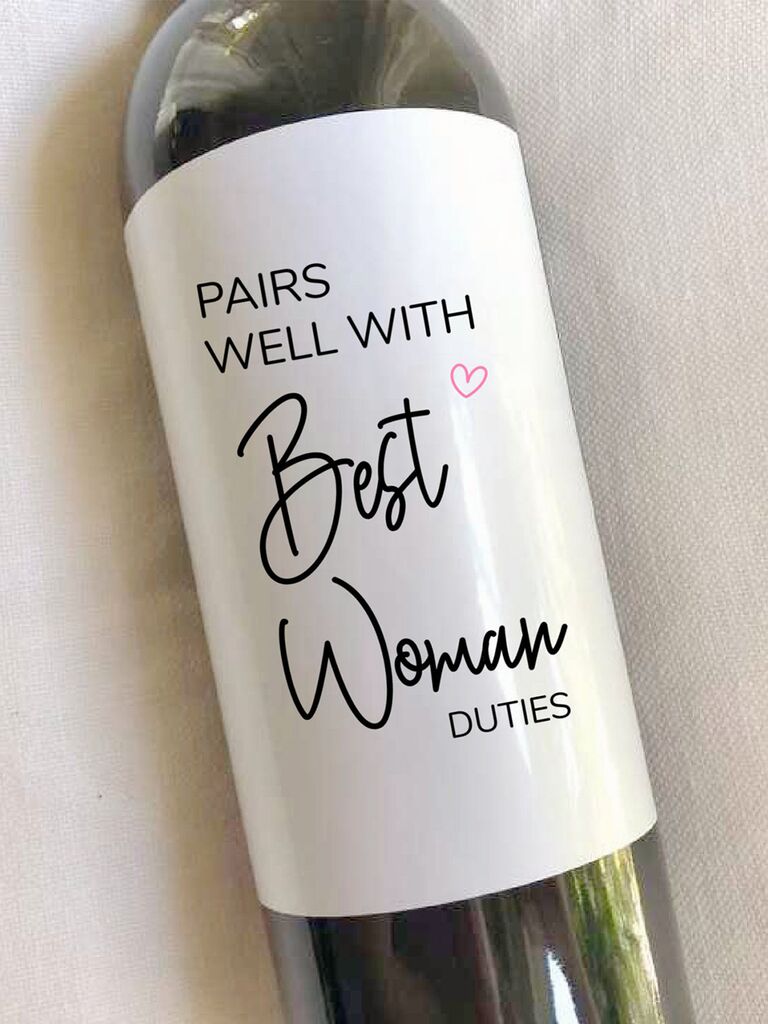 Etsy is a great place to find clever add-ons that make simple thank-you gifts pop. Take this clever wine label, for example. It can be placed over any bottle you choose and given as either a proposal gift or as a thank you after the wedding. Either way, it will definitely make an impression.
The Knot Shop Personalized Faux Leather Jewelry Box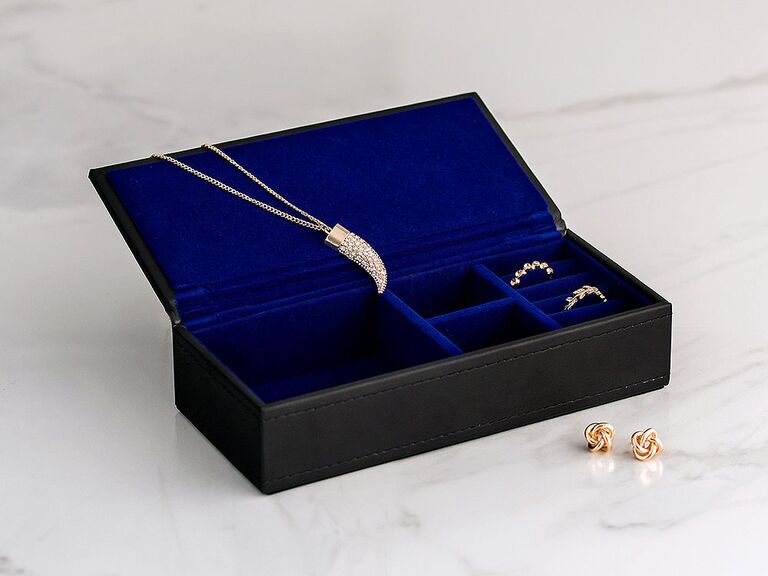 If you're looking for a personalized gift that's also sleek and sophisticated, this jewelry box might be right on the money. She'll love the way the jewelry box looks with her name embossed on the top and really appreciate how easy it'll be to keep her necklaces untangled now.
The Knot Shop Personalized Stemless Travel Tumbler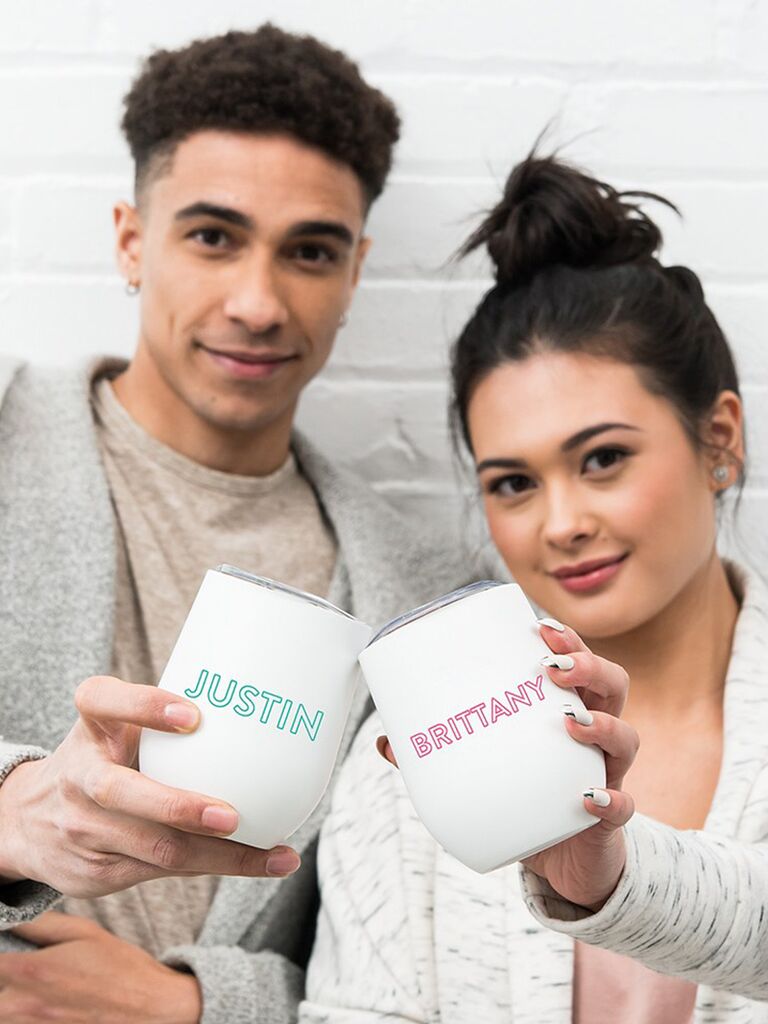 Everyone has that one friend who's always filling their cup to the brim with tons of ice. (Sound familiar?) If she loves sipping on ice-cold water or mixing up yummy cocktails, this personalized travel tumbler is about to become her new best friend.
Bespoke Post Details Gift Box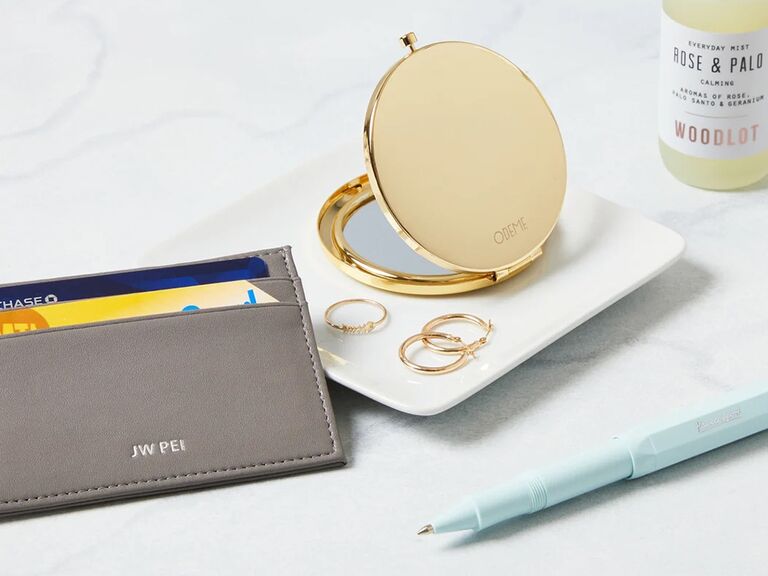 Putting together the perfect groomswoman or groomsmen gift box is easier said than done. Luckily, the folks at Bespoke Post can handle all of that for you. The custom gift box company makes it quick and easy to shop from curated bundles online. Select one that fits your friend's interests and head straight to checkout—all within minutes.
Personalized Engraved Bridal Party Compact Mirror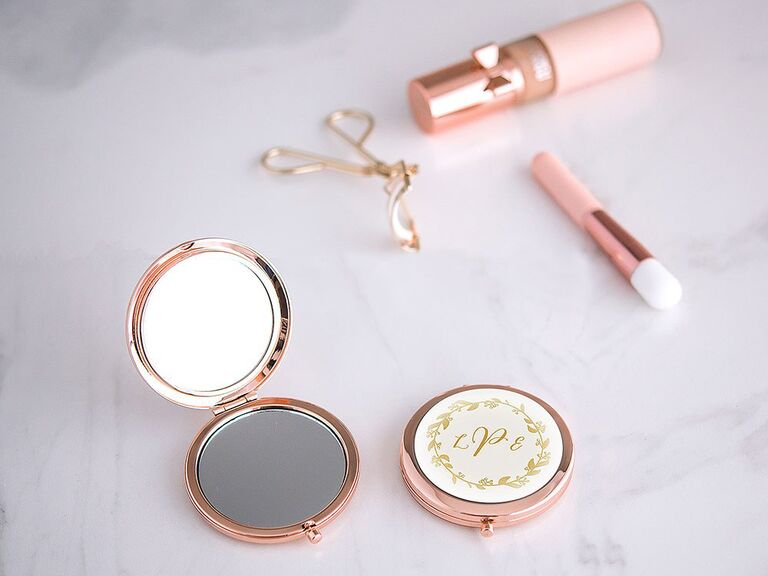 When it comes to custom wedding favors and gifts, incorporating your wedding theme into everyday items can instantly transform them into something special. This pretty makeup compact is no exception. Personalize it with your groomswoman's initials, and choose from over 15 patterns that work with many popular wedding themes, including boho and classic.
Airbnb Experiences Gift Card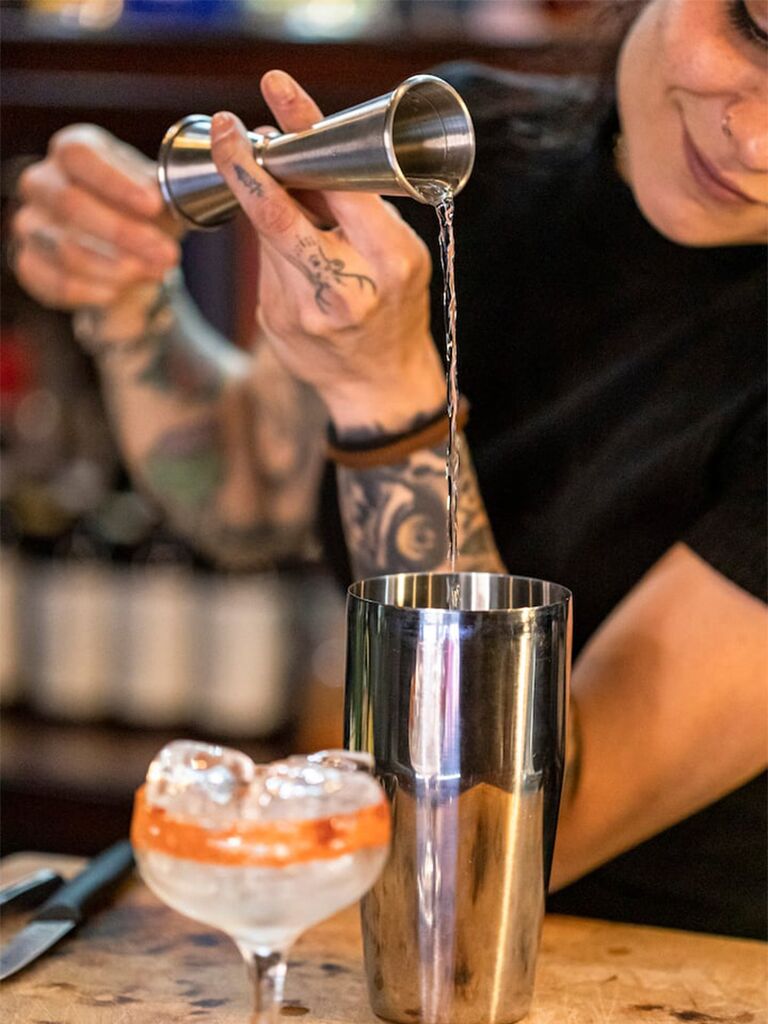 Not every great gift has to be unwrapped. In fact, we'd argue that some of the best gift ideas have less to do with physical stuff and more to do with experiences. If your groomswoman is an adventure seeker with a serious case of wanderlust, why not give her an Airbnb gift card to put toward her next getaway?
Uncommon Goods Murder Mystery Puzzle Book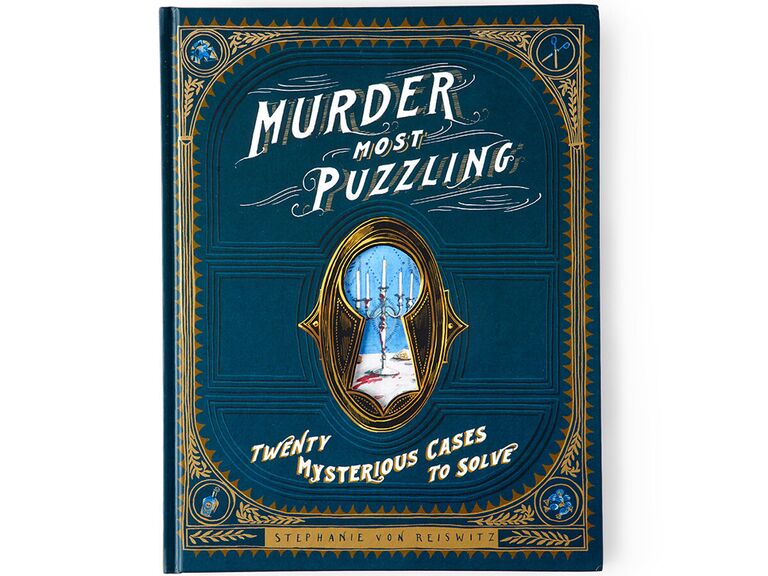 Looking for a unique gift that's also kind of quirky? This murder mystery puzzle book is perfect for your true crime-obsessed pal, who can use all the sleuthing skills she's learned from Dateline to crack 20 different mystery cases.
The Knot Wedding Shop Personalized Rose Gold Stainless Steel Flask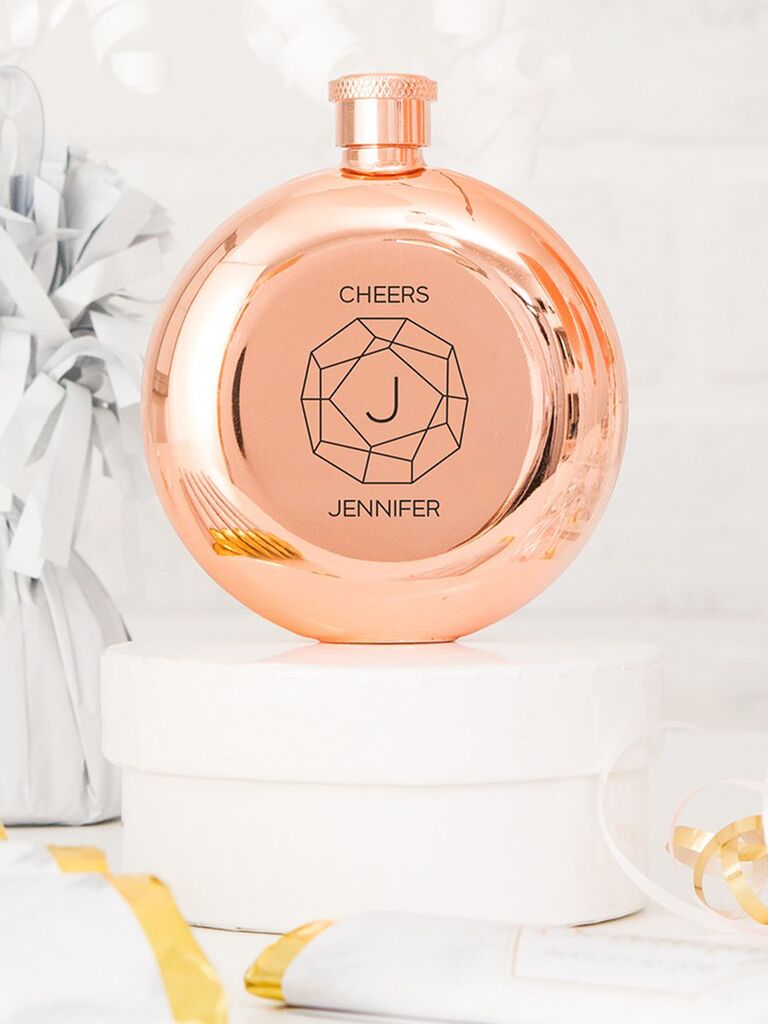 Fancy-looking flasks are one of those tried-and-true groomsmen gifts. But if you want a more feminine option to fit the theme for your groomswoman, this rose gold version is perfect. It's not only tiny enough to fit in her purse but can also be personalized with her name.
Personalized Cameo Video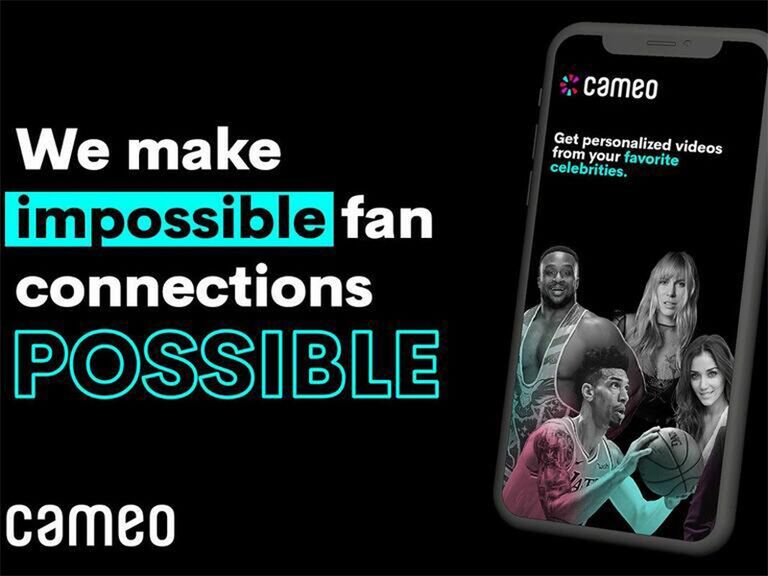 What do you get the woman who already has everything? A personalized video message from her favorite celeb! Sending a funny Cameo to your groomswoman can be a unique and humorous way to say thank you—ironically, by having someone else do it. And if you manage to book one of her favorite reality stars (ahem, Ramona from RHONY) or even her celeb crush from childhood (helloooooo Ian Ziering from 90210), you might just knock this one out of the park.