Have You Ever Joked About Eloping? (We Did)
by Engaged & Confused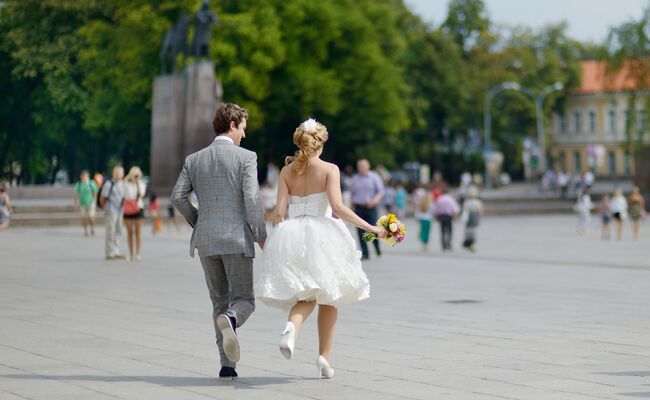 I've come to believe that there's a point in the wedding planning process that every single engaged couple says, "Let's just elope." This first time came for us just a few weeks in. I made the perhaps ill-advised decision to schedule eight reception venue visits for my future husband and I within 48 hours of each other. I referred to it as "extreme venue hunting." What I quickly realized is that visiting potential venues is like looking for a new apartment to rent. You look at one, two, even three, and you think, "This is fun. There are so many wonderful possibilities! Backyard or wine fridge? Kitchen window view or walk-in closet?" But then after you see a fourth, fifth and sixth apartment, you're tired, hungry and more apt to see flaws in each space. So then you head back to the first few, and now you're seeing their flaws ("When were the hallways last painted? Are the neighbors loud?") too. At some point you think, "Eh, let's just sign a damn lease and get on with the next year of our lives."
The same phenomenon seemed to happen with our venue hunt. Maybe it was that we were hopped up on champagne and cookies that were gifts from the wonderful vendors we met with, but by the end of the first day, we were tickled with our progress. We could go with elegant and chic or preppy and pretty — we loved all the options, and each other! By the end of the second day, we were exhausted, possibly mildly hungover and a little tired of venue hunting as well as, perhaps a little sadly, one another.
That was the point at which my fiancé first said, "Maybe we should just elope." He was joking of course, so we laughed. Then we sat down and booked a short list of follow-up appointments for the next weekend and tried to forget about wedding planning for awhile by watching Modern Family (only to find out that Mitchell and Cam are still planning their wedding!). Then, over the following weekend, we continued the visits and started in on price estimates. When we realized the estimates didn't include taxes or tips (or, in some cases, chairs or tables), we both brought up the E-word again. Wouldn't it be better to save the money for a down payment for a home (since we've already made it clear that we suck at apartment hunting)? We hate being the center of attention, so isn't it sort of crazy to pay tens of thousands of dollars to put ourselves in that position?
Fast-forward a few weeks later, and we have signed an agreement with a wonderful venue with an amazing caterer who has provided the food for many of our family holiday dinners, showers and other parties over the years. It feels like a good fit, at a fair price — and the space is just a few miles from where I grew up, and where my parents still live. And that's the crux of it. This wedding is going to be a beautiful, relatively intimate moment in time, and a chance for both of our families to not only celebrate our day with us, but also the planning of that day. It's easy to get caught up in picking the perfect place to wed, and all the details and decisions that follow. Signature cocktails (spiked lemonade or prosecco?), music (band or DJ?), and dresses (I'm dreaming about Carolina Herrera's Fall 2014 collection, but think I have a special dress already picked out…details to come in a future post!).
I'm guilty of already worrying about the small stuff, but to me, a wedding is a time and a place where you stand in front of your family and friends and make a solemn promise to care for each other, in good times and in bad. Our dear friends and family will be with us through our life's inevitable highs and lows, and because of that, I truly want them to witness this promise. And that means elopement is off the table for good — or at least until we get the floral proposal.
Have you joked about eloping? How many venues did you visit?
> I sort of hate the word fiancé
> How often do you clean your engagement ring?