If Your Guests Still Haven't Sent RSVPs, Here's What to Do
Missing RSVPs are the worst, right? Here's how and when to deal.
by Maggie Seaver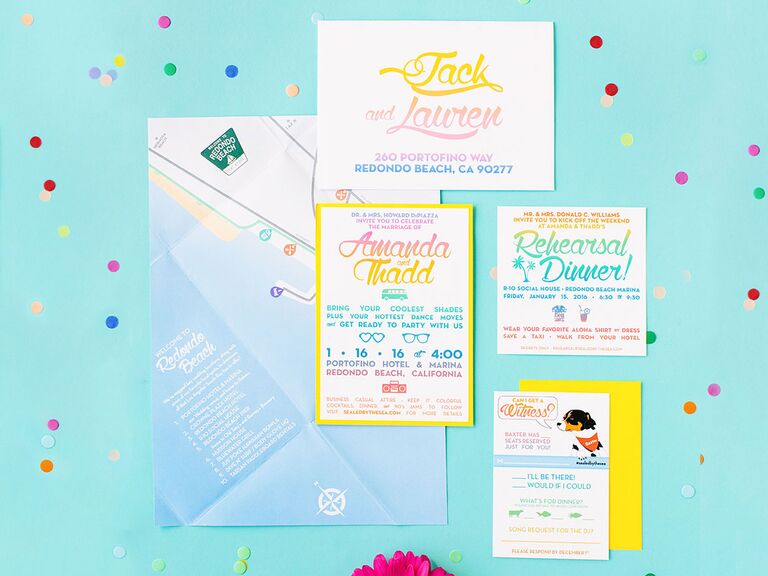 With two weeks until the wedding and only 75 percent of the RSVPs accounted for, you'll be tempted to tip into panic mode. Your caterer keeps asking for a final head count. You desperately want to get your seating chart done early. Why isn't anyone replying?
Take a few breaths and remember, your guests aren't trying to give you a migraine. Mostly likely, their obligation to reply one way or the other simply slipped their minds (maybe they were distracted by your gorgeous stationery). At what point is it okay—and necessary—to reach out and remind them? Here's how to help avoid tardy RSVPs in the first place, and what to do if you have some, which you probably will.
When to Send Your Invites
Mail your invitations six to eight weeks before your wedding date. If you're having a destination wedding, allow for a little more time and send them about 8 to 10 weeks out.
When to Set Your Deadline
Your RSVP deadline should fall three or four weeks from when your guests receive them (give them any more leeway and they'll probably forget to reply) and two to three weeks before your wedding date (enough time for you to get a final head count and to finish your seating chart).
When to Start Reaching Out
You don't want to start bugging your guests too early—that's unnecessary energy for you to spend. If you hit your RSVP deadline and find you're missing names, start thinking about reaching out (preferably by phone). You won't want to start nagging on the exact RSVP deadline, as chances are, a few more responses will trickle in in the next two or three days. After those few extra buffer days, pick up the phone and start making phone calls. Enlist your partner, wedding party and parents to help divide and conquer the list.
What to Say
You might be flustered with last-minute wedding details and frustrated by their lack of response, but don't let that show when you talk to them. Say you're just checking in to make sure they received the invitation, and you really hope they can make it, but completely understand if not. If you have to leave a voicemail, mention that for logistical purposes, if you don't hear back from them by a certain date (a week before your wedding), you'll unfortunately have to assume they're not attending. Your guests will probably be super apologetic about neglecting the response cards and very appreciative of your follow-up—and you'll feel so much better after touching base with them.