20 Bold Anemone Bouquets to Carry on Your Wedding Day
This delicate flower has a whole lot of personality.

Determining which flowers to include in your wedding bouquet is a fun piece of the wedding planning process. With endless combinations and colors to choose from, narrowing down your bouquet to a smaller selection is no easy feat. After all, we've never met a flower we don't love! Lately we've found ourselves drawn to unique flowers, like anemones. With their dainty petals and various color combinations, the beauty of an anemone bouquet is hard to say no to.
What Is an Anemone?
Anemones are wildflowers that grow in parts of Europe, North America and Japan. Over the last year, anemone bouquets have become a popular request from to-be-weds. Anemones are known for their fun, spiral-like stem and their color variety.
Anemone Colors
Anemones can be grown in a variety of colors, making them a perfect option for almost every bridal style bouquet. "Panda anemones have white petals with black or navy centers, and they're one of the most popular anemones we work with," says Cady Arruda of Homegrown Blooms, "But, we've also seen brides and grooms include lilac, dark purple, pink, red and burgundy anemones, too."
Anemone Flower Season
Anemone flowers tend to bloom in the springtime, though on certain occasions, some flower farmers have success with a second succession in the fall and winter. It is important to know that anemones don't have the longest vase life and they tend to wilt faster than other flowers. Arruda shares, "If your florist is usually using locally grown anemones in the springtime, this can assure freshness. But if you are requesting your anemones in the 'off-season,' it's important that your florist secures the anemones with a trustworthy source to assure they are as fresh as can be."
Florists' Tips on Adding Anemone Flowers to Your Bouquet
When gathering inspiration for your wedding flowers, it's important to make sure you're aware of a few things, like the seasonality, the vase life, the stem length and which flowers look best together. Lucky for you, we've collected insider tips from florists on how to add anemone flowers in your wedding bouquet. If you're in the midst of wedding planning and searching for a florist, we cannot recommend The Knot Marketplace enough. Simply search by your location and you'll find a complete list of professional florists local to you.
Seasonality of Anemone Flowers
Because of their short vase life, most florists will recommend anemones when they are in season, so they can ensure their couples will get fresh, blooming flowers.
Incorporating Anemones in Your Flower Design
It's important to know that anemones don't have super long stems. This can make them tough to use in certain designs, so ask your florist what additional flowers or designs they recommend combining your anemones with.
What Flowers Should Anemones Pair With in a Wedding Bouquet?
In our research, florists have said, "nature doesn't lie." If two flowers are growing together in nature or in the same season, they will typically compliment one another in a floral arrangement. Anemones are typically paired best with other spring flowers like ranunculus, tulips, larkspur and poppies.
Anemone Bouquet Ideas
As you begin your wedding bouquet inspiration, you'll want to do some research to see what anemone flowers pair best with in a bouquet. Not sure where to start? You're in luck! We've scoured the web high and low to find the best anemone bouquet inspiration. Save these for wedding inspiration and if you find one (or two) that you love, share them with your florist!
Black and White Anemone Bouquet With Roses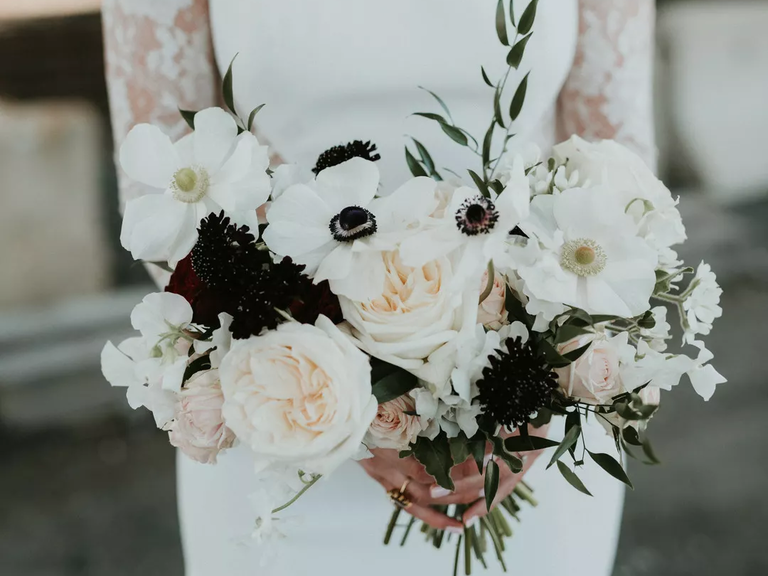 A combination of white anemone flowers and blush roses makes for a romantic, modern bridal style. If you're looking for winter wedding bouquet ideas, we love this crisp, bold flower combination.
Whimsical Peony and Anemone Bouquet
These pink peonies compliment the navy and white anemones, making a dreamy bridal bouquet. The navy center of the anemones add a bold and punchy twist to a typically feminine arrangement.
Rustic Yellow and White Anemone Bouquet
This combination of yellow roses, white anemones and greenery makes for preppy and rustic bridesmaids bouquets. If you're looking to bring the Southern charm to your wedding, this color and floral combination is the way to go.
Vibrant Pink and Red Bouquet With Anemones, Roses and Peonies
This punchy pink and red bouquet vibrantly combines red anemones and a variety of pink and red roses and peonies. If you're looking for your bouquet arrangement to be eye catching and bold in your wedding photos, this romantic combination is perfect inspiration.
Moody Bridal Bouquet With Maroon Anemones
Whether you're planning a fall or winter wedding, or are simply drawn towards darker and moodier colors, these maroon wedding bouquets are simply stunning. By combining the ever-so-gorgeous maroon anemones, roses, carnations and greenery, your bouquet will be the talk of the town.
Perfectly Purple Bouquet With Anemones and Roses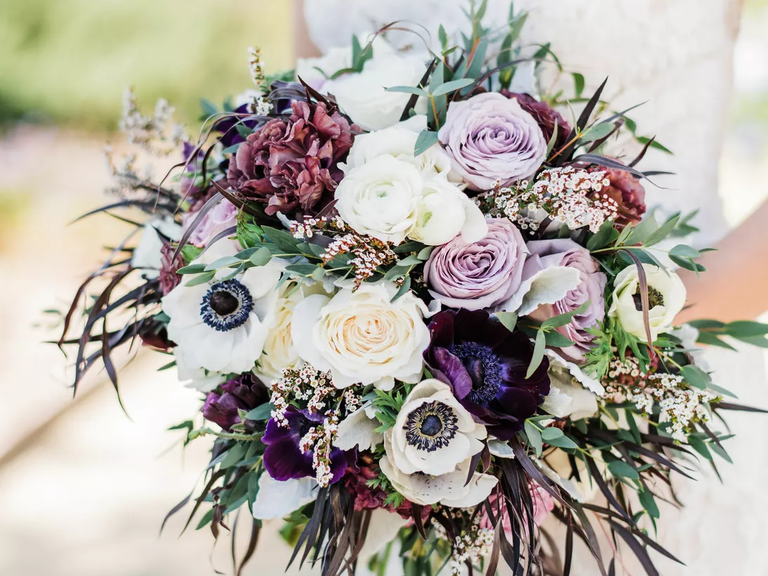 If various shades of purple are included in your wedding color palette , look no further than including purple anemones and lavender roses in your bridal bouquet. You'll feel like a queen on your wedding day with a floral arrangement this beautiful. After all, purple is the color of royalty.
Hot Pink Bridal Bouquet With Anemones and Ranunculus
Make a statement with this girly bridal bouquet featuring various shades of pink roses, ranunculus, and white anemones. The white anemones have a dark center that compliments the feminine blush of the florals perfectly. If you're looking for inspiration for a pink and white wedding color palette, we've found it.
Monochrome Bouquet With Dried Greenery and Anemones
Modern couples, look no further for your wedding bouquet inspiration. This bouquet combines white anemones, dried ferns and grasses, and ivory roses to make a dreamy, neutral bridal bouquet.
Anemone Autumn Bridal Bouquet
A combination of ivory and golden roses, Panda anemones and maroon scabiosas create an autumnal color palette, perfect for a warm-toned seasonal wedding. Together the colors are modern and feminine, and make for the perfect dramatic bridal bouquet.
Colorful Anemone Wedding Bouquet
Whether you're planning a vibrant summer wedding or a radiant autumn ceremony, a flower arrangement with yellow roses, white anemones and red dahlias, makes for the perfect bubbly bouquet.
Winter White Bridal Bouquet With Anemones and Roses
If your wedding vision includes snowfall and frosty florals, this winter white bouquet arrangement is the perfect wedding flower inspiration for your special day. We personally love the pine cone detail, alongside the eucalyptus.
Cascading Bridal and Bridesmaids Anemones Bouquets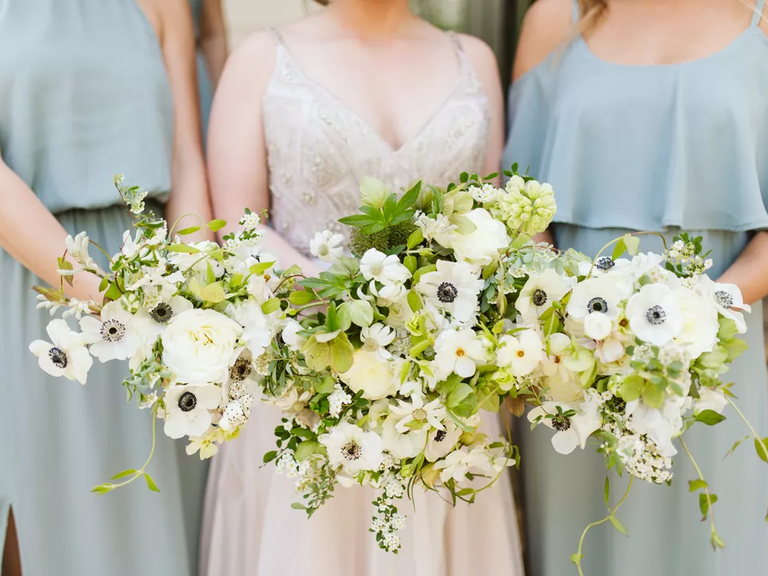 Planning a rustic wedding? Look no further than bridal and bridesmaids bouquets filled with white anemones and dripping greenery. The combination is classy yet casual, and the dramatic inner circles of the anemones makes for a perfect focal point.
Festive Red, White and Blue Bridal Bouquet
A classic red, white, and blue bouquet brings a rustic charm unlike any other. The combination of blue thistle, red roses and white anemones is refreshing yet timeless, and simply looks stunning against an ivory white wedding dress.
Whimsical Pink and Green Bridal Bouquet
Filled with greenery and hues of peach, this whimsical wedding bouquet is perfect for a breezy beach wedding. The Panda anemones and ivory roses add a delicate touch to the uniqueness of the thistles.
Modern Bridal Bouquet With Anemones and Yellow Astilbes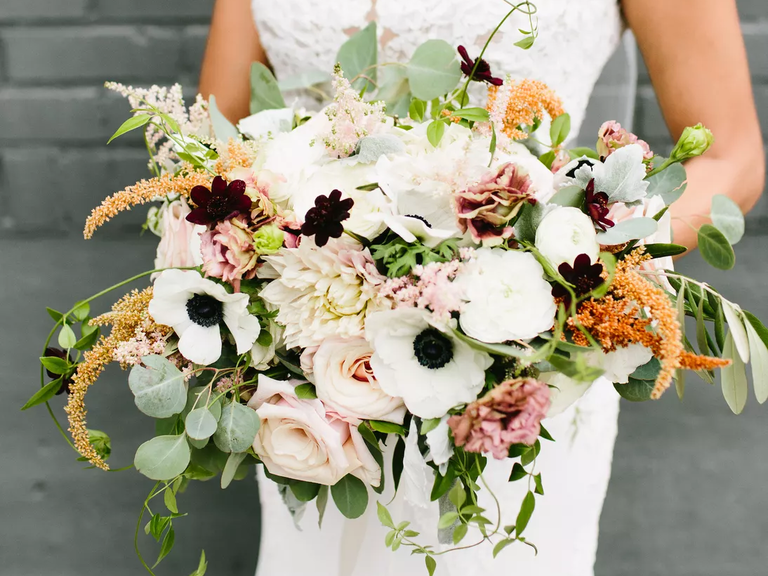 While the white and black anemones offer a contemporary edge to this wedding bouquet, the blush roses, yellow astilbes and overflowing greenery compliment them with a romantic and feminine touch. If you're looking for summer or fall wedding bouquet inspiration, look no further.
Red Anemones Pop in This Wedding Bouquet
Who said red and pink was limited to Valentine's Day? Red anemones are some of our favorite flowers to incorporate in a vibrant bouquet. The dark inner circle of the flower adds an edge that red roses or carnations lack. The combination of these red and pink flowers makes for a romantic bridal bouquet.
Green and White Anemone Bridal Bouquet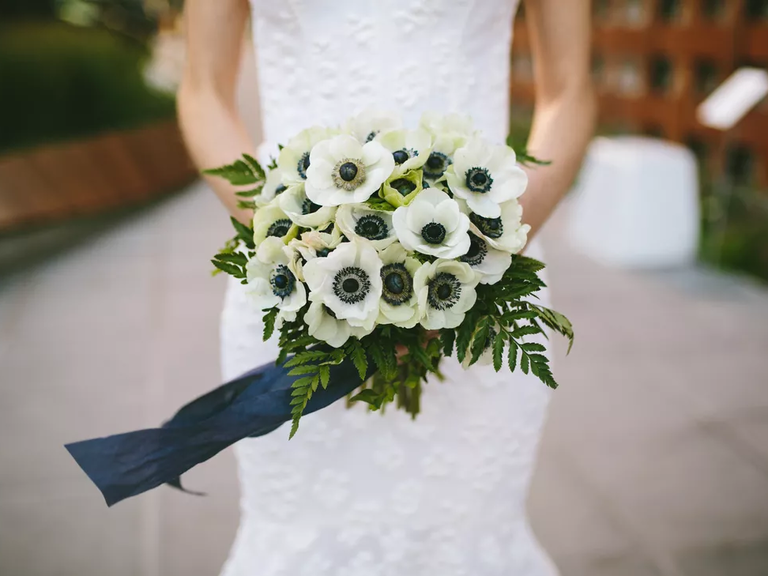 A bouquet complete with all white anemones? We're swooning. This classy combination of white and navy anemones and greenery looks uniform and perfect for an elegant bridal style.
Cascading Blush Bouquet With Anemones and Garden Roses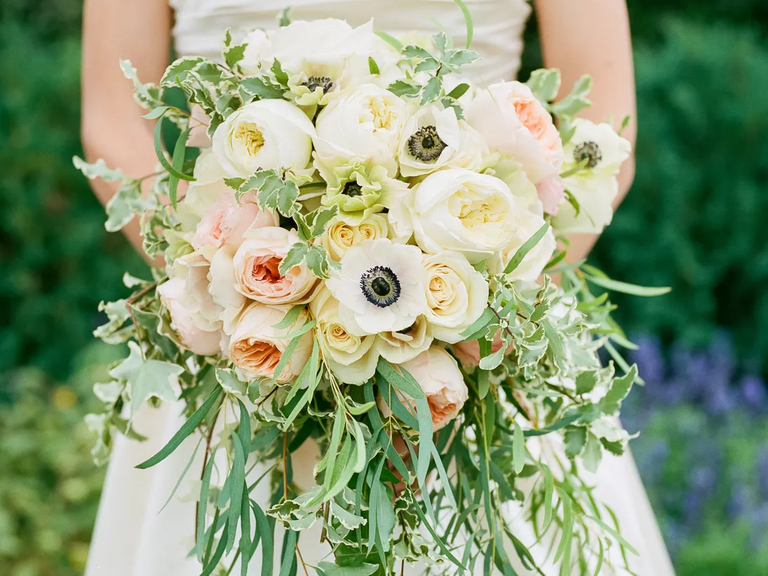 If there's one thing we love, it's a dramatic cascading bouquet. Here, the combination of peach and ivory garden roses are complemented by the dark inner of the Panda anemones. If you're planning a dreamy, feminine wedding, this cascading blush bouquet is the inspiration you need.
Lavender Anemones and Hypericum Berries Complete This Bridal Bouquet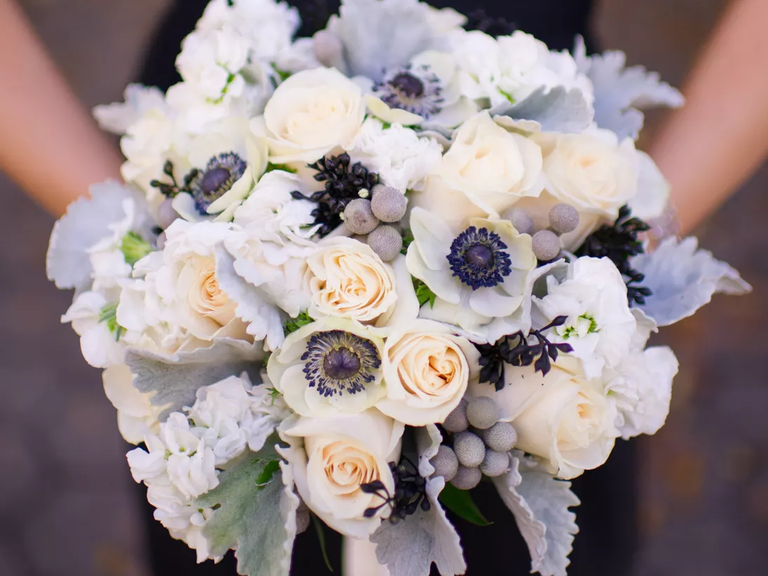 To calm the wedding day nerves, we've called upon this elegant lavender bouquet. Filled with white and lavender anemones, ivory roses and hypericum berries, this purple flower arrangement is simply perfect for a wedding in any season.
An Elegant Ivory Bridal Bouquet Complete with All White Anemones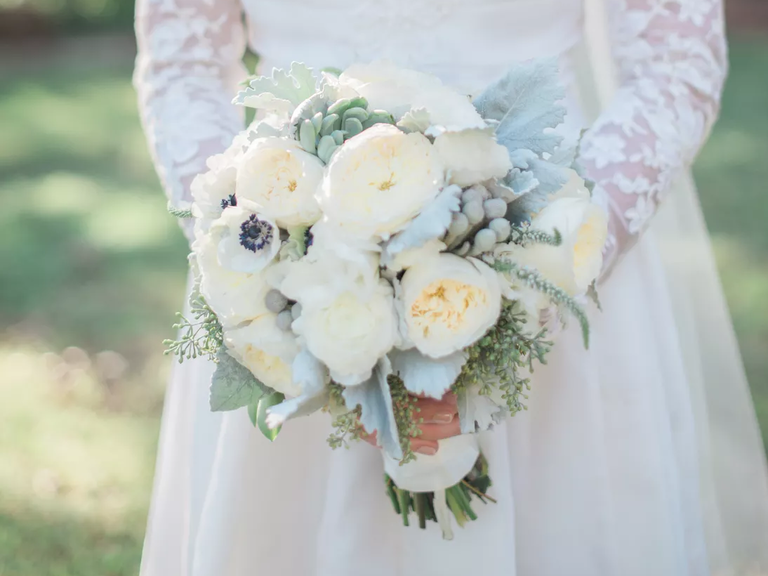 If you're looking to embrace the all-white bridal look, an ivory floral bouquet is an elegant way to do so. This bouquet is filled with ivory roses and Panda anemones and it's one we'll keep in our back pockets for years to come. The colors are timeless and compliment just about any wedding color palette.