20 Charming Mr. and Mr. Gifts for Your Favorite Grooms
Two grooms are better than one.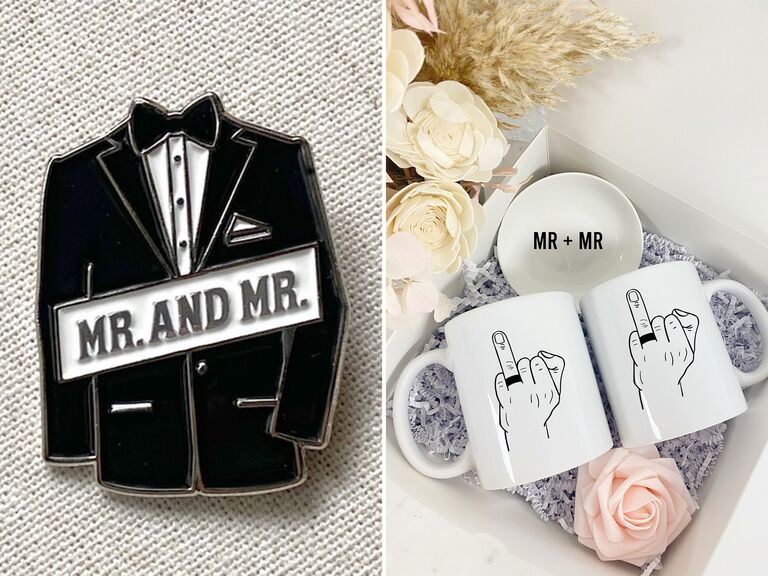 Photos, left to right: BigLeaguePins, HappilyChicDesigns
We have included third party products to help you navigate and enjoy life's biggest moments. Purchases made through links on this page may earn us a commission.
When it comes to celebrating a to-be-wed pair, there's no better way to memorialize their upcoming nuptials than with a personalized present. Make sure your favorite gents are feeling all the love during this season of life with Mr. and Mr. gifts that'll spoil them silly and celebrate their impending husband status. Whether you're shopping for Mr. and Mr. wedding gifts for a pair that loves to cook, a dapper duo who just got engaged or loved ones celebrating a milestone anniversary, our thoughtful ideas below are sure to elicit more than a few happy tears—and maybe even a seat at the VIP table on the big day or at their dinner table.
(Psst: Shop for all of your favorite couples with our Mrs. and Mrs. and Mr. and Mrs. gift guides.)
1. Custom Wine Bottle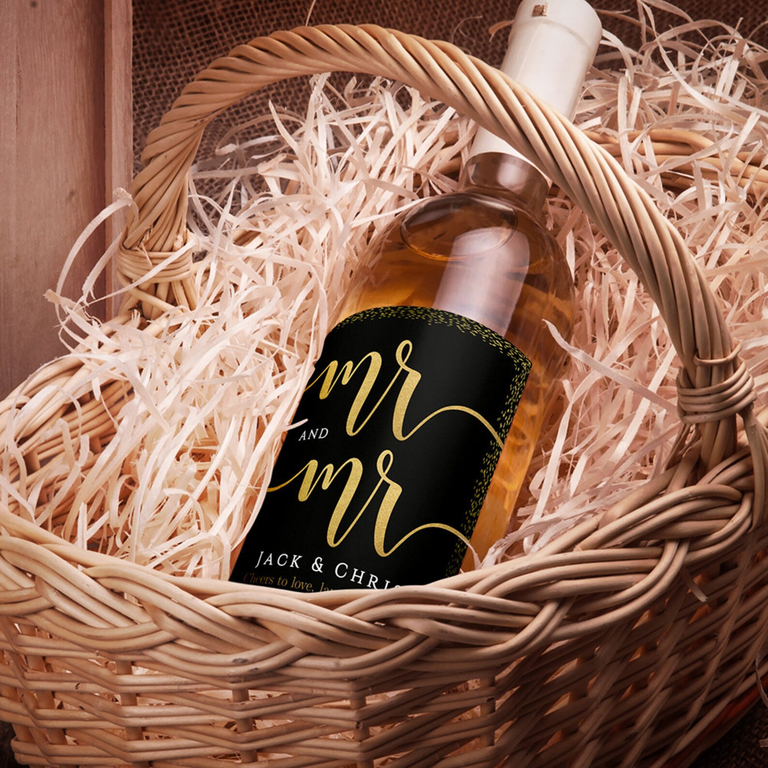 Nothing screams "celebration" quite like a great bottle of champagne (and an epic toast). Snag the grooms their go-to bubbly—or splurge on the really good stuff—then put on this glitzy custom label as the perfect finishing touch. There's even a spot at the bottom to add a personalized sentiment, like your request that they let it age until year 10 (if they can wait that long).
2. Enamel Pin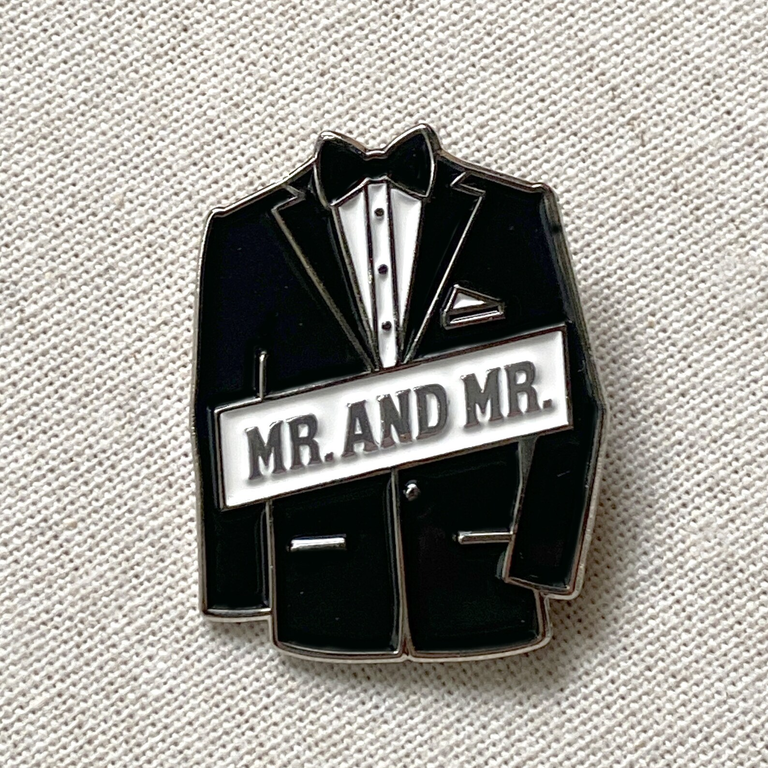 If your newly promised pals have a flair for fashion, they'll love to receive these cheeky enamel pins as Mr. and Mr. engagement gifts. Handmade and featuring the likeness of a suit and bowtie, they'll be the perfect upgrade to their favorite everyday totes or the custom jean jackets they plan to rock at the rehearsal dinner. Grab the set of two.
3. Cozy Cotton Throw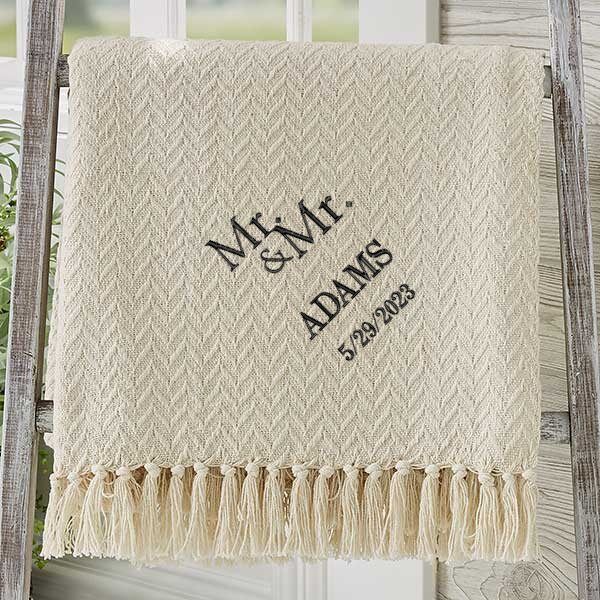 Encourage a little R&R—or at least a few cuddles—while they pour over their wedding Pinterest board with this customized cotton throw. The warm cream color and subtle chevron pattern will coordinate with whatever decor scheme they have going on at home and the personalization can be realized in 30 beautiful thread hues. The text features their new shared last name, Mr. and Mr. titles and wedding date.
4. Embroidered Socks
Save the grooms from a bout of cold feet with two pairs of hand-stitched cashmere socks from NYC-based brand Lingua Franca. Choose from a trio of colors and nearly endless embroidery threads for matching Mr. and Mr. gifts that will complement their personal style perfectly. Gift them ahead of the big day so they can rock them down the aisle—we'll bet they won't be able to resist flashing their photographer a bit of ankle.
5. Enamel Camping Mugs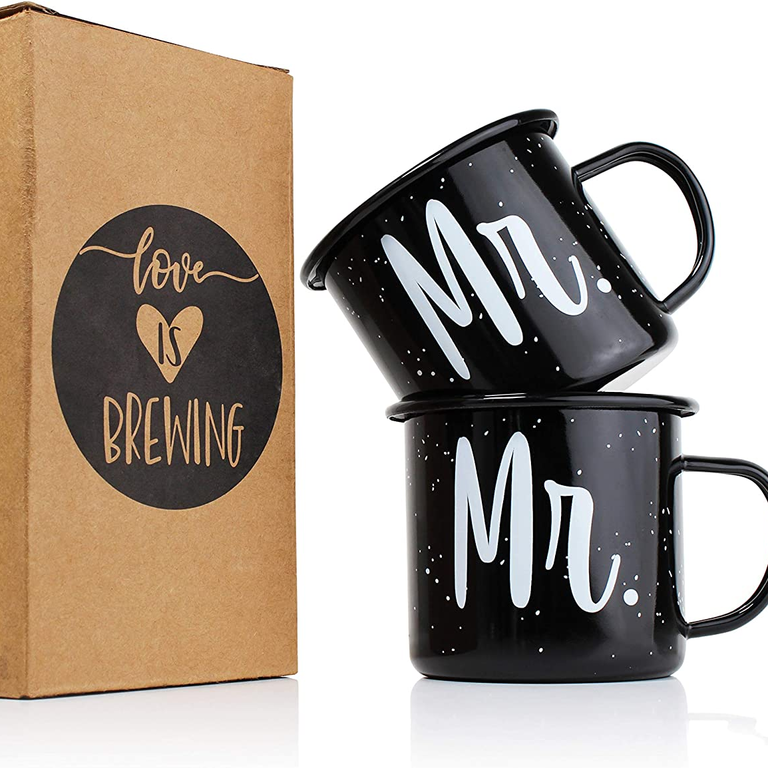 Whether your favorite guys set up camp on the regular or consider their balcony the great outdoors, they'll love breaking out these Mr. and Mr. wedding gifts the next time they brew a fresh pot of coffee. Designed to resemble classic camp mugs, this pair of enamel-coated stainless steel cups are a durable and budget-friendly way to help them sip in style. They're one of our favorite Mr. and Mr. wedding gift ideas from Amazon.
6. Hand-Stamped Forks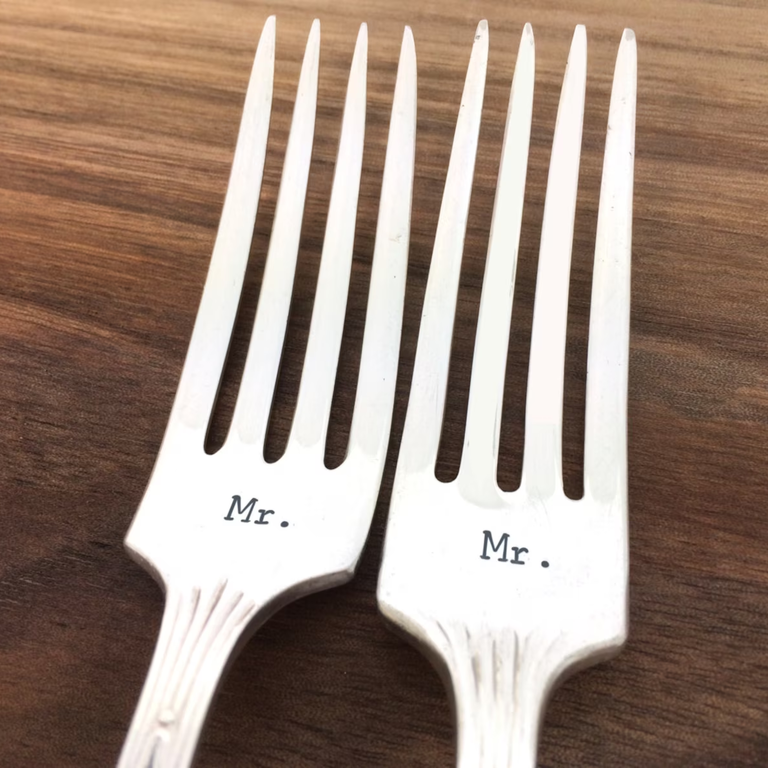 Nothing is sweeter than true love—except for dessert. Encourage the grooms to take a big bite out of marriage with these forks, which are vintage silver plate flatware pieces that are each hand-stamped with "Mr." They can use them for that ceremonial first taste of wedding "cake," whether that's a traditional tiered confection, a towering tiramisu or a collection of churros.
7. Cute Luggage Tags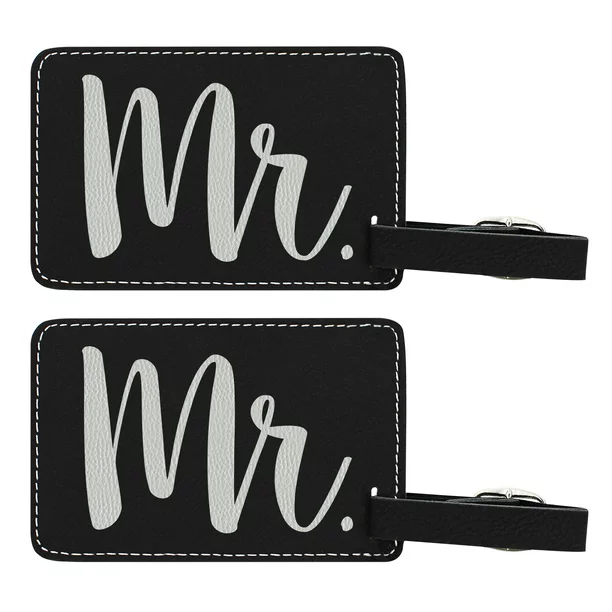 Send the newlyweds off in style with a Mr. and Mr. wedding gift idea themed towards their honeymoon. This charming pair of luggage tags will help them easily identify their gear at baggage claim and ensure their trip goes off without a hitch from the get-go. Want to really wow them? Team these tags with another gift to make their first trip as newlyweds special, like a gift certificate to a restaurant at their hotel.
8. Custom Watercolor Painting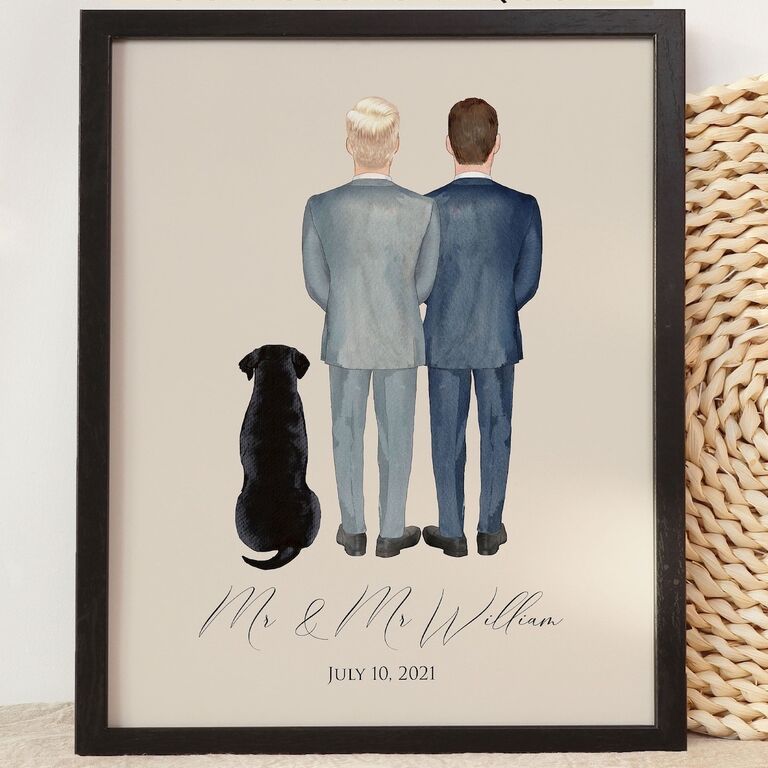 Help them pay tribute to the best day ever with a personalized watercolor painting of their likeness the moment they said, "we do." Pick from a selection of skin tones, clothing options and even hairstyles (man buns included!) to help the artist custom create a piece of heirloom-worthy artwork. Our favorite part? The special spot by their side that's reserved for a fur baby—even if they weren't able to make the big day. Note: Frames are not included.
9. Vintage-Inspired Pennant Flag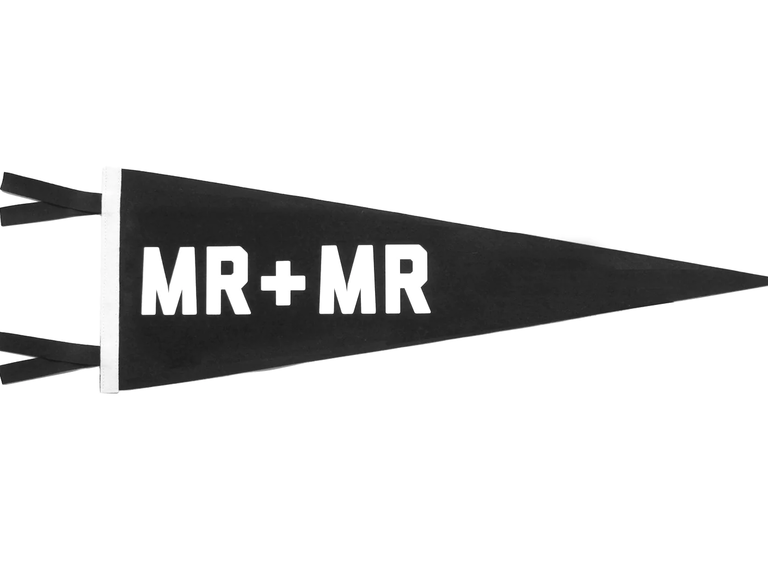 If your grooms are 1990s babies, chances are they have a pretty strong nostalgic streak. So they'll love this vintage-inspired pennant flag that reads: "Mr. and Mr." You can opt to gift it in a frame or leave it as-is, so they can easily tote it on their honeymoon and use it as a prop in all of the shots they snap while touring Tuscany or bar hopping in Lisbon.
10. Embroidered Bedding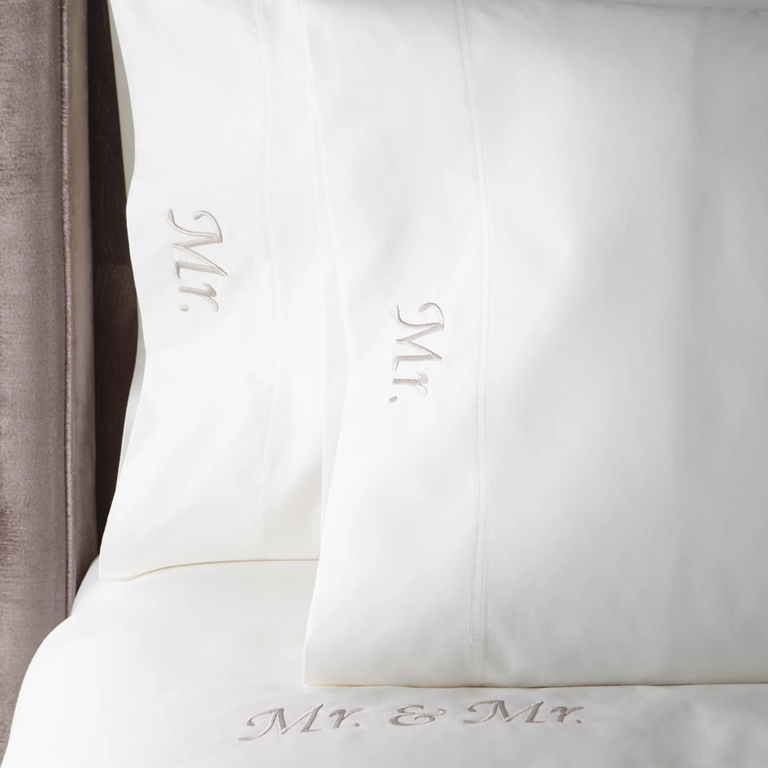 Bedding is a classic wedding gift, but this luxe set of sheets from The Pillow Bar certainly kicks things up a notch in the gifting department. Woven from 300-thread-count cotton sateen, they're smooth as butter, with a cooling effect that makes them perfect for summer use (or year-round, if they're warm sleepers). The best part? The top sheet and both pillowcases are stitched with a tonal "Mr. and Mr." monogram for a subtle, yet chic way to announce their new status.
11. Vibrant Neon Sign
Shopping for an engaged pair who are planning a funky and untraditional wedding? This neon sign is the perfect way to recognize their style game and give them a Mr. and Mr. wedding gift they can use on the big day. Made using cool-to-the-touch LED neon, this edgy sign comes in a wide selection of fonts and neon colors to cater to any celebration. They can hang it behind the bar or as a photo backdrop at their wedding, then reuse it as living room decor once their bash is over. Fun, right?
12. Personalized Card Box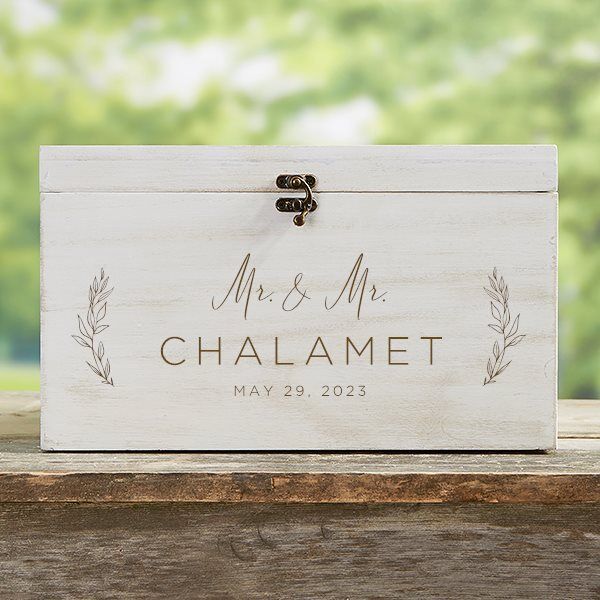 Ensure their wedding day cards—and all those checks!—stay safe and secure with this thoughtful Mr. and Mr. engagement gift from Personalization Mall. Made from rustic white-washed wood and decorated with elegant script, this customizable box features a small cutout in the lid where guests can slip in notes during the reception. Postwedding, the grooms can display it on a shelf and use it to house their favorite mementos from their wedding day, like their vows or even a copy of their invitation suite. Note: You'll have to add the Mr. and Mr. text yourself with the personalization feature.
13. Rustic Picture Frame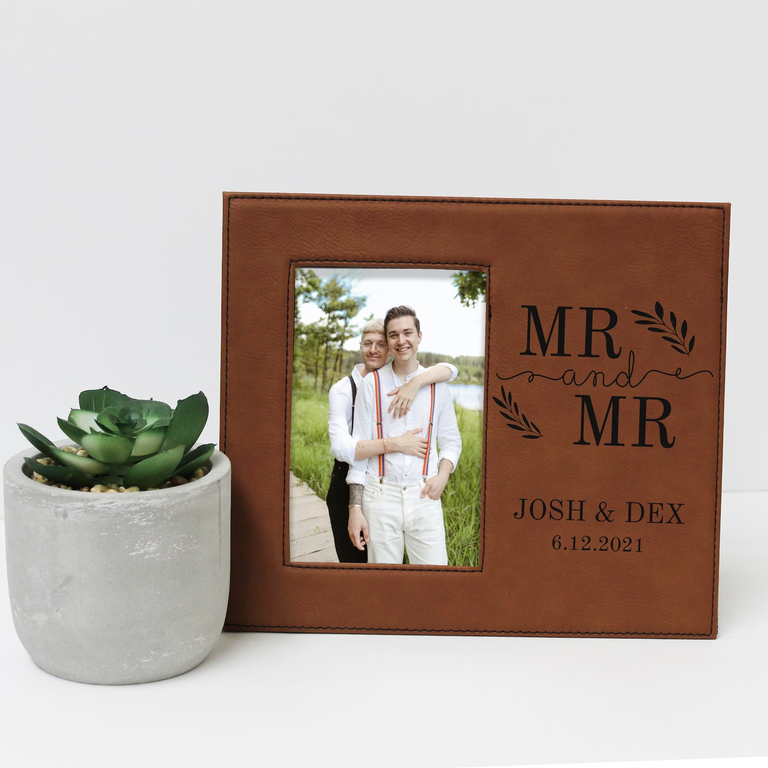 Our guess: Your favorite grooms are going to have a lot of pictures from the big day they'll want to display. Help them keep a favorite shot just a glance away with this vegan leather photo frame. It's sized to fit a 4 x 6 snap and is laser-engraved with their names and the date they pledged for life.
14. Ceramic Holiday Ornament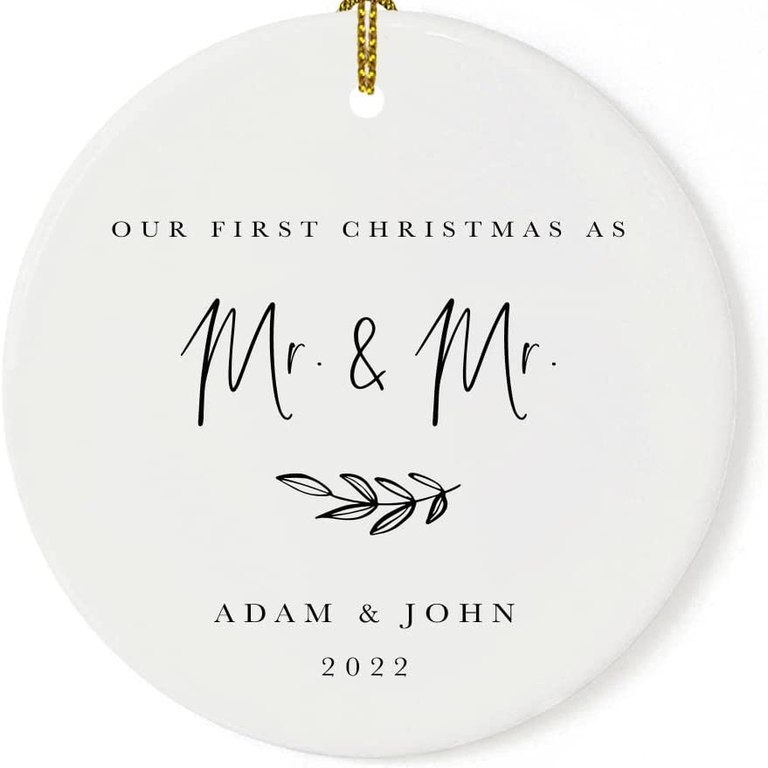 If you know a pair who swapped vows around the holiday season, this budget-friendly Mr. and Mr. wedding gift is the perfect sentimental stocking stuffer for them. Made from beautiful white ceramic porcelain and customized with their names and wedding year, it's an easy way to ensure they feel all the warm fuzzies each time they decorate their tree.
15. Mr. and Mr. T-Shirts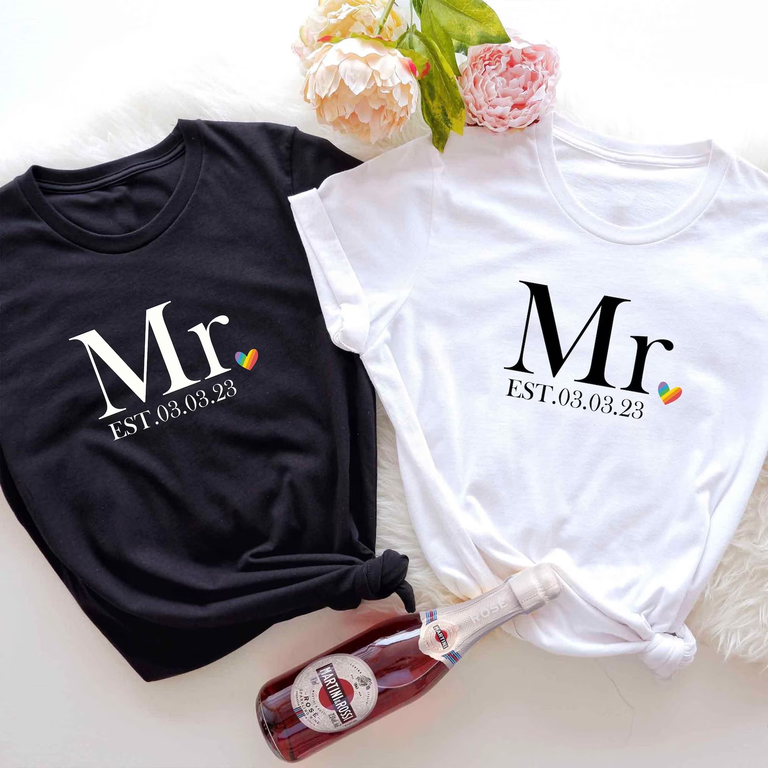 Encourage your pals to celebrate their love loud and proud with a pair of coordinating husband T-shirts they can wear while traveling on their honeymoon or hitting up their favorite flea market. Each shirt reads: "Mr." along with the date their marital status was cemented. Our favorite touch? A subtle rainbow nod to LGBTQ+ pride with a small heart graphic.
16. Elegant Cuff Links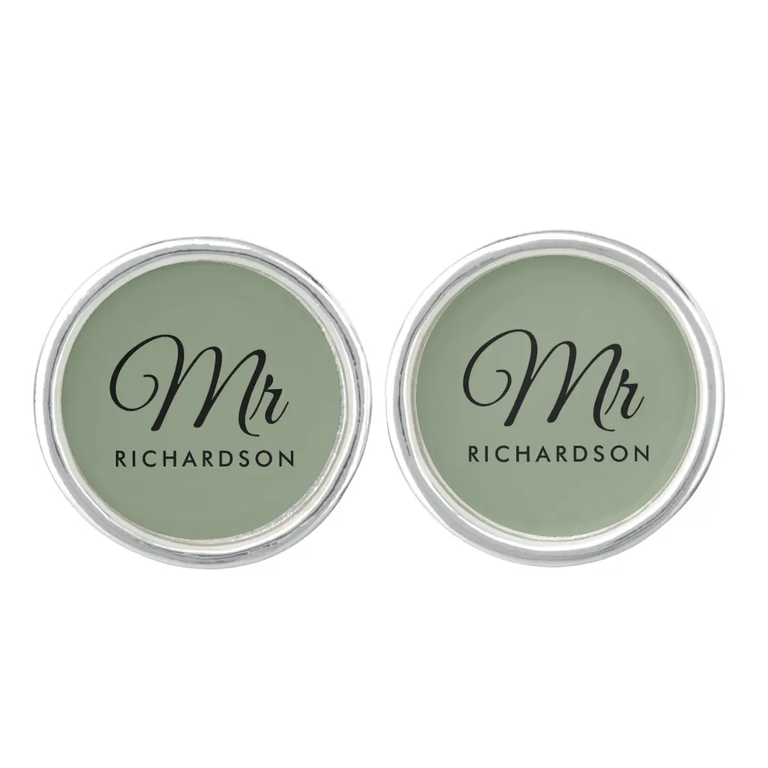 Help the grooms play the role of dapper husbands-to-be with a set of chic accessories that will instantly upgrade their wedding day attire. These timeless sage cufflinks are plated in shiny sterling silver and feature a bullet-back closure for secure wear. P.S.: This design also comes in a lapel pin if they're not rocking formal attire.
17. Wine Glasses To-Go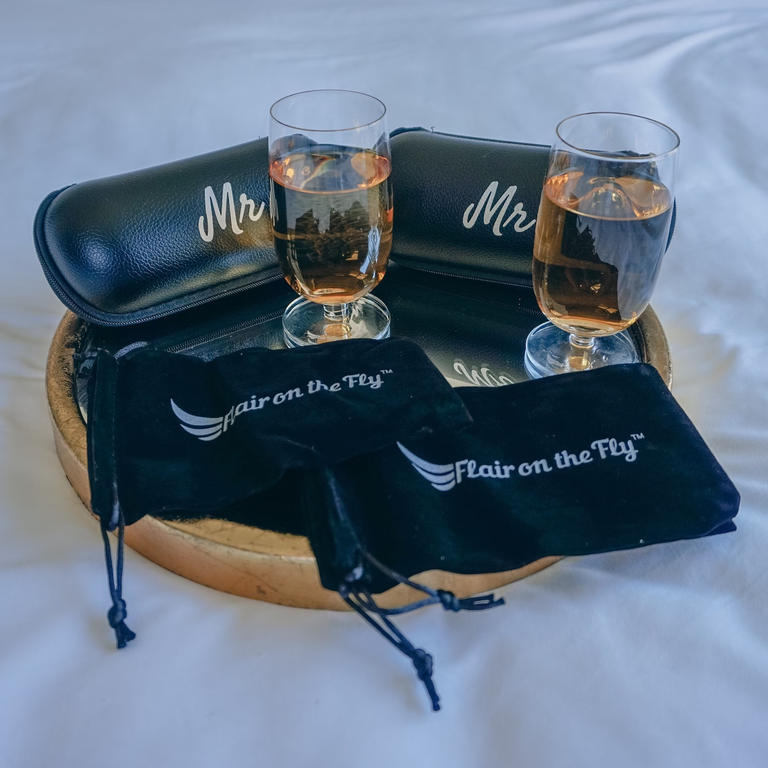 If your pals are known for their packed social calendar (or predilection for pinot in the park), they'll be thrilled to receive these travel-friendly crystal wine glasses. Packaged into two hard protective cases each emblazoned with "Mr." (and then again into a velvet drawstring bag), they're perfect for toting on a trip to the beach, boating or anywhere else they may be tempted to indulge. Cheers to you, the best gift-giver out there.
18. Whimsical Throw Pillow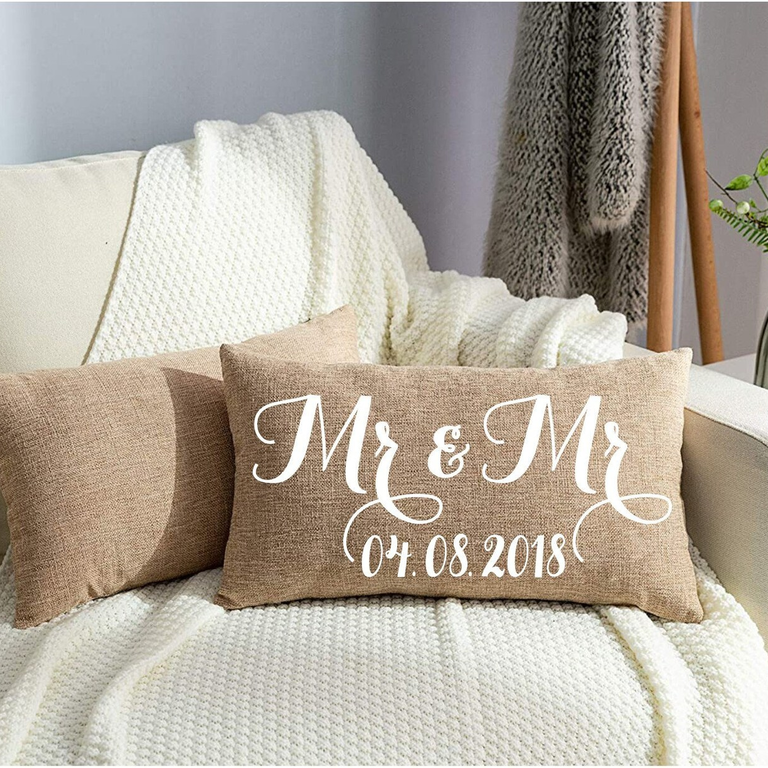 Cozying up on the couch with each other is already fun for your favorite couple, but a cute throw pillow celebrating their status as husbands is sure to make it even more special. Made with a rustic burlap cover, the pillow comes with either black or white text to suit their decor style. Plus, it'll give their couch a nice spruce for when company comes.
19. Natural Soy Candle
If you're looking for a way to treat your newly engaged pals, while still keeping enough of your gifting budget intact to blow it out for their bachelor party or shower, look no further than this sweet soy candle from Etsy. Choose from dozens of delicious scents (think: Sweet Pea, Rose Oud, Lavender Vanilla and more) as well as three different sizes for ultimate customization. Who knows—it may just become their home's signature scent.
20. Playful Mug Set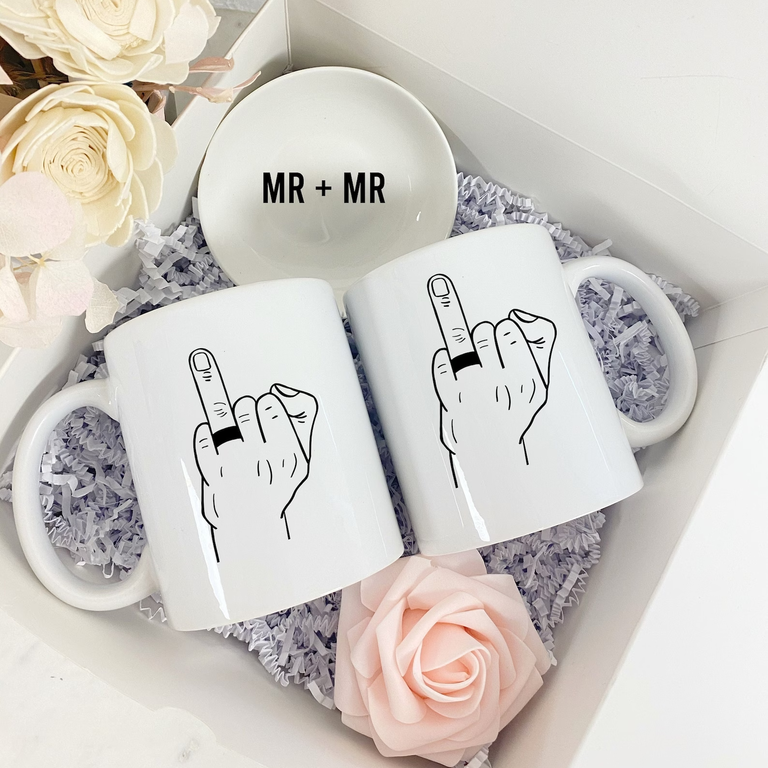 He put a ring on it—and so did he! Nothing cements their status as newlyweds quite like a pair of matching mugs to sip their morning brew from. This playful design boasts just the right amount of tongue-in-cheek personality, with two fingers proudly raised in honor of lifelong commitment. Bonus: This duo also comes with an extra Mr. and Mr. gift: a ring dish, which they can keep next to their sink for whoever is on dish duty.