20 Mrs. and Mrs. Gifts To Celebrate Their Marital Status
Here come the brides!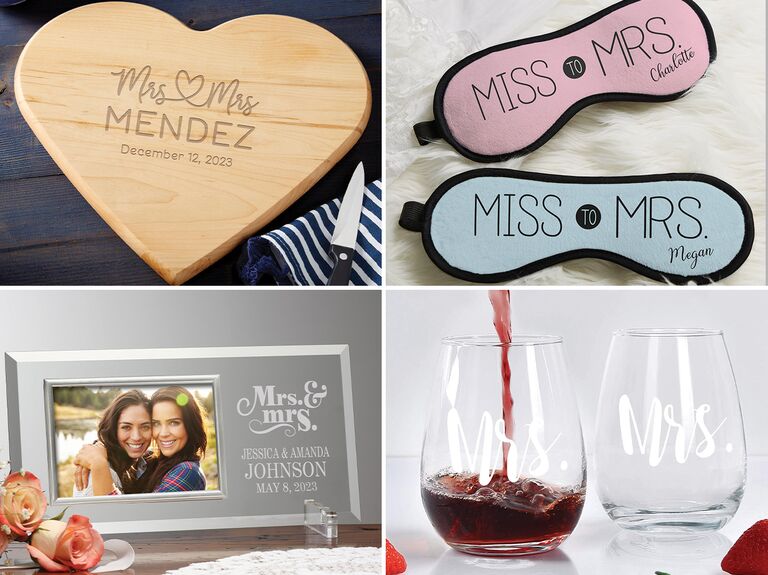 We have included third party products to help you navigate and enjoy life's biggest moments. Purchases made through links on this page may earn us a commission.
They're going from Miss to Mrs.! What better way to celebrate the happy couple than with presents that feature their new prefixes? Whether you're shopping for Mrs. and Mrs. wedding gifts or for a little something to hand over for an engagement, bridal shower or anniversary, these presents will be opened and shown off with excitement. From hers and hers robes and towels, to cute "wifey" swag, to unique wedding artwork, we've got a Mrs. and Mrs. gift idea on our list that you and the couple will love now and long after the wedding day.
(Psst: Shop for all of your favorite couples with our Mr. and Mrs. and Mr. and Mr. gift guides.)
1. Mrs. and Mrs. Ring Finger Mugs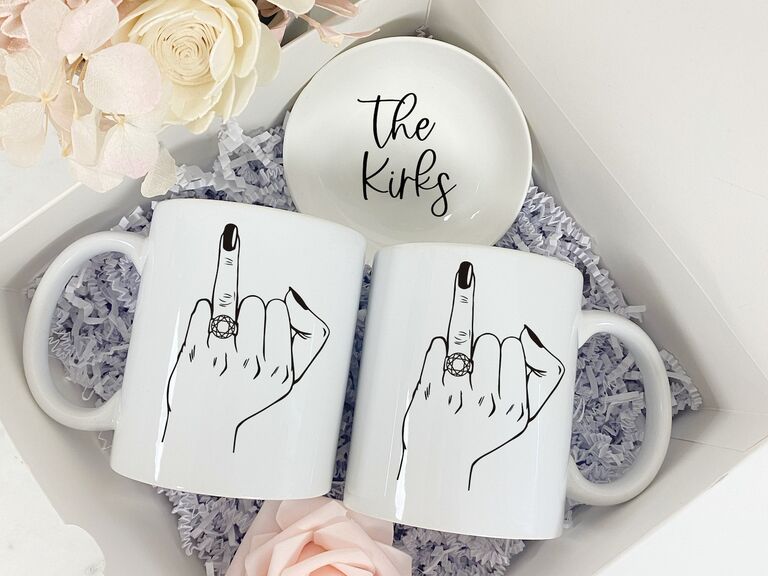 Rise and shine—it's time to plan a wedding. If your favorite duo just got engaged, these mugs are the perfect Mrs. and Mrs. gifts to celebrate their fiancé status. They feature two hands holding up their ring fingers—both flaunting a diamond. The set even comes with a faux rose and a small ring dish that can be customized with any text.
2. Customized Mrs. and Mrs. Picture Frame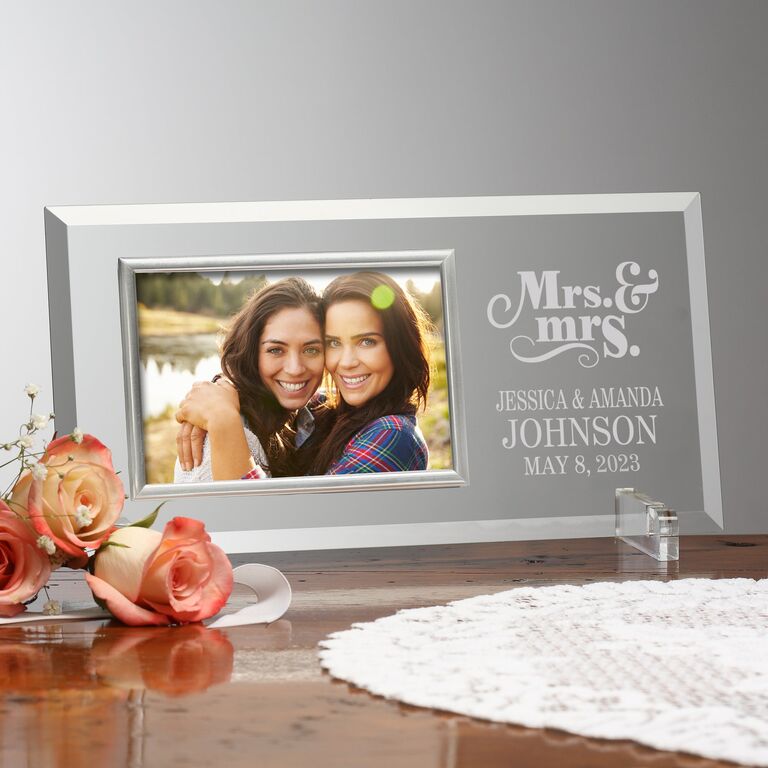 Help the happy couple show off the moment they said "yes" or "I do" with an elegant picture frame. This frame is crafted from heavy-weight glass and has beveled edges accented with silver trim. It's also laser-engraved with their new prefixes, "Mrs. & Mrs.," followed by their first names, last name and wedding date.
3. Personalized Bridal Robes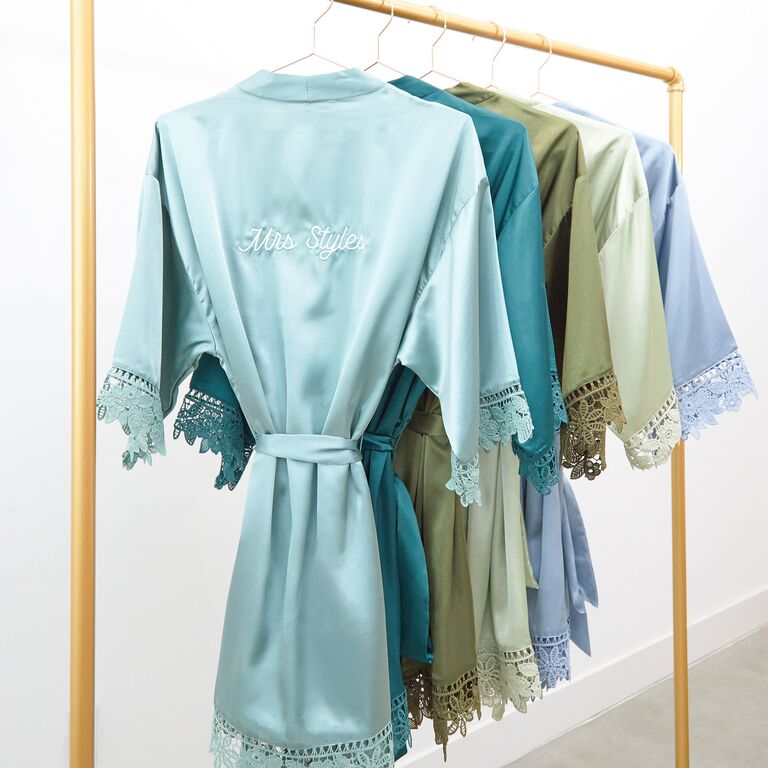 With 17 satin colors, 11 thread colors and five different fonts, Birdy Grey's lace-trimmed robes are a unique gift for the brides-to-be. They could each get white or you can pick their respective favorite colors and then have the back personalized with "Mrs." followed by their first name or soon-to-be-shared last name (if they plan on changing it). You could even have each say "bride"—the customization options are practically endless. They'll cozy up in these long after the wedding day.
4. Miss to Mrs. Sleep Masks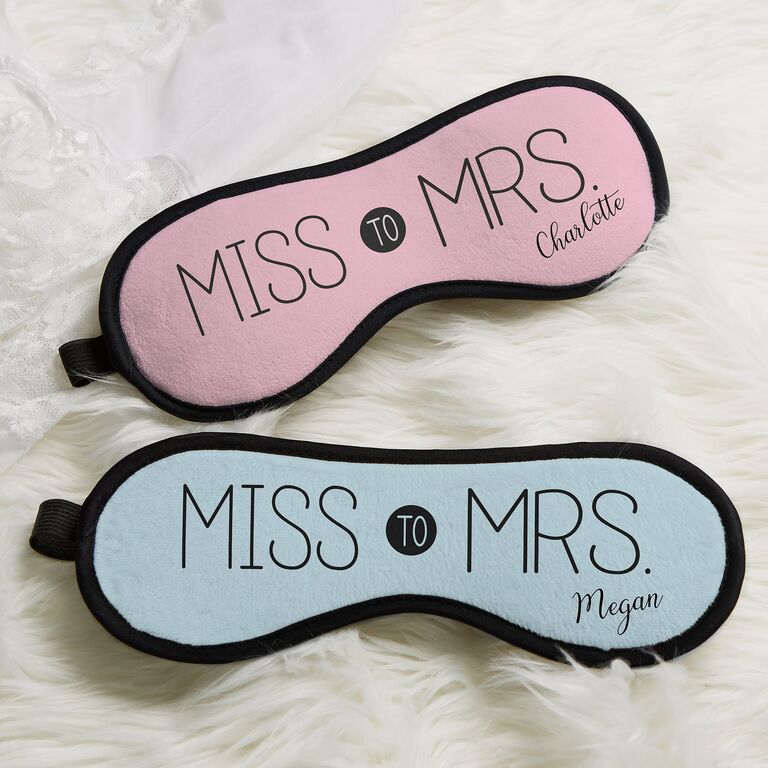 Make sure the guests of honor get their beauty sleep before the big day with these eye masks. They come in three different colors—pink, purple or blue—and say "Miss to Mrs." followed by each fiancé's first name. Sweet dreams!
5. Custom Mrs. and Mrs. Wine Label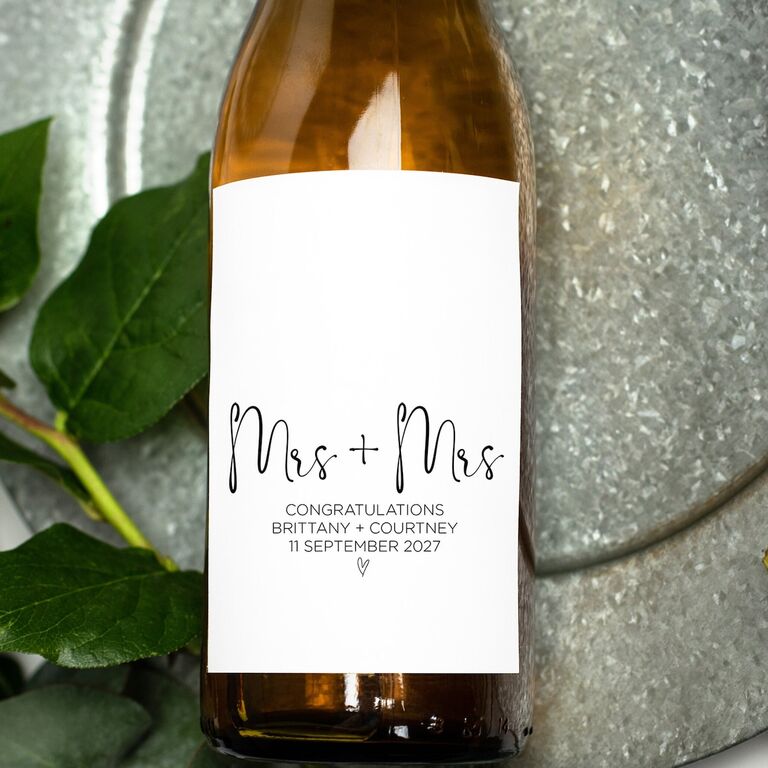 Champagne always makes a good gift, but you can make it a great Mrs. and Mrs. gift with this custom wine label. The simple, yet cute sticker says "Mrs. + Mrs." in a cursive font with "congratulations" followed by their names and wedding date underneath in a sans serif font. They'll want to keep the bottle even once all the bubbly is gone.
6. Mrs. and Mrs. Stemless Wine Glasses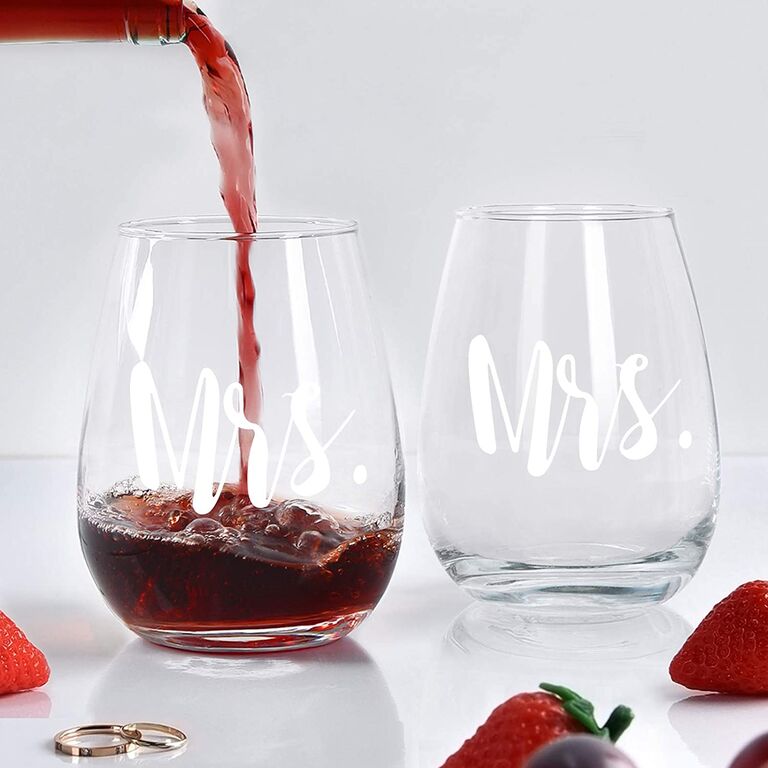 Here's a DIY Mrs. and Mrs. wedding gift set idea. Pair a nice bottle of wine (with a custom label, of course) with this set of two stemless wine glasses. Each glass is printed with "Mrs." in long-lasting ceramic ink to celebrate their marriage. Bonus: They're dishwasher safe.
7. Wedding Pebble Portrait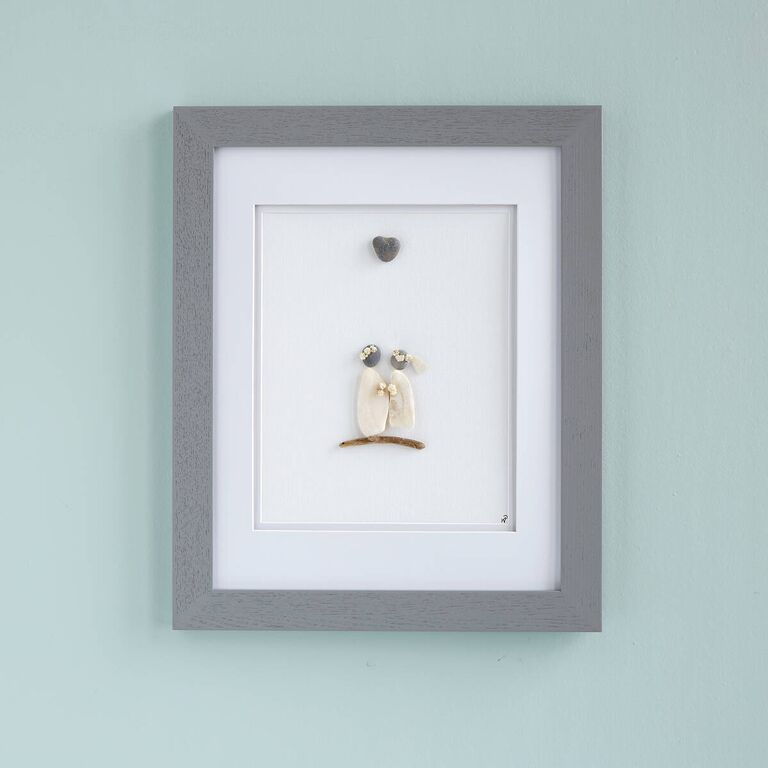 As far as unique Mrs. and Mrs. wedding or anniversary gifts go, this one makes the top of the list. The framed artwork uses seashells, pebbles, pieces of wood and flowers to depict two brides standing together underneath a heart. Talk about sweet home decor for their newlywed nest.
8. Mrs. and Mrs. Cotton Towel Set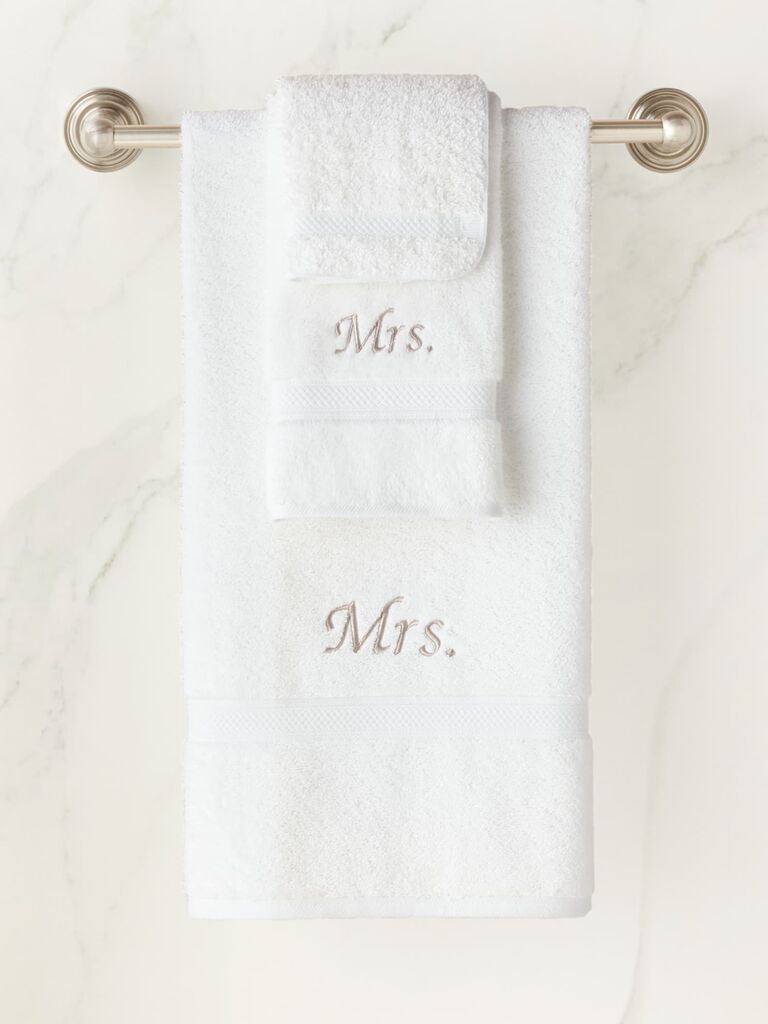 These cotton towels are oh-so-plush! The gift comes with two large bath towels, two hand towels and two washcloths, so each spouse gets their own set. Better still, the bath towels and hand towels are embroidered with "Mrs."
9. "I'm Hers" Can Koozie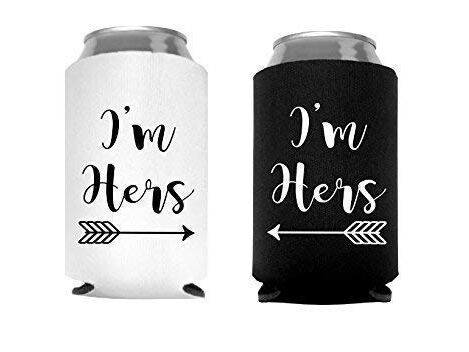 Here's an inexpensive Mrs. and Mrs. engagement gift for the soon-to-be Mrs. and Mrs. These drink sleeves come in white and black and each is printed to say "I'm hers" with an arrow. They can use them on the joint bach trip, at their backyard bridal shower or really anytime they're drinking a cool beverage outside.
10. Mrs. and Mrs. Heart-Shaped Cutting Board
This one is for the hostesses! The heart-shaped cutting board is crafted from maple wood and carved with "Mrs. and Mrs." joined by a heart. You can personalize it with their shared last name and wedding date.
11. Mrs. and Mrs. Doormat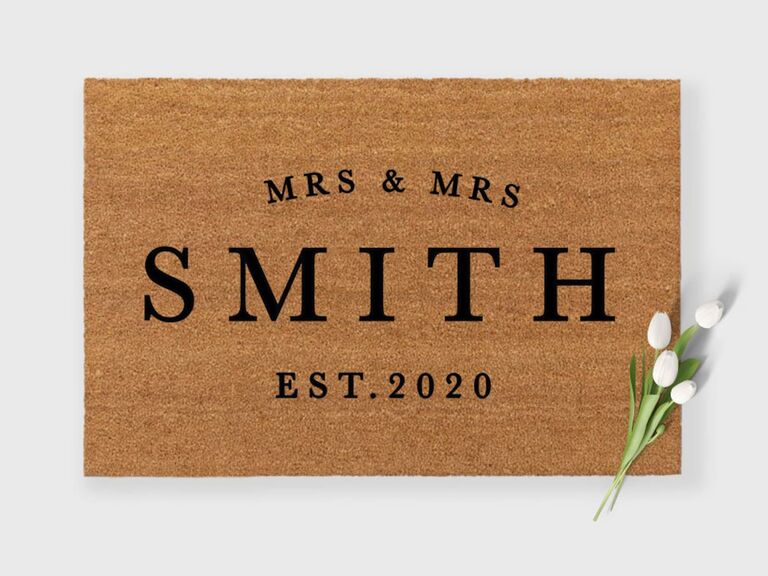 Are they moving into a new place together after the wedding? Decorate their front door with a personalized doormat. It's made from natural coir fibers and has an all-weather vinyl backing.
12. Mrs. and Mrs. Sheet Set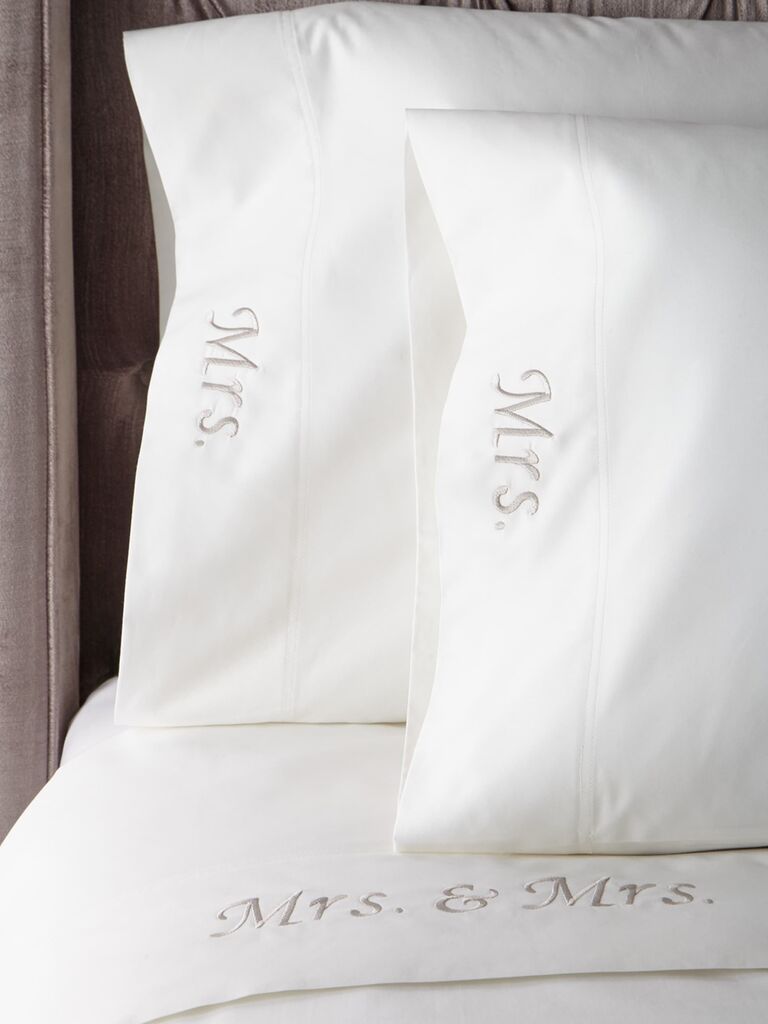 The lovebirds have definitely registered for a sheet set, but we bet they didn't think to choose one embroidered with their prefixes. This four-piece set—with one fitted sheet, one top sheet and two pillowcases—is made of luxuriously soft, 300-thread count cotton sateen fabric in white and has "Mrs." embroidered in a platinum-hued thread on each pillowcase as well as "Mrs. & Mrs." sewed into the top sheet. Too precious!
13. Mrs. and Mrs. Whiskey Gift Box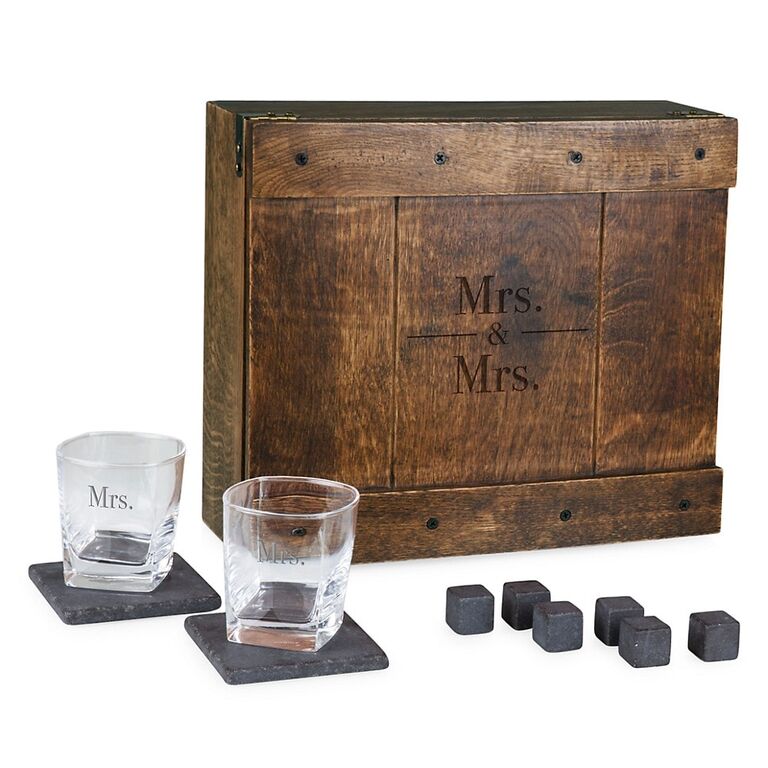 Are the brides-to-be hosting a stock-the-bar party instead of a traditional wedding shower? This whiskey set is just the gift to show up with. The solid oak chest—which is engraved with their new prefixes: "Mrs. & Mrs."—is filled with two lowball glasses, six whiskey stones and two soapstone coasters, so they can drink their liquor in style. Trust us, this is an heirloom-worthy wedding gift for the Mrs. and Mrs.
14. Mrs. Pendant Necklace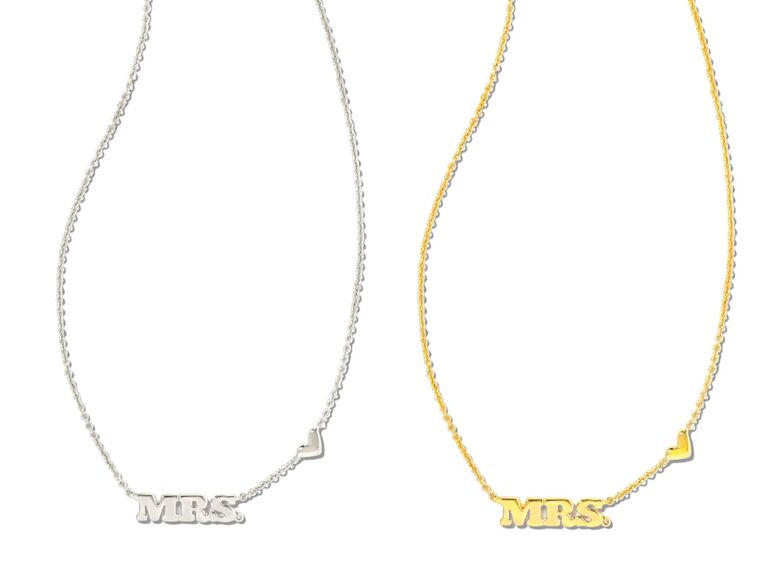 This Mrs. and Mrs. wedding gift idea will be cherished by the couple long after the big day. The "Mrs." pendant necklace with a heart charm comes in 14K gold-plated and rhodium-plated brass, so they each can have a unique bauble to flaunt their married status. It's also a great anniversary gift for the couple to give each other.
15. Wife and Wifey T-Shirts
Whether you need a bachelorette party gift for the brides or you want to help them show off their newlywed status on their way to the honeymoon, these matching T-shirts are a cute hers and hers gift. They come in 10 colors and say "wife" on one and "wifey" on the other with their established date underneath. They're so cute they'll probably wear them for years after the big day.
16. Mrs. and Mrs. Wedding Countdown Blocks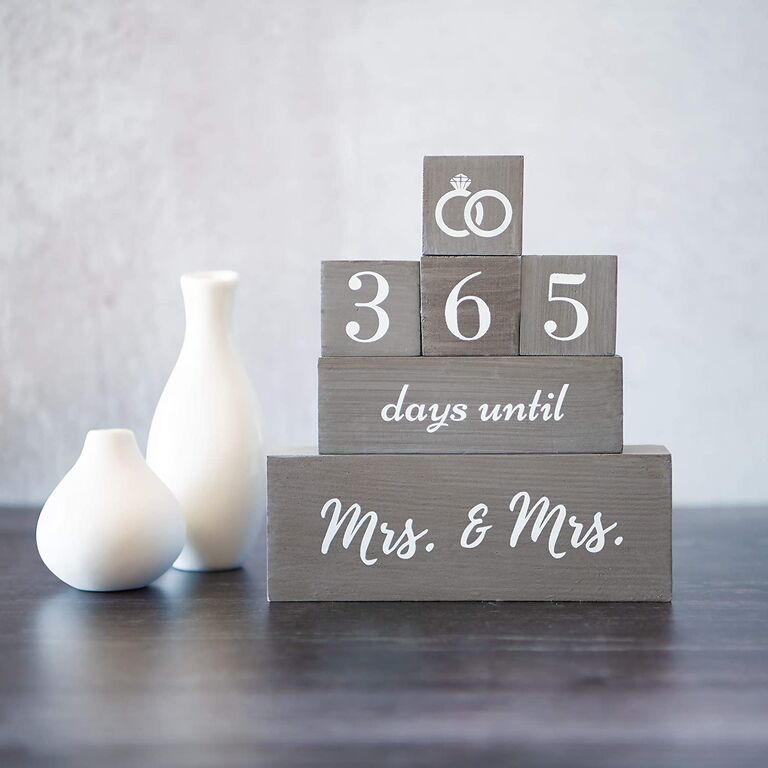 Let the countdown begin! This Mrs. and Mrs. engagement or bridal shower gift will earn a place of prominence in the couple's home before the wedding. The gray-stained wooden blocks are a beautiful visual reminder that lets them see exactly how many months or days are left until they say "I do." And they're double-sided, too, so once they get married they can use them to countdown to their wedding anniversary each year.
17. Engraved Champagne Flutes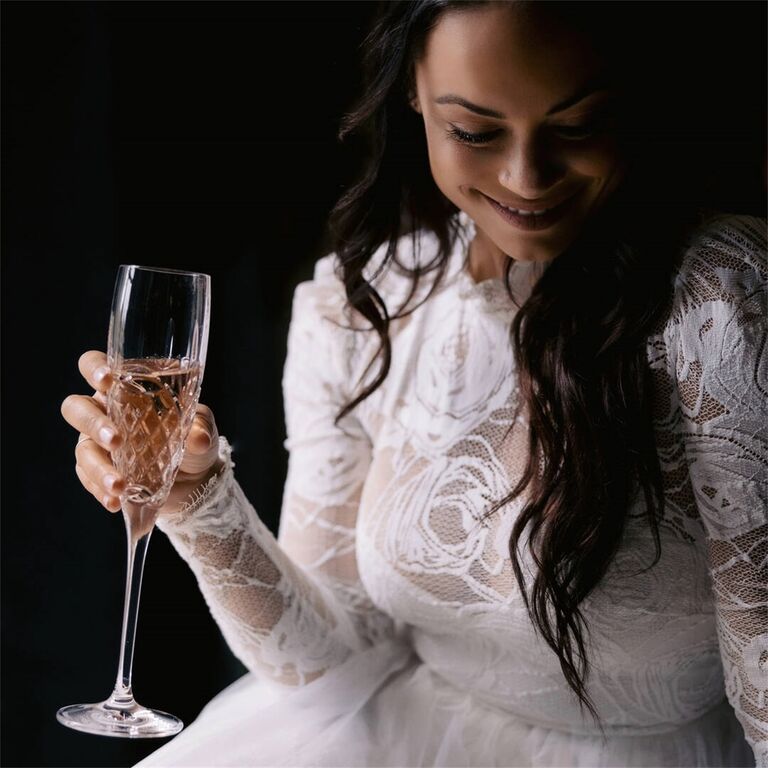 Wedding crystal will always be a great gift for the happy couple. Surprise the soonlyweds with a set of champagne flutes from Waterford. These are fittingly called "Love Forever" and are intricately adorned with an eternal flame detail to commemorate two hearts becoming one. Custom engrave them with a "Mrs. & Mrs." logo for the perfect hers and hers gift.
18. First Dance Wedding Plate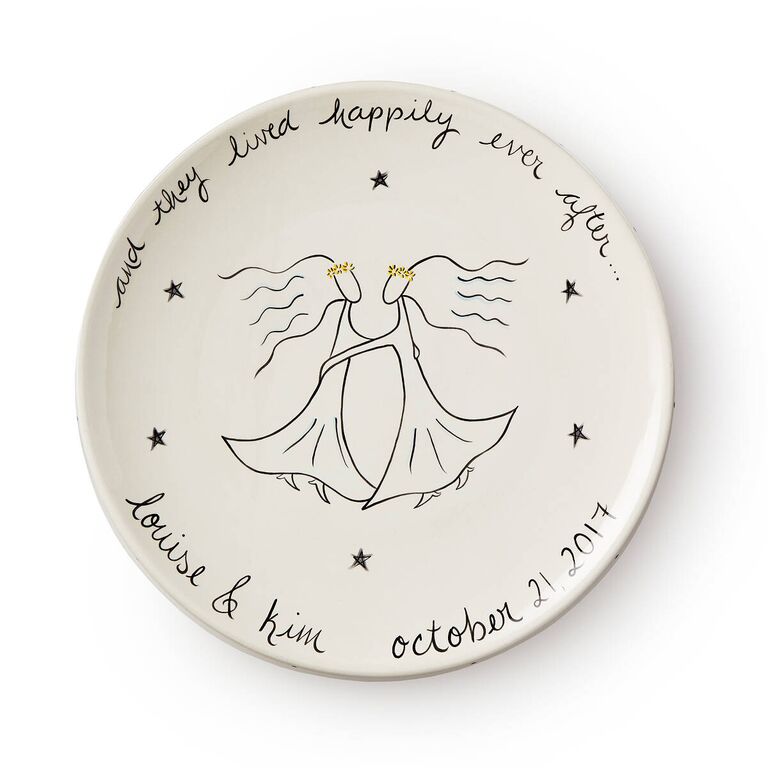 Technically, this is a serving platter, but we doubt the Mrs. and Mrs. will want to use it for anything but meaningful home decor. The hand-painted stoneware shows two brides dancing below the phrase "and they lived happily ever after." It's also personalized with their names and wedding date.
19. "Our Life as Mrs. & Mrs." Photo Album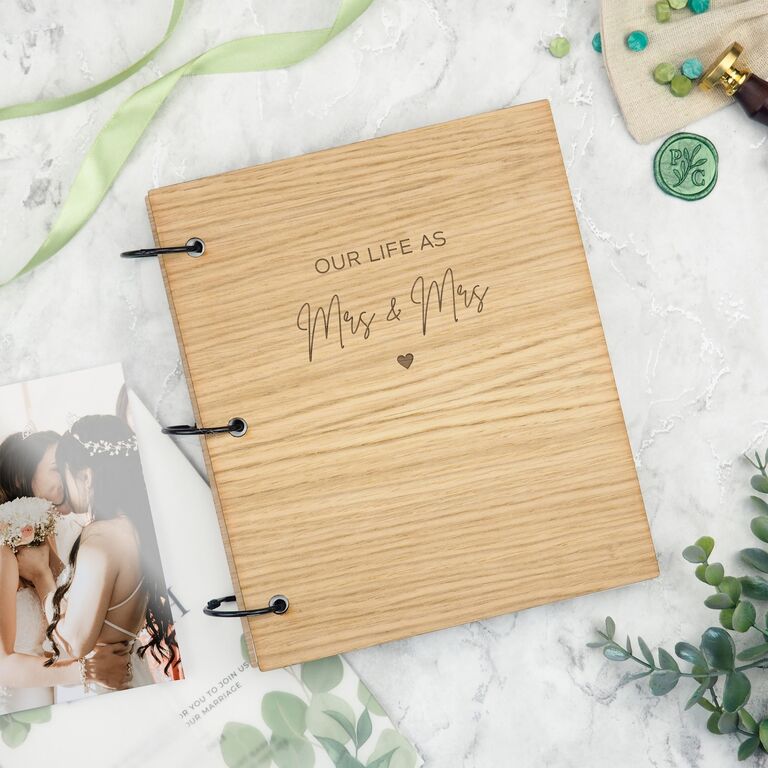 We love the idea of a photo album as a Mrs. and Mrs. anniversary gift—and, fittingly so, the first wedding anniversary material theme is paper, making this a doubly great present for that occasion. The wooden cover can be made of oak or walnut wood and is carved with the title, "Our life as Mrs. & Mrs." You can then choose to fill the binder with 25 or 50 pages. We're sure they'll have lots of memories to put in it right away.
20. Mrs. and Mrs. Ornament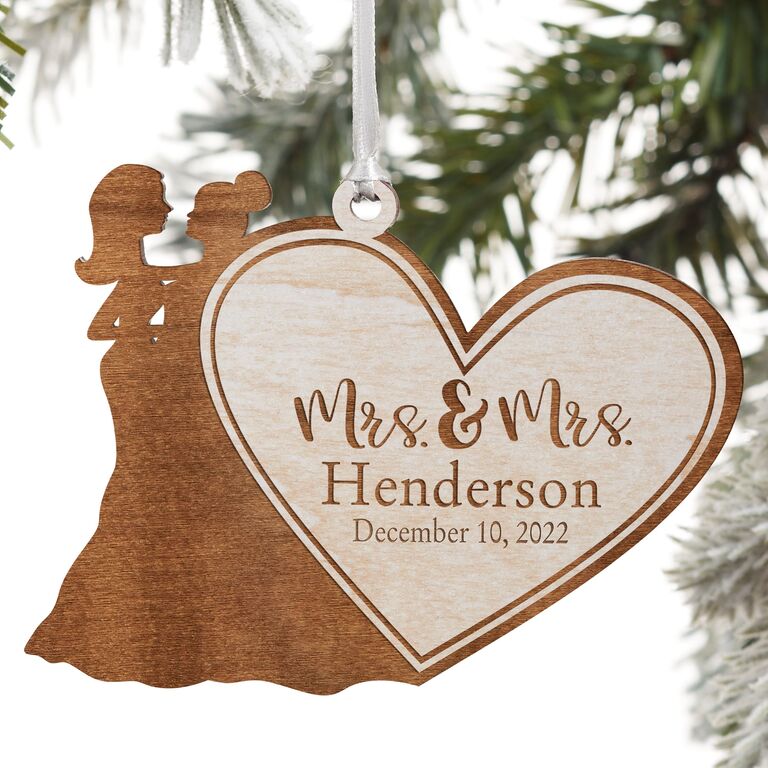 Whether you're shopping for a winter wedding gift or a holiday present for newlyweds, we love this small, yet sentimental, Mrs. and Mrs. gift idea. The wooden ornament is intricately carved to show two brides dancing next to a heart that's personalized with their names and the date of their nuptials. Note: It includes a hanging ribbon that will need to be looped through the ornament before handing it over.