20 Unique Mr. and Mrs. Gifts for Soon-to-Be or Newly Married Couples
These cute gifts are perfect for him and her.
We have included third party products to help you navigate and enjoy life's biggest moments. Purchases made through links on this page may earn us a commission.
Finding a gift for newly engaged or married couples is tricky. You want to find something they'll both like and don't have yet—which can be especially challenging if you're not close to the pair or their registry is nearly sold out. Enter this foolproof idea: Mr. and Mrs. gifts. Whether you're shopping for an engagement party, a couple's shower, their wedding present or even their first holiday together as husband and wife, his and hers gifts are sure to make them smile. After all, they likely already want to shout their new status from the rooftops. There are lots of cute Mr. and Mrs. gifts to choose from that'll help them celebrate their fiancé-dom during wedding planning and their husband and wife titles on the honeymoon—we're talking wedding champagne flutes, matching swag, chic luggage tags and more. Keep reading to shop all the best Mr. and Mrs. gift ideas.
(Psst: Shop for all of your favorite couples with our Mrs. and Mrs. and Mr. and Mr. gift guides.)
1. Mr. and Mrs. Champagne Flutes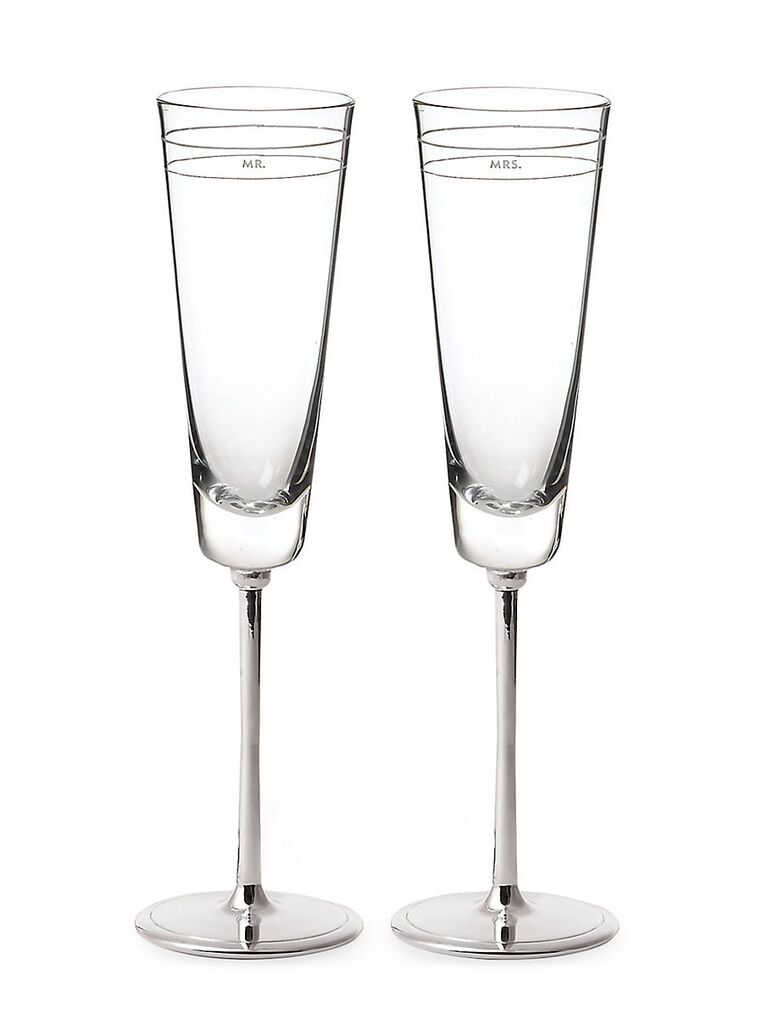 From the engagement party to the reception, every wedding-related event will call for a champagne toast. Make sure the couple has special wedding champagne flutes to raise with these beautiful glasses from Kate Spade. The pair has metallic stems and glass bowls that are subtly engraved with "Mr." on one and "Mrs." on the other.
2. Mr. and Mrs. Jewelry Dish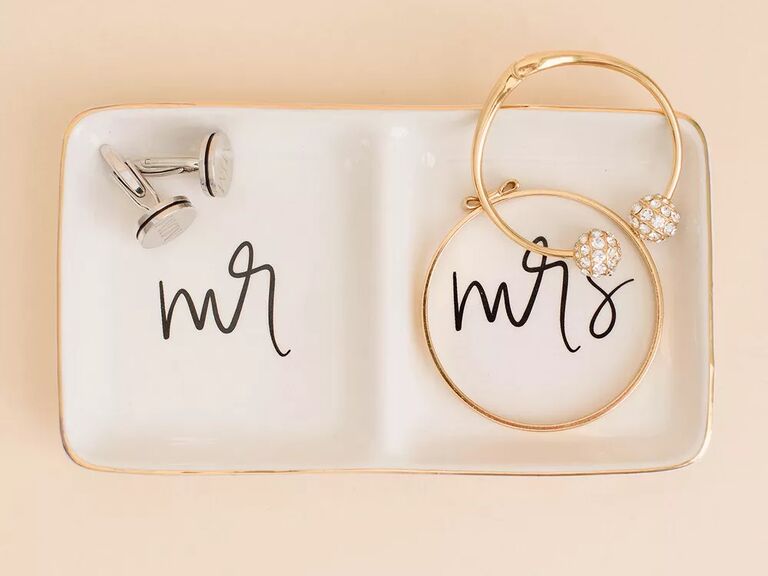 They'll each need a special place to store their wedding bands, so why not give them one to share? This ceramic jewelry dish has two shallow bowls—one painted with the prefix "Mr." and the other "Mrs." They can put it on their shared dresser or bathroom vanity, so it's near whenever they may be taking off their rings. Best of all, it's an affordable Mr. and Mrs. gift, so you could also get the pair a jewelry cleaning set to keep their baubles shiny.
3. His and Her Vow Books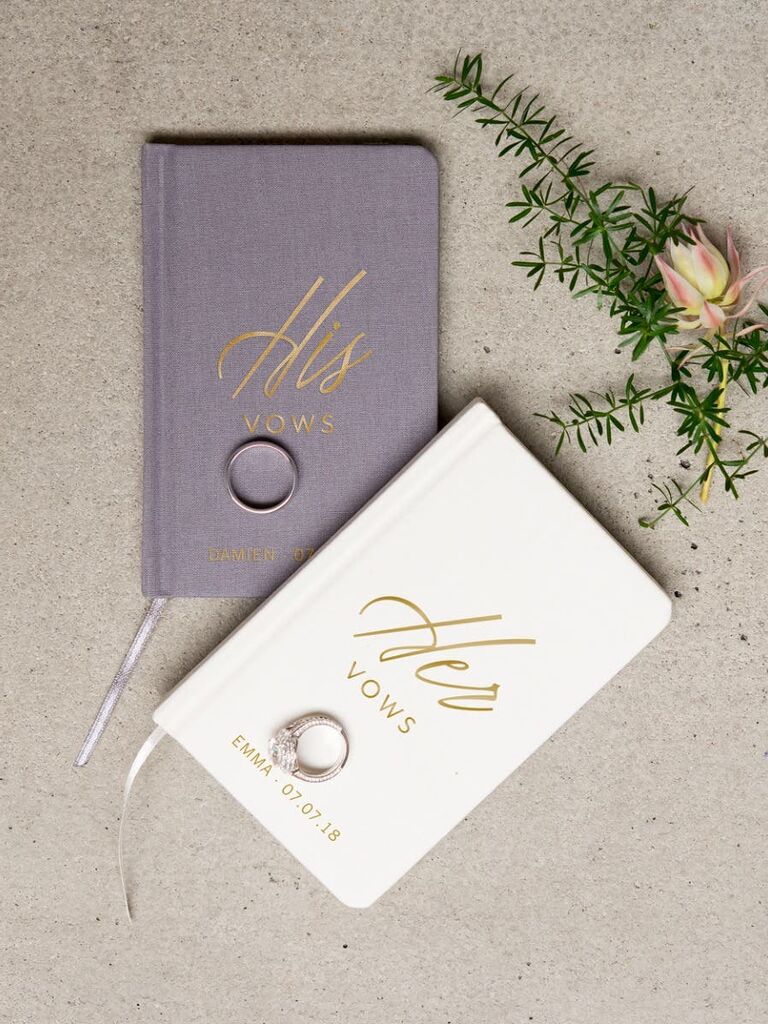 If you're close to the couple and know they're planning on writing their own vows, vow books are an excellent gift for the Mr. and Mrs. These small, hardcover linen notebooks are embossed with elegant gold foil text that says "his vows" and "her vows," respectively, with their corresponding names and wedding date underneath. It has 64 pages for them to rewrite their promises until they're perfect and a ribbon to bookmark the right page.
4. Newlywed Luggage Tags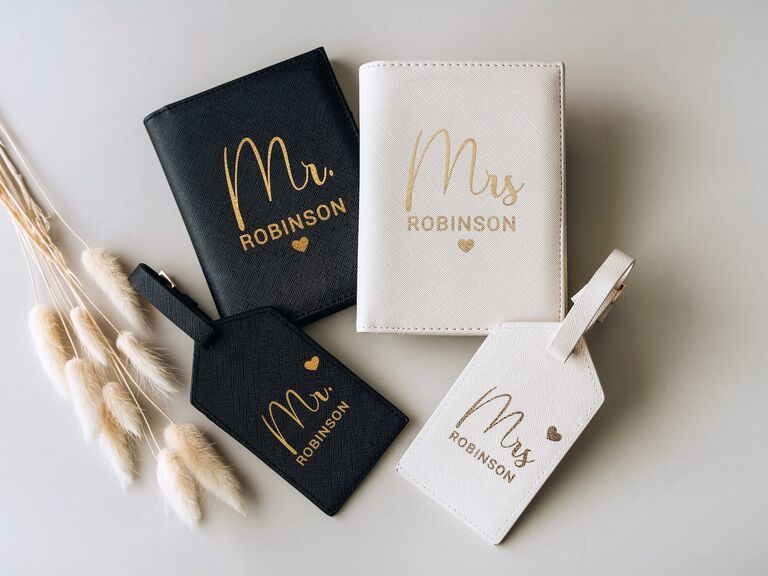 Luggage tags and passport holders are classic Mr. and Mrs. honeymoon gifts that you can surprise the happy couple with at their bridal shower or shortly before the wedding, so they're packed and ready to go. This faux leather travel set comes in nine different colors—though we recommend black and cream—and can be embossed in gold with the couple's new prefixes and names next to a cute heart. You also get to pick the font.
5. Mr. and Mrs. Matching Loungewear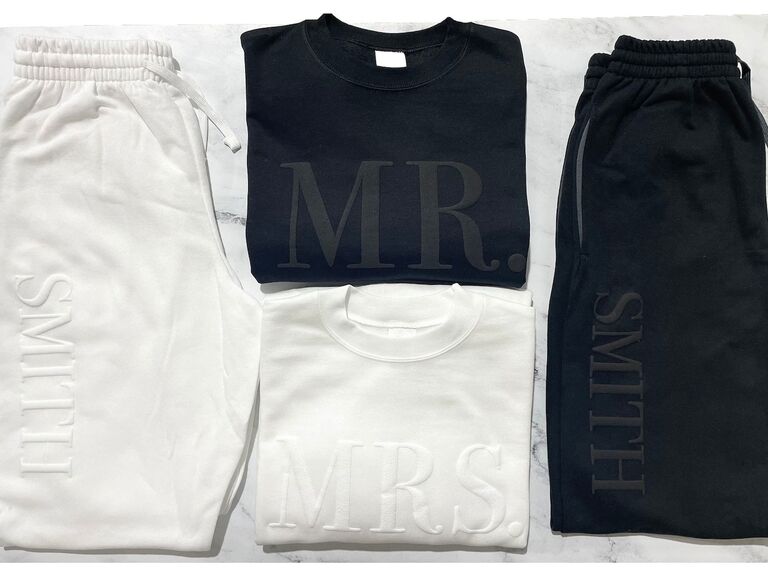 After months of wedding planning, it's finally time for the honeymoon. Make sure the whole airport knows they're just married with these sweats. There's a white crewneck embossed with "Mrs." for the bride and a matching black option with "Mr." for the groom. They pair with white or black joggers embossed with their now-shared last name. You can give them just the sweatshirt, just the pants or both for a cute monochromatic set.
6. His and Her Cotton Towels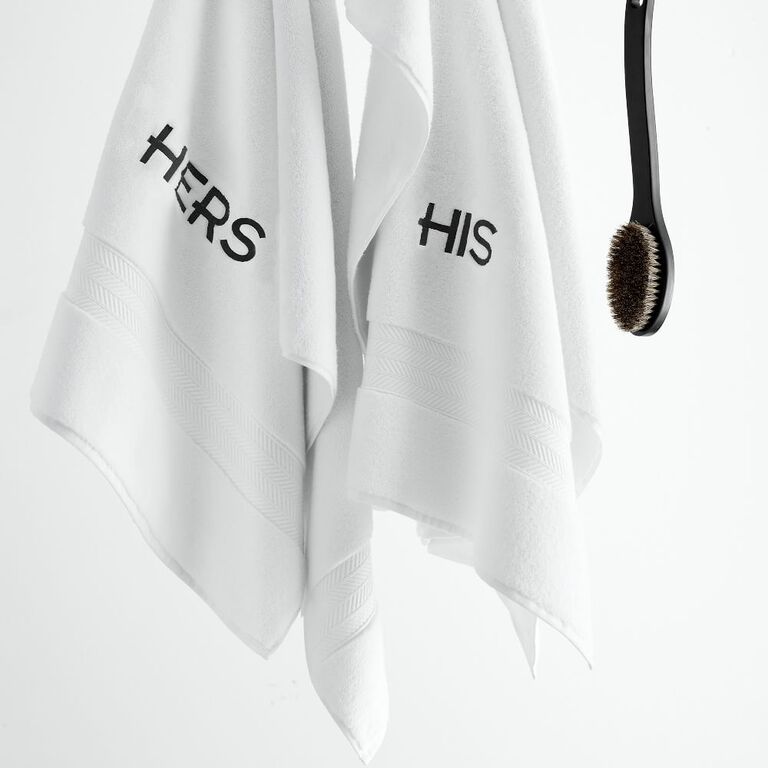 Traditionally, the wedding or bridal shower is all about helping the couple stock their newlywed nest. So it's expected that you get the Mr. and Mrs to be gifts—and we love the idea of bringing personalized bath towels. Made from 100% ultra-long staple Turkish cotton (which means they're super soft and quick-drying), these towels can be custom embroidered to read "his" and "hers." It'll seriously help avoid confusion and arguments in the mornings when they're both getting ready.
7. Hand-Painted Platter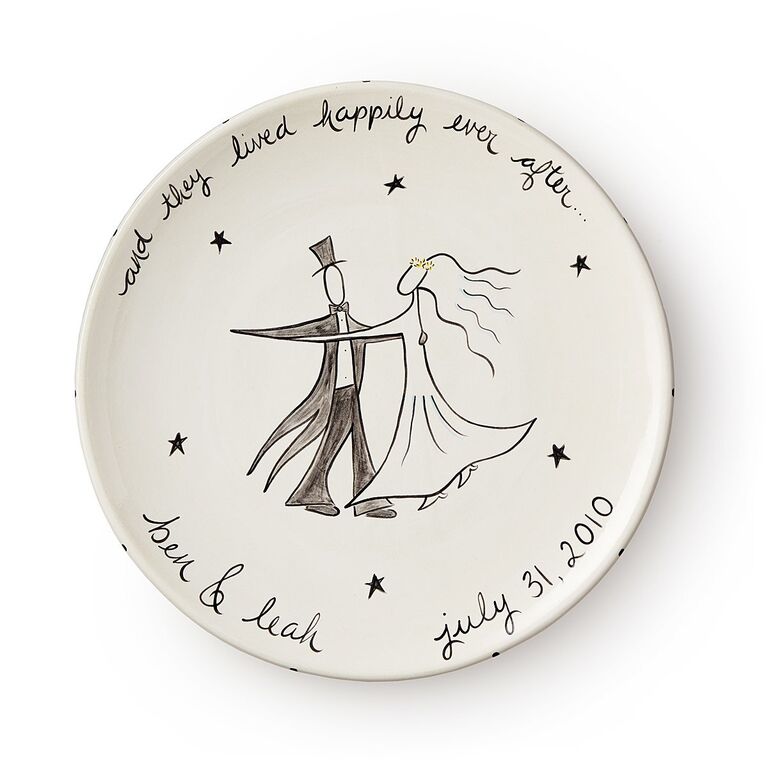 Looking for thoughtful Mr. and Mrs. wedding gifts? This hand-painted ceramic platter is just the thing. It features a charming illustration of a bride and groom dancing with the phrase: "and they lived happily ever after." You can even add the couple's names and wedding date for a touch of personalization.
8. Mr. and Mrs. Frame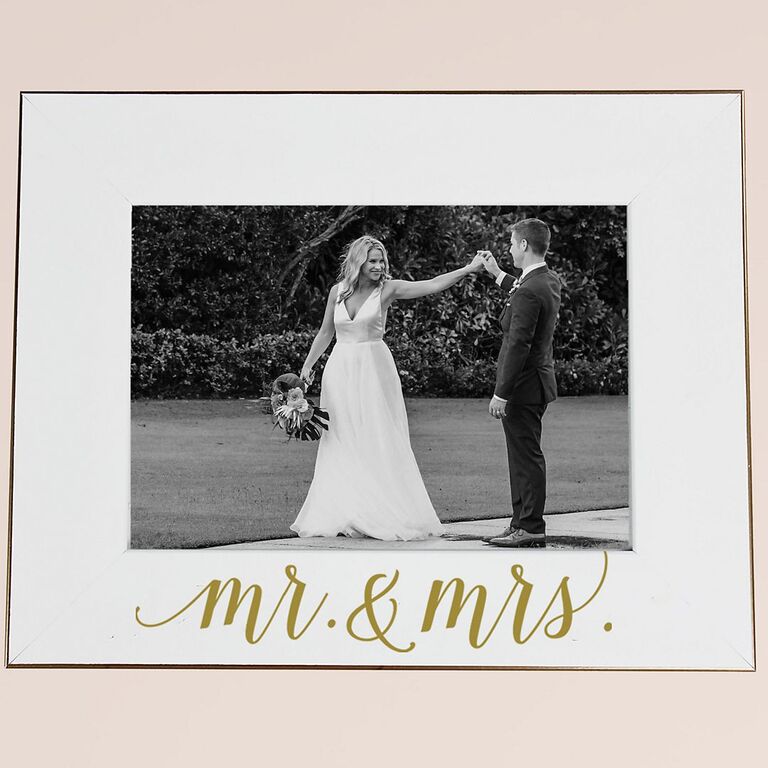 If you're looking for future Mr. and Mrs gifts that they'll definitely use, a picture frame is a surefire idea. After all, they'll want to display their wedding photos right away and now they have a way to do just that. This charming frame is simple enough to match any home decor style. The white border is trimmed with gold and the bottom edge reads "Mr. and Mrs." in matching gold script.
9. Future Hubby and Wifey Socks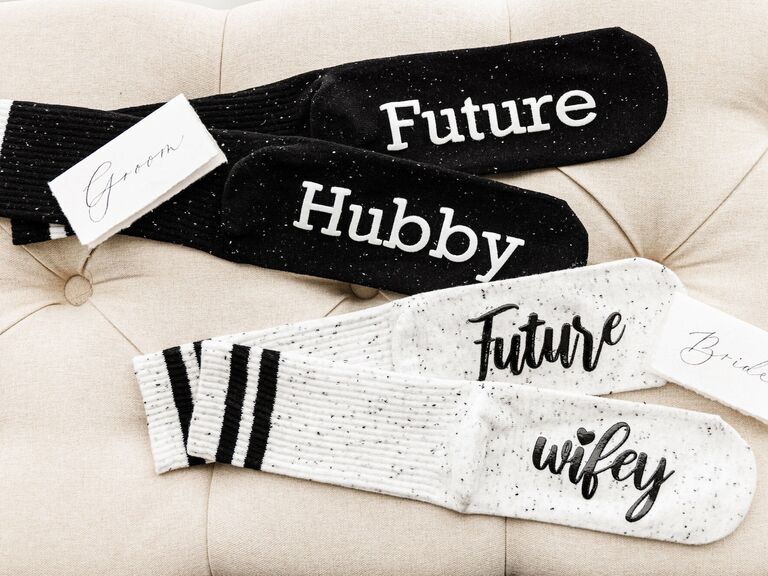 Here's a funny Mr. and Mrs. gift for the happy couple—or even for the couple to gift each other to further commemorate their engagement. The crew socks say "future hubby" and "future wifey" or "the groom" and "the bride." Pair them with a card that promises no cold feet on the big day.
10. Mr. & Mrs. Custom-Etched Wine Bottle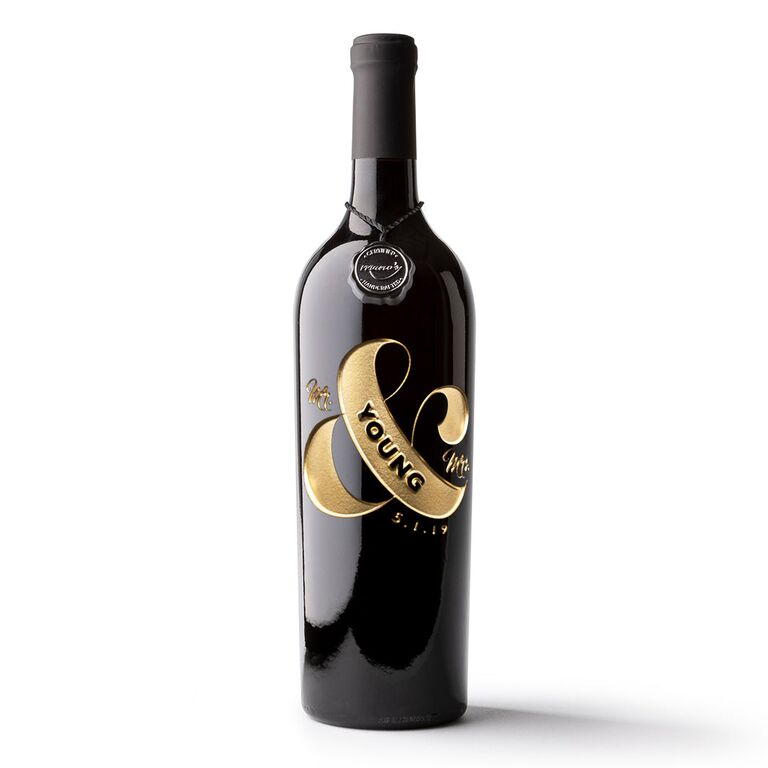 Wine is a classic gift for couples no matter what you're celebrating. And this bottle of California cabernet sauvignon is a perfect Mr. and Mrs. engagement gift. It's custom etched with "Mr. & Mrs." with their soon-to-be-shared last name in the ampersand and an option to add a date (either the day they said "yes" or the date of their upcoming nuptials) underneath. They'll want to keep this gift as a memento of the occasion long after the wine is gone.
11. Mr. and Mrs. Wine Tumblers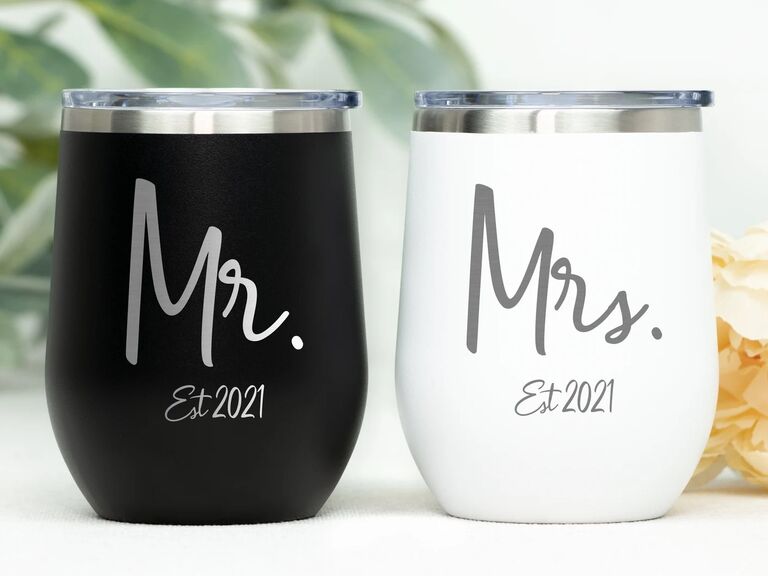 This set of stainless steel, double-walled and vacuum-insulated wine glasses will keep their drink of choice cold for hours. Perfect if they're hosting an outdoor couple's shower or rehearsal dinner. And, of course, they're engraved with "Mr." and "Mrs." as well as their wedding year.
12. Personalized Mr. and Mrs. Countdown Blocks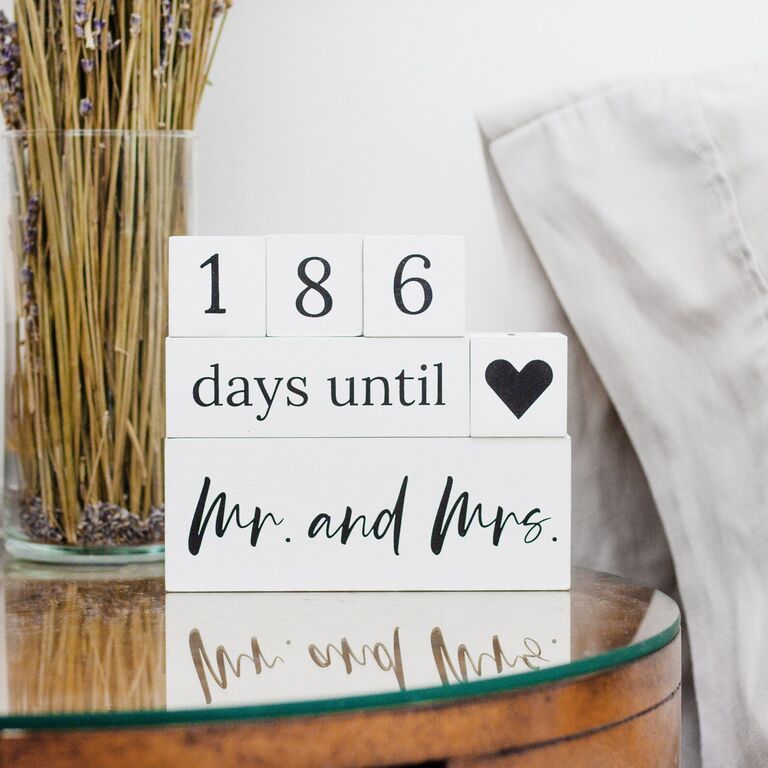 Here's one of our favorite soon-to-be Mr. and Mrs. gifts: wedding countdown blocks. The white cubes are painted black to countdown the days to becoming "Mr. and Mrs." It'll definitely be put in a place of prominence in their home.
13. Mr. and Mrs. Custom Tea Towel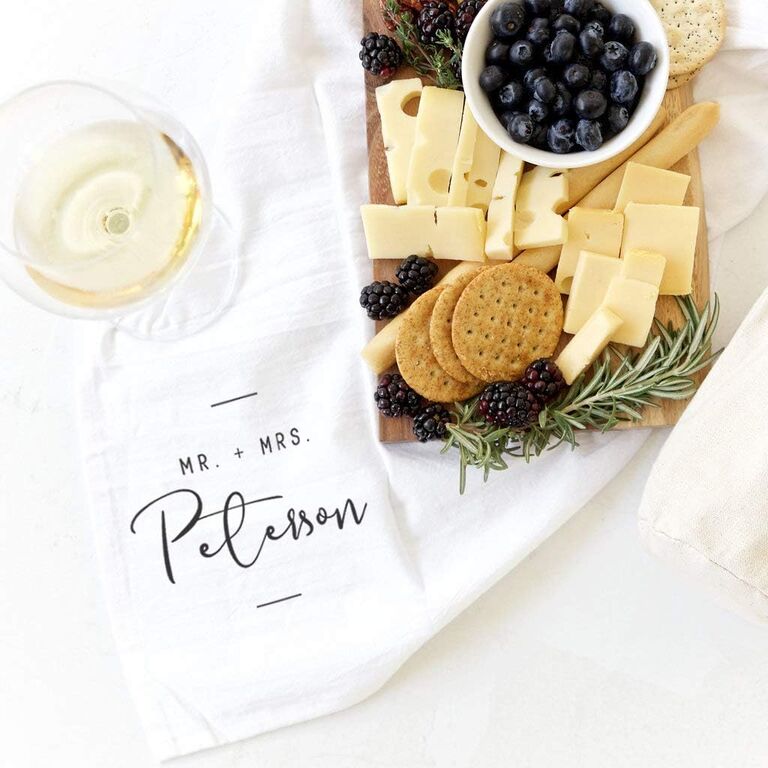 This Mr. and Mrs. personalized gift is perfect for a bridal shower. The charming kitchen towel is printed with "Mr. and Mrs." and the couple's married last name. It's made of 100% cotton, so it's soft, highly absorbent and machine washable.
14. Custom-Engraved Mr. and Mrs. Cutting Board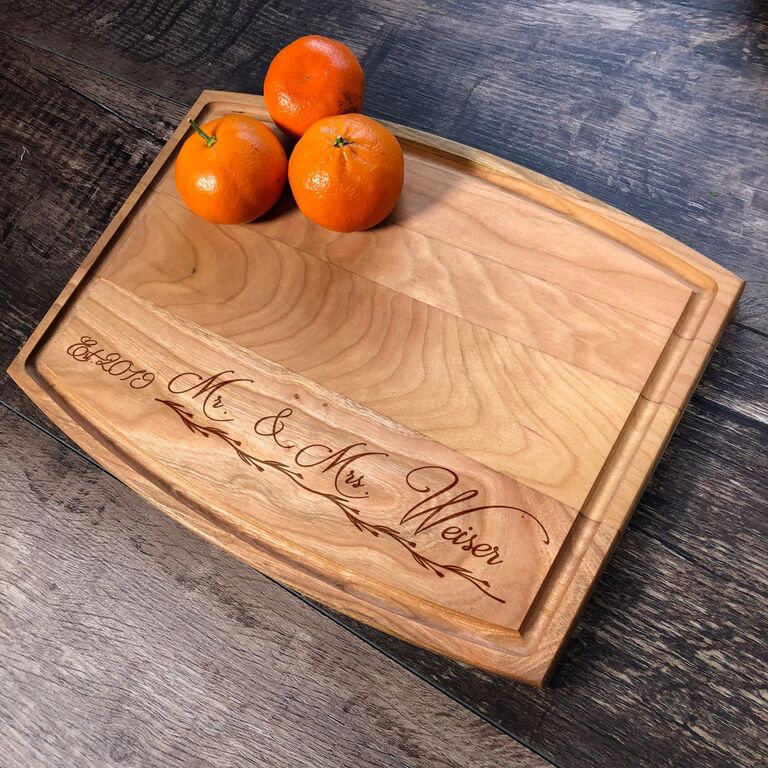 If you're looking for unique Mr. and Mrs. gifts, custom-engraved cutting boards are top of the list. This one reads "Mr. and Mrs." in elegant font with their names and wedding year. It comes in four different types of wood—maple, walnut, cherry or bamboo—as well as in five different shapes. It's hard to say if the couple will use it as a serving board or just put it on display.
15. Bride and Groom First Dance Art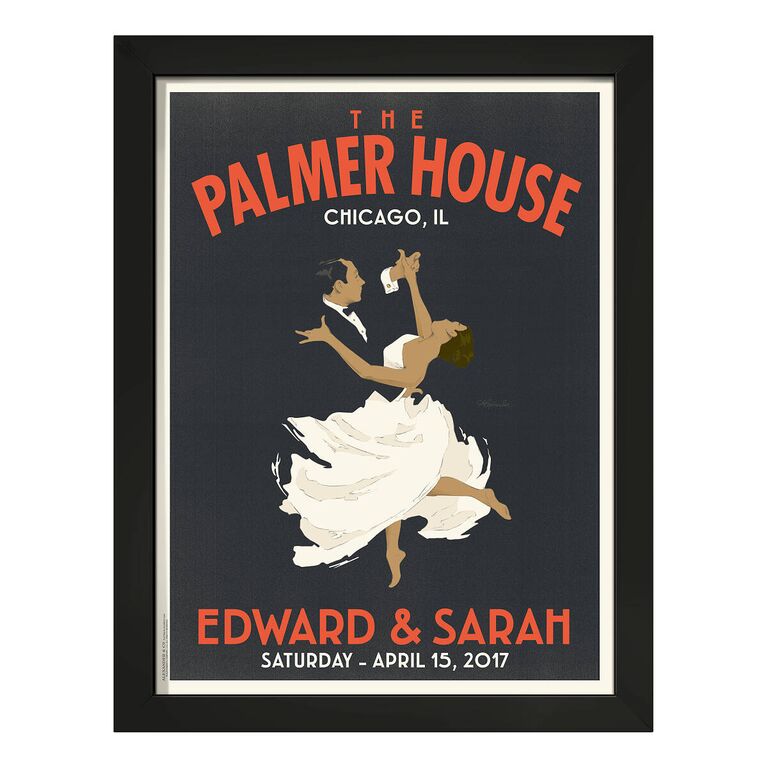 Did you know the one-year wedding anniversary is characterized by the traditional gift of paper? Making this custom print a great Mr. and Mrs. anniversary gift for newlyweds. It features a bride and groom dancing with their names, wedding venue and date surrounding the illustration. It comes in two sizes and is either unframed or with a black wooden frame.
16. Personalized Couple Bathrobes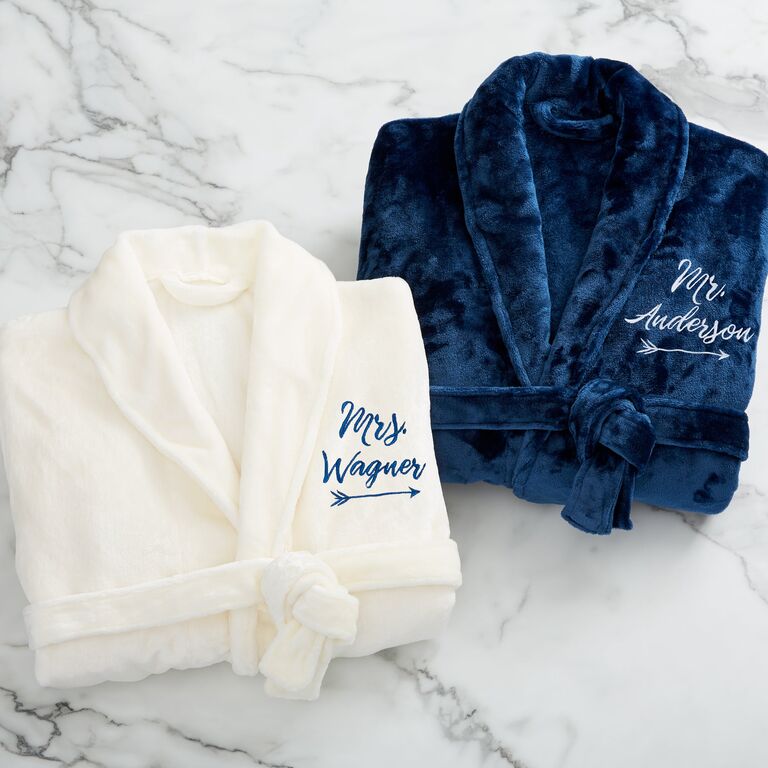 The wedding is over, it's officially time for the couple to get some R&R. Surprise the lovebirds with plush bathrobes to help them do just that. They're just as luxe as the ones they likely used on their honeymoon, but are theirs to keep! These Mr. and Mrs. personalized gifts come in seven different robe colors and with over four times as many thread hues for the embroidery, so each gets a custom throw-on.
17. His and Her Ring Finger Mugs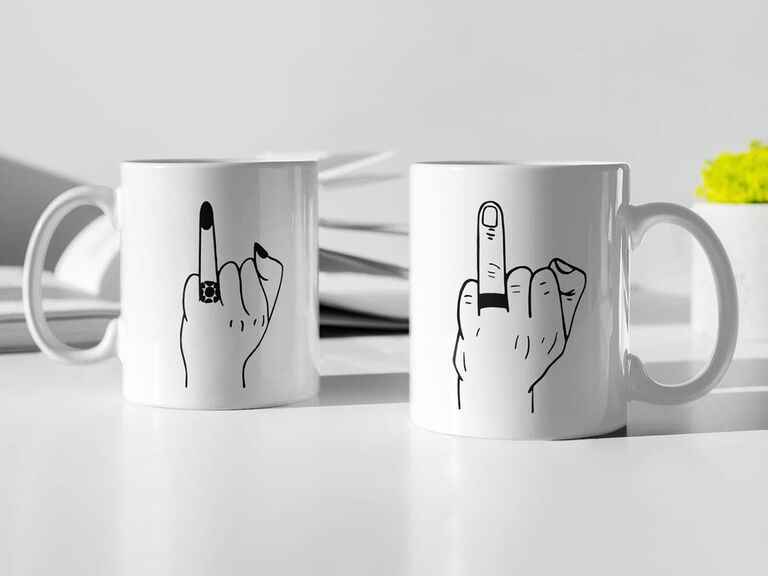 Any fun-loving fiancés will use these coffee mugs on the daily—including long after the wedding day. One shows a female's hand with a diamond ring, while the other shows a male's hand with a simple band—and they both jokingly hold up their ring finger. If you want to go the extra mile, pair the set with a coffee subscription—one of our favorites is Atlas Coffee Club.
18. Mickey and Minnie Baseball Hats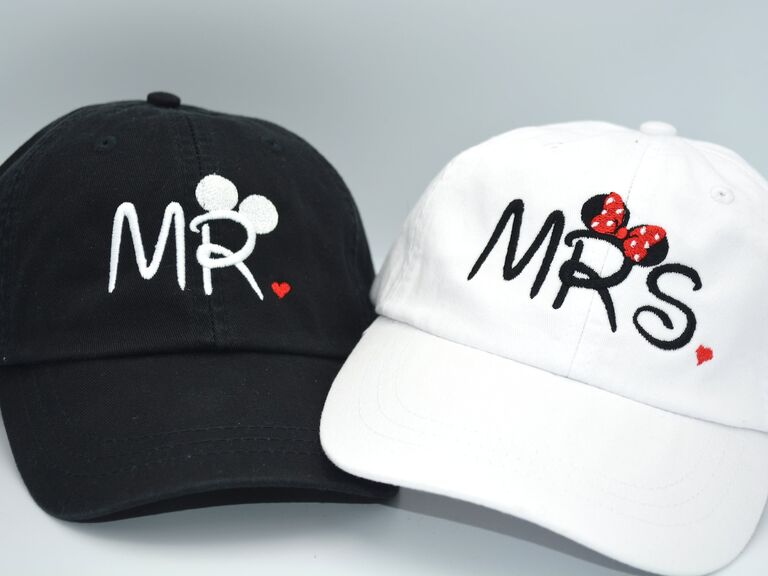 We're kind of obsessed with matching swag for the bride and groom. And if you're shopping for Disney-themed Mr. and Mrs. gifts, these baseball hats are just the attire for them. They come in two dozen different colors and are embroidered with Mickey and Minnie Mouse ears atop the "Mr." and "Mrs."
19. First Christmas Married Ornament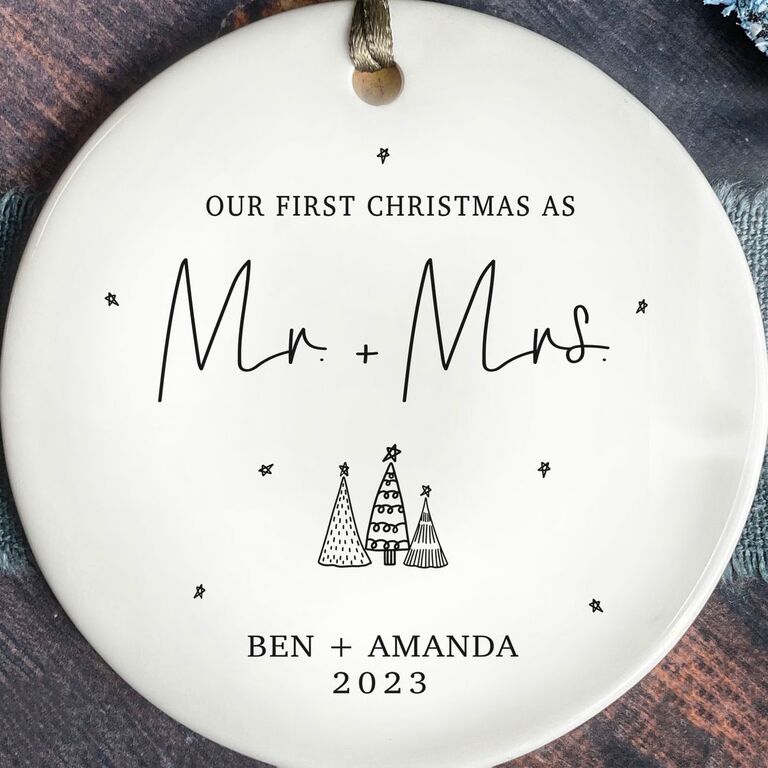 Need a Mr. and Mrs. holiday gift? For the lovebirds that celebrate Christmas, consider a personalized ornament. They're sure to hang it on their tree every single year. The handmade round, ceramic ornament is printed to read "Our first Christmas as Mr. and Mrs." with their names and wedding year. We especially love the cartoon evergreen trees in the middle.
20. Mr. and Mrs. Personalized Beach Towels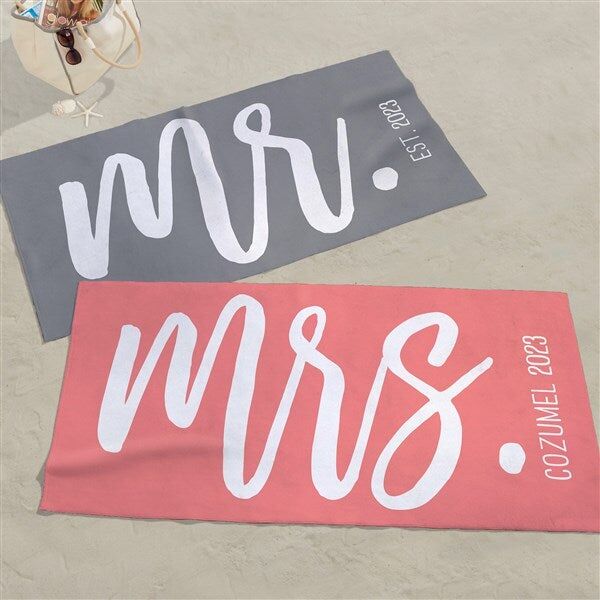 A tropical honeymoon calls for special beach towels for the newlyweds. These say "Mr." and "Mrs." in a large cursive font against a bright background. You can even add a line of personal text at the bottom. Think: Names, wedding date or honeymoon destination.