30 Memorable Gifts From the Maid of Honor to the Bride
Looking for a special present to give the bride-to-be in your life? We've rounded up the best gifts a maid of honor can give.
We have included third party products to help you navigate and enjoy life's biggest moments. Purchases made through links on this page may earn us a commission.
Of course, everyone wants to get the bride a gift she'll love, but if you're the maid of honor, you want it to be extra-special. After all, your best friend or sister chose you to be her right-hand woman on one of the biggest days of her life, and a meaningful or clever present is a way to show her how important she is to you too.
A maid of honor gift to the bride could be given on the wedding day itself, or it could be an engagement or bridal shower present. Some of the best surprises for the bride from the maid of honor are items that are personalized, sentimental or help her get a little R&R or pampering on or around the wedding day. These are our favorite gift ideas for a bride from the maid of honor.
Wedding Vow Art Print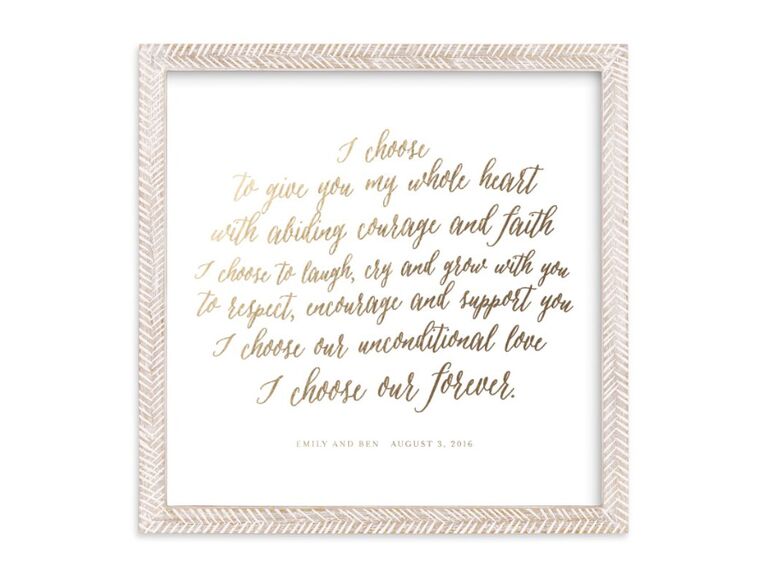 What an amazing wedding gift from the maid of honor to the bride and her partner. To pay tribute to what could be the most important part of their day—the vows—have those meaningful words printed as art to hang in their home. (Ask them to share their vows with you beforehand, give a gift card or send this present shortly after the wedding.)
Minted Your Vows as a Foil Art Print, from $115, Minted.com
Personalized Kimono Robe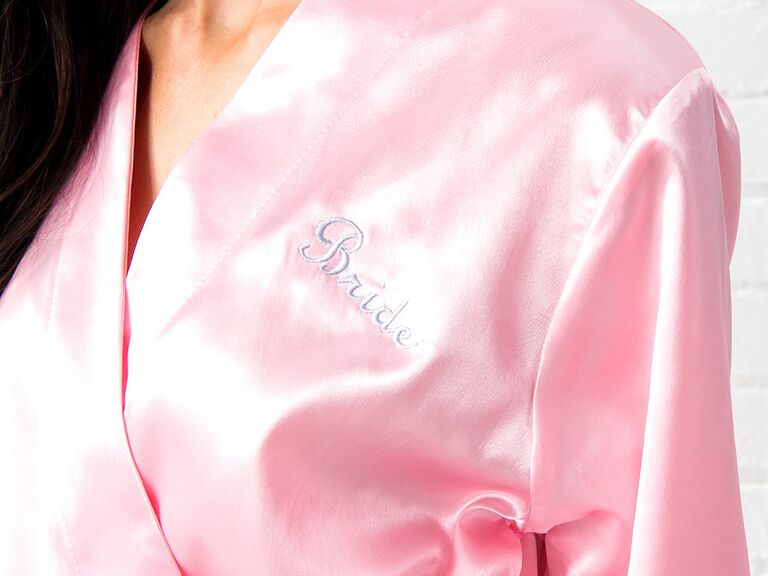 Have this pretty kimono personalized with the bride's initials (or maybe her new initials if she's changing her last name?). She can wear her bridal robe while getting ready for the wedding, on the honeymoon and beyond.
The Knot Shop women's personalized embroidered satin robe with pockets, from $20, TheKnotShop.com
Monogram Necklace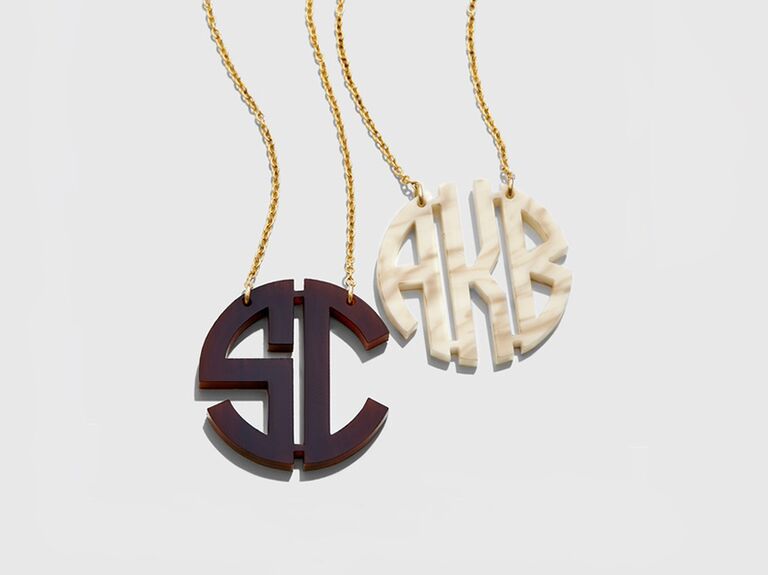 Some of the best surprises for the bride from the maid of honor look luxurious and are personalized just for her, which makes this monogram necklace a no-fail choice.
BaubleBar acrylic block monogram necklace, $58, BaubleBar.com

"Married AF" Tote Bag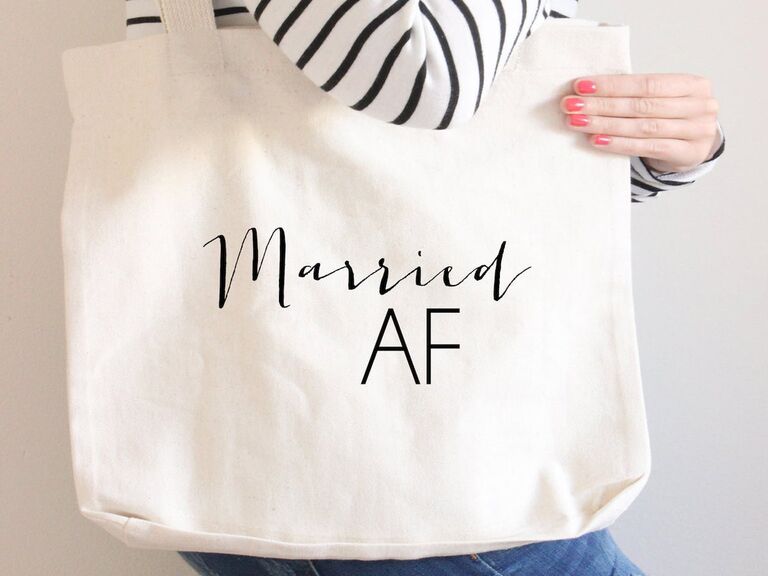 Here's a maid of honor gift to the bride with a sense of humor. Your sis or best friend will love showing off the fact that she's "married AF" as she totes this bag around on her honeymoon.
Rubi and Lib Married AF bride tote bag, from $25, Etsy.com
Wedding Ring Box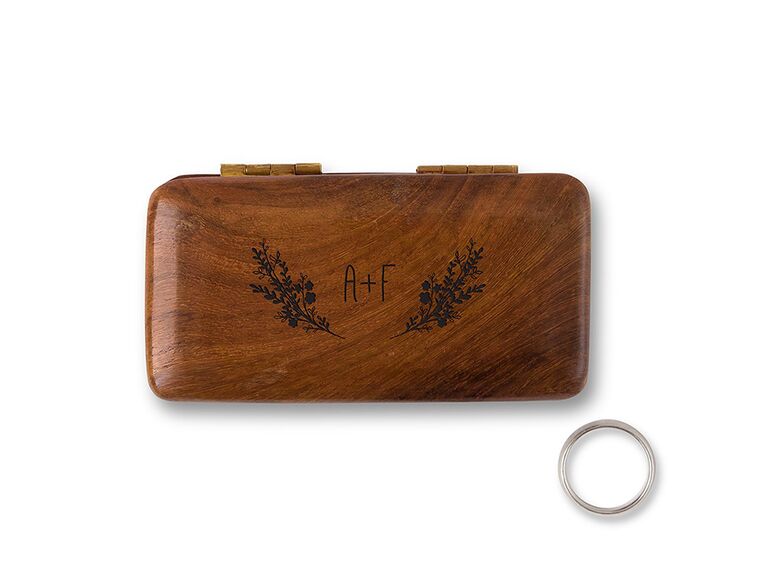 How gorgeous is this personalized wooden wedding ring box? The bride can share it with her new spouse, or keep both her wedding ring and engagement ring tucked inside for safe keeping. It makes a wonderful gift for a bride on her wedding day from the maid of honor.
The Knot Shop small personalized wooden ring jewelry box, $27, TheKnotShop.com
Framed Engagement Photo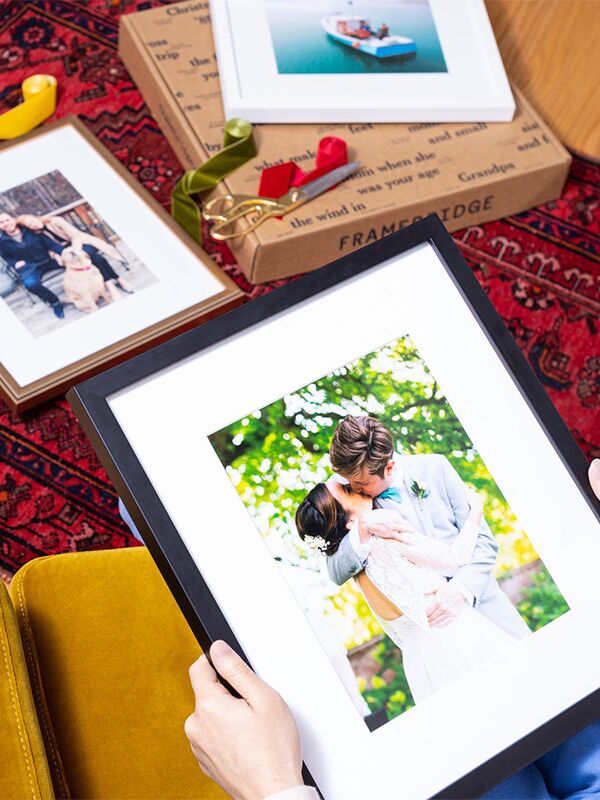 A meaningful wedding gift from the maid of honor is a framed engagement or wedding photo. Once you decide on the perfect image, personalize this present by choosing a frame in a timeless finish that perfectly coordinates with your BFF's home decor.
Framebridge The Stella custom frame, $85, Framebridge.com

Friendship Necklace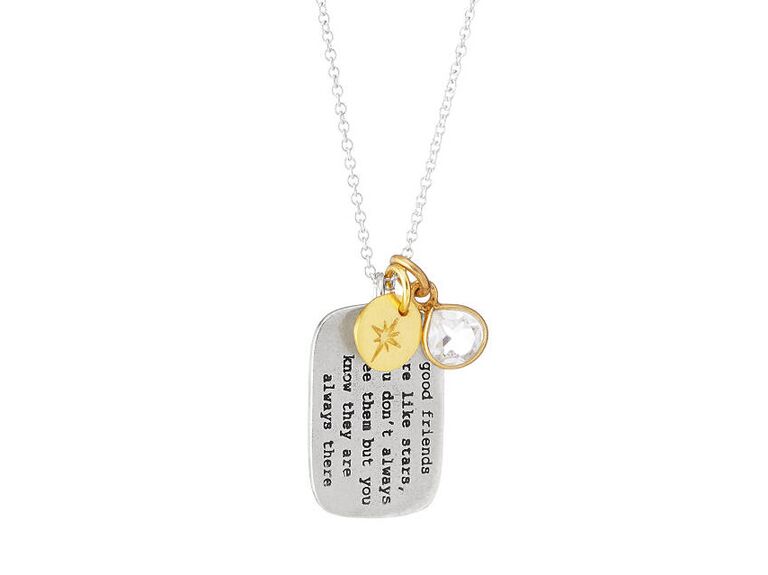 This is a gorgeous maid of honor gift to a bride who's also a BFF. The crystal, silver and gold vermeil friendship necklace tells her you've always got her back with the inscription: "Good friends are like stars. You don't always see them but you know they are always there."
Mary Steratore Good Friends Are Like Stars necklace, $55, UncommonGoods.com
Rose Gold Compact Mirror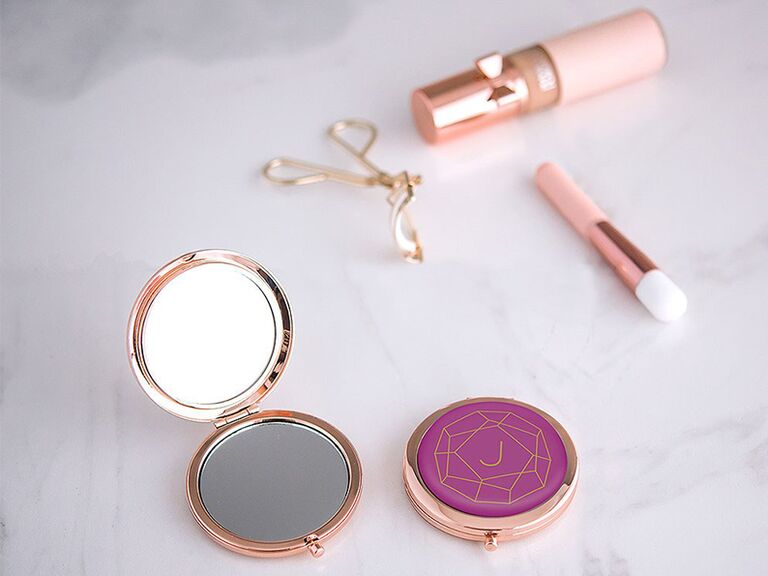 This gorgeous compact mirror is emblazoned with a diamond gemstone motif, which nods to the bride's engaged status but isn't overly "wedding-y," so she'll use it forever.
The Knot Shop personalized engraved compact mirror in Gemstone, $20, TheKnotShop.com

Sister Necklace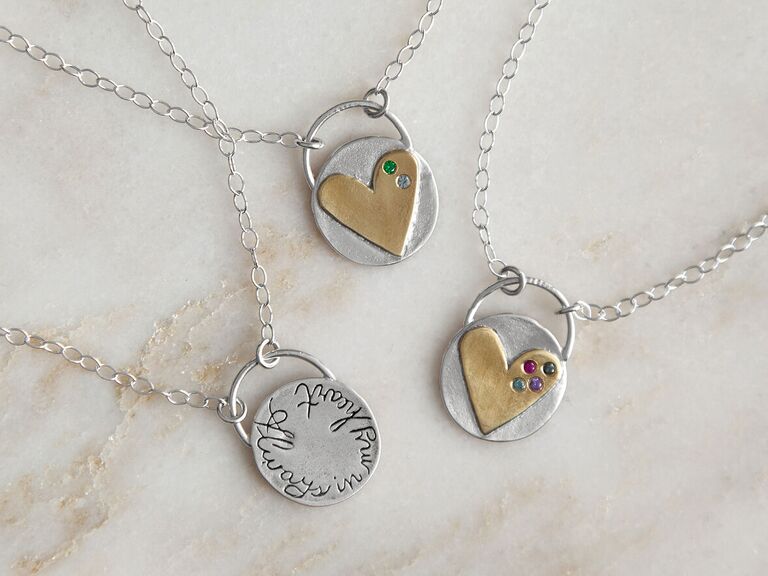 A perfect maid of honor gift to the bride who's also a sister, this sister necklace carries a sweet sentiment: A sister is always in your heart. Customize it with her birthstone for an extra-personal touch.
Canela Lemoine Always In My Heart birthstone necklace, from $150, UncommonGoods.com

Wedding Invitation and Photo Frame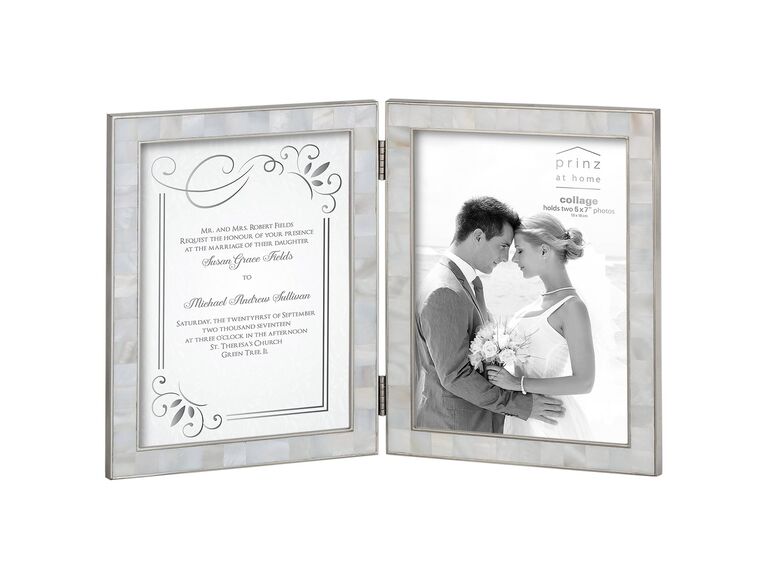 Place the wedding invitation and a meaningful photo in this mother-of-pearl frame for a keepsake the newlyweds can cherish long after the wedding day.
Prinz 2-opening 5-inch x 7-inch mother of pearl frame, $50, BedBathandBeyond.com
World Map Art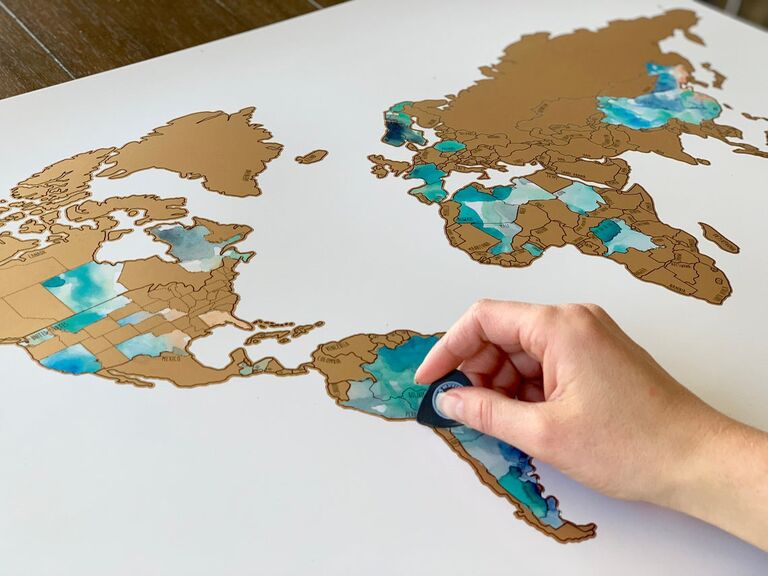 Looking for a wedding gift from the maid of honor to the couple? If they love to travel, the newlyweds will adore this cute scratch-off map. They can hang it in their home and mark all the places they go together—starting with their honeymoon destination.
Kristin Douglas Art Gold Dreamer scratch off world map, $37, Etsy.com
Engraved Cutting Board
We're really digging this chic personalized cutting board. Because it can be emgraved with a name or message, this makes for a very thoughtful wedding gift from a maid of honor to a bride and her S.O.—especially if they're foodies.
Milk & Honey Luxuries personalized cutting board, from $25, Etsy.com
Plush Cosmetics Bag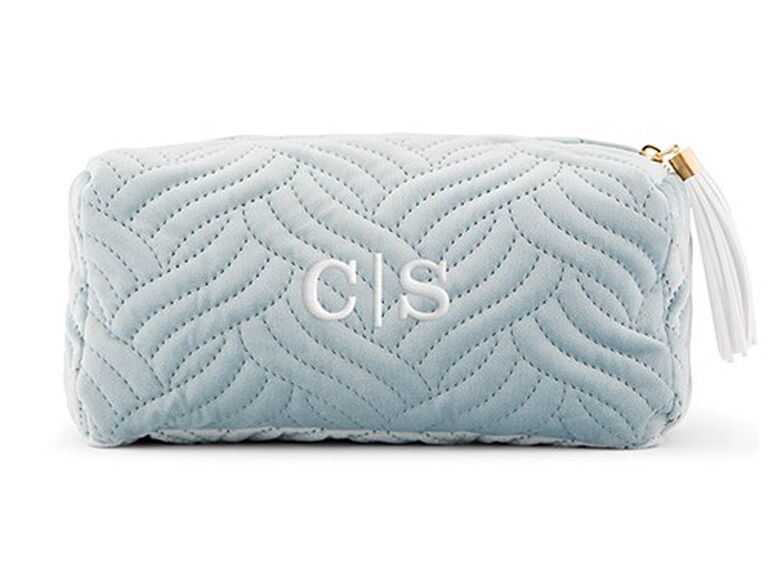 This monogrammed cosmetic bag not only looks expensive (it isn't), but it's also personalized, making it an extra-special addition to the bride's honeymoon luggage set.
The Knot Shop small personalized velvet quilted makeup bag, $11, TheKnotShop.com
Custom Tote Bag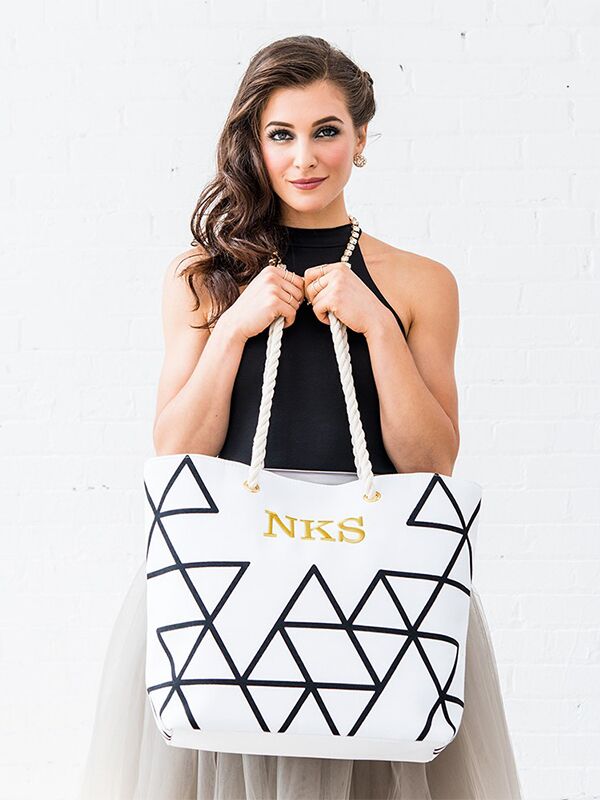 Brides have a lot of things to haul around—wedding planning notes, magazines (like The Knot!), honeymoon supplies (hello, beach gear)—which makes this personalized, modern tote bag ultra-useful. Bonus points if you stuff it with a few essentials.
The Knot Shop personalized extra-large geo cotton fabric canvas tote bag, $15, TheKnotShop.com
Instant Camera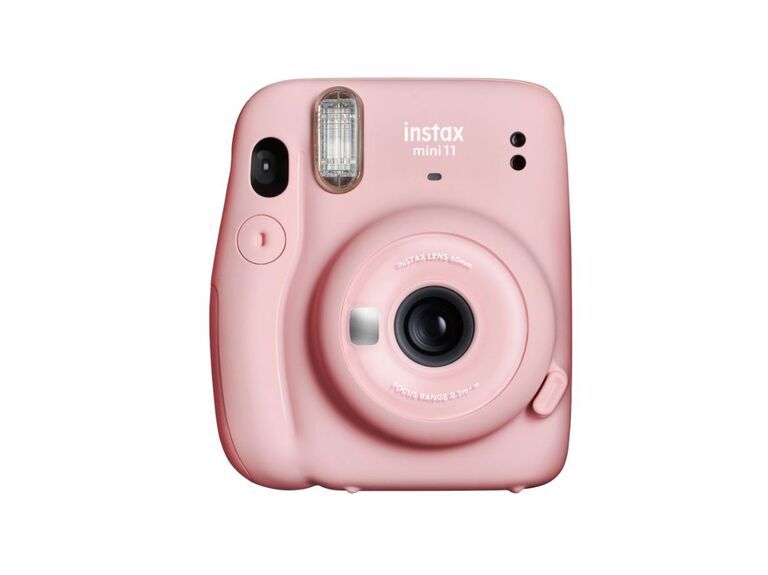 If the bride is a lover of all things old school, get her an instant camera to tote along on the honeymoon (or at the bachelorette party). With this wedding gift from the maid of honor, she can take some special photos to save in an album (or to share only with her new spouse).
Fujifilm Instax Mini 11 camera, $70, Target.com
Bridal Ring Dish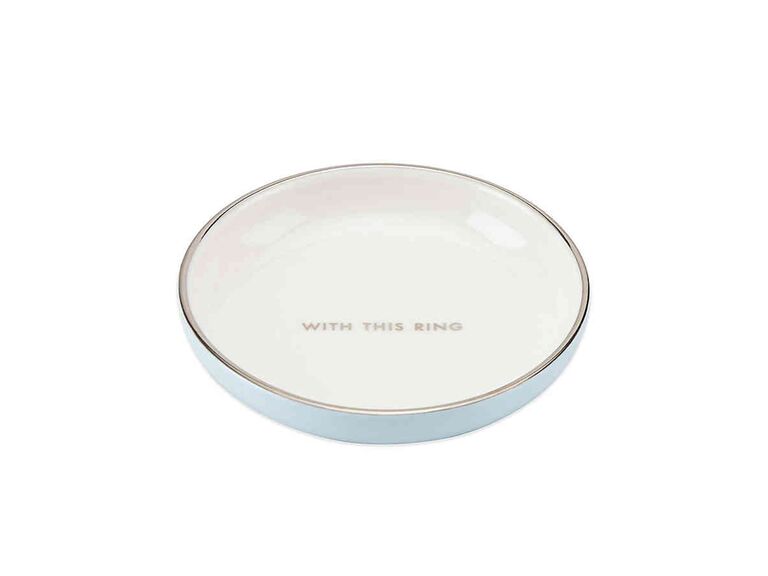 What bride wouldn't want a simply gorgeous (and safe) place to put her ring at the end of the day? This ring dish is inscribed with the phrase "with this ring" to remind her always of her wedding ceremony.
Kate Spade New York Take the Cake ring dish, $40, BedBathandBeyond.com
Engagement Coffee Mug for Bride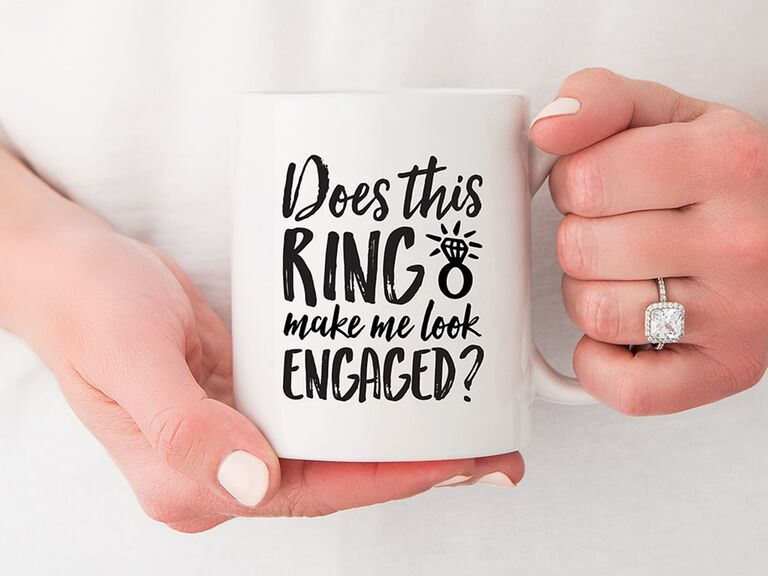 "Does this ring make me look engaged?" This engagement coffee mug makes for a perfect selfie op. After all, a newly engaged bride likely loves to show off her new bling. Just give her fair warning: She's about to get all the likes on Instagram.
The Knot Shop custom white ceramic coffee mug in Does This Ring Make Me Look Engaged?, $14, TheKnotShop.com
Bridal Gift Box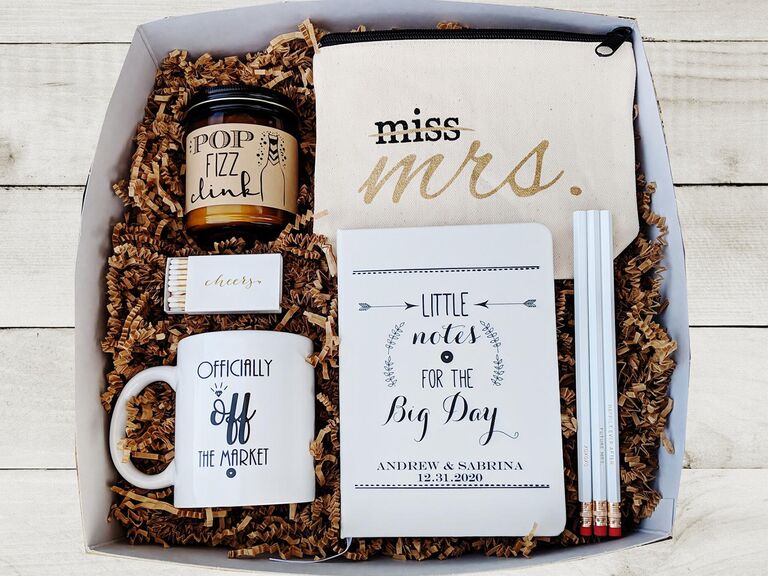 This gift box is ideal for a woman who's newly engaged. It's full of surprises for the bride from the maid of honor, including a makeup bag, a soy candle, a coffee mug, a journal and pencils, each with a cheeky wedding theme. You can choose the candle scent (we recommend "Champagne Kisses").
Define Design Etc Future Mrs gift box, from $80, Etsy.com
Initials Luggage Tag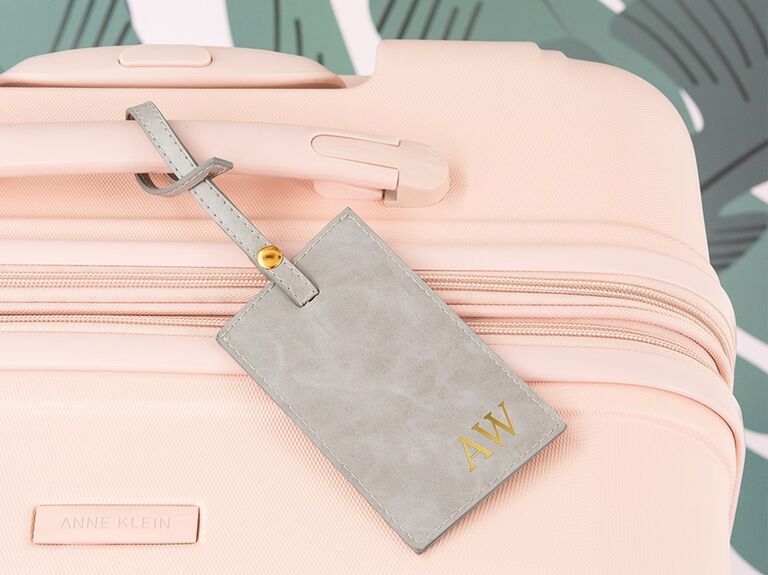 Send the bride off on her destination wedding or honeymoon with a gold-monogrammed luggage tag made of pretty vegan leather.
The Knot Shop faux leather luggage tag, $12, TheKnotShop.com
"Bride" Wedding Dress Hanger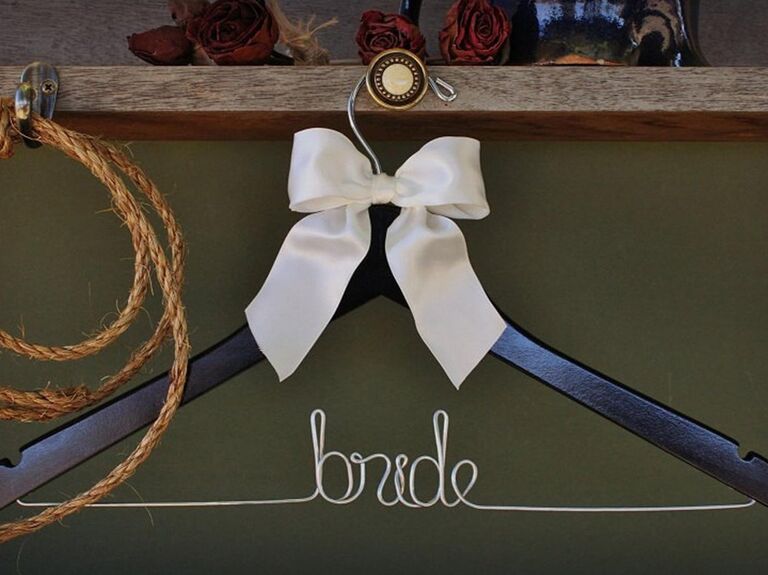 A beautiful maid of honor gift to the bride, this wedding dress hanger is a special way to display the lovely dress she's so excited to wear.
Whiskey and Wedding Bells wedding dress hanger, from $24, Etsy.com
Custom Cover Photo Album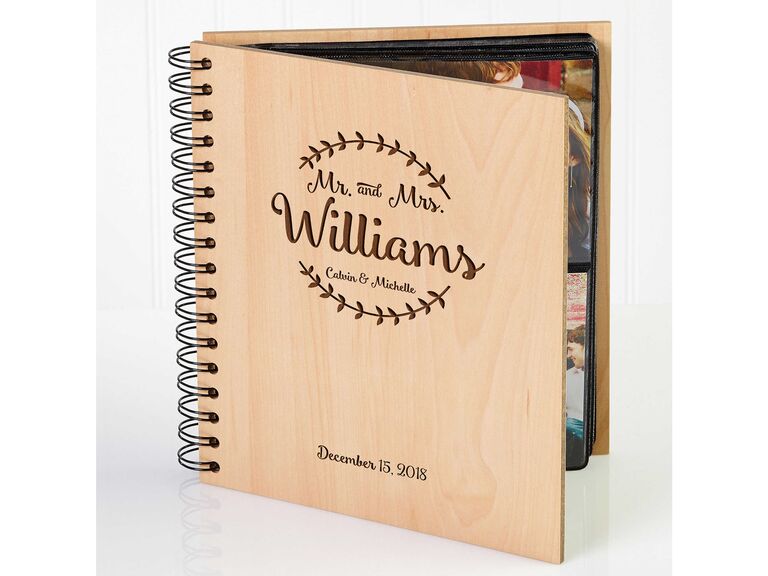 The wood cover of this photo album is customizable (and can also read "Mr. and Mr." or "Mrs. and Mrs."), and it gives the bride a place to save important photos.
Bed Bath & Beyond "Mr. & Mrs." photo album, $33, BedBathandBeyond.com
Diamond Drink Glasses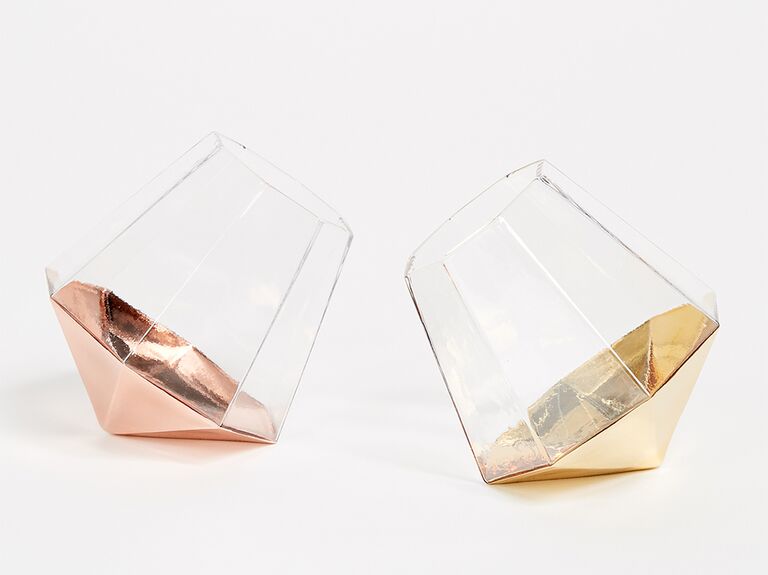 The happy couple can toast to their engagement, wedding and future milestones with these whimsical, celebratory glasses.
Two's Company diamond glasses, $40 for set of 2, Shopbop.com
Vintage-Inspired Locket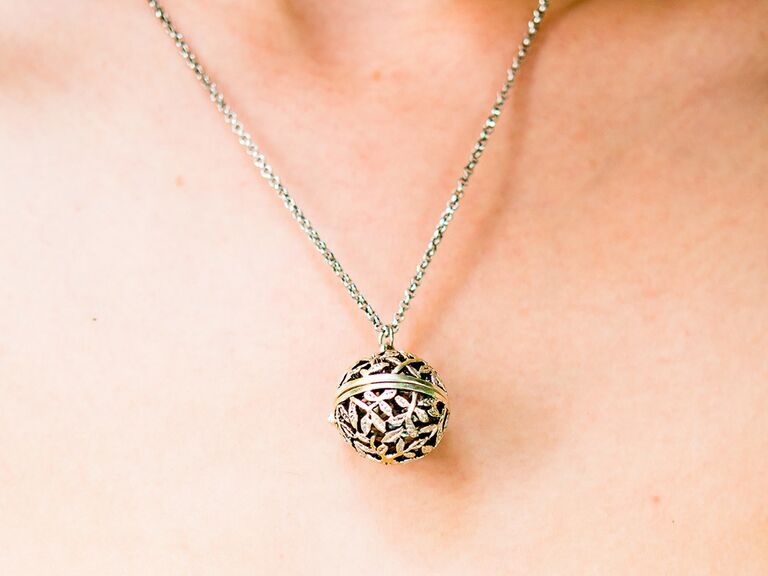 We're in love with the antique look of this vine motif silver locket. It's got enough space inside to tuck in a meaningful memento, such as a love note from her spouse-to-be or a sweet congratulatory note from you, the maid of honor.
The Knot Shop antique silver locket necklace in Filigree Vine Orb Design, $10, TheKnotShop.com
Personalized Ring Dish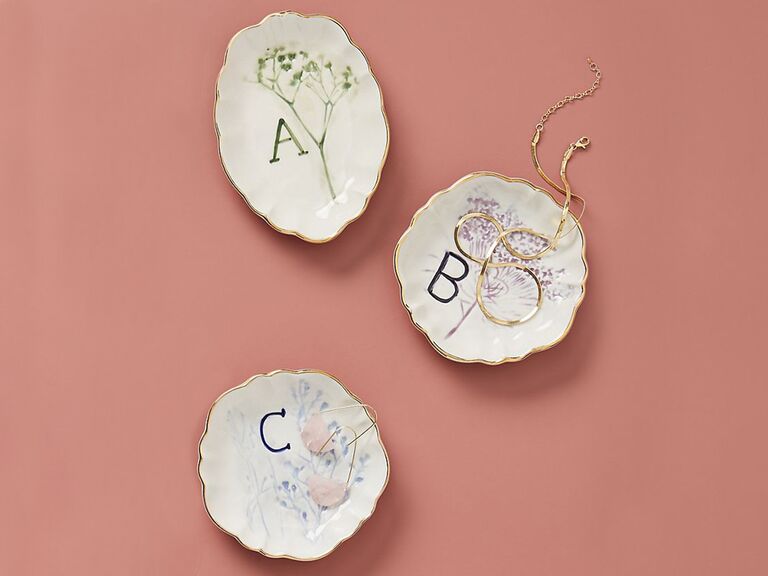 Choose a ring dish with the bride's first or last initial. She's sure to get a lot of use out of it, no matter where she puts it or what important trinkets she lays on it. (We're willing to guess her engagement ring is one of them.)
Anthropologie botanical monogram trinket dish, $12, Anthropologie.com
Marble Coasters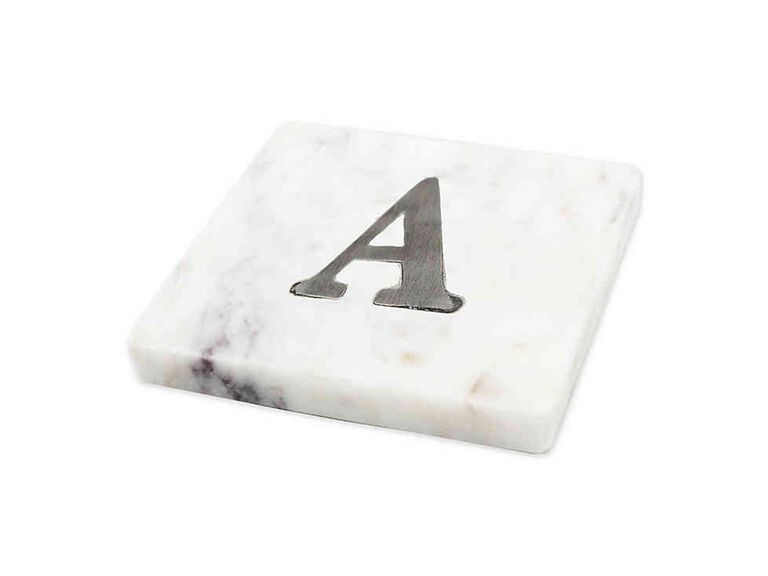 Personalized coasters are a fitting wedding gift from the maid of honor to a bride and partner who love to entertain.
Jodhpuri Inc white marble coaster with steel monogram, $19 for set of 4, BedBathandBeyond.com
Bride's Journal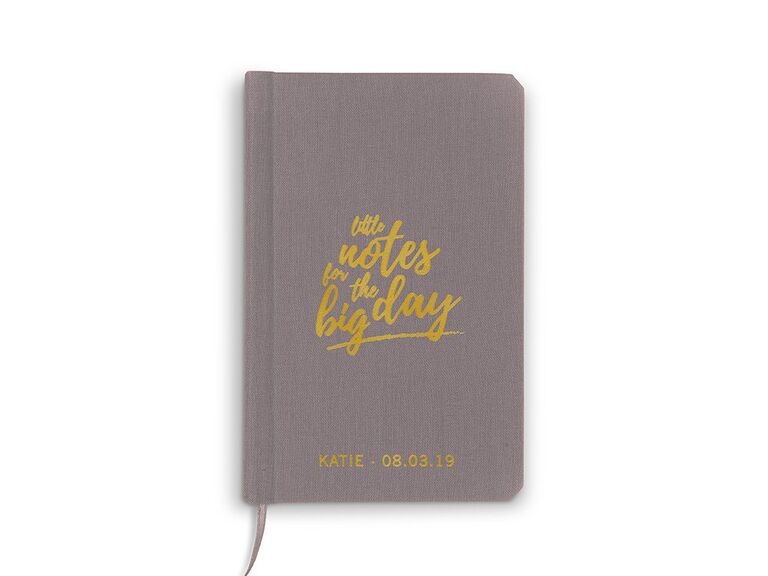 This bridal journal can hold all her "little notes for the big day," including her planning ideas, vendor notes, vow drafts and more. It's a great maid of honor gift to a bride at her engagement party, before all the prep work really gets underway.
The Knot Shop personalized charcoal gray pocket notebook in Little Notes, $20, TheKnotShop.com
Accent Throw Pillow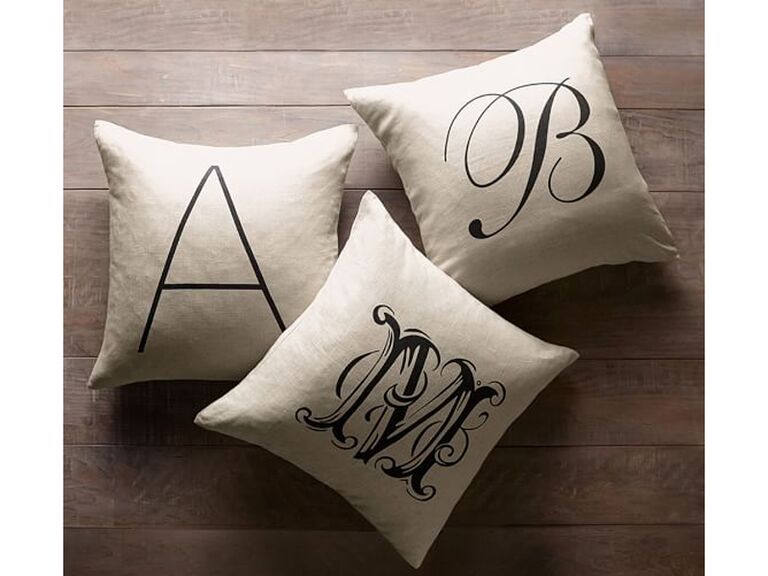 A wedding gift from the maid of honor could be a simple accessory for the newlyweds' new home. This initial throw pillow fits the bill—either choose one with their shared last initial, or buy two: for their separate first or last initials.
Pottery Barn personalized alphabet pillow covers, $36 each, PotteryBarn.com
Wedding Emergency Kit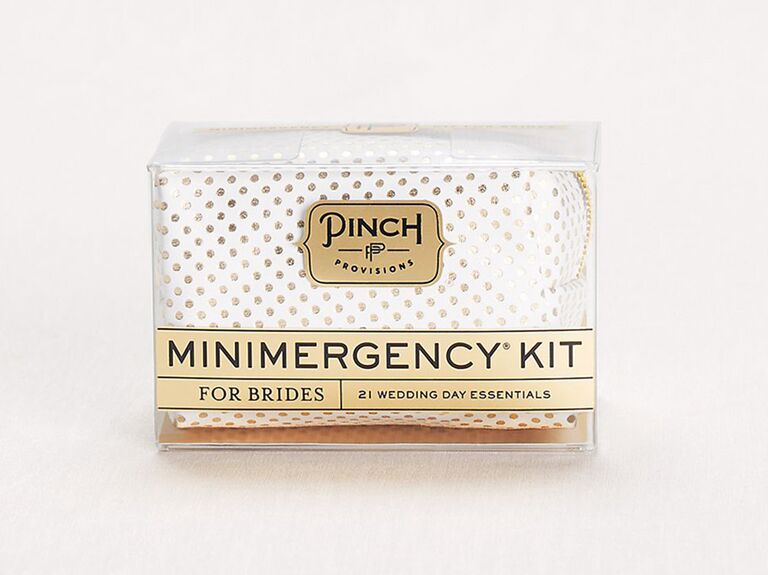 This gift idea for the bride from the maid of honor shows you want her wedding day to go off without a hitch. You'd be surprised how many unforeseen minor emergencies can pop up, but the makers of this petite wedding emergency kit have thought of all the most common ones. Inside are bandages, floss, stain remover, safety pins, earring backs, double-sided tape and so much more. There are even faux wedding bands because, you know, someone really could forget (and the wedding must go on)!
Pinch Provisions minimergency kit for brides, $20, DavidsBridal.com
"Just Married" Doormat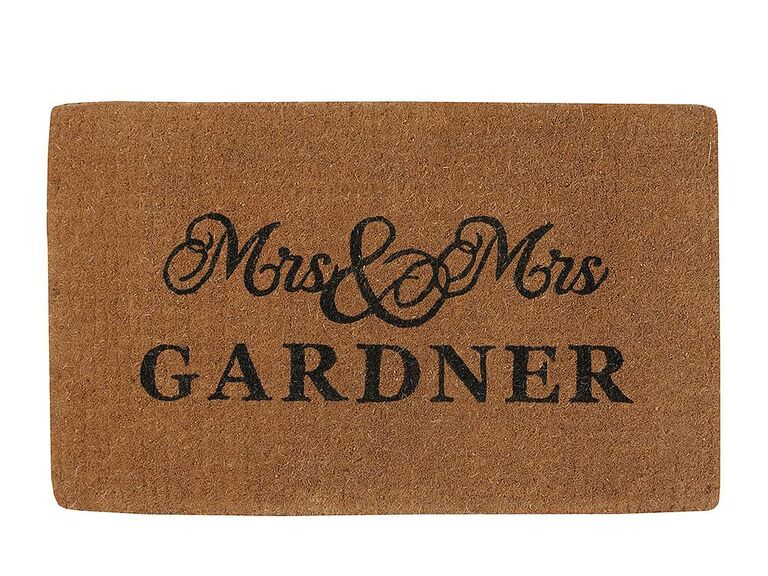 This is a simple but meaningful idea for a wedding gift from the maid of honor to a bride and her other half. This doormat represents that the couple now share their home as newlyweds. This one says Mrs. & Mrs. but Mr. & Mr. and Mr. & Mrs. are also available.

Pottery Barn Mrs. & Mrs. personalized doormat, from $95, PotteryBarn.com
Spa Gift Card
Wedding planning can get more than a teensy bit stressful, so any bride would likely welcome a spa gift card to use toward a relaxing facial, massage or mani-pedi.
Spa Week spa & wellness gift card, from $10, SpaWeek.com