25 Heartfelt Gifts From the Maid of Honor to the Bride
Check off your MOH to-do list: Find sentimental gift for bestie.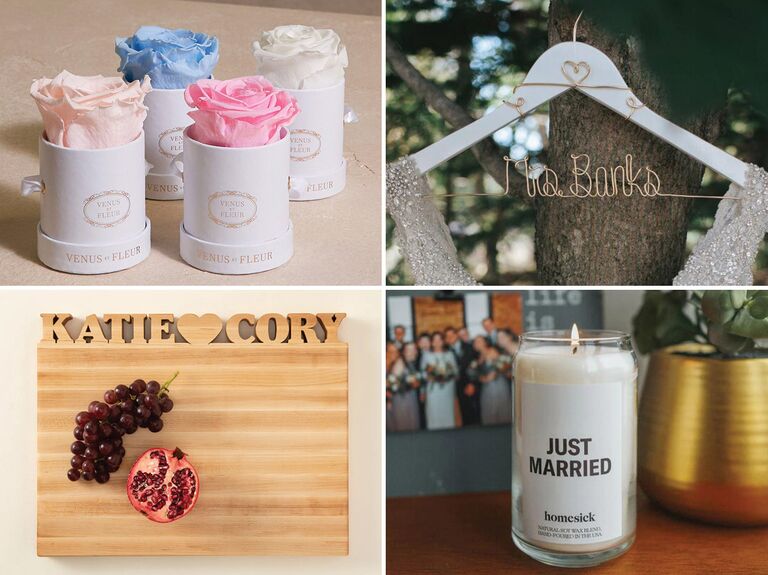 Photos: Venus ET Fleur, Etsy, Uncommon Goods, Homesick
We have included third party products to help you navigate and enjoy life's biggest moments. Purchases made through links on this page may earn us a commission.
While you're not trying to "steal the bride" like Patrick Dempsey in "Made of Honor," you are trying to be as supportive and loving as his iconic character in the movie. One way to do that (on top of being there for her every step of the way): A special maid of honor gift to the bride. Typically, gifts from bridesmaids to the bride go beyond the wedding registry and are personal to your relationship. That said, practical gifts can also be meaningful, like self-care and wellness goodies to help ease wedding planning stress. Either way, a gift from the maid of honor to the bride is a thoughtful way to commemorate the milestone together. Shop our favorite gift ideas for the bride from her maid of honor—including what we'd buy to help Tom win over Hannah—below.
1. Oval Locket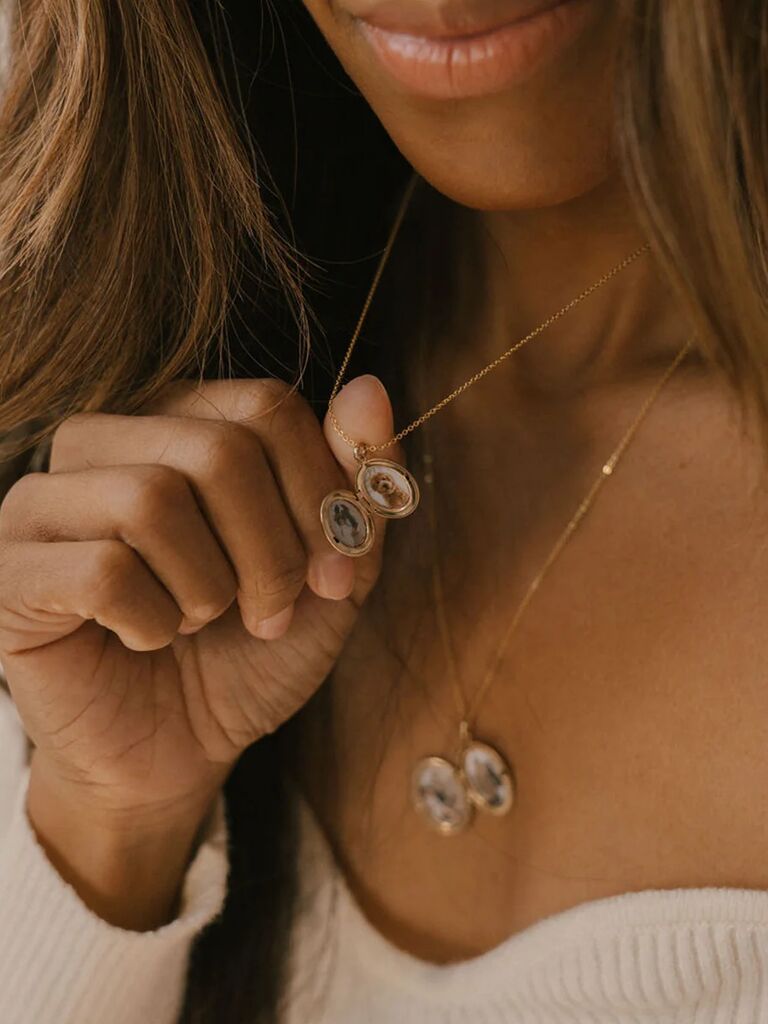 Give the bride a classic symbol of love and companionship: a locket. Add two sentimental photos to the sterling silver or gold-filled oval pendant, such as pictures from prewedding events or other memorable moments in your friendship. Your BFF will think of you whenever they wear this special gift.
2. Keepsake Box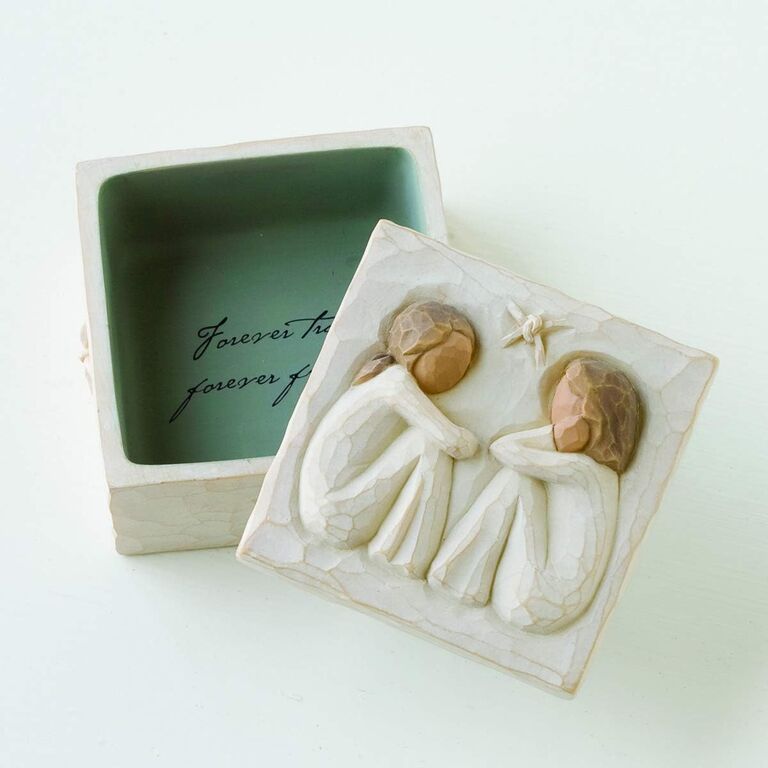 If you think the top of this keepsake box is cute, wait until you see the inside! This small, handpainted resin box features two female best friends on the lid and the phrase "Forever true, forever friends." Around the sides are knots to symbolize your unbreakable bond. Too cute, right? Naturally, it's made by the iconic brand Willow Tree, which specializes in sentimental figurine gifts.
3. Floral Coupe Glasses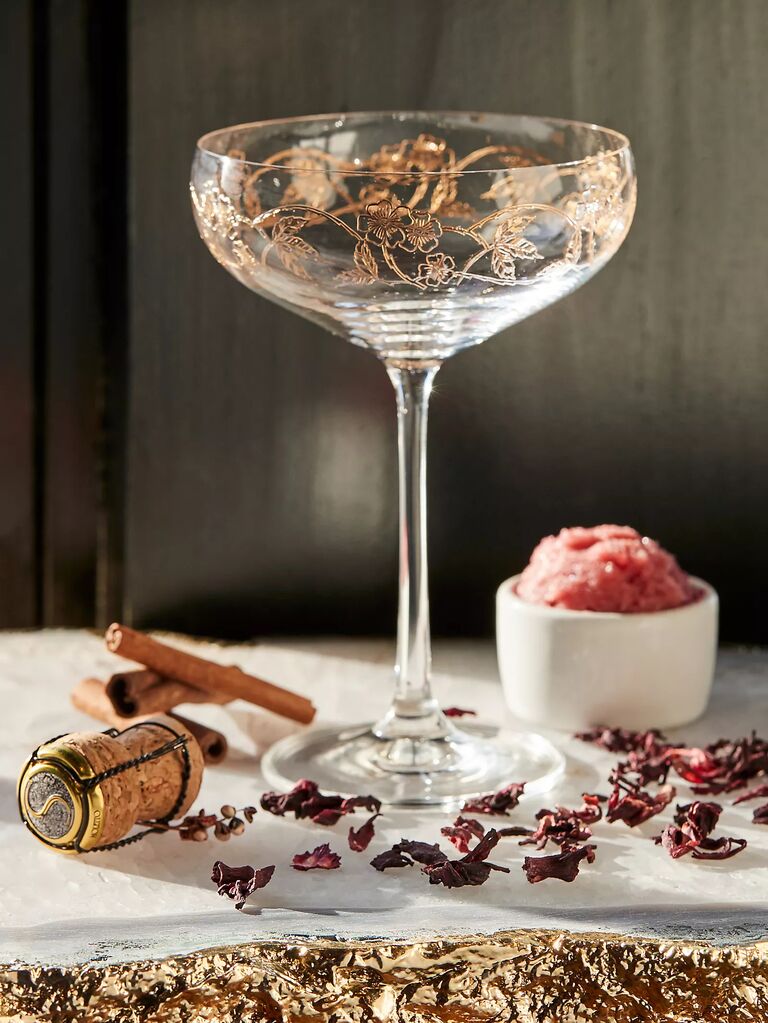 A toast to the bride! This absolutely elegant set of four coupe glasses is decorated with stunning gold floral motifs, making it the perfect glassware for celebratory champagne. We especially love drinkware as a bridal shower gift from the maid-of-honor to the bride-to-be. After all, who else has seen her dream bar cart on Pinterest as much as you?
4. Handpainted Champagne Bottle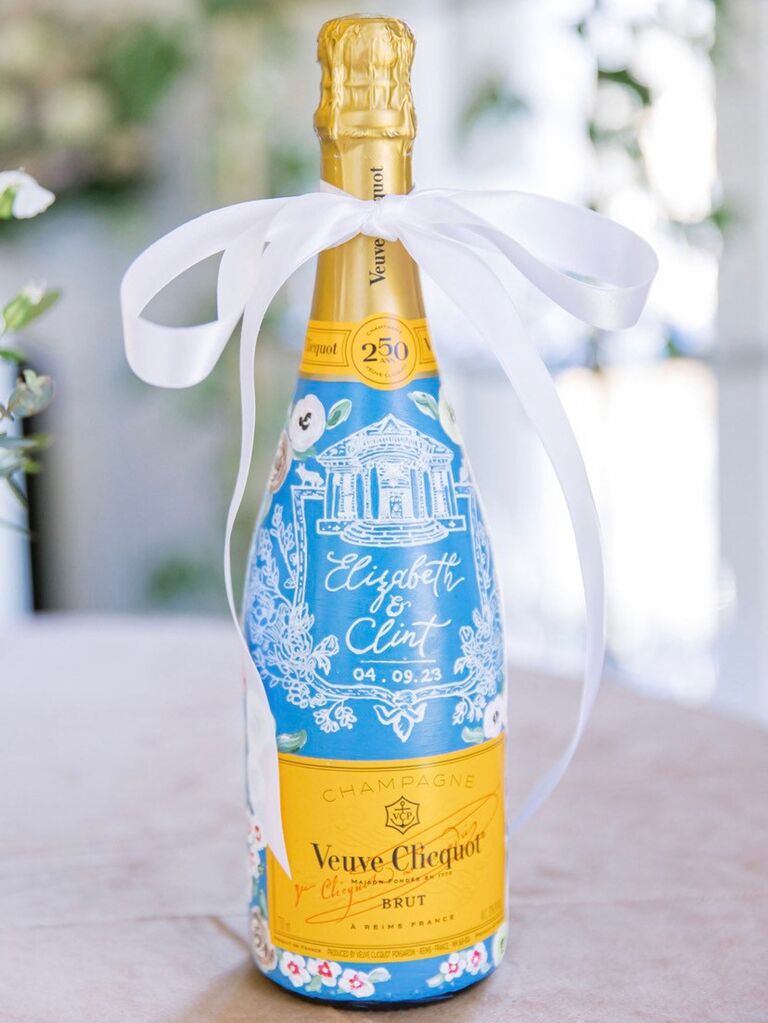 This bottle of champagne will never be thrown out, even once the alcohol is gone. Handpainted with the couple's wedding venue or invitations and names, it'll be a lasting keepsake from their special day. The Etsy seller will work with you to create the sweetest design. Note: Price of champagne bottle not included.
5. Bride Pajama Set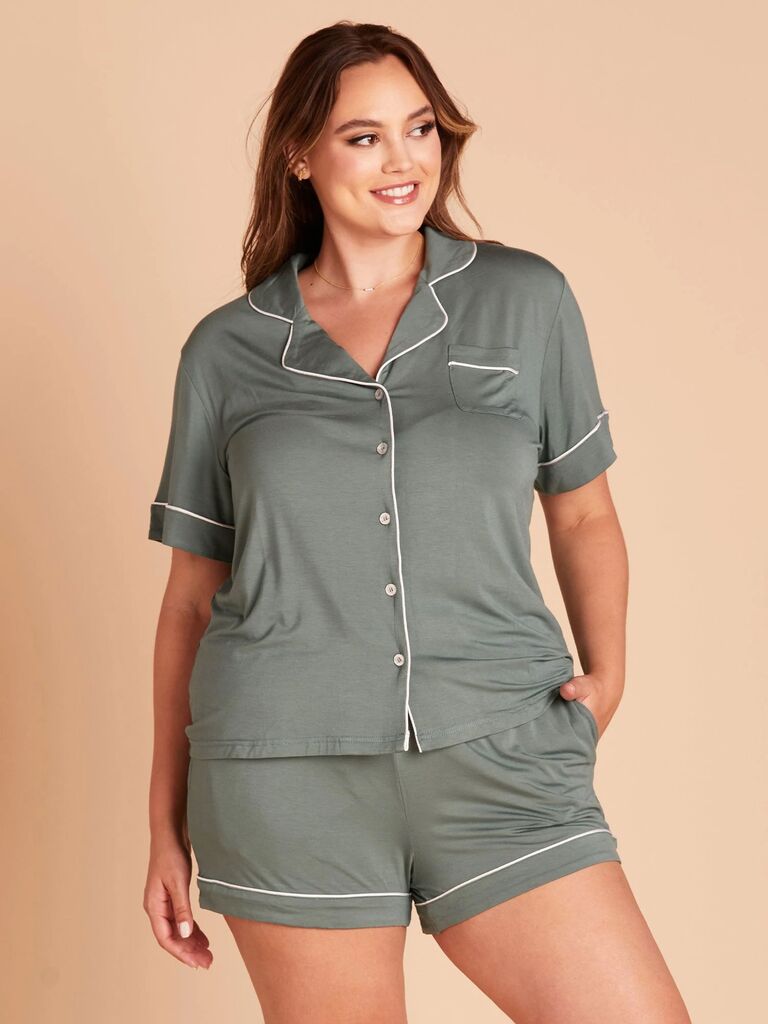 We love versatile gifts for the bride from her maid of honor, since she herself is a jack-of-all-trades to hold such a vital role. These cozy PJs are a real winner. They're made from a buttery bamboo-rayon fabric that's available in a wide range of colors, from Sea Glass to Cabernet (and of course White), so she can feel comfortable wearing them long after the wedding day.
6. Unwind Journal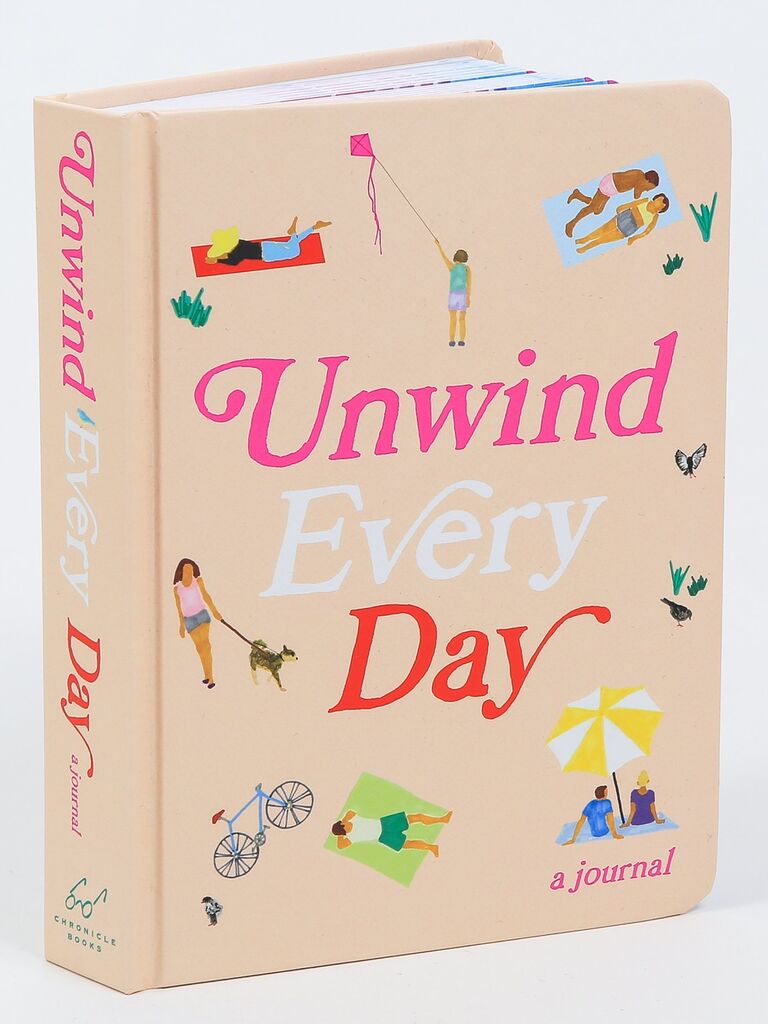 Decision fatigue, especially while wedding planning, is real. That's where this hardcover "unwind" journal comes in. Each page has a different prompt that the bride-to-be can complete, such as "meet a friend for coffee" (hopefully you) or "eat dessert for breakfast." The funny and adventurous tasks will take your friend's mind off her to-do list for just a bit, so she can relax and recharge.
7. "Just Married" Candle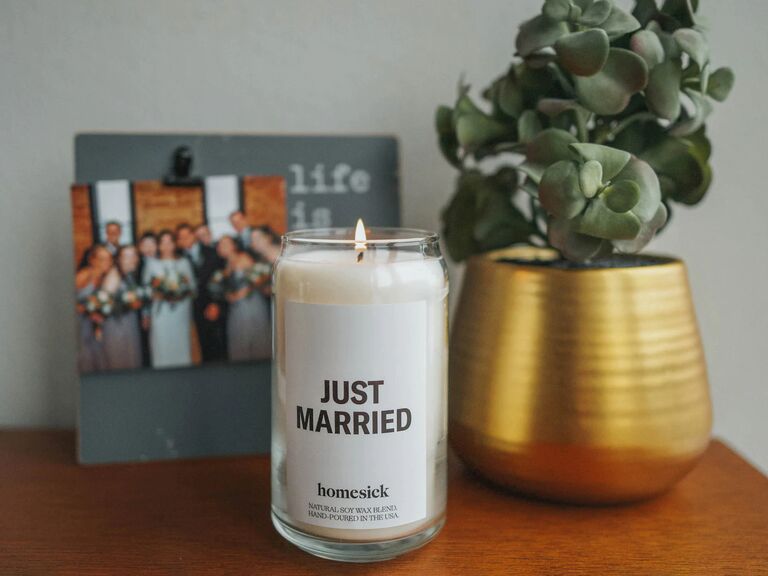 Homesick is one of our favorite brands for candles—and they have just the wedding day gift to the bride from her maid of honor. The festive "Just Married" candle smells like ocean air, fresh linens and a crisp glass of champagne. She'll think of her wedding and your thoughtful gift every time she lights the nostalgic scent.
8. Wedding Dress Hanger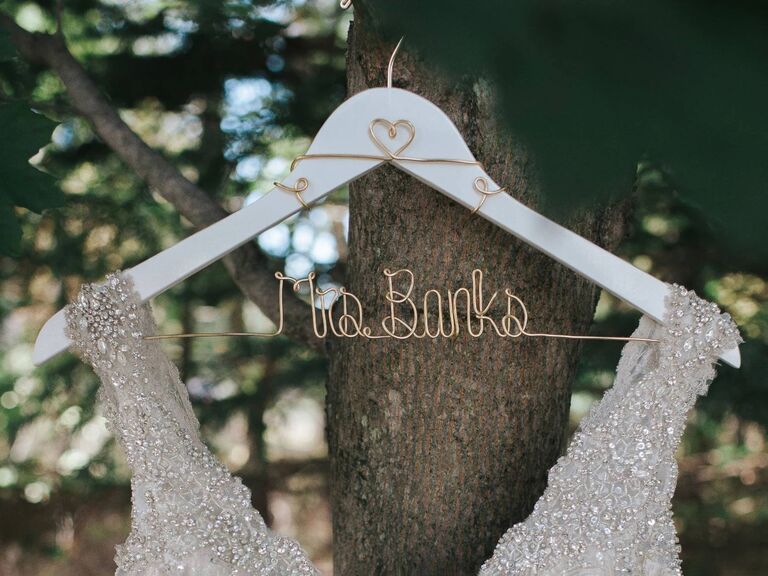 A wedding dress hanger is a classic gift for the bride, so make sure you coordinate with the rest of her family and friends to make sure no one else plans on executing the gesture. This particular hanger is intricately wrapped with a gold- or silver-hued wire to resemble hearts as well as her name (current or future), with an option to add the wedding date. You can also pick the color of the hanger: white, black, walnut or natural wood. There'll definitely be detail shots of this unique keepsake.
9. Wedding Emergency Kit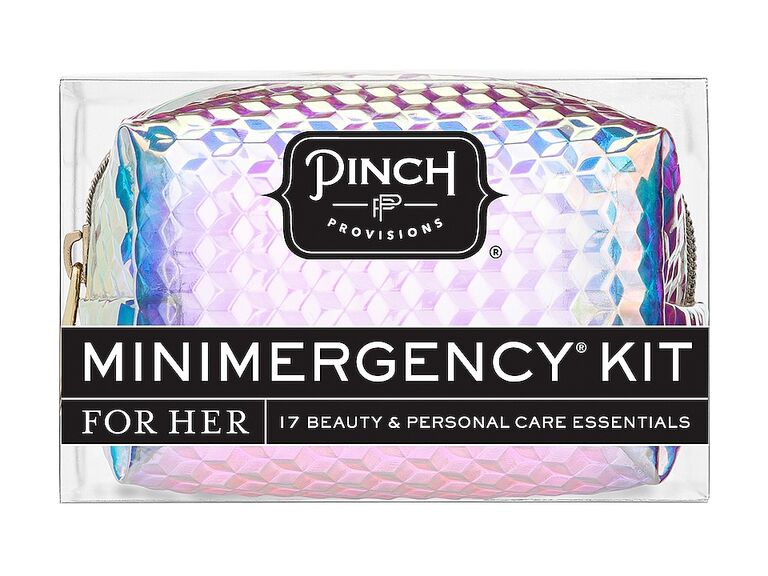 Maid of honor to the rescue! Be prepared for whatever the wedding day brings with this funny gift for the bride. This emergency kit is stocked with personal care and style essentials, like bandages, dental floss, stain remover, safety pins, earring backs, double-sided tape and so much more. Plus, the small size makes it easy to carry in a clutch, so she's stocked inside and outside of the getting-ready suite.
10. Something Blue Handkerchief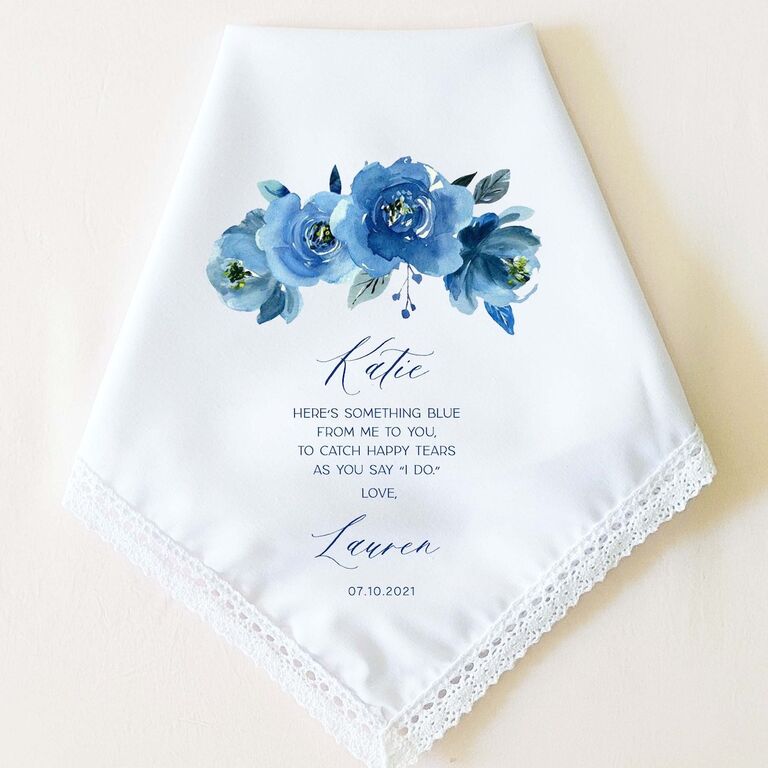 There'll definitely be happy tears on the wedding day. This handkerchief is a perfect wedding gift for your best friend, the bride. It's personalized with a phrase of your choosing—we love: "To my best friend, something blue to catch your happy tears as you say 'I do',"—then signed with your name and the date. It's also decorated with blue (naturally) flowers. You may want a hankie for your tears, too!
11. Vow Canvas Print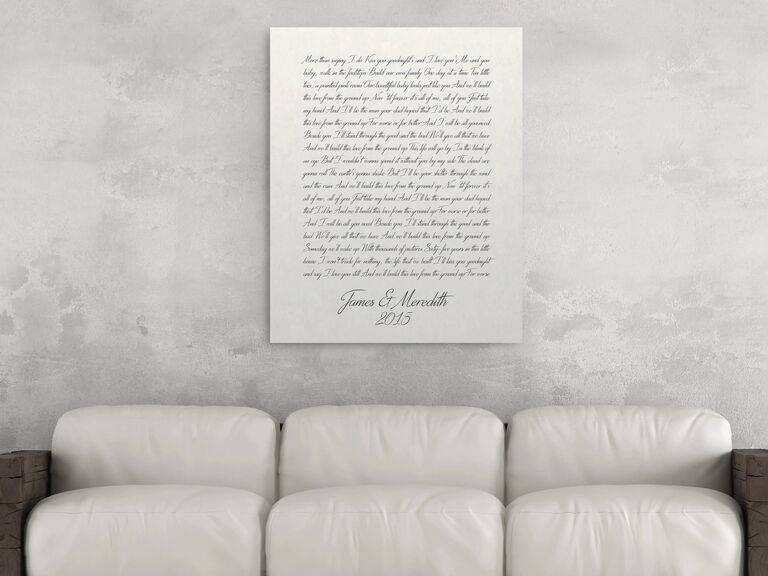 Pay tribute to the most sentimental part of the wedding day—the vows. With this personalized print, you can have the beautiful words she shares with her now spouse printed as art to hang in their home. Ask them to share their vows with you beforehand or send this present shortly after the wedding. Add the couple's names and wedding date for an extra-special touch.
12. Wine Subscription Gift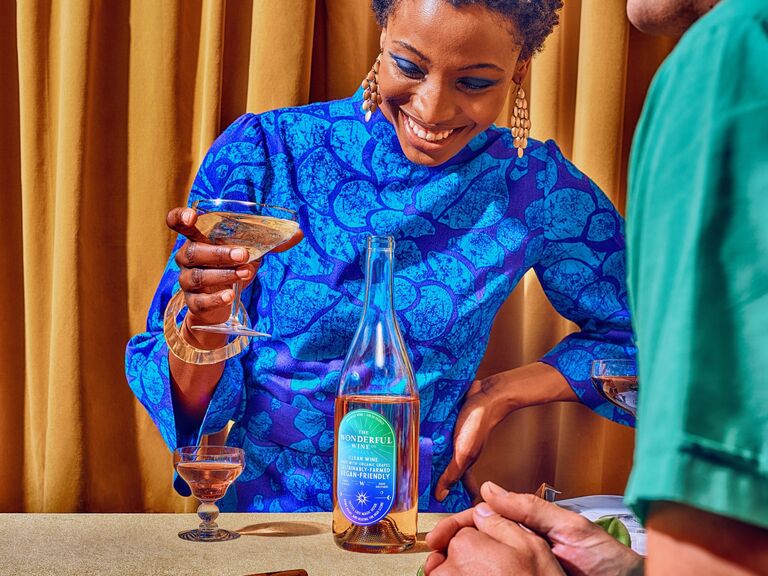 Now here's an incredibly useful maid of honor gift for the bride: a wine subscription service. Both her and her partner will love having a bottle conveniently in reach when wedding planning gets a bit stressful or when they just want to toast to their young marriage after the big day. Winc's $150 gift card can be redeemed for three months of personalized wine deliveries for a present that keeps on giving.
13. Monogrammed Ice Bucket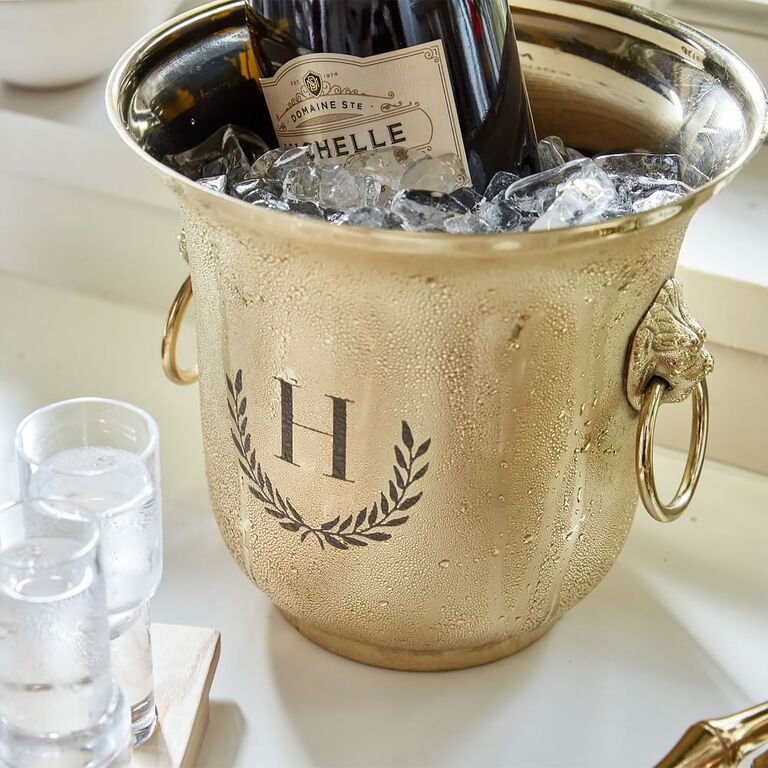 How about a gift personalized to the happy couple? Surprise both the bride and her fiancé with a monogrammed ice bucket to keep all their celebratory drinks cold. This vintage-inspired serveware has a gold- or silver-plated finish and is laser-engraved with their initials. It's a great shower or wedding gift for the duo that loves to host.
14. Personalized Cutting Board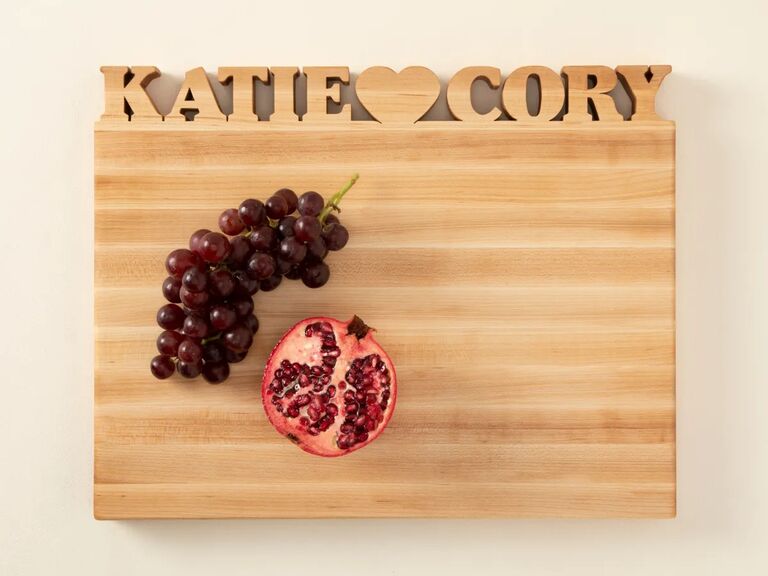 We're obsessed with personalized serving boards as wedding gifts—seriously, they're in all our gift guides for a reason. This maple wood cutting board is intricately cut to feature the couple's first names across the top. It's almost too stunning to even use for charcuterie.
15. Instant Camera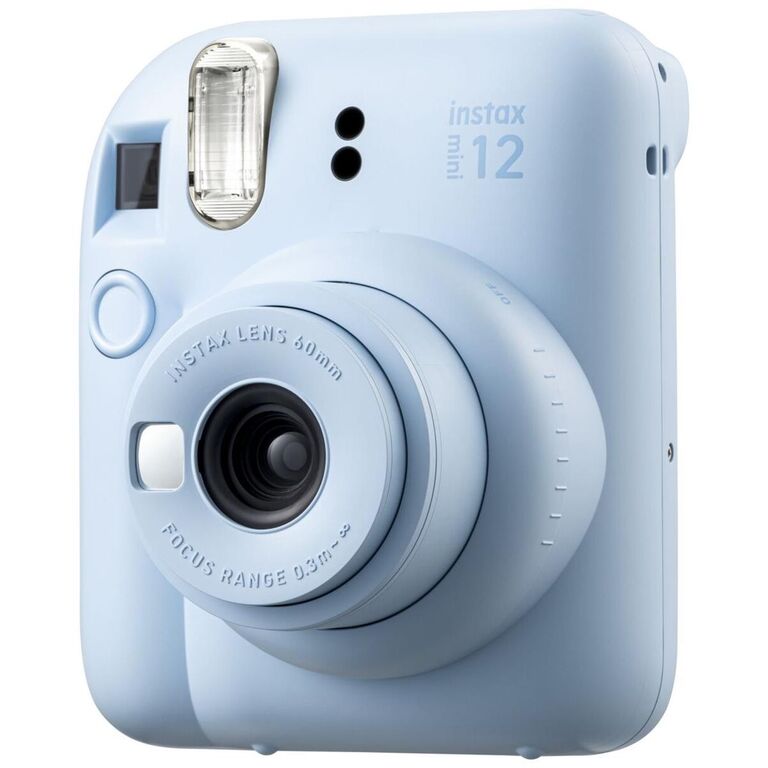 If the bride is a lover of all things old school, gift her an instant camera to tote along to prewedding events, the getting-ready suite, the reception dance floor and the honeymoon. With this unique gift for the bride from her bestie, she can take some special photos to commemorate the milestone. (Psst, don't forget the film!)
16. Custom Gallery Wall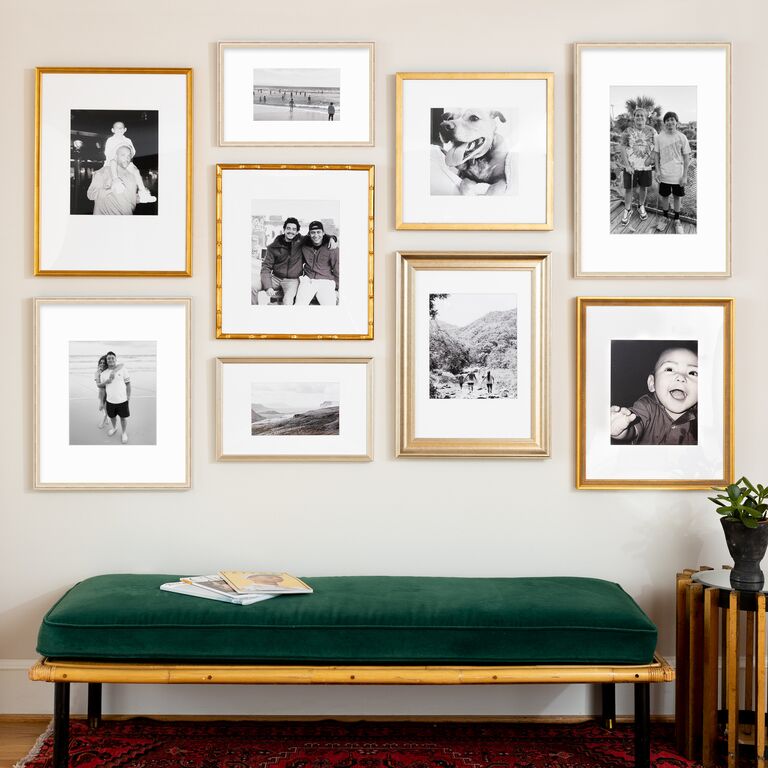 She'll have so many frame-worthy photos to display, making a gift card to Framebridge a stellar wedding present. First, she and her spouse will pick the gallery wall design they like best, then they'll specify each frame style and finally upload their favorite images from the special day—hopefully one includes you. Framebridge will then send them the photos framed and ready to hang with a map of how to do so. Your gift will be hanging in their home for years to come.
17. Pearl Bracelet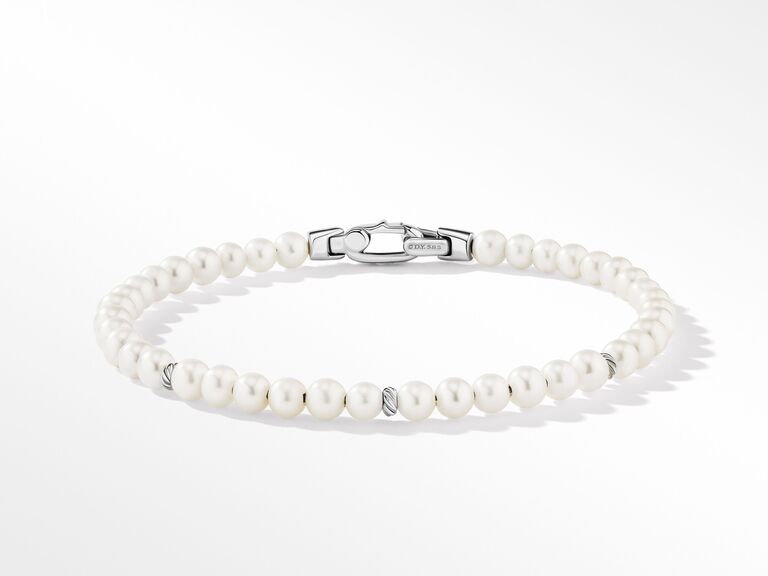 Pearls aren't just classically bridal, they're also a symbol of friendship. This luxe beaded bracelet features cultured freshwater pearls paired with sterling silver sculptural chains for a gorgeous bauble fitting for a bride-to-be. She'll love flaunting the "friendship bracelet" at her shower, bachelorette party or wedding, depending on when you gift it.
18. Floral Perfume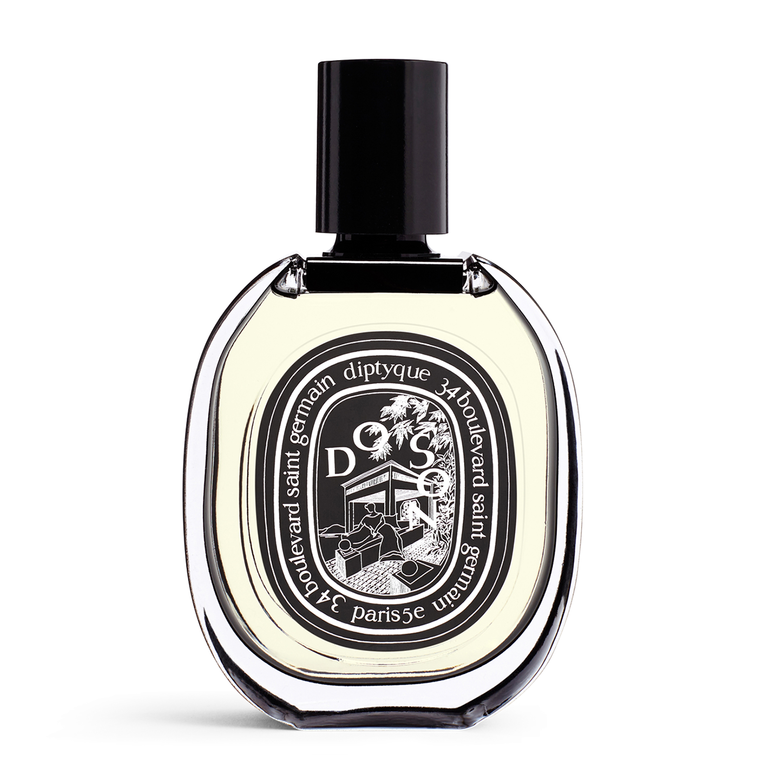 You may be familiar with the brand Diptyque for their heavenly scented candles, but did you know they also have perfume? We love perfume as a maid of honor gift to the bride on the wedding day because she can put it to use right away. This one combines sensual tuberose, fresh orange blossom and elegant jasmine to make a timeless fragrance. The signature scent won't just remind her of your friendship, it'll also bring her back to the special day.
19. Maid-of-Honor Speech Custom Canvas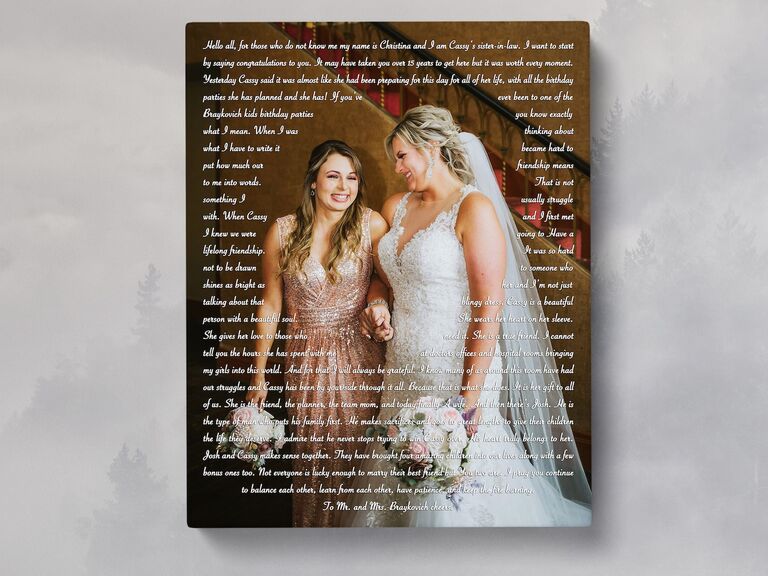 Commemorate your speech with this sentimental gift from you, the maid of honor, to the bride. The canvas features a photo of the two of you on the wedding day surrounded by the loving words from your speech. *Tears.* It's the sweetest way to show off your friendship in her home.
20. Personalized Compact Mirror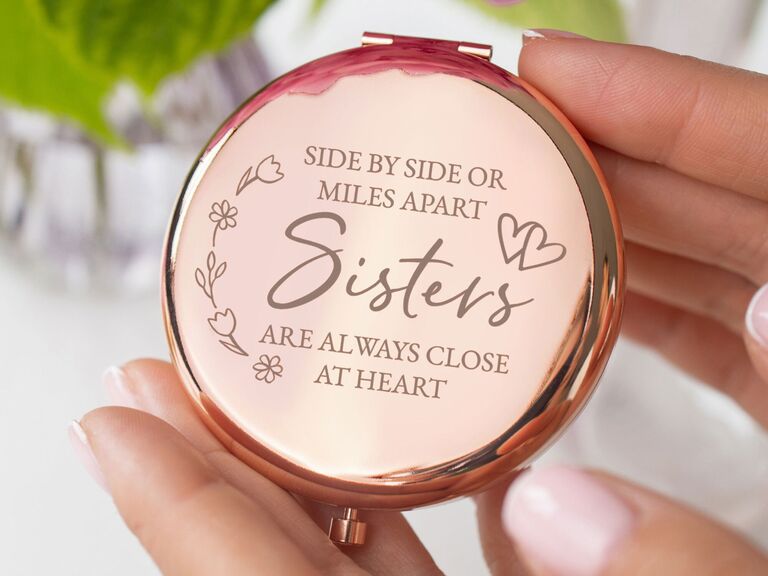 Sister of the bride and maid-of-honor? Here's a sentimental gift that represents your unique relationship. This personalized rose-gold-hued makeup mirror is engraved with the saying: "Side by side or miles apart, sisters are always close at heart."
21. Bridal Flask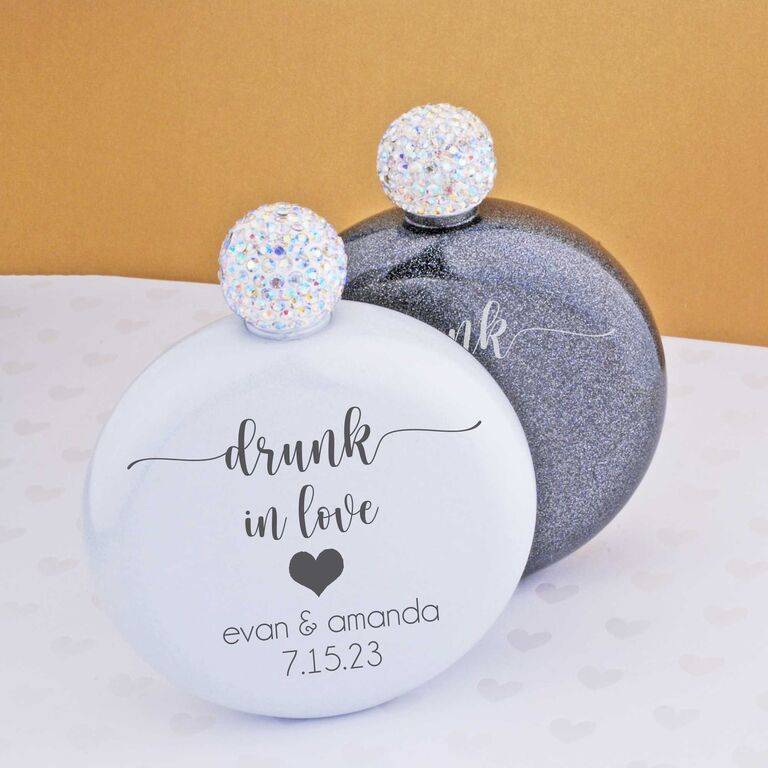 Here's another funny gift for the bride from her maid of honor on the wedding day. If she didn't already get one for the bachelorette party, handing over a flask filled with her favorite booze will help get the party started as she's getting ready and calm any day-of jitters. This one jokes: "drunk in love" and is personalized with her and her fiancé's names and wedding date. It comes in white or a sparkly black and the lid is bedazzled—too fun!
22. Single Eternity Rose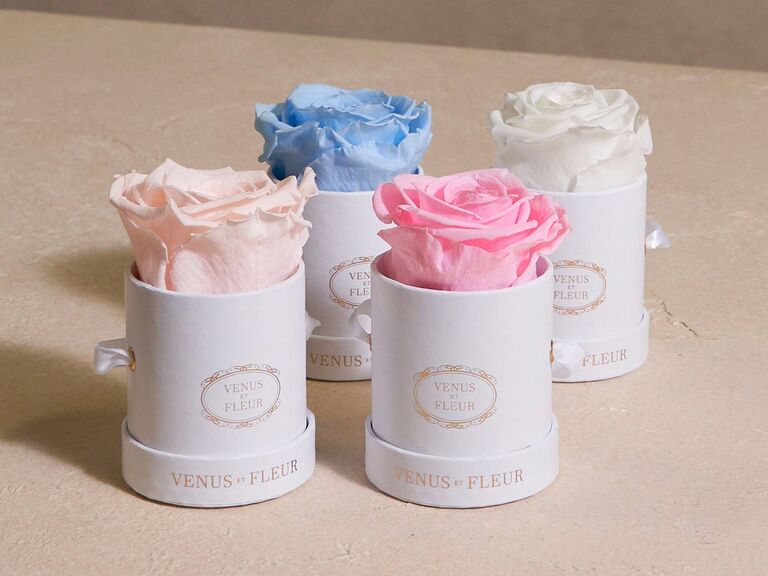 The only relationship stronger than the one between the bride and her fiancé is the one between the bride and her maid of honor. Gift a symbol of your ever-lasting love with this precious single rose preserved to last for years. The mini arrangement will be a cute addition to her bedside table, vanity or desk to serve as a consistent reminder of you.
23. Cake Serving Set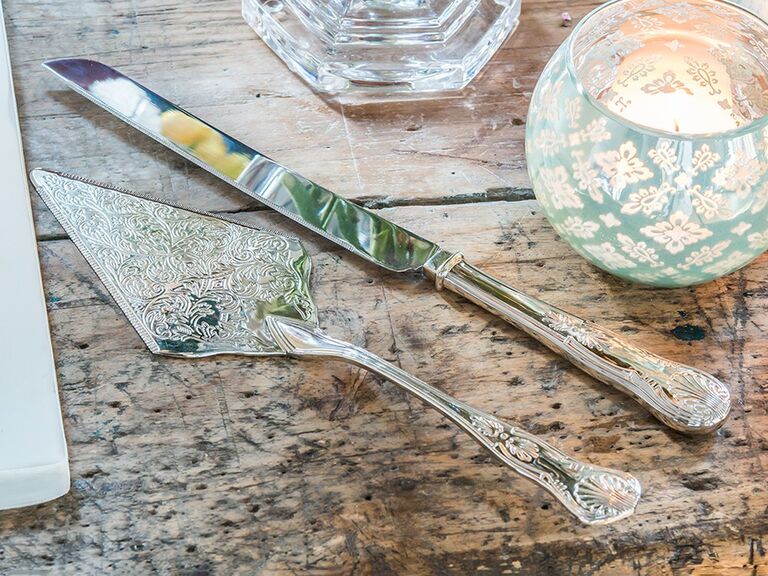 A cake serving set is a classic MOH gift to the bride, usually for the bridal shower, since you have the 411 on what she's purchased for the wedding already. We're simply obsessed with these vintage-style cake tools designed with beautiful swirls and other intricate embellishments. This set can be personalized with the couple's names, wedding date or a special message to the newlyweds.
24. Heart Bouquet Charm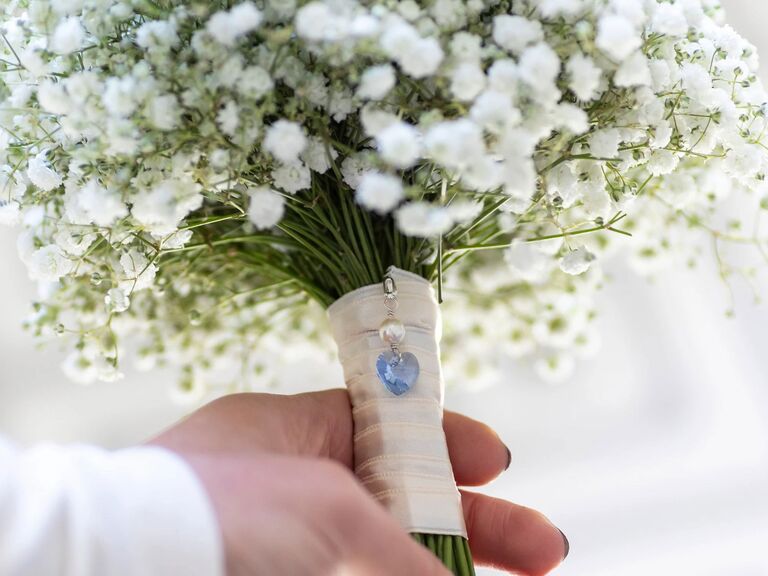 Check off their something blue with this stunning crystal bouquet charm. The light blue crystal is shaped like a heart and dangles from a single glass pearl for a touch of elegance. After the wedding day, it becomes a small, but special keepsake.
25. Group Video Montage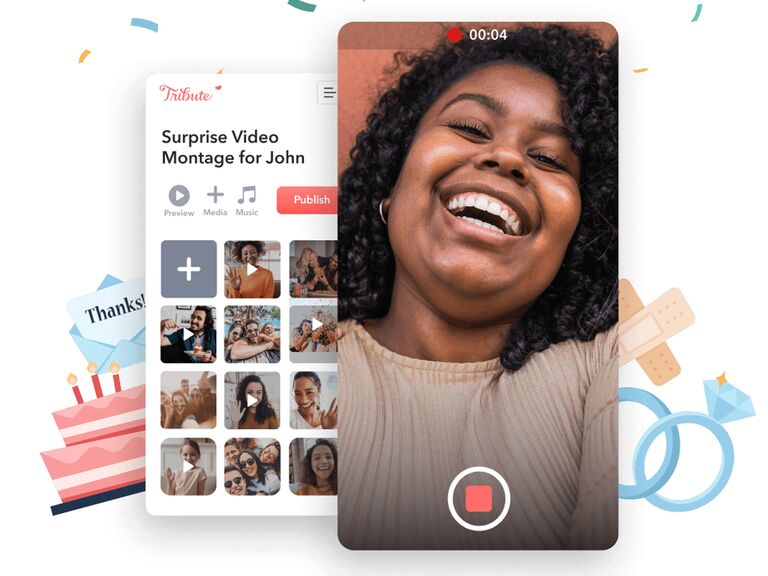 As the maid of honor, you're likely already close with the bride's family and friends as well as her fiancé. Use your connections to create a super meaningful gift for the bride (and her partner). Ask guests to share videos congratulating the couple, offering well-wishes or sharing a story of the duo, then compile them into a Tribute montage. The concept is simple: You can edit the video yourself or have the company do it for you for an additional fee. Share the video with the bride (and her fiancé) at the rehearsal dinner or wedding reception and get ready for lots of laughs and some happy tears.