Everything You Need to Know About Getting Married in New Mexico
Look to The Knot for local details about getting married in New Mexico, from choosing your wedding venue to getting your marriage license.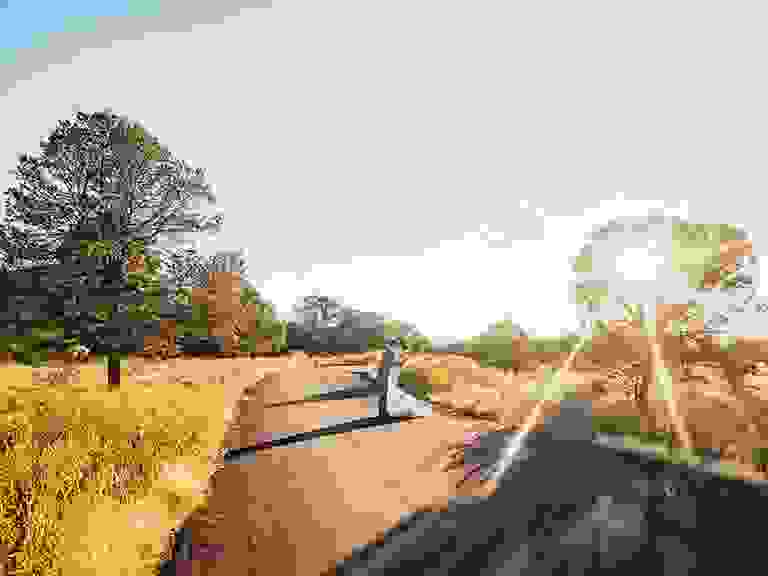 Maura Jane Photography

Ultimate Guide to Getting Married in New Mexico
Located in the heart of the American Southwest, New Mexico is a beautiful state with a rich history. From sandy dunes to dizzying mountain heights, New Mexico offers outdoor enthusiasts and nature lovers plenty of fresh desert air, and is a lovely backdrop for celebrations of any size. With small towns and big cities located along the meandering Rio Grande, which cuts right through the state, there are plenty of desert oases that make charming vacation spots and feature popular New Mexico wedding venues.
In this comprehensive guide to getting married in New Mexico, you'll read about wedding trends popular in the state and get some practical tips on hosting your special day there. We'll cover the basics of applying for your New Mexico wedding license and changing your name, as well as some specifics for planning your budget. You'll also get some pointers for helping your guests navigate the state and to make their stay enjoyable while they celebrate with you. And follow your wedding checklist to make sure everything is done on time.
Top Wedding Trends in New Mexico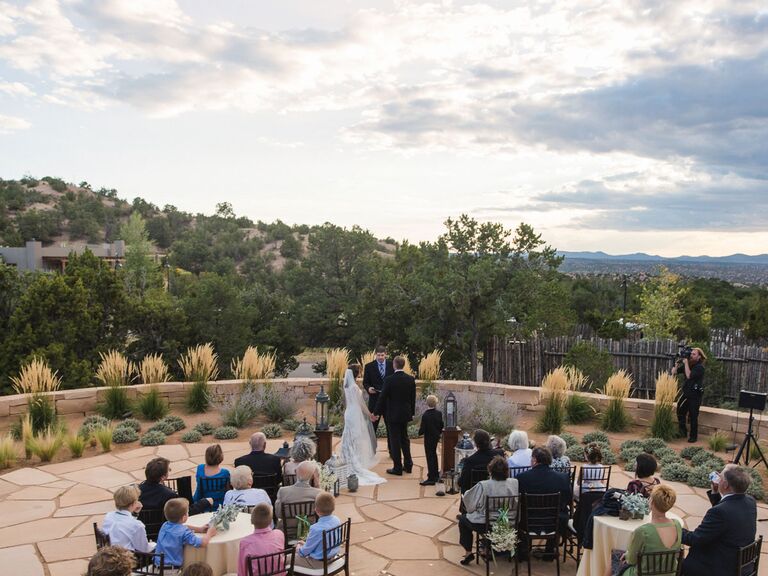 New Mexico is also known as the Land of Enchantment, and it's easy to see why with its astounding natural beauty and cultural influences, which make planning a one-of-a-kind wedding here easy for couples. While many brides surveyed in The Knot 2015 Real Weddings Study reported having a formal or semiformal event in New Mexico, they tended to have a natural, outdoorsy feel at their weddings, with traditional and DIY elements.
Inspired by the avant garde art culture of New Mexico's larger cities, couples are experimenting with pattern mixing, often including carefully mismatched bridesmaid dresses and uncommon color combinations, tied together with natural elements. Taking a cue from the arid beauty of the desert, New Mexico to-be-weds often choose to incorporate cacti and succulents into their floral arrangements and décor, rather than traditional wedding roses.
New Mexico Marriage Rates and Wedding Costs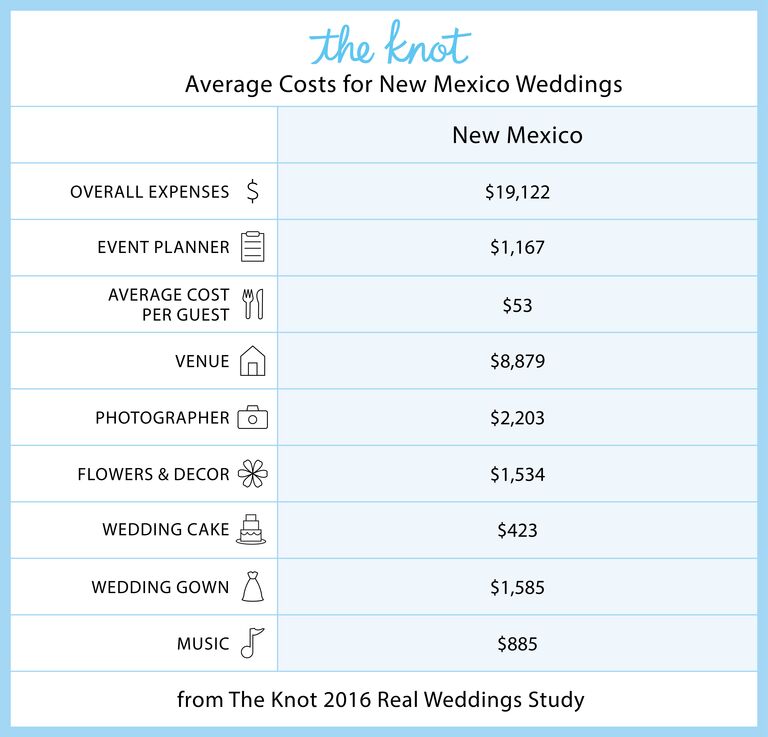 Planning your New Mexico wedding is sure to be a ton of fun, but before you pull out all the stops, it's important to establish a wedding budget. Using tools like The Knot Budgeter, as well as staying apprised on local costs for services, will help you to get the most bang for your buck—so you can have your wedding cake and eat it too. Here's some background info on New Mexico marriage rates, as well as average wedding costs, according to The Knot 2015 Real Weddings Study.

New Mexico Marriage Stats
The marriage rate in New Mexico is slightly above average for the United States, with 8 out of every 1,000 individuals getting married each year. According to the Real Weddings Study, couples are spending well below the national average for wedding costs, with the average New Mexico wedding celebration coming in at $20,114. Depending on your chosen New Mexico wedding venue, your budget may fall above or below this average.
Budget Breakdown: New Mexico Wedding Costs
Understanding where couples spend their wedding budgets can help you to create a budget that accurately reflects where your expenses will be. And you'll have the added perk of being able to negotiate fair prices with vendors in your area. Above is a list of some of the top costs for basic wedding budget categories and their New Mexico price averages, according to the Real Weddings Study.
Top Cities in New Mexico to Tie the Knot
While the entire state of New Mexico is peppered with charming venues for hosting your wedding festivities, there are a few top picks for city weddings in the state:
Make It Legal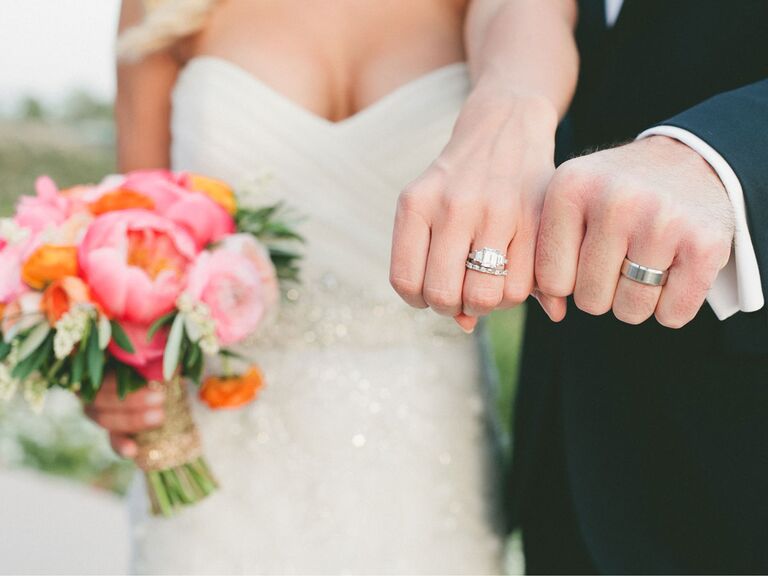 While you're focusing on some of the finer details of planning your wedding, it's important to consider the steps you need to take in order to make sure your marriage is legally recognized in New Mexico. Understand the steps required to obtaining your New Mexico wedding license, as well as how to legally change your name, before your wedding day.
Getting a New Mexico Wedding License
Applying for your New Mexico wedding license is a fairly straightforward process, which requires both you and your fiancé to apply in person at your local County Clerk's office. You'll need to complete an application for a New Mexico wedding license, which can be found online and filled out in advance or in the office at the time of application. You must also provide the following:
Proof of age and identity, usually with a government ID, such as a driver's license
A $25 fee
Your New Mexico wedding license is good for 90 days after applying and must be returned to the County Clerk's office by your wedding officiant. Your officiant may be anyone you choose, as there are not any laws governing New Mexico wedding officiant requirements. The officiant must sign your marriage license and return it to the County Clerk after your ceremony.
Permits and Other Requirements for New Mexico Wedding Venues
Depending on which New Mexico wedding venue you choose, you may need permits or other permission to conduct your ceremony or reception. Places like public outdoor grounds and national parks generally require a permit for hosting an event on-site. You may require additional permission for special displays, such as fireworks, regardless of your venue. Work with your New Mexico wedding planner and vendors to determine whether your event falls into any special categories that require permits.
Changing Your Name in New Mexico
After your wedding, you or your spouse may wish to make a name change to reflect your union. Read this helpful guide to changing your name for more information. You can also use an online service like HitchSwitch to make the process easier. To change your name with the New Mexico DMV, you will need to go to your local DMV office and provide the following:
Your old driver's license
Your official New Mexico wedding license (not a copy)
Additionally, you will want to update your information with the Social Security Administration, which may be required before you can change your driver's license information with the State of New Mexico.
It's All About Timing
Fall is the most popular season for New Mexico weddings, with 45 percent of couples setting their dates between September and November. Summer weddings follow, with 35 percent of couples choosing warmer days for their celebrations. Spring and winter weddings in New Mexico are less common, with 16 percent and 4 percent of couples choosing these seasons, respectively.
New Mexico Seasons
New Mexico has a dry and mild climate, with many areas seeing minor seasonal fluctuations throughout the year. Summers tend to be warm, but not overly hot, with cool evenings. Most rainfall occurs from spring to fall, with summertime yielding the most predictable rainfall with brief but intense thunderstorms throughout the season. Winters are cold and typically bring snow to the northern and mountainous regions of the state.
With fairly predictable temperatures and weather patterns year-round, it's difficult to pinpoint a "best" season for hosting a New Mexico wedding, especially if you choose an indoor venue. However, fall is a standout favorite among couples as it often brings comfortable, sunshiny days and chilly, but not freezing nights, making outdoor venues in New Mexico as appealing as ever.

New Mexico Dates to Avoid
For the sake of convenience, you may wish to avoid certain New Mexico festivals and events when you plan your wedding. Depending on where your New Mexico wedding venue is located, your wedding planner will be able to let you know the dates for these types of events. Doing so will help your guests to feel more comfortable and ensure that the venues and vendors you wish to use are available.
Many couples choose to avoid major holidays and national celebrations, so guests won't have to choose between their family traditions and your wedding day. It's also a wise move in the budget department, as prices for travel, lodging and many other services are naturally inflated during these times of year. For information about major holidays and national celebrations for 2016 to 2018, check out our comprehensive guide. Additionally, here are some New Mexico–specific festivals and celebrations that you may wish to avoid:
Taos Winter Wine Festival (January)
Roswell UFO Festival (July)
Santa Fe International Folk Art Market (July)
Albuquerque International Balloon Fiesta (October)
Great Guest Experiences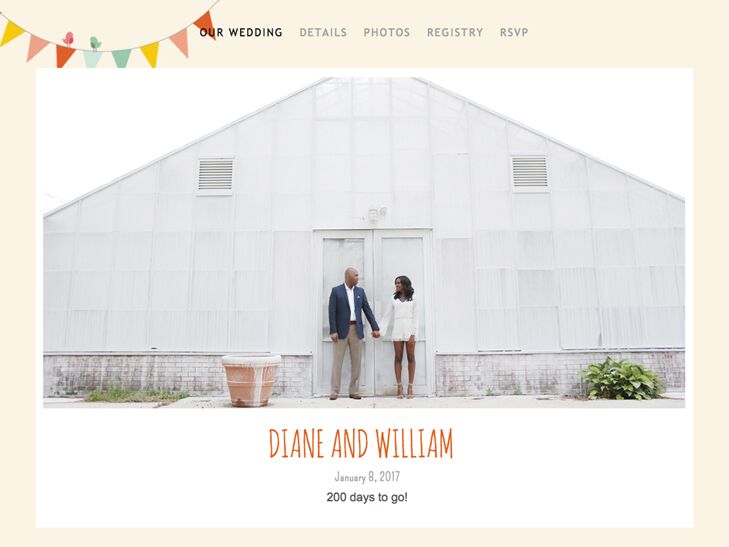 While your guests are in town to celebrate your special day, they'll certainly want to take advantage of the amazing natural beauty and cultural spots New Mexico has to offer, from exploring rock formations to participating in local art festivals. To provide your guests with all of the relevant wedding information, including dates and locations, set up a customized wedding website that can point them to the important details surrounding your event.
Finding Your Way: Travel in New Mexico
New Mexico is a large state, spanning mountain and desert terrains, so it's important your guests feel comfortable finding their route. New Mexico is serviced by two major international airports—Albuquerque International Sunport and Las Cruces International Airport—as well as multiple smaller airports that bring out-of-state guests right where they need to be.
For guests who prefer to drive in or need to travel from the airport to your wedding destination, there's a broad network of interstates and state highways that can take them wherever they need to go. New Mexico is crossed by Interstates 10, 25 and 40 to help facilitate out-of-state travel.
Around Town: What to See and Do in New Mexico
While they're in town, your guests will probably want to check out local landmarks and New Mexico tourist attractions, from impressive sandstone formations to the lovely Rio Grande. Here are some top picks we don't think your guests will want to miss:
White Sands National Monument, Alamogordo
Santa Fe Opera House, Sante Fe
Carlsbad Caverns National Park, Carlsbad
International UFO Museum, Roswell
Four Corners USA, Shiprock
Go Local: Food and Favors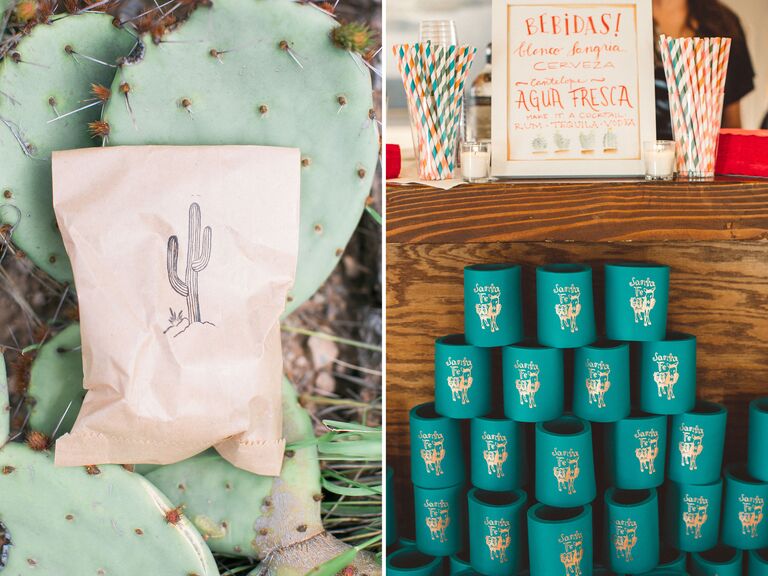 Whether you're a New Mexico native or headed to the southwest for a destination wedding, you're definitely going to want to include some regional flavor into your wedding menu. While you're at it, consider incorporating something small but definitive of your New Mexico wedding venue for your guests to enjoy after the reception.
Regional Flavor Favorites: Explore the Taste of New Mexico
New Mexican cuisine is considered to be somewhere on a spectrum between authentic Mexican cuisine and American Tex-Mex fare. Chiles and tortillas dominate this regional palette, with sauces and wraps of various kinds making up the bulk of what most would consider authentic New Mexican food. Consider giving your guests the option to choose between red and green sauces with a fun buffet that features both. And send everyone off with some tasty biscochitos, the official cookie of New Mexico.
Do Your Guests a Favor: New Mexico–Inspired Take-Home Treats
Before you say good-bye, send each guest off with a charming wedding favor that represents your love for The Land of Enchantment. Below are some ideas to get you thinking of fun New Mexico items that can be incorporated into your wedding favors or guest welcome bags:
Small cacti or succulents
New Mexico biscochitos
Local honey
New Mexico Pinon coffee
Small artwork, such as painted Christmas ornaments
Check out The Knot Shop for other personalized favors.
New Mexico City Guides
With its collection of natural attractions and rugged appeal, New Mexico boasts a stunning array of wedding venues for events of any size and style. While locals may have their favorite spots off the beaten path, there are a few standout cities for hosting your New Mexico nuptials. To get started, check out these cities and then connect with local vendors via our ultimate wedding vendor marketplace.
Albuquerque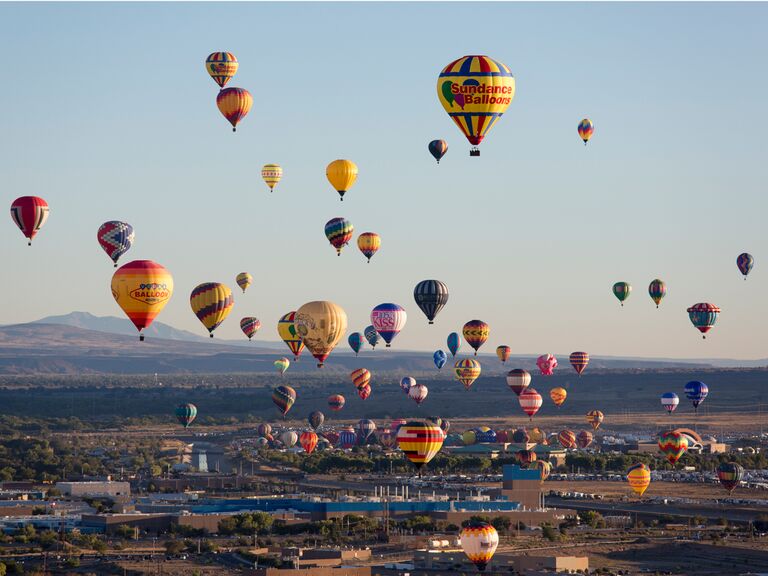 Albuquerque is the most populous New Mexico city and is located in the center of the state along the Rio Grande. It is characterized by the synergy of its historic Old Town area and plenty of modern amenities downtown. Home to the University of New Mexico, Kirtland Air Force Base, and various research and industry companies, Albuquerque is always alive and bustling with activity.
Surrounded by the desert, mountains and river on its various sides, Albuquerque offers a unique blend of natural attractions and a fairly cool to moderate climate for its southwestern location. Culturally, there are plenty of options for entertainment, including hot-air balloon festivals, musical events and historic sites, which attract thousands of tourists each year. And with plenty of indoor and outdoor locations to celebrate, Albuquerque is a natural favorite New Mexico wedding venue spot.
Here is a list local Albuquerque vendors:
Las Cruces
Las Cruces is a city located in the southern part of New Mexico and boasts the second-largest city population in the state. As a center of business and industry, Las Cruces is a vibrant city with plenty to offer. With impressive mountains to its east, Las Cruces is part of the Mesilla Valley and has stunning views of the southwestern countryside year-round. There are many local events and festivals, including wine festivals and farmers markets, which take place primarily later in the calendar year.
Here is a list of local Las Cruces wedding vendors:
Santa Fe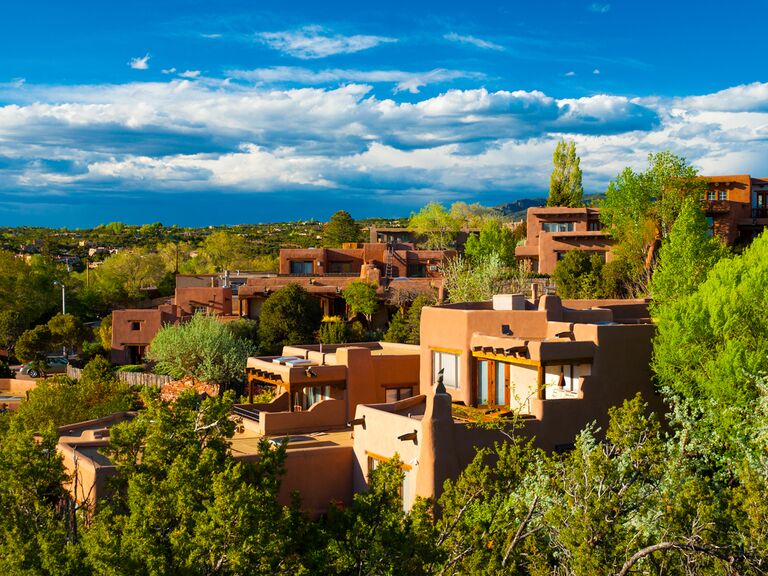 Santa Fe is the capital of New Mexico and is located in the north central part of the state. It's a beautiful picturesque town that radiates a strong multicultural vibe. Santa Fe is filled with unique tourist attractions and one-of-a-kind New Mexico wedding venues. Guests can enjoy the extraordinary adobe architecture and a plethora of cultural events during their Santa Fe visit.
Here are some local Santa Fe wedding vendors you can connect with:
Check out more New Mexico wedding inspiration here.
Don't forget to download The Knot Wedding Planner app—it's a must-have for on-the-go planning.
Download for iOS: Wedding Planner App by The Knot

Download for Android: The Knot Wedding Planner