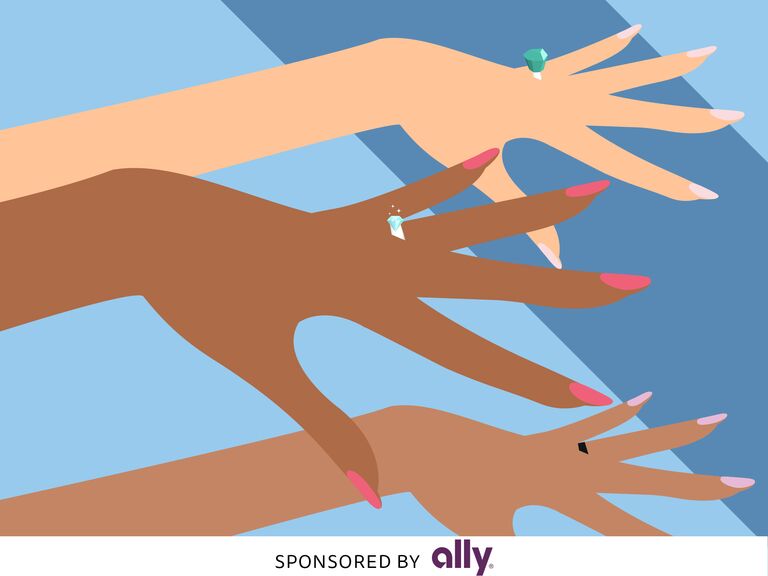 It's no secret that the sight of an engagement ring—of any kind—makes us giddy. Traditional diamond sparklers still show up most often on left hands, but more and more couples are going for different types of gems or even nixing precious stones altogether. The reasons for these choices vary: Maybe a nontraditional ring is a better fit for your personal style or your lifestyle and beliefs, or you're lucky enough to have a special setting or stone passed down to you. Or maybe you simply want to put the money you might have spent on an expensive ring toward the wedding or your future together instead. In that case, think about stashing that money in Ally Bank's Online Savings Account (Ally Bank, Member FDIC). Online banks generally offer higher interest rates than brick-and-mortar banks, plus you can still access your funds easily. One thing's for sure, no matter how much your ring costs, the thought and sentiment behind it remains the same. Just ask these five women, who share the stories of their unique engagement rings below.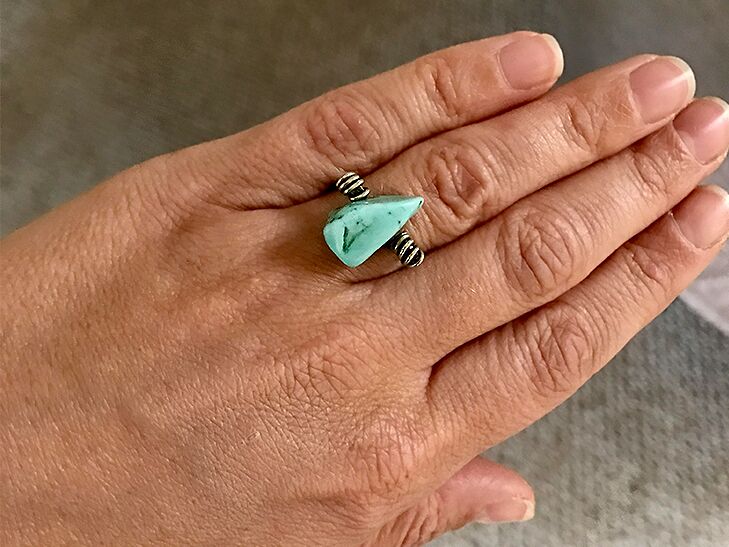 Name: Bailey G.
Location: Ojai, CA
Engaged: July 2016
The Ring: The story behind this irregular-shaped stunner is as unique as the rock itself: While on vacation in Nicaragua, Bailey's now-husband Eric came across a woman selling jewelry on the beach. A turquoise ring caught his eye (it's Bailey's favorite stone), but he had no idea if it was the right size. Taking a leap of faith, he bought it and proposed to her that night—and, phew!, the ring fit perfectly. Beyond the ring itself, Bailey appreciates what it symbolizes. "It represents my favorite aspects of our relationship: my husband's spontaneity, our favorite country to surf and explore, and a shared passion for supporting local vendors," she says.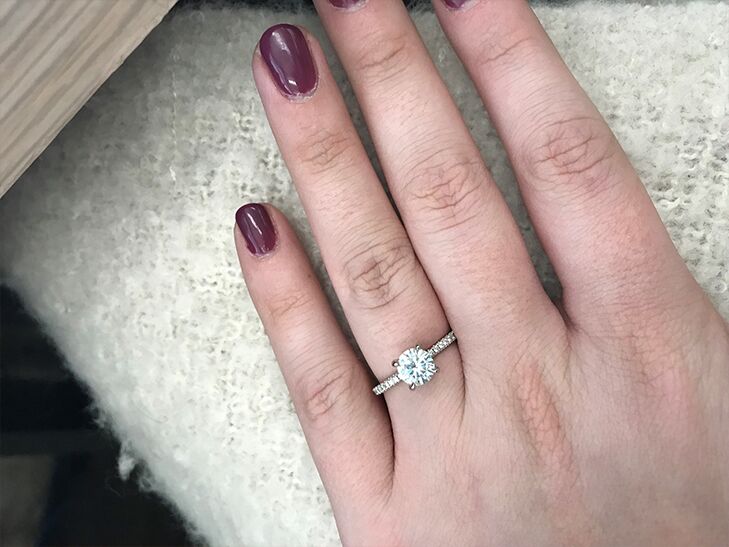 Name: Megan P.
Location: Turner Falls, MA
Engaged: August 2017
The Ring: When Megan and David started to talk about getting engaged, she did some research into the diamond trade and realized an ethically-sourced ring was important to her. "Moissanite happened to be the best ethical choice—and it's affordable and almost as hard as diamonds for good daily wear," she says. David proposed in their kitchen with a 1-carat equivalent moissanite solitaire with an ethically-sourced pavé diamond band. "I was really impressed with David's choice," she says. "Only a jeweler would be able to tell my center stone isn't a diamond and I feel great knowing no harm was caused for the privilege of wearing my ring every day."
Source: Do Amore

Name: Keilara M.
Location: Provo, Utah
Engaged: August 2017
The Ring: Ever since she was a girl, Keilara knew she didn't want a traditional diamond ring. "I always wanted to be different, and thought I wanted a pearl or opal," she says. Then she saw a woman wearing a raw diamond and instantly fell in love: "I love that they are not the traditional, perfect-shaped diamond." Also known as rough or uncut diamonds, these stones aren't cut and polished, which gives them an organic feel. She still wanted a bit of sparkle though, so now-husband Michael designed the ring with a halo of polished diamonds around the center stone. And Keilara was thrilled with the finished product. "[Uncut diamonds] are so unique and no two are alike," she says. "I am so happy with how it turned out."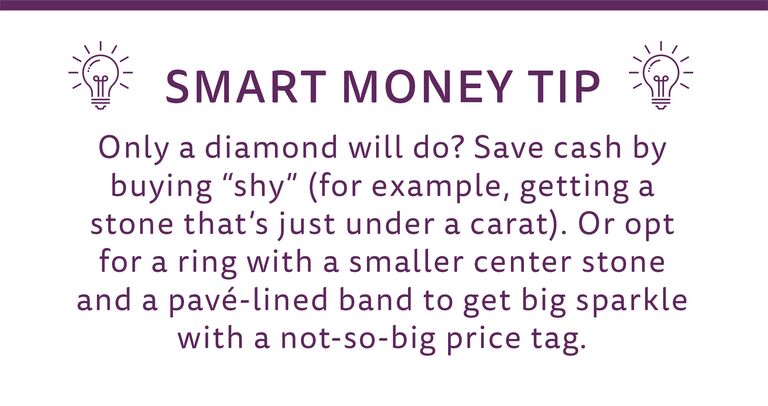 Source: Diamond Cutters International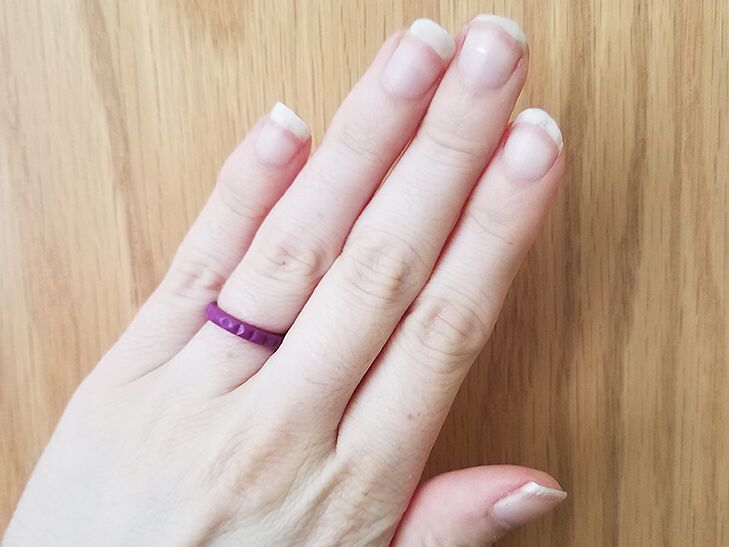 Name: Katy L.
Location: Chapel Hill, NC
Engaged: October 2017
The Ring: Since Katy works with her hands and considers herself a "non-jewelry" person, she knew a traditional engagement ring wouldn't work for her. She came across silicone rings online, and learned they come in different colors and styles (and that they're very reasonably priced). She sent her then-boyfriend the link and the rest was history; he proposed to her with it on their anniversary trip. "The true value of the ring didn't come from how much my fiancé did or didn't spend, but rather the thoughts and emotions behind it," she says. "No matter what I'm doing or how my day is going, I can look down at my hand and think about him, and about how we want to spend the rest of our lives together." The pair has even decided to each wear silicone wedding bands too.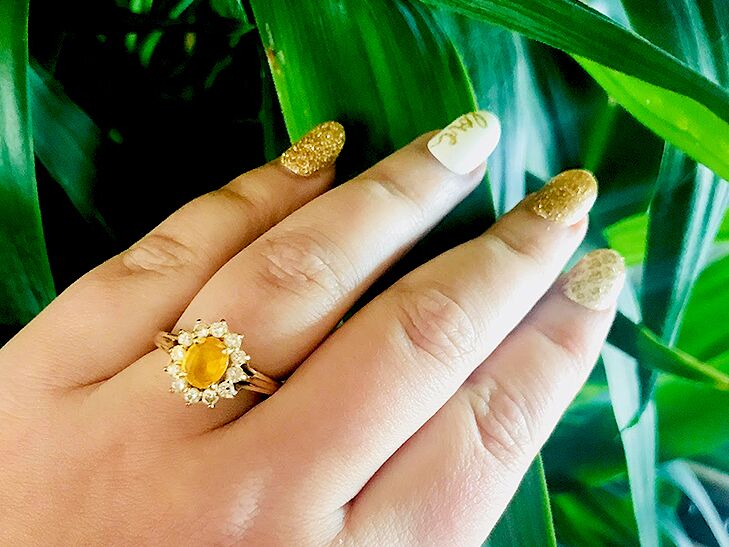 Name: Caitlyn S.
Location: Johnstown, New York
Engaged: October 2016
The Ring: Caitlyn's father gifted this yellow sapphire to her mother on their 15th wedding anniversary, and she always hoped it would become her engagement ring someday. So when Caitlyn's then-boyfriend Freddy went to her father to ask for his blessing, her dad gave him more than that. "Knowing my dad gave this ring to Freddy means so much more than just having a blessing to marry his daughter," she says. "There's so much love and history behind it."

Disclaimer: Consider consulting a financial professional before making any major money decisions.

Tell us what you think about what you just read! Click here to take a survey and be entered to win a $100 Amazon gift card.

The Knot and Ally present We're in This, Together—a sponsored content series featuring smart money-saving tips and advice to help achieve your future goals, including saving on the ring. Learn how Ally's digital financial services can help you do it right.