Celebrity Makeup Artist Pati Dubroff's Bridal Beauty Tips
Hollywood's go-to makeup artist gave us the scoop on getting flawless skin, the contouring craze and why every bride should know her celebrity doppelgänger.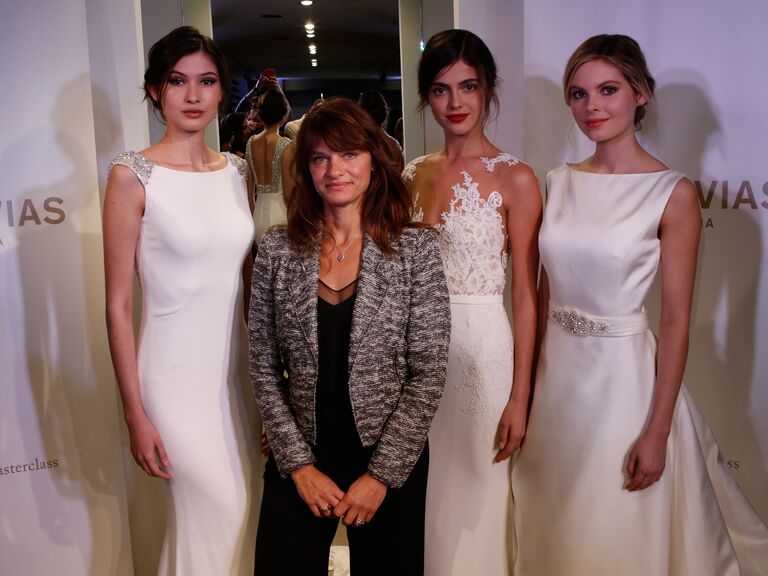 At the Pronovias Master Class, celebrity makeup artist Pati Dubroff teamed up with Pronovias to bring the best of the bridal fashion world to real brides, with a runway show, an expert makeup tutorial and endless flutes of Spanish cava. The go-to artist for Charlize Theron, Kirsten Dunst and Eva Mendes (just to name a few!) created custom looks for three different Pronovias gowns, teaching brides-to-be how to re-create classic, cosmopolitan (read: edgy) and glam bridal makeup. We caught up with Dubroff backstage to get her take on skin care, the contouring craze and why every bride should know her celebrity doppelgänger.

What's one beauty product every bride needs?
"It's not going to be a big shocker, but you have to think about the waterproofing situation. Waterproof mascara and eyeliner are essential to bridal makeup, even if you don't use them in real life. Primers are also hugely important to hold your foundation in place. Brides should have finely layered makeup—a cream foundation, then a powder to give their look some serious staying power."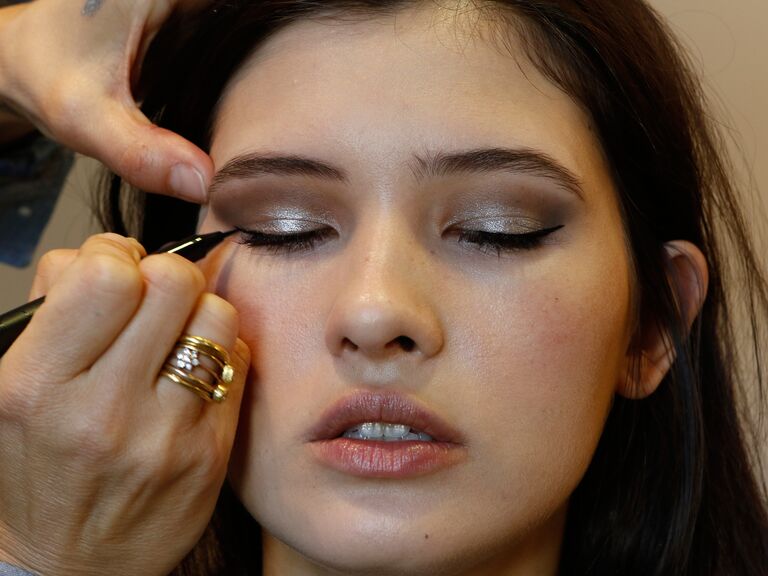 Dubroff applies waterproof liner to her "glam" bridal look
What is the best way for brides to prep their skin before getting their makeup done?
"Hopefully a bride has been spending time making sure her skin is in the best possible condition. An oxygen facial prior to the wedding day, or even a light moisture mask in the morning, will help hydrate skin. If you're going to do a heavy, dense moisture mask, use it the night before you get your makeup done. Not using too much moisturizer is key, and when you're applying moisturizer it should be really strategic: Keep it more on the perimeter of the face, and keep the center of the face clean so your primer can go there. The goal with bridal makeup is to make the center of the face matter and add a more radiant, paler luminosity on the high facial bones."
How does the contouring trend factor into bridal makeup?
"I know it's kind of controversial to say, but I prefer contouring with a 'C' and not a 'K.' The contouring trend has had a lot of legs with the 'K' version, and has also gotten a lot of backlash because of the excessive amounts of makeup it requires. Gentle contouring is always a beautiful thing and most people could use a little gentle contouring, but when it goes overboard it starts to look really suffocating and heavy. That's the last thing you want."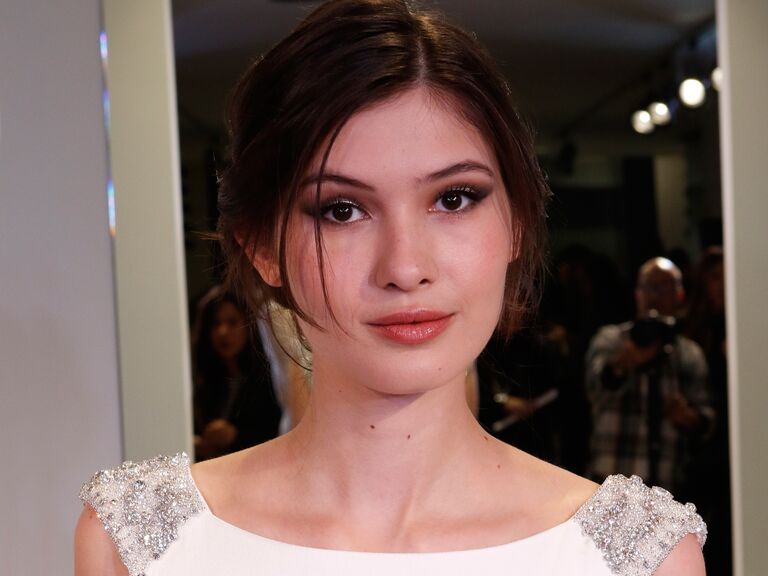 Dubroff's glam bridal makeup: winged eyeliner, shimmery eye shadow and neutral lips
How can brides contour gently?
"Find contouring colors that are not too different from your natural skin tone. A lot of the contouring how-to videos out there are so ridiculous because the tones are so off, it's almost black-and-white. So there is a serious emphasis on the word 'gentle' where contouring is concerned. I'm loving this Anastasia Beverly Hills Contour Cream Kit because the colors are nice and soft. I use it right after the foundation and really blend it in to start creating some dimension. Keep in mind, contouring is not needed everywhere, and it's not supposed to be cookie-cutter. That's the other thing with all those how-tos on the Internet: Everyone ends up with the same-shaped face. It shouldn't be that way. You should still look like you!"

What's your advice for brides who usually don't wear makeup?
"It's important to have a little bit of makeup, at least for the camera. Add a little extra polish for the camera, but you definitely don't want to turn yourself into someone different. A little makeup can go a long way, so it doesn't have to be like, 'Oh, I'm getting married. I'm gonna do this full face of makeup and go super-over-the-top.' But it is important to make sure your skin tone looks even, the center of your face isn't shiny, there's some color in your cheeks and your eyes look open. You don't need to do heavy, dark makeup; it just needs to be a little special."

Dubroff's classic bridal makeup: bronze eyes, peach cheeks and apricot lips

Are there products you recommend for high definition photos?
"I like to look at high definition as what the eye sees as opposed to needing special products for it. So, if possible, apply your makeup in natural light—that is what is going to look best in high-definition photos. I'm not a big fan of special products for high definition. I think makeup that looks beautiful in natural light is going to look good no matter what."

Is it true that brides should stay away from products with SPF because they don't photograph well?
"I stay away from products that have added SPF because it can make your skin tone a little bit lighter, whiter or grayer. Also, dermatologists actually prefer that you use sunscreen and then layer foundation on top of it. The SPF won't work as well if it's included in the foundation formula."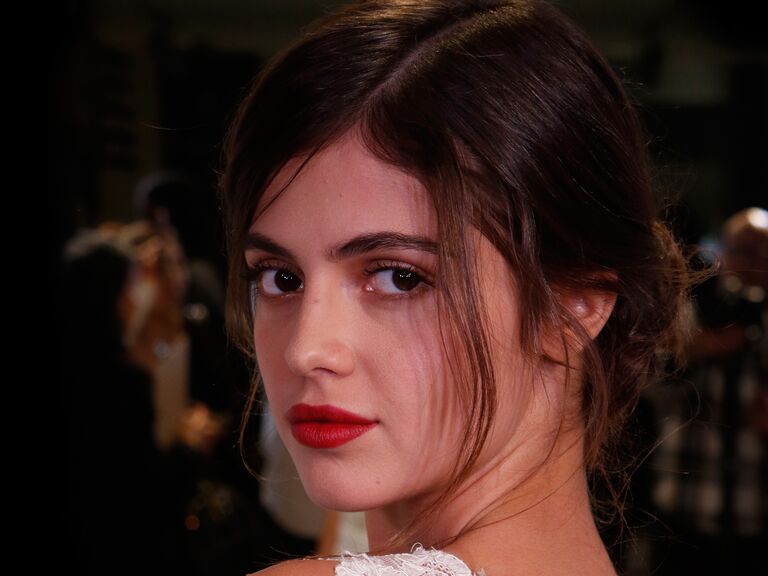 Pati Dubroff's cosmopolitan (think: edgy) bridal makeup: nude eyes, contoured skin and bold red lips

Do you have recommendations for the makeup-loving bride who wants to incorporate edgier trends into her wedding day look?
"I always think that brides should look at red-carpet photos, as opposed to runway photos, to get makeup inspiration. I think that's a more natural transition because you can find looks that are special and have extra polish, but they're more realistic. It's also a good idea to find an actress who looks like you, so you can see what kind of makeup looks work best with your coloring. Runway trends are, of course, amazing, and we can all take inspiration from them—like taking the blue eye-shadow trend and using shimmery periwinkle shadow instead—but it can be tricky to make most runway makeup trends really work for bridal."

Check out more beauty inspiration here!