10 Wedding Tech Trends Straight From the Future
Heart-rate monitors for your walk down the aisle, driverless cars and 3-D printed desserts are just some of the tech trends you can expect to see in weddings this year.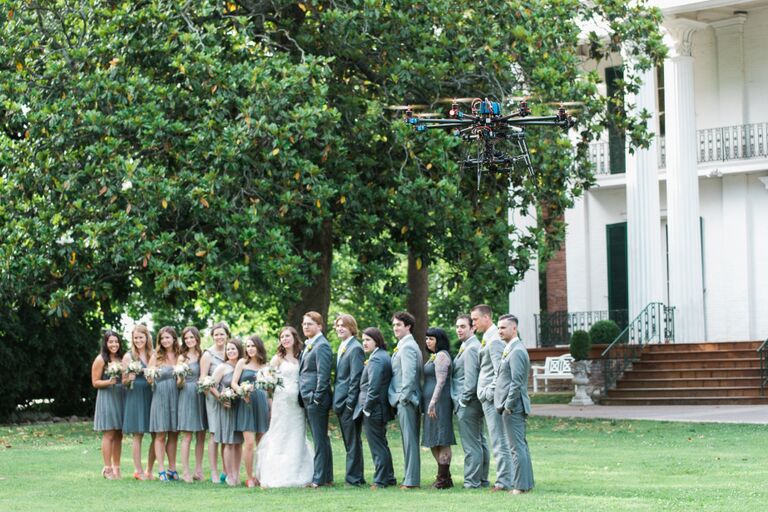 With This Ring Wedding Films
Using some of the most popular trends in technology is just plain practical. Need a way to collect all your wedding photos from Instagram? Create a custom wedding hashtag. Want to keep guests' phones juiced up so they're taking photos and video all night long? Transform one of your cocktail hour tables into a cute cellphone charging station. Those are tech mainstays of wedding planning at this point. But we're here to tell you that cutting-edge 3-D printers, wearable technology (hello, Apple Watch) and robots (yes, you read that right) are the next big trends to hit the wedding scene. Here's how.
1. Wearable Technology That Tracks Your Every Move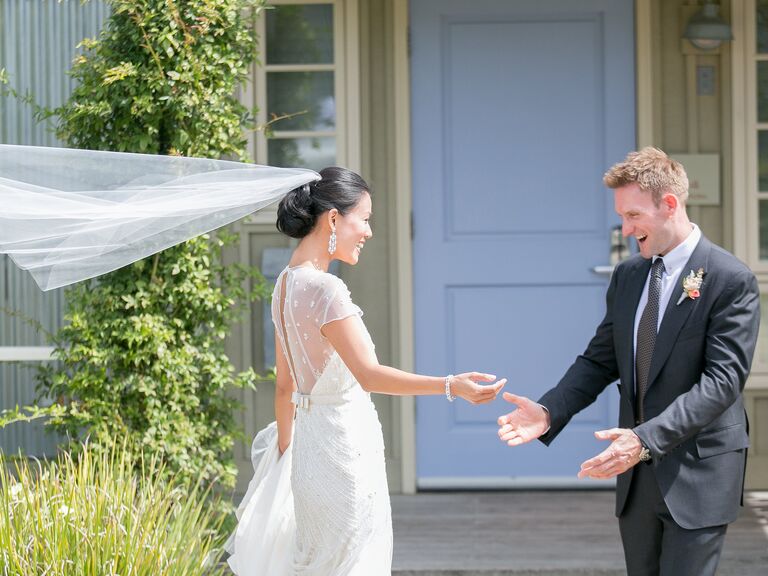 What if you could look back on your wedding day and actually be able to see your exact heart rate at the moment you walked down the aisle? You can. From a $17,000, 18k gold Apple Watch to a simple $150 FitBit bracelet, it's just a matter of which color to choose. Wear them the entire day and you can see the exact moment that it clicked for you—you're getting married!—or see your stats later and say, "That spike there was our first-look pictures—you were so beautiful!" And even though this isn't a thing quite yet (it really should be), imagine taking your ups and downs to an artist who, via your fitness tracker, could create a complete heartbeat timeline of your day in a signature painting that could live above your couch in your new home. Technology is actually amazing.
Out There But Awesome: While we realize it isn't for everyone, this projection wedding ring is the ultra version of wearable technology for your wedding day and afterward. Flip up the mini lens inside the ring, shine a light behind it and see your wedding pictures projected onto any solid surface.
2. Wedding Drones for Impossibly Cool Photos and Video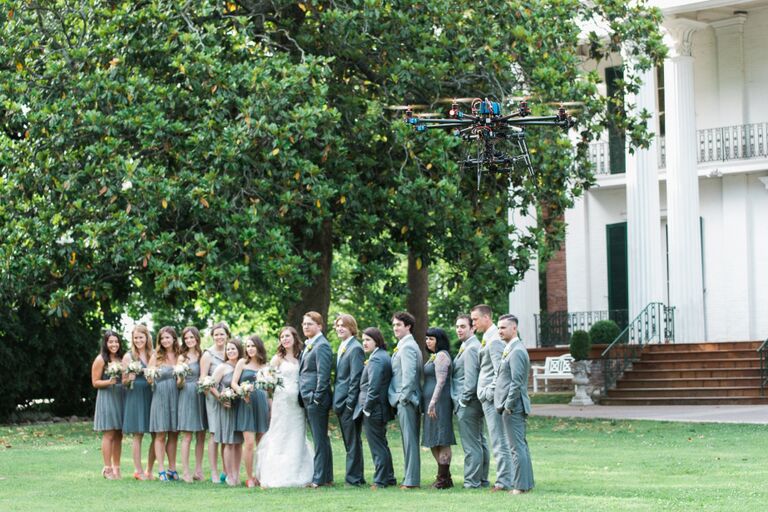 Some photographers and videographers are using drone technology to capture never-before-possible shots. Whether you're getting married at your alma mater, a destination in the tropics, an estate in the mountains or in your hometown, that location means a lot to you, if for no other reason than you were married there! You'll want to get a lay of the land that only aerial footage, like the image caught in the With This Ring Wedding Films photo above, can provide.
Out There But Awesome: Replace the ring bearer and use a drone to drop off your wedding rings at the altar. We're not kidding—drones are totally dexterous. We know of a few couples who have used drones to drop off the rings in the middle of the ceremony.
3. A GoPro Bridal Bouquet to Capture Hidden Moments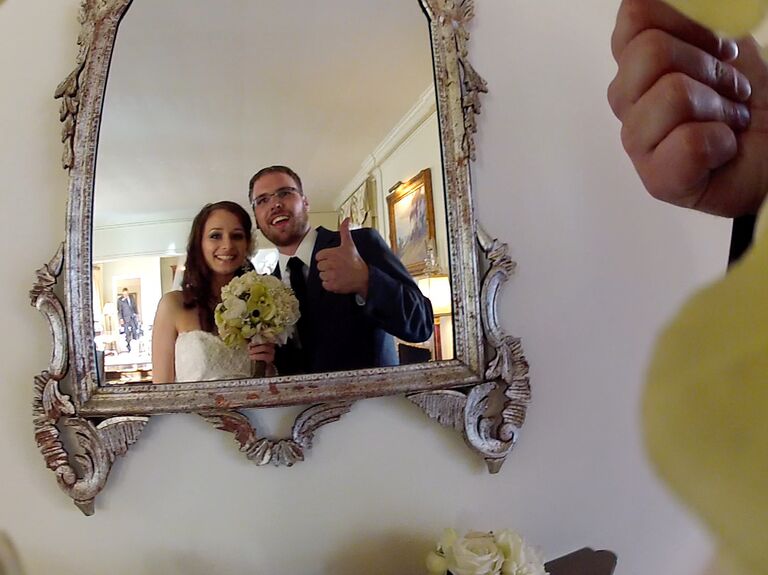 The walk down the aisle is one of the more special and memorable moments of the wedding day, and trust us, it goes by quickly. Capture it all on camera from your vantage point by asking your florist to save a spot in your bridal bouquet for a small camera. (Any mini camera similar to a GoPro will work to record your entrance.) This way you'll get to see everything from the look on your guests' faces to the parental handoff (if that's what you're doing) to your vows in an up-close and personal way.
Out There But Awesome: Hide a camera someplace at the reception (like a flower installation or the disco ball over the dance floor) to catch guests at their most candid, hilarious moments. Tip: Hire a videographer to set it up for you so you get all the footage incorporated into one final wedding video edit that you can watch for years to come.
4. Robots That Live-Stream Your Wedding
Some couples are using robots to capture their entire wedding live so that friends and family from afar can also take part in the day. It might sound a little silly at first, but here's why the idea adds up: Instead of having to appoint a person to man a live-stream camera all night, you'd have a lively robot with an iPad do the job. Plus, imagine all the fun photos that'll come out of it!
Out There But Awesome: Robots have made appearances at weddings for a few other tasks as well, from officiating the wedding to manning the bar. (Yes, you read that right.)
5. 3-D Printed Wedding Cake Decorations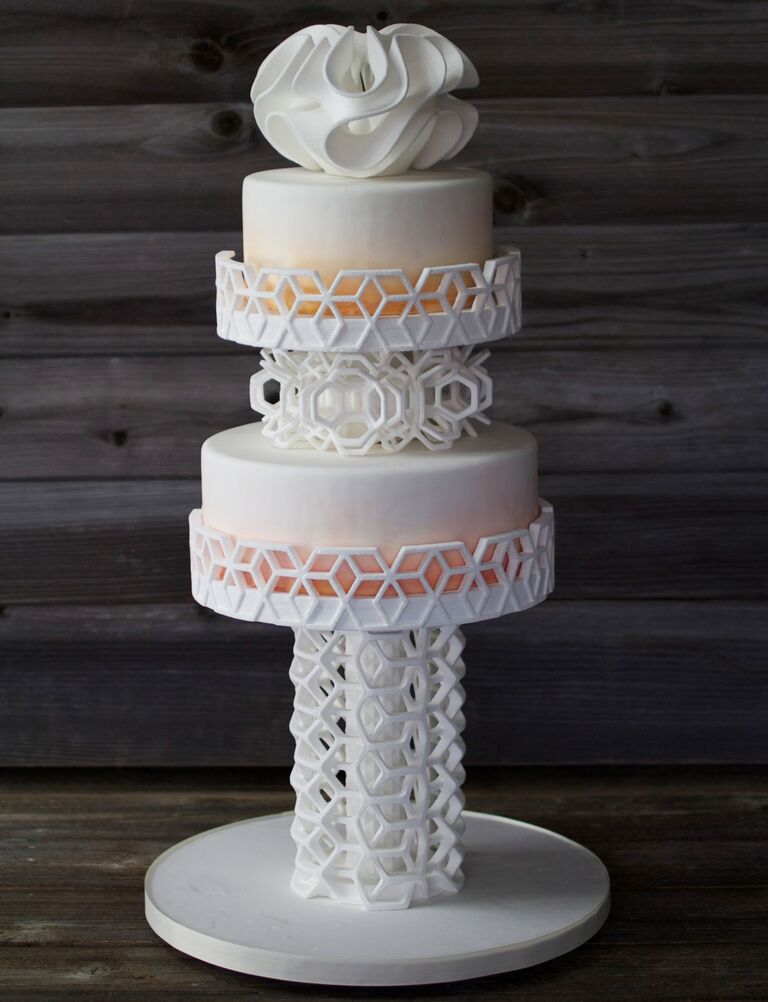 The 3-D printing trend is catching on in the culinary world. Have your cake baker create a simple wedding cake and add amazing 3-D printed shapes to the top and sides for a truly modern look. Or create an incredible 3-D printed cake topper like this one. Another idea we love: a 3-D printed candy bar! Companies like The Sugar Lab can produce intricate and amazingly shaped candy for your bar at the reception.
Out There But Awesome: Have a 3-D printing company set up shop at the reception to create "mini-me" wedding favors your guests will never forget. In a matter of seconds, 3-D printing tools, like the ones from Shapeways, allow you to capture your guests' measurements and print out tiny action figure versions of them. Line up your wedding party's figurines later for a truly unique photo op!
6. Selfie Sticks and Charging Stations to Keep the Party Going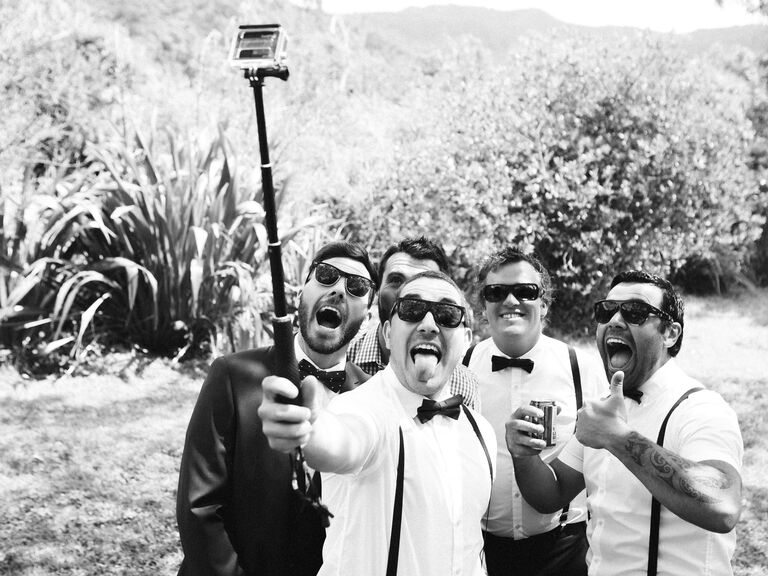 We'd be remiss if we didn't put some tried-and-true tech trends in this roundup. Cellphone charging stations are a must-have if you're expecting lots of hashtagging at your wedding. It's super-easy to pull off: Just gather a bunch of different types of cords (for iPhones and Androids) in a cute way and prop them up on a cocktail table at your reception.
Out There But Awesome: Instead of making everyone compete for the use of one or two selfie sticks, buy a bunch and hand them out to every table. It's an activity for your guests and a fun way to document the wedding.
7. Crowdsourcing the Reception Dance Floor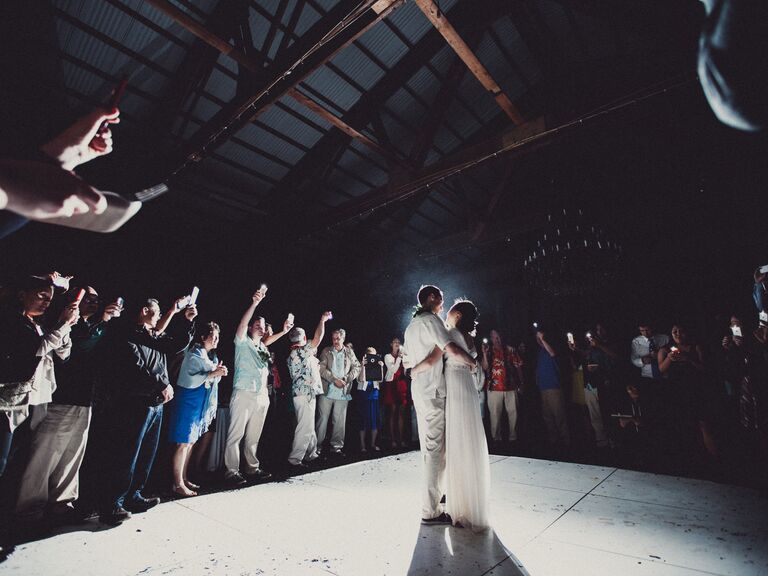 You could wait until after the wedding to see all the cool photos and funny Instagrams from the day. Or you could have them projected live over your dance floor! A lot of lighting and production companies are now offering the service, and it makes for a fun, interactive reception activity too.
Out There But Awesome: Turn it into a game. Tell your guests to tweet or hashtag their song requests to the DJ, or tell them that if they take a photo and use your wedding hashtag, they can order your signature cocktail at the bar.
8. Light Projections on the Wedding Cake
Disney made the idea mainstream when it unveiled its line of wedding cakes with digital mapping projections. Now, other lighting and design companies are catching on and creating elaborate projections for wedding cakes. And that's really the best part about this trend: You can map literally anything you want onto your cake, from pretty flowers to old-school photos and even meaningful song lyrics.
Out There But Awesome: There are some ultra-talented lighting designers (Bentley Meeker and Levy Lighting, for starters) known for light-projecting an entire ceremony and reception, from the walls to the ceiling, the hallways and, yes, the wedding cake.
9. Periscoping the Wedding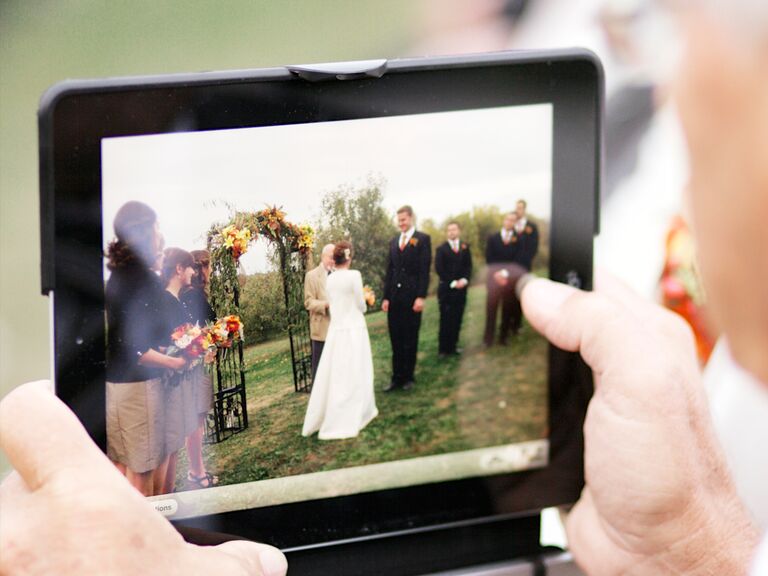 Live-streaming isn't exactly new, but the way in which you can live-stream certainly is. Designate a "Periscoper of Honor" (yes, we made it up!) to live-stream the entire wedding straight from their phone or tablet. That way, friends and followers who couldn't make it to the wedding can see everything from their own devices. To make it easy for friends to tune in, have your Periscoper divide the streams: one for the ceremony, another for the toasts and cake cutting, and another for the first dance.
Out There But Awesome: Ikea recently revealed an entirely virtual wedding program. It's sort of like Google Hangouts in that it allows guests to log on and watch their friend or family member get married from their own laptop at home. You can set your background image to a ceremony setting for guests to watch, or to your reception on the beach for guests to tune in and toast to the special couple from anywhere in the world. (Whoa is right.)
10. Wedding Exits With Driverless Cars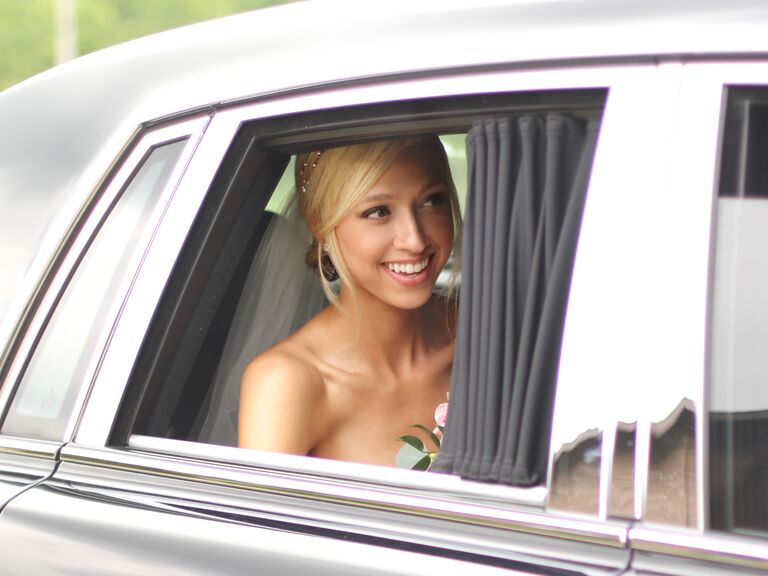 Okay, this one is truly an idea from the future. While they're still in test mode across the country, we're calling it: Driverless cars will be the next big way to make your wedding exit. Until it's possible, just order up an Uber to take you to and fro.