The 15 Best Wedding Hair and Makeup Pros in Austin, TX
Get ready to get gorgeous.
Aside from your attire, picking the perfect wedding hair and makeup is the most important step in making sure you look and feel your best on your big day. Your wedding day hair stylists and makeup artists are there to hold your hand through the glam process, so finding a trusted provider is key to ensuring a stress-free experience. Austin brides, we've got you covered. These top-rated stylist teams in Texas are editor-approved and loved by real brides.
Whether you consider yourself a beauty aficionado or rarely wear makeup, your hair and makeup team can help guide you to create your dream wedding day look. No matter your personal style or budget, we have the perfect glam squad for your big day. Searching for the best bridal hair and makeup in Austin? Lucky for you we found the best wedding hair stylists and makeup artists in Austin, TX for your Texas Hill Country wedding.
LUX Beauty & Bridal
LUX Beauty & Bridal salon features a team of over 30 exceptionally talented stylists who can work with you to perfect your wedding day glam. Not only do they have over a decade of experience, LUX Beauty and Bridal has won The Knot Best of Weddings awards since 2019. The salon also offers gender-neutral services so everyone in your wedding and wedding party will feel right at home. From airbrush makeup, to eyelash extensions, and everything in between, LUX Beauty and Bridal will ensure a seamless on-site or travel hair and makeup experience for Austin brides.
Review Spotlight: "Flawless experience from start to finish! Our artists were amazing, their attention to detail was immaculate and our wedding photos were just further proof of how much they killed it! Everyone from the moms to the bridesmaids and myself loved working with them. They were the perfect addition to our getting ready room on the morning of our wedding and I cannot recommend them enough! We had a diverse set of ladies in the room from hair to skin color and textures, and they killed every single look. If you want to look fabulous on your wedding day, hire them!"
RefEYEance Makeup and Hair, LLC
Looking for on-site wedding day hair and makeup? Look no further than RefEYEance Makeup and Hair. Their expert team offers on-site hair and makeup in Austin and throughout Texas. Each of their stylists is carefully selected based on their many years of experience, awards, education, licensing, talent and attention to detail. Even better, you can get ready in the comfort of your home, hotel or wedding venue for a seamless getting ready process. Plus, lashes are included with all of their makeup applications.
Review Spotlight: "Finding a Hair and Makeup company that would take care of myself and 7 of my favorite ladies was a priority for me. I FOUND THE BEST SET OF LADIES FOR MY DAY. Tamra and Thea were so amazing for our morning. They both arrived early and set up, they even waited around past schedule while we ran a rehearsal that ran into their timelines. They are extremely professional and wonderful to be around. My makeup was AMAZING, it lasted the entire evening without a hiccup. I was so impressed and felt beautiful all evening. My bridesmaids were very impressed and they all looked lovely as well. I will definitely be using these ladies in the future for any event! I would recommend them to my closest friends and family any day."
Katy Reddell Beauty
Based in Austin, TX, Katy Reddell is an award winning artist who works alongside her highly trained team of beauty professionals. She offers several beauty packages depending on your needs, as well as a touch-up kit with wedding day essentials to alleviate any stress. Reddell and her team have made up hundreds of brides with an array of stunning photo-ready looks. The Katy Reddell team services brides in the Austin area, and also provides travel services upon request.
Review Spotlight: "After reading Katy's reviews and looking at her pictures a little over a year ago I knew I had to hire her for my wedding. Something you could probably already tell from Katy's pictures is that she is extremely talented. Something you probably wouldn't know from looking at her pictures is that she's extremely kind and easy to work with. Katy and her momager Yvonne are the tag team duo that every business needs, working with them was effortless! I am a highly anxious person especially when it comes to my hair and makeup. Katy was so easy to talk to and had such a calming presence, which made my anxiety melt away. During my trial Katy listened to my very specific requests and brought the vision in my head to life. At the end of my trial she didn't just throw all of her stuff in her bag and shoo me out the door but she asked my opinion on the different aspects of my hair and makeup. She then walked through some of the changes that we could make on my wedding day if I decided I didn't like anything. Katy then changed my hair at the end of my trial for my engagement shoot and the reaction I received from my then fiancé was so reassuring! On the wedding day, Katy and her makeup artist Tara made getting ready extremely easy and fun. All of my bridesmaids loved Katy and Tara and couldn't stop taking pictures when their hair and makeup was done. Most of my bridesmaids were only getting hair but decided to add makeup at the last minute. Katy and Tara were able to pivot and make sure everyone had their hair and makeup done without sacrificing the quality of their work. Thank you Katy for making me and my bridesmaids look and feel so beautiful."
Sonar Beauty Bridal Nook
Whether your wedding makeup vision is bold and glamorous or glowing and natural, the talented team at Sonar Beauty Bridal Nook can help you bring your look to life. Owner and operator, Kristan Humphreys and her highly trained bridal team work closely with their brides to get to know their personal style so they can cater their glam accordingly. They offer discounted packages to their brides and affordable pricing so that everyone can feel special and pampered. You can opt to get glammed in their beautiful salon or the team can travel to you.
Review Spotlight: "I cannot recommend Sonar Beauty enough for the perfect glam for your wedding! Kristin and Erin were absolute professionals, and made the whole getting ready process so fun and stress free. They were responsive, flexible, creative and diligent in their work. They are both insanely talented at their craft and awesome humans in general. They did my bridal hair and makeup, as well as hair and makeup for my 4 bridesmaids and mother and grandmother. Everyone was obsessed with the looks they gave us! Could not have been better. Book them as your glam squad for the big day and I promise you will not regret it!"
Mission Stylehouse Hair + Makeup Team
Located in Austin, The Mission Stylehouse is a hair and makeup company that specializes in wedding beauty and is available for travel to surrounding areas. Owner Michelle McMillian has lent her beauty skills to notable events and publications such as Austin Fit Magazine and Austin Fashion Week. Over 200 brides have entrusted McMillian and her team to make their wedding day beauty dreams come true.
Review Spotlight: "Mission Stylehouse was terrific! Chloe was an absolute dream coordinator. She is SO responsive and experienced -- knows exactly how to make the experience smooth and enjoyable. And our hair/makeup artists were superb. They absolutely nailed the looks we were going for and kept such a fun environment in our getting-ready space. I cannot recommend Mission Stylehouse more highly -- we would pick them a million times over!"
Skin by Gina On-Location Airbrush, Hair & Makeup
This luxury on-location bridal beauty company has been offering award winning bridal services since 2010. Owner Gina Fernandez has experience working on film sets and with photographers, so she understands how to create perfect camera-ready makeup for your wedding day. Her expertly trained eye can see your makeup the way the camera sees it, so you are guaranteed a photo-ready face that looks just as good in person as it does on camera.
Review Spotlight: "The ultimate professional. Gina nailed my wedding vision perfectly. I am so glad I found her because I couldn't imagine leaving one of the most important aspects of my wedding look to anyone else. My hair and makeup held up perfectly all night. I actually slept in my updo and wore it to brunch the next day—that's how well she pinned it. If you want a beautiful bridal look, hire Gina!"
Bonita Brides
The name says it all! Latinx-owned Bonita Brides prides itself on using the highest quality products to create their brides' dream beauty looks that will last all night long. Owner Sara Hernandez is an award winning makeup artist from Texas Hill Country. She notably worked in Los Angeles for a few years and worked with major celebrities such as Prince, Nick Cannon, Carmen Electra, and Paris Hilton, to name a few. She and her expert team are available for on location services as well as large party events in Austin and the surrounding areas.
Review Spotlight: "Sara and the Bonita Brides team are the best! I've had the pleasure of getting my hair and makeup done by their team for 3 other weddings I was in before my own. When the time came for my own wedding I knew I had to book them and they did not disappoint! From beginning to end the Bonita Bride team was easy to communicate with, organized and oh so talented! The stylists take the time to listen to everyone's hair/makeup desires and made everyone look and feel beautiful. I highly recommend Bonita Brides!"
Southern Tease Luxury Hair & Makeup
Southern Tease Luxury Hair & Makeup is known for on-location hair and airbrush makeup services. Boasting continued education and product knowledge, the team at Southern Tease is committed to making sure their brides look and feel their best. Their attention to detail is evident in their beauty expertise as well as their calming, stress-free experience. They have been awarded The Knot Best of Weddings for seven years running with hundreds of five star reviews.
Review Spotlight: "5 Stars! Everything was absolutely perfect for my wedding day! All of my girls, including myself, not only looked beautiful but Reagin and Marisa made us feel beautiful from the inside out! Everything from start to finish was executed so perfectly. The girls were so fun and made my big day so relaxing and stress free! 10/10 recommend!"
blush 'n bangs
blush 'n bangs provides on-location beauty services in Austin and its surrounding areas. Their talented team has experience not only with weddings and special events, but also with runway and editorial work. The team prides themselves on their ability to creatively collaborate with brides on their wedding day hair and makeup vision. In addition to hair and makeup services, blush 'n bangs also offers eyelash extensions and spray tanning.
Review Spotlight: "When looking for a makeup/hair artist, I wanted to find someone who knew how to work with tan skin and provide a natural look. I NEVER wear makeup and in the past as a bridesmaid, I have generally been disappointed with the work as it was always over the top and I never felt like I looked like myself. Brooke did such an amazing job listening to my requests and concerns and absolutely aced my makeup.All of our wedding party was SO happy with the work. Nobody had to secretly go touch up or remove the makeup (we've all been there at some point), as everyone was so pleased with her work. Amber did our hair and also did such a great job. She was so patient as I flip flopped between styles from my trial to my actual wedding day. I highly recommend blush 'n bangs for affordable and very talented makeup and hair artists!"
Adore Makeup Salon
Adore Makeup Salon is a wedding hair and makeup service based in Westlake Hills, TX. In order to help their clients feel relaxed and at ease, owners Rhea and Shirley hold their award-winning team to a high standard of customer service and sanitation practices. They are able to create a variety of wedding hair and makeup looks depending on the client's preferences, as well as various services beyond just the wedding day. Brides and their wedding parties have the option to go to the salon or to let the stylists come to them in the comfort of their home or wedding venue.
Review Spotlight: "So great! I used my bridal portraits as my trial for my hair and makeup, and everything was great! On the wedding day, they listened to my suggestions about things that did and didn't work and I really felt like they made adjustments accordingly. All of my bridesmaids looked absolutely stunning, but they still looked like themselves. Every girl was given customized make up and hair to accentuate their features, rather than just using the same products and colors on everyone. I would definitely recommend Adore! We had 4 artists on my wedding day and everyone looked equally as beautiful, I don't think you can go wrong with anyone at Adore!"
MakeupATX
Makeup ATX strives to make each and every client feel beautiful both inside and out. Owner Codie LePors started the company in 2017 after years of experience working for Benefit Cosmetics and MAC Cosmetics. She has even worked with A-list clients such as Cyndi Lauper, Lizzo and Tan France, to name a few. In addition to on-location hair and makeup services, MakeupATX offers on-location spray tanning services.
Review Spotlight: "Codie was one of my favorite vendors for the wedding! My hair and makeup turned out beautiful and she truly made me feel like a goddess. However, one of the qualities that I loved most about her was her personality and customer service. I was pretty nervous about several of my beauty issues and how it would affect the look that I wanted (melasma and straight hair that doesn't like to stay curled). She went above and beyond to make me feel at ease. She was the only HAMU artist that actually talked to me before we booked and answered ALL of my questions and concerns. I went into my wedding day confident and she did not disappoint. Her team arrived on time and did an amazing job with my LARGE bridal party (9 bridesmaids plus 2 moms). Even though my bridesmaids ran late, Codie kept me calm and even gave me a fun kit of makeup to keep me looking fabulous throughout the wedding. I am so happy that we went with her!! Definitely make sure to add her to your vendor list!"
Melissa B. Beauty
Owner and operator Melissa is committed to making brides feel like the best version of themselves by enhancing their natural beauty. Melissa works closely with her clients to bring their hair and makeup dreams to fruition. She offers trial appointments and is open to traveling beyond the Austin area. Her passion for the bridal industry is evident in her work, which includes a variety of expertly crafted hair and makeup styles.
Review Spotlight: "Melissa was the PERFECT choice for my wedding day. We did a trial beforehand and she was able to bring to life my wedding look even though I had a hard time putting my dreams into words. Then she made the perfect adjustments on my wedding today to make me feel glowy and gorgeous. She killed it with both hair and makeup. She is the sweetest human and I HIGHLY HIGHLY recommend her. Not only did she make me feel like a queen, but she made everyone in my wedding party feel just as beautiful. BOOK HER NOW!!"
Avielle Jay Beauty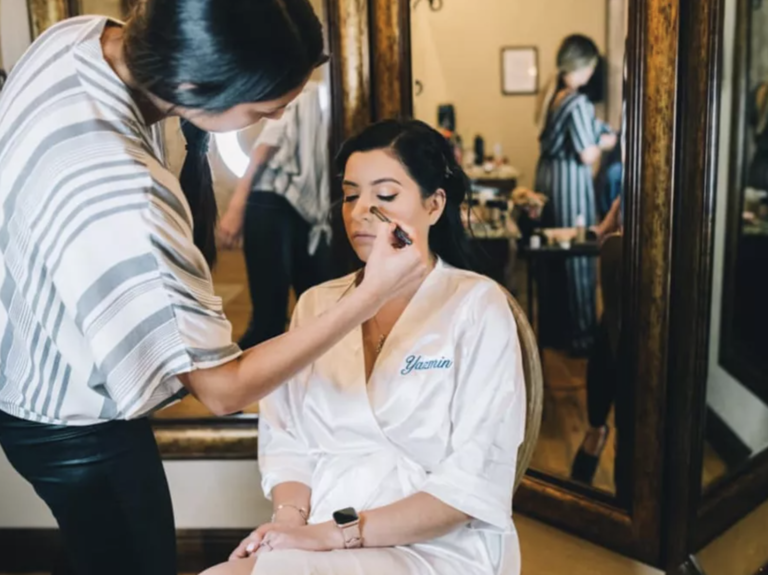 Avielle Jay Beauty specializes in traditional makeup application and airbrush makeup (with lashes included), as well as bridal hair. They pride themselves on not only their beauty services, but on providing their clients with a relaxing and fun environment for their wedding day. Let them alleviate any wedding day jitters and provide you with a seamless bridal glam experience. The team offers on-site services and travel all over Central Texas.
Review Spotlight: "Anahi was such a blessing to have on my wedding day. She is very easy going and flexible and made me feel so comfortable in the midst of the wedding day jitters. Not to mention, she made my wedding day dream look come to life even better than I imagined. Highly recommend!"
Vali & Co. Bridal
The on-site bridal hair and makeup team at Vali & Co. is committed to giving brides a personalized experience on their special day. The award-winning bridal hair and makeup team has over 20 talented artists who continually stay up to date on the latest beauty trends and develop their skills to provide the best possible service. No matter your bridal beauty style, Vali & Co. will work alongside you to craft your perfect wedding day look.
Review Spotlight: "I cannot thank Valerie and her team for being so genuine and such great makeup and hair artists! Val gave me exactly what I wanted and so much more with her knowledge and expertise on what is best with what wishes I had. All my bridesmaids were so satisfied with their makeup and hair and we cannot be more happy with how smooth the whole process was! I completely recommend Val and her team on any wedding because she is excellent at what she does and so kind and genuine through the entire duration of booking to the day of!"
Anastasia MUA Pro Hair + Makeup Team
Anastasia MUA Pro Hair + Makeup Team is a great fit for brides looking for a natural makeup look. They specialize in natural, flawless skin and a minimalistic approach. Brides who don't wear much makeup on a daily basis will love the way Anastasia MUA enhances their natural beauty without looking overdone. They offer on-site services and travel, as well as appointments in their South Austin studio.
Review Spotlight: "Anastasia and her team were PHENOMENAL! They were timely, super organized and professional, but also fun to hang out with and talk to. And not only that, they are artists. Working with Anastasia was a fun and wonderful experience, everyone was so nice and really helped calm my wedding day nerves. The most important part about my makeup was that I still looked like myself (My now husband was so worried that he wouldn't recognize me and that I wouldn't look like myself on our wedding day). Anastasia and her team made sure I still looked like me, but also elegant and special. The makeup lasted the whole night while I was dancing in the humidity, and still looked good at 1 a.m.! All of my bridesmaids also looked beautiful. The team really focused on bringing everyone's natural beauty out. If natural make up is your style, then look no further and book Anastasia now!"