60 Unique Wedding Dresses That Will Make a Serious Statement
Calling all bold brides.
by Maddy Sims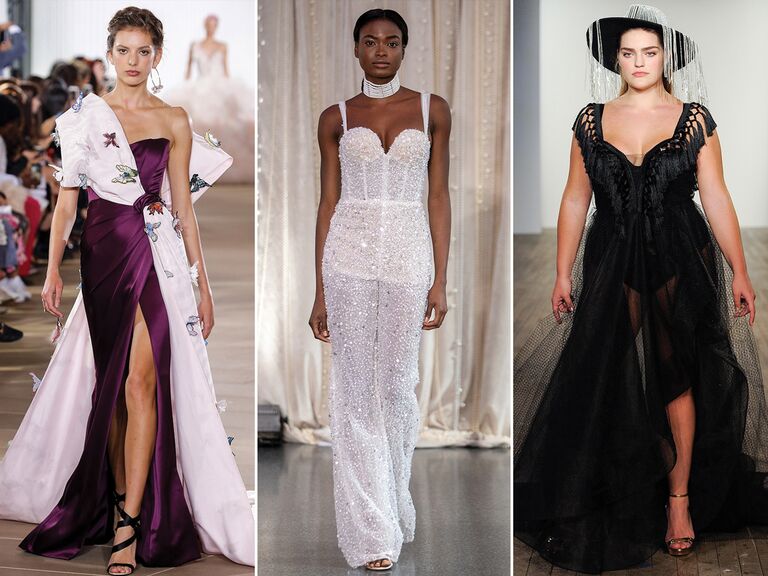 PHOTO BY FIRSTVIEW;
PHOTO BY COLLIN PIERSON;
PHOTO BY MCV PHOTO
From your venue to your stationery to your menu, every detail of your wedding should look and feel like you—and your wedding dress is no exception. If a traditional white gown doesn't feel right to you, there are plenty of alternatives. We've rounded up 60 unique wedding dresses that will allow your personality and style to shine through. Whether you're searching for a short dress, a colorful dress or a dress alternative (wedding jumpsuit, anyone?), we've got the outfit for you. Read on for all the unique wedding dress inspiration you need to start your wedding dress search. Once you get an idea of what you like, work with a bridal consultant to find the wedding outfit of your dreams.
In this article:
Unique Short Wedding Dresses
If spending hours in a long gown doesn't sound appealing to you, try a unique short wedding dress instead. Whether you want to highlight your gorgeous legs or get down on the dancefloor, these minidresses will definitely make a statement. With everything from silver sequins to black embroidery to white tassels, these short wedding dresses are a great way to showcase your personality on your wedding day.
Photo by MCV Photo;

Dress by Hayley Paige

Photo by Mike Colon;

Dress by Berta

Photo by MCV Photo;

Dress by Hayley Paige

Photo Courtesy of Jenny Packham;

Dress by Jenny Packam

Photo by The Hons Photo;

Dress by Monique Lhuillier

PHOTO COURTESY OF ROMONA KEVEZA;

DRESS BY ROMONA KEVEZA

Photo by The Hons Photo;

Dress by Monique Lhuillier

PHOTO BY MCV PHOTO;

DRESS BY ALLISON WEBB

PHOTO BY GETTY;

DRESS BY ALLISON WEBB

PHOTO BY MCV PHOTO;

DRESS BY HAYLEY PAIGE

PHOTO BY FIRSTVIEW;

DRESS BY INES DI SANTO

PHOTO COURTESY OF FRANCESCA MIRANDA;

DRESS BY FRANCESCA MIRANDA

PHOTO BY Marijke-Aerden;

DRESS BY VIKTOR&ROLF

PHOTO COURTESY OF PETER LANGNER;

DRESS BY PETER LANGNER

PHOTO COURTESY OF PETER LANGNER;

DRESS BY PETER LANGNER

PHOTO BY COLLIN PIERSON;

DRESS BY LEE PETRA GREBENAU

PHOTO BY GETTY;

DRESS BY AMSALE

PHOTO COURTESY OF JUSTIN ALEXANDER;

DRESS BY JUSTIN ALEXANDER

PHOTO COURTESY OF ISABELLE ARMSTRONG;

DRESS BY ISABELLA ARMSTRONG

PHOTO BY ANTON OPARIN;

DRESS BY INBAL DROR

PHOTO BY PAPP SCHNEIDER PHOTOGRAPHY;

DRESS BY DAALARNA

PHOTO BY PAPP SCHNEIDER PHOTOGRAPHY;

DRESS BY DAALARNA

PHOTO BY COLLIN PIERSON;

JUMPSUIT BY LEE PETRA GREBENAU

COURTESY OF DAVID'S BRIDAL;

JUMPSUIT BY MELISSA SWEET

PHOTO BY JEROEN NOORDZIJ PHOTOGRAPHY;

JUMPSUIT BY LAURE DE SAGAZAN

PHOTO BY MCV PHOTO;

JUMPSUIT BY HAYLEY PAIGE

PHOTO COURTESY OF COSTARELLOS;

JUMPSUIT BY COSTARELLOS

PHOTO COURTESY OF DANIELLE FRANKEL;

PANTSUIT BY DANIELLE FRANKEL

PHOTO BY MCV PHOTO;

ROMPER BY HAYLEY PAIGE

PHOTO COURTESY OF DAVID'S BRIDAL;

ROMPER BY GALINA SIGNATURE

PHOTO BY RODIN BANICA;

DRESS BY THEIA

PHOTO BY MCV PHOTO;

DRESS BY HAYLEY PAIGE

PHOTO BY FIRSTVIEW;

DRESS BY INES DI SANTO

PHOTO BY MCV PHOTO;

DRESS BY HAYLEY PAIGE

PHOTO BY ANTON OPARIN;

DRESS BY INBAL DROR

PHOTO COURTESY OF DANIELLE FRANKEL;

DRESS BY DANIELLE FRANKEL

PHOTO COURTESY OF EISEN STEIN;

DRESS BY EISEN STEIN

Photo by The Hons Photo;

Dress by Bliss by Monique Lhuillier

PHOTO BY FIRSTVIEW;

DRESS BY INES DI SANTO

PHOTO COURTESY OF VERA WANG;

DRESS BY VERA WANG

PHOTO BY MIKE COLÓN;

DRESS BY BERTA

PHOTO COURTESY OF PETER LANGNER;

DRESS BY PETER LANGNER

PHOTO COURTESY OF DANIELLE FRANKEL;

DRESS BY DANIELLE FRANKEL

PHOTO COURTESY OF DAVID'S BRIDAL;

DRESS BY MELISSA SWEET

PHOTO BY MCV PHOTO;

DRESS BY HAYLEY PAIGE

PHOTO COURTESY OF DANIELLE FRANKEL;

OUTFIT BY DANIELLE FRANKEL

PHOTO BY FIRSTVIEW;

OUTFIT BY INES DI SANTO

PHOTO BY MCV PHOTO;

OUTFIT BY HAYLEY PAIGE

PHOTO COURTESY OF DANIELLE FRANKEL;

OUTFIT BY DANIELLE FRANKEL

PHOTO BY THE MEWS BRIDAL;

OUTFIT BY RIME ARODAKY

PHOTO BY THE HONS PHOTO;

DRESS BY MONIQUE LHUILLIER

PHOTO BY MCV PHOTO;

DRESS BY ALLISON WEBB

PHOTO BY FIRSTVIEW;

DRESS BY INES DI SANTO

PHOTO COURTESY OF DANIELLE FRANKEL;

DRESS BY DANIELLE FRANKEL

PHOTO BY ANTON OPARIN;

DRESS BY INBAL DROR

PHOTO COURTESY OF SAVANNAH MILLER;

DRESS BY SAVANNAH MILLER

PHOTO BY GETTY;

DRESS BY LITTLE WHITE DRESS BY AMSALE

PHOTO COURTESY OF TEMPERLEY LONDON;

DRESS BY TEMPERLEY LONGSON

PHOTO COURTES OF FRANCESCA MIRANDA;

DRESS BY FRANCESCA MIRANDA

PHOTO COURTESY OF DANIELLE FRANKEL;

DRESS BY DANIELLE FRANKEL