60 Unique Wedding Dresses That Will Make a Serious Statement
Calling all bold brides.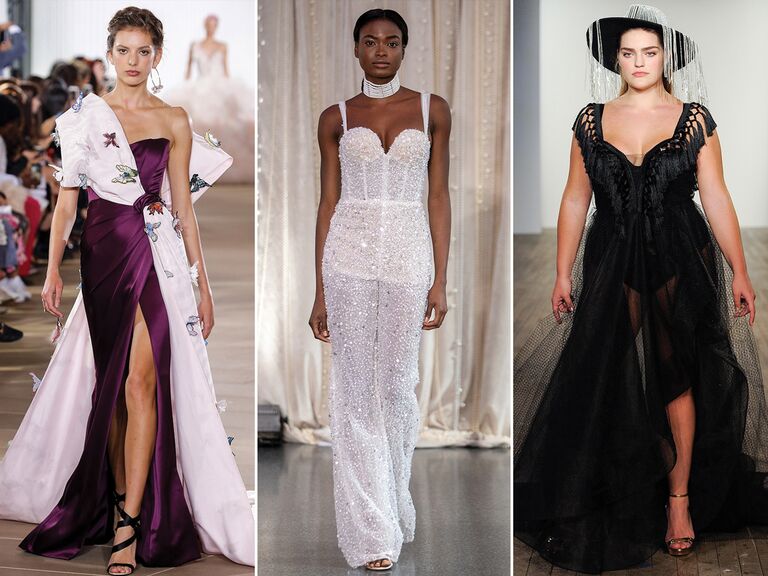 PHOTO BY FIRSTVIEW,PHOTO BY COLLIN PIERSON,PHOTO BY MCV PHOTO
From your venue to your stationery to your menu, every detail of your wedding should look and feel like you—and your wedding dress is no exception. If a traditional white gown doesn't feel right to you, there are plenty of alternatives. We've rounded up 60 unique wedding dresses that will allow your personality and style to shine through. Whether you're searching for a short dress, a colorful dress or a dress alternative (wedding jumpsuit, anyone?), we've got the outfit for you. Read on for all the unique wedding dress inspiration you need to start your wedding dress search. Once you get an idea of what you like, work with a bridal consultant to find the wedding outfit of your dreams.
In this article:
Unique Short Wedding Dresses
If spending hours in a long gown doesn't sound appealing to you, try a unique short wedding dress instead. Whether you want to highlight your gorgeous legs or get down on the dancefloor, these minidresses will definitely make a statement. With everything from silver sequins to black embroidery to white tassels, these short wedding dresses are a great way to showcase your personality on your wedding day.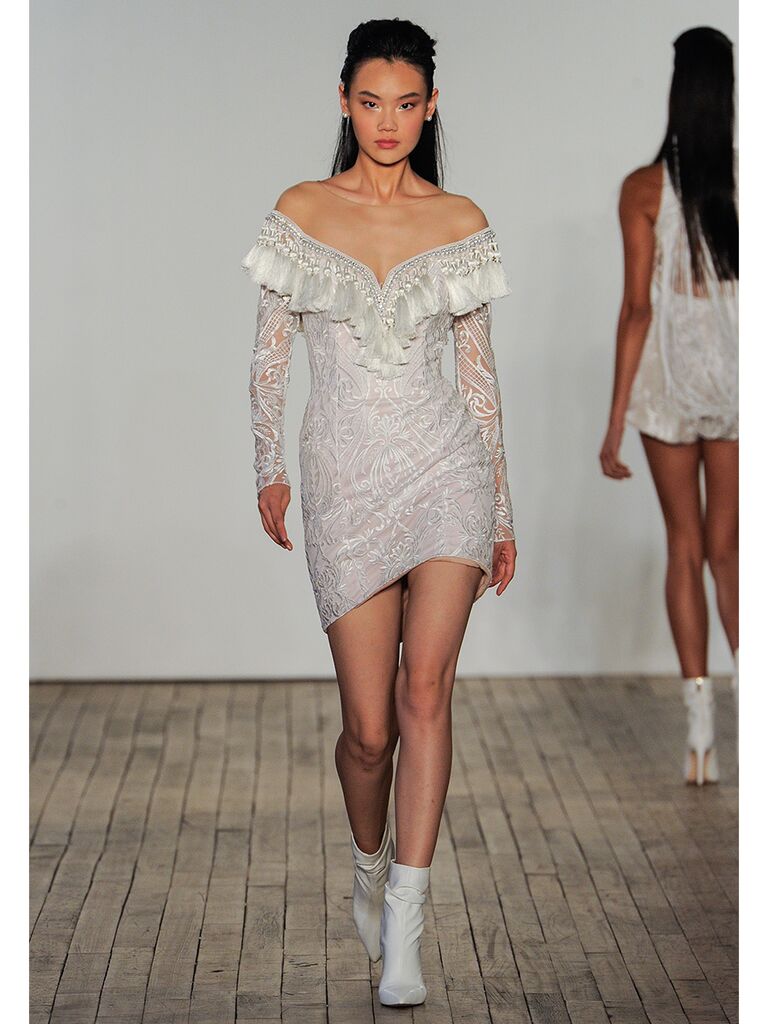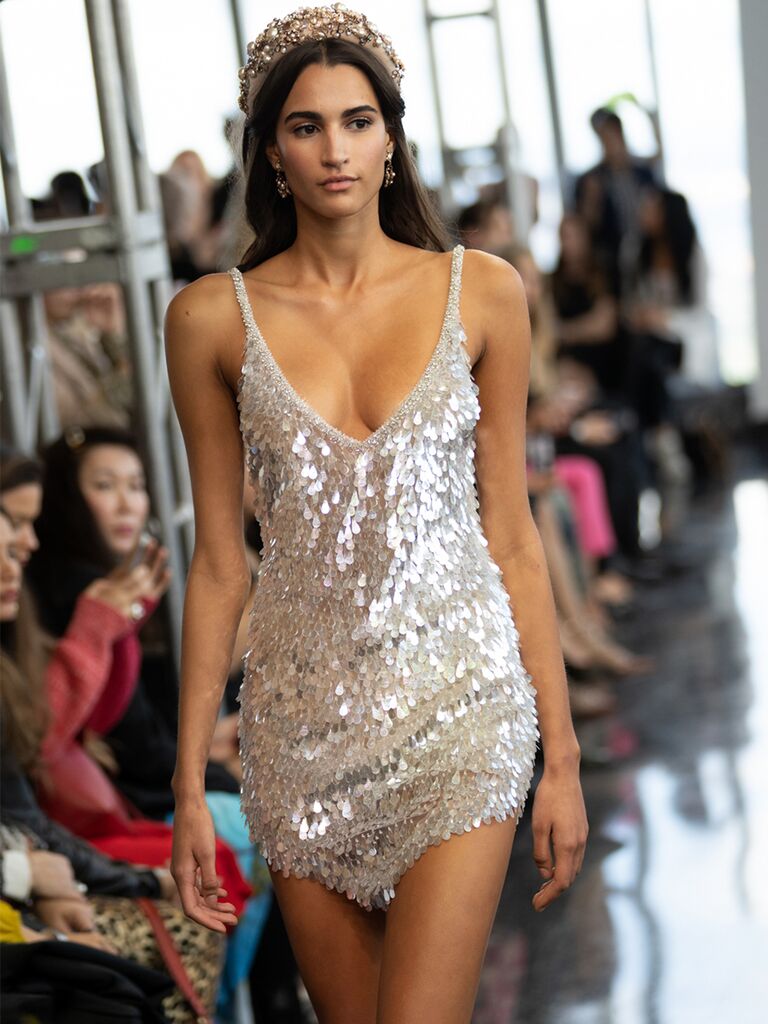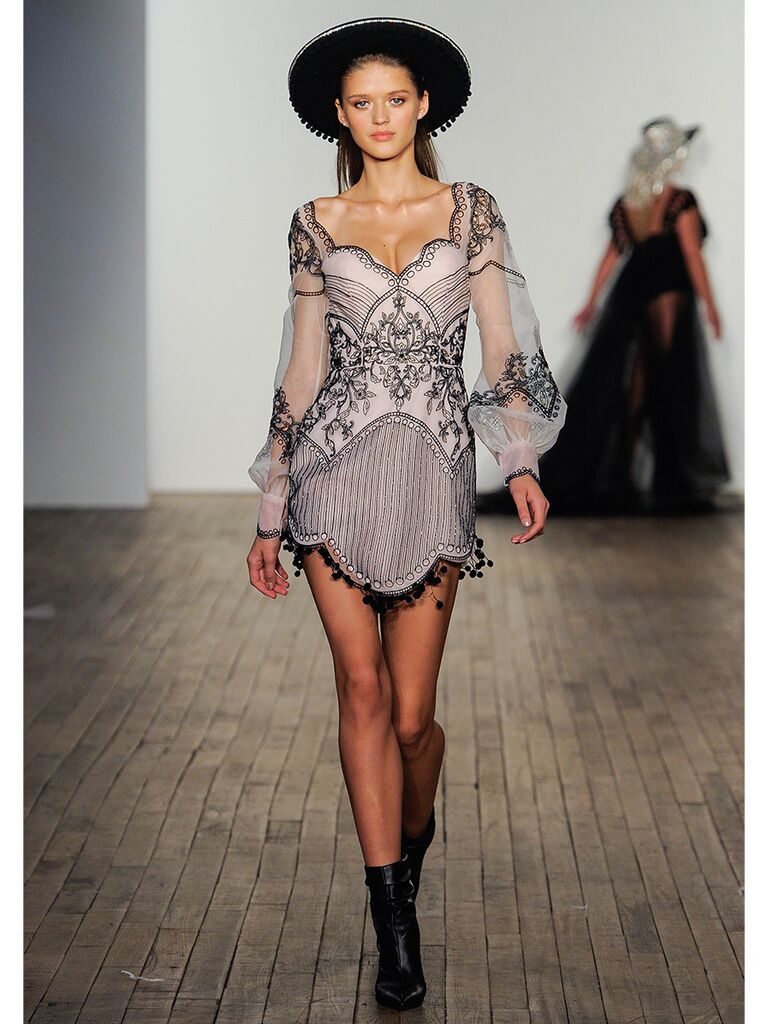 Unique Ball Gown Wedding Dresses
So you want a fairy-tale moment but you don't want to look like just another princess. We've got you covered with these unique ball gown wedding dresses. Show off your playful side with a bright hue (we love the blue and green ombré) or unleash your inner romantic with a blush ball gown. Pro tip: A gown doesn't have to be colored to make a statement. Go for an oversize boho ball gown (similar to Heidi Klum's wedding dress) or a ball gown with a dramatic scooped neckline to make a statement.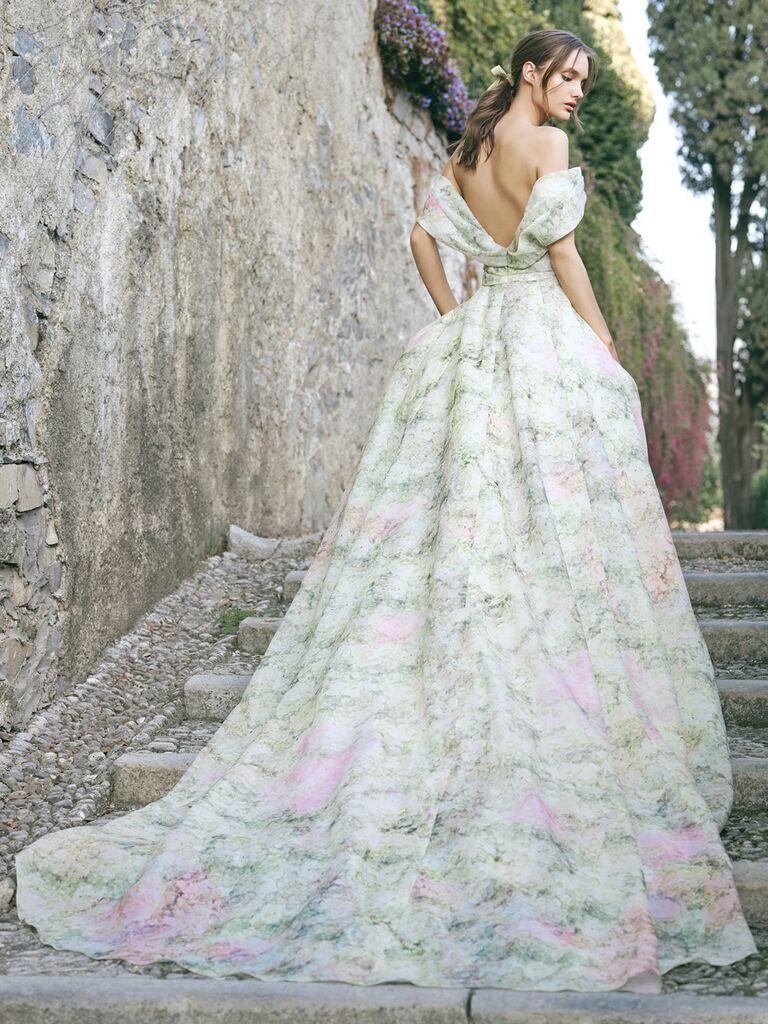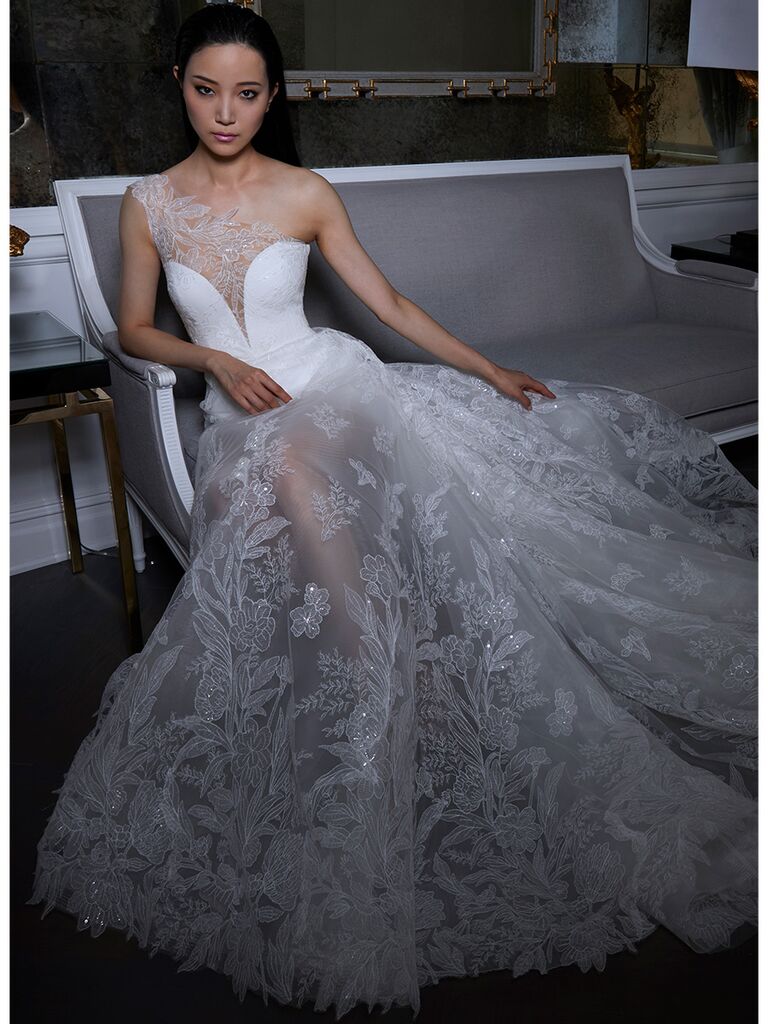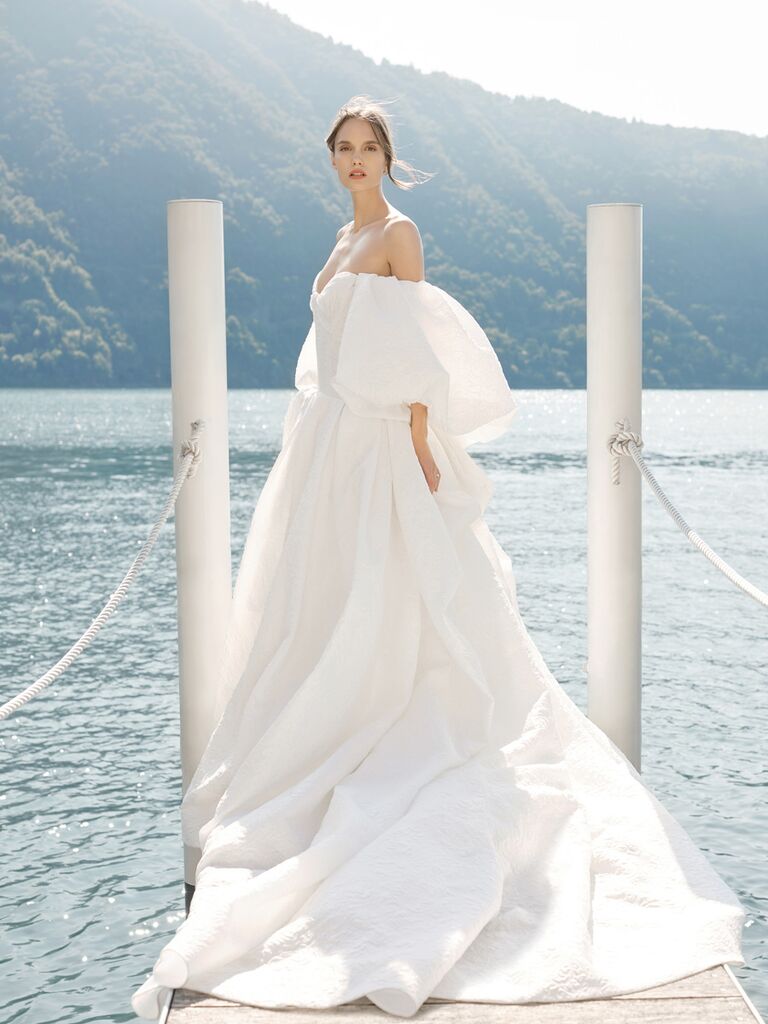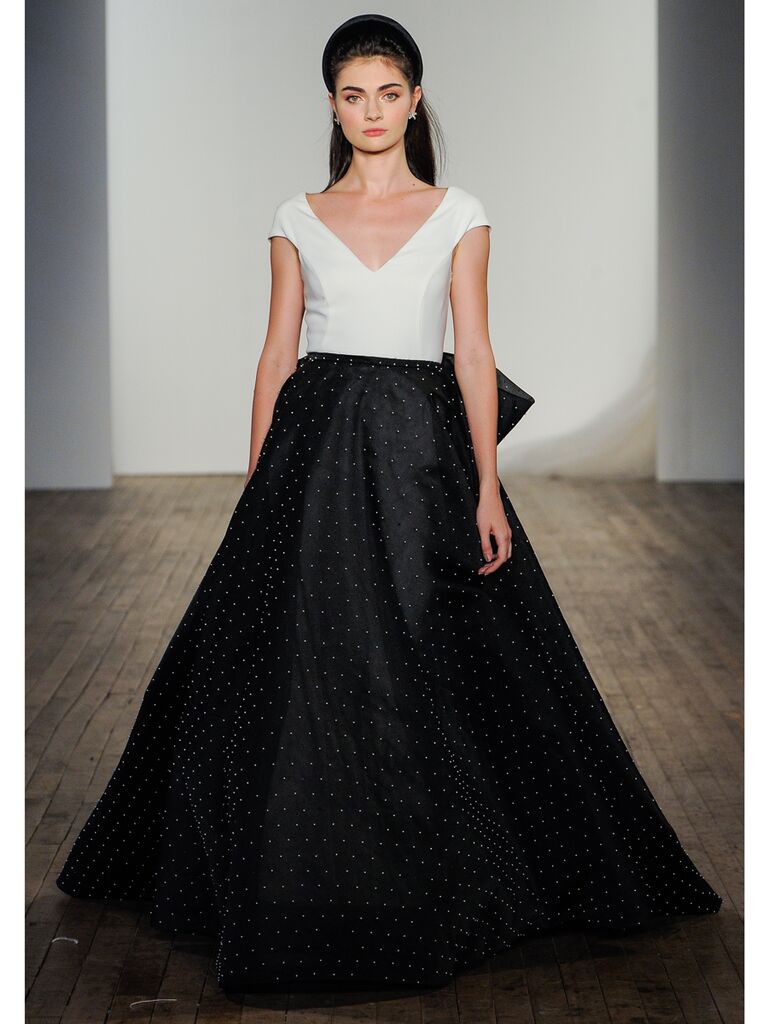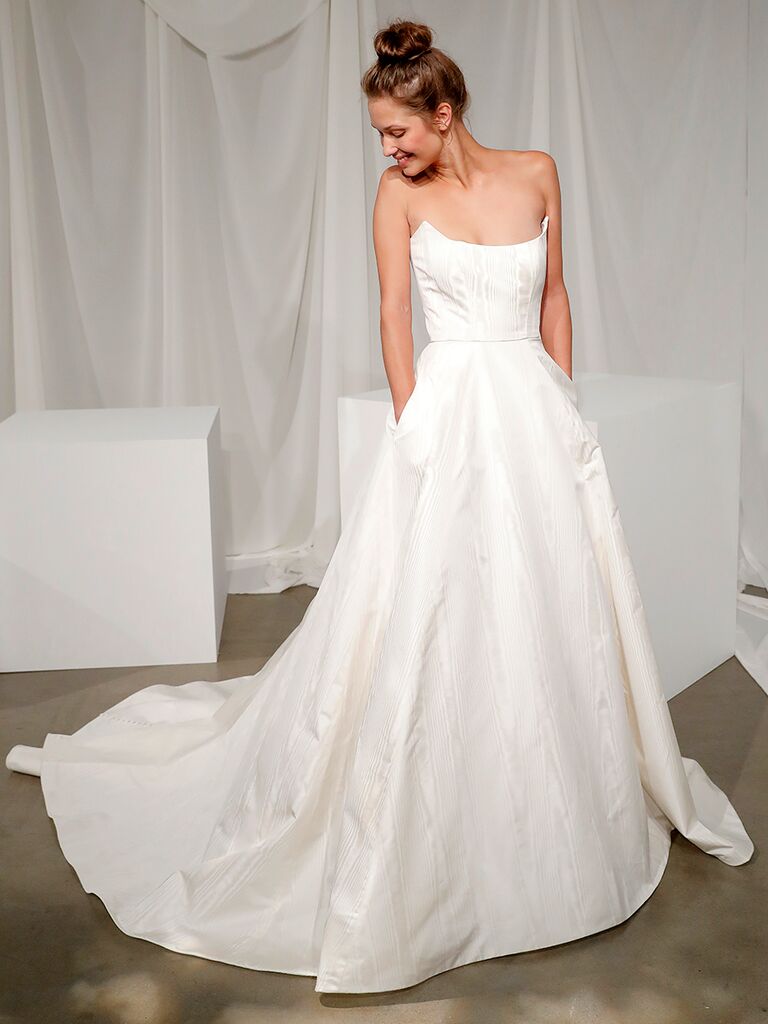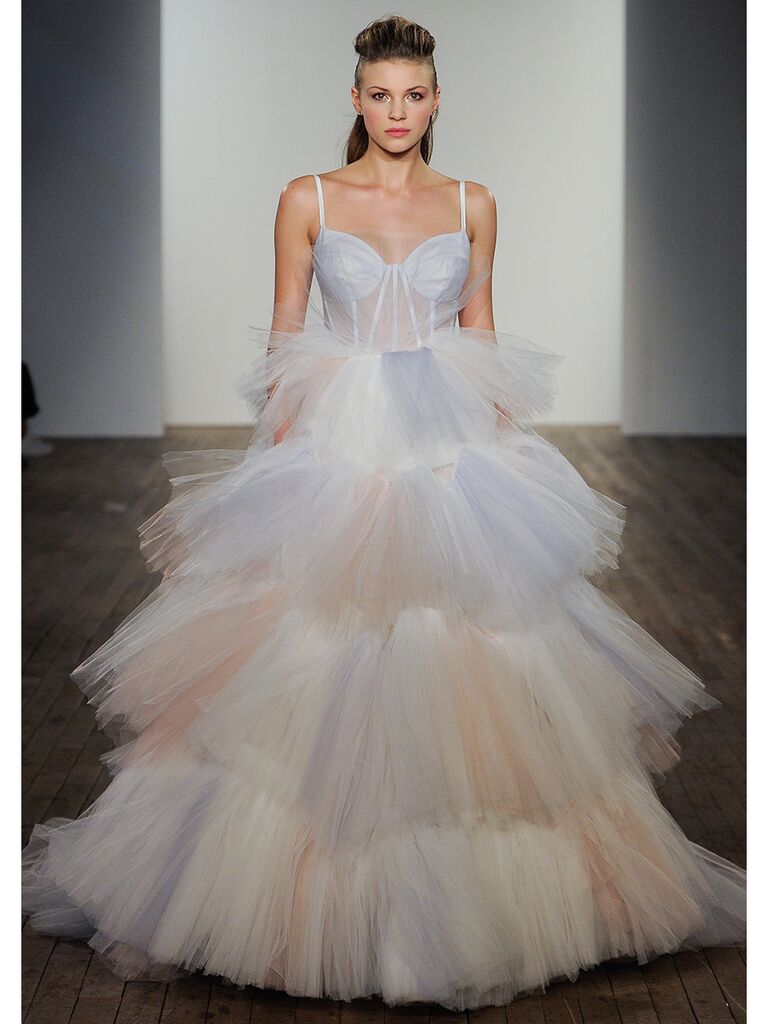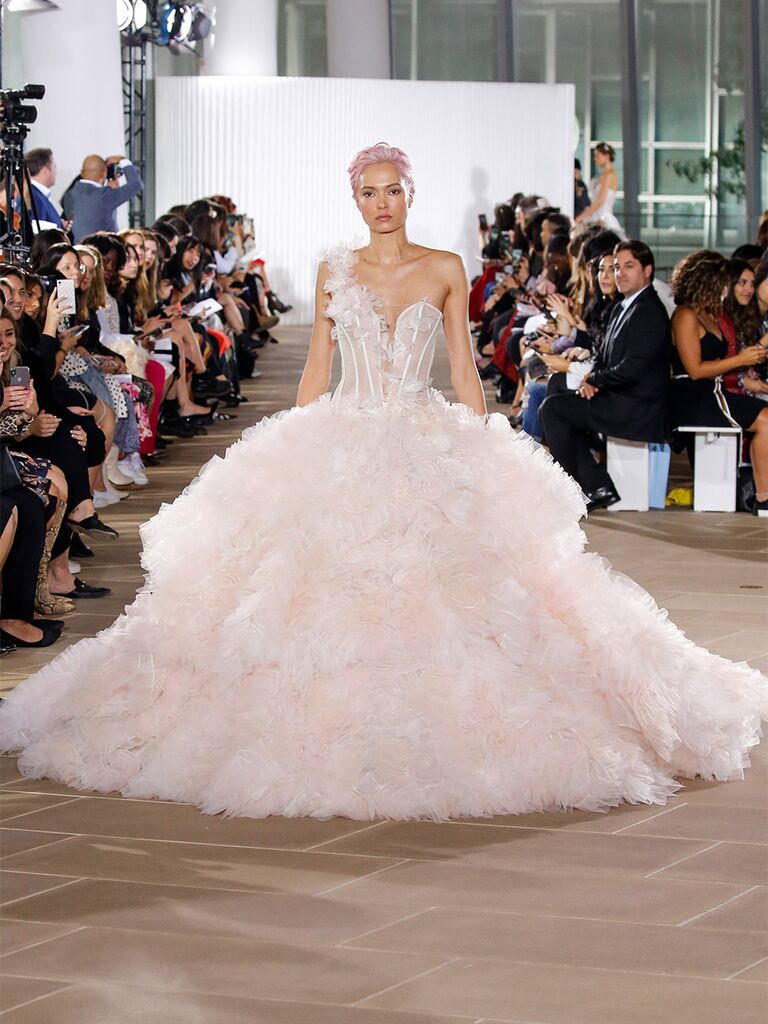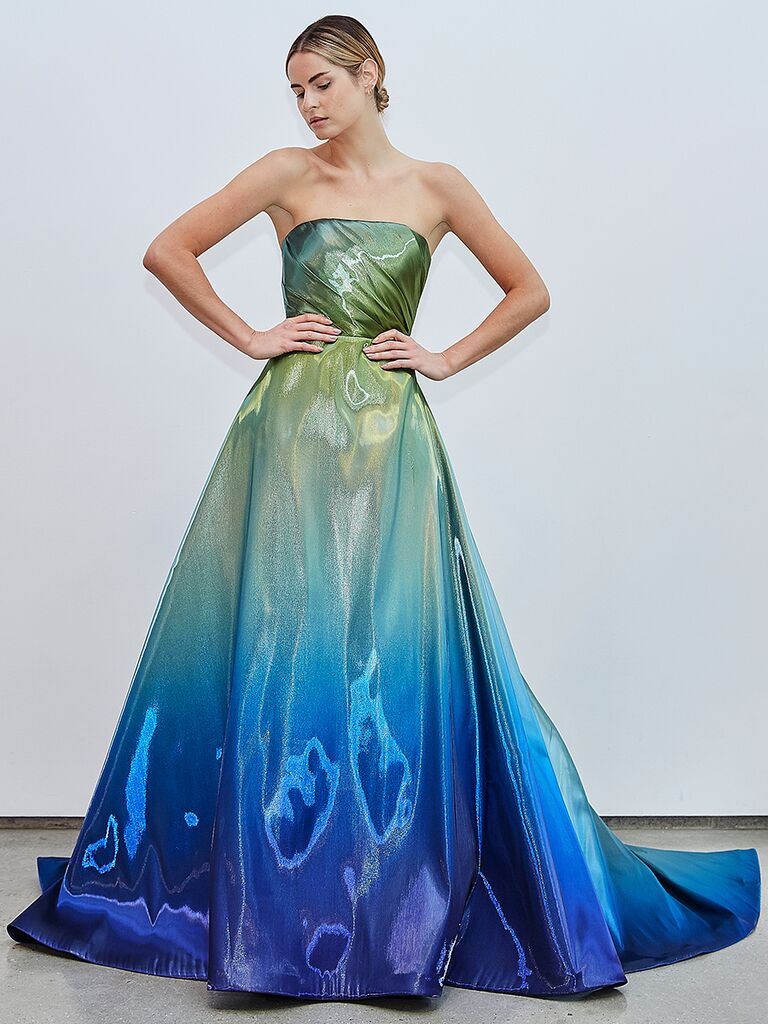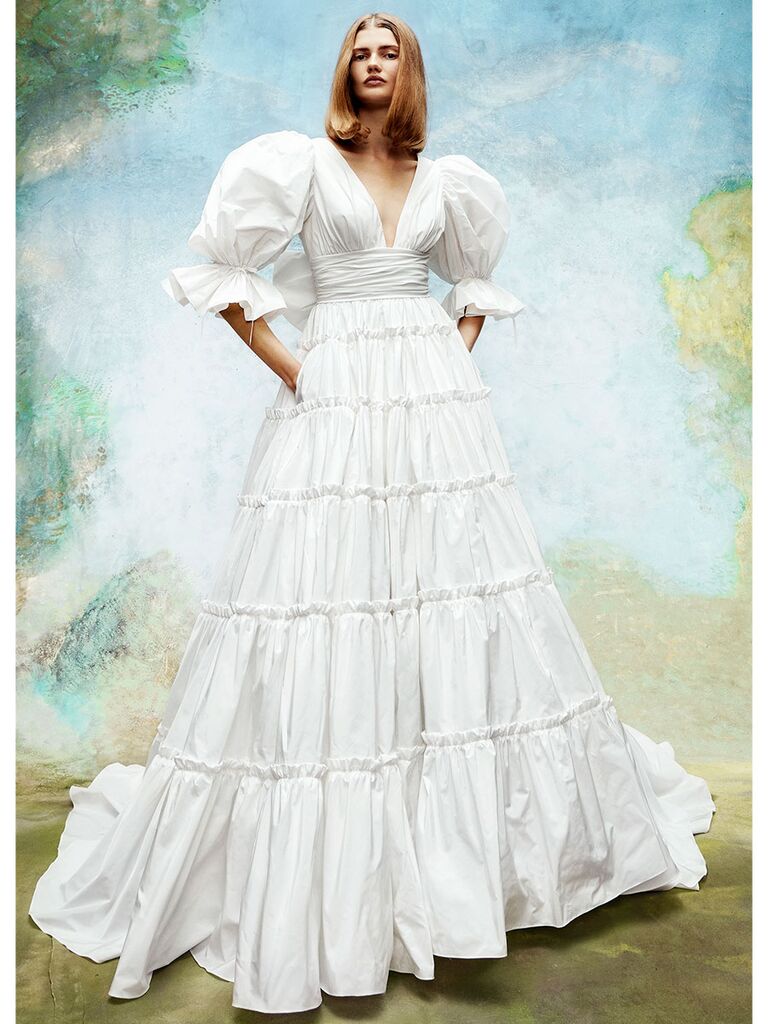 Unique Mermaid Wedding Dresses
Calling all sassy brides. The mermaid gown is perfect for to-be-weds who want to highlight their figure, as it's fitted throughout the bust, torso and hips and then dramatically flares out. But if you'd rather skip the traditional white lace and beading for something more bold, try out one of these unique mermaid wedding dresses. Focus on a subtle detail like an asymmetrical neckline or rock a show-stopping accessory like a cape. Either way, you'll be the star of the show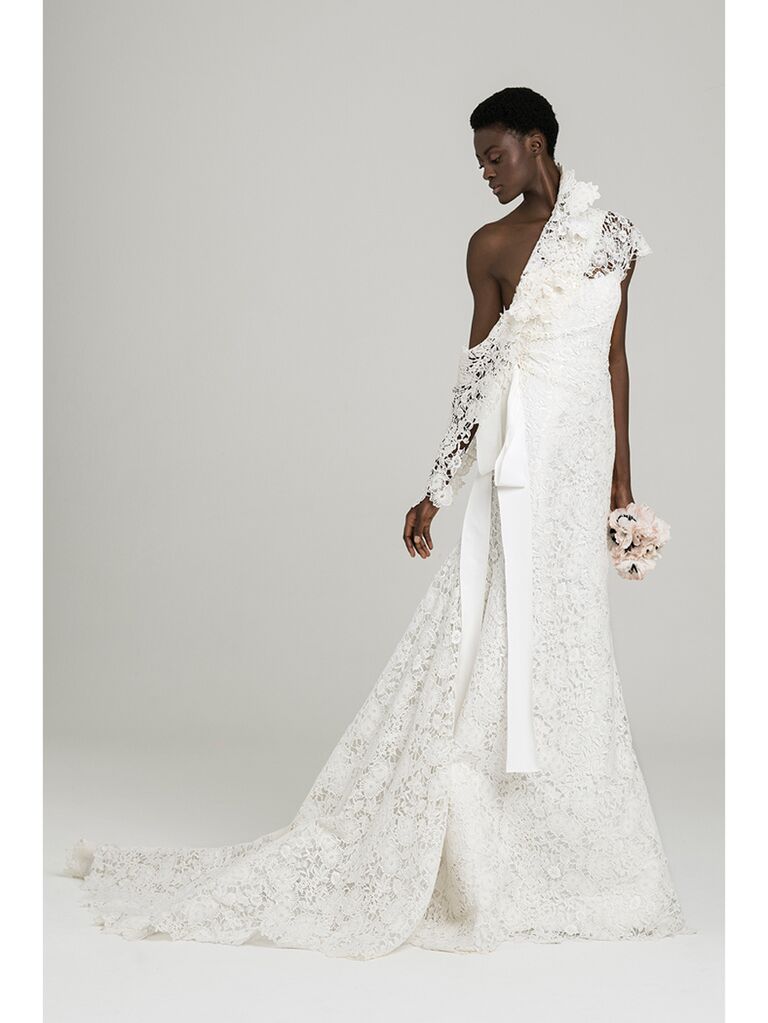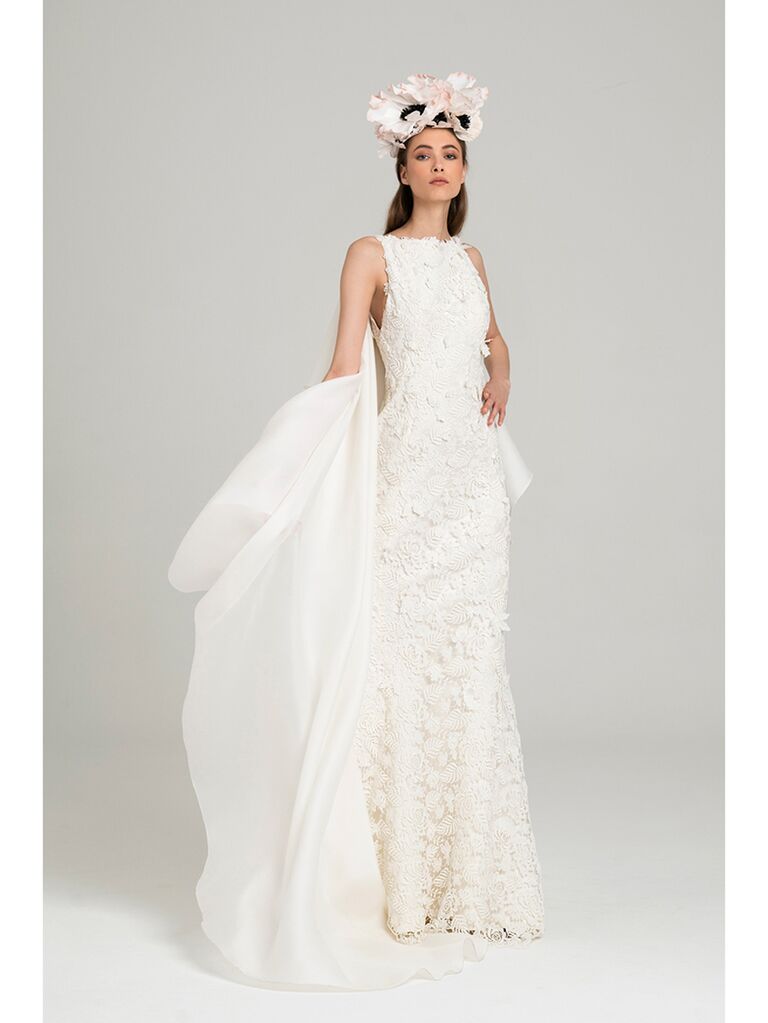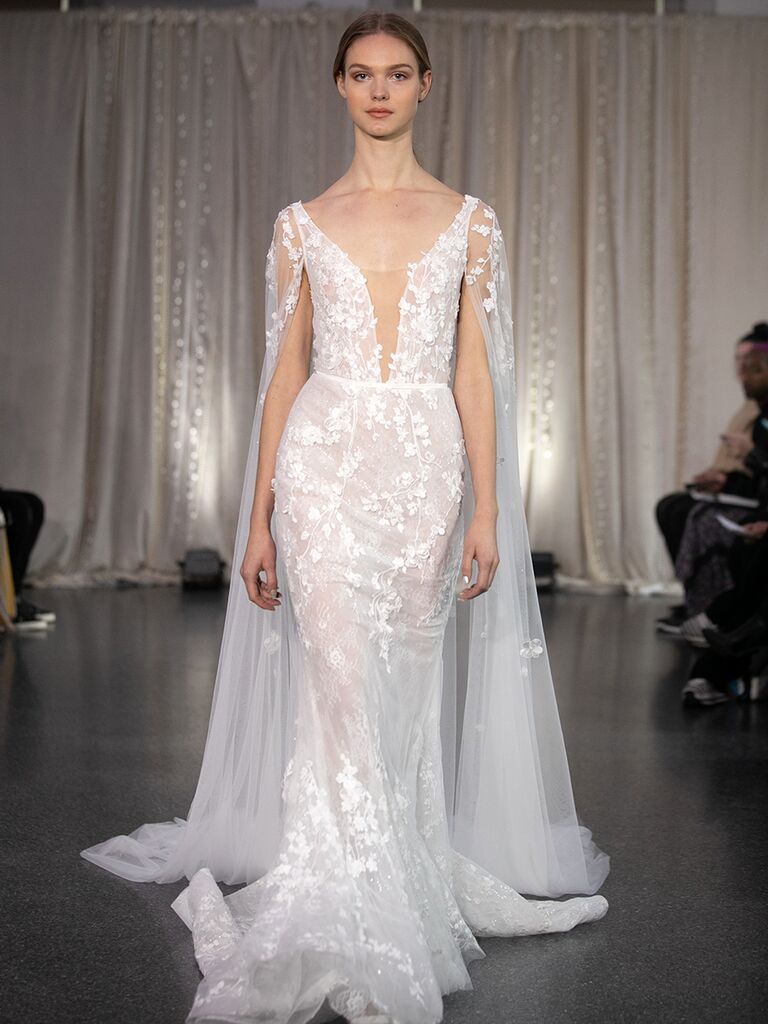 Unique Fit-and-Flare Wedding Dresses
Fit-and-flare is a super popular wedding dress silhouette—and for a good reason. It's an ultra-flattering shape that hugs your body through the bust, waist and hips and flares out every-so-slightly. If you're searching for a way to set yourself apart from other fit-and-flare-loving brides, look no further. We've picked unique fit-and-flare wedding dresses that will showcase your personality. Achieve an ultra-romantic look with flutter sleeves, a modest style with long sleeves or a glamorous look with an oversized bow.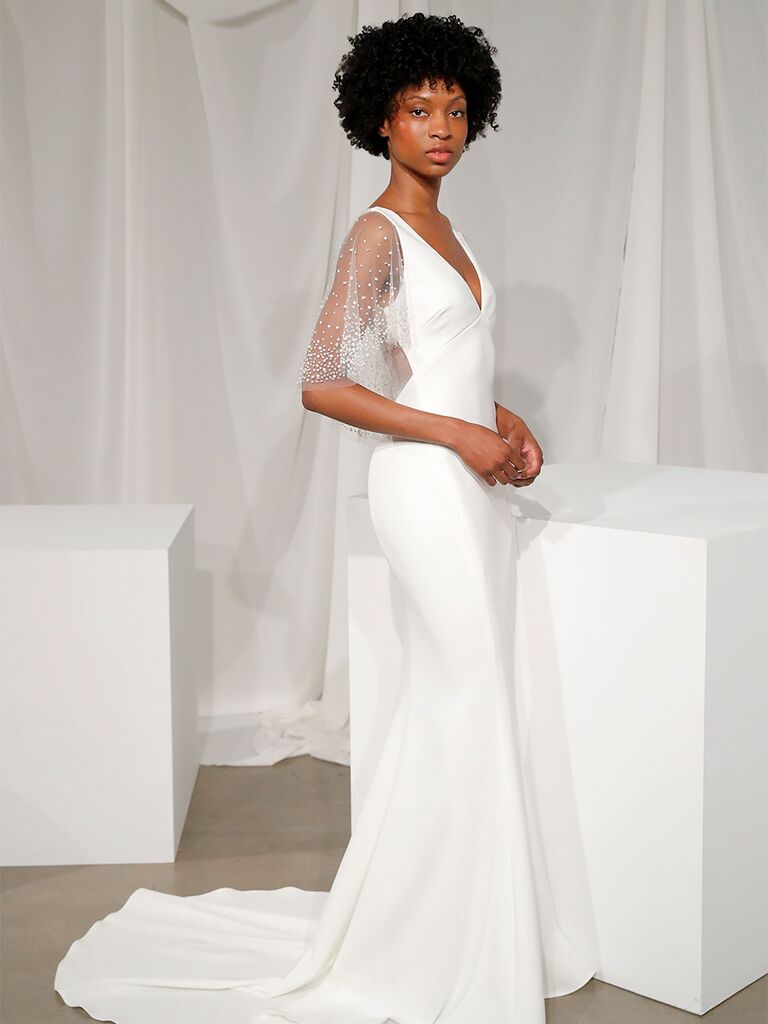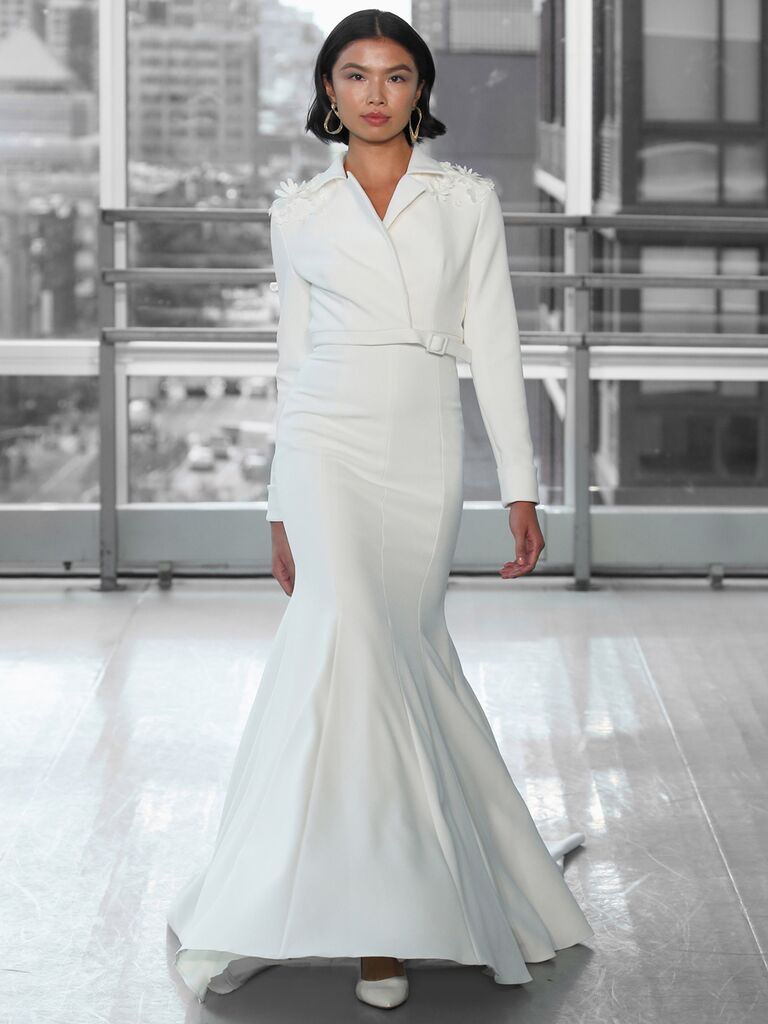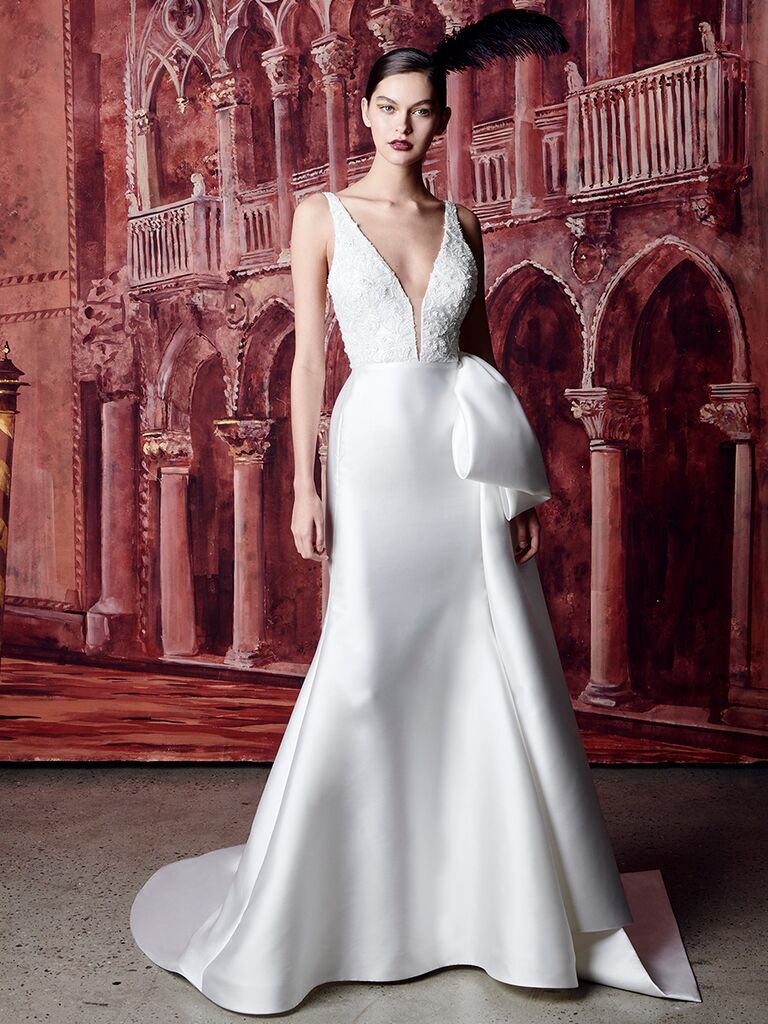 Unique Tea-Length Wedding Dresses
Tea-length dresses are perfect for brides going for a retro or classic look. Put a sexy spin on the modest style with a plunging neckline and sequins or go for a romantic look with flowing layers of lace. See our favorite unique tea-length wedding dresses below.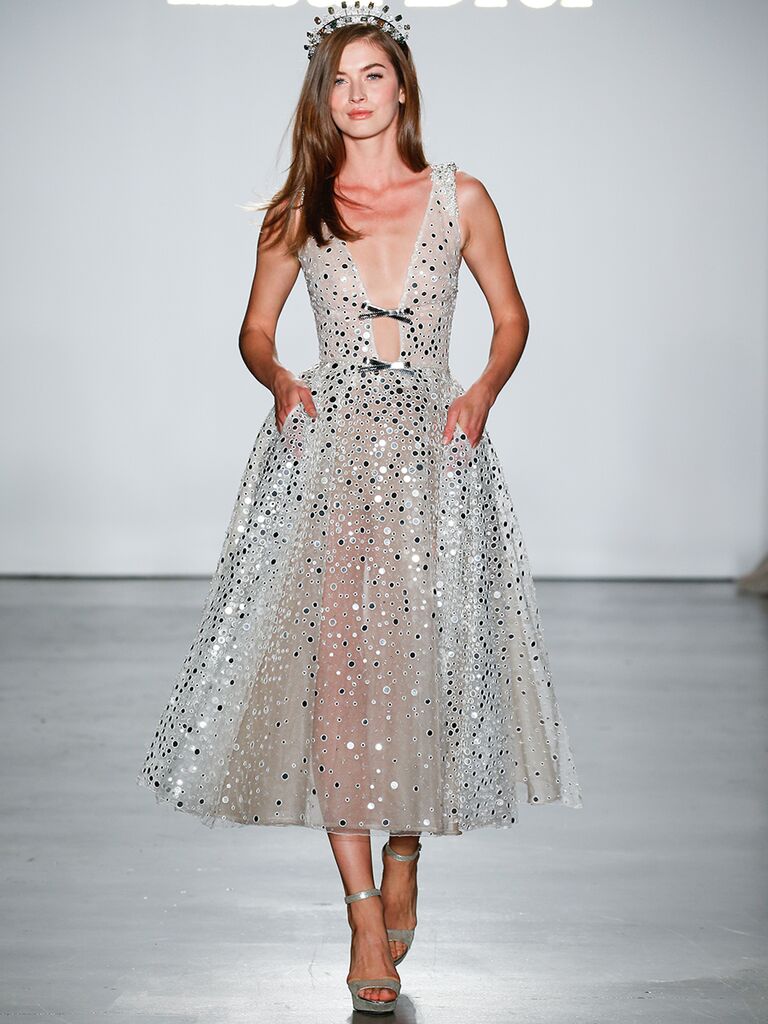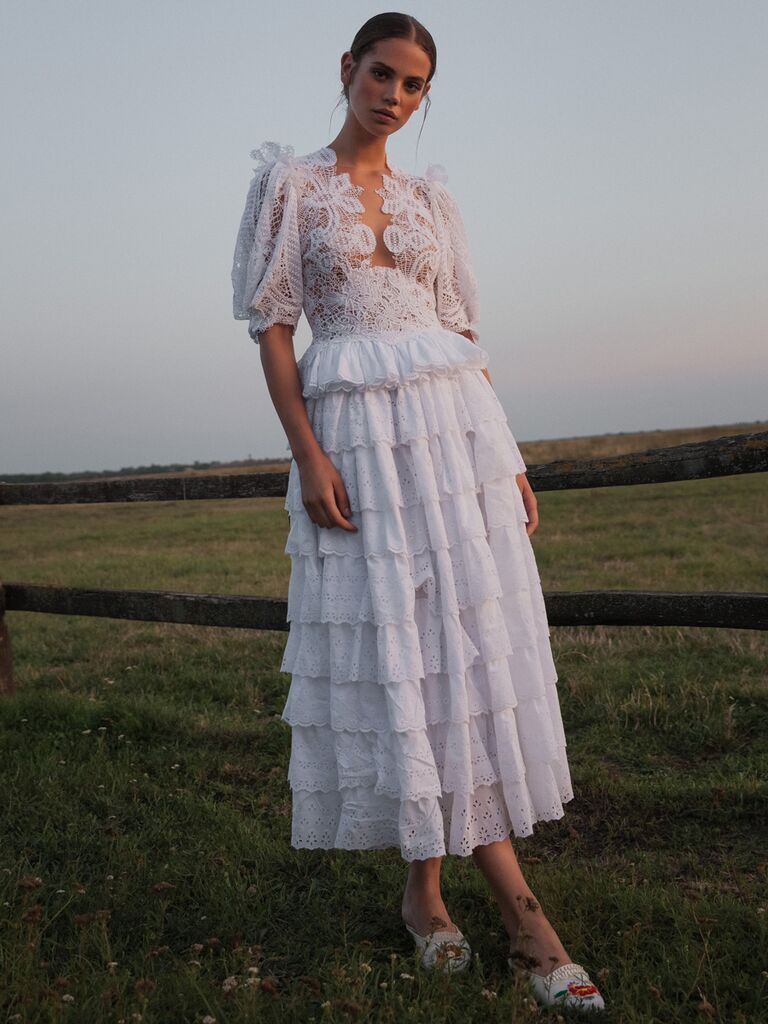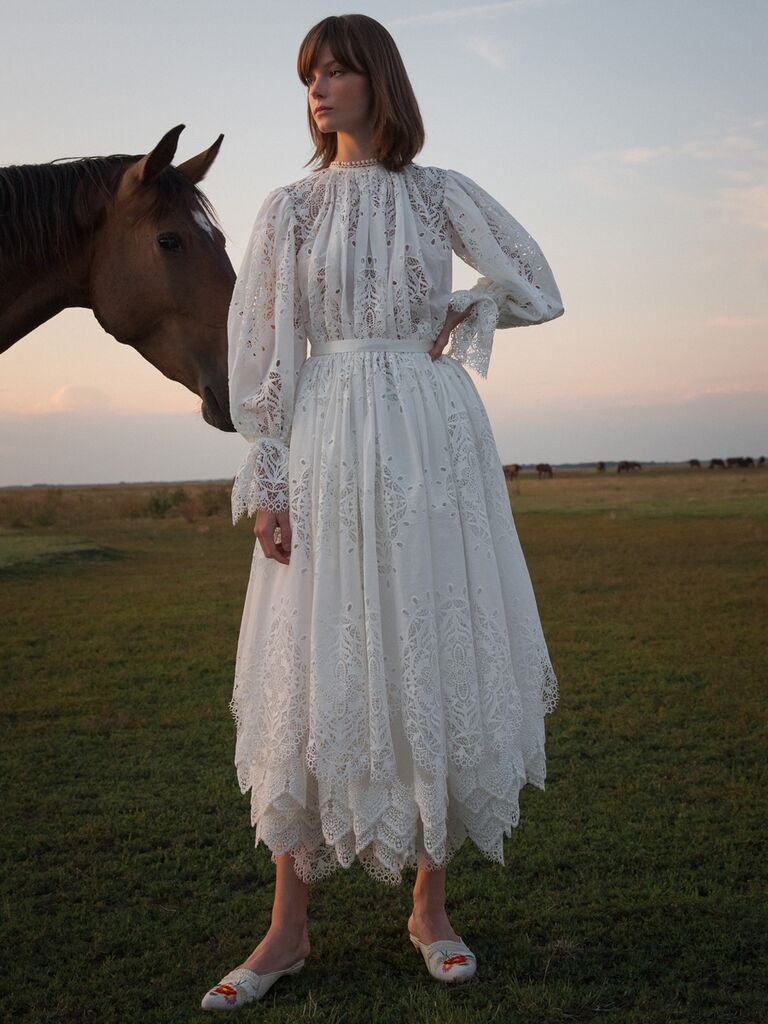 Unique Wedding Jumpsuits, Pantsuits & Rompers
Feel like skipping the dress in completion? You're in luck. More options exist now than ever, which is why wearing pants (a jumpsuit or wedding suit) is one of the 2020 wedding dress trends we've predicted. Buck tradition and wear whatever makes you happiest, whether that's a glitzy jumpsuit, a sheer pantsuit or an embroidered romper.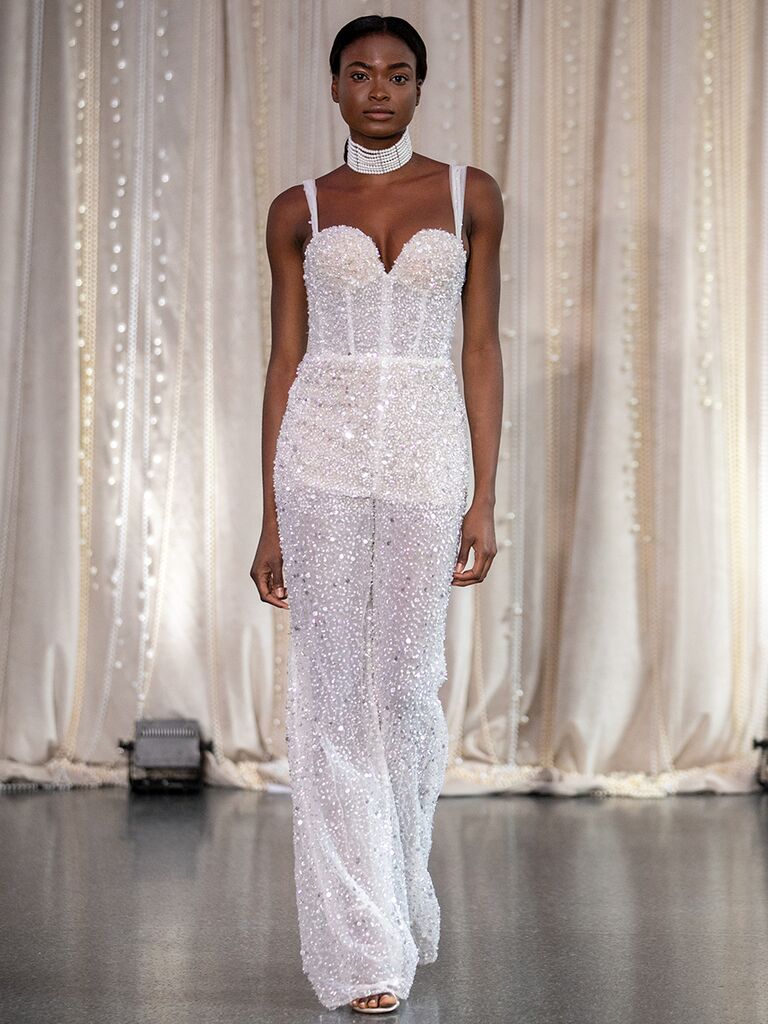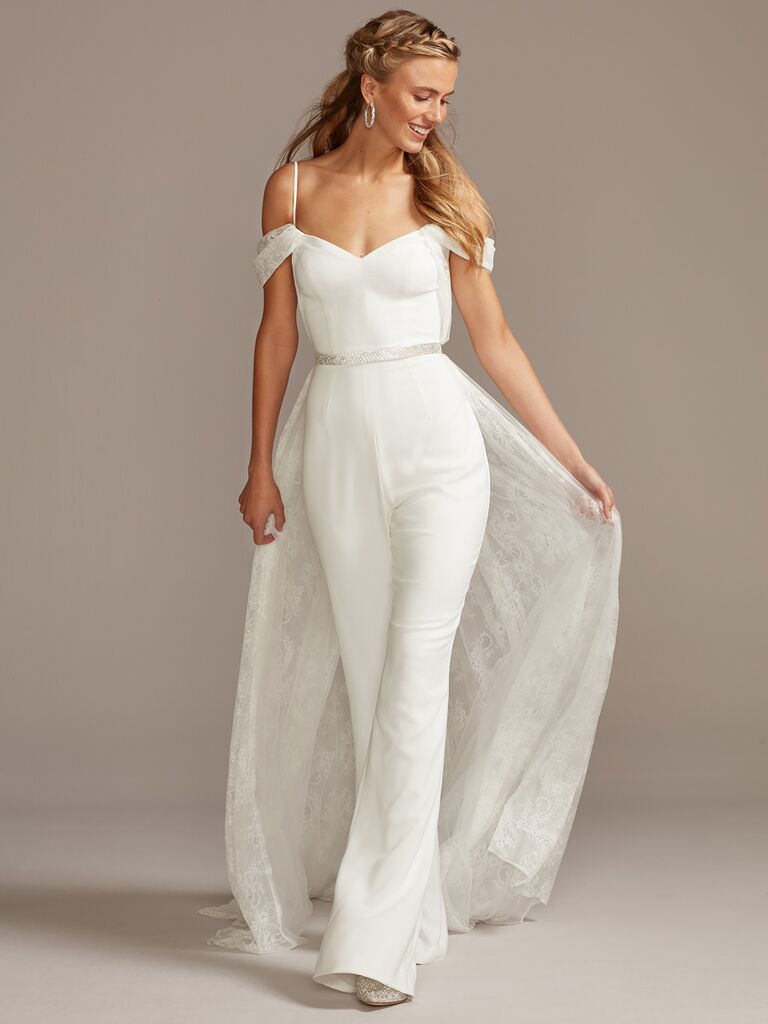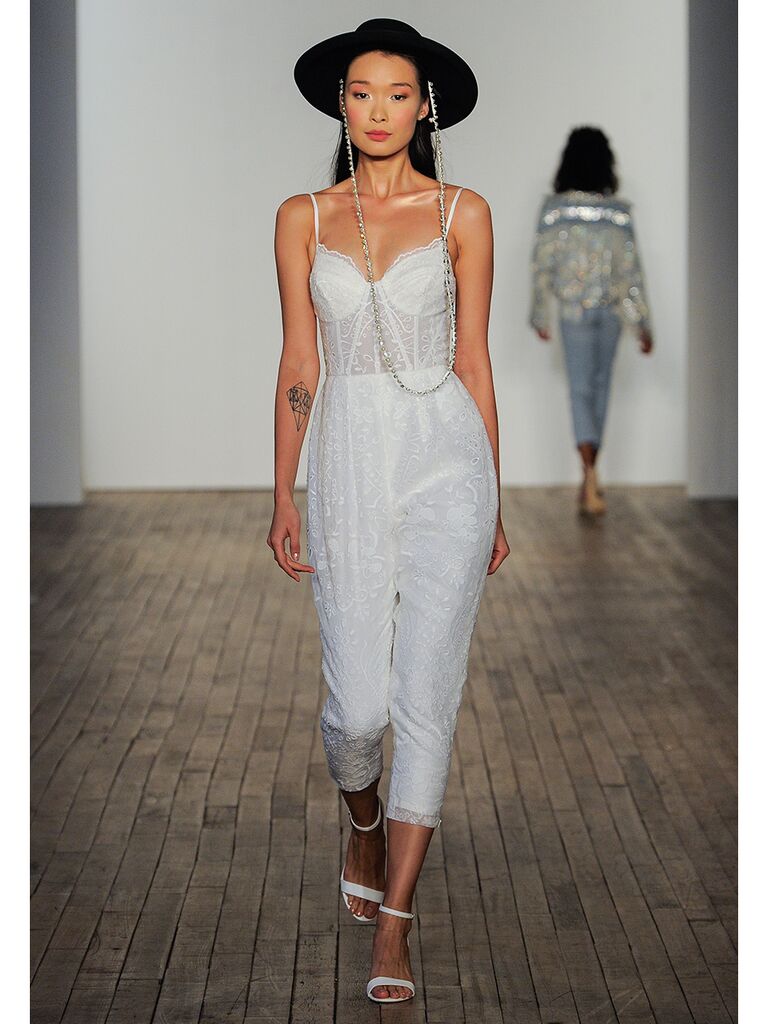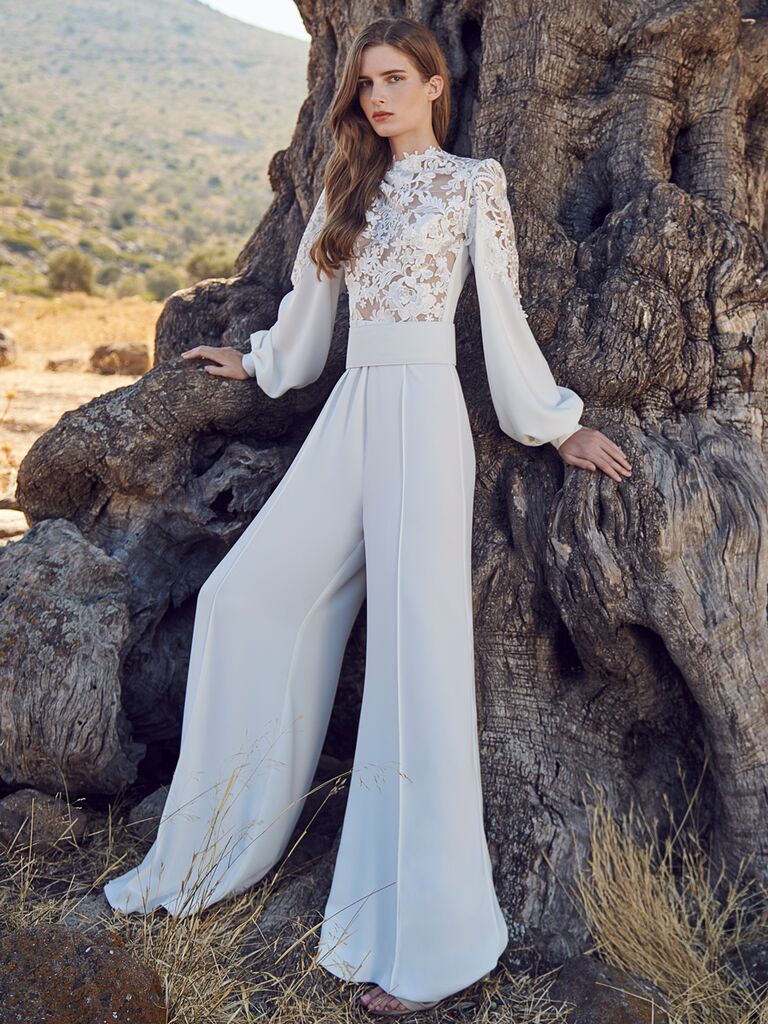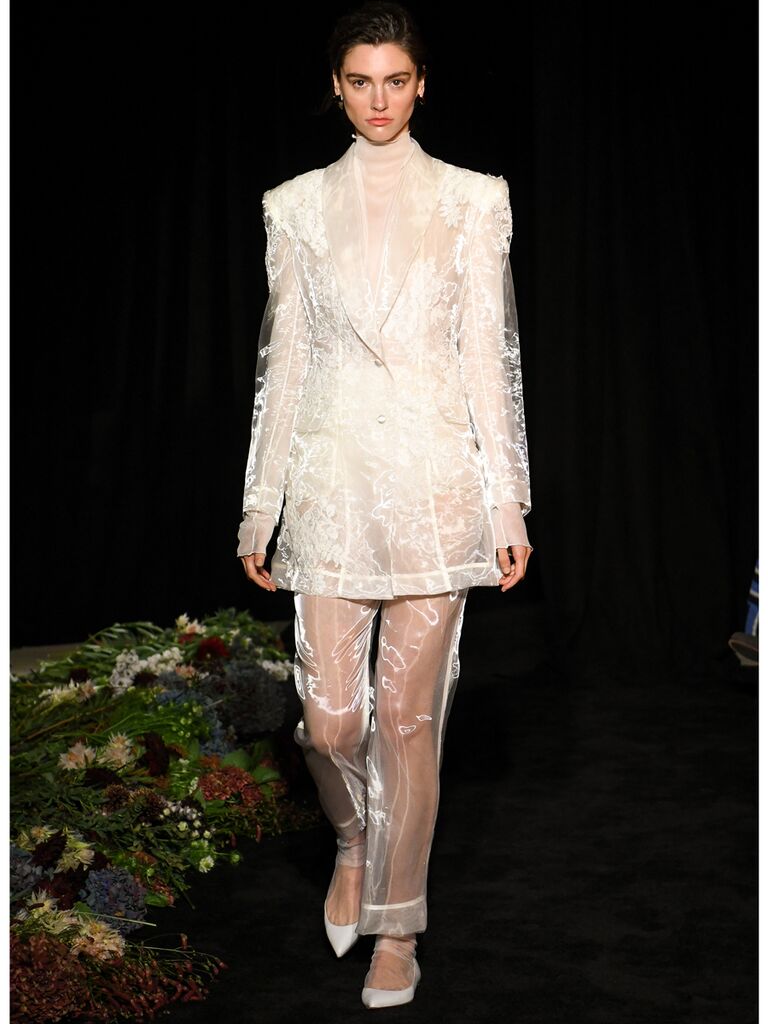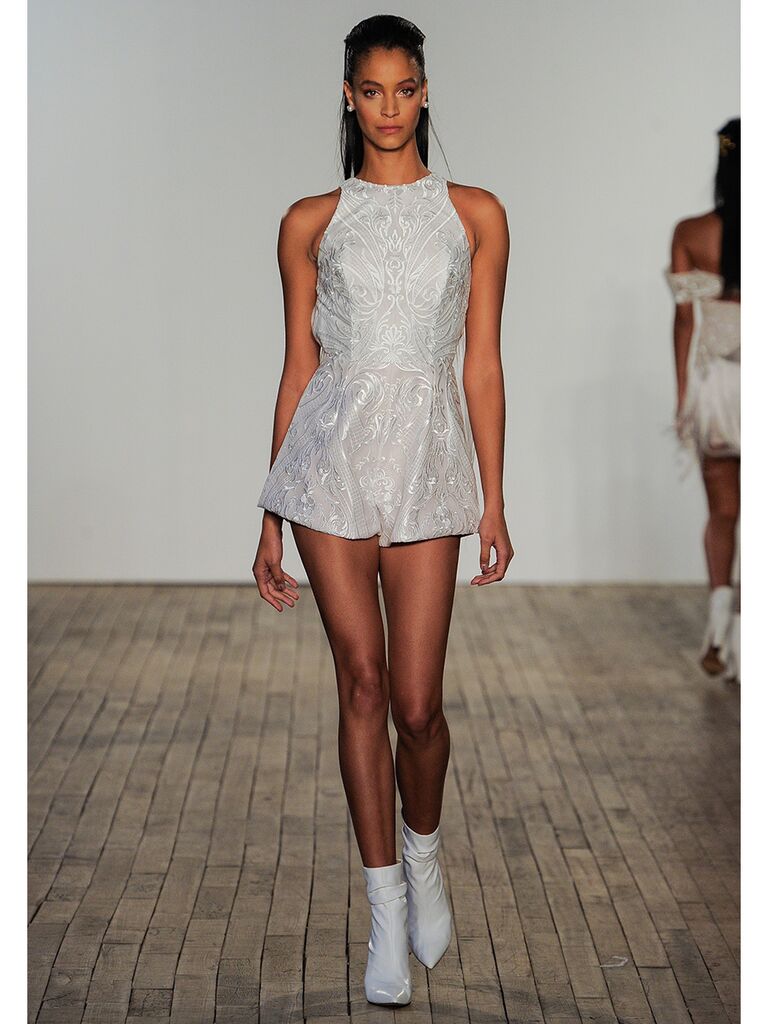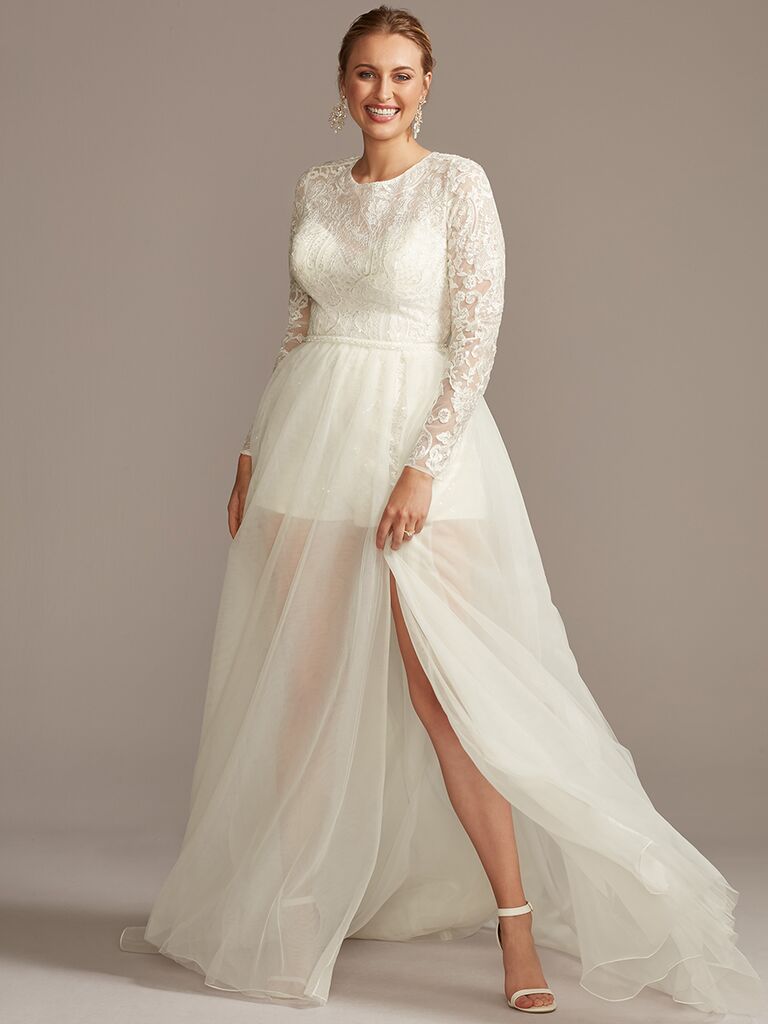 Unique A-Line Wedding Dresses
This universally-loved silhouette hugs your figure through your bust and waist and then flares out for a pretty and understated look. While the A-line silhouette can seem quite minimalistic, there are so many ways to inject your personality into the style. Go for a bold hue (check out that black gown below), an asymmetrical skirt or a romantic ruffle detail to make the look your own.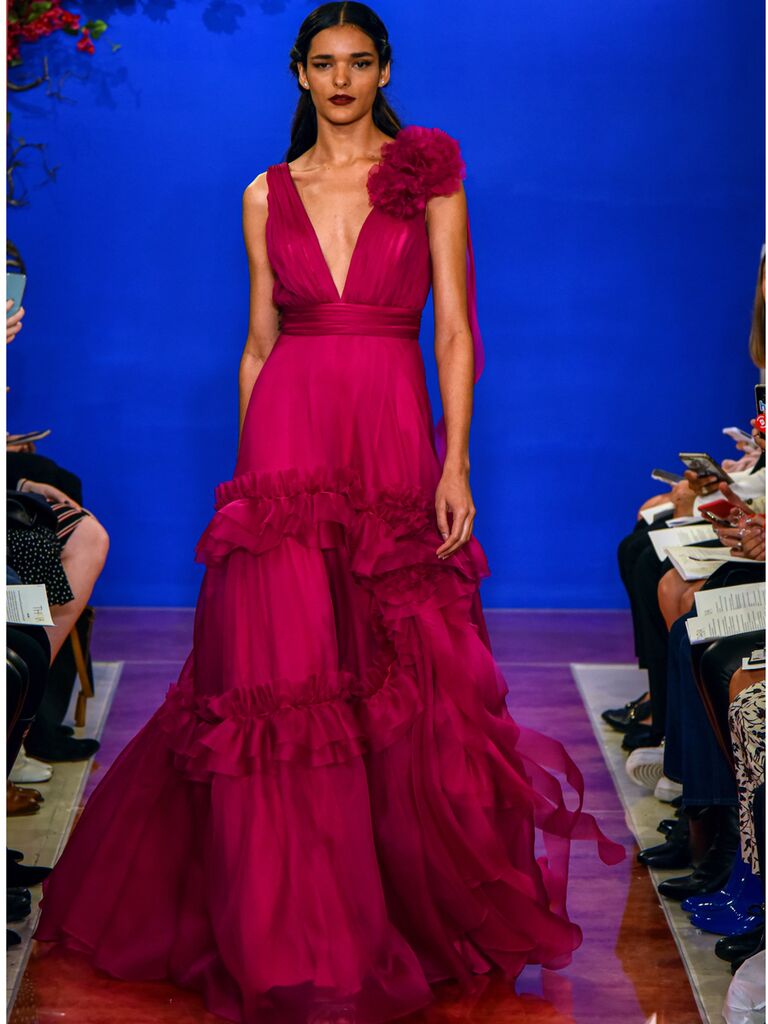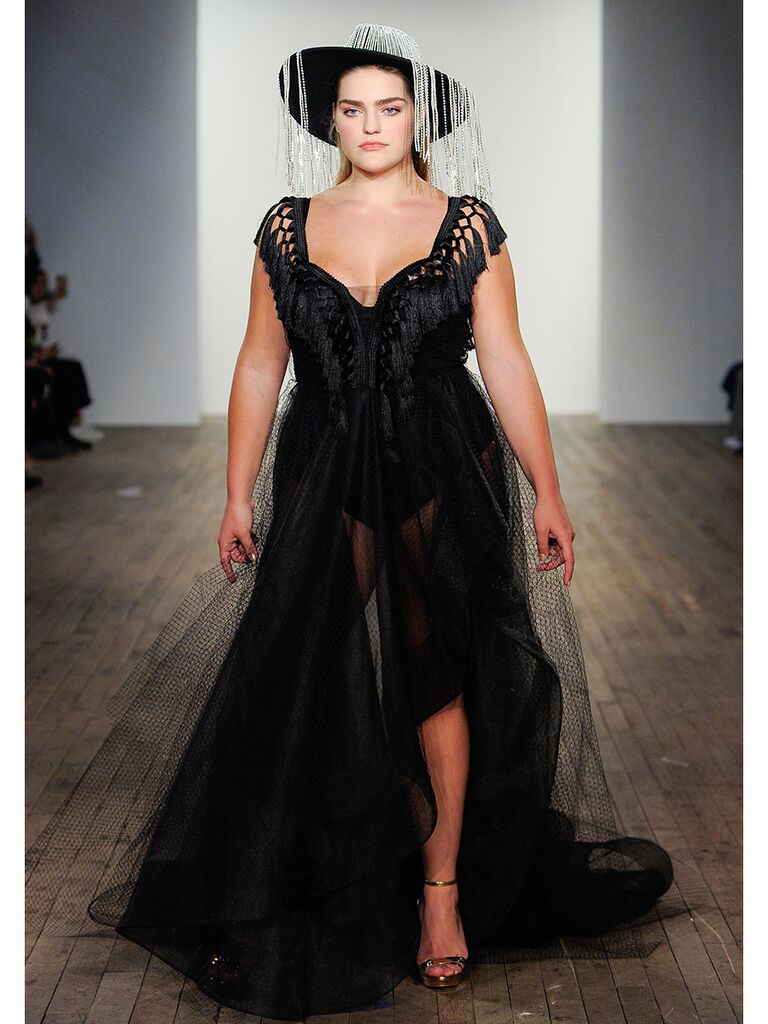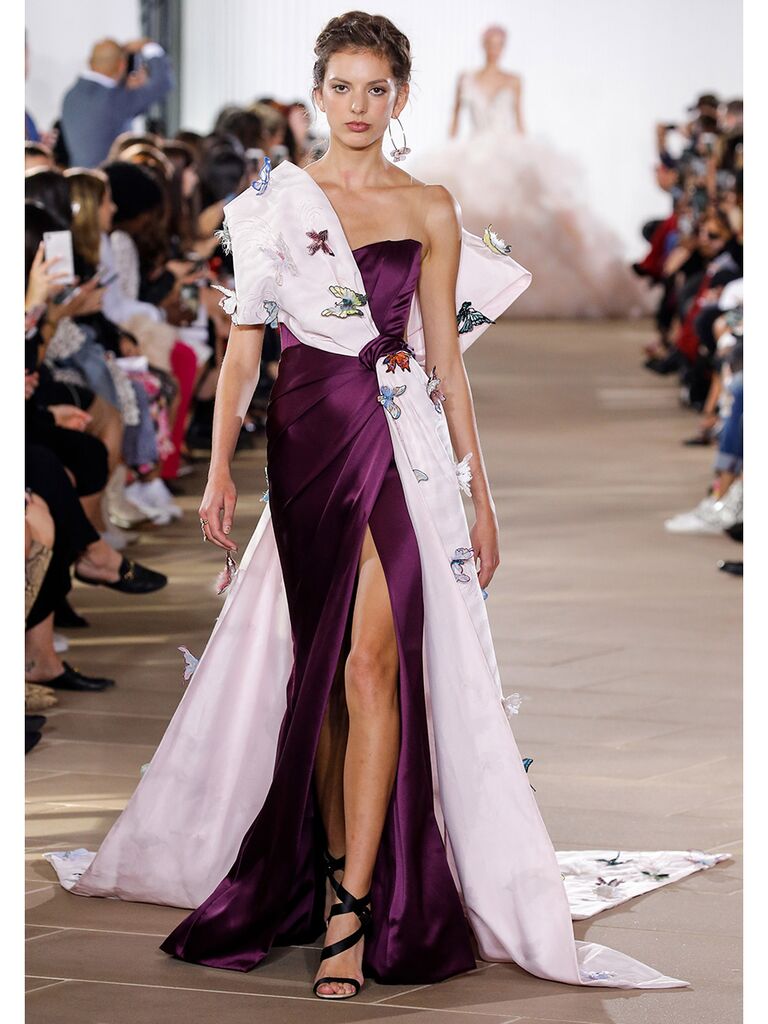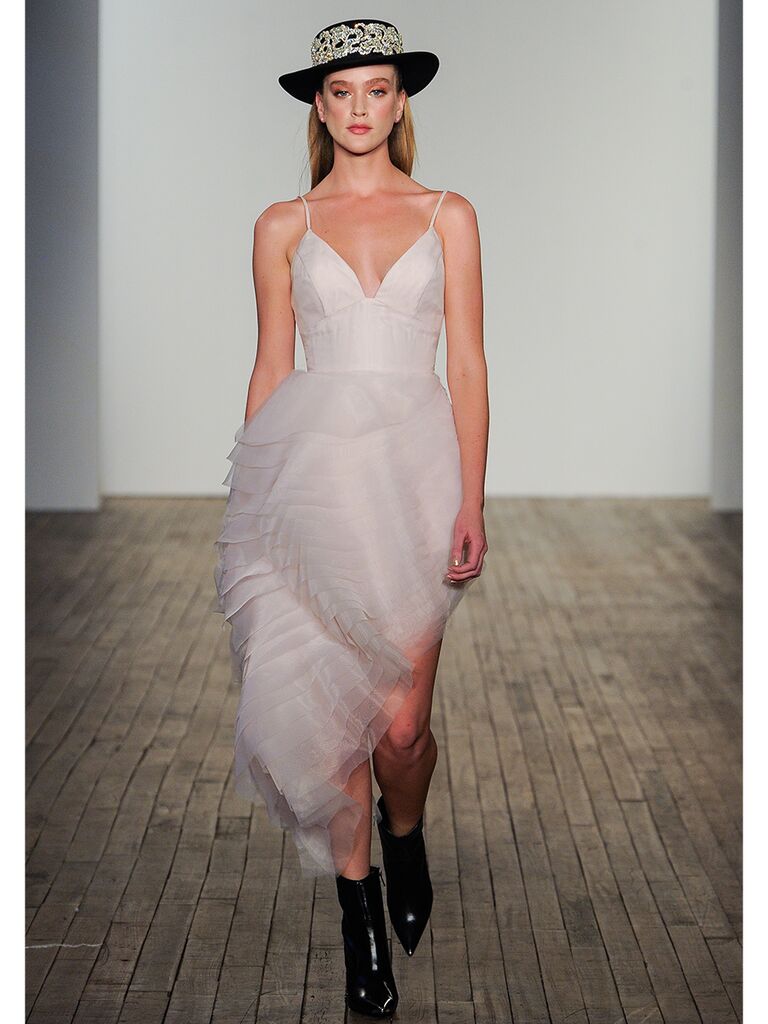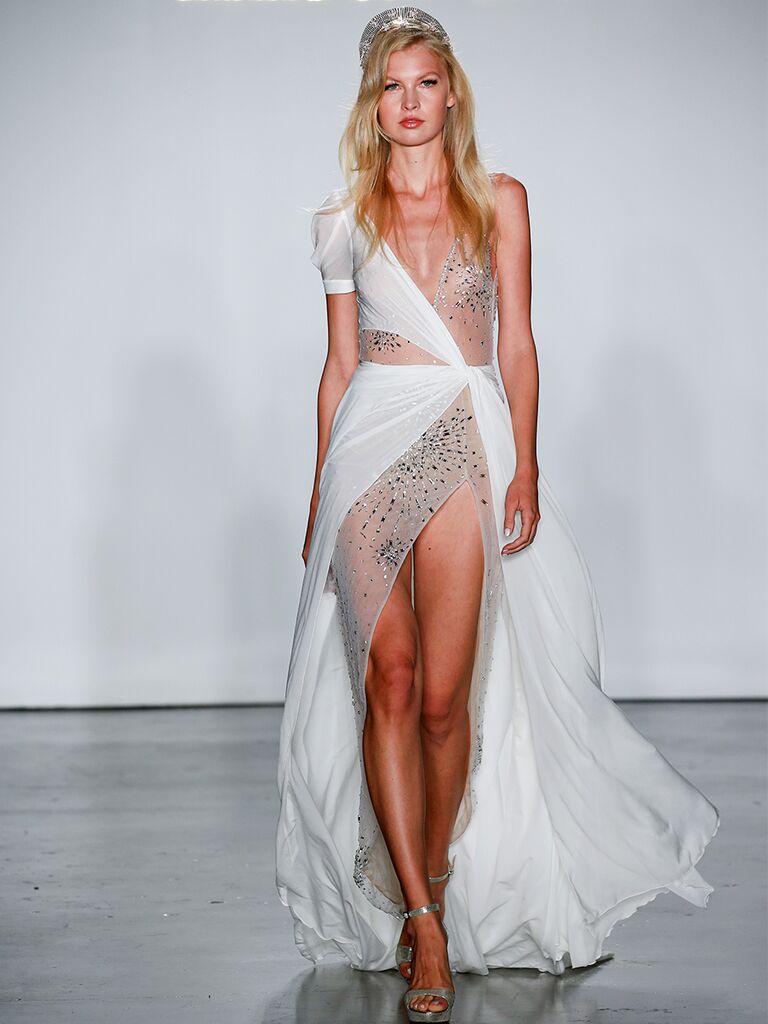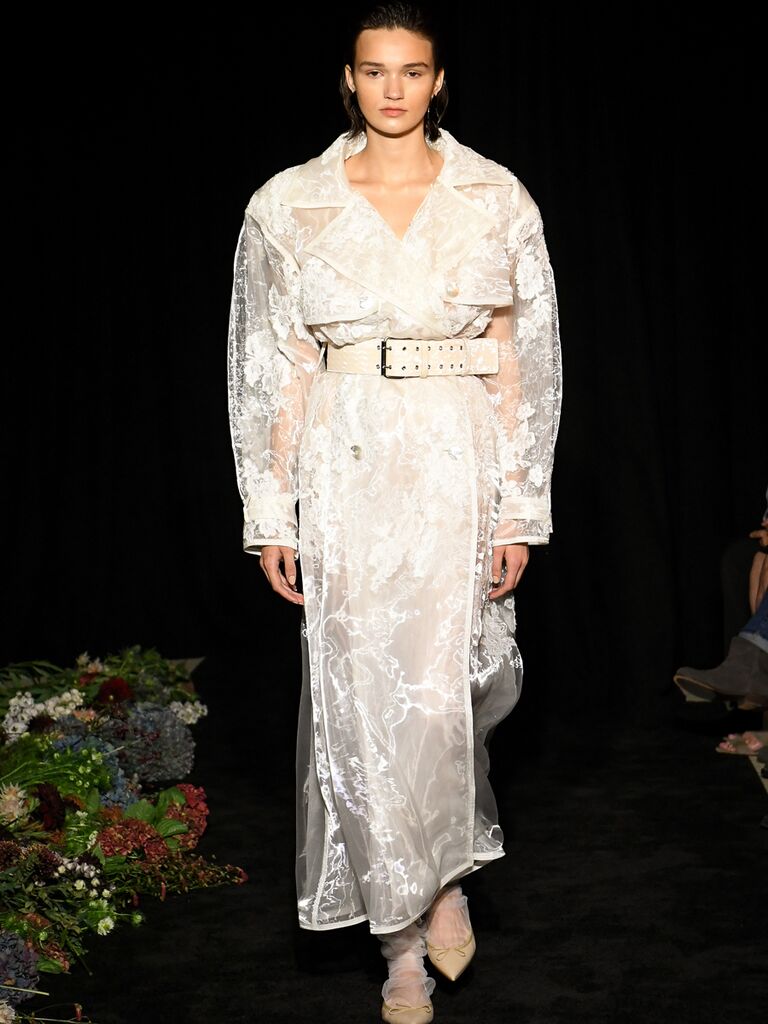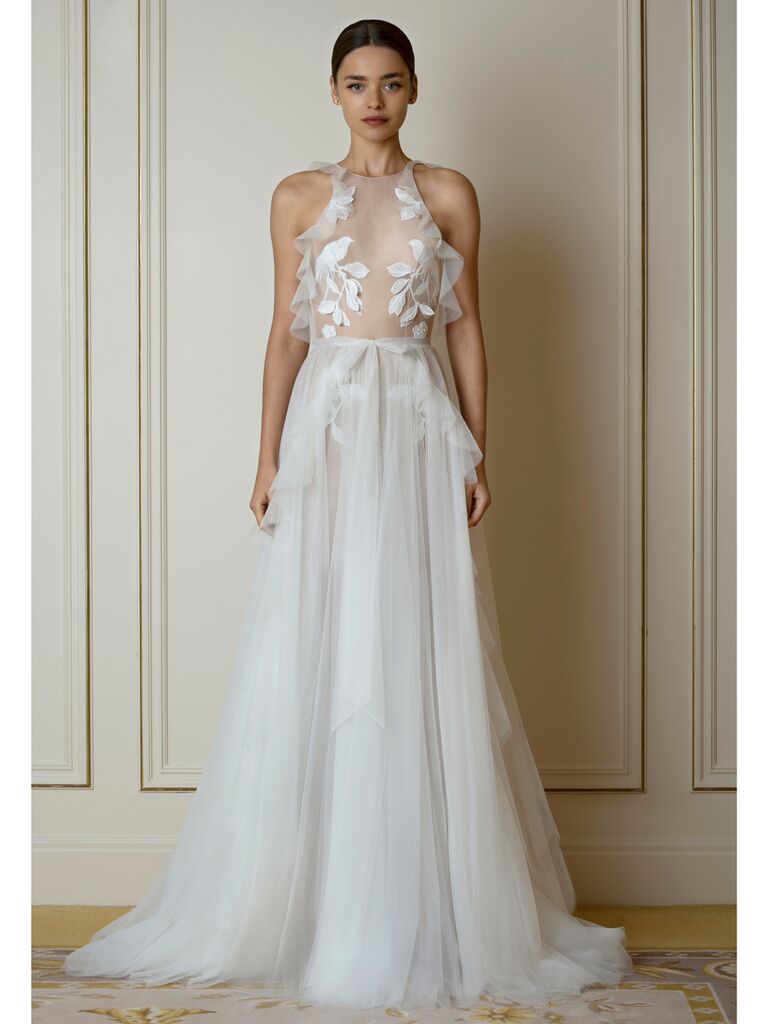 Unique Trumpet Wedding Dresses
If the mermaid gown is just a little too dramatic for you, consider a trumpet gown. It's a sleek shape that's fitted through your bust, torso and hips and flares out to create a bell shape. But toning down the silhouette doesn't mean you can't make a statement. Embrace your personality with these unique trumpet wedding dresses. These gowns have fun details like an eye-catching tulle overlay, a colorful fabric story and a subtle embroidery detail.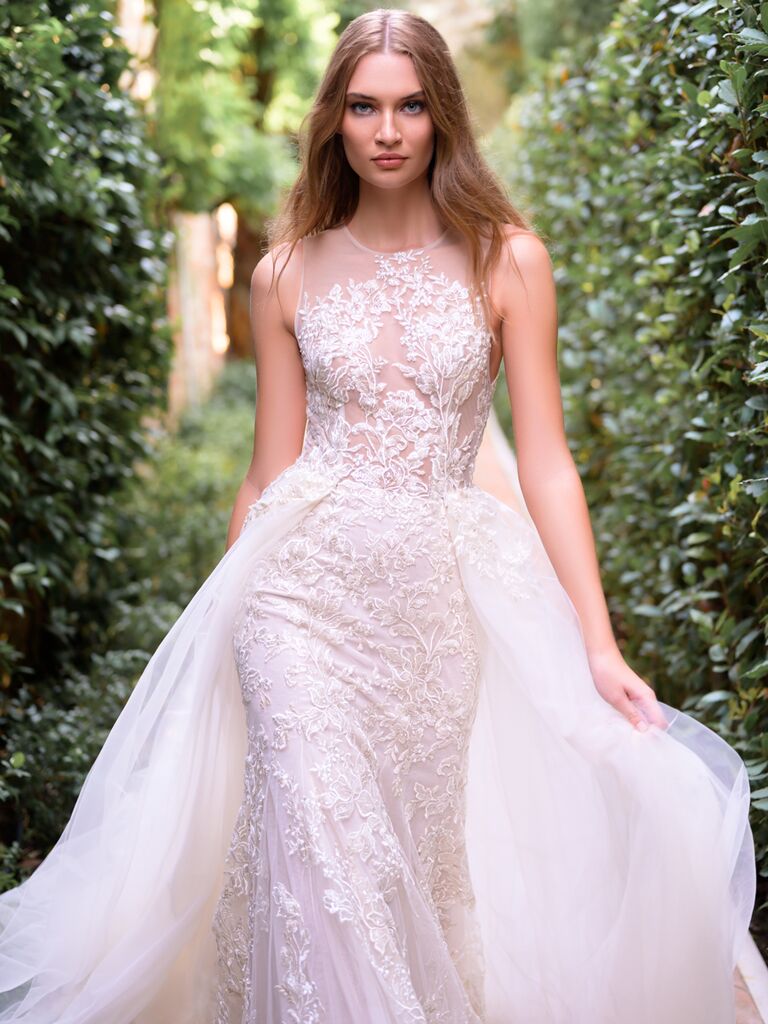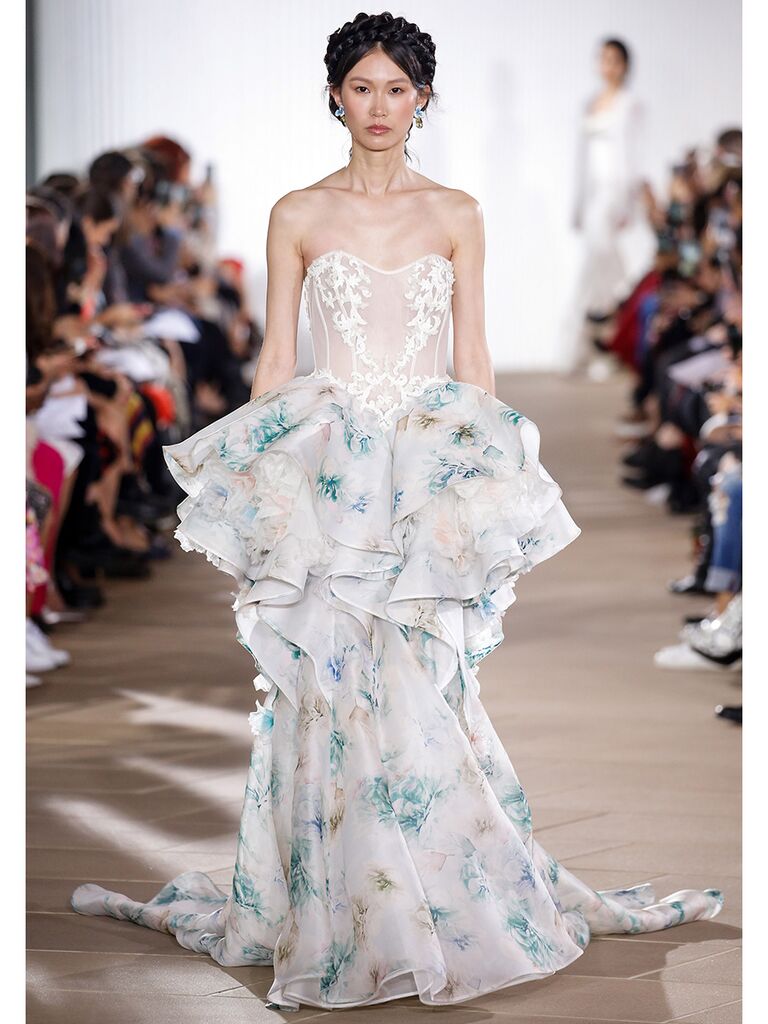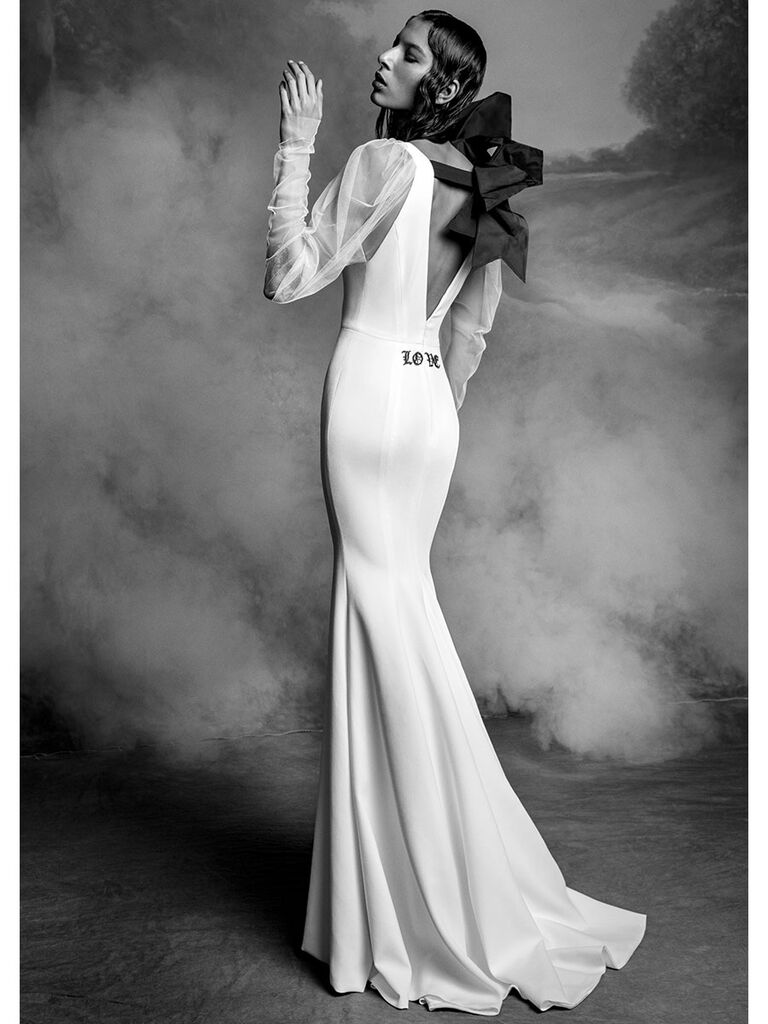 Unique Sheath & Column Wedding Dresses
If you're not into voluminous skirts, a sheath or column dress may be the ideal silhouette for you. But you can still stand out in a low-key shape. These unique wedding dresses have everything from feather fringe to structured ruffle details to metallic bodices.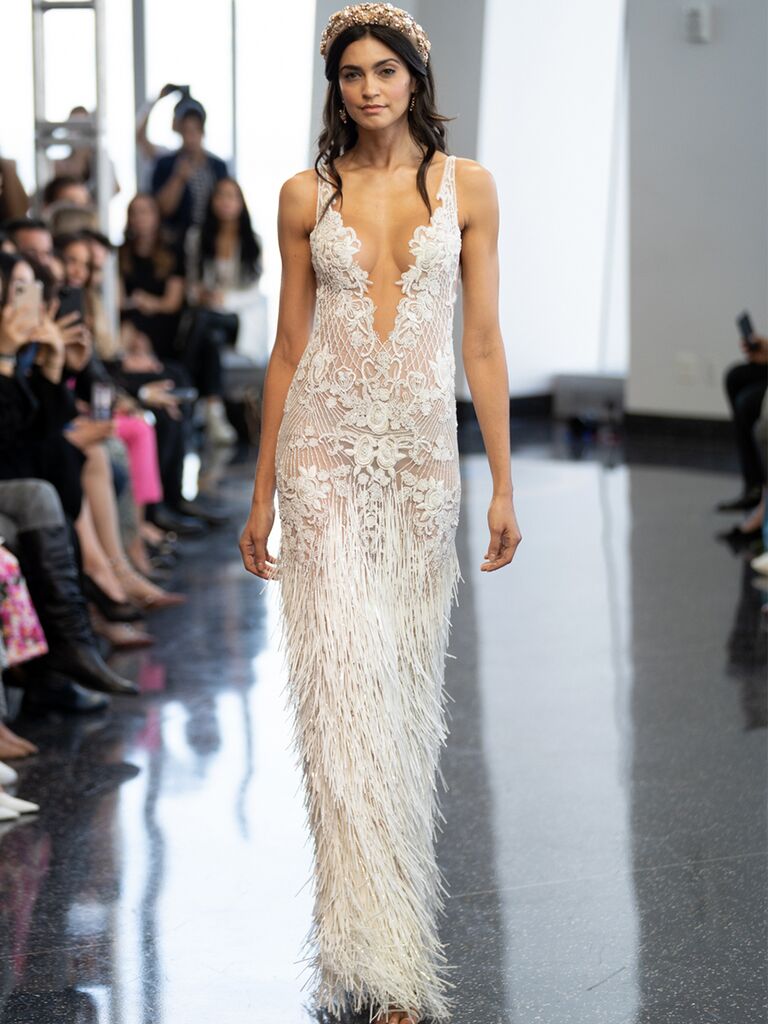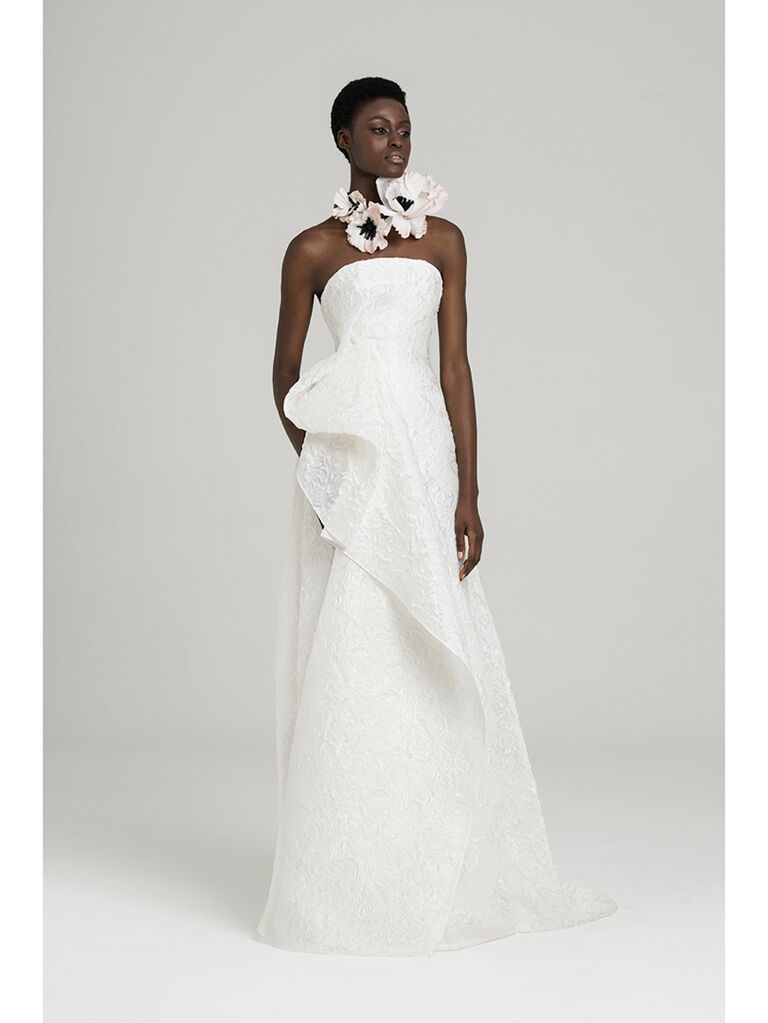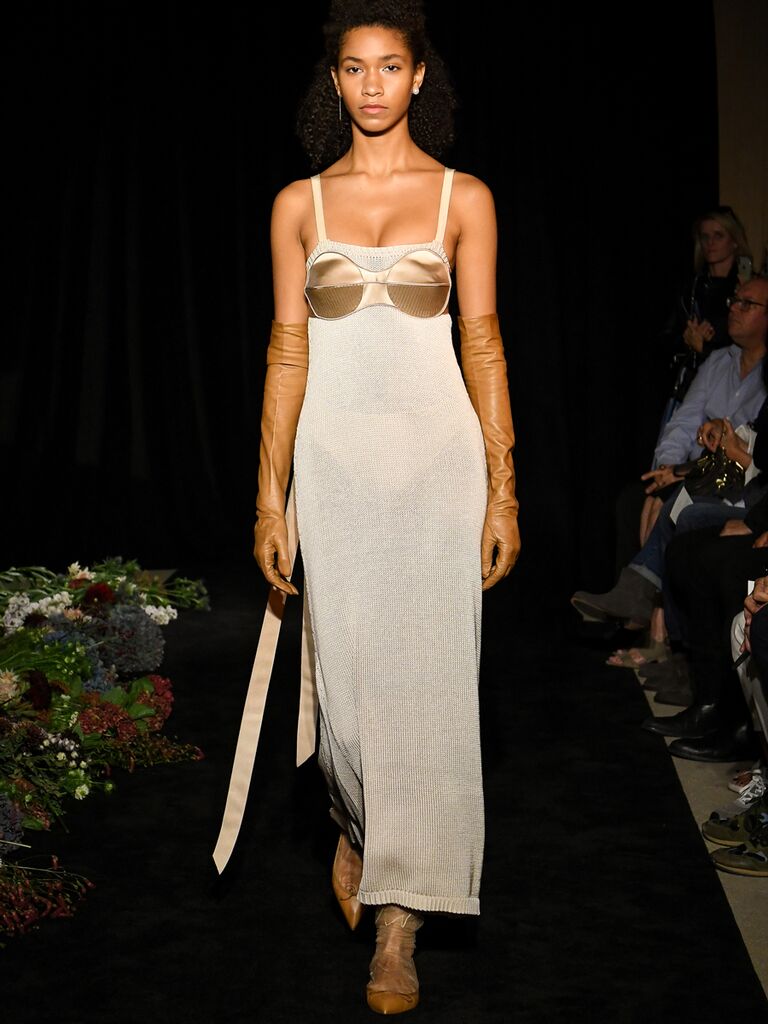 Unique Two-Piece Wedding Outfits
Opting for a two-piece wedding outfit already shows off your unconventional, fashion-forward style. But if you're hoping to up the ante, check out these unique two-piece wedding outfits. Ditch the dress concept entirely and rock a beaded denim two-piece or embrace all the princess vibes with a crop top and voluminous skirt. Feeling especially daring? Check out the bodysuit and cape combo. Remember that small touches can make a look unique too. We love the scalloped hem detail on the David's Bridal two-piece outfit—it adds just a touch of extra sweetness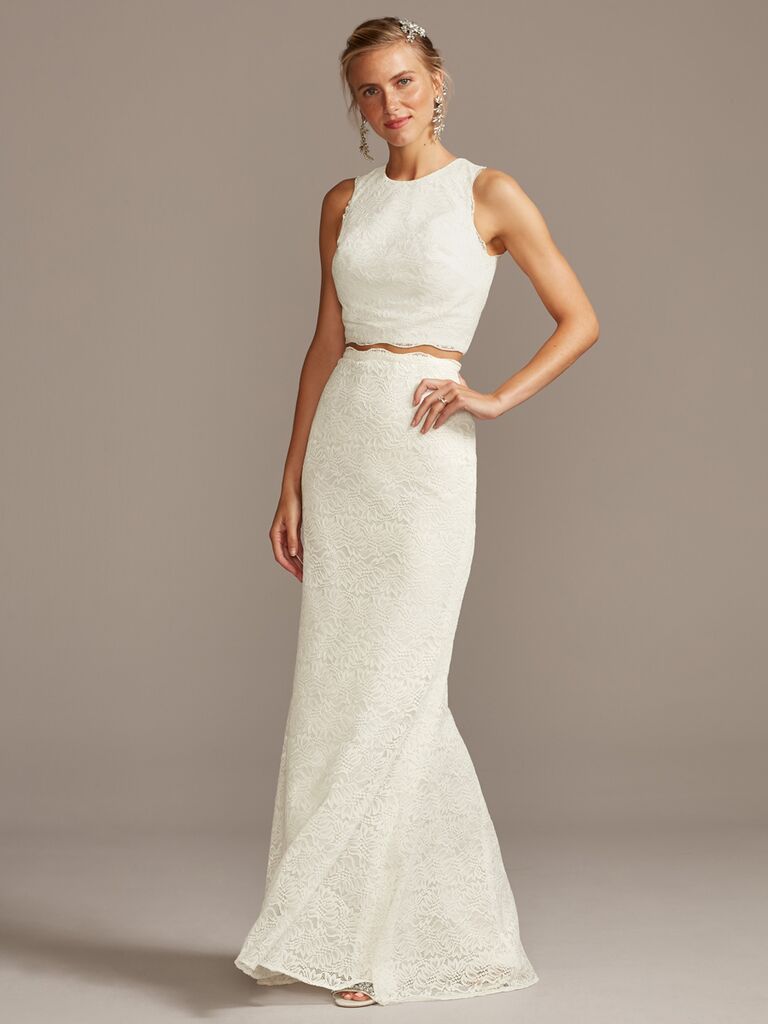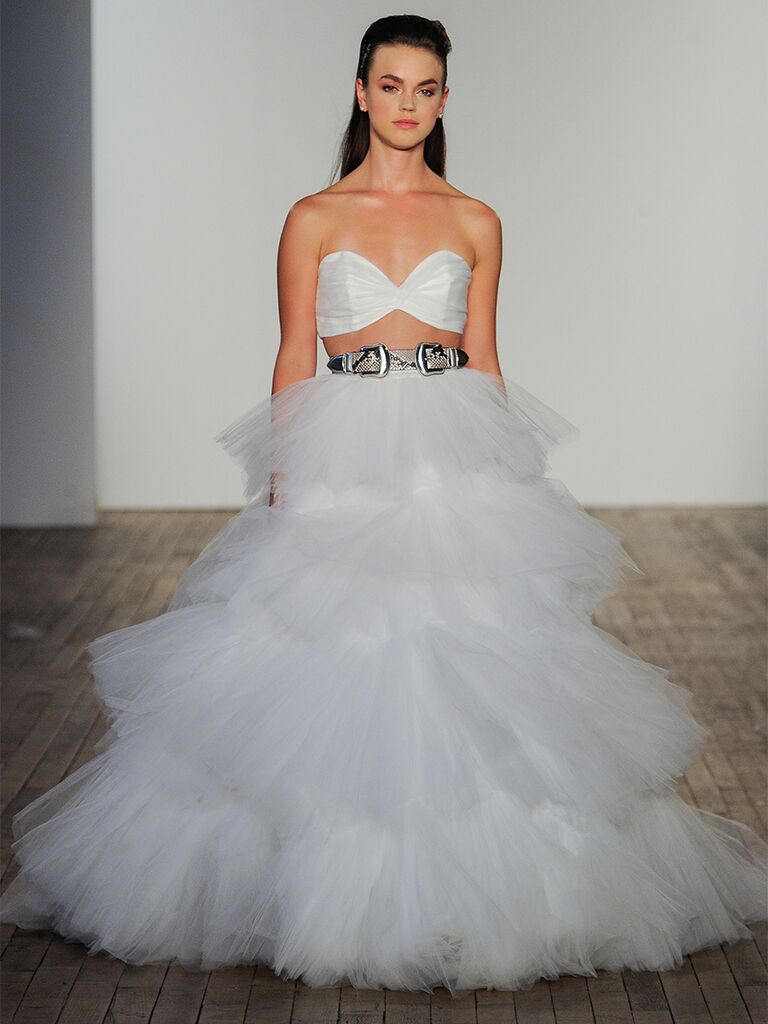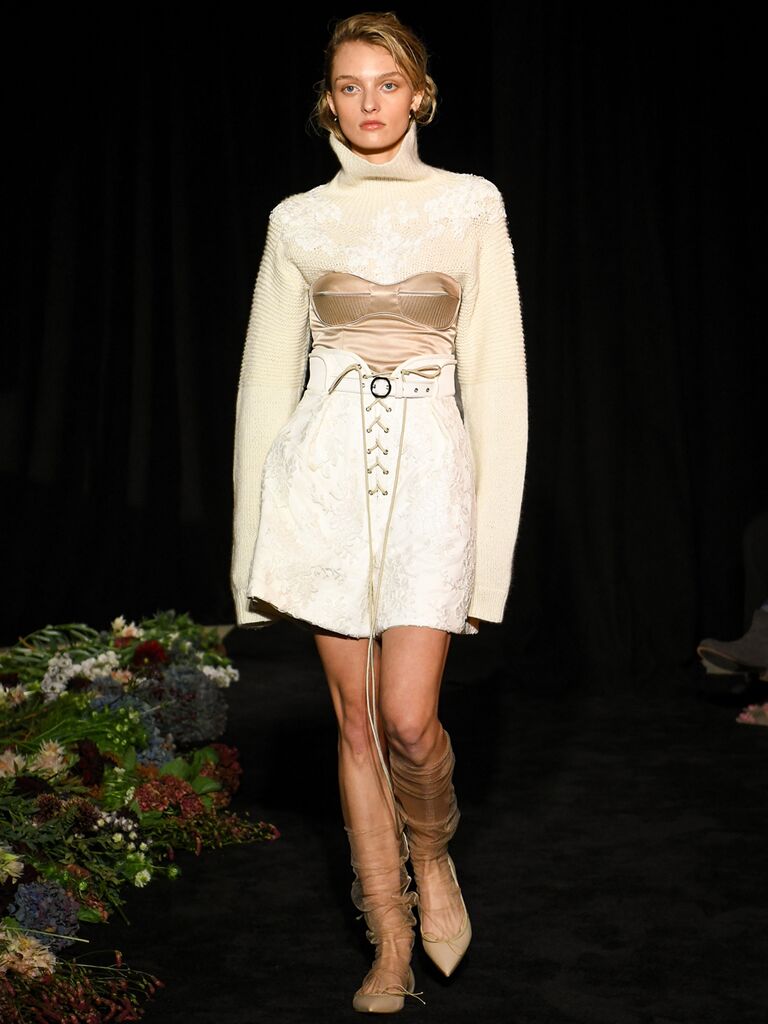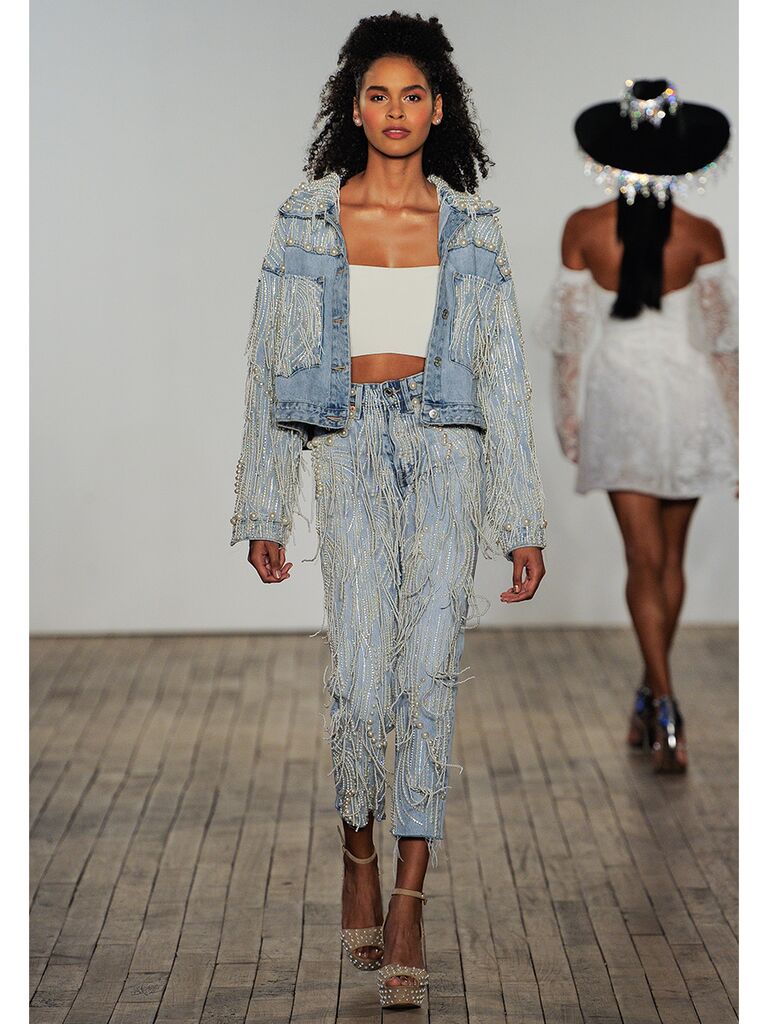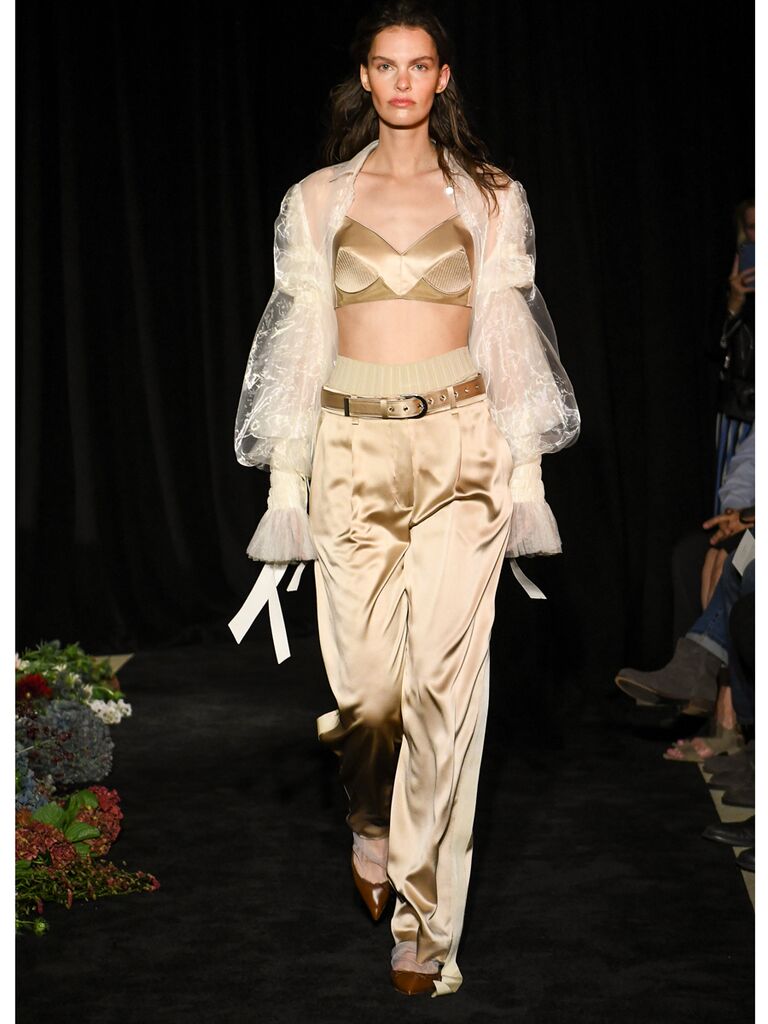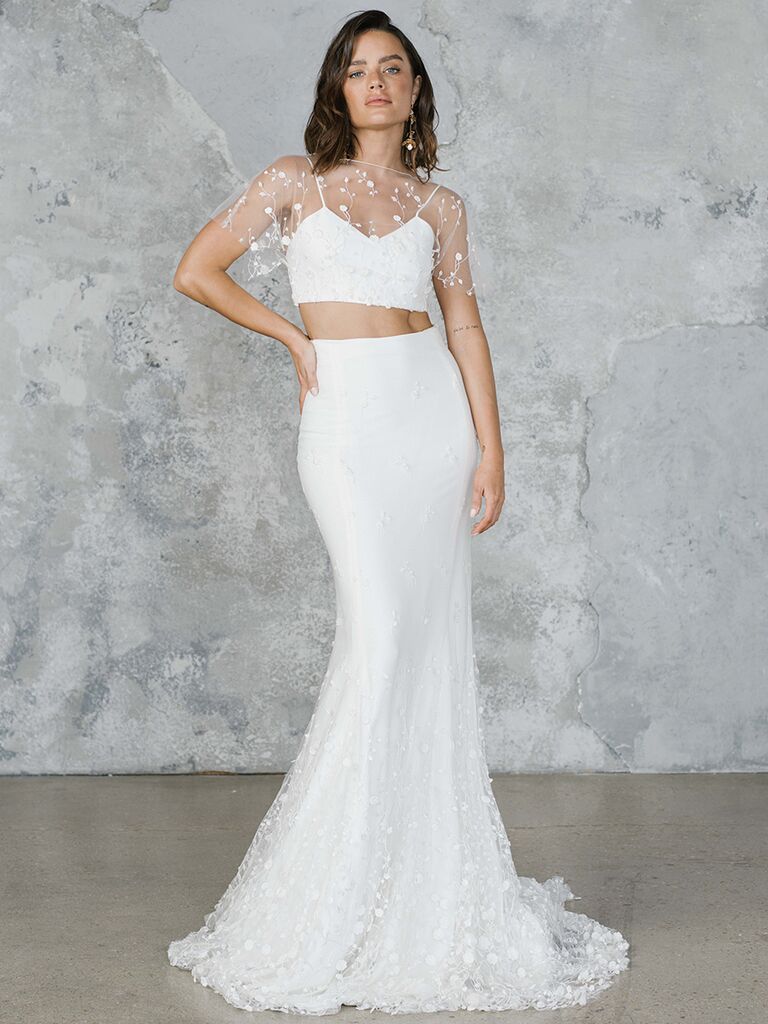 Unique High-Low Wedding Dresses
If you want the formality of a long gown but the mobility that a mini dress offers, a high-low is a genius compromise. Plus, it's a fun way to show off your gorgeous wedding shoes. Take the playful silhouette one step further with a dramatic height difference, a colorful fabric or an unexpected neckline.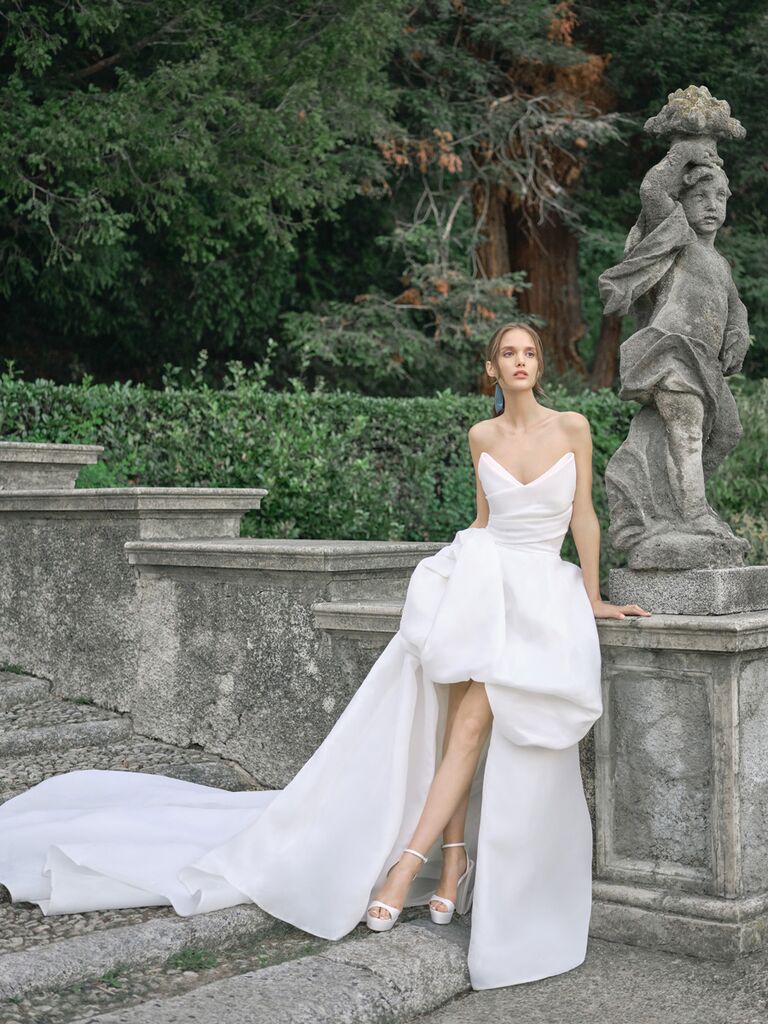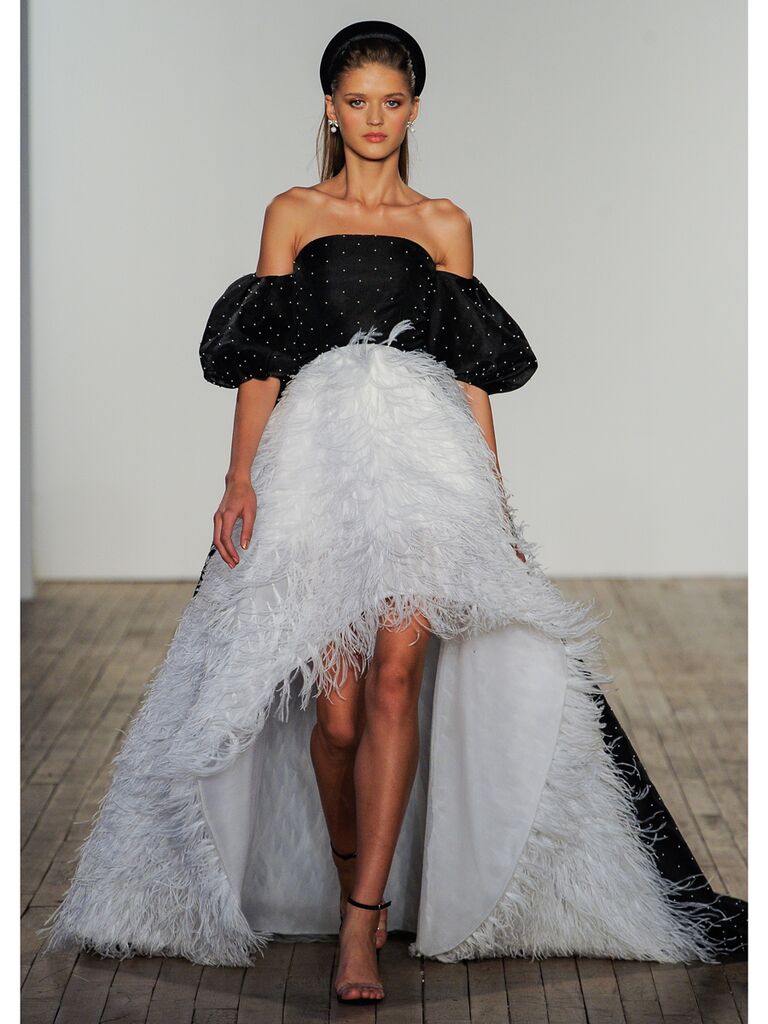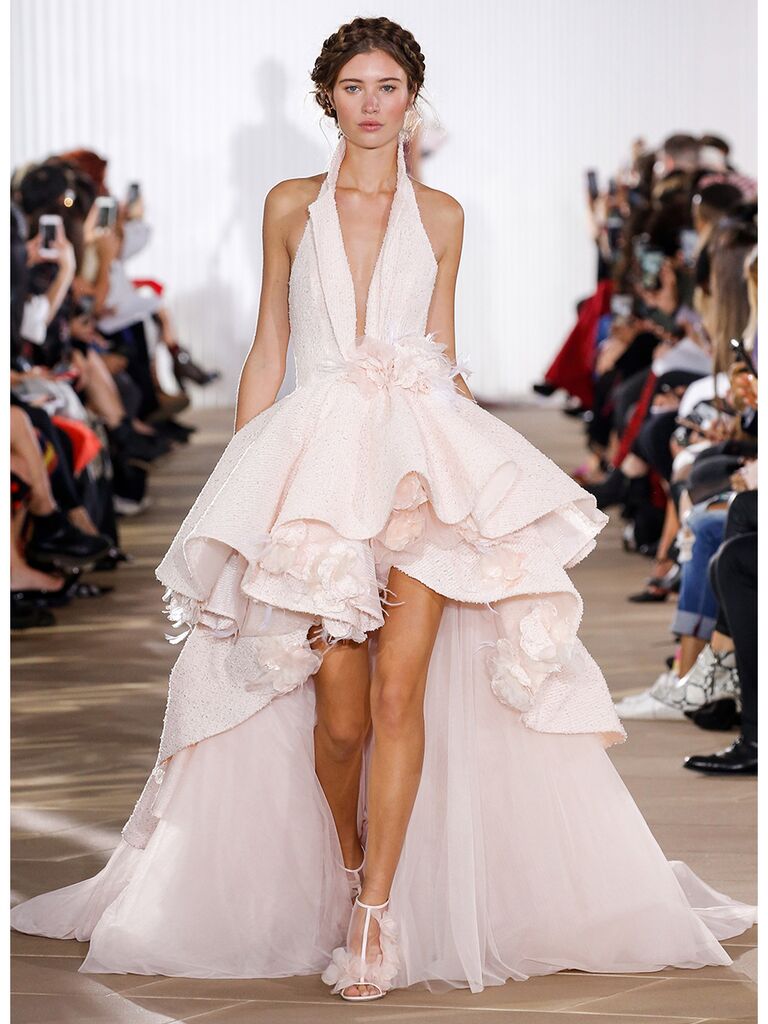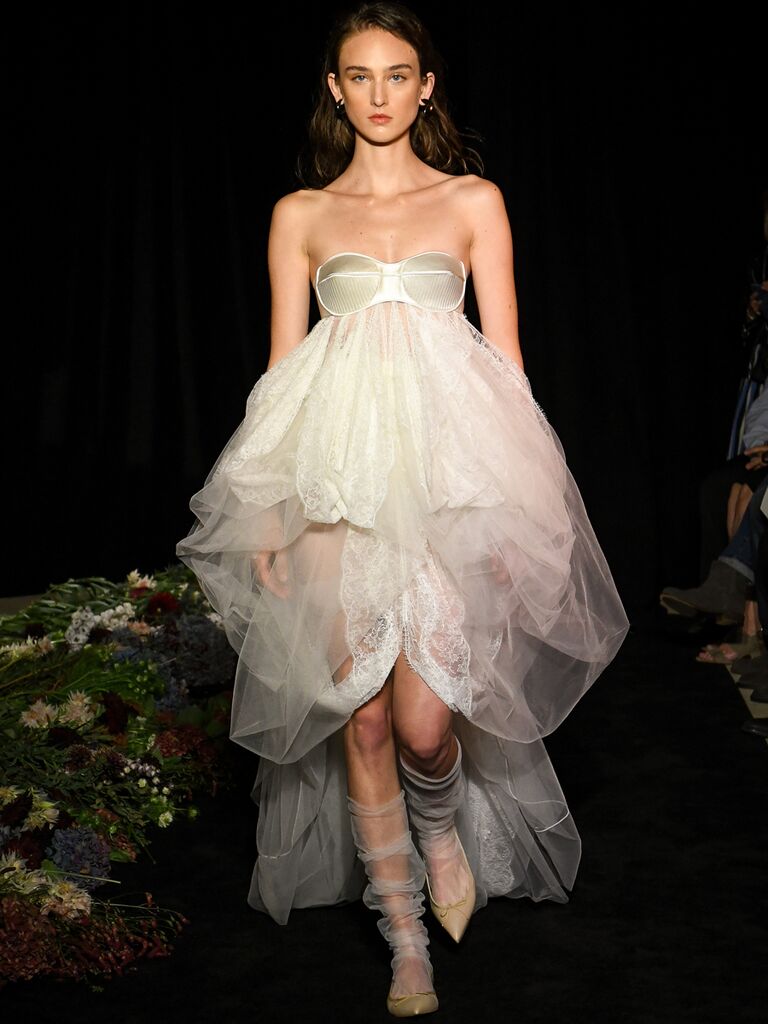 Unique Slip Wedding Dresses
A slip is one of the most understated wedding dress silhouettes. After all, they're unstructured and loosely graze your figure for the ultimate cool-girl effect. But you can still stand out with fun details. Check out this totally sheer slip (yes, really!) or this slip gown with a unique asymmetrical neckline. Both put an unexpected twist on this lovely wedding dress style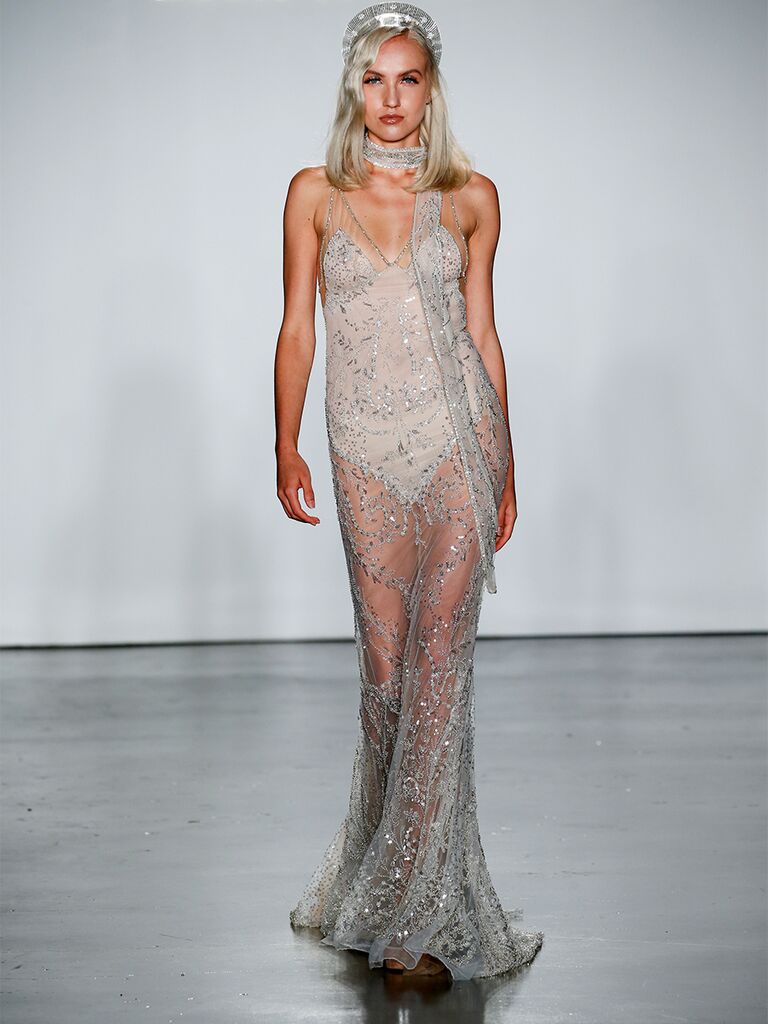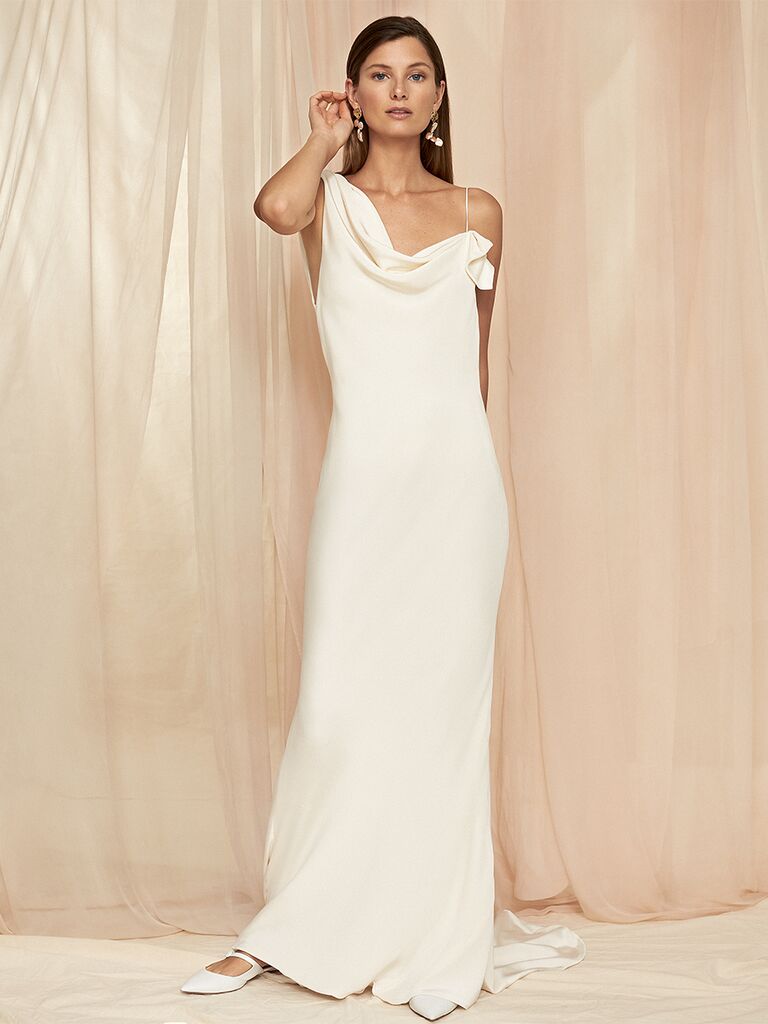 Unique Midi Wedding Dresses
Are you a full-on fashionista? A midi dress might be your perfect match, as they're having a major moment in bridal fashion. The style hits between your knees and your ankles (again, ideal for showing off your lovely shoes). Make the popular style your own by opting for a romantic lace dress or a casual midi gown with adorable button detailing.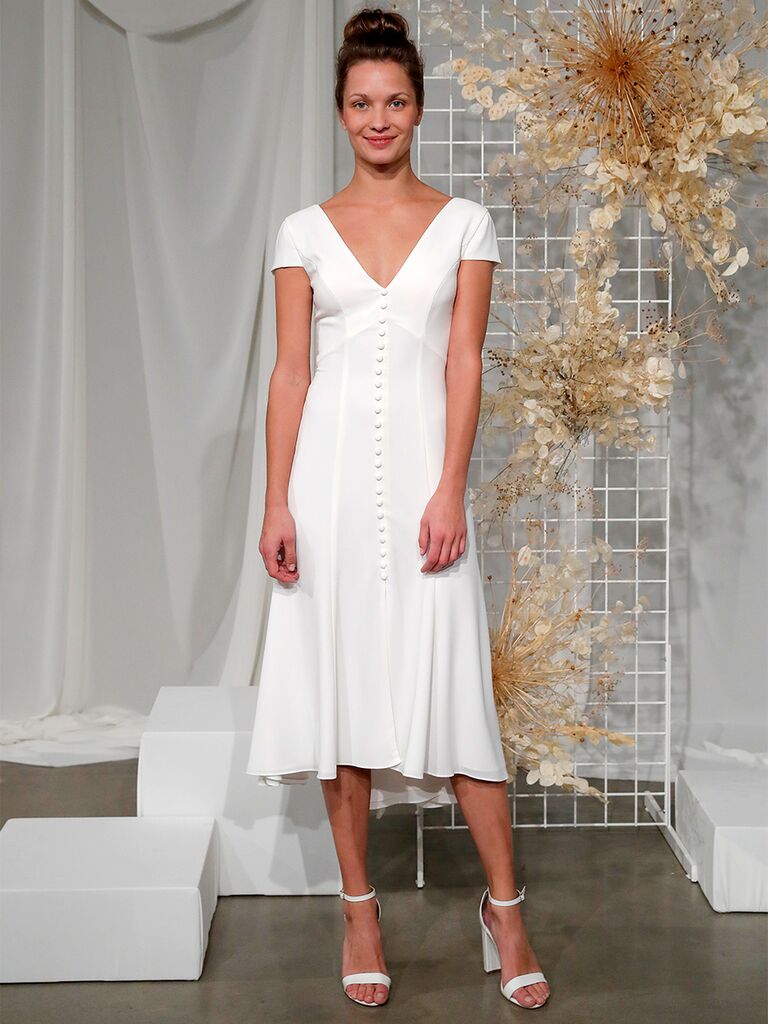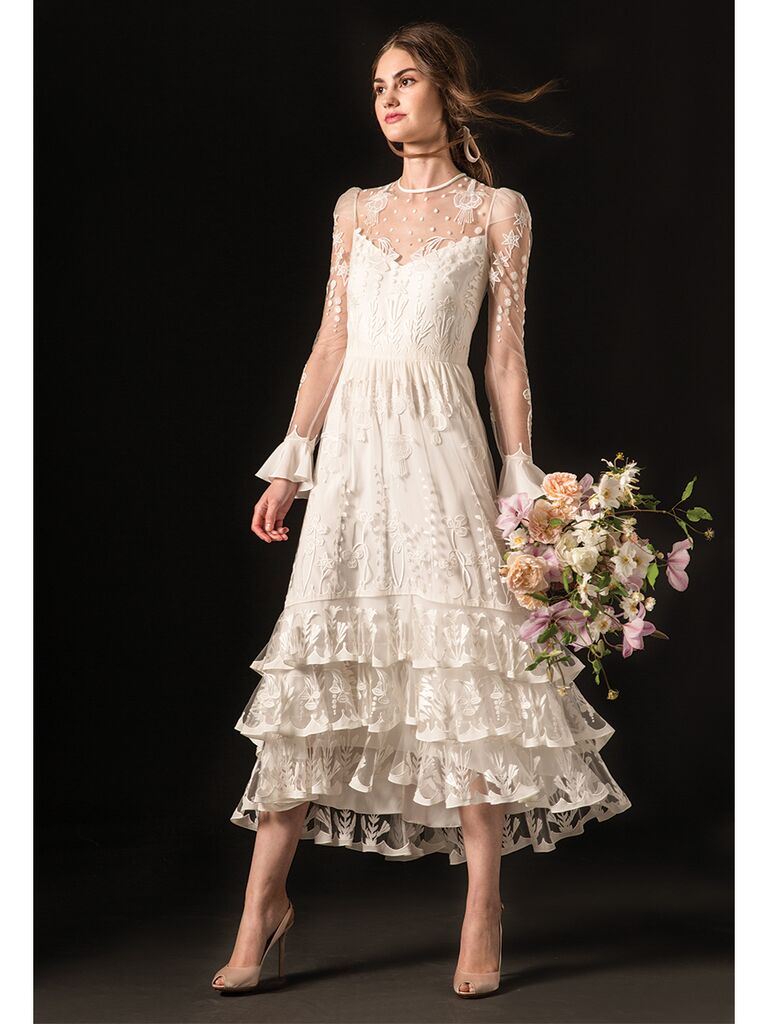 Unique Empire Wedding Dresses
If you're more of a boho bride-to-be, an empire wedding dress is a great option to show off your style. The silhouette is fitted through your bust and then floats away from your body for a dreamy day-of look. Spin the sweet style by rocking a bold color (like this rich navy) or by wearing puffy sleeves for an airy and whimsical look.