These 25 Funny Valentine's Day Gifts Say: "I Love Laughing With You"
Surprise your valentine with something equal parts silly and sweet.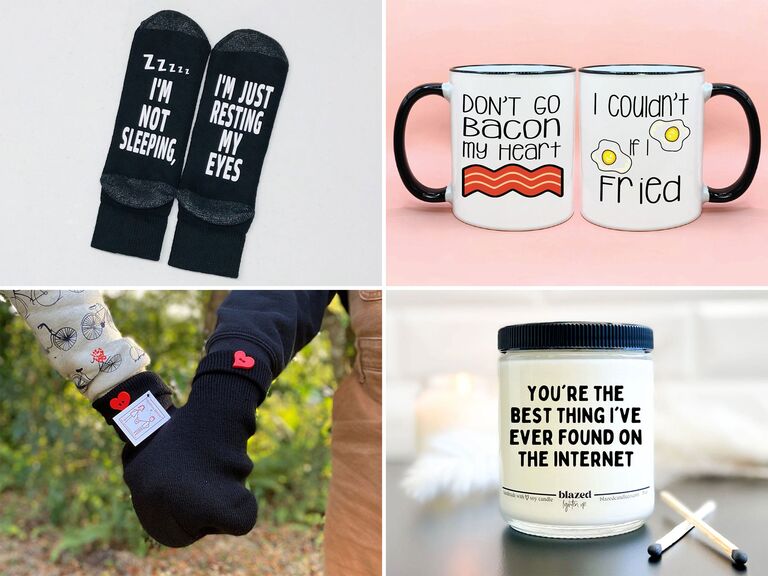 We have included third party products to help you navigate and enjoy life's biggest moments. Purchases made through links on this page may earn us a commission.
We know love + laughter = happily ever after. That's why we've rounded up our favorite funny Valentine's Day gifts to keep the spark going strong. From lighthearted gag gifts for your new crush to cheeky presents for your long-time spouse, these silly V-Day presents will help you celebrate Cupid's big day with your own special brand of humor.
A quick note before we go any further: Make sure you know the recipient will find the gift just as funny as you do. And if you're worried, pair the joke with a romantic Valentine's Day gift, so your partner gets the best of both worlds. Fortunately for you, we've found Valentine's Day presents that strike the perfect balance of silly and cute—just keep scrolling!
Heart-Shaped Waffle Iron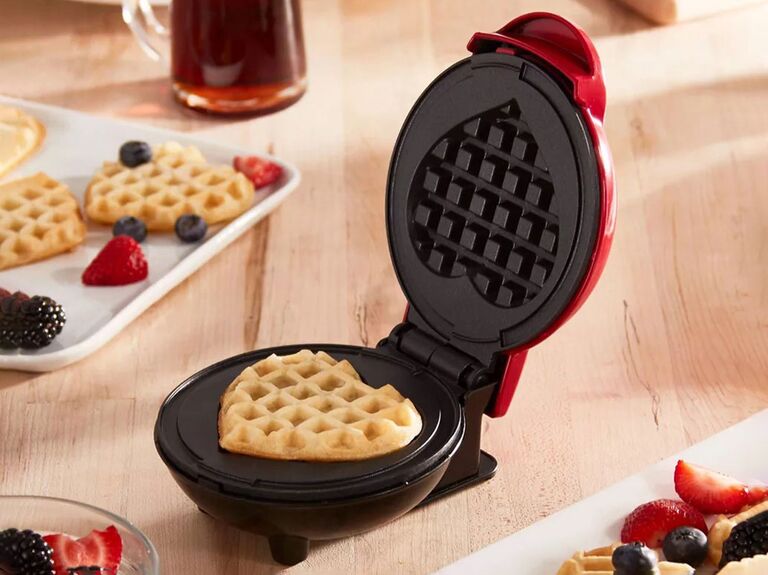 If you're looking for a Valentine's Day date idea and gift, go for this adorable heart-shaped mini waffle maker. And after your partner unwraps it, you can use it to make them breakfast in bed. (You can also use the iron to make heart-shaped hash browns.) What a way to wake up on the day of love.
"Punny" Couple Coffee Mugs
No breakfast is complete without a steaming cup of joe—and it'll certainly be more enjoyable in this set of couple's coffee mugs. One says "don't go bacon my heart" and the other says "I couldn't if I fried." What a fun Valentine's Day gift for your favorite jokester.
Matching Underwear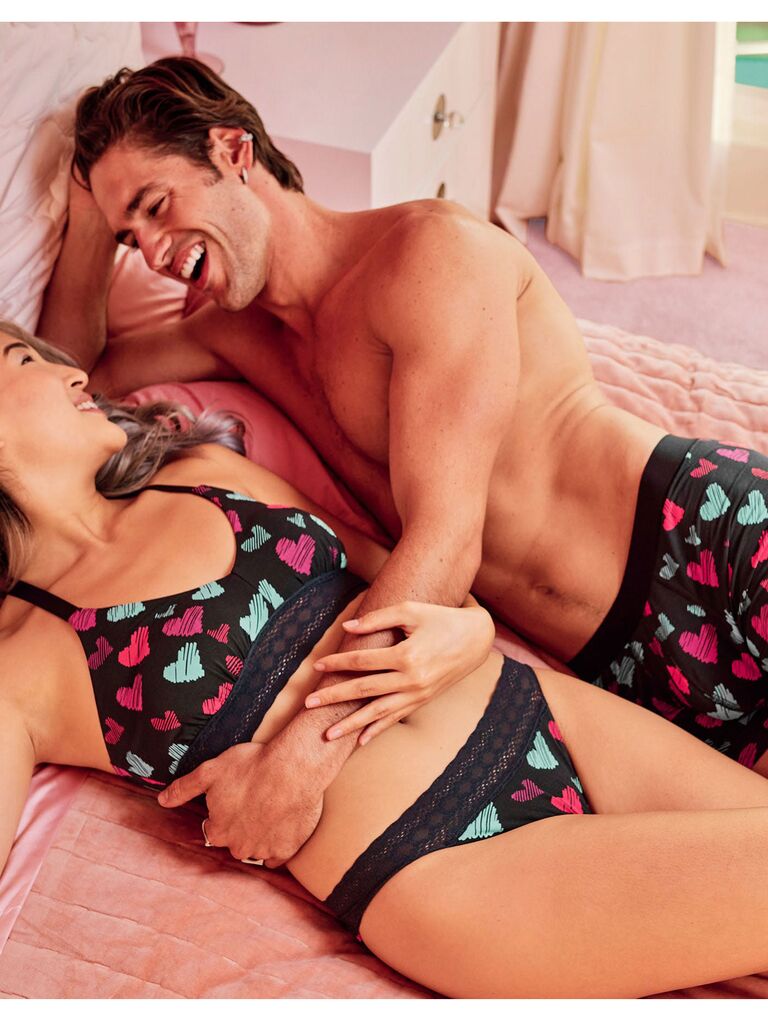 Grab your valentine a pair of patterned undies, then surprise them with a matching pair for yourself—so sexy and fun! And if you want to keep it going, buy a membership so you two can have a new set of matching underwear each month.
Couple's Split Blanket & Sheet Set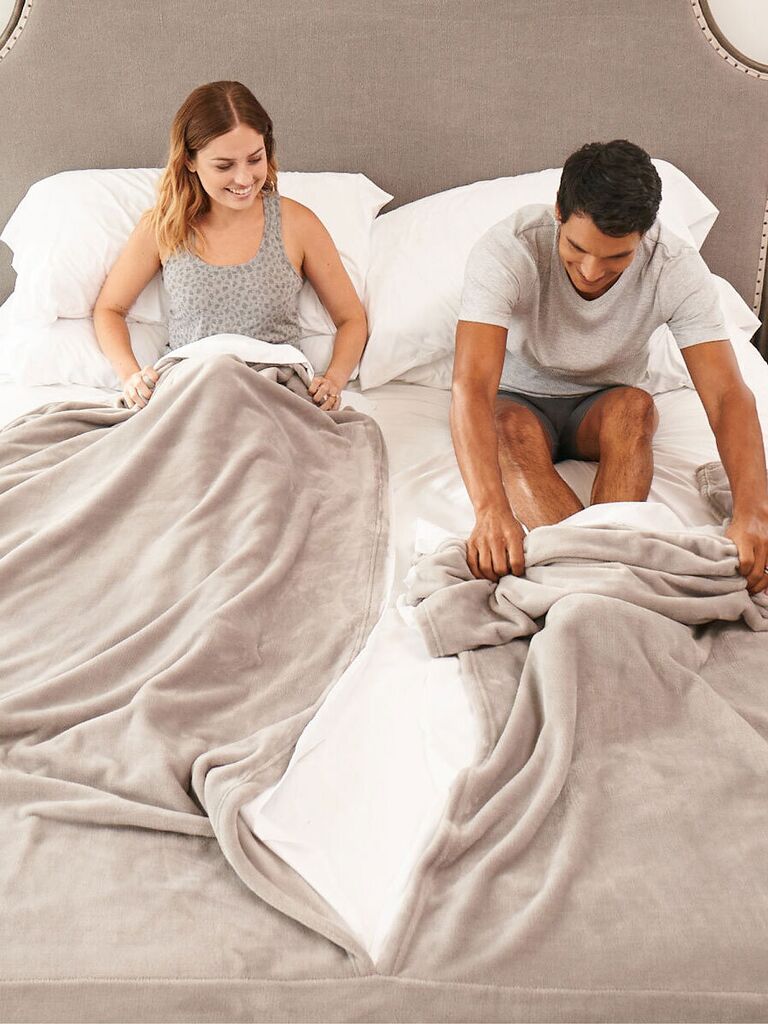 Is your partner a notorious blanket stealer? Then this funny Valentine's Day gift for him, her or them will be both funny and practical. It's an oversized sheet and blanket set split in two, so covers hogs can toss and turn to their heart's content without disturbing the other. Talk about sweet relief and chuckles for all.
Salami Bouquet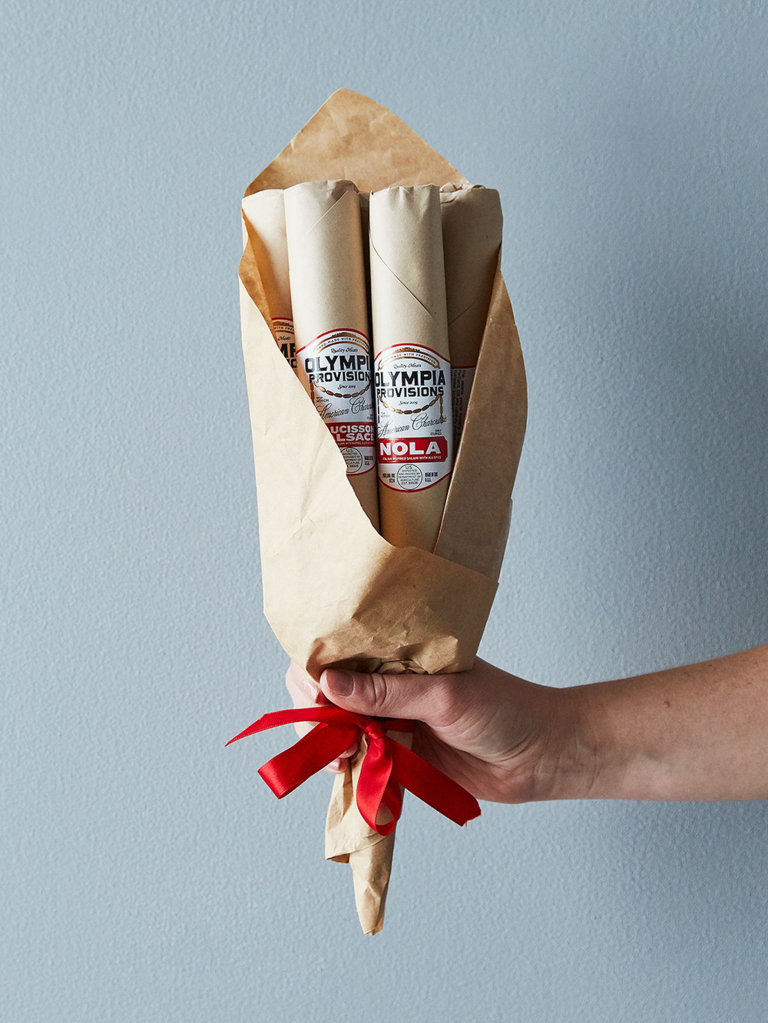 If the way to your boo's heart is through their stomach, then snatch this beauty up stat. A salami bouquet of three or six sausages tied up in butcher's paper with a pretty red bow is equal parts hilarious, brilliant and satisfying. We won't tell your foodie, meat-loving valentine that it's really a gift you're hoping they'll share with you.
Funny Candle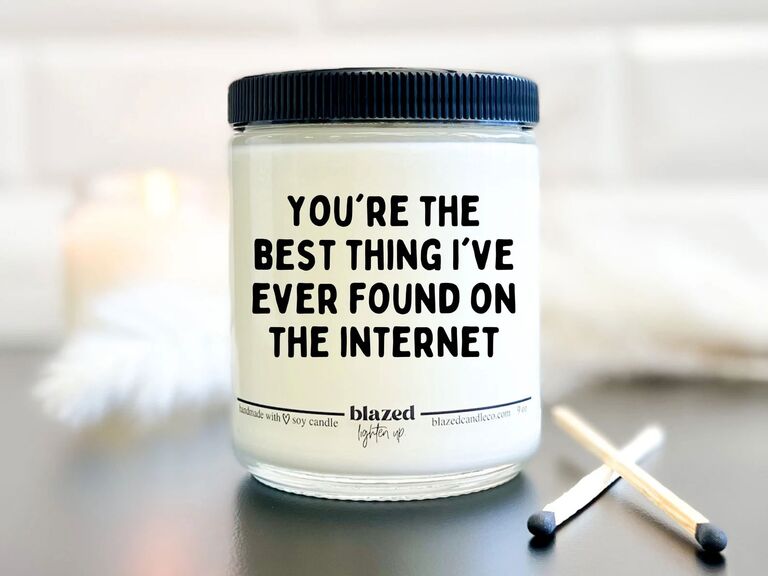 Did you and your partner meet on a dating app? Then you'll both get a kick out of this candle which jokes: "You're the best thing I've ever found on the internet." You can snag it in three different sizes and dozens of scents. It's a great way to set the ambiance on Valentine's Day.
Decision Dice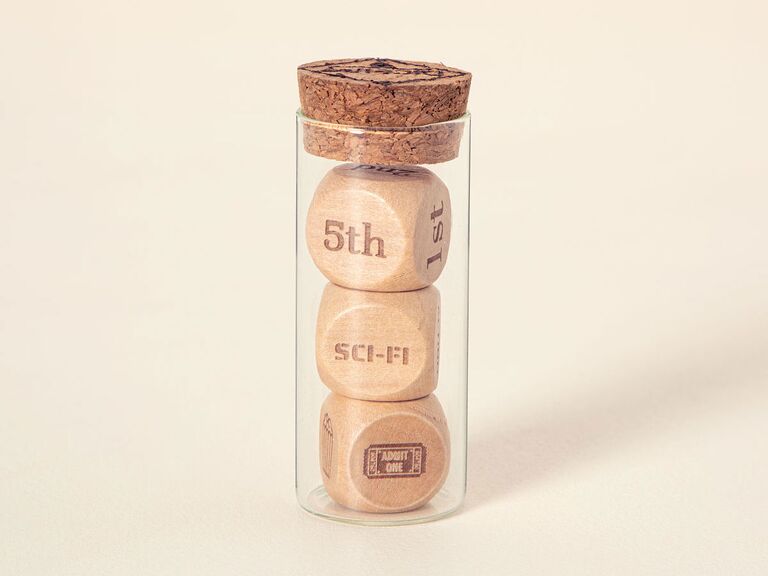 If your typical date-night in is often spent scrolling through streaming networks for hours trying to pick a movie, then these dice will help you out. Simply pick a streaming service, then roll the dice to decide the genre, media type (TV show or movie) and the row and column placement of the title on screen. Whatever the dice lands on, you have to watch! It's actually a pretty practical, funny Valentine's Day gift.
"I'm Not Sleeping" Socks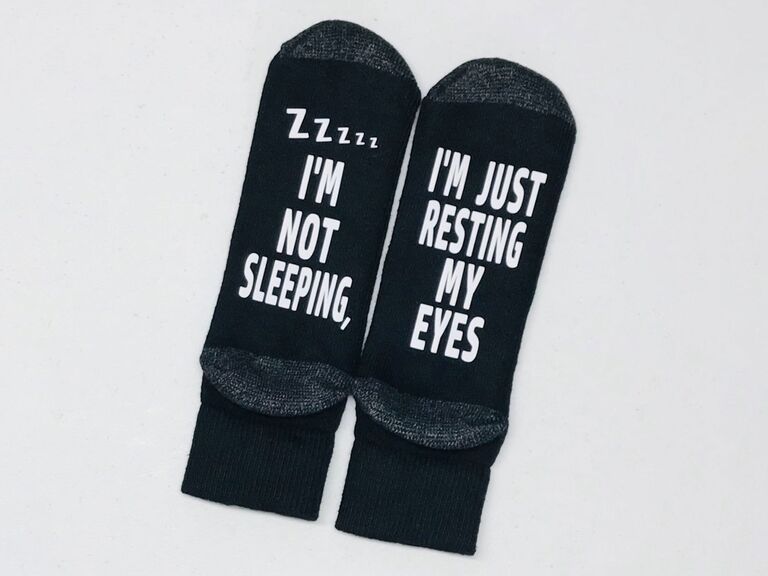 These are for the partner that falls asleep regardless of what you put on the TV. One sock reads "Zzz, I'm not sleeping," while the other says: "I'm just resting my eyes"—a phrase you've probably heard hundreds of times already. Pair them with a card that lets them know you're giving them the gift of sleep for Valentine's Day—but any other day this excuse won't work.
Reversible Plush Toy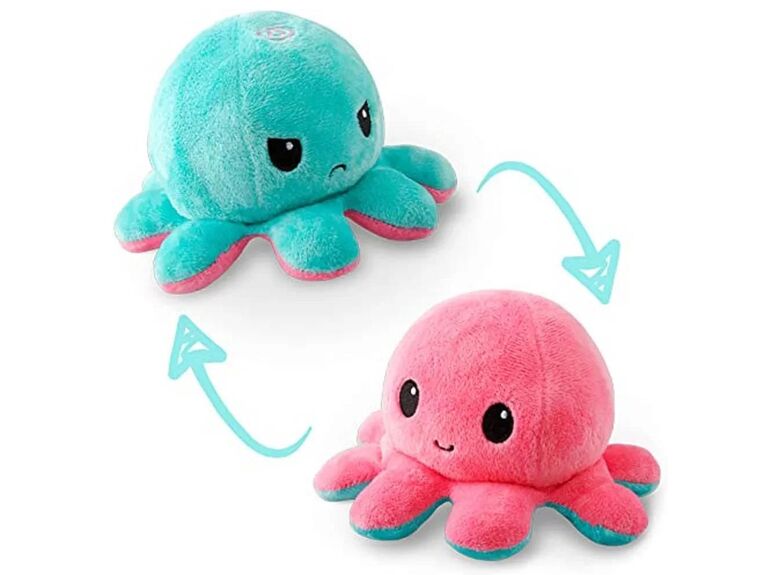 Here's a funny Valentine's Day gift for your sweetheart that can be a little—er—moody sometimes. Instead of the classic teddy bear, give them this adorable plush octopus. It's reversible: one side is happy and the other is angry (stressed, annoyed or overly tired), so you'll know exactly how they're feeling without needing to ask.
Personalized Chocolates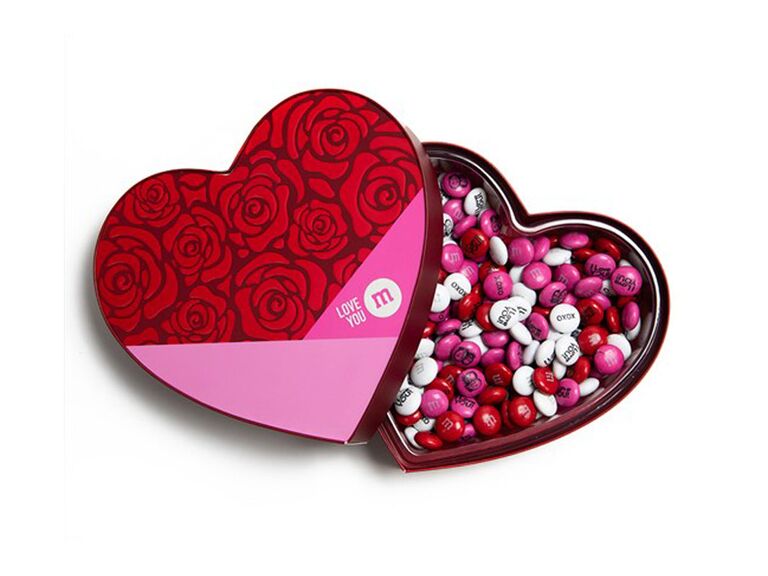 You can't go wrong with a box of chocolates on Valentine's Day. For a funny twist, gift them customized M&M'S with your face on them! This red and pink heart-shaped candy box comes filled with your personalized M&M'S (you choose the color and design). Making them will be just as fun as eating them!
Bathroom Wine Holder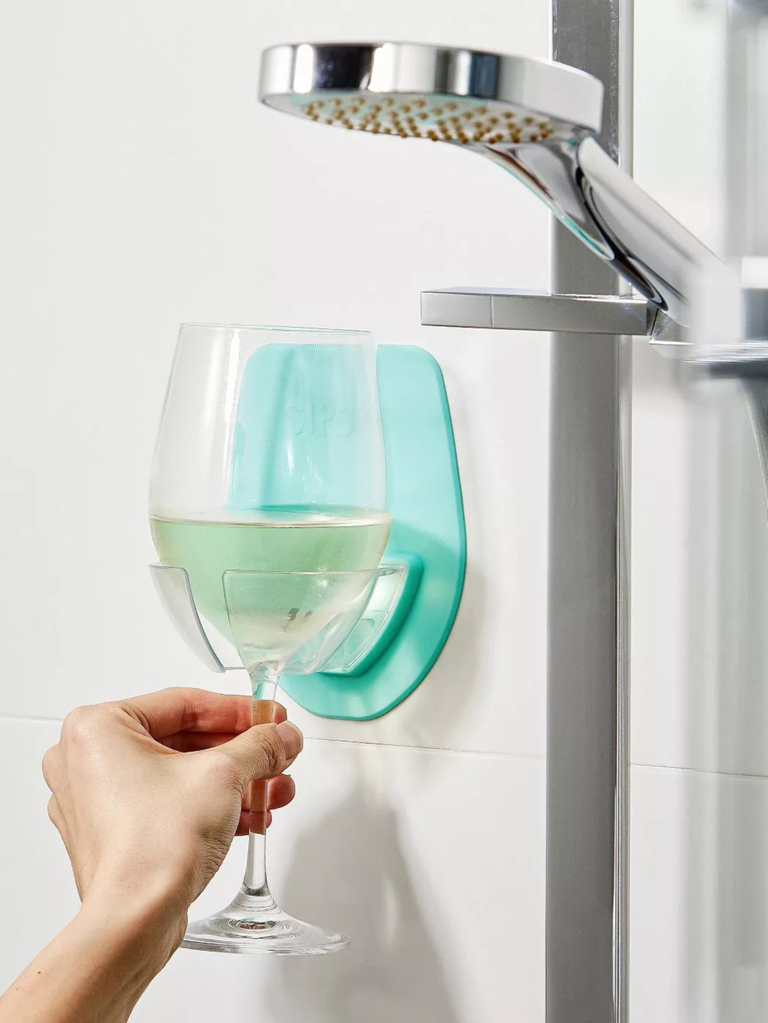 If your spouse could use a little "me-time" this Valentine's Day, send them off to the bath with this useful gag gift. It's a wine holder that suctions to the side of the tub or shower, so they can sip their favorite pinot while they take a bath or rinse. It's also a handy gadget for a cheeky date night in, just make sure you pick up two!
Mad Libs After Dark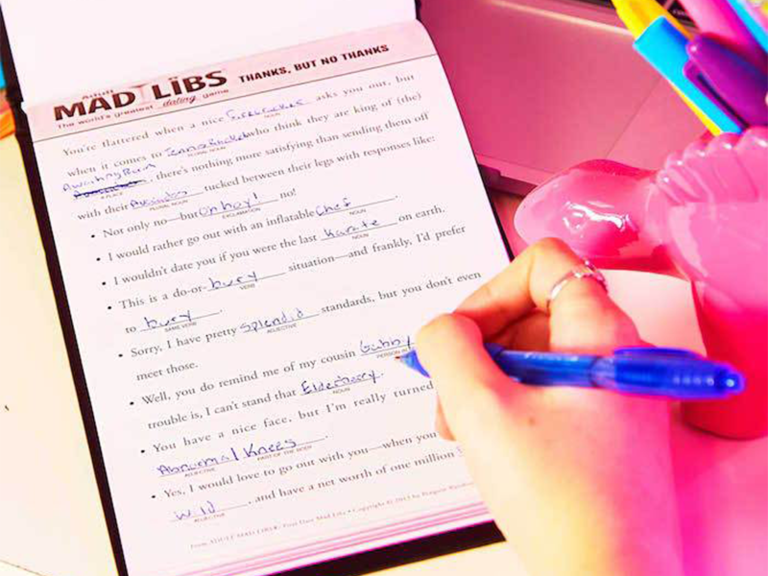 Instead of struggling with valentine card writer's block, pick up this wacky pad of fill-in-the-blank fun. It covers all sorts of relationship conversations, from telling someone you're not interested to finally saying I love you. The faux leather binding gives it a spicy touch, too. (Maybe pick up a special outfit to match it?)
Relationship Card Game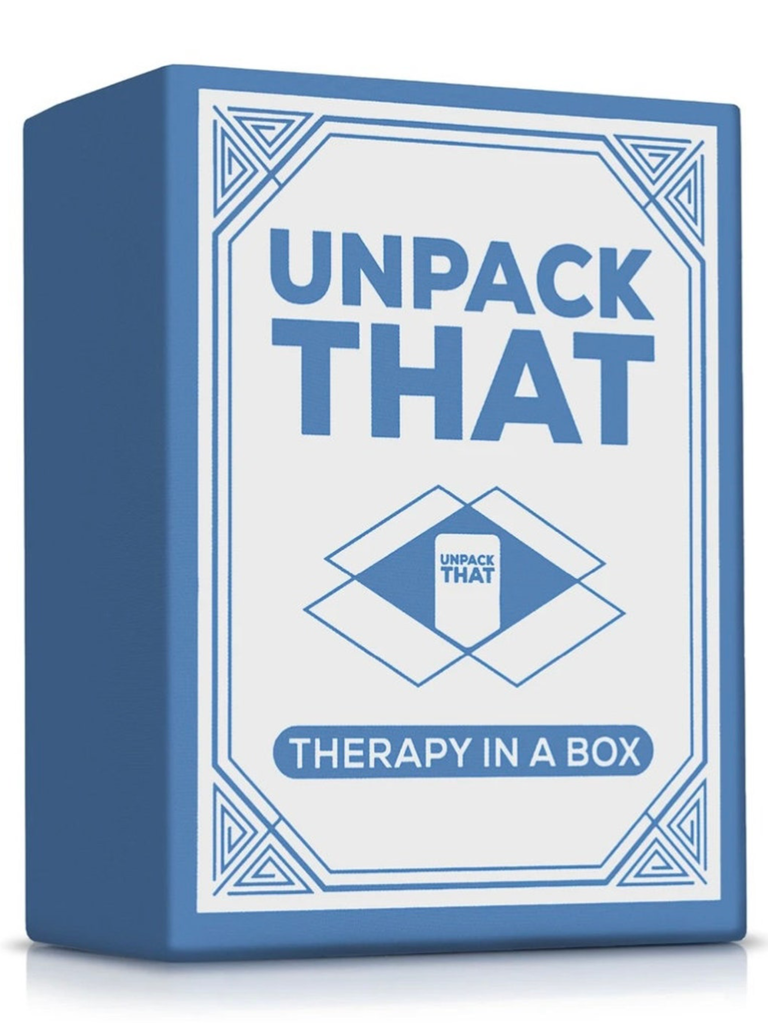 Prepare to laugh, cry and get closer with your boo on date night with this bestselling card game of 125 conversation prompts. To keep it light, it includes a set of wild cards that are sure to get you laughing after a tough round of honesty like "speak in a different accent for 5 minutes," or "compete in a thumb war."
Smash and Grab Gift Card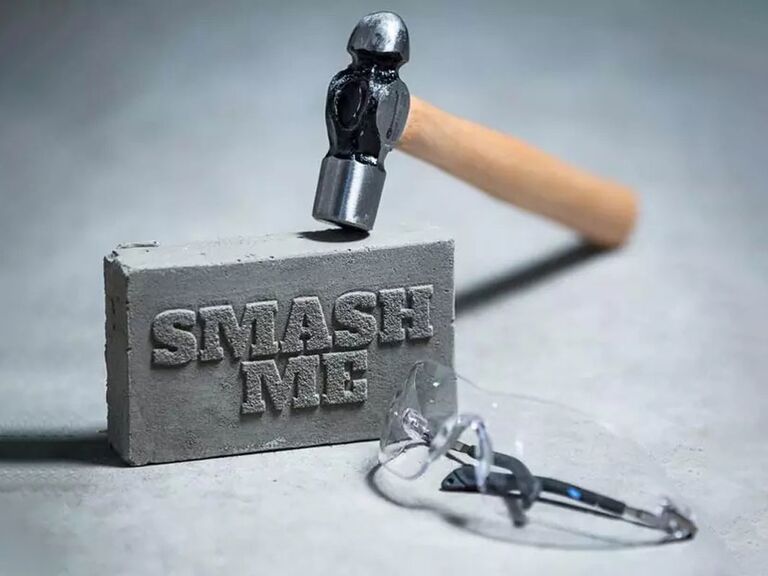 It might feel like there's a lot of pressure to find the perfect funny Valentine's Day gift for your husband, wife or spouse. But sometimes, the best gift is just letting them choose what they want for themselves. This concrete block is the funniest way to hand over a gift card, since they have to smash it to redeem it. It'll be an entertaining activity for the both of you.
Valentine Toilet Paper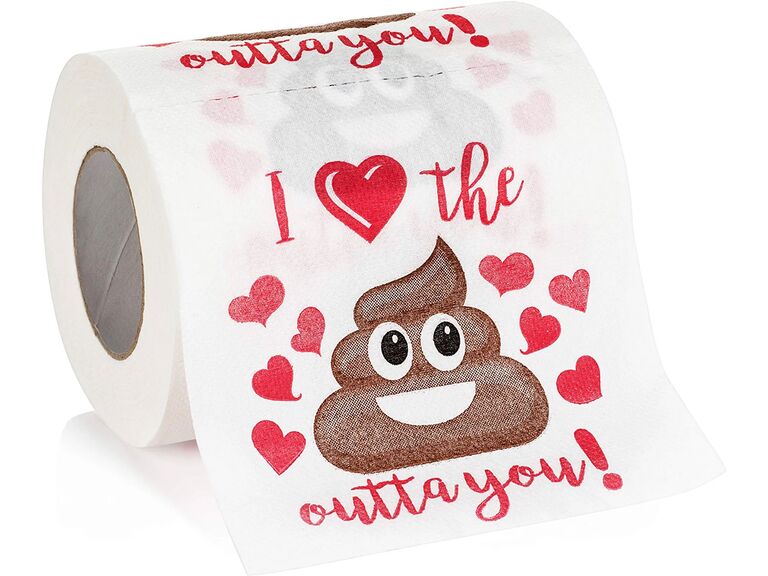 Funny, but practical (and definitely one that will get thrown away one way or another), this gag gift toilet paper is perfect for the person you think is the $#!t. If you live with your partner, swap out the roll before their morning routine so they have a funny Valentine's Day surprise waiting for them.
Dime in Ring Gag Gift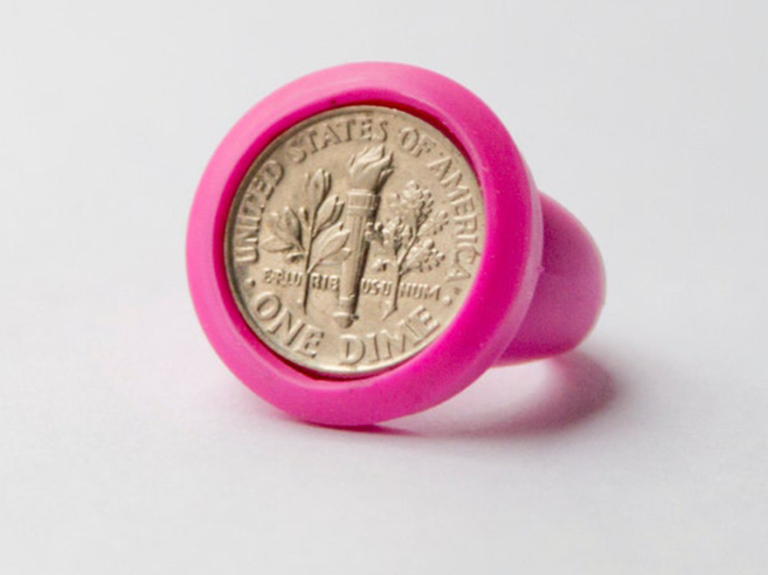 Make sure you know your audience before handing over this Valentine's Day gag gift. It's a silicon ring with a 10-cent coin inside—get it? A dime-in-a-ring! It's a safe bet if you're in a new relationship or if you plan to pop the question with a real diamond right after. Regardless, it's a good way to remind your partner that they are, indeed, a dime.
Conversation Glassware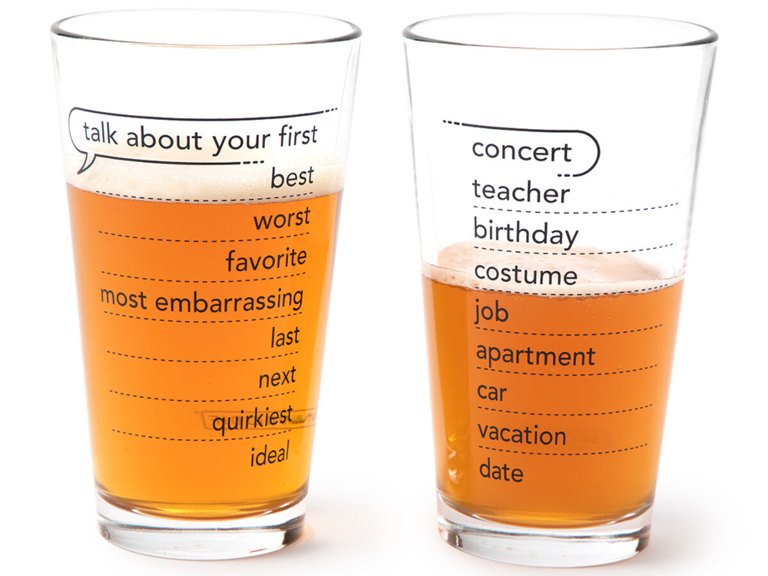 Speaking of new relationships, if you're nervous about date night, break the ice with these clever pint glasses. As you drink, use the conversation prompts that appear on the glasses as your drink goes down. It's a perfect, playful Valentine's Day gift if you just started dating.
"I Love You More" Keyring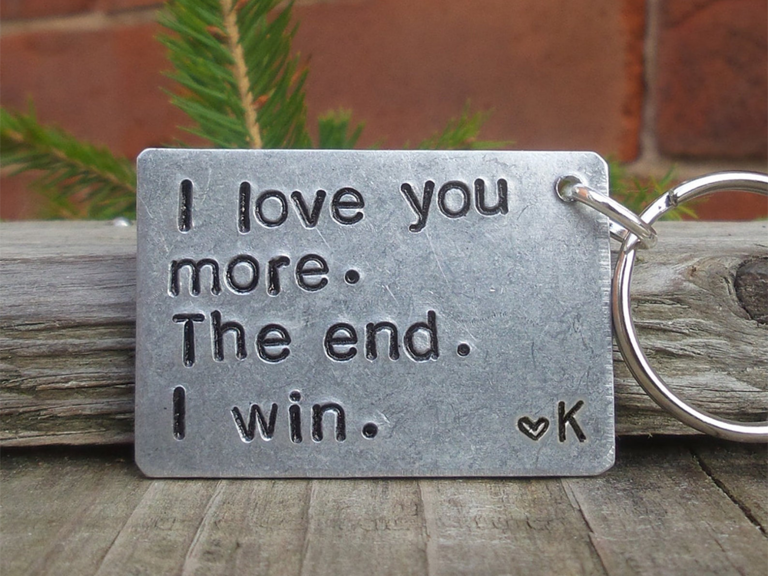 For the couple who loves to bicker about who loves the other more, this settles the score once and for all—with a laugh. Every time they look at this funny keychain, they'll know how much you care. Customize the front with an initial for free and the back with a date, initials or both for an extra fee.
Funny Valentine's Day Card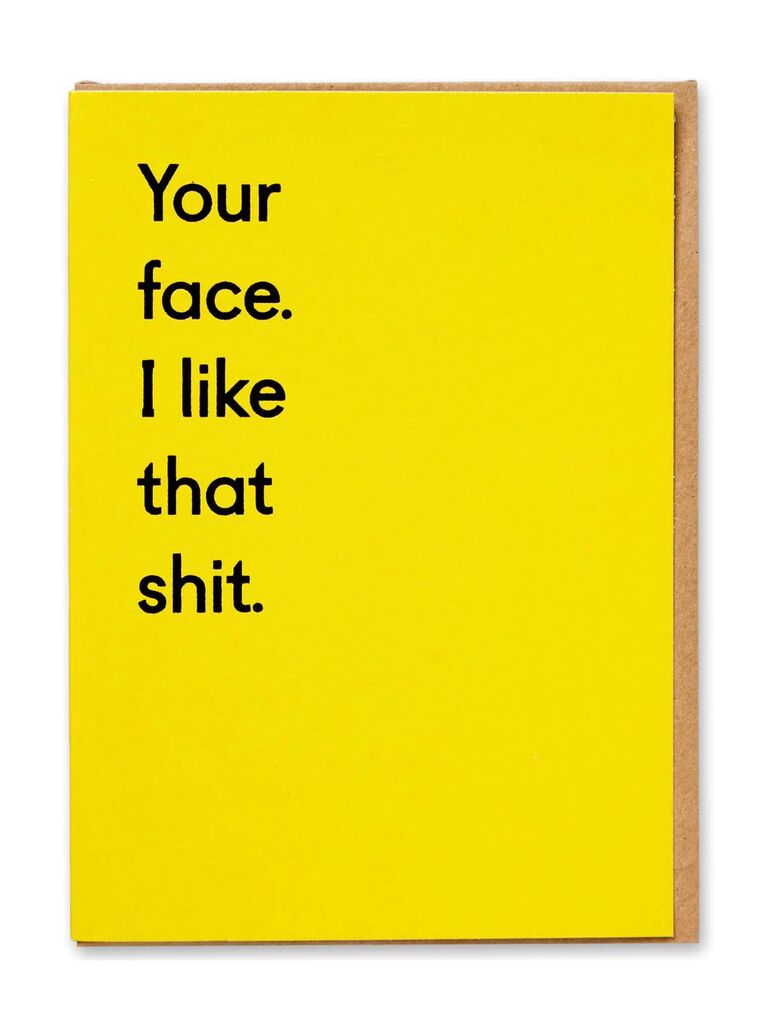 How about a silly Valentine's Day card as a simple, but sweet gesture? Let your loved one know how much you like their face with this vibrant greeting card. The inside is blank for you to write your own note. (Don't forget to include: "Will you be my valentine?")
Handholding Mittens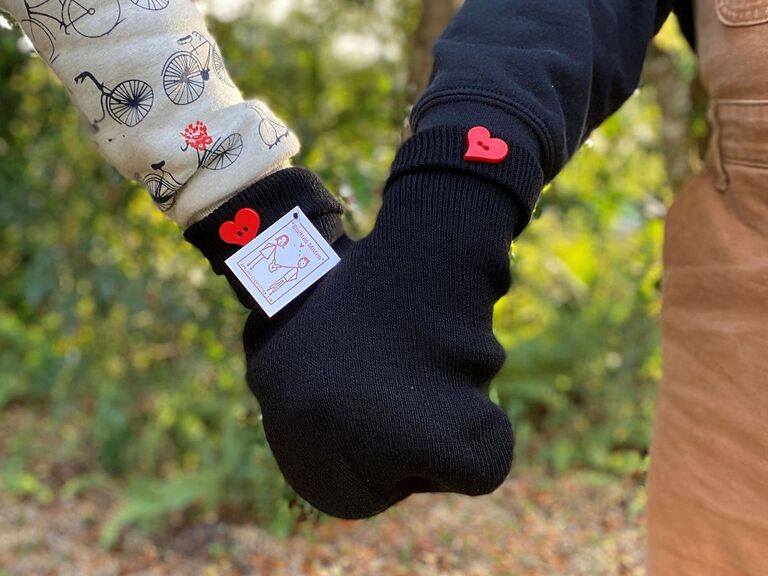 February is still a winter month for most of the country, so make sure you're prepared for a romantic stroll on Valentine's Day with these warm mittens—you'll have to share though! This unique set comes with two gloves and one oversized mitten so you can hold hands with your partner without your fingers getting cold. So clever!
Custom Pillow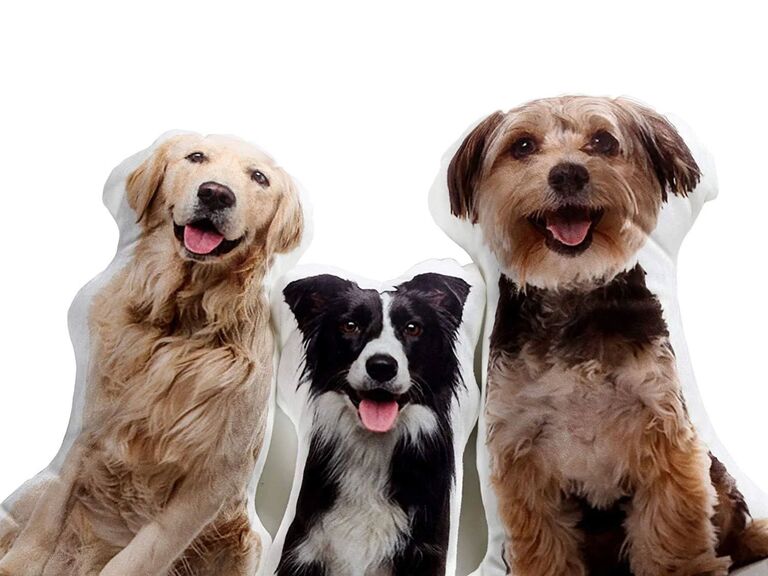 Pay homage to your S.O.'s other valentine with these goofy pillows. Simply upload a picture of their furry friend and it'll be turned into a soft, pet-shaped cushion. You can also select a picture of yourself to be transformed into a pillow for a really funny gift for Valentine's Day for your long-distance partner (something to squeeze while you're away).
Lovebird Legos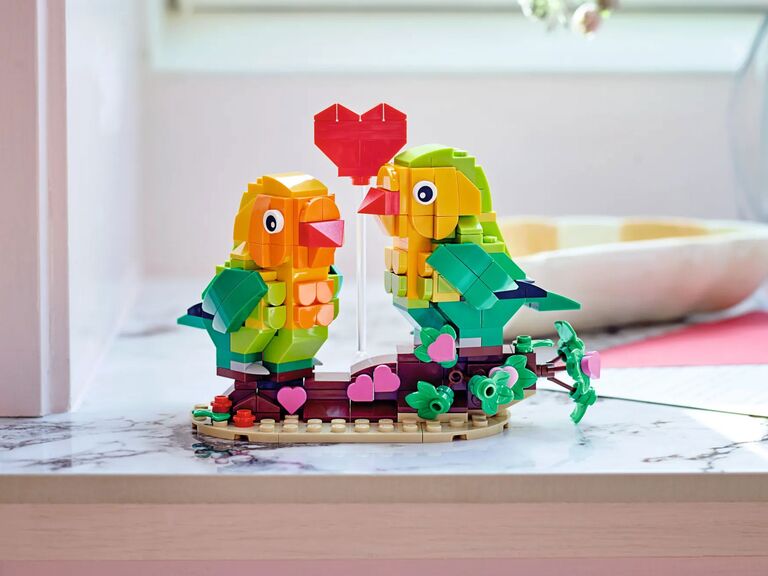 It may sound like an oxymoron, but this romantic LEGO set will make a winning Valentine's Day gift for your boyfriend, girlfriend or your crafty spouse. It features two brightly colored lovebirds with a heart balloon. Build it together for a fun Valentine's Day date idea.
Fill-In-The-Blank Book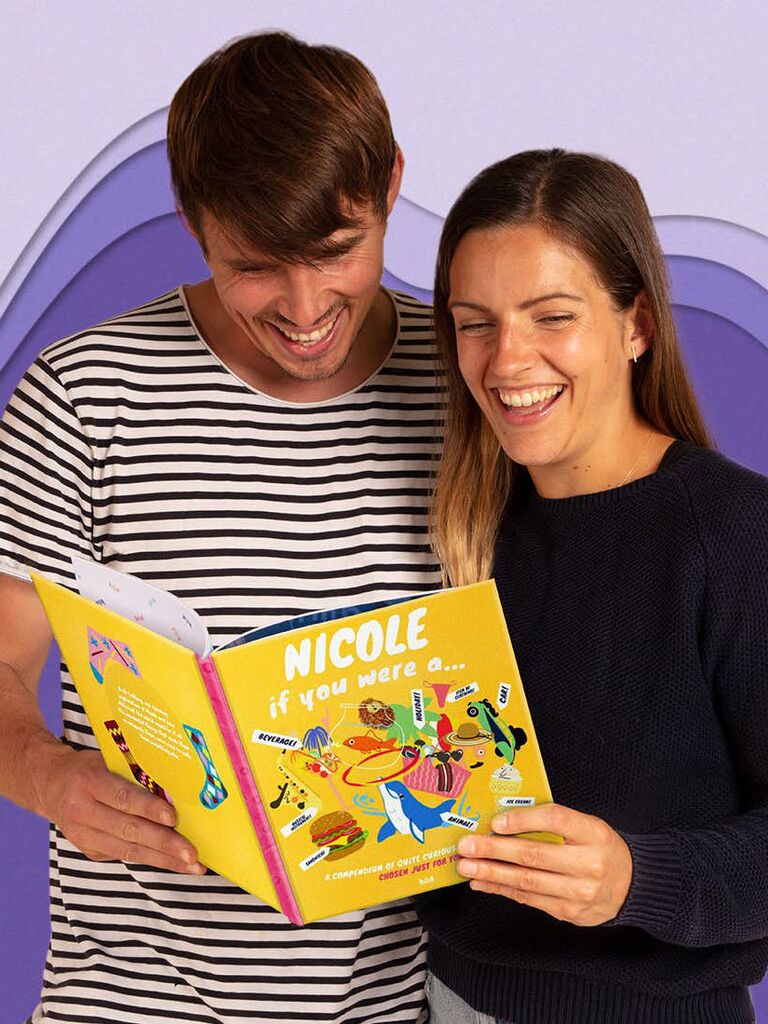 Create a unique personalized book for your girlfriend, boyfriend, fiance or spouse this Valentine's Day with Wonderbly. Our favorite option? If You Were A Sandwich which prompts you to choose eight funny objects to describe your partner like a sammie, an animal, a vacation destination and more. It'll show just how well you know them and send you both into hysterics reading it back.
Burrito Blanket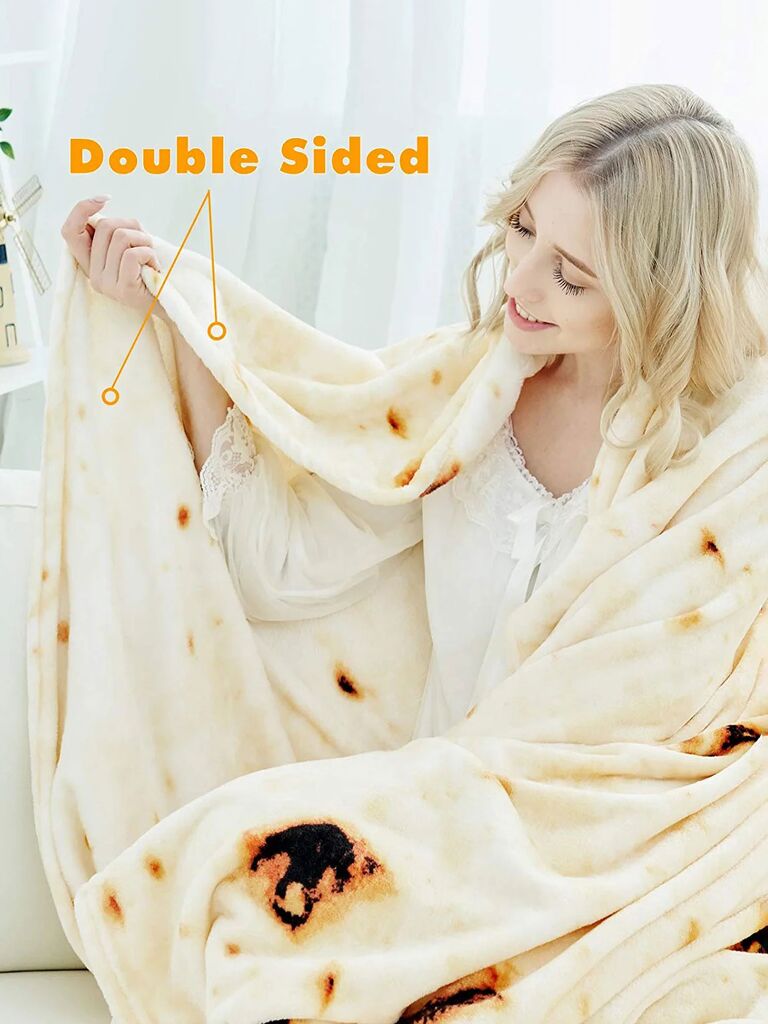 The internet's favorite gag gift would be a funny Valentine's Day present for a partner that likes to be wrapped up tight in their blanket. The round fleece blanket is designed to look like a tortilla making your S.O.—or the both of you—a burrito when cuddled underneath.
Puppy Love Sheet Masks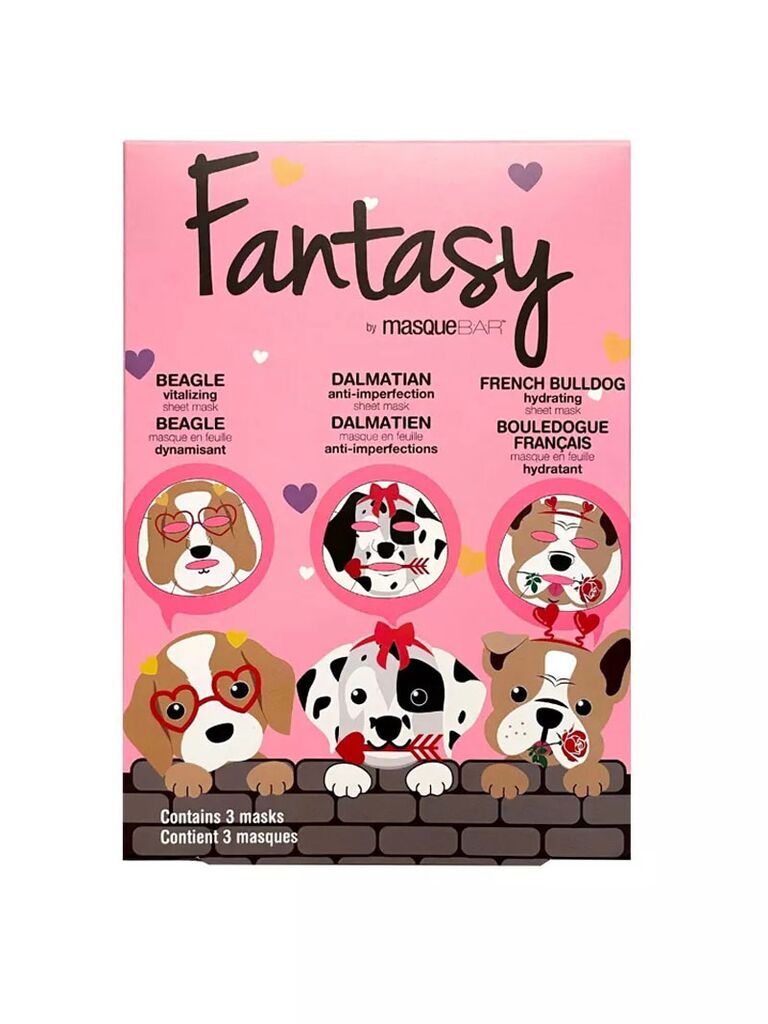 If you're looking for a small, yet funny, Valentine's Day gift for your cutie, we recommend these silly face sheet masks. They look like three different puppies and are covered in hearts for the holiday. Set up a spa night together, then relax with them for a low-key date.