12 Ways to Keep Your Bridesmaids Happy
Show your besties a little love on the way to the altar.
Your wedding party members stand by you through it all—Style Quizzing, dress shopping, cake tasting, guest list spreadsheet making and last-minute vendor calling—for no other reason other than that they love you. In return, here are 12 ways to make their lives easier throughout the planning process and acknowledge how much they mean to you, from the moment you ask them to stand with you at the altar, to the last song on the dance floor.
1. Respect Their Life Outside of Your Wedding
Sure, they've received the honorable title "bridesmaid," but that doesn't mean your best friends have to ignore their other personal responsibiliteies, and neither should you. Be mindful of their schedules when deciding whom to ask to tag along to your dress fitting or to an appointment with your florist. For example, don't schedule something for 10 a.m. on a Tuesday if you know it'll be a pain for your maid of honor to make it. If it's truly important to you for her to be there, find out what days are easiest for her to take a long lunch, duck off campus or leave work a little early. And be mindful of your tone—ask them nicely (don't tell them) to be there. Hopefully, they'll make an effort to attend activities when they can.
2. Ask Them What They Want to Wear
Even if you have a super-specific vision for the bridesmaid dresses, ask them for their input, and be open-minded to letting them wear styles that will fit their body types. You don't have to give them free rein to buy any dress in the store, but schedule a group outing where they can try on different styles, or have them send you pictures of dresses they think would look good on them. Trust us—your friends will look great if they feel great.
3. Give Them Some Direction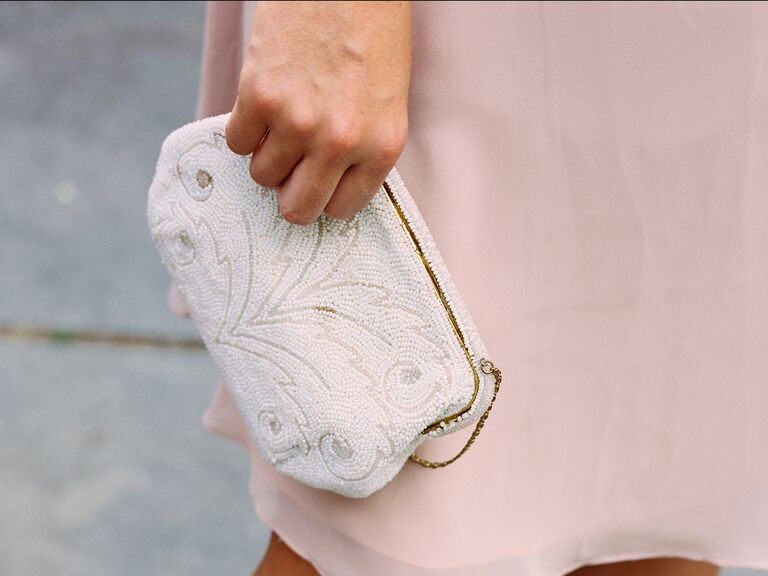 If you prefer to take a more laid-back approach to their looks, give them a few hints about the style you have in mind for the wedding, or at least about what your dress will look like, so they have a starting point. Dealing with your bridesmaids is a balancing act. While you don't want to tell them they all have to wear the same strapless gown, you can't just say, "Wear anything you want," and call it a day. They want to look good together in your wedding photos, so help them however you can. At the very least, share an inspiration board as a jumping off point or gift them all the same statement necklace.
4. Make Them Feel Special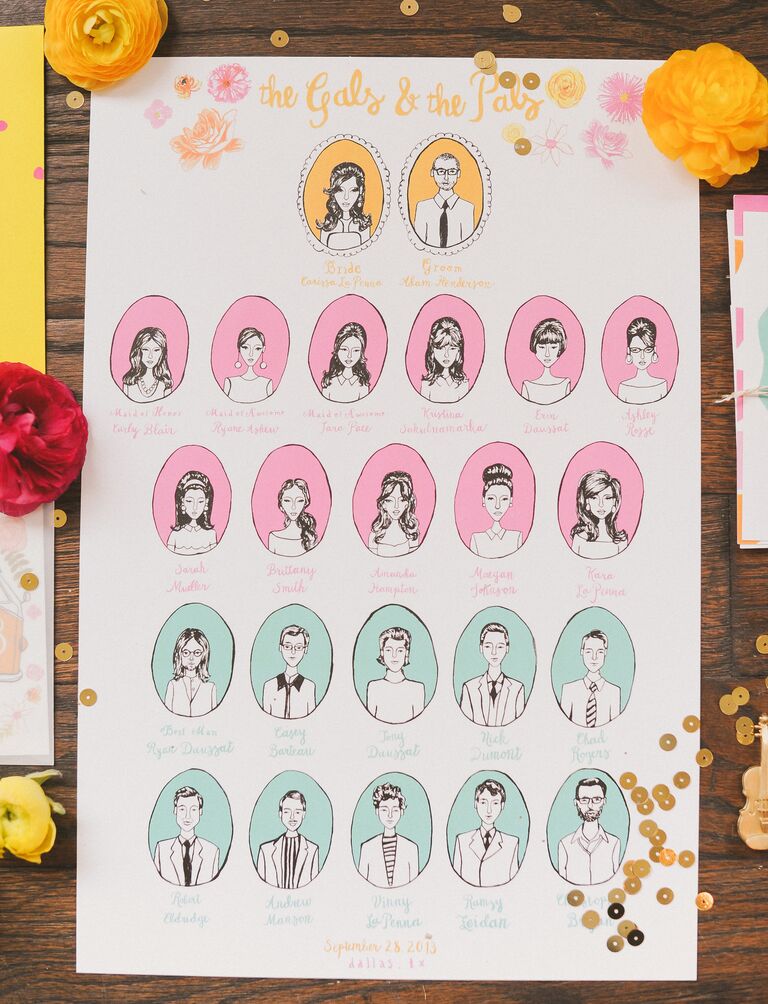 Your bridesmaids are likely putting time, effort and money into your wedding, and chances are, they've been looking forward to it as much as you have. Make them truly feel like VIPs by making a solid effort to recognize them. Call them out on your wedding website, along with photos (or videos) and a little info about how you know each other. Also include their names in the ceremony program and give them a plus-one, no matter what. Even if they're not in a long-term relationship or don't take you up on the invite, it's important you at least extend them the offer.
5. Help Them Get to Know One Another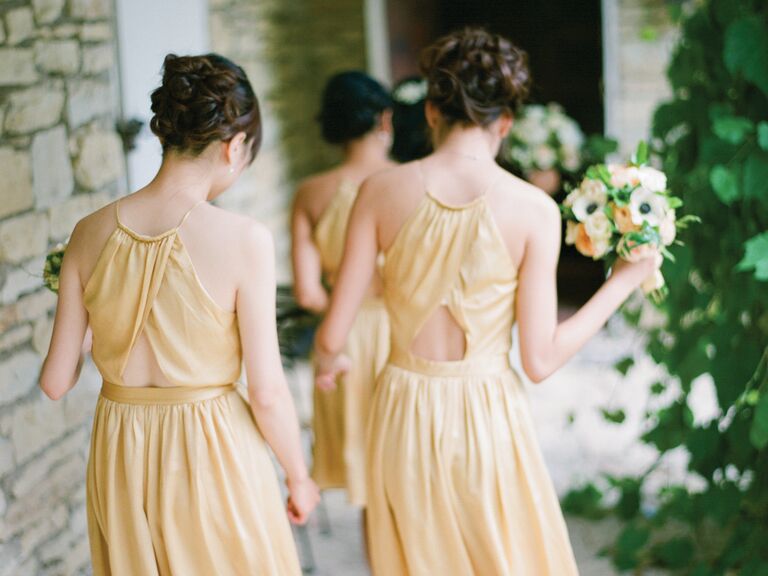 The people you ask to be in your bridal party may all be special to you, but they might not all be special to one another. One or two chances to hang out, free of wedding talk, will, hopefully, get everyone feeling friendly and make the actual wedding-related activities more fun for all. As the bride (AKA the glue holding the group together), it's your job to encourage them to hang out and get along.
6. Keep Track of How Much They're Spending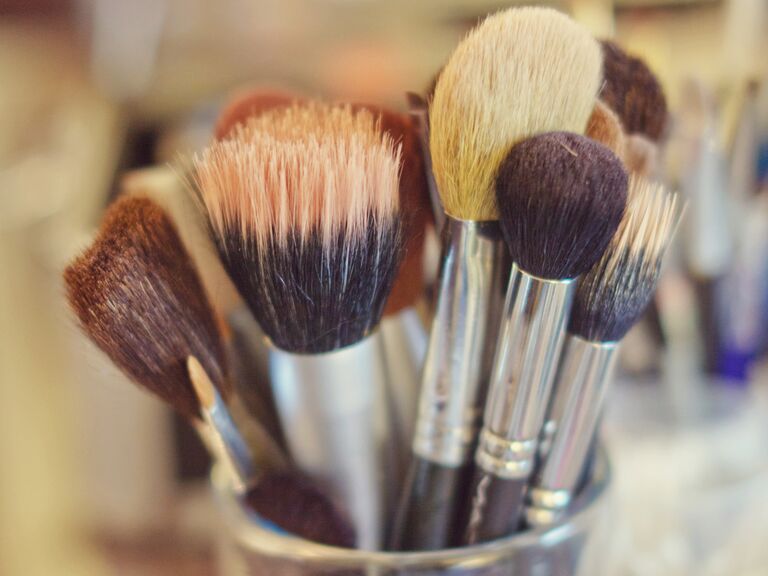 You're planning this party, or at least you're fairly involved in how much it's costing, so it's easy to get wrapped up in how much you're spending without realizing the amount of cash everyone else is dishing out. If you've been a bridesmaid before, you're familiar with how quickly it all adds up—the dress, the accessories, the shower and wedding gifts, the bachelorette party and travel expenses are only the basics. Do what you can to keep costs manageable, whether you look for less expensive dresses or help them find affordable flights and hotels. And remember: If you're requiring your bridesmaids to get their hair and makeup done, it's your responsibility to treat them.
7. Be Upfront About Your Expectations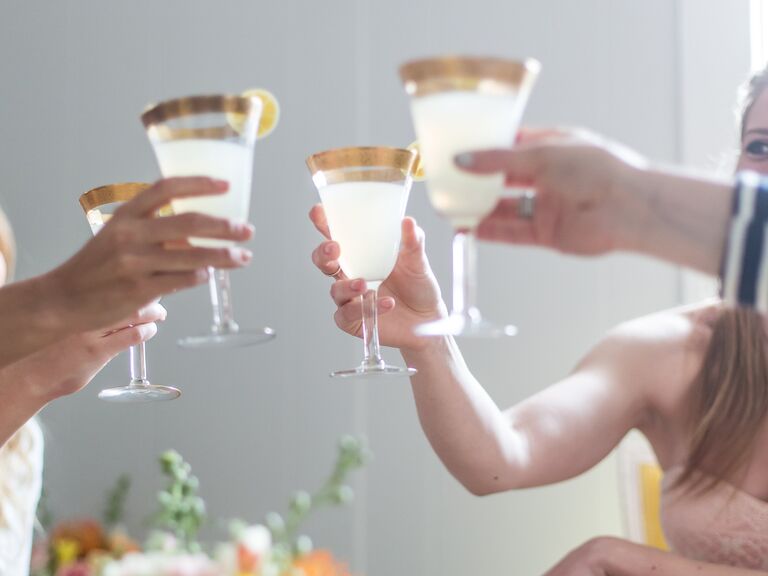 Don't assume your girls know everything about being a bridesmaid. Even if they do, it's good to be clear about details like who will order the bridesmaid dresses. Will you all order them together in the store, or will each person be responsible for ordering her own dress online? Ask in advance if you're hoping for their help assembling ceremony programs instead of calling them the night before you have to get the job done. Also, put them on the same page as your family and your groom's family in terms of big events, like the shower, to avoid any unnecessary conflicts.
8. Divvy Up the Responsibilities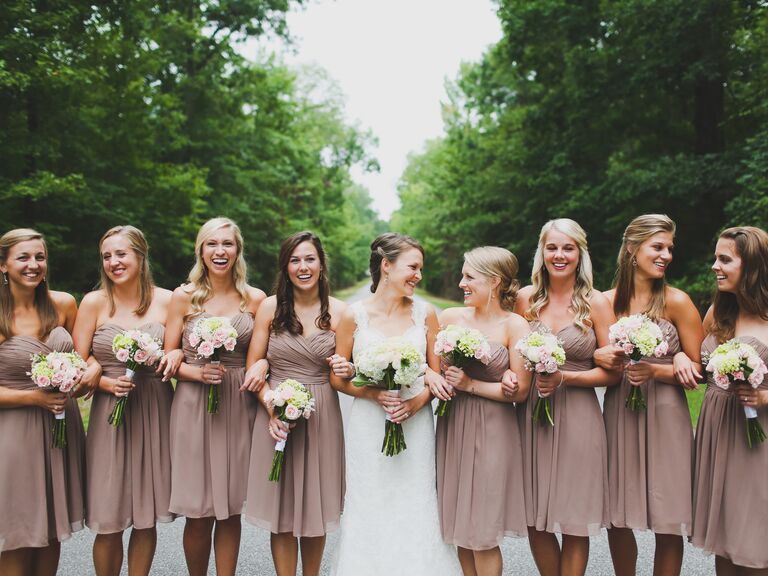 Take some pressure off your bridesmaids by coming up with a mental list of friends and family you can rely on for extra help during crunch time. Maybe your mom or aunts are crafty and would actually love to help you package all of the favors. Think about the little last-minute to-dos ahead of time before you lock your bridesmaids into helping you with every single project. And again, let them know in advance—you can't expect them to bail you out of a procrastination snafu.
9. Keep Your Cool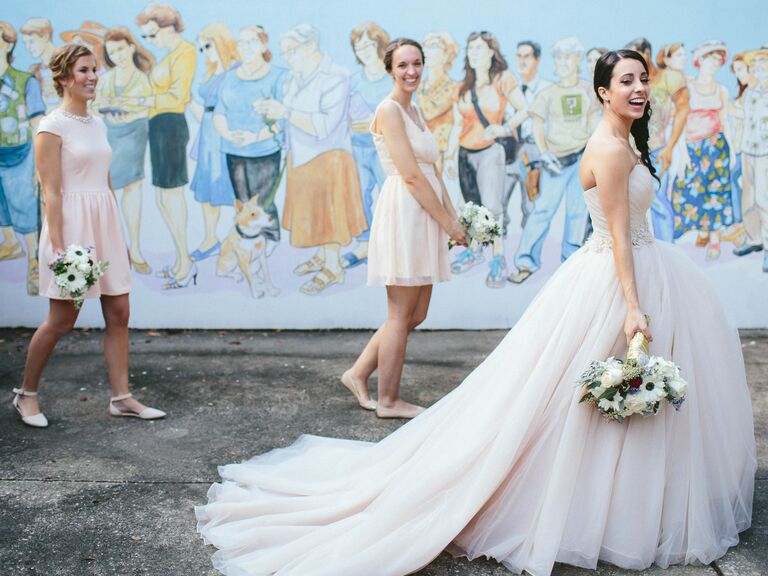 Look, a prewedding breakdown is totally normal—planning a party and experiencing such a huge life milestone can be overwhelming. So don't think twice if, during a particularly stressful week, you cry over boutonnieres or lose your cool over favors. Just try to keep your head straight and notice when the bridezilla tendencies might be starting to bubble to the surface, so you can check yourself before they don't have to.
10. Give (and Receive) Graciously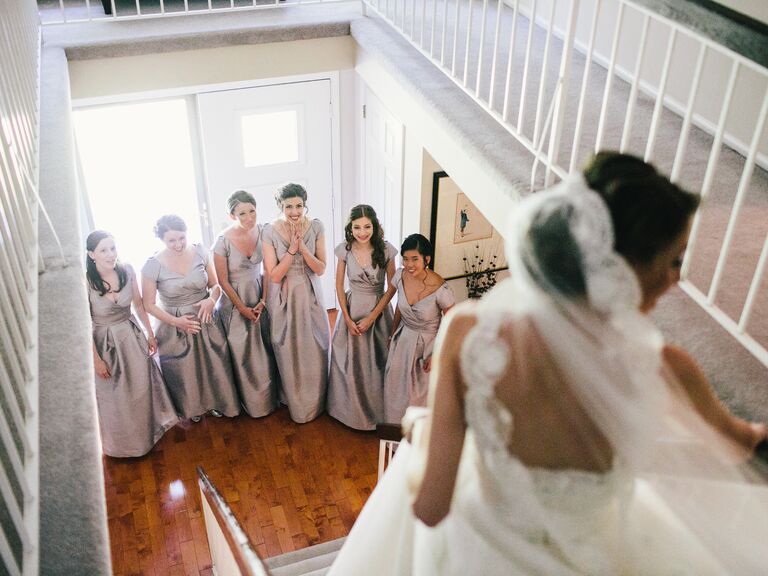 You pictured an elegant afternoon tea, but got bridal shower bingo and mini hot dogs. You imagined a spa-day bachelorette, got a night of pole dancing in a club. Even if you're not wild about your party's activity selections, try to smile and say "thank you." They've worked hard to organize everything for you, so appreciate what they come up with, even if it's not exactly what you had in mind.
11. Talk to Them About Non-Wedding Things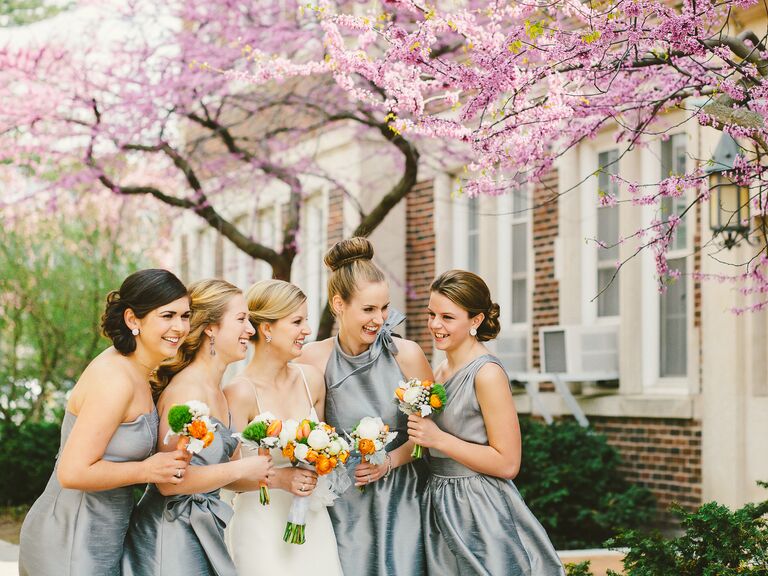 Simply put, be a good friend. With the wedding at the top of your mind, it'll be easy to spin any conversation straight into planning talk. Make a conscious effort to ask your girls about what's going on in their lives and to remember when they have a big meeting, project, final exam or a first date. First and foremost, they're your friends—treat them that way!
12. Say "Thank You"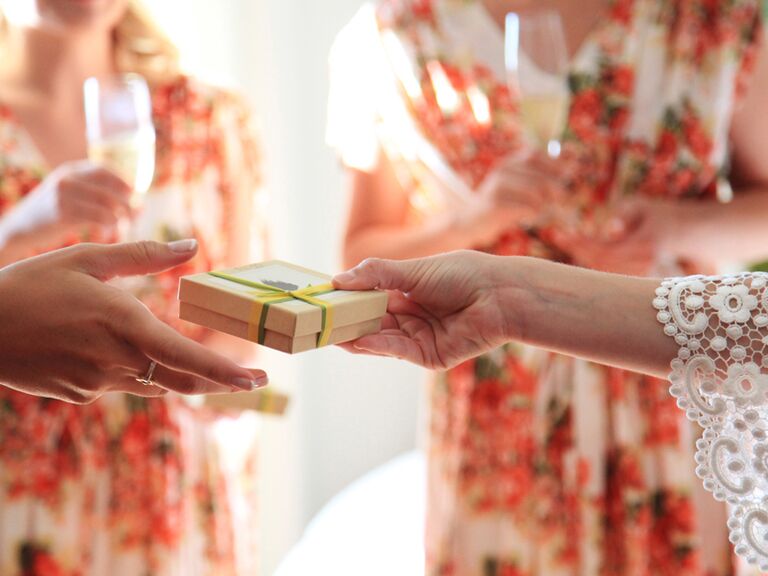 You don't have to spend a fortune on bridesmaid gifts to show how grateful you are. Just make them meaningful and remember to write something thoughtful in the card. Instead of waiting until the last minute and scrambling to find something, put serious thought into what you think each of your girls could use. If you love the idea of gifting them jewelry to wear at the wedding, consider buying different statement pieces that will make each outfit unique (and that they'll want to keep wearing it after the wedding). Or go for something more experiential, like a gift certificate to a hot new restaurant for your foodie friend or kickboxing classes for your fitness-loving sister. And you can never go wrong with a bottle of something special, whether it's their favorite rosé, whiskey or tequila. Or think inside the box—check out 21 fun subscription boxes and pamper your wedding party the gift that keeps on giving.