What to Do When Your Bridesmaids Don't Get Along
You may love your best friends/bridesmaids, but don't expect them to feel the same about one another.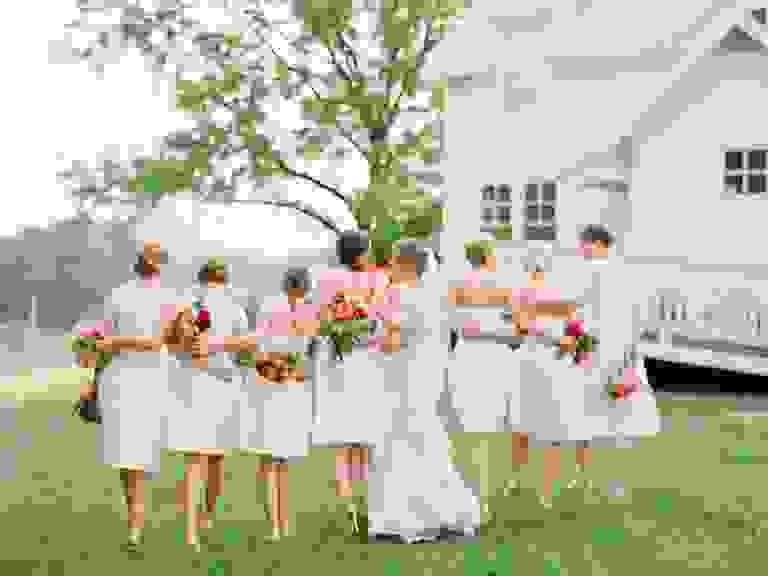 Buffy Dekmar

While introducing two of my bridesmaids who had never met before, I swear I noticed a bit of evil eye exchanged. "Nah," I thought, convinced I'd simply manufactured the awkwardness in my head. However, the figment of my imagination proved to be the real deal less than an hour into our hunt for bridesmaid dresses.
Surrounded by racks decked with satin, taffeta, chiffon and tulle, I was in my own world searching for a silhouette to flatter each of the very different body shapes of my three bridesmaids. Upon returning to meet my squad with our picks, I saw the claws had already come out.

In all of my worst-case wedding planning scenarios, I never would have had guessed it would be my bridesmaids who would be the biggest troublemakers. After all, I considered these girls the best of my bunch. One of them had been my best friend since high school and later became part of the family after marrying my brother. The other was my now-husband's sister, who I'd become close with while dating her brother for eight years. If I loved them so dearly, how could they dislike each other so vehemently?
As the day progressed, it only got worse. I tried feeding them to eliminate any "hanger." I tried to bring up common topics between them, only to be met with radio silence or a one-sided conversation from which the other would purposely extract herself. My last resort was to end the day in record time; these girls needed to be separated—and fast!

Despite my best intentions, dresses only seemed to fuel the fire and prolong our time together. The tall, slender bridesmaid wanted a more pencil fit with straps, while the curvy bridesmaid preferred an A-line shape that her ample bust could hold up all on its own. My poor third bridesmaid, who had become my one neutral ally, just wanted her arms covered.
Should I have done mismatched dresses? OMG—yes! But as they say, hindsight is 20/20, and I was a bride set in my ways with a specific vision in mind.
Once dress shopping was over, I thought my mess with my ladies was at bay. But weeks later, a stream of midday phone calls and emails proved otherwise. Their new head-butting problem came in the way of... wait for it... bridal shower games! Oh, the horror!

For the record, I said up front that I didn't care if my bridal shower included games or not, and if it did, what those games would be. I just wanted to catch up with family and friends, drink some sherbet punch and score a bit of loot for our new home. Despite that disclaimer, the two girls were out for blood. Looking back, I'm so thankful that my then-boss was unaware of the company hours used to mitigate the contention all spawning from Bridal Bingo and the Purse Game.

As the wedding countdown continued, the drama settled a bit, but mostly because I avoided bringing the two girls together when it wasn't needed. Living a few hours away helped. So did minimizing the need for a big bachelorette party in exchange for a casual get-together following the rehearsal dinner. I figured having more of my friends and family members in tow would add strength in numbers; still, one of the troublemaker bridesmaids chose to sit the event out.
I won't lie—it stung a little. It wasn't about her. She was supposed to be there to celebrate with me, even if it meant having to force a smile for the evening. I feel I would've done the same for her had the tables been turned. But on the flip side, it was the first time since bringing all of my bridesmaids together that I didn't feel completely stressed out. Little wins, I guess.
In light of all that had happened leading up to the wedding day, I'm happy to say the bridesmaids put on their big girl pants (or dresses), pulled it together and made it through the event without any squabbles—or at least none that directly affected me. I still love those girls to the moon and back, but I constantly count my blessings that we'll rarely ever have to be in a room all together. If I had to do it all over again, it's safe to say the girls would be in the crowd—definitely in the VIP seats, but I'd skip the hassle and just have my groom to stand by my side.
Have bickering bridesmaids of your own? If your besties aren't getting along, there are ways to avoid the drama from getting the better of you, your day and all the prewedding festivities that come with it.
● Don't take it personally. Some people simply don't see eye-to-eye with others, but their opinions are not reflective of your friendships or relationships. Remember why you selected someone to stand by your side, and let go of other people's judgements.
● Don't pick sides. Drama is going to happen, but that doesn't mean you have to get involved. Stay on neutral ground when tempers flare, and do your best to play mediator, reminding everyone that your wedding should be a cause for celebration, not quarreling.
● Be a good listener. Some of your bridesmaid issues may be valid. While you want to avoid creating further ill will through gossip or negative talk, listening to their problem shows you care. Don't forget that sometimes people just need to vent.
● Have a heart to heart. If the problems are getting out of control, sit down with your fighting bridesmaids individually and talk it out. Your girls should be involved in your wedding as a way to help and support you. Let them know that they're fighting is doing the exact opposite, causing you increased stress. Ask for their ideas on how best to resolve the conflict, and work together to solve the problem.