See LEGENDS Romona Keveza Wedding Dresses From Bridal Fashion Week
Here's the designer's latest collection to hit the bridal runways.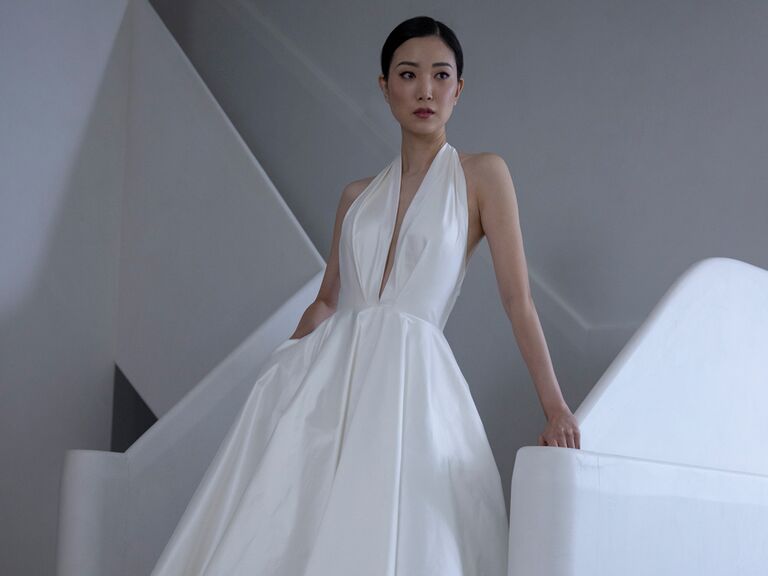 If Grace Kelly or Audrey Hepburn are among your bridal fashion muses, Romona Keveza has the perfect collection for you. Launched in 2005 by New York designer and stylist to the stars, LEGENDS Romona Keveza wedding dresses capture the essence of Old Hollywood with gowns inspired by some of the most influential women in fashion history. The collection also introduces a luxe new fabric: silk Mikado. Featuring an array of classic silhouettes with a decidedly romantic flair, LEGENDS brides will walk down the aisle in a look that transcends the current trends, as the designer seeks to inspire every bride to be her own legend.
LEGENDS Romona Keveza's Fall 2021 Wedding Dresses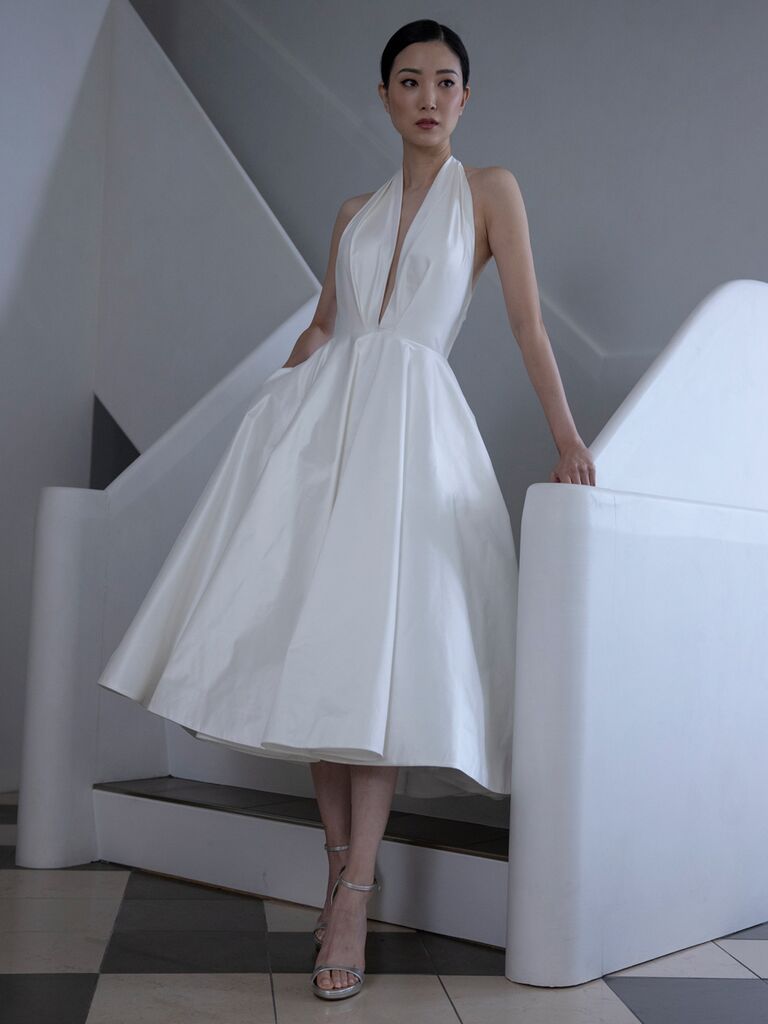 Halter tea-length dress with plunging neckline and open back secured with a large bow.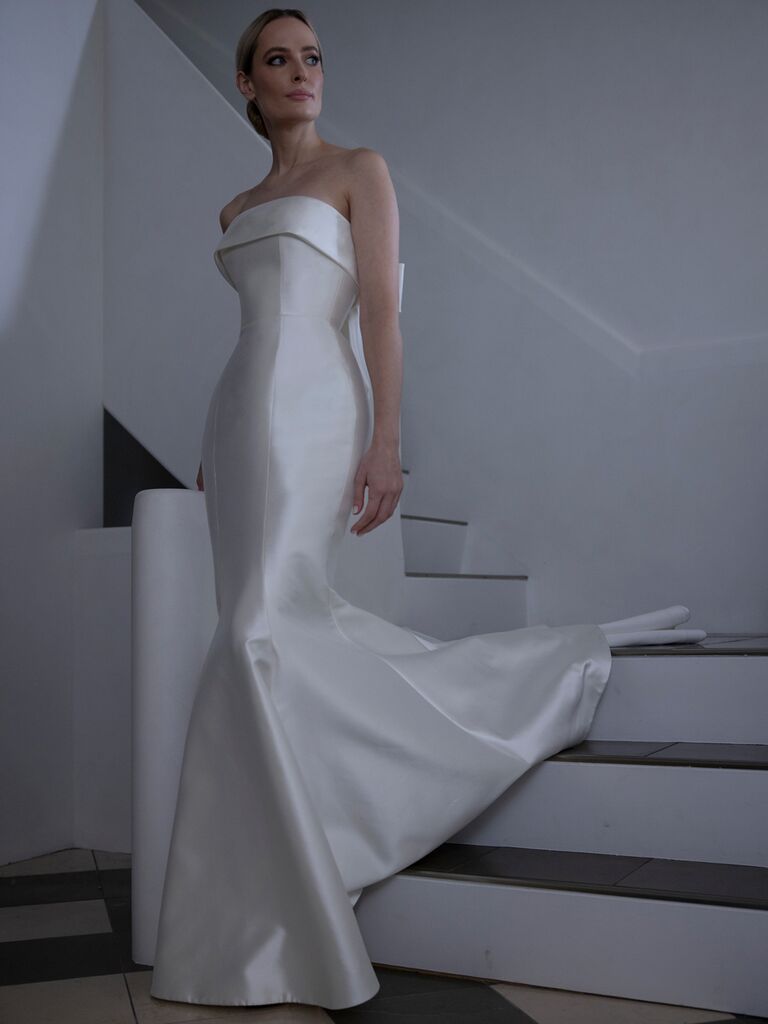 Trumpet gown with princess seams and fold over neckline ending in a bow at the back.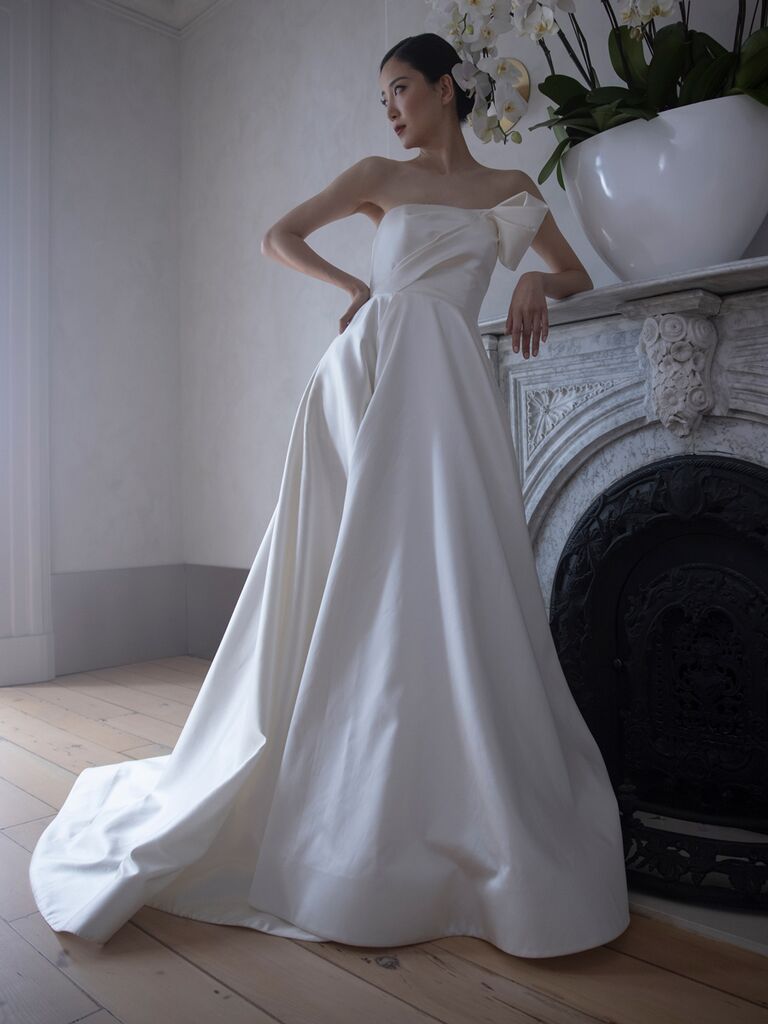 Strapless A-line dress with ruching across the bodice, asymmetrical fabric detail at the neckline and pockets.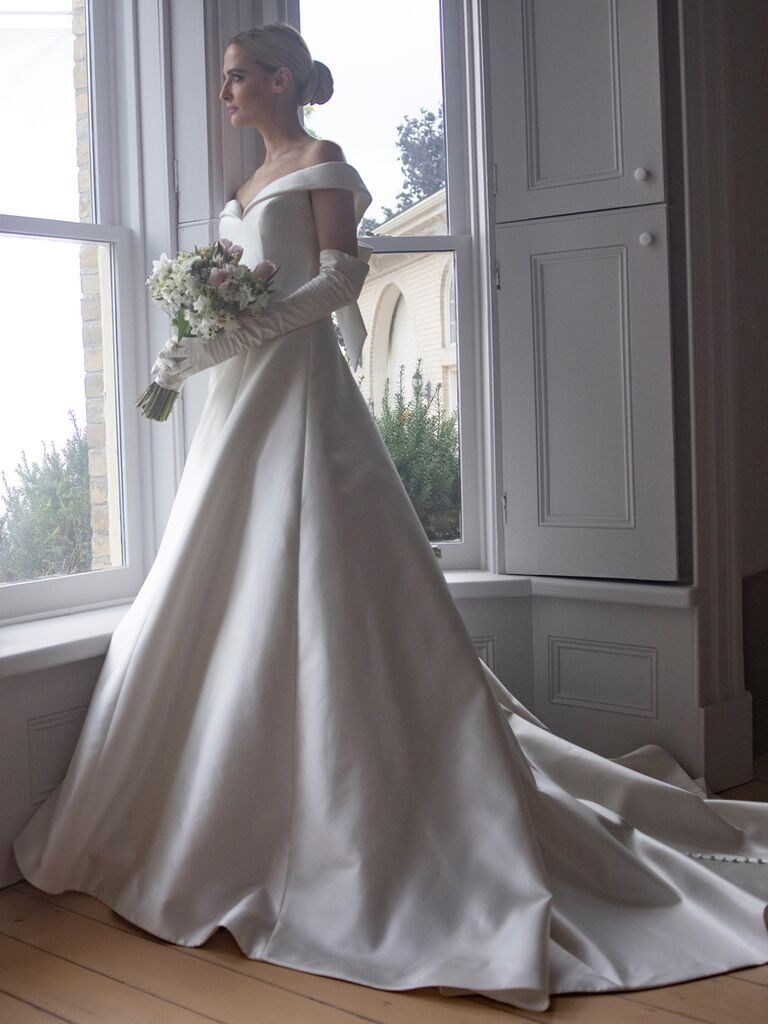 Off-the-shoulder folded neckline gown with fabric-covered buttons cascading from a bow at the back.
Chic ballgown with princess seams and fold over neckline.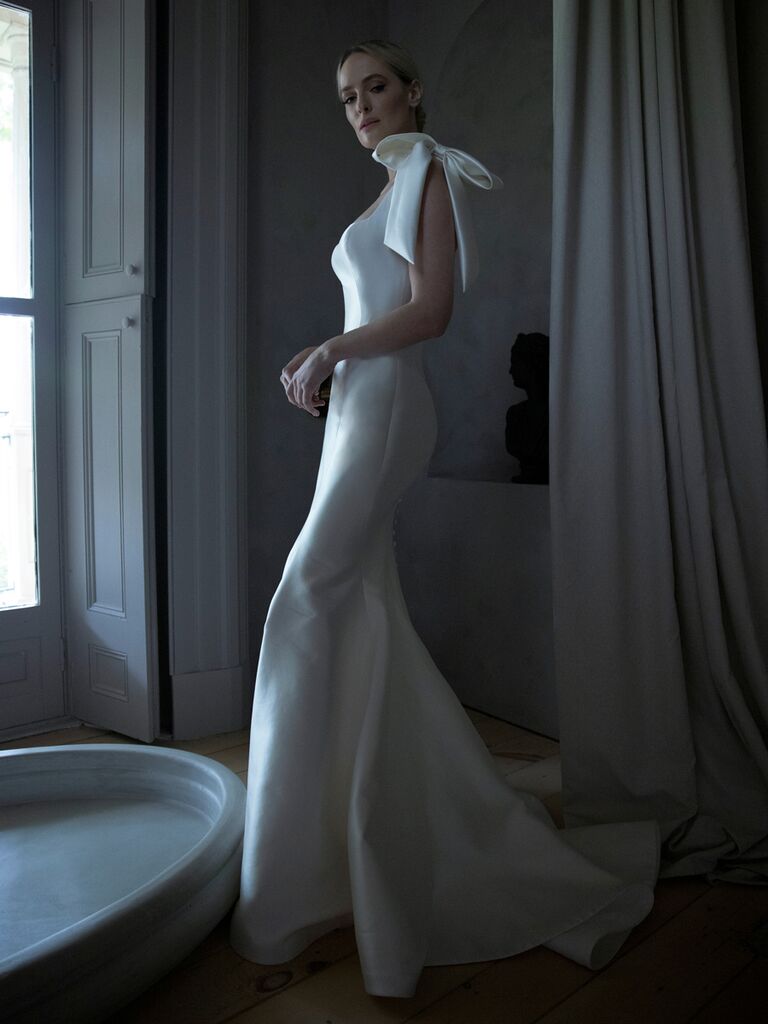 Crepe trumpet gown with square neckline and bow affixed to one shoulder.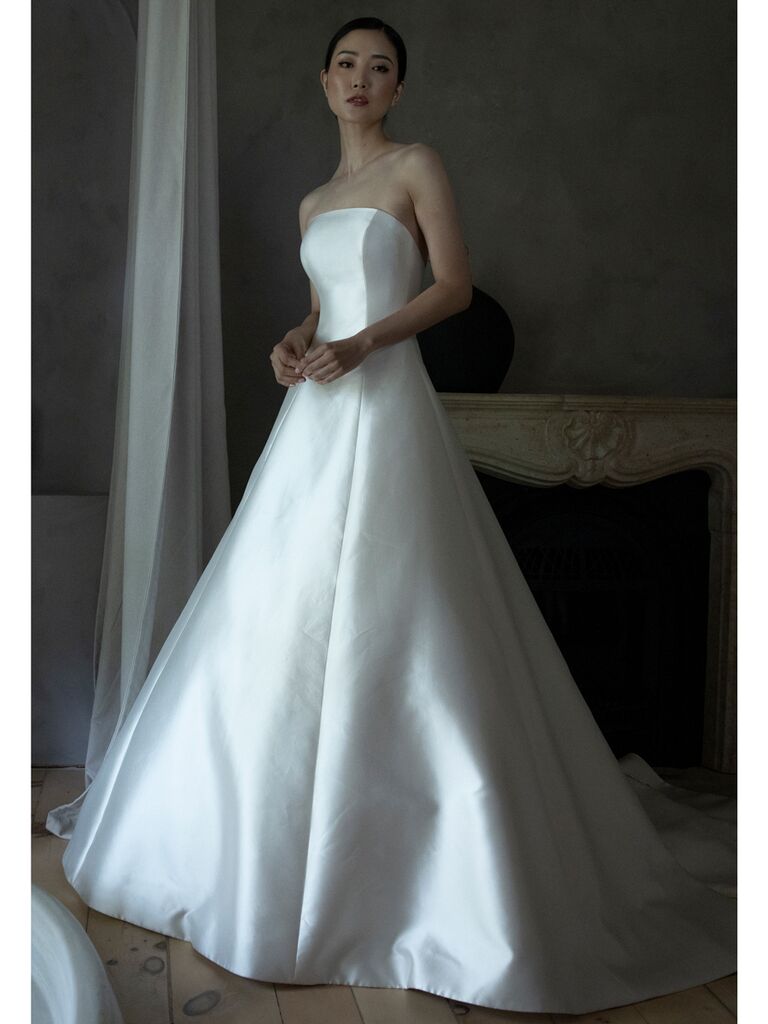 Strapless ballgown with curved neckline and princess seams.
Designer LEGENDS Romona Keveza Signature Style
Designed with a sense of regal elegance and legendary style, the appropriately named LEGENDS line is made for the bride seeking a romantic and timeless look. LEGENDS Romona Keveza gowns often vintage-inspired with design elements like ball gown skirts, embroidered lace, off-the-shoulder sleeves, and dramatic trains. As a nod to fashion icons on decades pasts, Romona Keveza draws inspiration for her LEGENDS line from Jacqueline Kennedy, Princess Diana, Grace Kelly and Audrey Hepburn, among others.
A Brief History of Wedding Dress Designer LEGENDS Romona Keveza
New York-based designer, Romon Keveza began her fashion career in 1999 with a modest amount of her own savings and an earnest work ethic to back it up. After much success in both bridalwear and eveningwear, she went on to launch her bridal diffusion line, LEGENDS Romona Keveza followed by a luxe ready-to-wear collection. Most recently, the brand introduced ROMONA New York as a line with a more youthful and free-spirited approach. All Romona Keveza bridal gowns are proudly made in North America and can be shopped at luxury retailers worldwide or at the Romona Keveza bridal brand's flagship boutique located in Rockefeller Plaza in New York.
Other LEGENDS Romona Keveza Labels
The ever-expanding Romona Keveza empire includes four labels serving both bridal and eveningwear clientele. Following the launch of the brand's namesake bridal label, the LEGENDS Romona Keveza bridal label was introduced in 2005 as a luxe yet accessible line with dresses priced from $3,600 to $5,200. Later in 2009, the designer introduced her luxury ready-to-wear Romona Keveza Collection, which has graced some of the most prestigious red carpets, including The Academy Awards, Golden Globes, and many more.
The latest addition to the bridal house, ROMONA New York, launched in 2017 for dresses designed with a minimalist aesthetic. ROMONA New York emphasizes a less formalized, more spirited vibe with designs that embody a simple yet chic appeal.
LEGENDS Romona Keveza Collection History
Since launching the LEGENDS label, Romona Keveza has channeled Britain's royal women as inspiration for some of the label's most popular designs. On April 9th, 2011, Keveza unveiled her latest LEGENDS collection at New York Bridal Fashion Week, including dress 'Style L249' which looked incredibly similar to the dress Katherine Middleton wore for the royal wedding several weeks later.
Whether they're inspired by royals past or present, many of the Keveza's fans can't wait to see what the bridal house will send down the runway in LEGENDS Romona Keveza 2020.
Famous LEGENDS Romona Keveza Brides
In May 2019, Cheryl Burke of Dancing With the Stars wed actor Matthew Lawrence wearing a custom Romona Keveza gown featuring off-the-shoulder sleeves and a six-foot train. Following the ceremony, Burke slipped into a LEGENDS Romona Keveza dress for her equally romantic reception look.
Fun Facts About LEGENDS Romona Keveza
Romona Keveza has gained worldwide attention for her amazingly accurate royal wedding dress predictions over the past several years. In addition to Kate Middleton's now-iconic wedding day look, Keveza has pinpointed the wedding dress styles of Princess Charlene of Monaco, Pippa Middleton, and Meghan Markle—each time designing LEGENDS Romona Keveza wedding dresses with an undeniable resemblance before each royal wedding took place.
LEGENDS Romona Keveza Previous Wedding Dress Collections
LEGENDS Fall 2020 Collection
See every dress from LEGENDS Romona Keveza's Fall 2020 line below.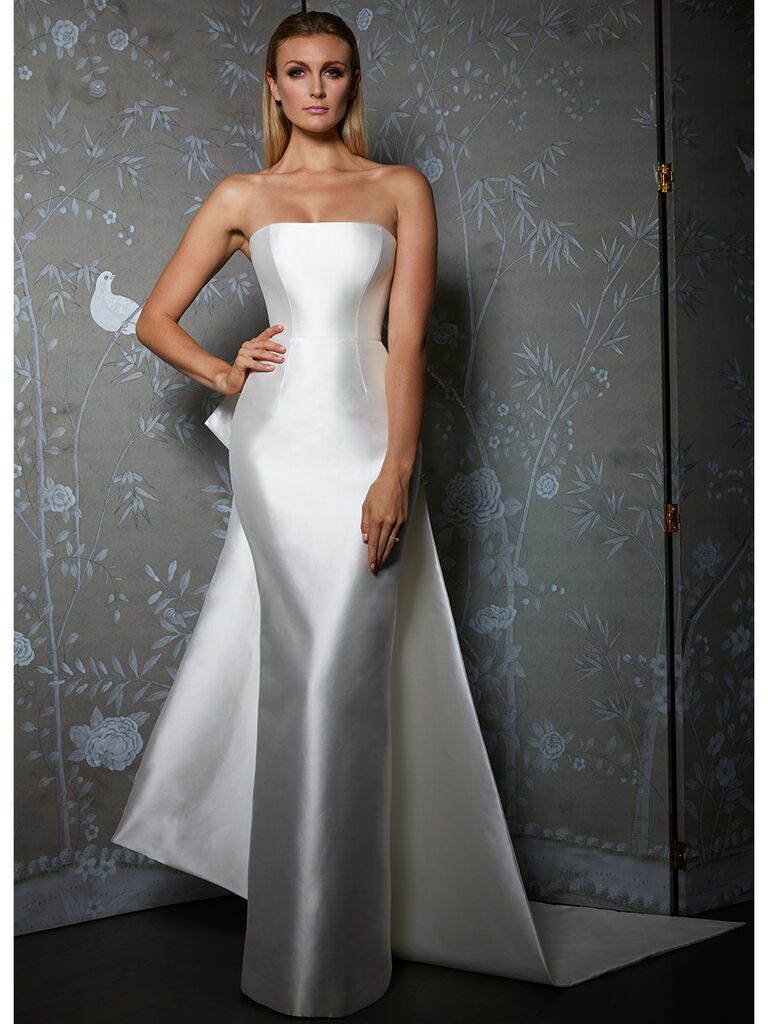 Silk Mikado gown with strapless bodice, cigar skirt, and detachable train.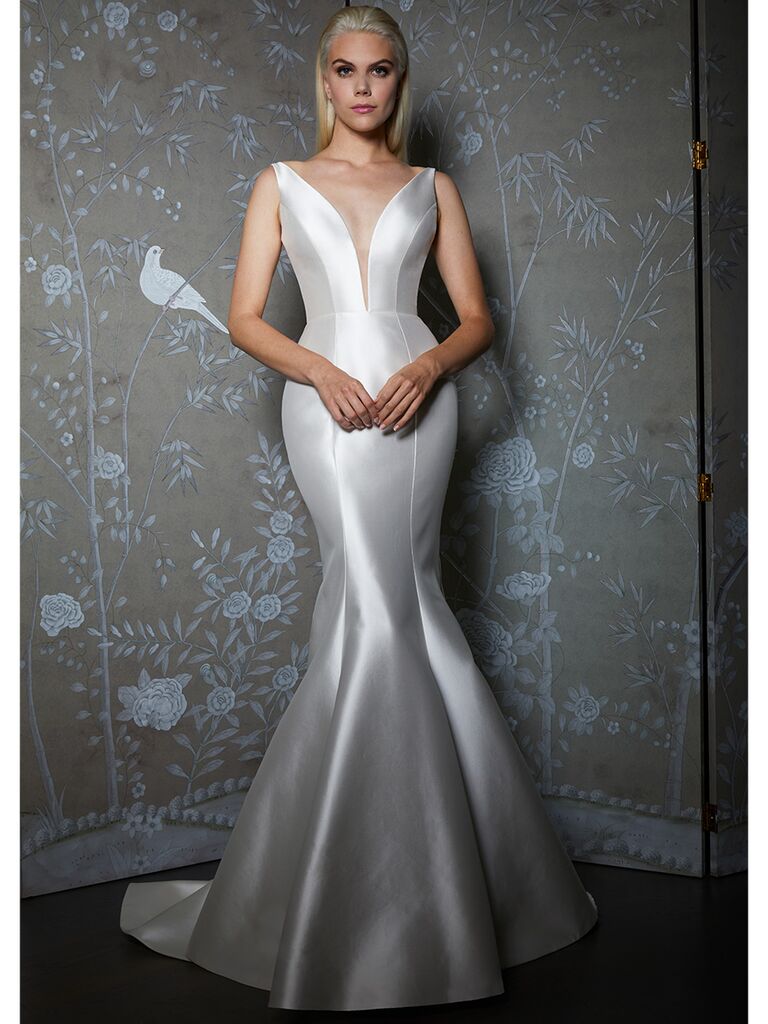 Trumpet gown with fluted skirt, plunging v-neck, and Swarovski buttons to the end of the train.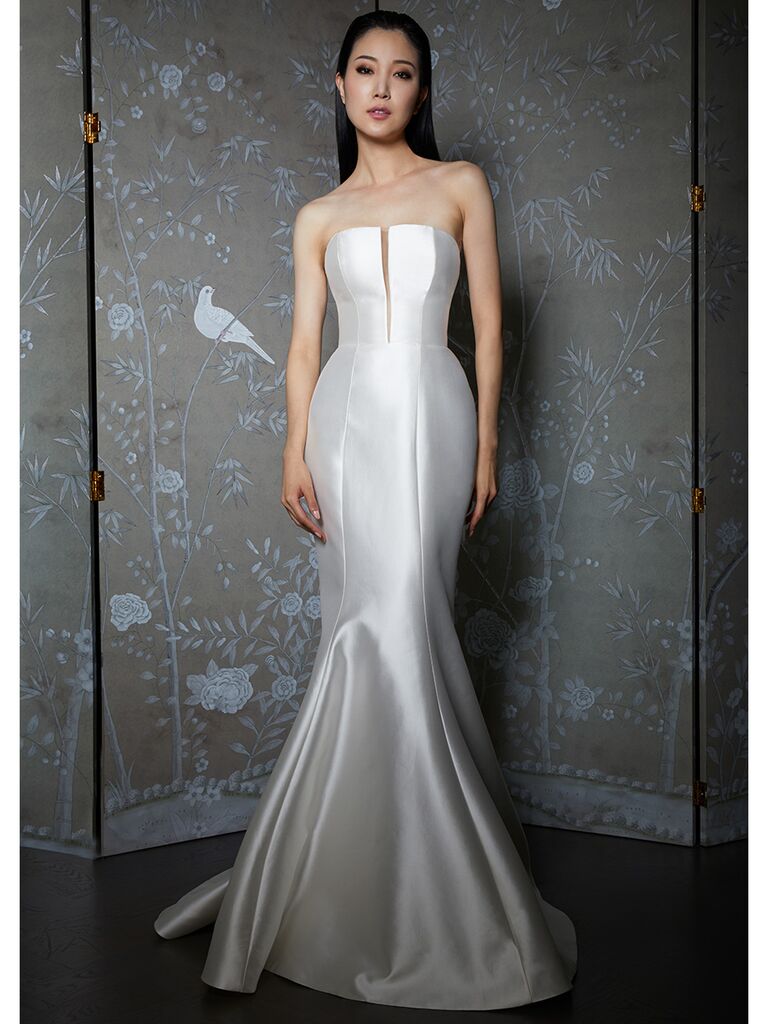 Silk Mikado gown with cutout neckline and fluted skirt.
Strapless dress with cigar skirt and detachable off-the-shoulder pleated stole.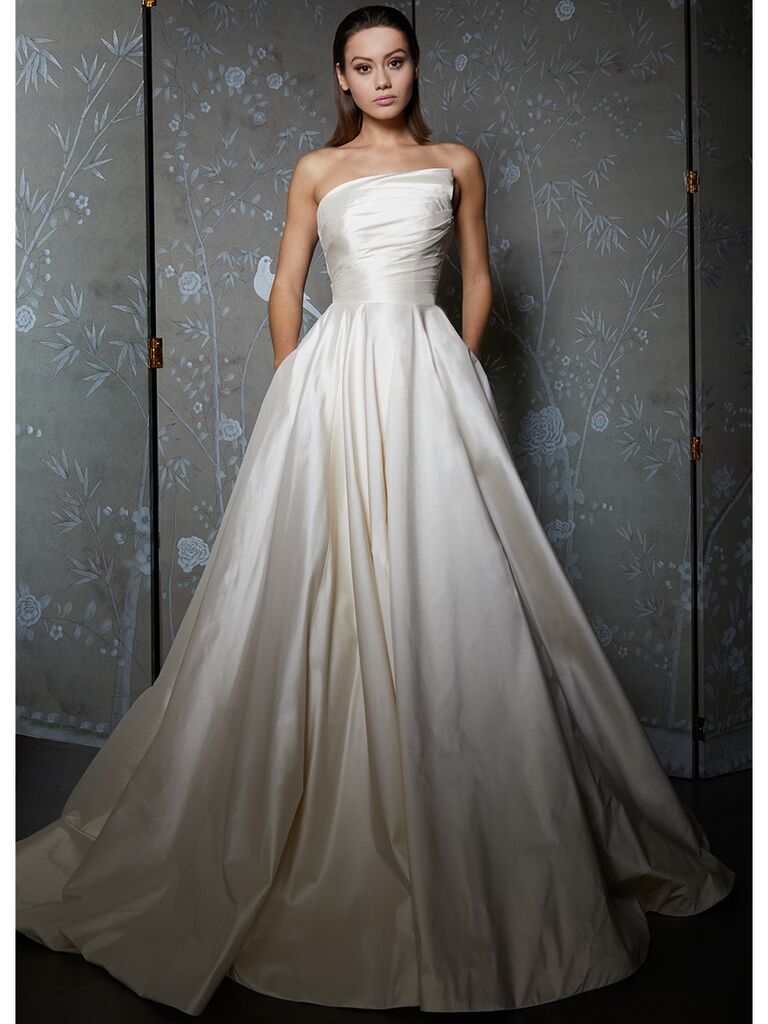 Ivory strapless ball gown with asymmetrical draped neckline.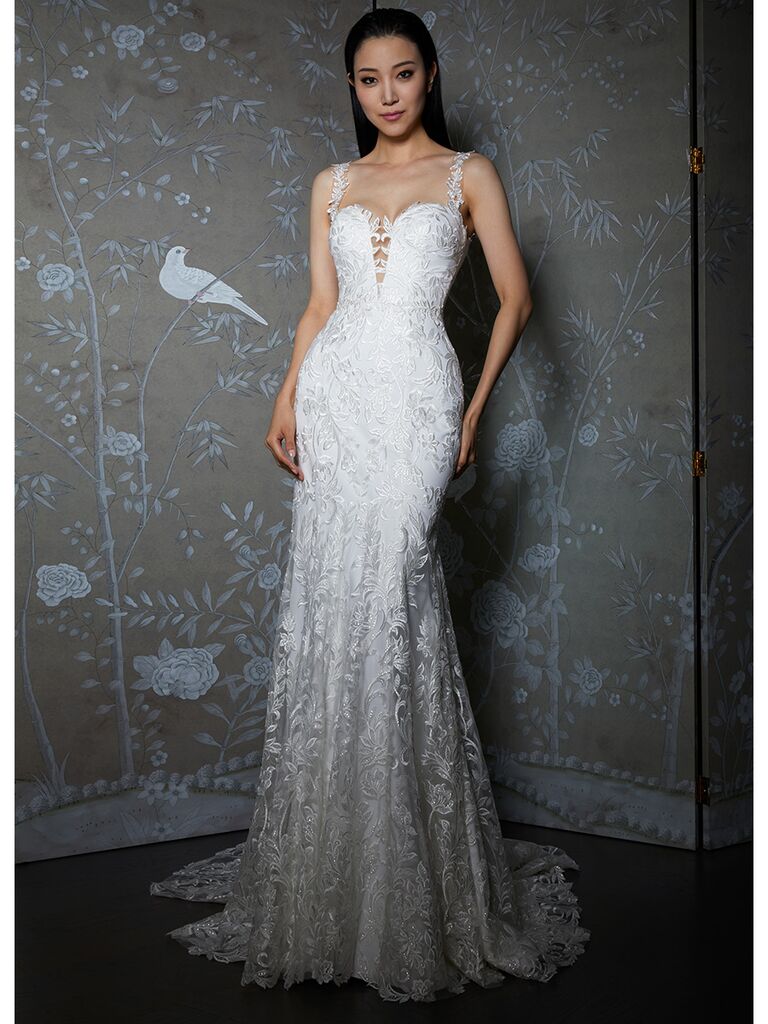 Sequined lace trumpet gown with plunging neckline and thin straps.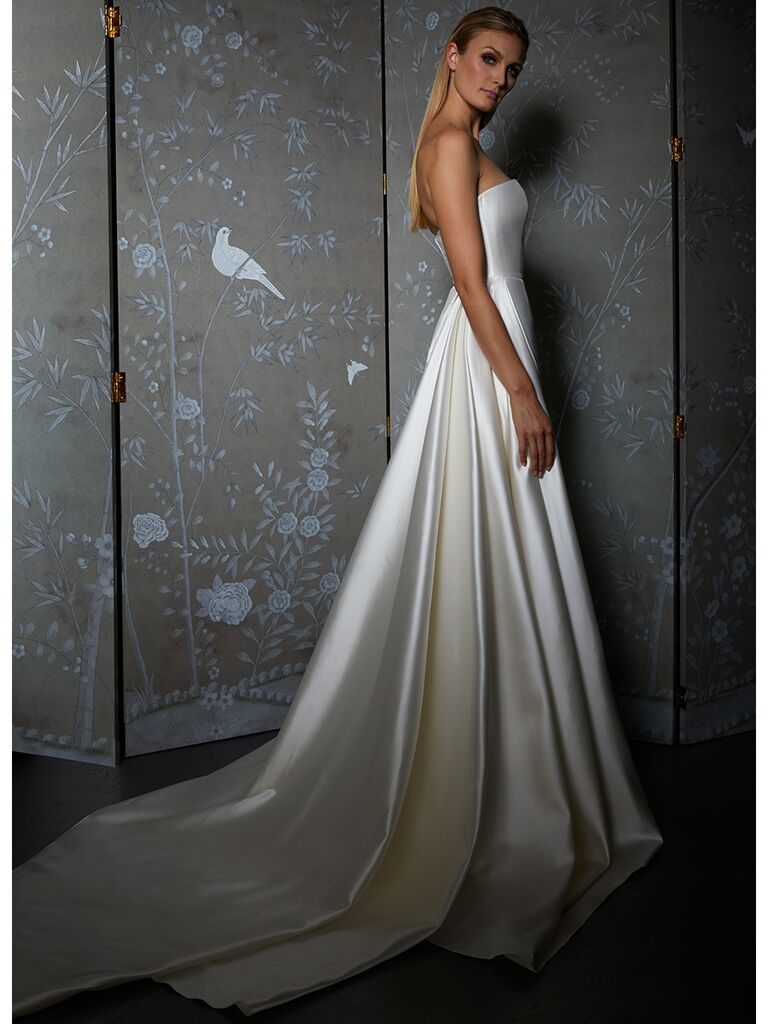 Silk Mikado gown with strapless bodice, cigar skirt, and detachable overskirt.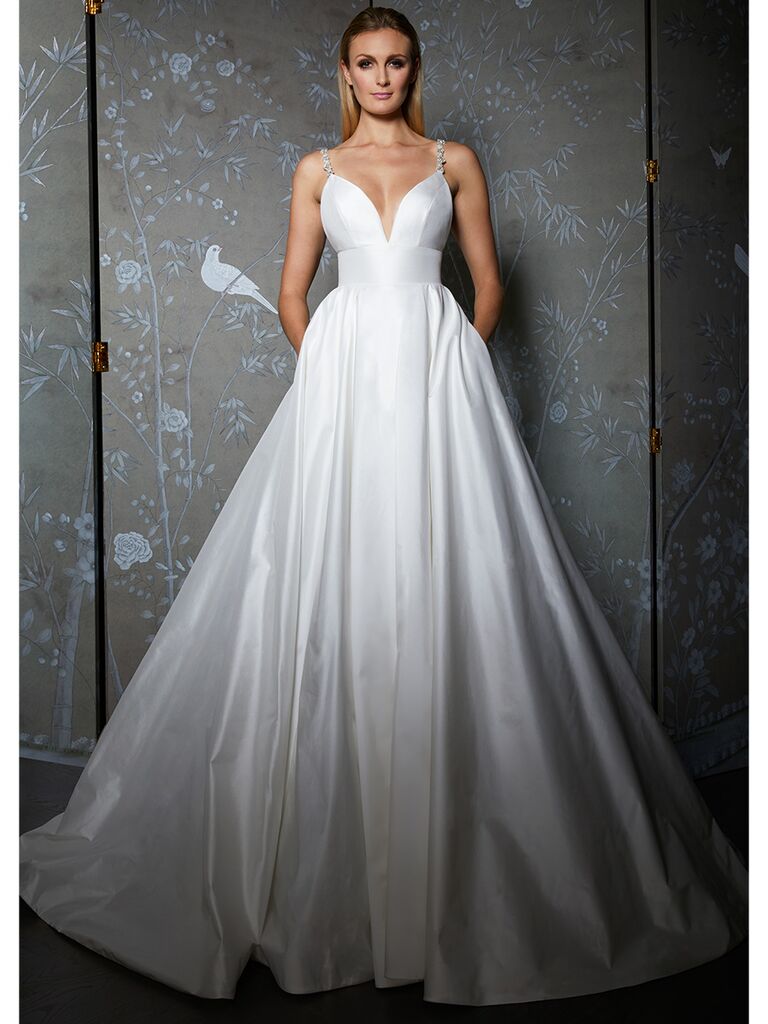 Ball gown with v-neck bodice and Swarovski-beaded straps.
Trellis lace trumpet gown with plunging neckline and sheer, fluted skirt.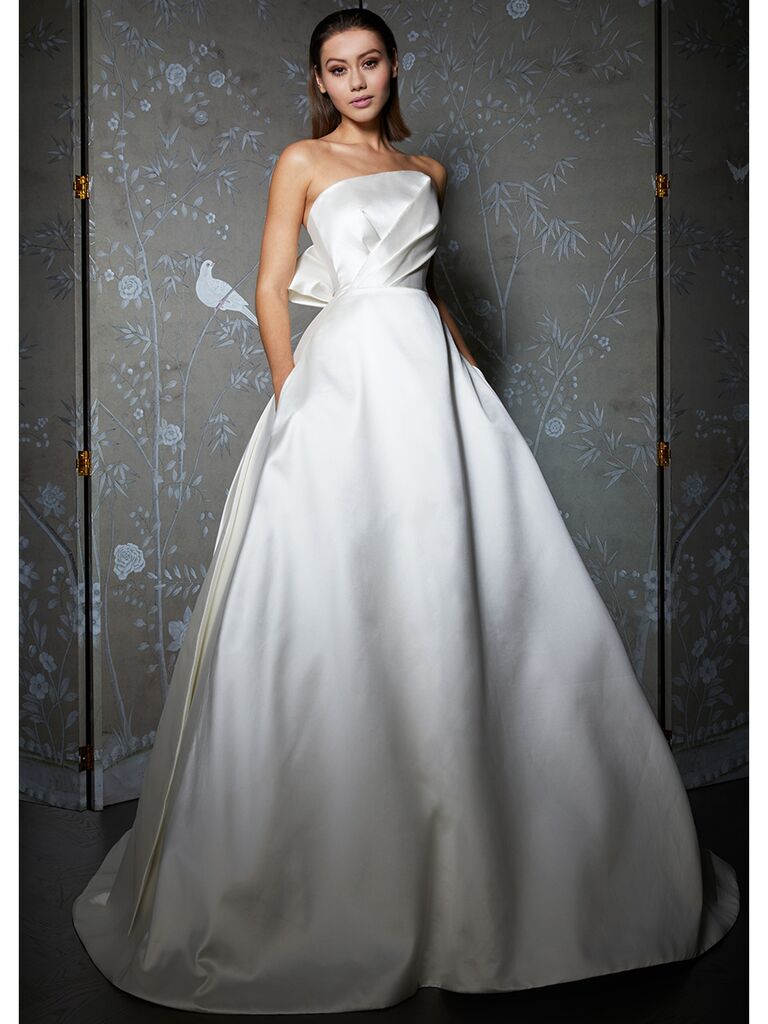 Silk ball gown with draped bodice and detachable bow.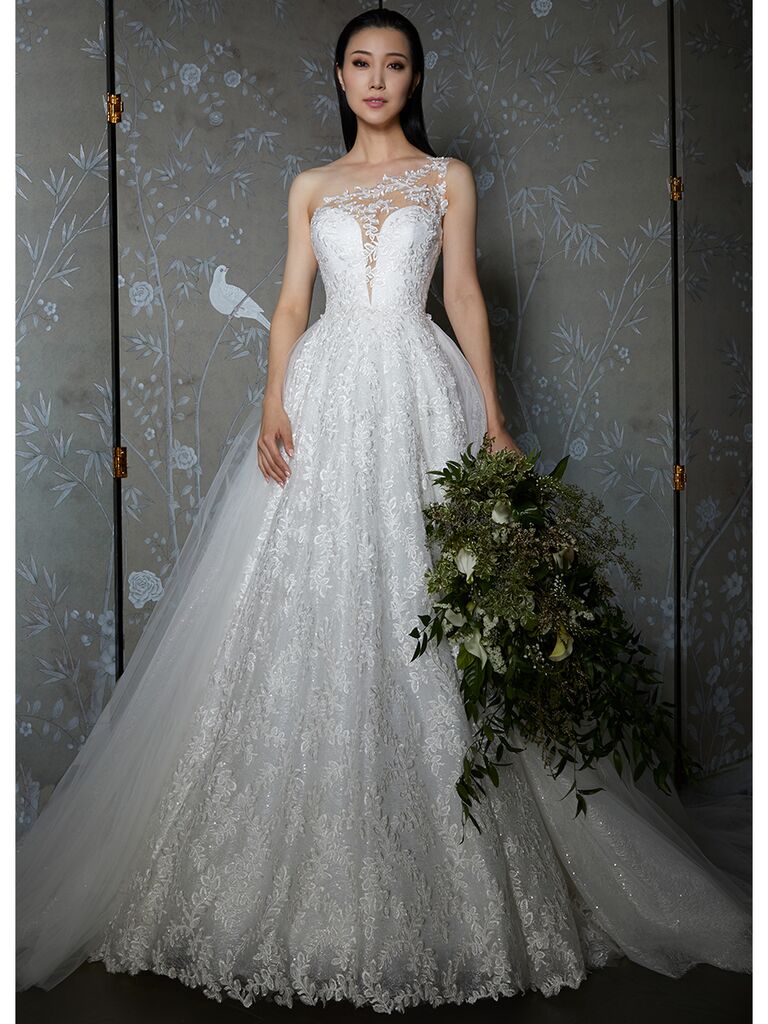 Trellis sparkle lace ball gown with illusion one-shoulder neckline and shimmering net overskirt.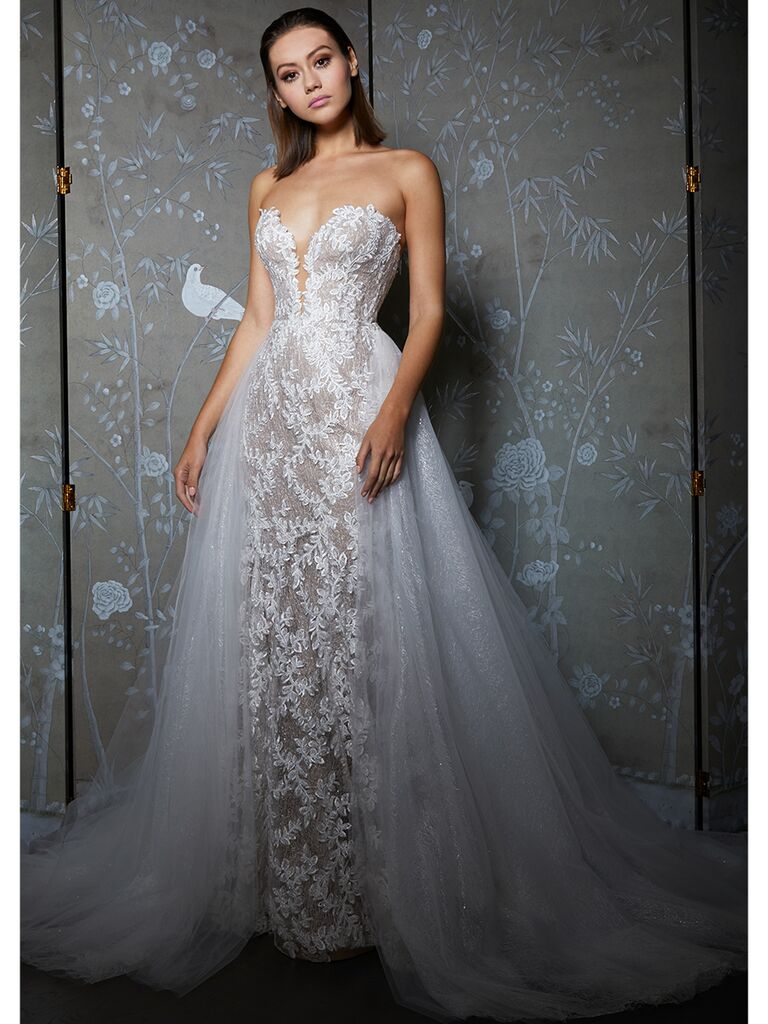 Strapless trellis lace gown with plunging illusion neckline and shimmering net overskirt.
To check out all the Bridal Fashion Week galleries, plus wedding dress advice and more, go to TheKnot.com/bridal-fashion-week.