See Naeem Khan Wedding Dresses From Bridal Fashion Week
Here's the designer's latest collection to hit the bridal runways.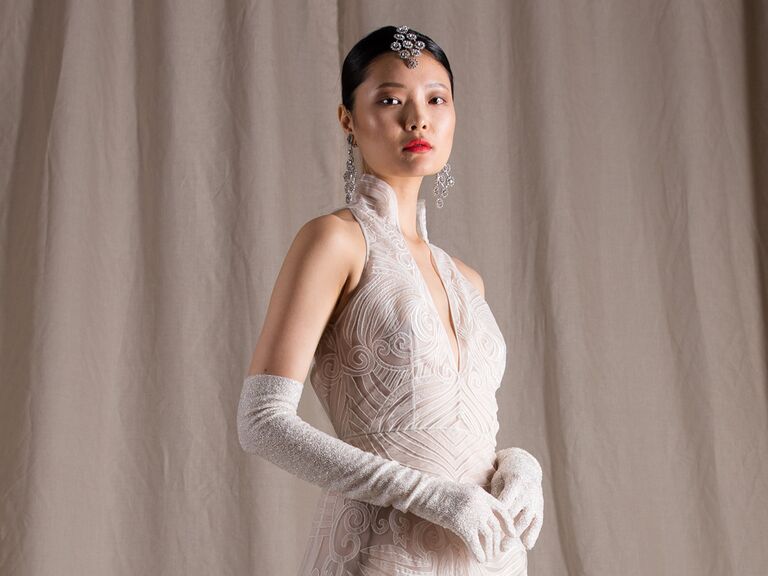 Kellie Walsh
Naeem Khan designs elegant, impeccably detailed clothes for celebrities, royalty and other high-profile women around the world, and brings his renowned sleek silhouettes and rich embellishments to his bridal designs. Naeem Khan's bridal collection combines mastery of fit, construction, and technique with a couture sense of style and attention to detail. Each gown is created with the finest fabrics and materials, and is embroidered and beaded entirely by hand. Khan's his unique style and intricate details are what set his looks apart from the rest. Naeem Khan wedding dresses often appeal to a non-traditional bride who isn't afraid to make a statement on her big day.
See every dress from Naeem Khan's 2022 collection below.
Naeem Khan's Spring 2022 Wedding Dresses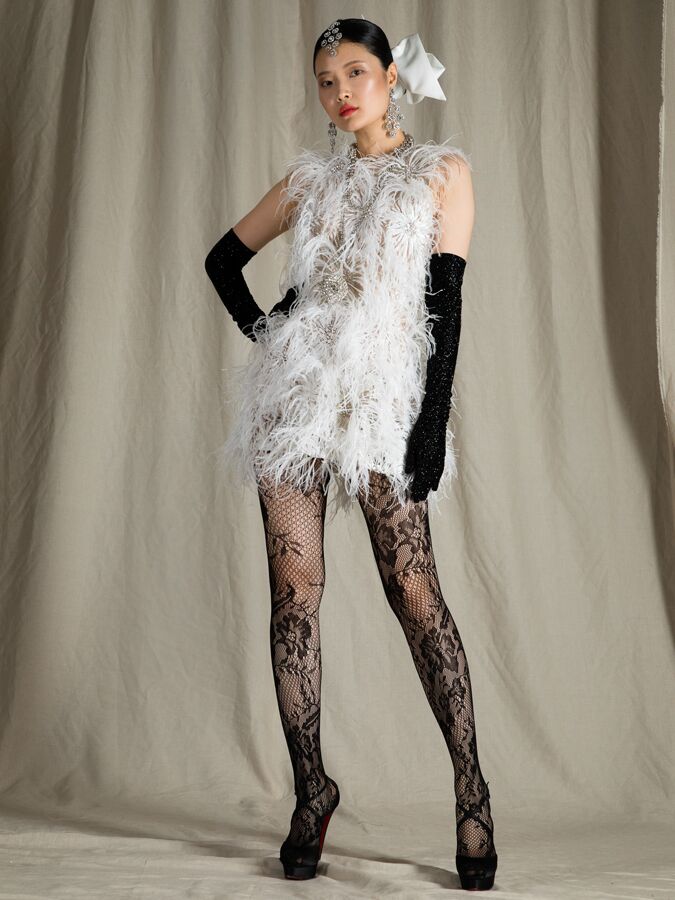 "Amadora" Gown; strapless beaded feather mini dress.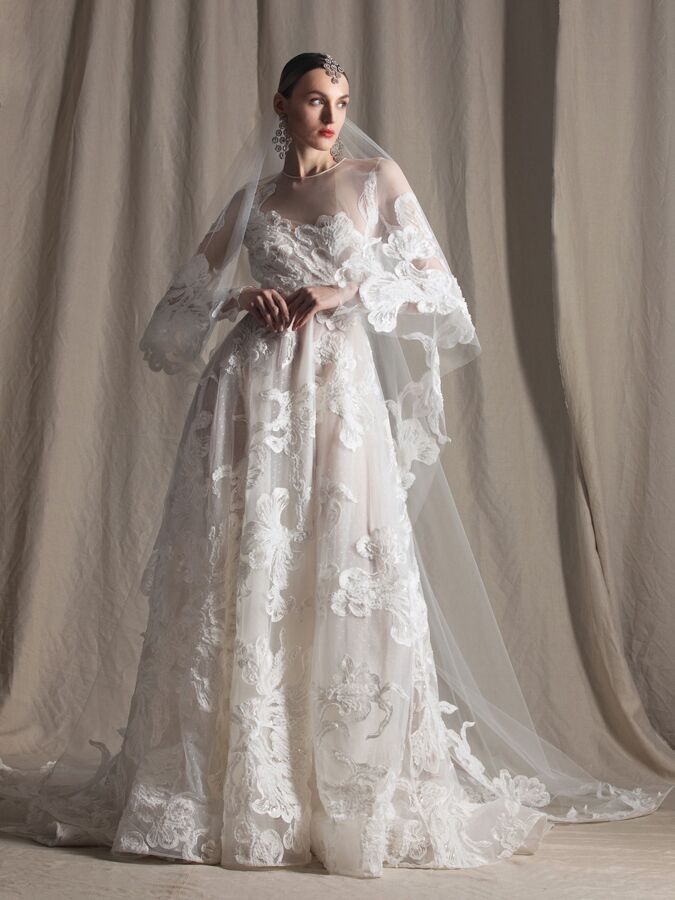 "Amorosa" Gown; lace and tulle illusion wedding dress with large floral appliqués and long sleeves.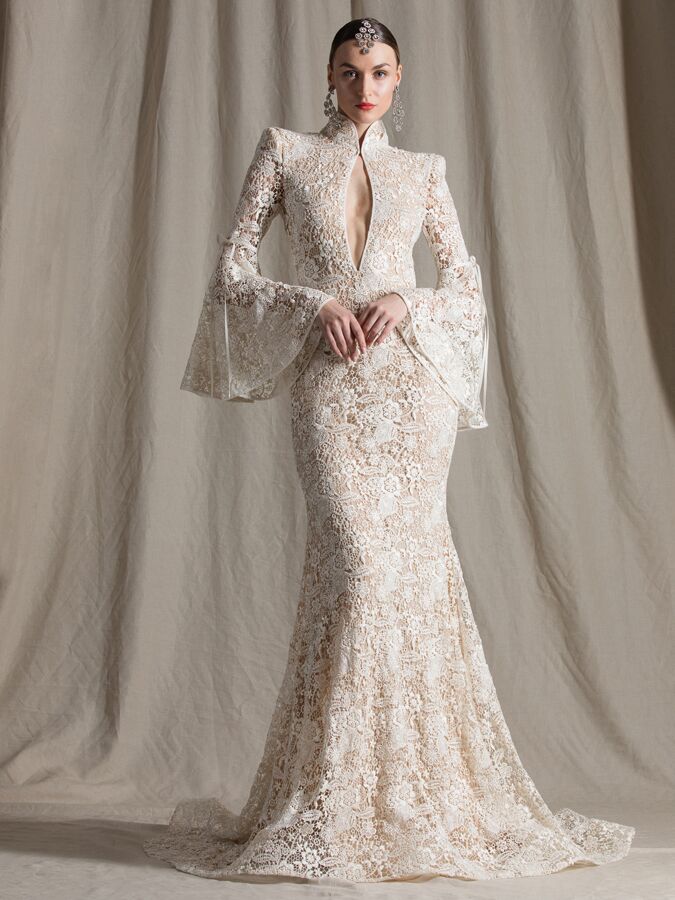 "Cambria" Gown; lace fit-and-flare wedding dress with trumpet sleeves and high neckline.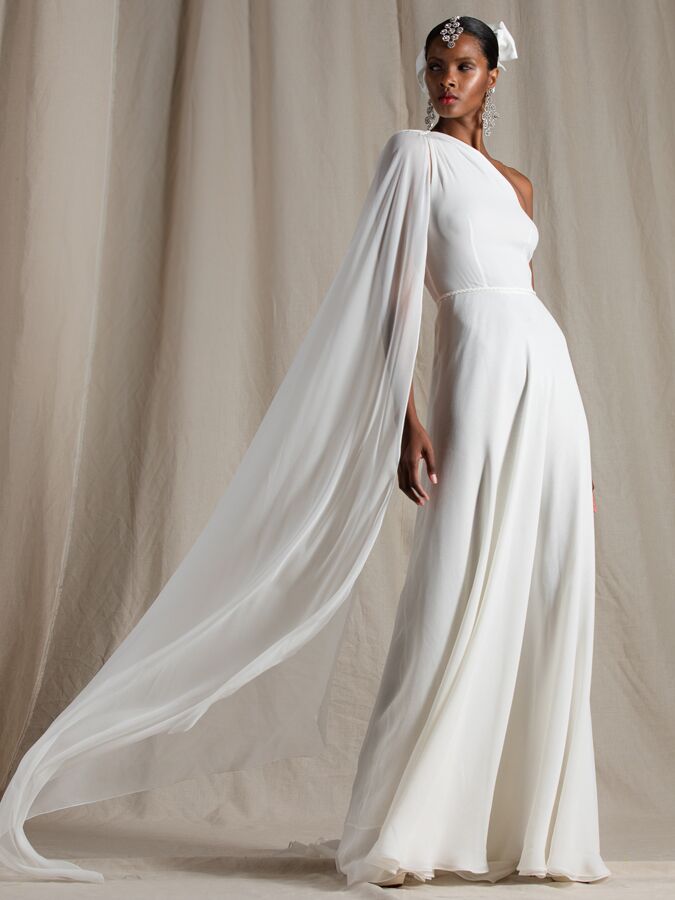 "Castello" Gown; silk chiffon A-line wedding dress with one-shoulder detail.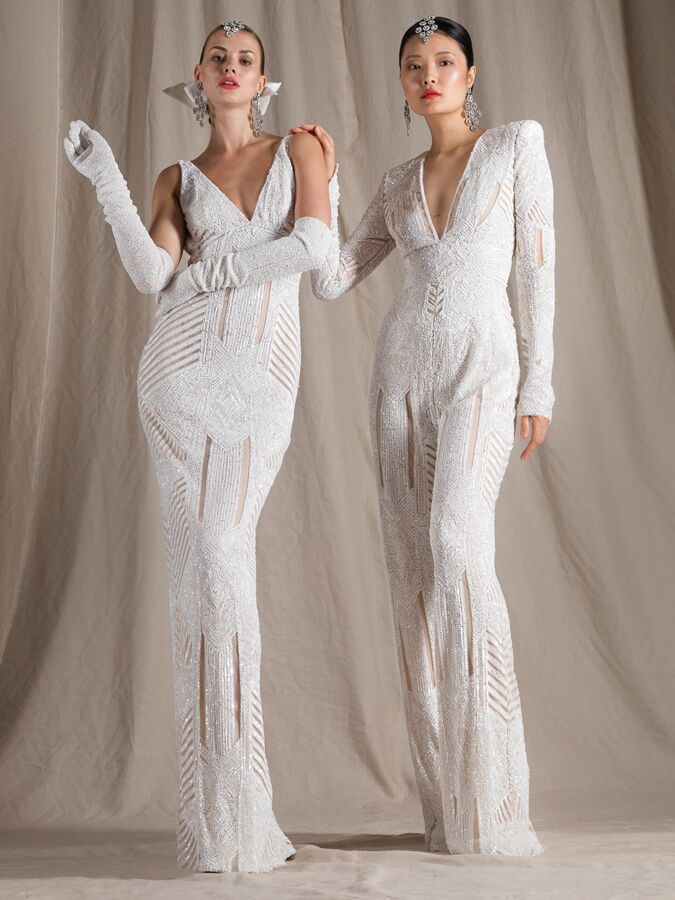 Left: "Clarito" Gown; geometric beaded sleeveless column wedding dress with V-neck.
Right: "Retiro" Jumpsuit; long sleeve jumpsuit covered in art-deco beading with V-neckline.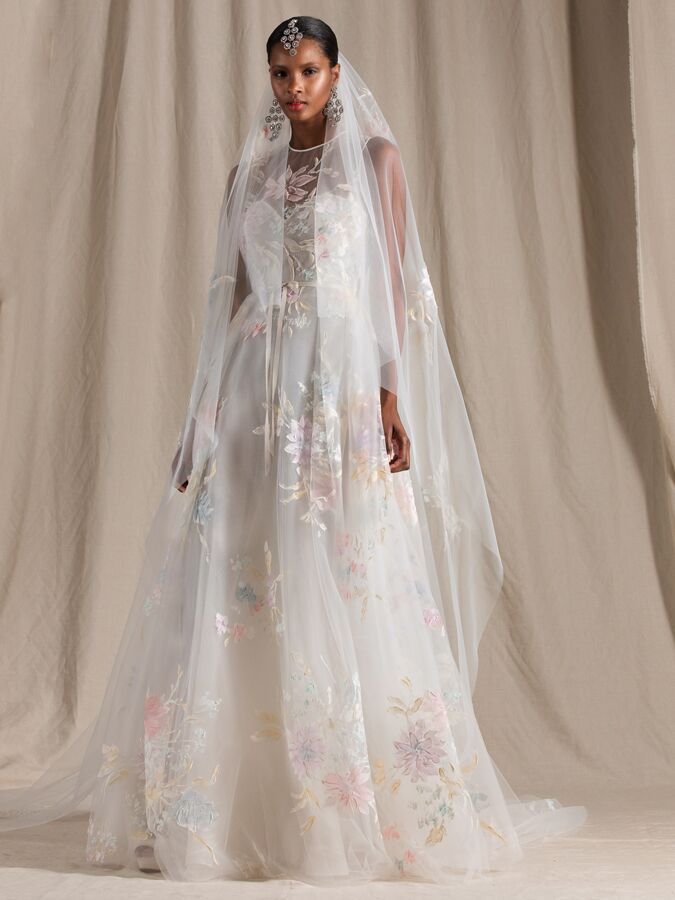 "Flores" Gown; tulle A-line wedding dress with illusion sweetheart neckline and pastel floral embroidery.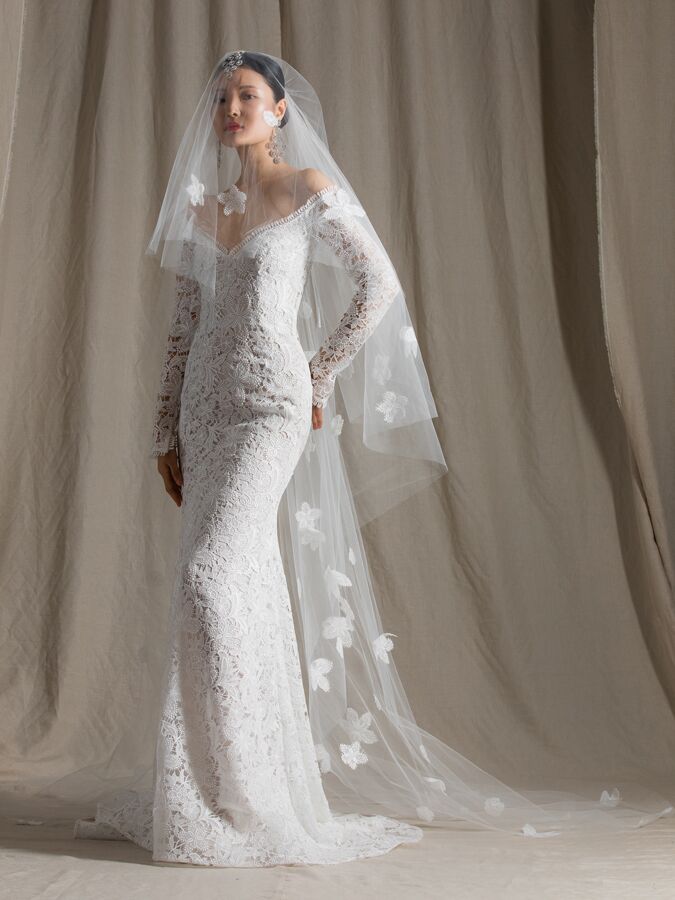 "Gardenia" Gown; off-the-shoulder lace trumpet wedding dress with long sleeves and sweetheart neckline.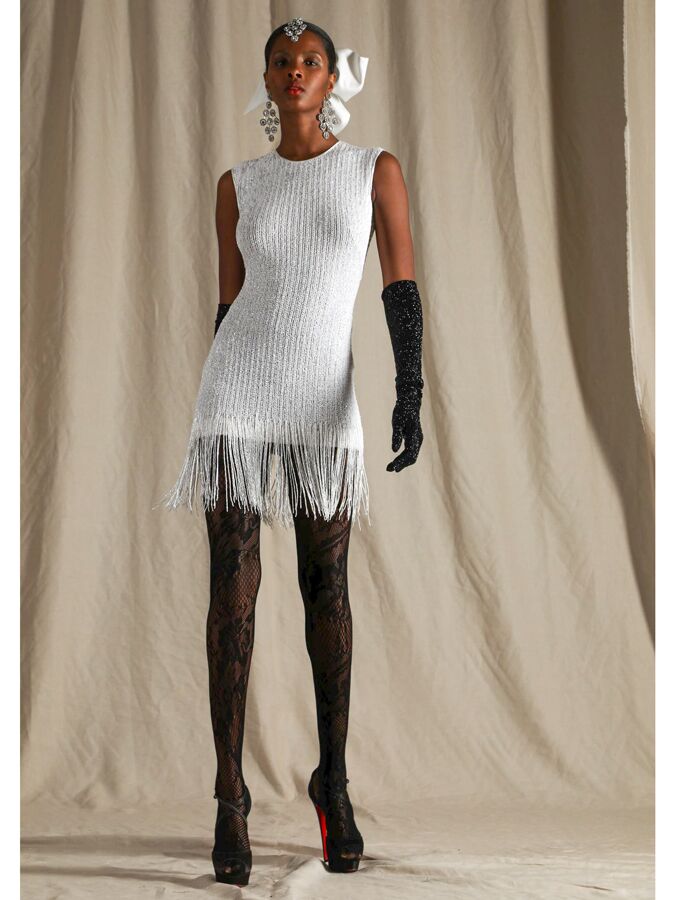 "Izura" Gown; sleeveless flapper-inspired beaded mini dress with fringe.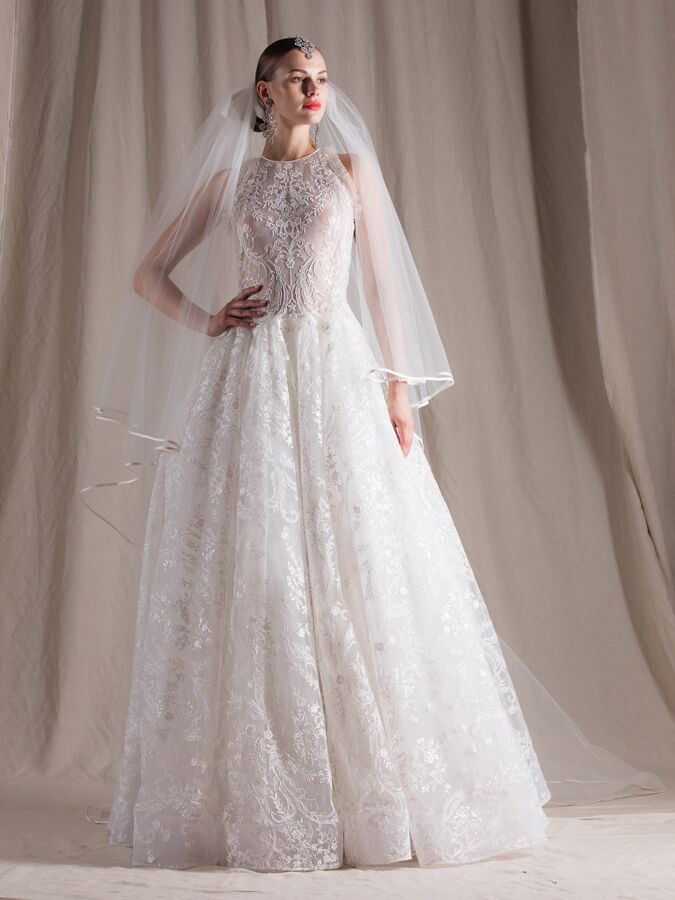 "Luxembourg" Gown; lace sleeveless tulle ball gown with illusion neckline and sheer embroidered bodice.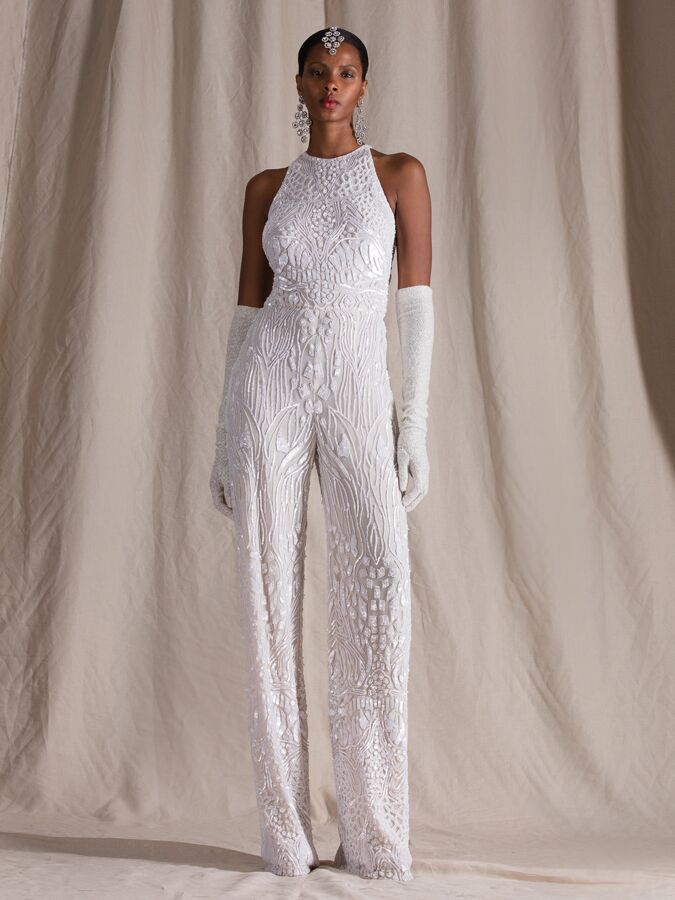 "Malaga" Jumpsuit; sequin and pearl beaded sleeveless jumpsuit with high neckline.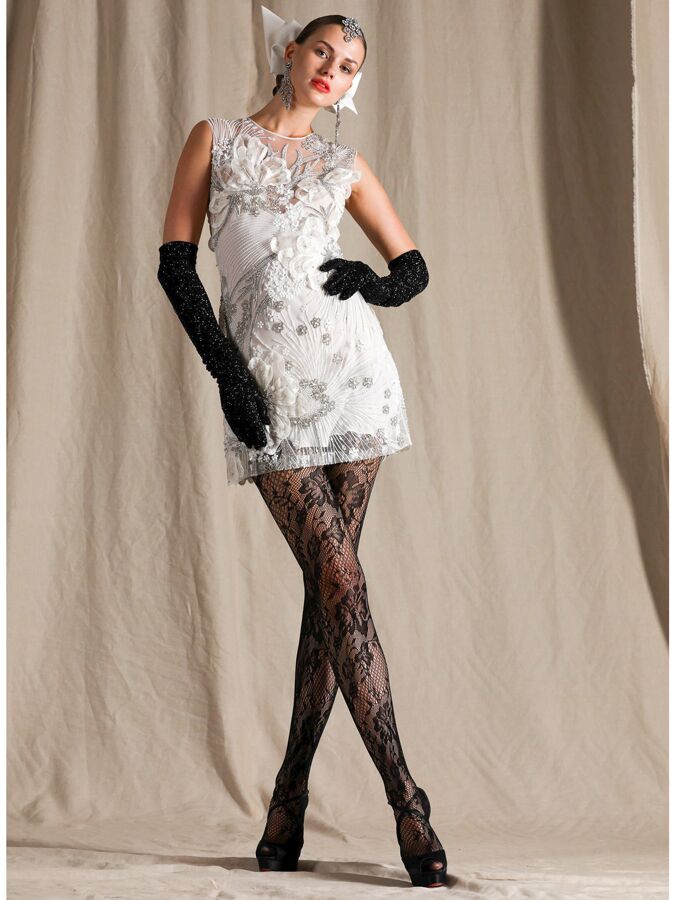 "Mallorca" Gown; beaded sleeveless mini dress with 3D organza appliqués.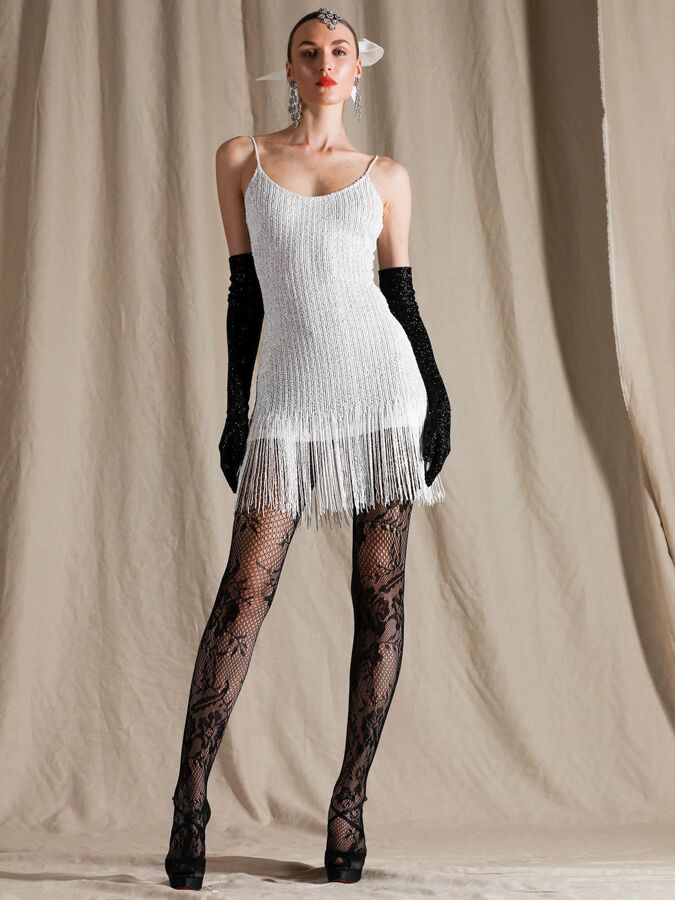 "Malta" Gown; beaded fringe sleeveless mini dress with spaghetti straps and scoop neckline.
"Marjorelle" Gown; beaded Chantilly lace column dress with 3D floral appliqués and three-quarter-length sleeves.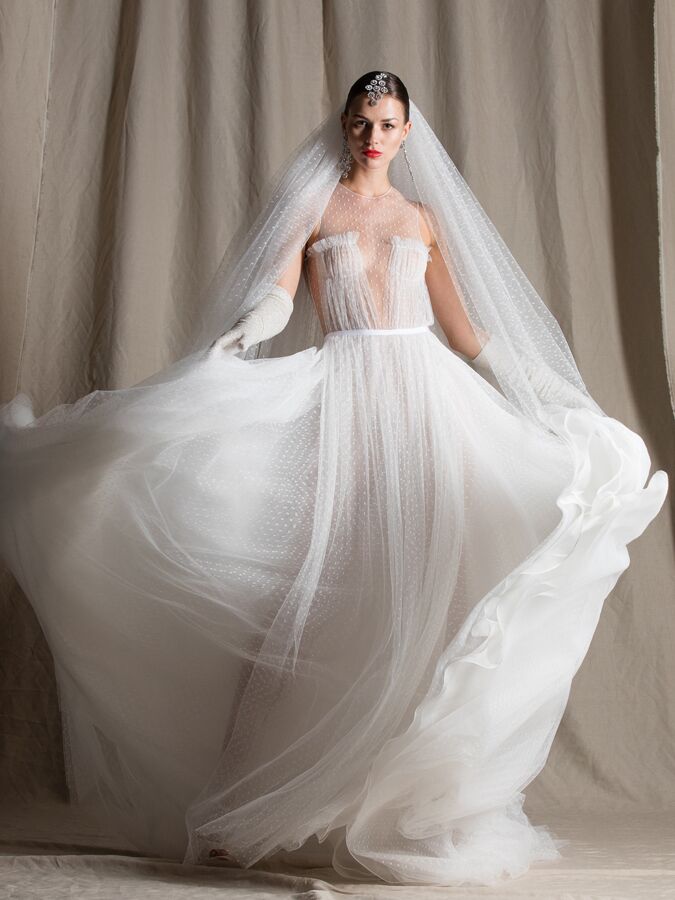 "Montecito" Gown; A-line Swiss dot tulle wedding dress with ruched bodice and illusion high neckline.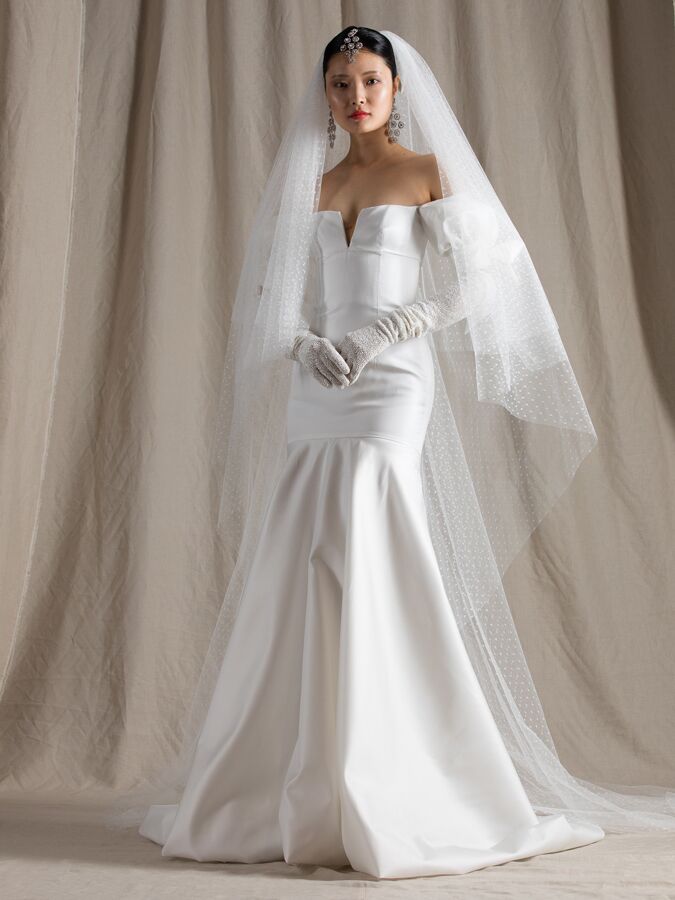 "Montelena" Gown; silk mikado off-the-shoulder trumpet wedding dress with puff sleeves and knotched neckline.
"Roselle" Gown; strapless lace A-line wedding dress with sweetheart neckline and 3D floral appliqués.
"Salinas" Gown; beaded long sleeve fit-and-flare wedding dress with godet skirt.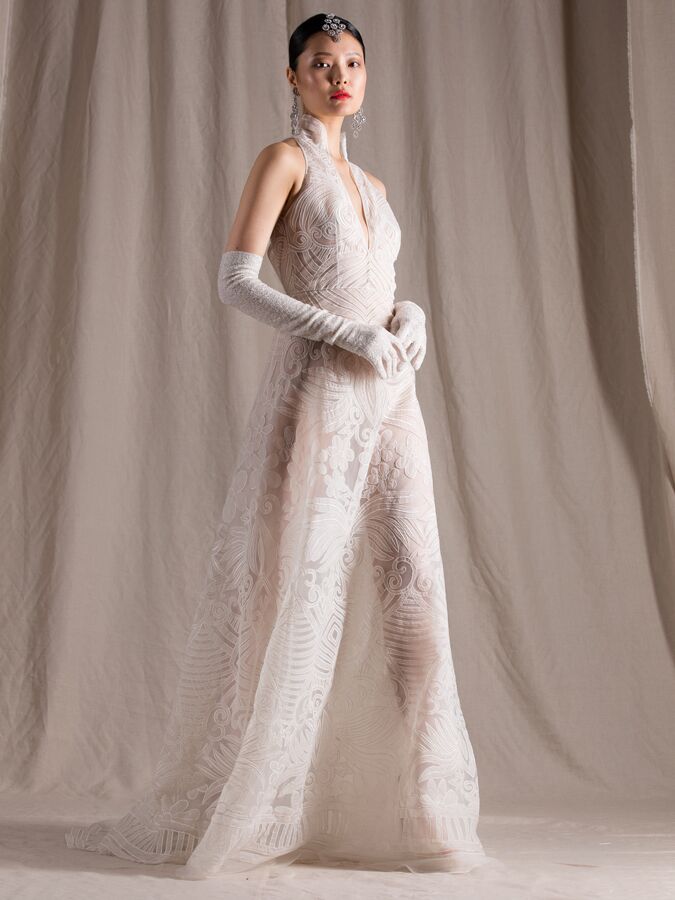 "Turia" Gown; sleeveless A-line organza wedding dress with deep V-neckline and organza appliqués.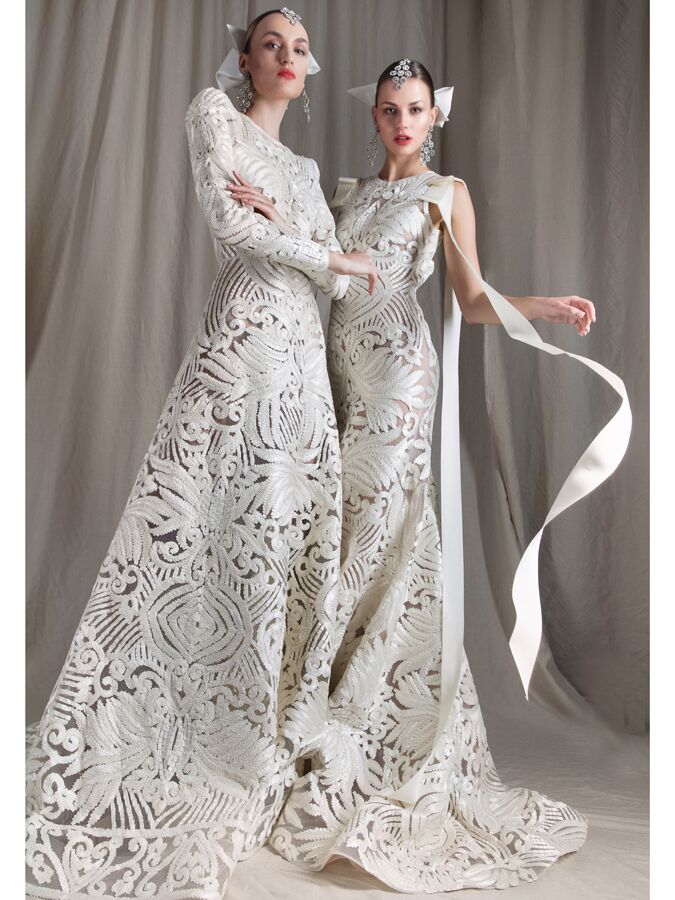 Left: "Verona" Gown; embroidered lace A-line wedding dress with long sleeves.
Right: "Ventura" Gown; embroidered lace fit-and-flare wedding dress with ribbon details and open back.
"Villandry" Gown; A-line lace and tulle wedding dress with long sleeves and high neck collar.
Naeem Khan's Signature Style
Naeem Khan is known for his ornate and intricately detailed gowns, and for dressing First Lady Michelle Obama, Queen Noor of Jordan and Catherine, Duchess of Cambridge. Khan often looks to different cultures and eras for inspiration, as well as his love of all things disco. He has created unique pieces like a Bianca Jagger-esque pant suits, minis that would fit right in at Studio 54, gold jumpsuits, feathered sheaths and fringed skirts.
A Brief History of Wedding Dress Designer Naeem Khan
Born and raised in Mumbai, fashion designer Naeem Khan grew up surrounded by culture, architecture, art, history and design. As a boy, he cultivated a vast knowledge of textiles through his grandfather and father, both of whom designed intricate clothing worn by Indian royalty. Khan moved to the United States as a teenager to become a designer and launched his career as an apprentice for legendary American designer Halston at the age of 20. During his time with Halston, he learned the craft of draping and cutting fabric to create a clean, elegant and timeless silhouette — working with cultural icons such as Liza Minnelli, Andy Warhol and Elizabeth Taylor. Khan eventually merged this design philosophy with the knowledge he gained from his family's business to nurture his own unique style. Today the Naeem Khan ready-to-eear and bridal collections are sold at more than 150 retail outlets worldwide.
Naeem Khan Collection History
Khan launched his eponymous collection in 2003 and began selling at Bergdorf Goodman, Neiman Marcus and Saks Fifth Avenue. After over a decade of designing ready-to-wear, Khan debuted his first bridal collection in 2013, and women everywhere have loved wearing his wedding dresses ever since.
Naeem Khan's Spring 2022 collection is focused on providing more modern pieces for brides that want to feel more empowered and less precious. The collection features updates like sheer long sleeves, low V-necklines slimmer silhouettes and airy skirts. Delicate embroideries and hand-stitched veils offered a subtler take on the designer's typically avant garde bridalwear.
Famous Naeem Khan Brides
CNN anchor, Brooke Baldwin, wore a custom made fitted beaded gown by Naeem Khan during her outdoor wedding in Ghent, New York. Victoria's Secret model Ana Beatriz Barros wore two Naeem Khan dresses for post-wedding celebrations in Capri, Italy, including a short white fringed dress and a shimmering gold fringed dress.
Hannah Bronfman, billionaire heiress and entrepreneur, wore a black feathered Naeem Khan cape look for a post-wedding celebration during her four day wedding weekend extravaganza in Morocco.
Fun Facts about Naeem Khan
Naeem Khan's ready-to-wear collections have been worn by many celebrities and royals around the world, including Beyoncé, Jennifer Lopez, Taylor Swift, Rachel McAdams, First Lady Michelle Obama, Queen Noor of Jordan, and the Duchess of Cambridge, Kate Middleton, among others.
In 2008, Khan was inducted as a member of the prestigious Council of Fashion Designers of America.
In April 2016, the Duchess of Cambridge, Kate Middleton, wore a Naeem Khan dress on her visit to the Taj Mahal with Prince William in Agra, India.
Naeem Khan Previous Wedding Dress Collections
Naeem Khan's Fall 2021 Wedding Dresses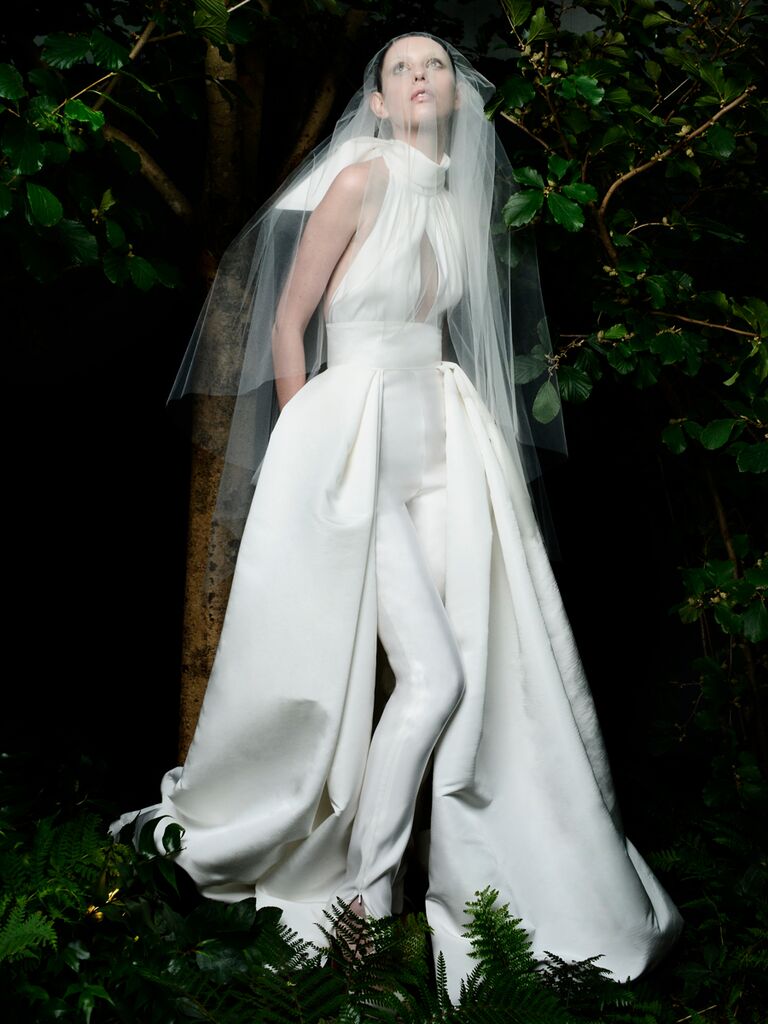 "Como" halter jumpsuit with bow-tie neck, keyhole cutout and pleated overskirt.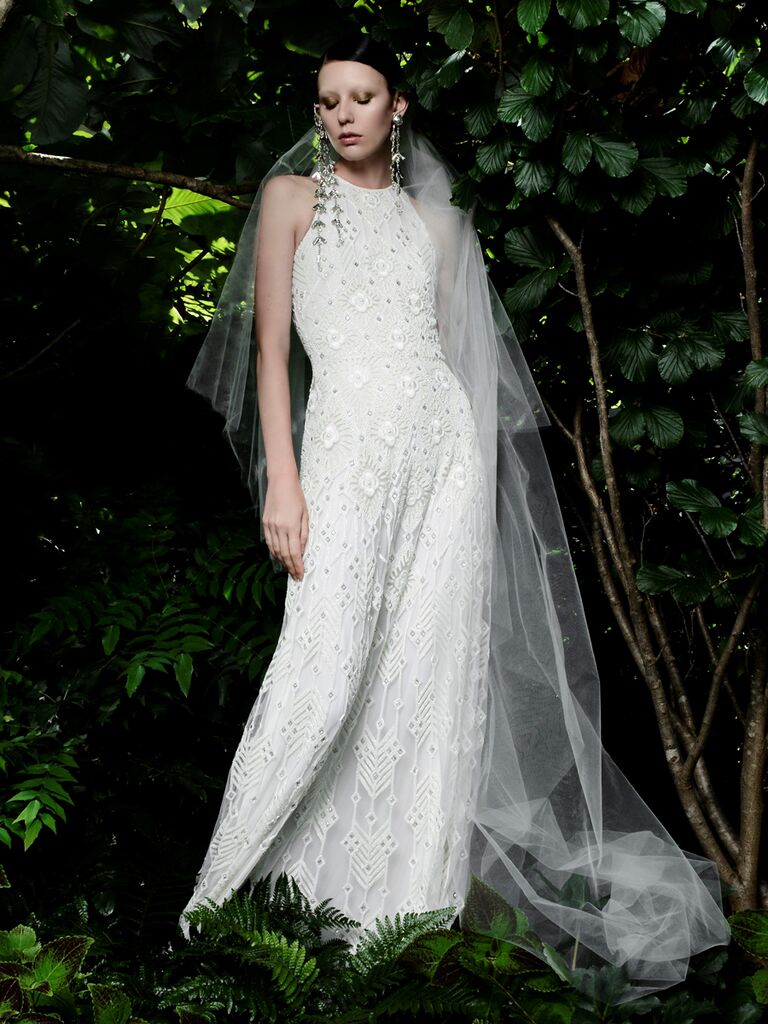 "Hanalei" halter sheath dress with geometric embroidery and beading.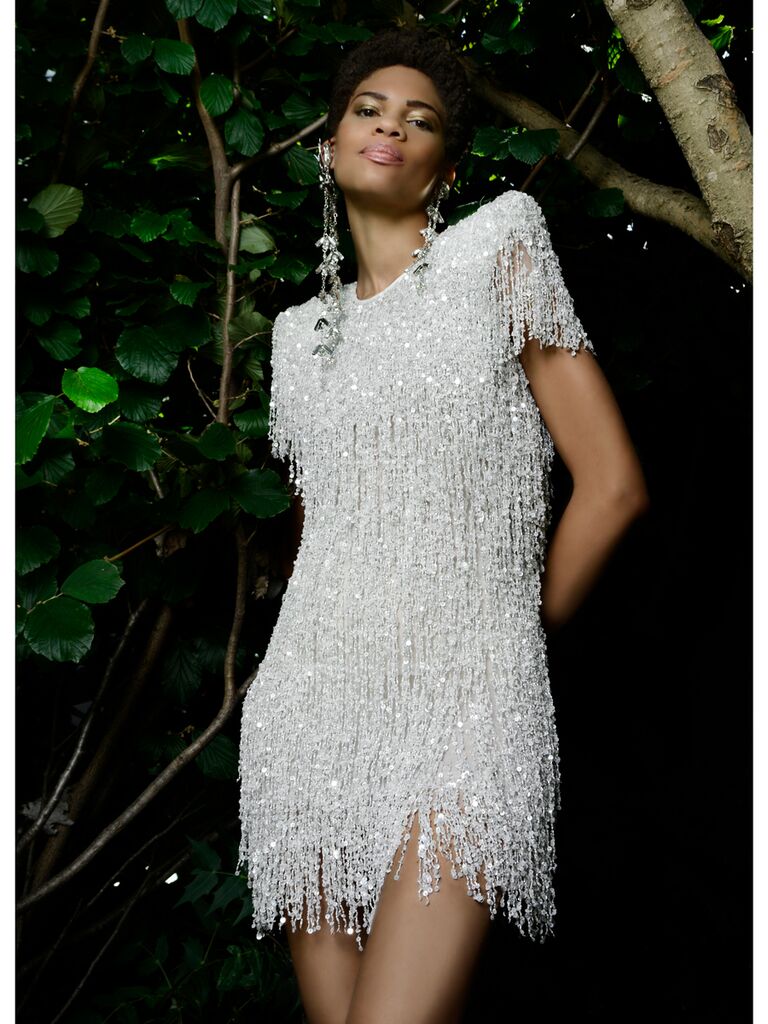 "Ibiza" beaded fringe mini dress with defined shoulders.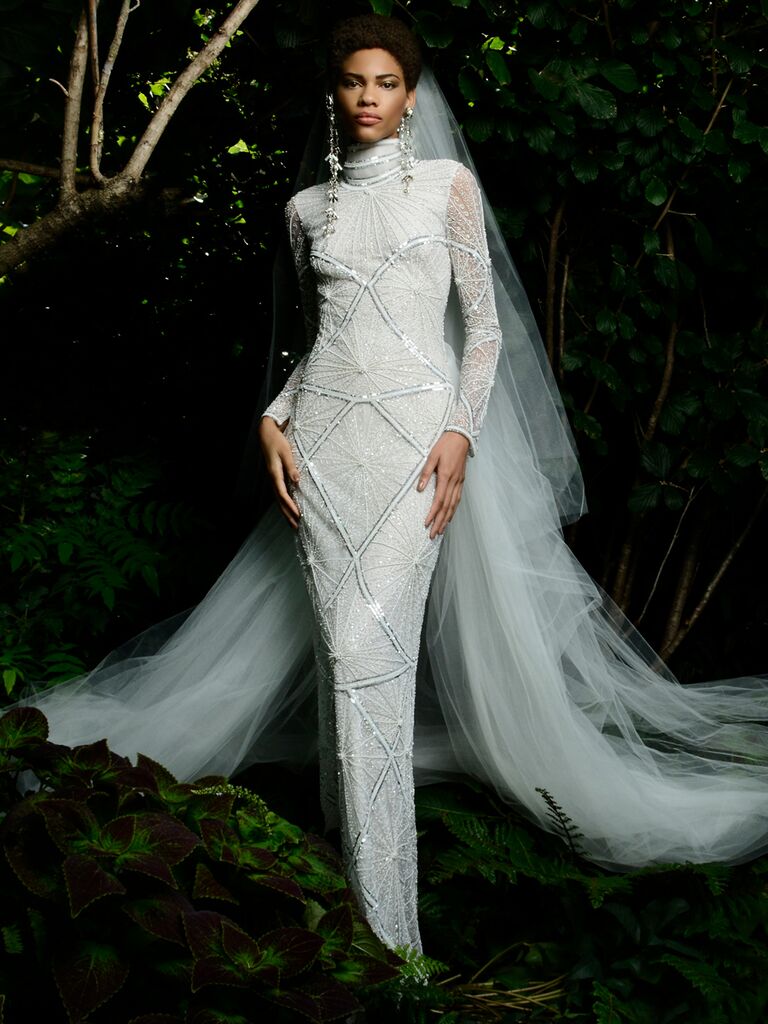 "Indra" geometric metallic beaded column dress with high neck and illusion beaded long sleeves.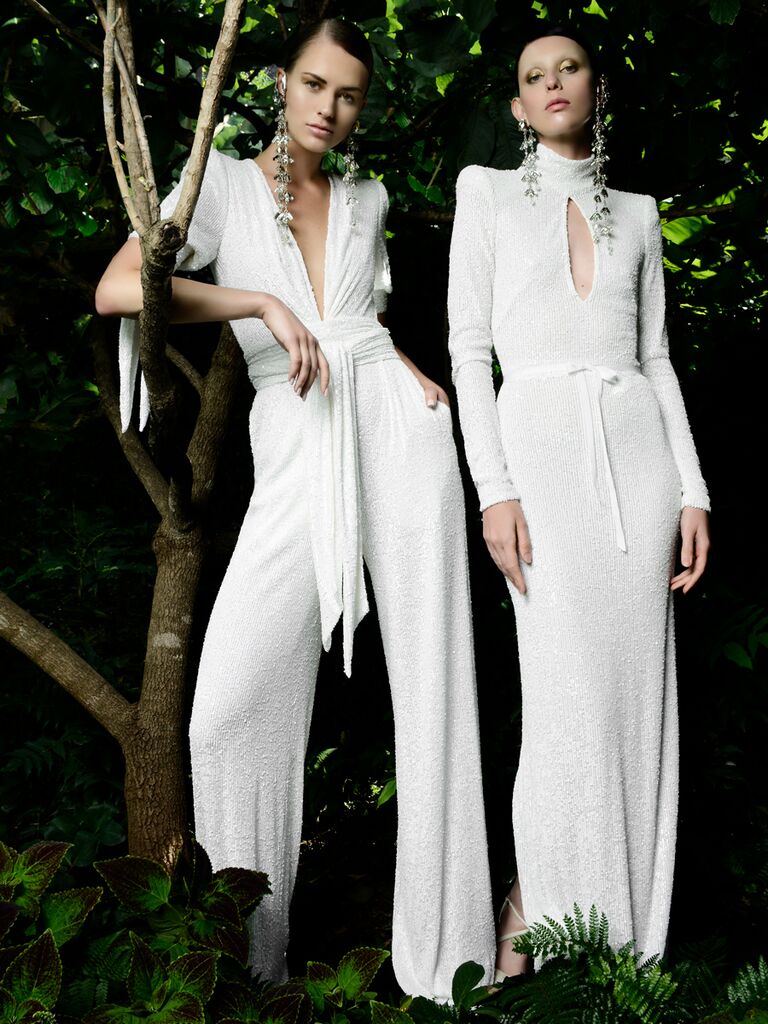 Left: "Isla" sequin jumpsuit with wrap tie belt, tie sleeves and plunging neckline.
Right: "Tahoe" sequin long sleeve sheath dress with high neck, keyhole cutout and ribbon tie belt.
"Marina" intricately embroidered long sleeve sheath dress with plunging neckline and tulle overskirt.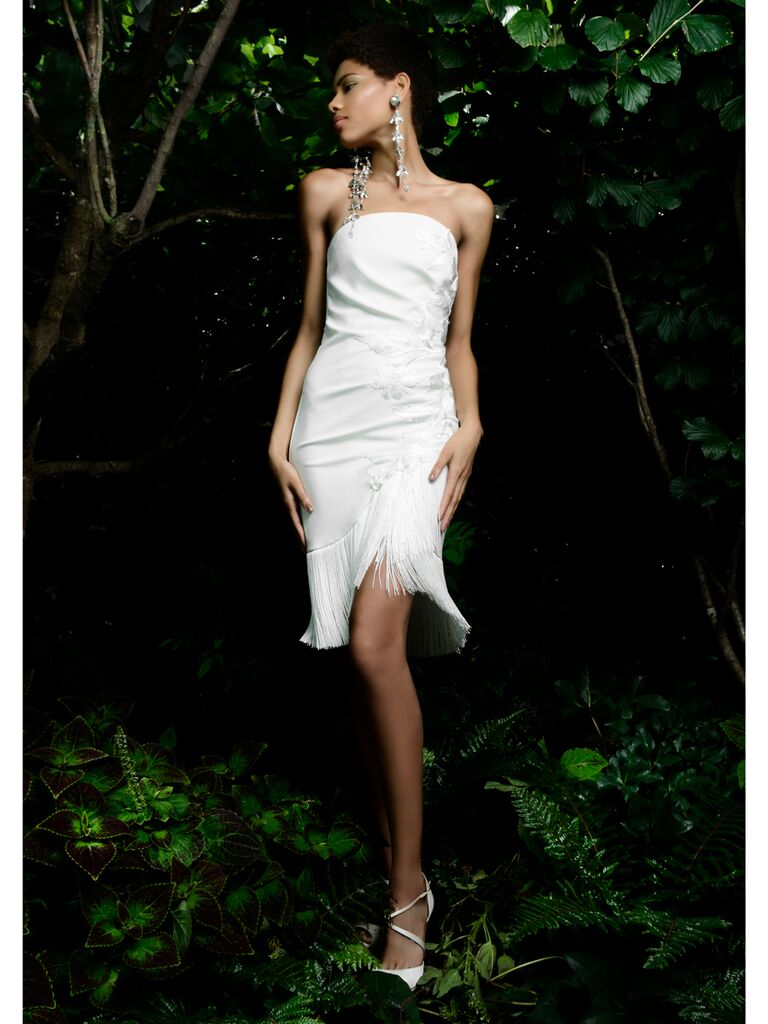 "Maui" strapless mini dress with asymmetrical draping and floral appliques leading to flirty fringe hem.
"Melissani" lattice beaded long sleeve A-line gown with plunging neckline and thin belt accent.
"Moraine" off-the-shoulder drop waist ball gown with pockets and thin belt.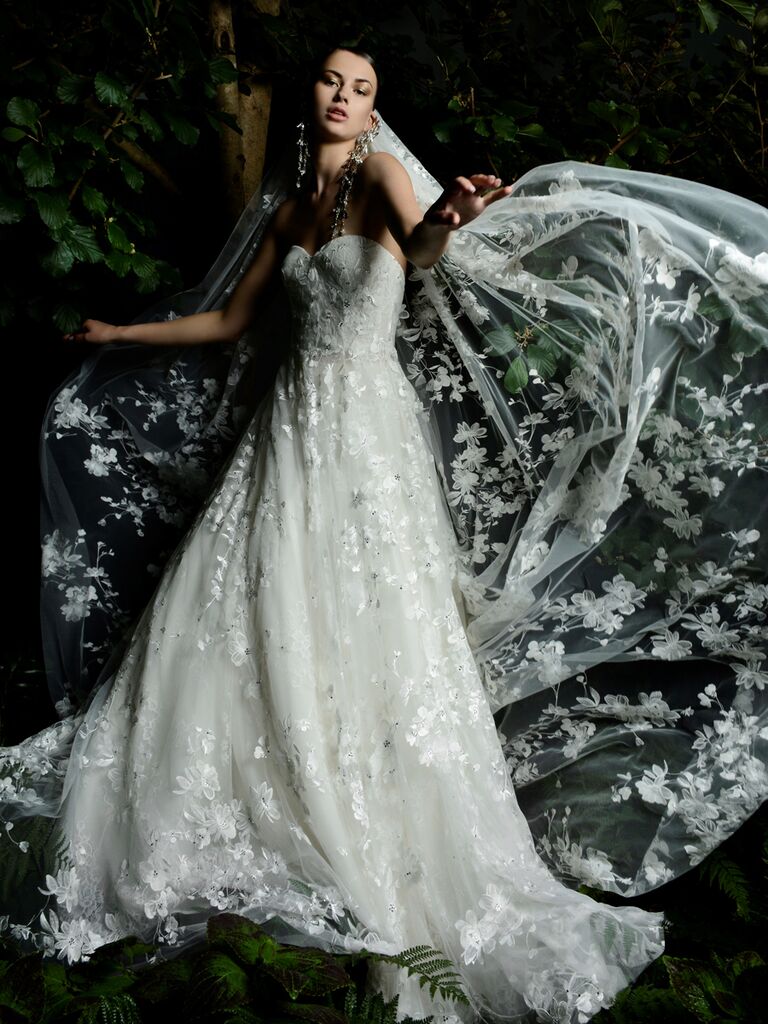 "Oneida" strapless floral lace A-line gown with corset sweetheart bodice.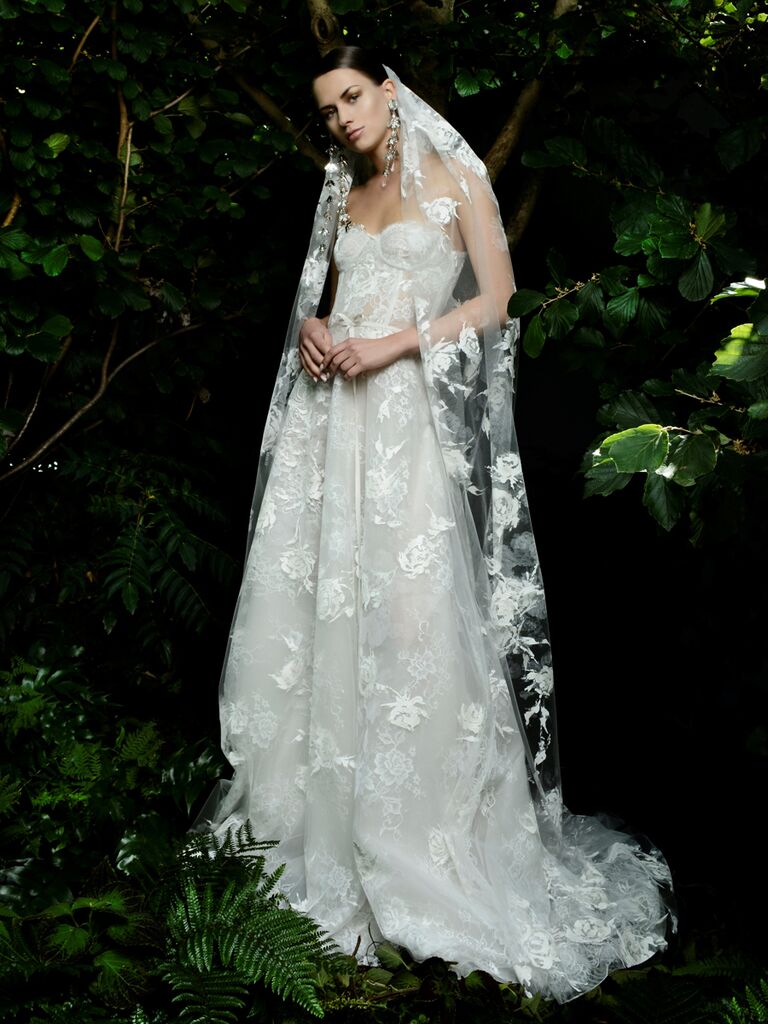 "Riviera" sheer sweetheart corset A-line gown with floral lace and ribbon belt.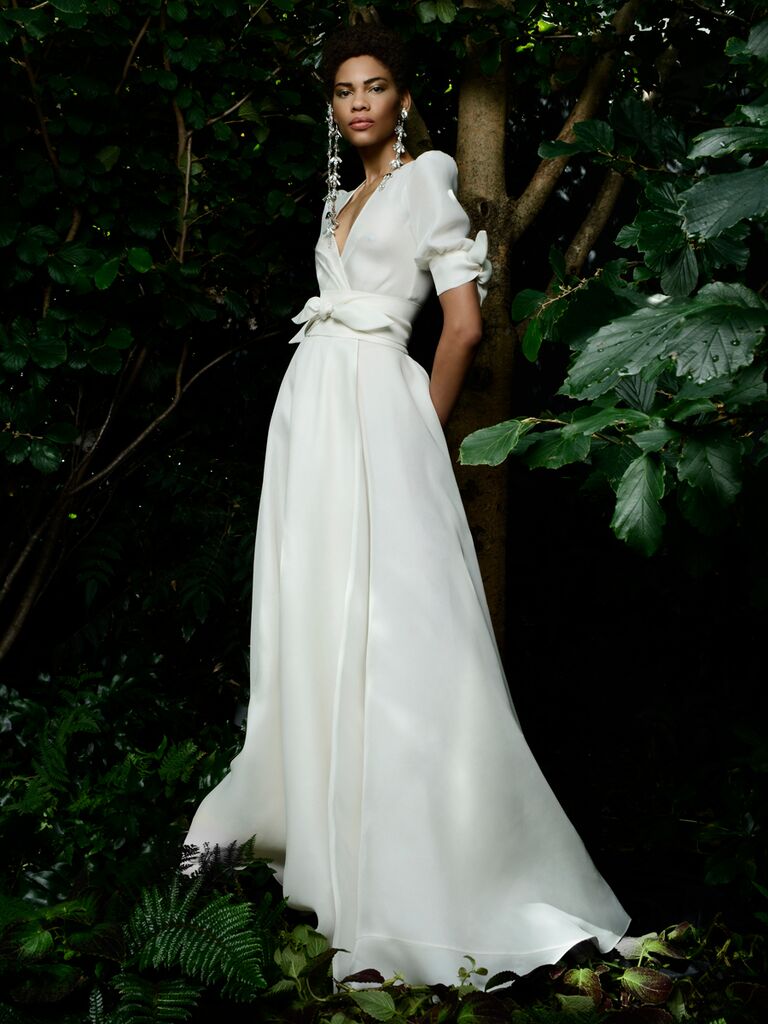 "Sanibel" wrap gown with tie bubble sleeves, tie cummerbund belt and plunging neckline.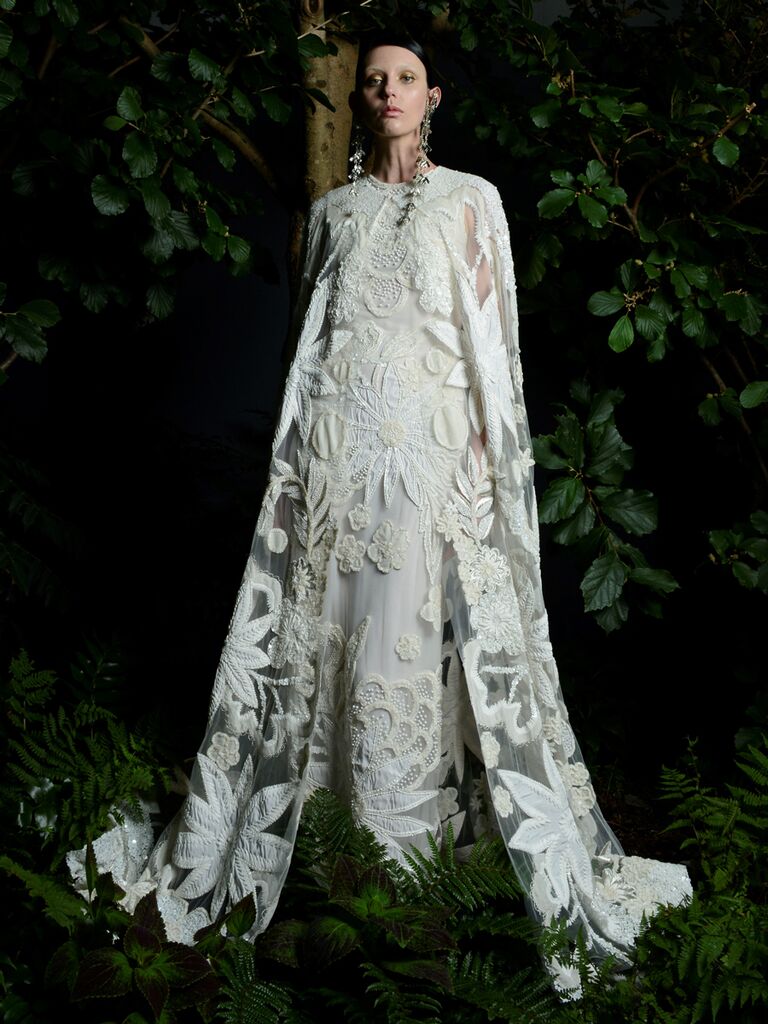 "Tallulah" intricately floral embroidered and beaded column gown with matching floor-length cape.
To check out all the Bridal Fashion Week galleries, plus wedding dress advice and more, go to TheKnot.com/bridal-fashion-week.