See Savannah Miller Wedding Dresses From Bridal Fashion Week
Here's the designer's latest collection to hit the bridal runways.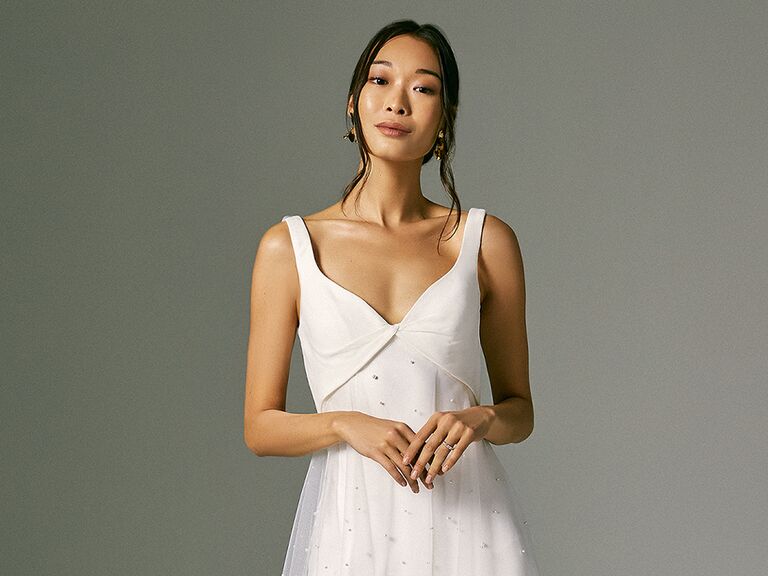 Savannah Miller designs for the modern romantic and her ethereal wedding gowns are simply swoon-worthy. Savannah Miller wedding dresses nail understated elegance with an elevated bohemian vibe for the free-spirited bride. These dreamy wedding gowns are both effortless and fashion-forward, capturing of-the-moment trends and translating them into bridal. Her effortless gowns transform silhouettes with unexpected details that bring them to life. Savannah Miller's impeccable collections embody easy romance and celebrate individuality among real brides. From slinky sheaths to tailored jackets and chic jumpsuits, Savannah Miller bridal offers a diverse range of bridal options that exude laid-back glamour.

See every dress from Savannah Miller's 2022 collection below. 
Savannah Miller's Spring 2022 Wedding Dresses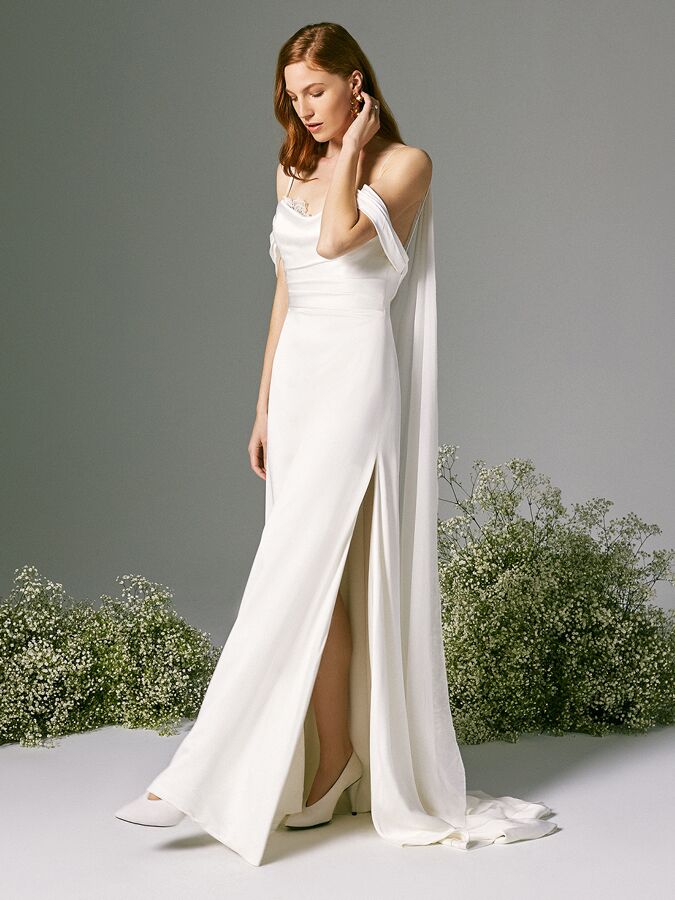 "Alessandra" Gown; satin draped wedding dress with spaghetti straps, scalloped lace trim, side slit, and detacahble cape.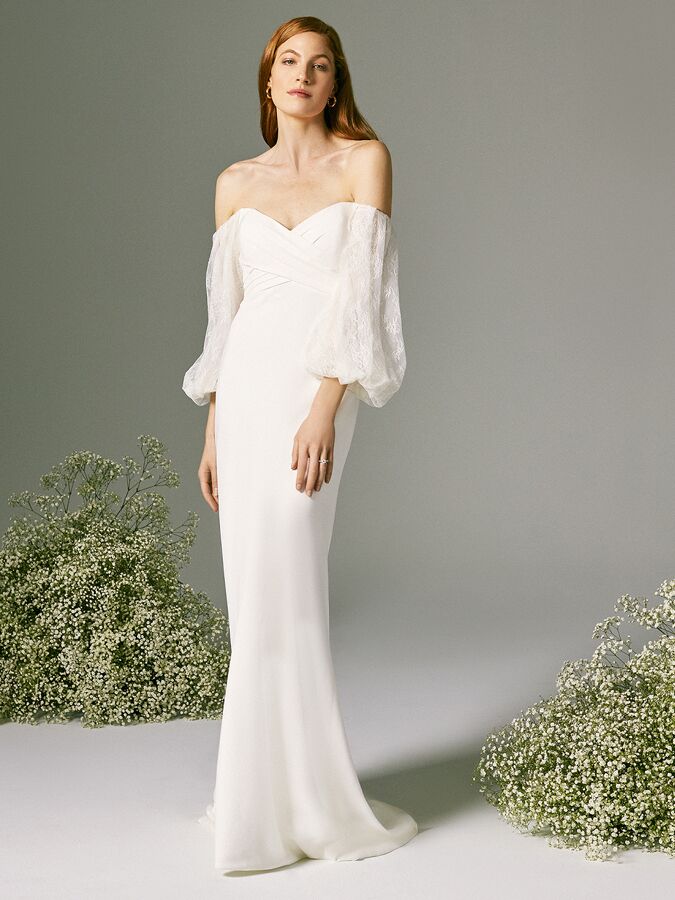 "Amelie" Gown; strapless wedding dress with sweetheart neckline, Chantilly lace cold shoulder sleeves and criss-cross pleated bodice.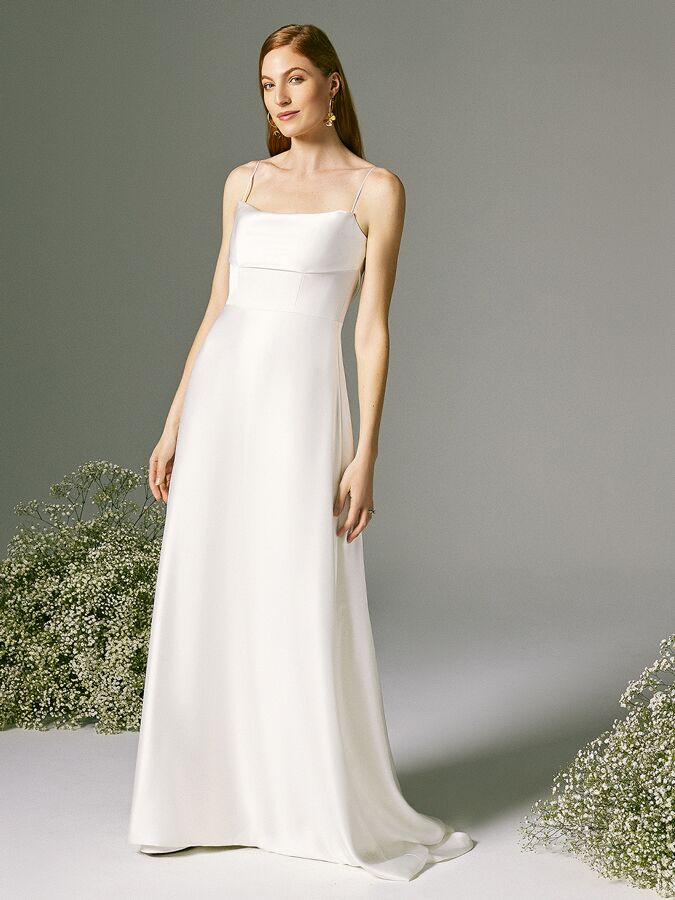 "Cleo" Gown; structured satin sleeveless fit-and-flare wedding dress with curved neckline and spaghetti straps.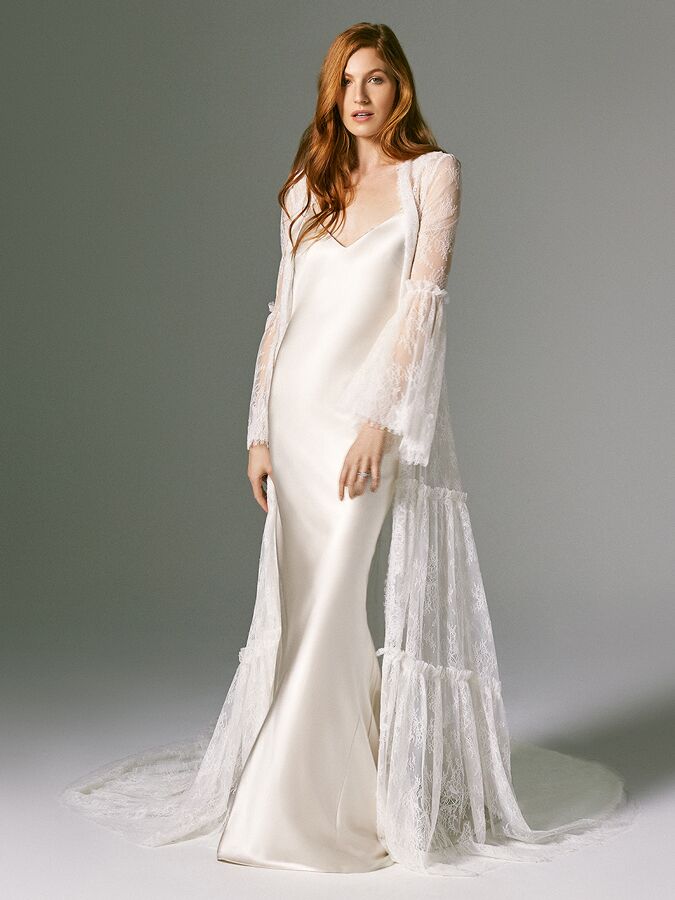 "Georgiana" Gown; delicate tiered Chantilly lace cape coat with fluted sleeves.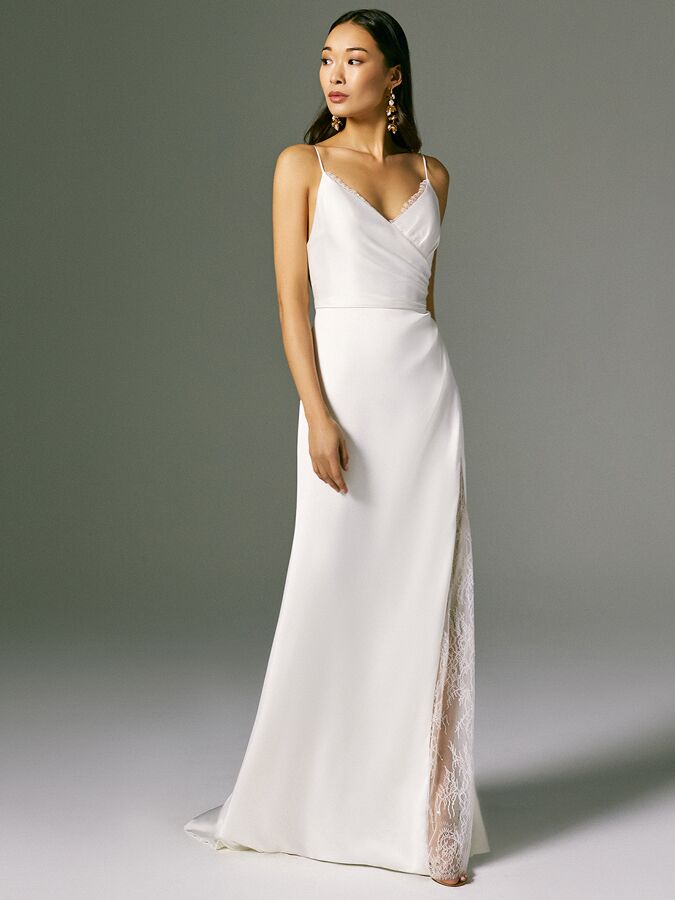 "Gia" Gown; satin column dress with wrap bodice, lace trim and godet, spaghetti straps and train.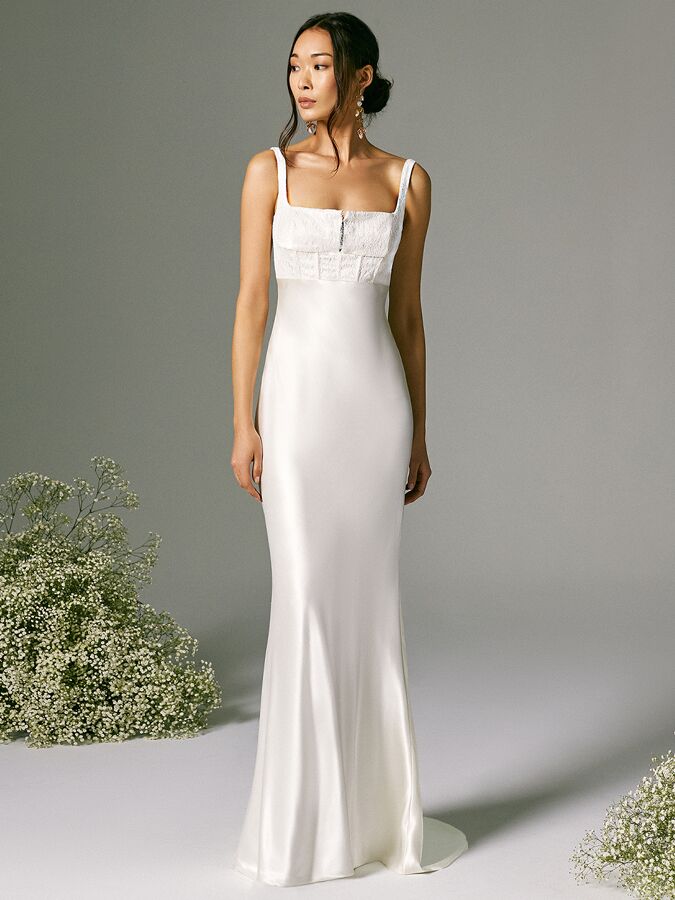 "Lorien" Gown; sleeveless satin slip dress with lace corseted bodice, square neckline and empire waist. 
"Lucia" Gown; matte and shine satin wedding dress with empire waist, spaghetti straps, sweetheart neckline, scalloped lace trim at the bust and chiffon tie streamers.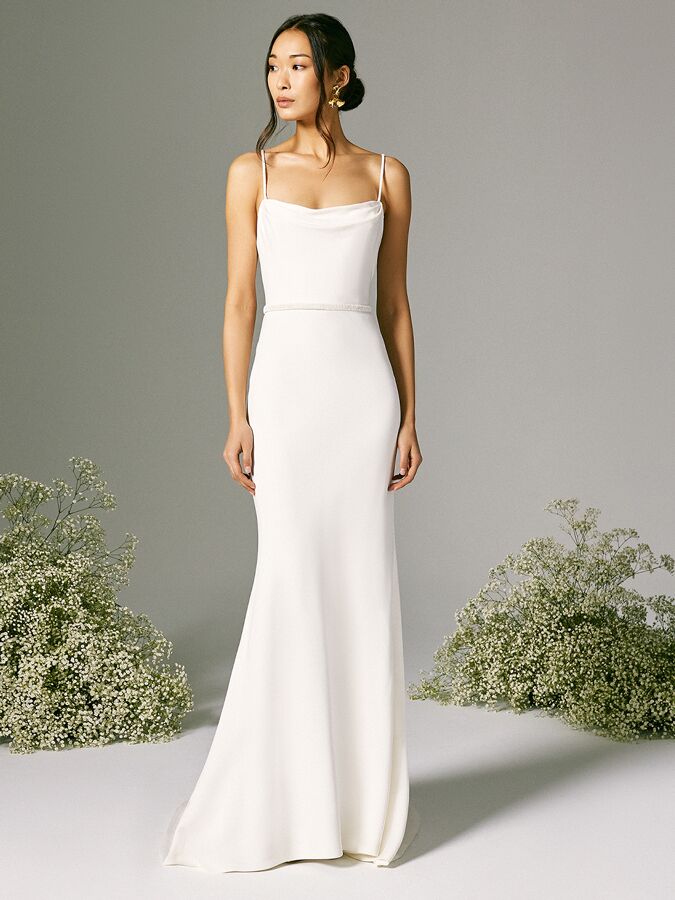 "Mae" Gown; stretch Italian matte crepe A-line dress with slight cowl neckline, detachable beaded belt and spaghetti straps.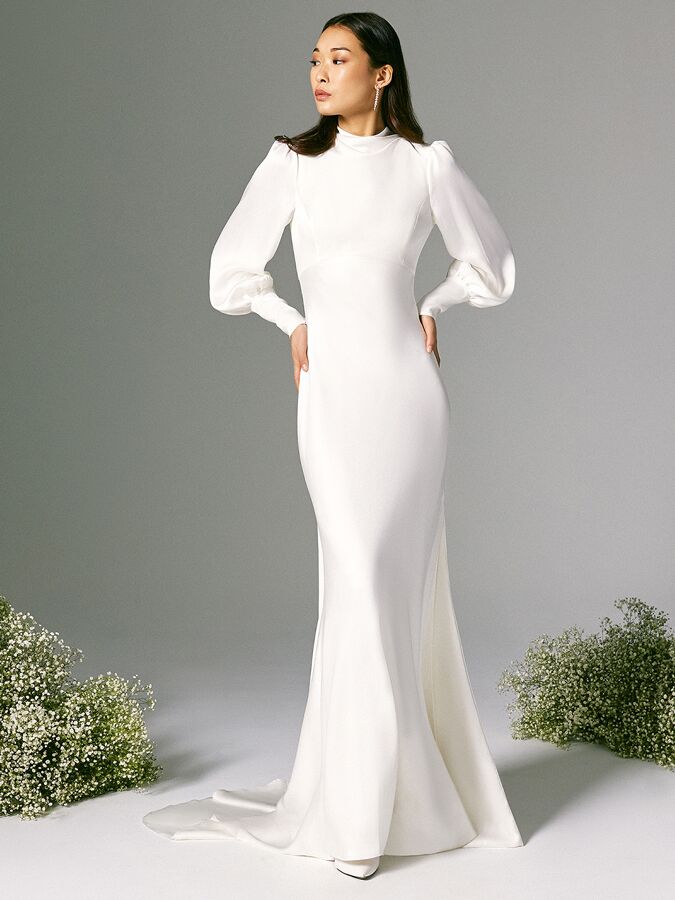 "Odette" Gown; Italian shine satin wedding dress with billowing long sleeves, high-neckline and plunging open back.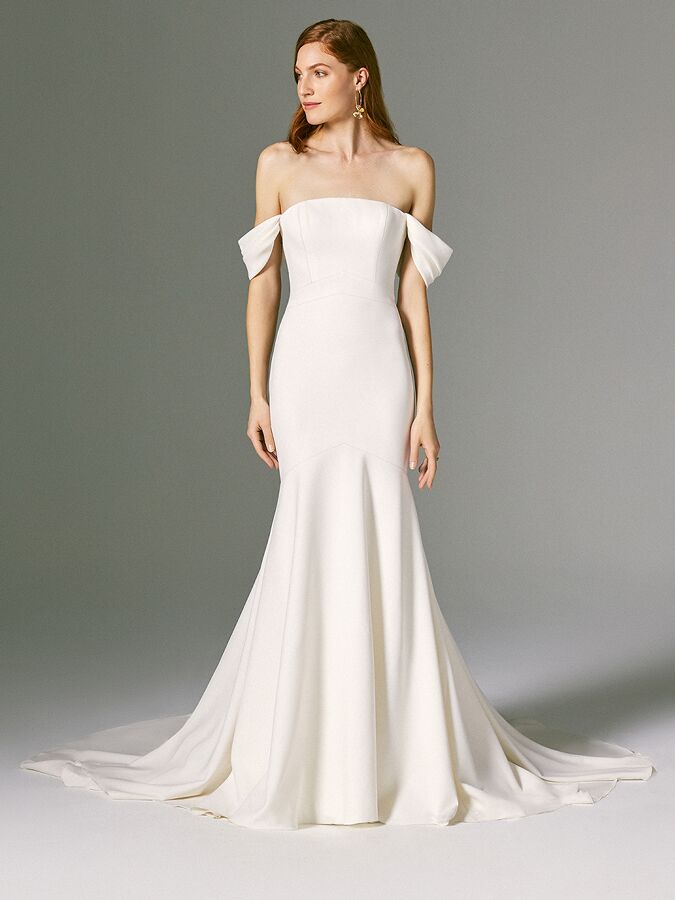 "Rose" Gown; sleeveless crepe wedding dress with cold-shoulder straps and trumpet skirt.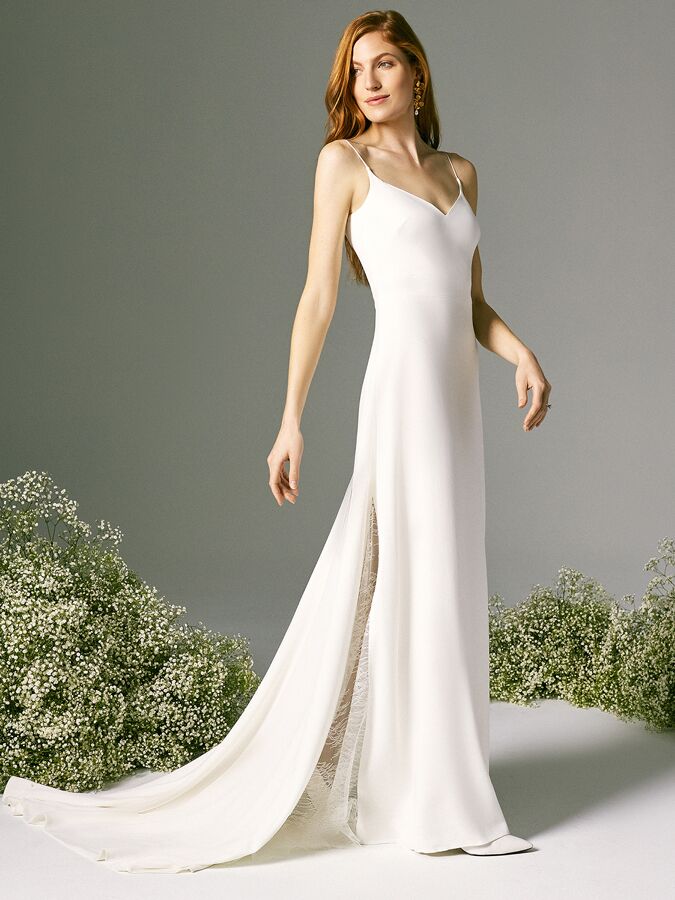 "Valetta" Gown; Italian matte crepe and satin sleeveless dress with spaghetti straps, sweetheart ballerina neckline and Chantilly lace godet.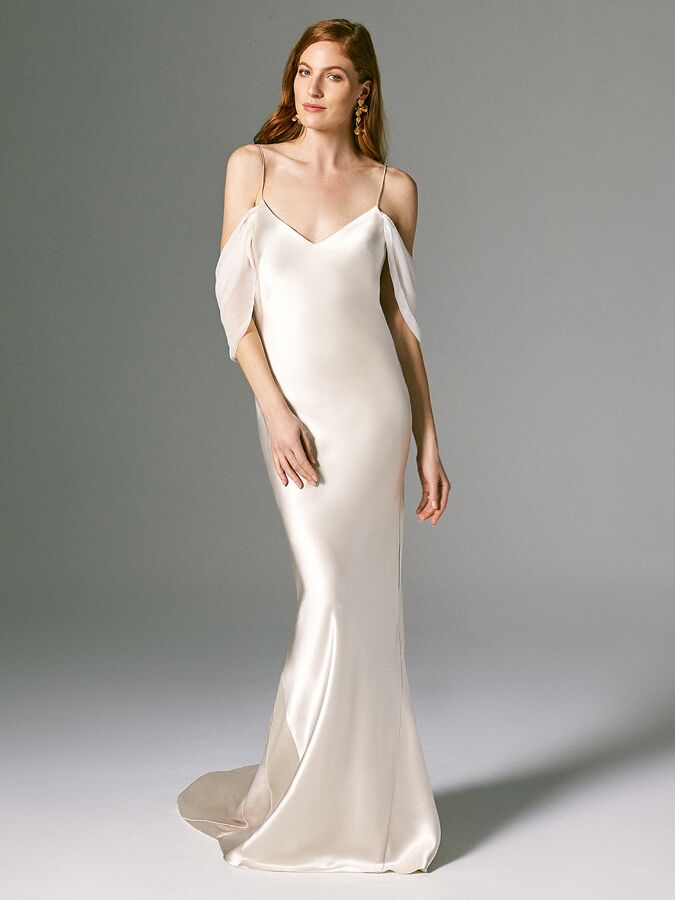 "Wren" Gown; sleeveless satin wedding dress with chiffon drape cold-shoulder detail.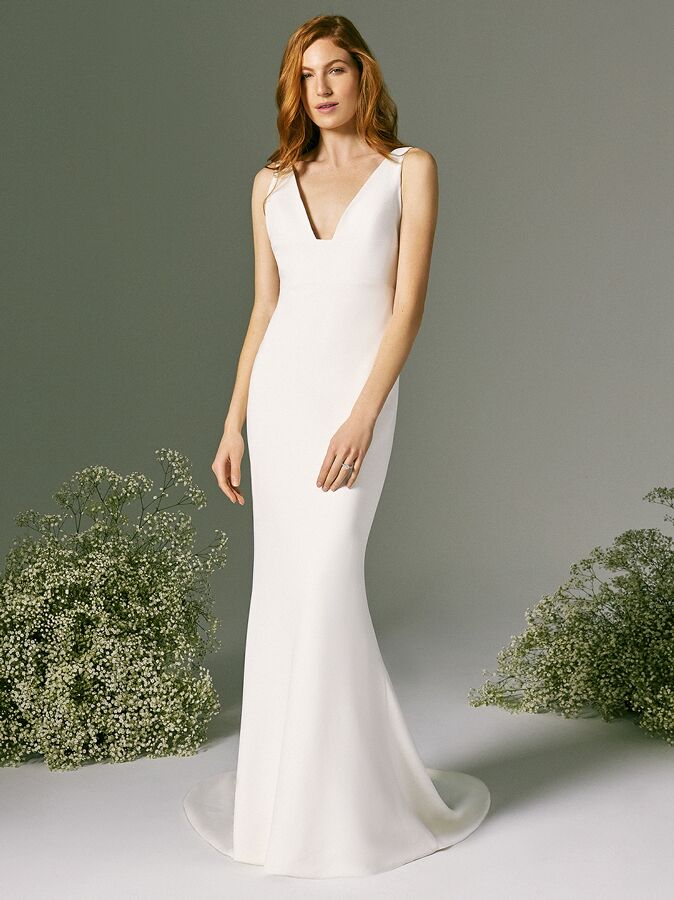 "Marilyn" Gown; Italian matte crepe wedding dress with detachable pearl adorned tulle bust panel and arm streamers.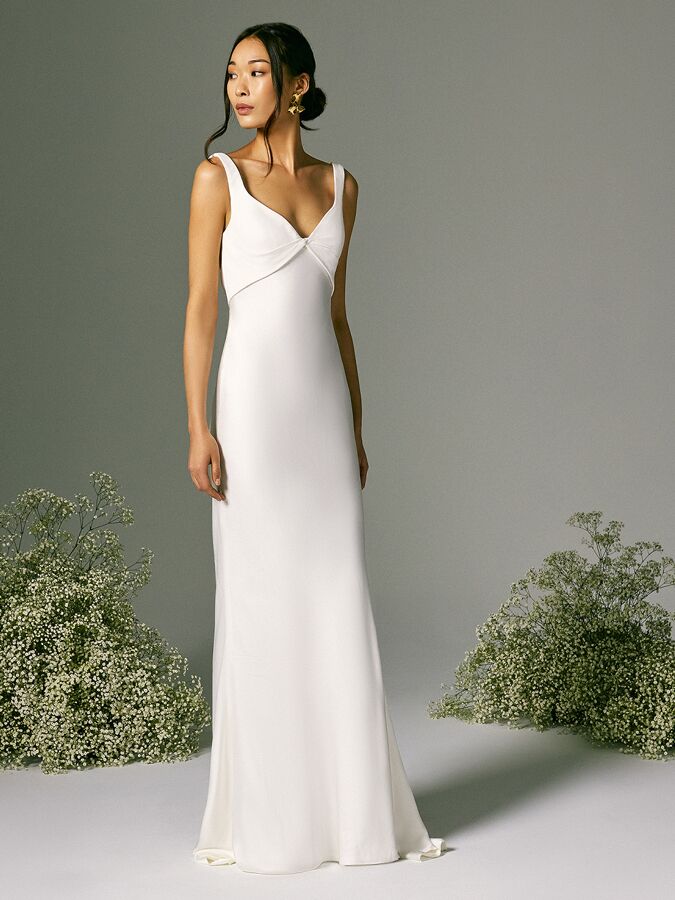 "Sofia" Gown; Italian matte and shine satin sleeveless dress with twist front and waist-tie sash streamers.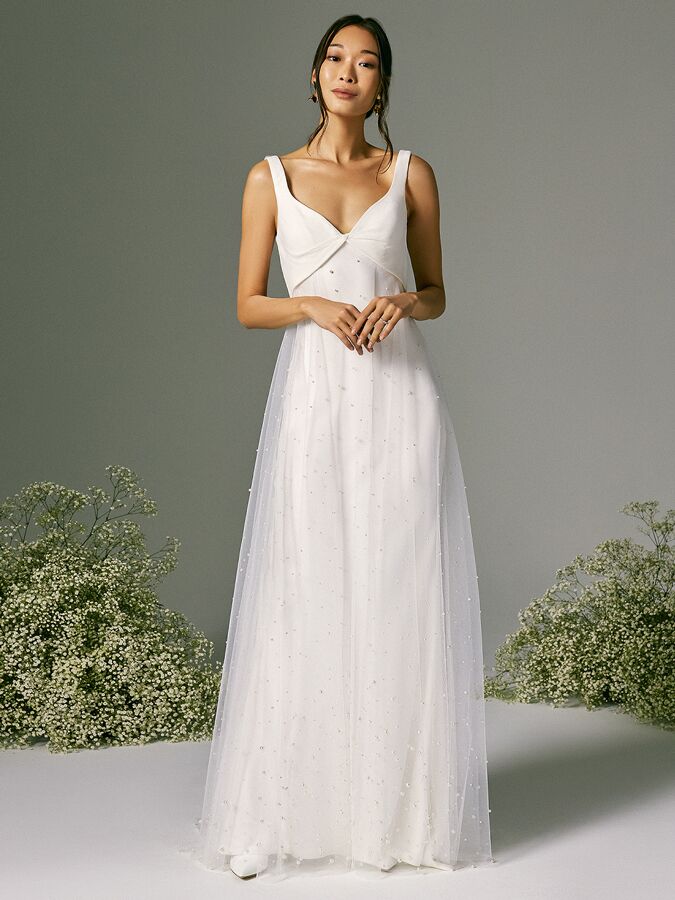 "Sofia" Gown with Overskirt; scattered pearl tulle overskirt with Italian matte and shine satin sleeveless dress with twist front and waist-tie sash streamers.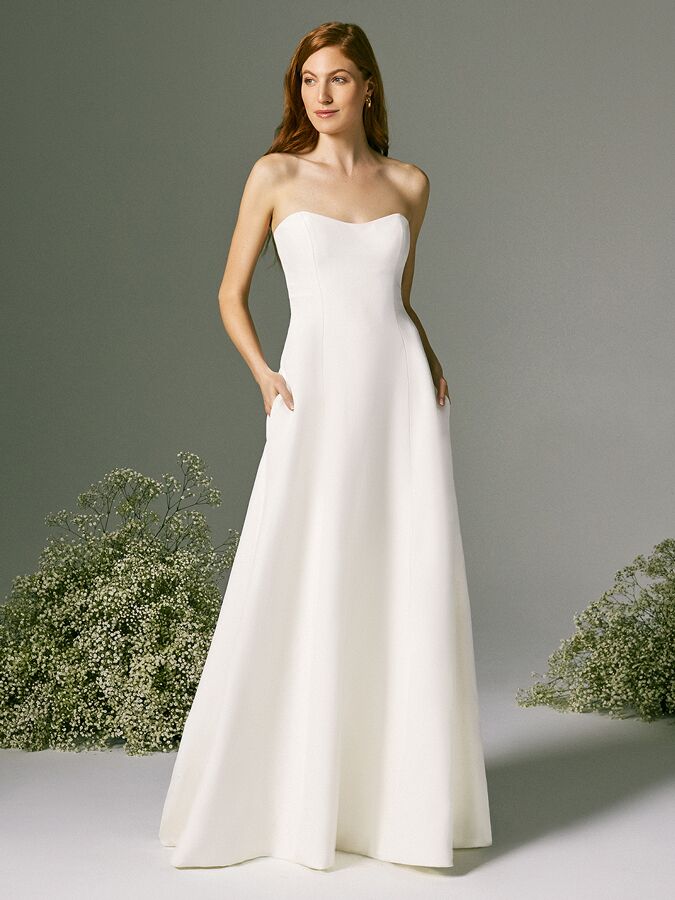 "Caterina" Gown; strapless wedding dress in heavy matte crepe with sweetheart neckline.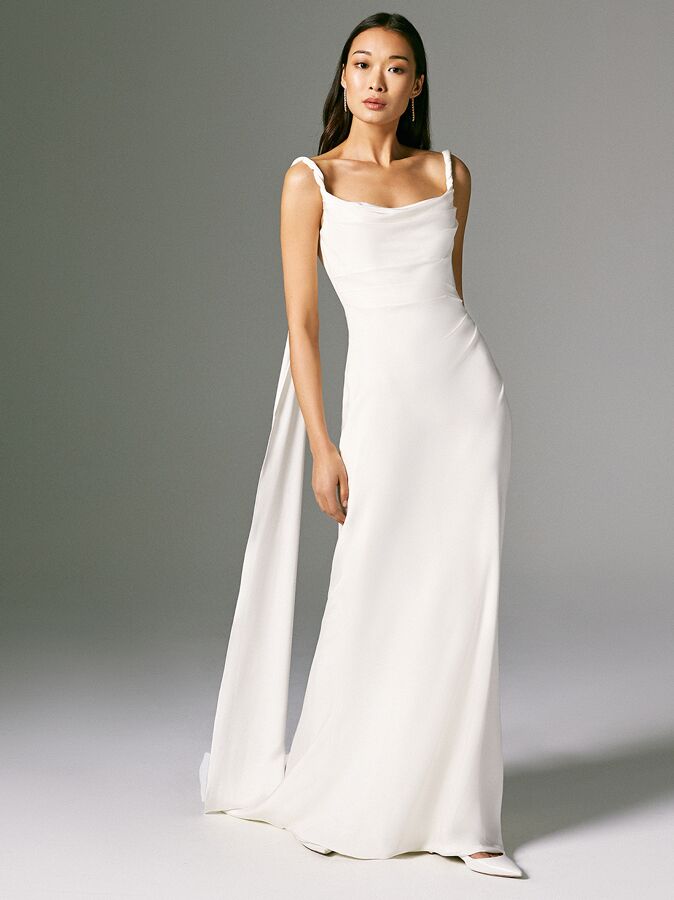 "Jackquette" Gown; scooped cowl neck wedding dress with twisted straps and detachable draped satin off-the-shoulder sleeves with buttons.
Savannah Miller General Style
Savannah Miller wedding dresses expertly blend ethereal, whimsical and vintage vibes with easy silhouettes. The designer's love for the English countryside emanates through her airy wedding gowns as she strives to bring a unique fashion voice to bridal.Her diverse collection ranges from gowns to jumpsuits to statement capes, offering versatile looks for multiple bridal occasions. Designing mostly in satin and crepe, Savannah Miller bridal gowns accentuate a bride's body and transform her with Miller's signature elevated bohemian sensibility.
Savannah Miller History
Born in New York City before moving to London as a child, Savannah Miller is an accomplished designer despite still being fairly new to the bridal scene. Before designing wedding gowns for her own line, the British-American designer studied under Alexander McQueen and Matthew Williamson. After she left, Miller and her sister, actress Sienna Miller, created the fashion label Twenty8Twelve that first showed in 2007. The pair remained co-creative directors until 2012, when the mom-of-three left to start her own bridal collection. Her independent line, aptly named Savannah Miller, launched in 2016 with gowns starting at $2,000. Her gowns are sold internationally, available across the United States, Europe, Japan, Russia, and China.)
Savannah Miller Collection History
Savannah Miller's 2019 collection embodies the essence of a bohemian bride and was inspired by the iconic Rolling Stones song "Wild Horses." "I really wanted this collection to capture the ethereal intoxication that is falling in love," said Miller. "I played with texture and custom embroidery this season to bring that magical quality to the gowns whilst evolving the '30s-inspired elegance that is synonymous with the brand."
For Savannah Miller's 2020 collection, entitled "Dance With Me," she works mainly with signature heavy weight crepe and draws from childhood memories of her mom playing Ella Fitzgerald on weekend mornings as she prepared traditional English Sunday roast lunches. "Her deep, melodic tones would envelop our house as she sang about love with such truth and passion. This energy inspired me this season to create a collection that oozed with romance and the ultimately sophisticated aesthetic of 1930's Hollywood that is my signature starting point for every collection," said Miller."The original bohemians of the 1930's exuded timeless and effortless elegance. They were pioneers of a new and brave way to dress, something that I have tried to capture with bold and unusual details." She found additional inspiration from deconstructed details that she incorporated through visible boning and shredded chiffon embroideries to complete her wow-worthy gowns. 
Savannah Miller Fun Facts
Savannah Miller's sister is actress Sienna Miller and the pair collaborated on the fashion label Twenty8Twelve before she started her career in bridal. Sienna Miller has worn her sister's designs on the red carpet.
Savannah Miller Previous Wedding Dress Collections
Savannah Miller's Fall 2021 Wedding Dresses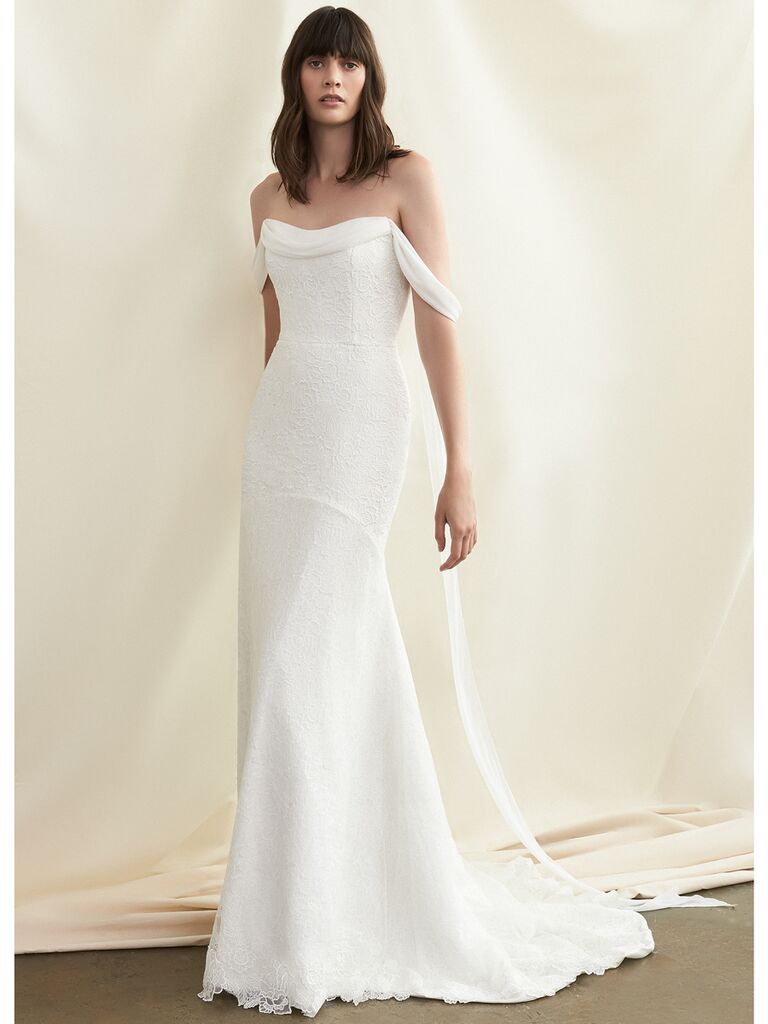 "Milly" floral lace crepe chiffon trumpet gown with draped detail across the bodice and off-the-shoulder sleeves.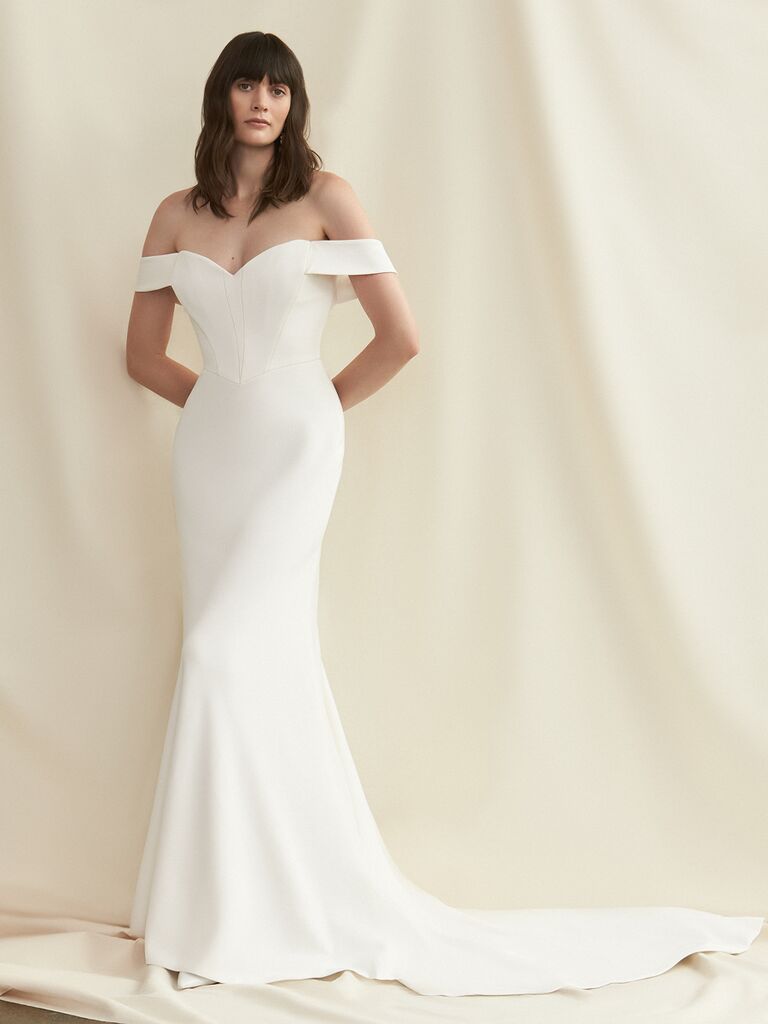 "Winona" crepe strapless fit and flare gown with sweetheart corset bodice and off-the-shoulder sleeves.
"Alice" V-neck satin trumpet gown with gathered double strap detail and draped cowl back.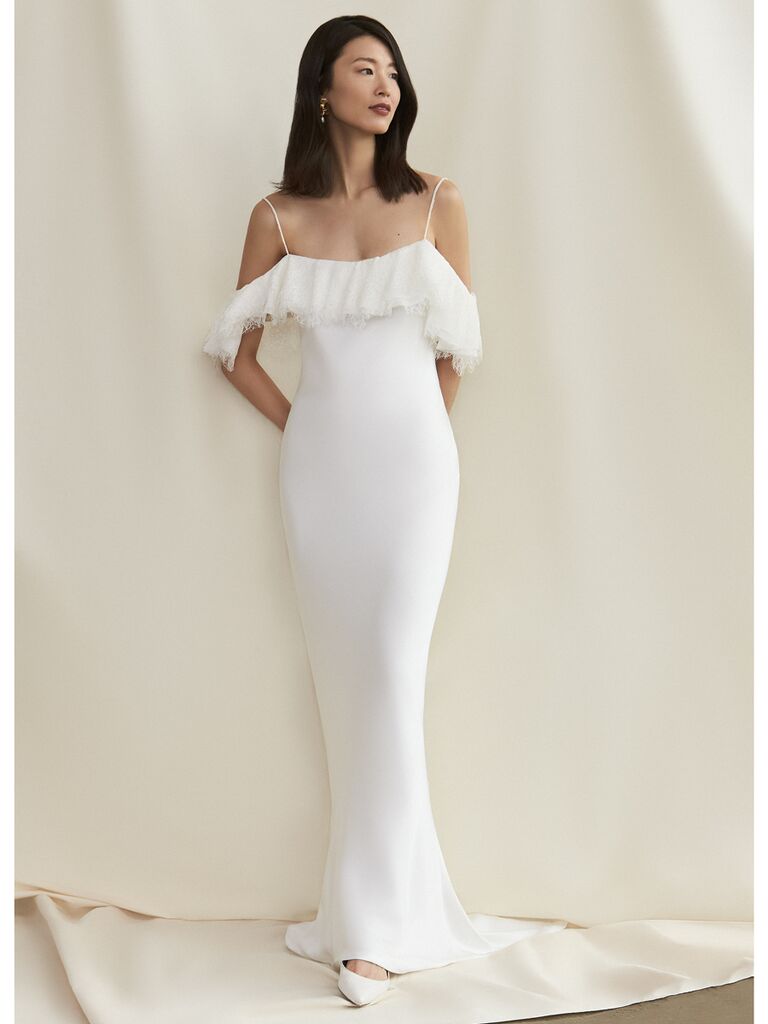 "Fleur" spaghetti strap satin sheath dress with Chantilly lace and chiffon frill at the neckline extending into draped sleeves.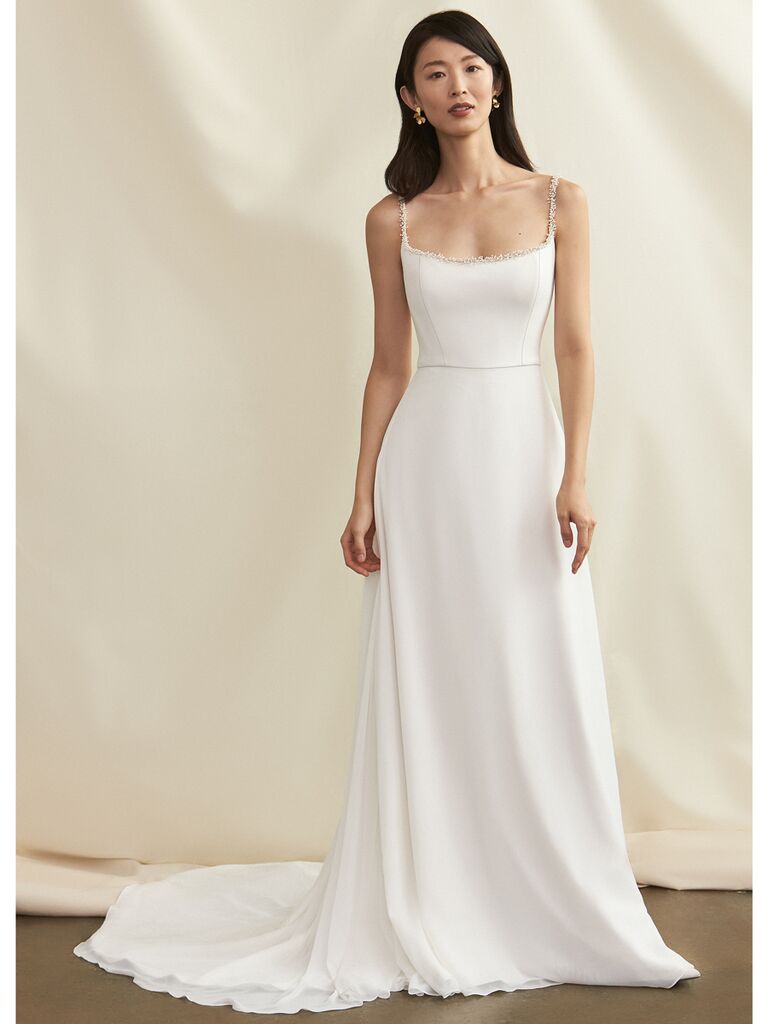 "Amber" crepe structured A-line gown with square neckline embellished with bead and pearl clustered embroidery.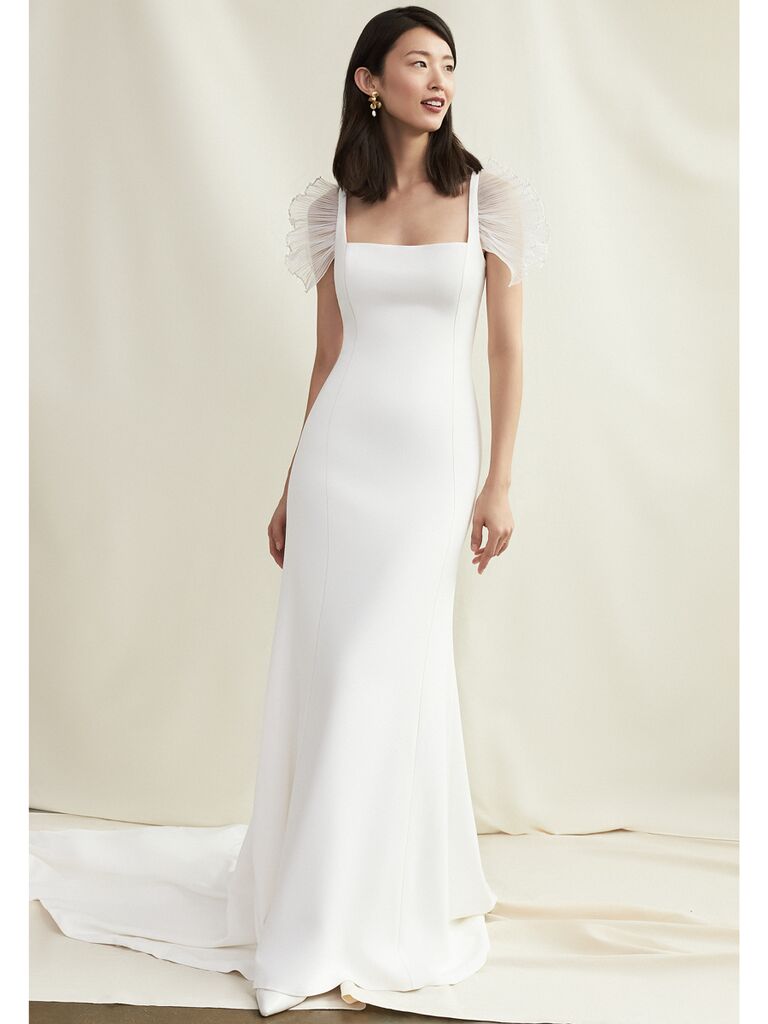 "Indra" square neckline crepe fitted gown with princess seams and deep square back. Pair with detachable chiffon fan sleeves with pearl bead embellishment.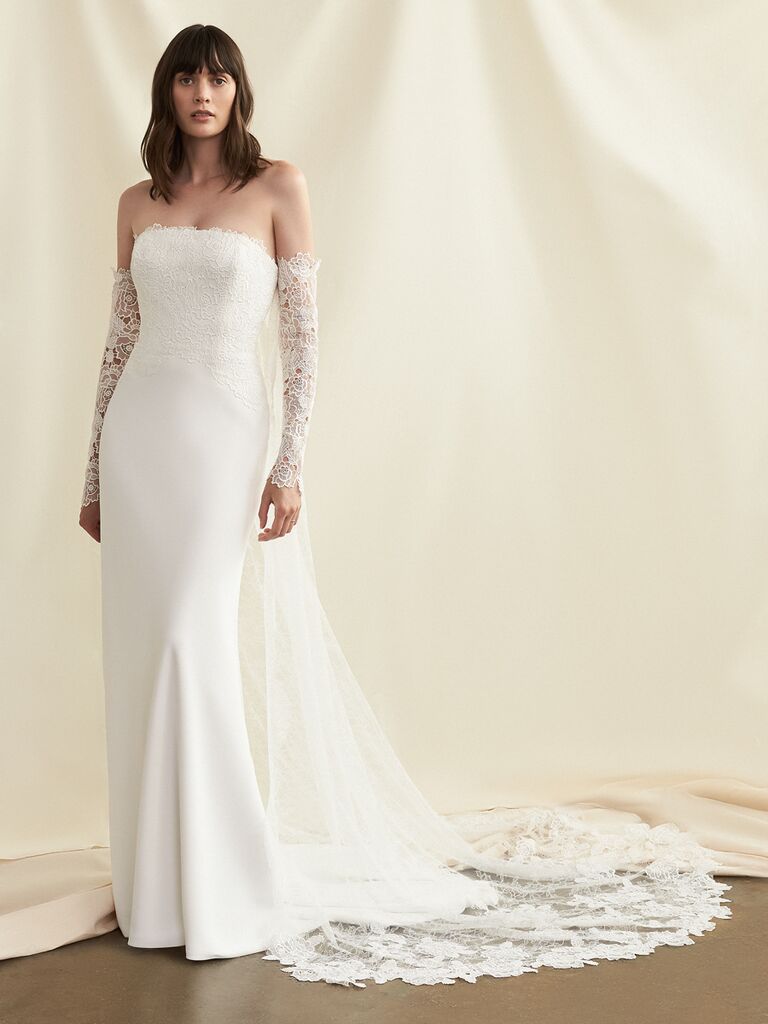 "Allegra" strapless A-line gown with graphic floral lace applique bodice and removable lace sleeves and Watteau train.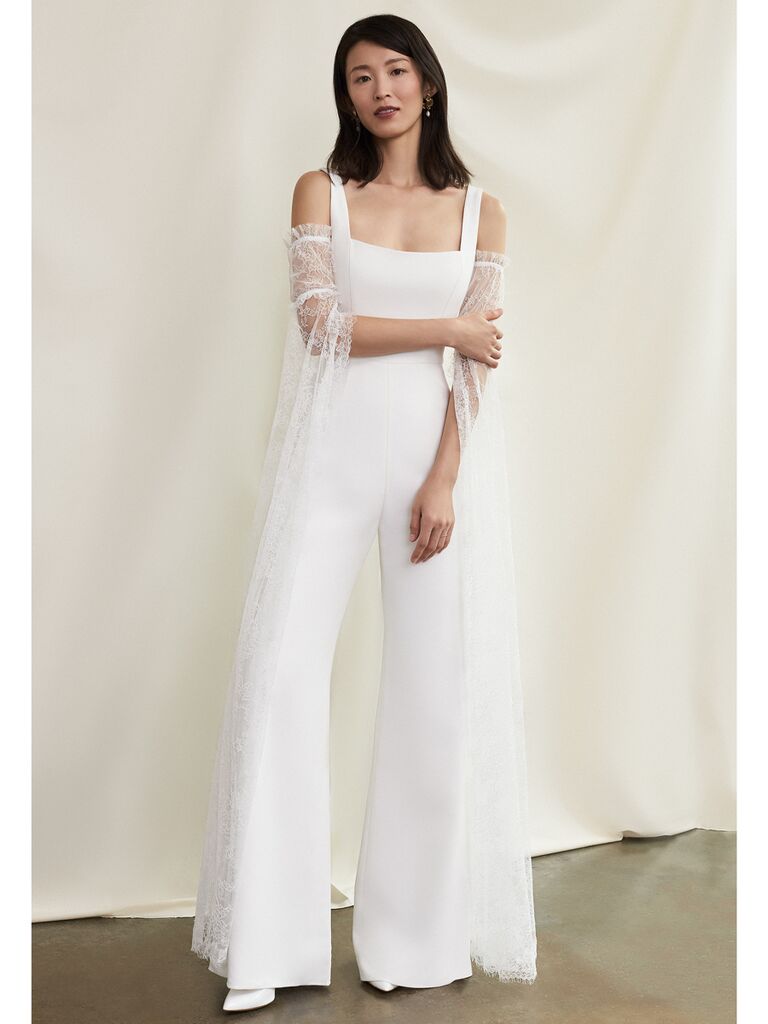 "Mildred" corset bodice crepe jumpsuit with square neckline, high waist and wide-legged trousers.

Savannah Miller's Spring 2021 Wedding Dresses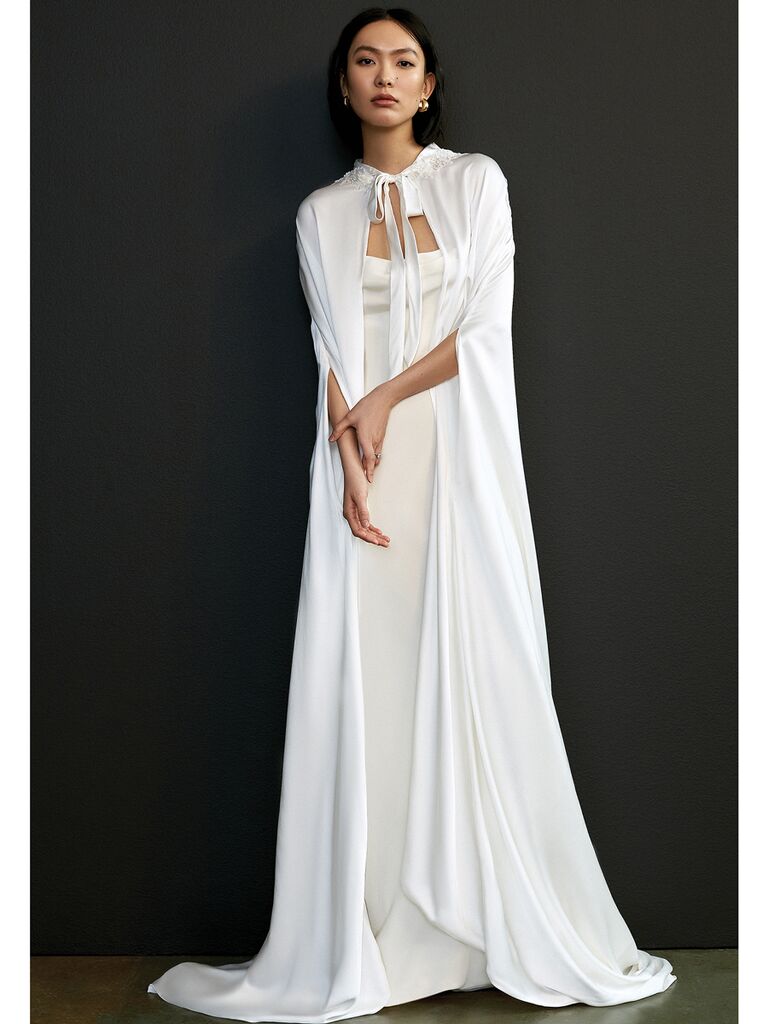 "Audrey" 100% silk crepe de chine cape embellished with silvery leaf and matte ivory stacked sequin flower embroidery.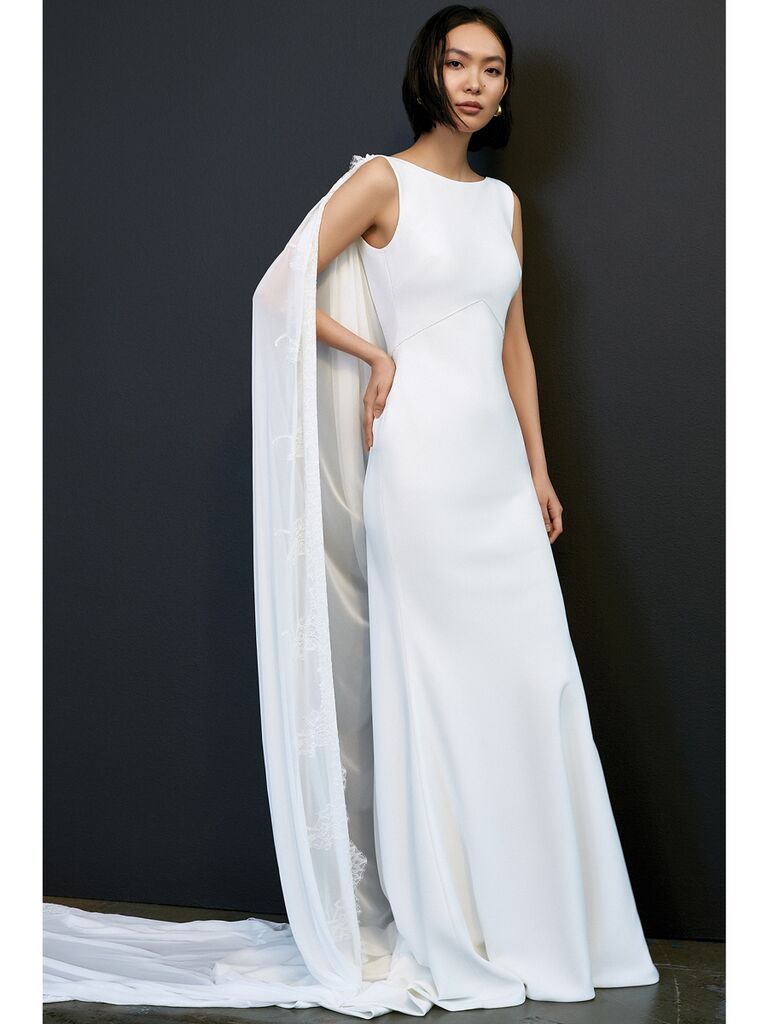 "Ayla" silk chiffon, semi-cathedral length Watteau train featuring a delicately draped cowl.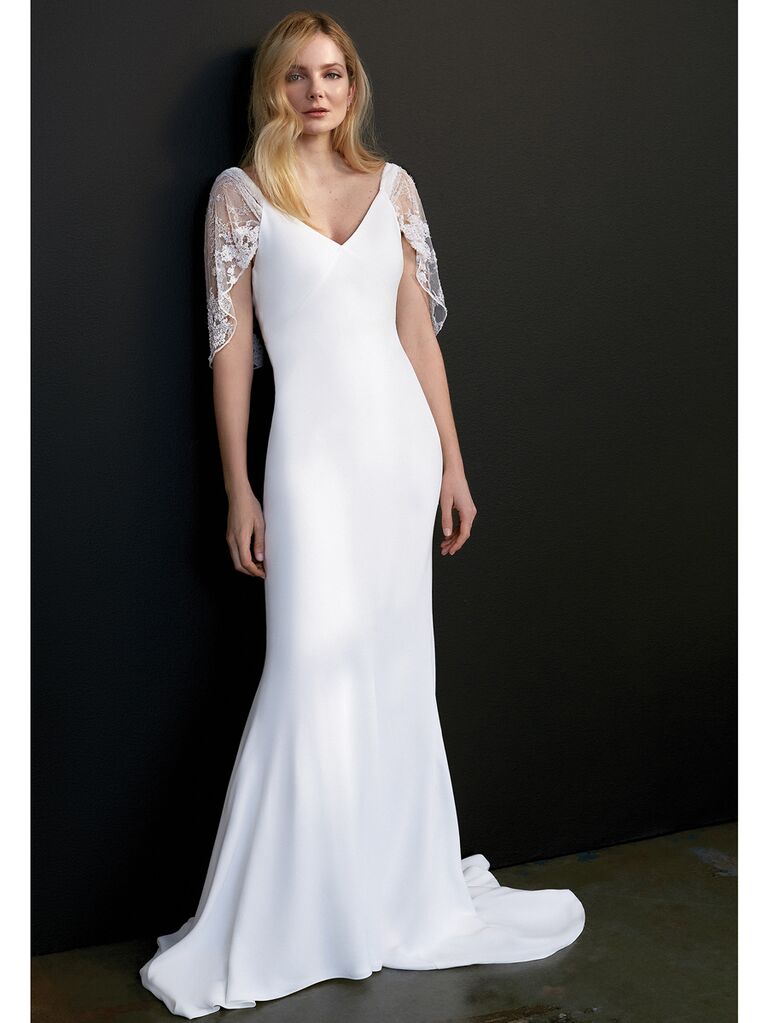 "Belle" heavyweight Italian viscose, matte crepe gown with detachable lace sleeves.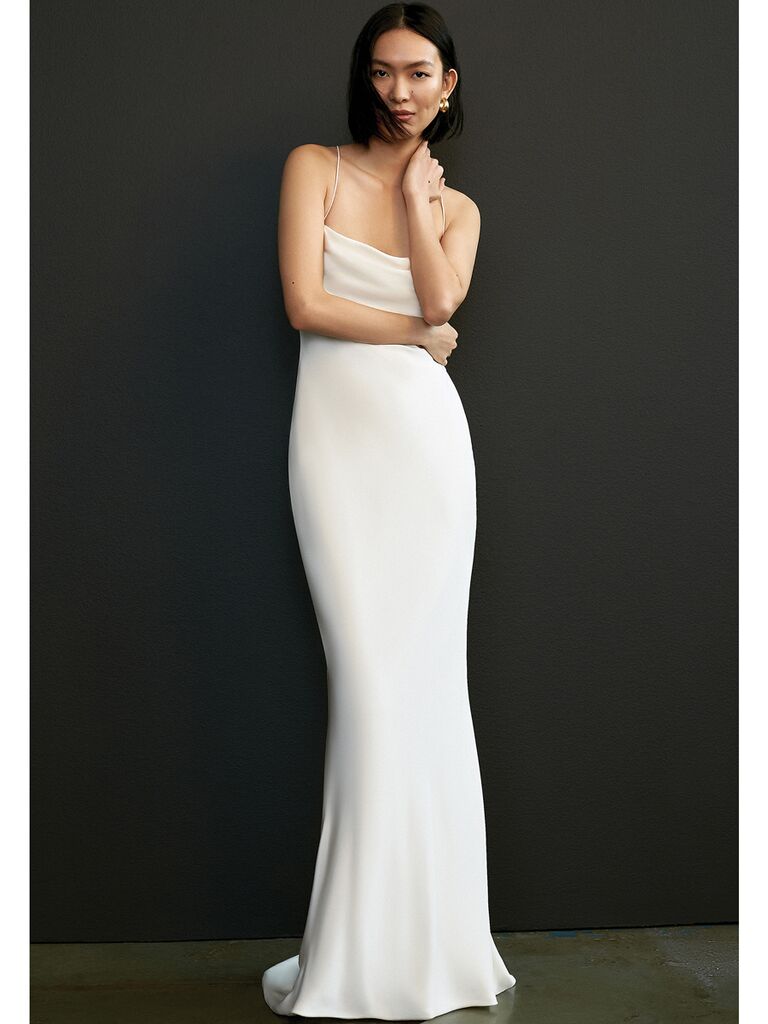 "Cerise" 100% Italian silk matte crepe gown with gentle cowl neckline and micro spaghetti straps.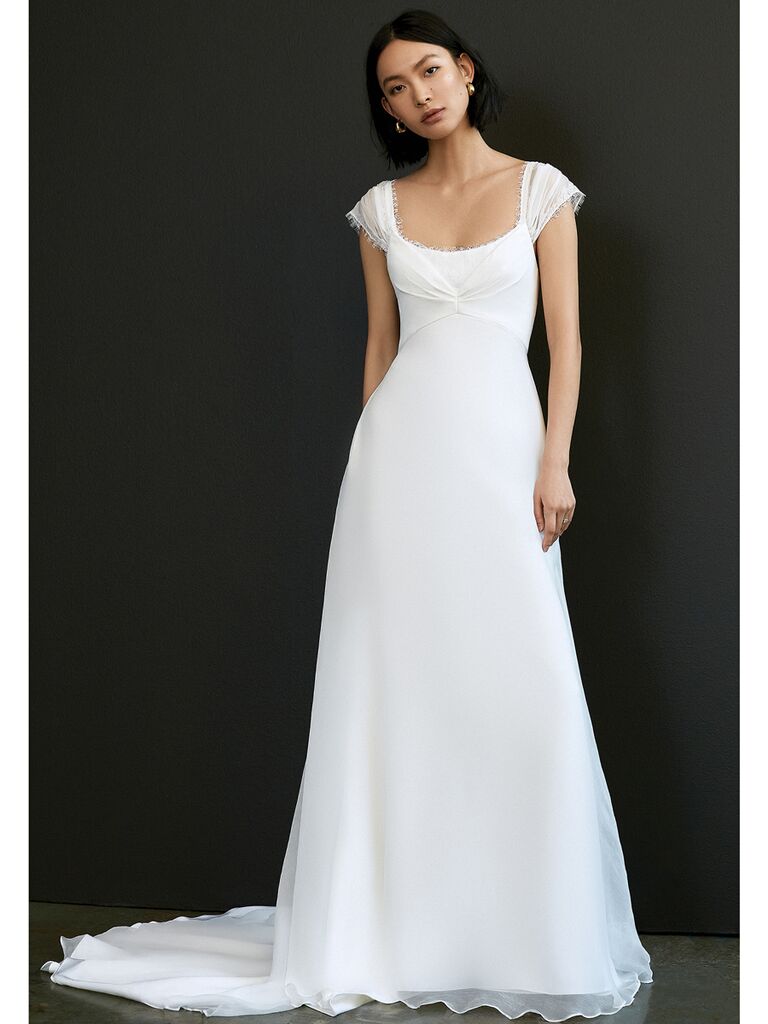 "Cosette" scooped neckline gown finished with a delicate layer of chiffon.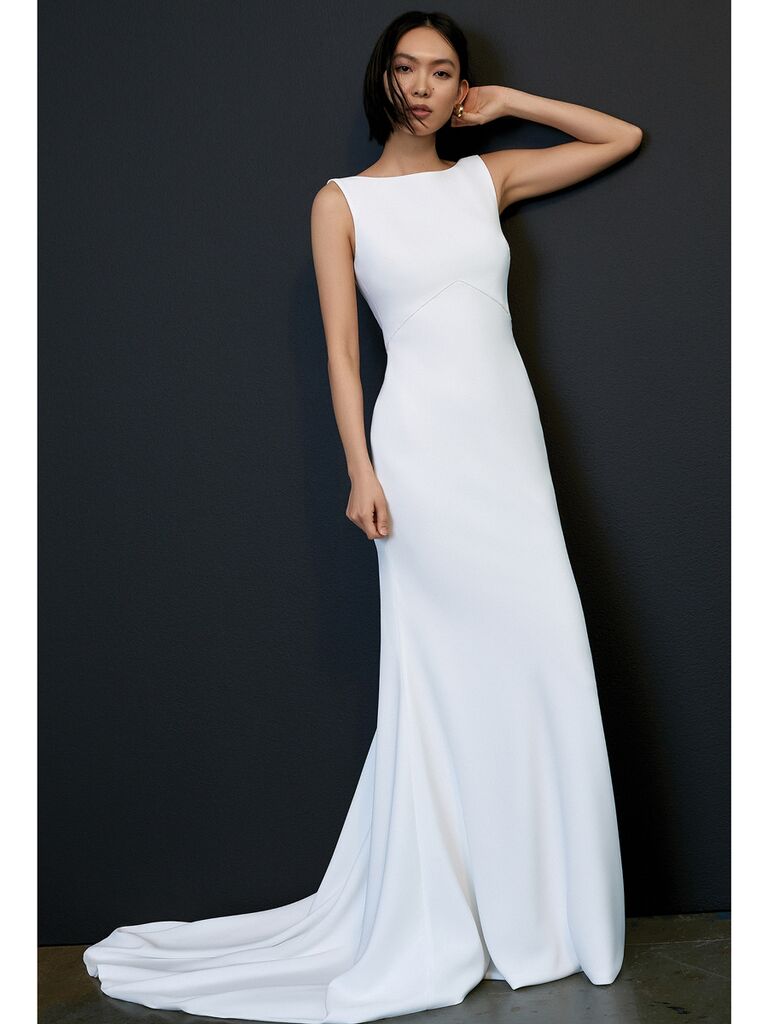 "Darcie" high square-necked gown with plunging deep-V back detail.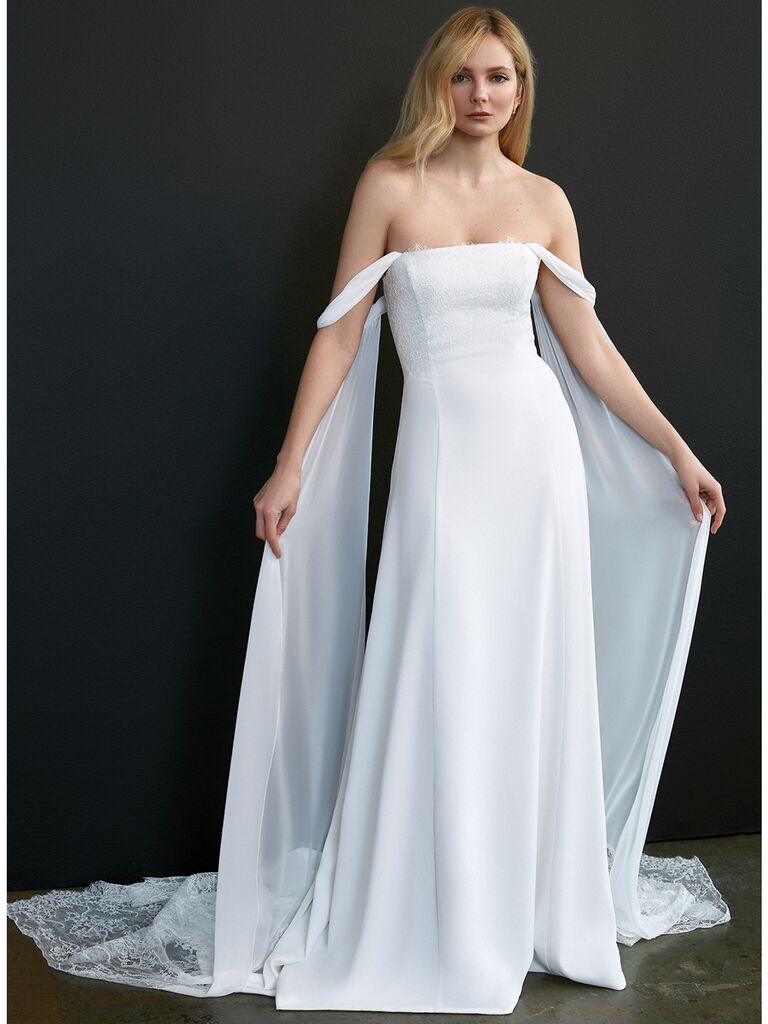 "Elsa" corseted, strapless matte crepe gown with hand appliqued Chantilly lace.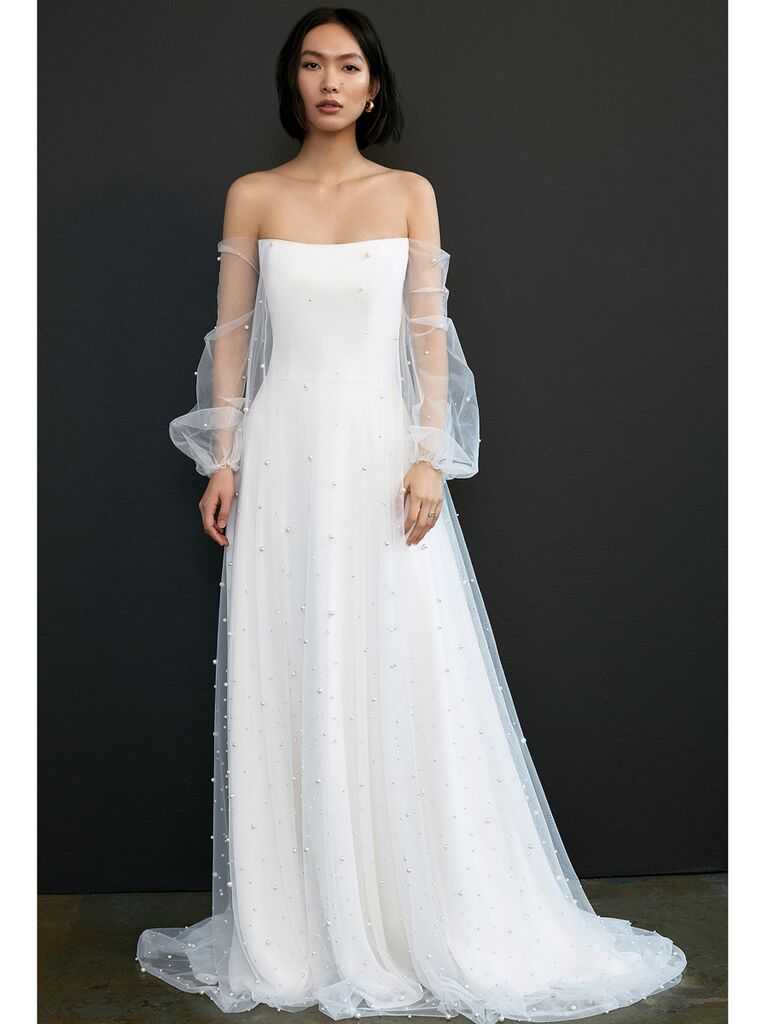 "Gayle" heavyweight stretch crepe A-line gown with a fully corseted bodice and ombre pearl tulle overlay.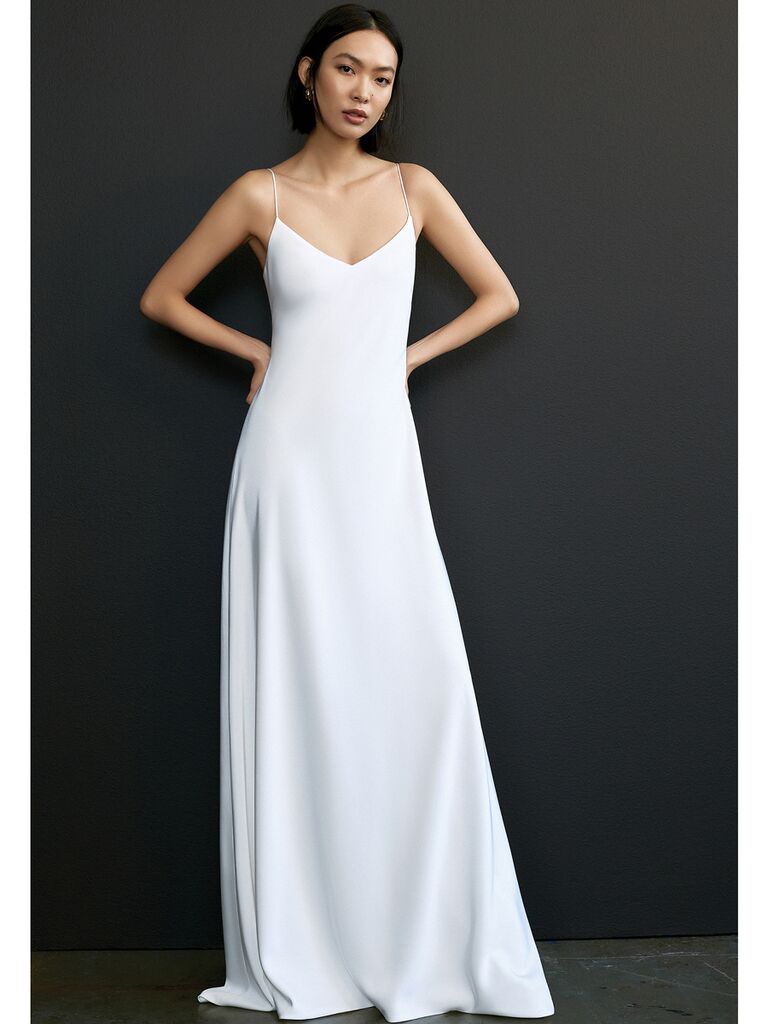 "Honor" bias cut, silk satin slip dress with low V-neckline.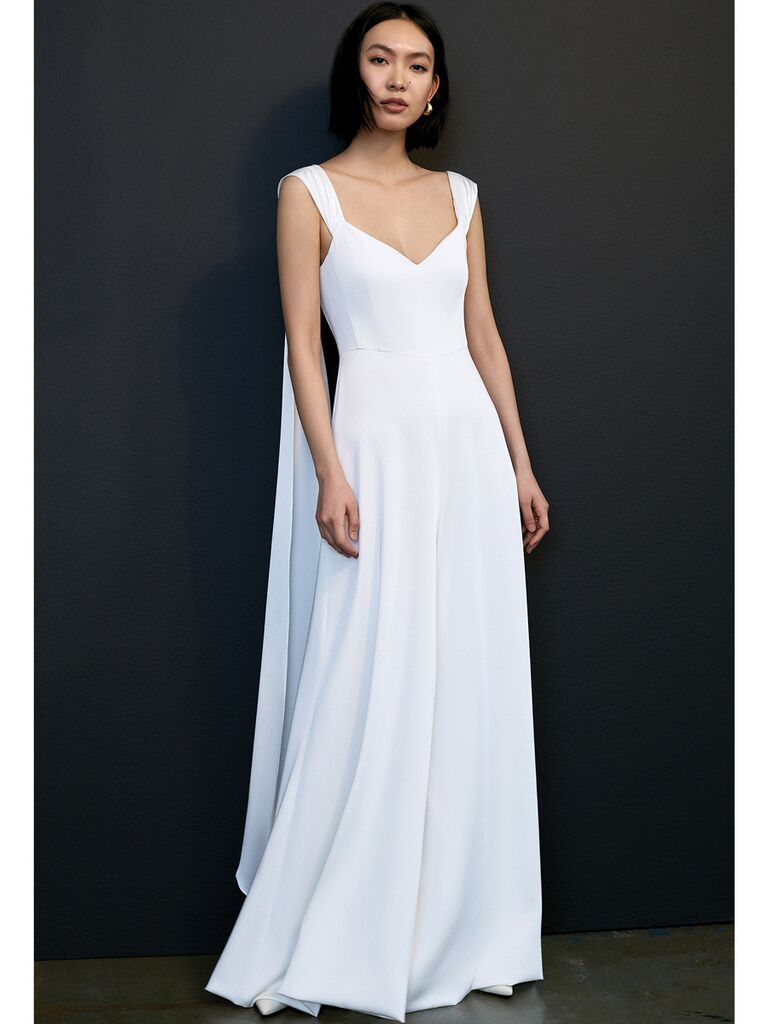 "Inez" sweetheart neckline jumpsuit.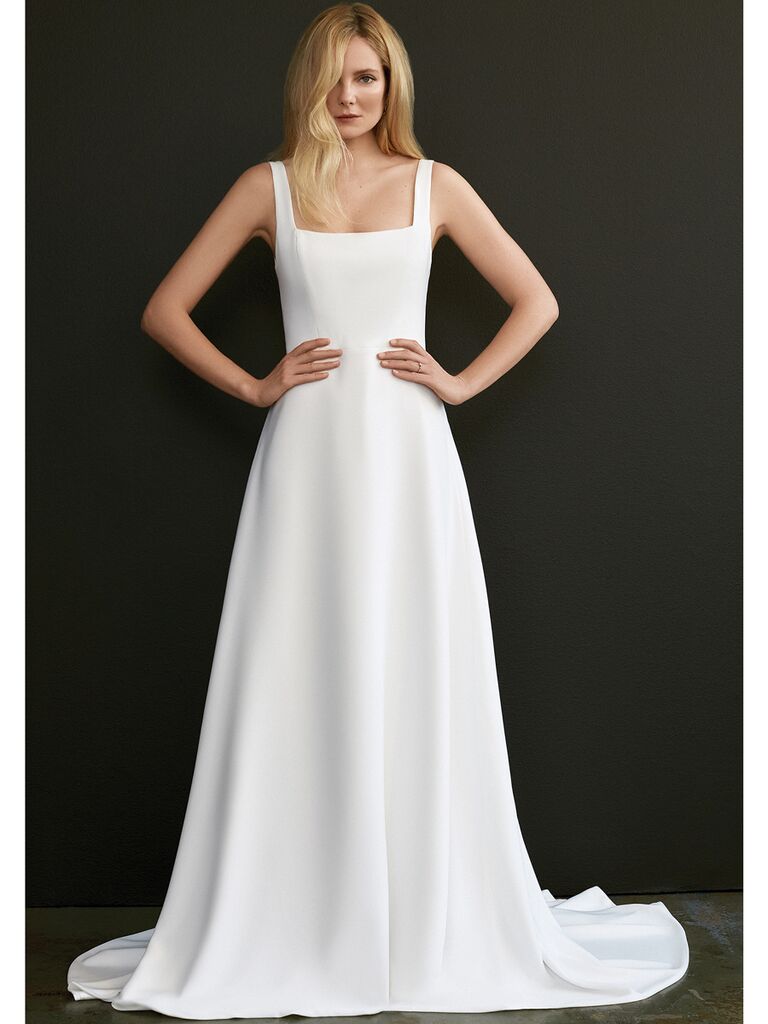 "Jessica" stretch, matte crepe gown with a square cut, fully corseted bodice and thick strap detail.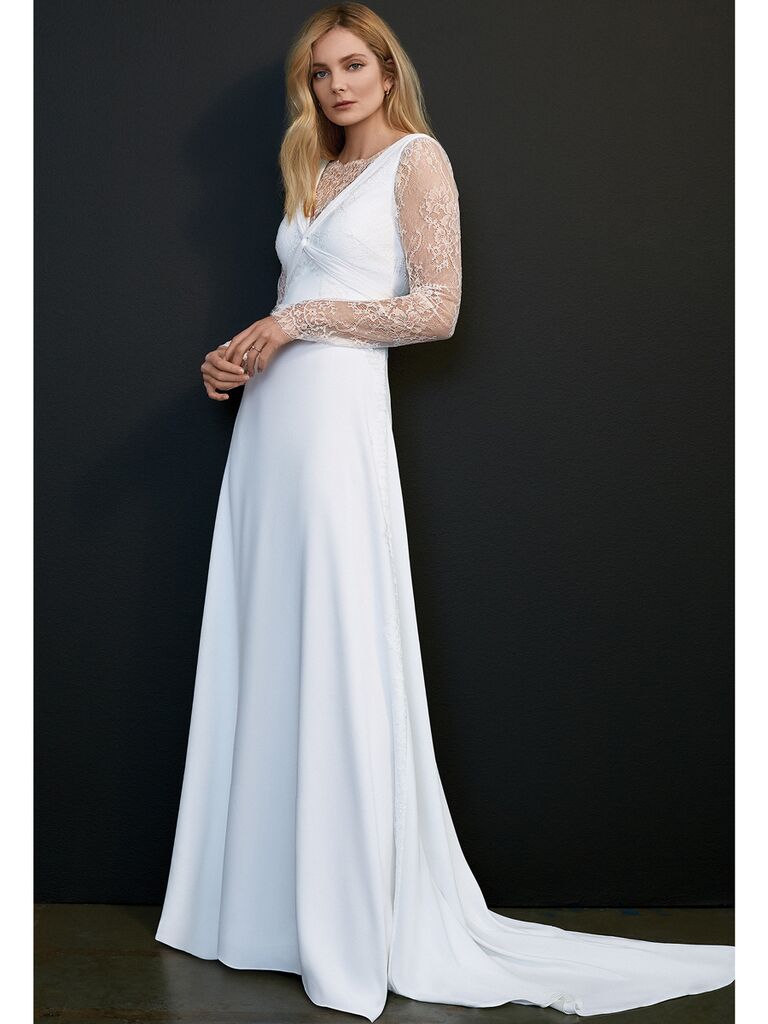 "Kathryn" heavyweight Italian viscose crepe with a full skirt and Chantilly lace sleeves.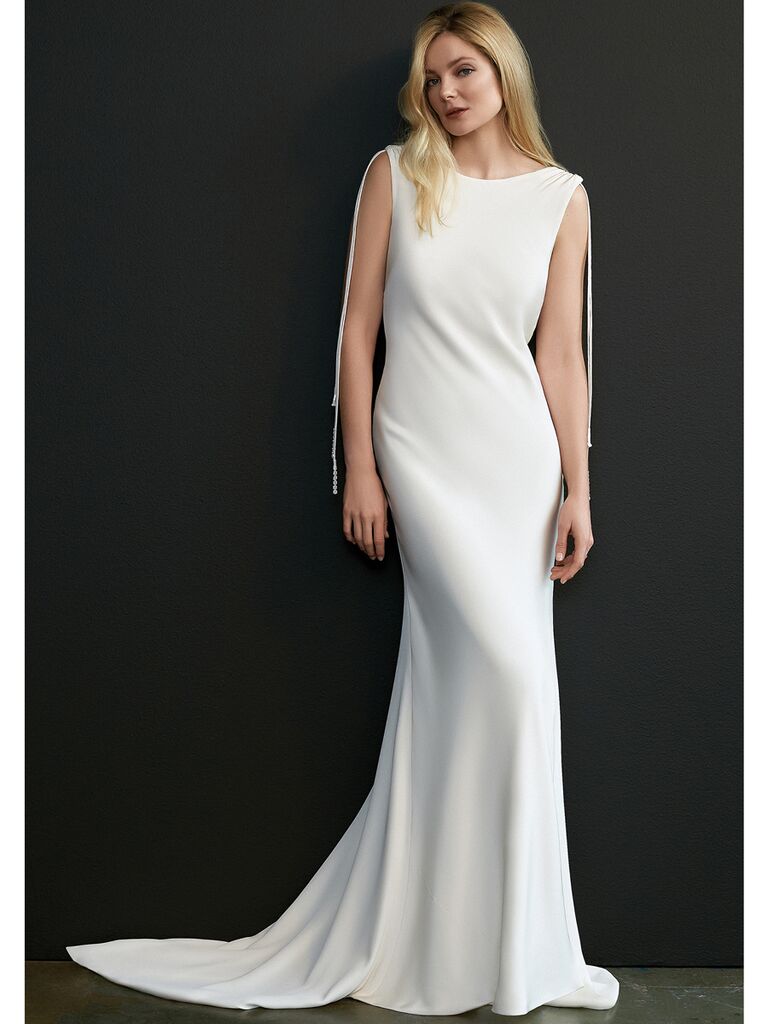 "Lena" square, high necked gown in Italian matte silk crepe featuring a gathered shoulder detail.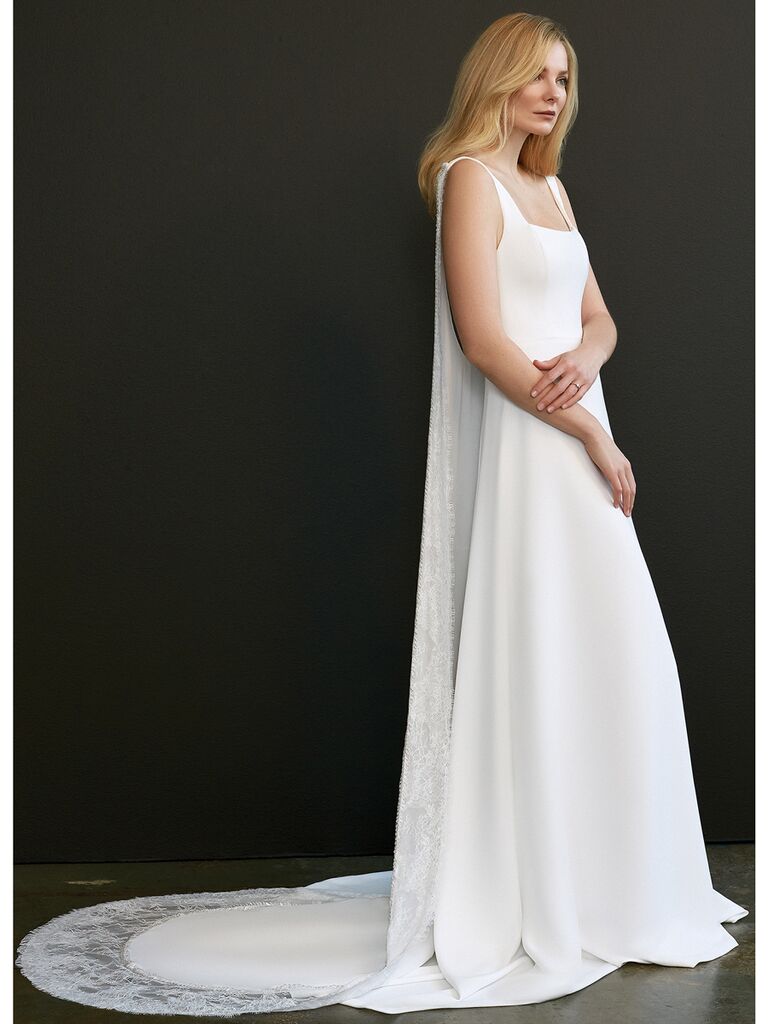 "Lila" gown with chiffon Watteau chapel length train.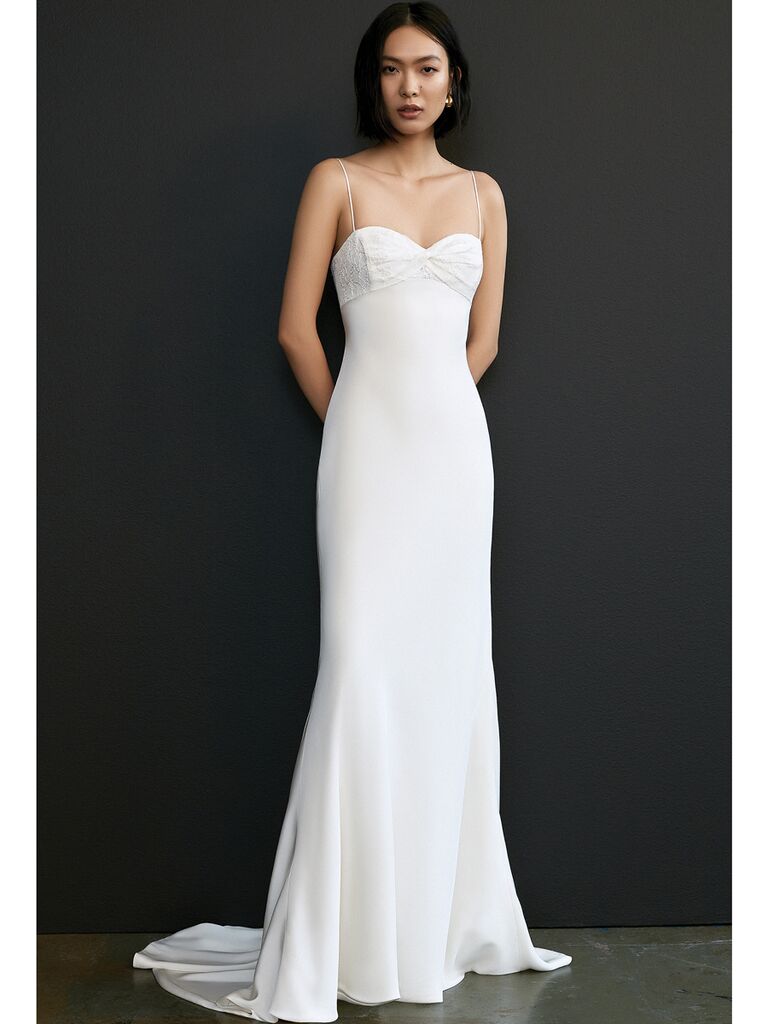 "Luella" silk crepe bias cut gown with Chantilly lace twisted front bandeau bodice and spaghetti straps.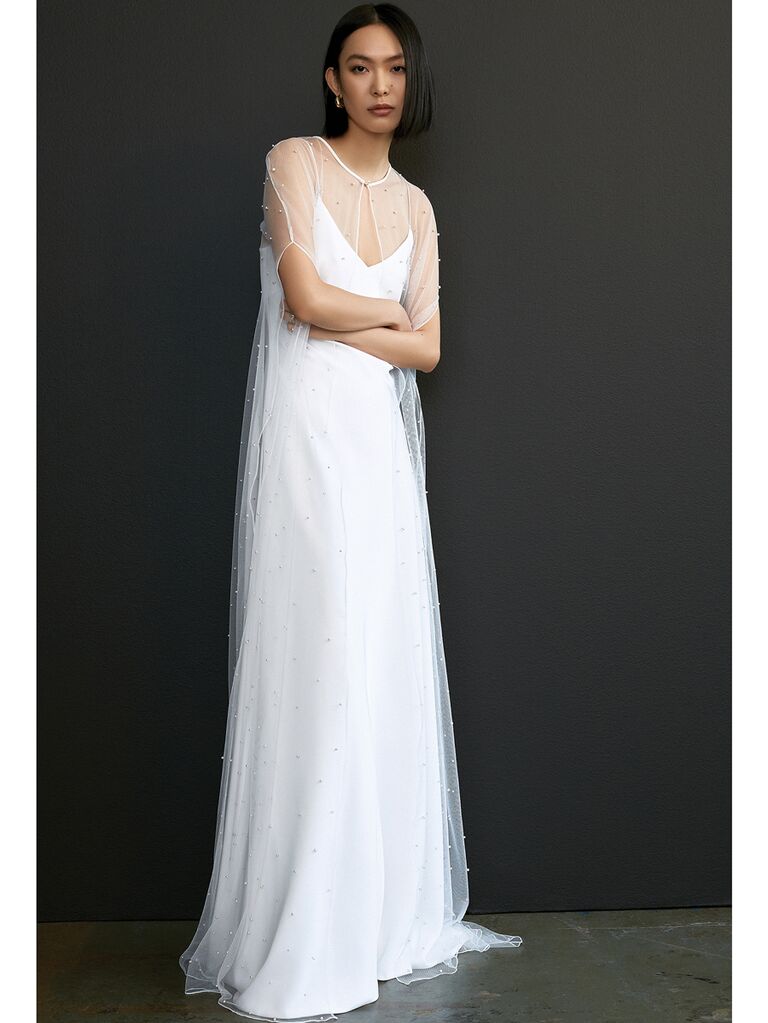 "Marlowe" pearl-embellished light tulle cape with chapel train and small pearl button fastening.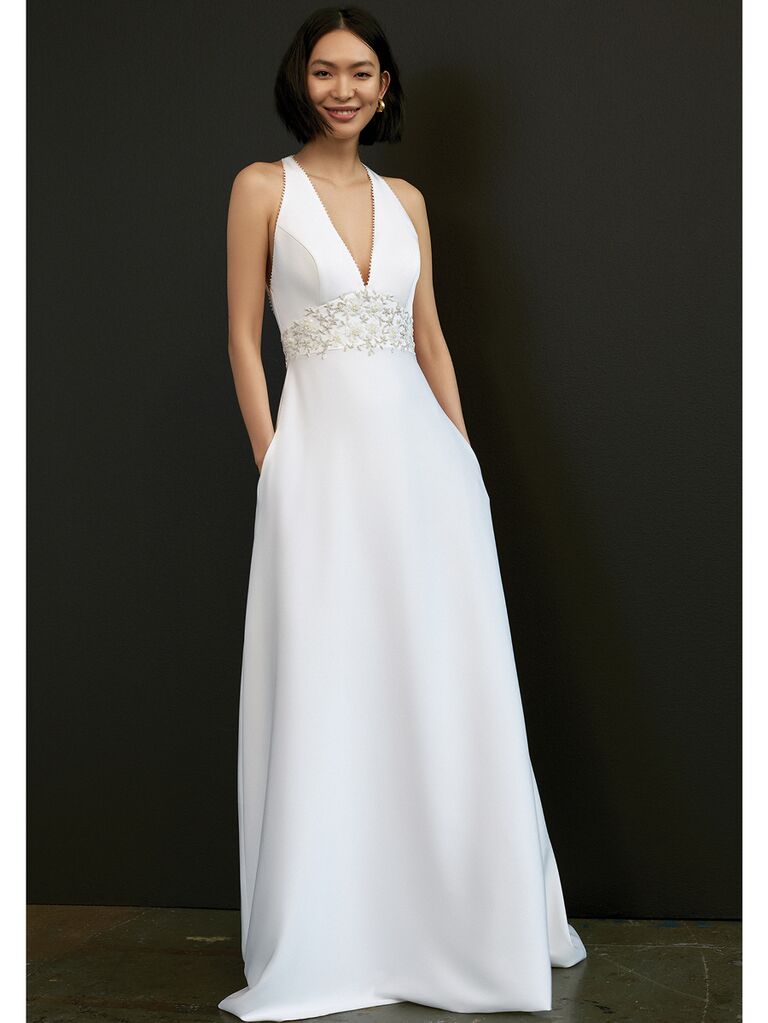 "Martha" A-line matte crepe gown with a plunging V-neck featuring a delicately embellished waistband of silvery leaf and matte ivory stacked sequin flower embroidery.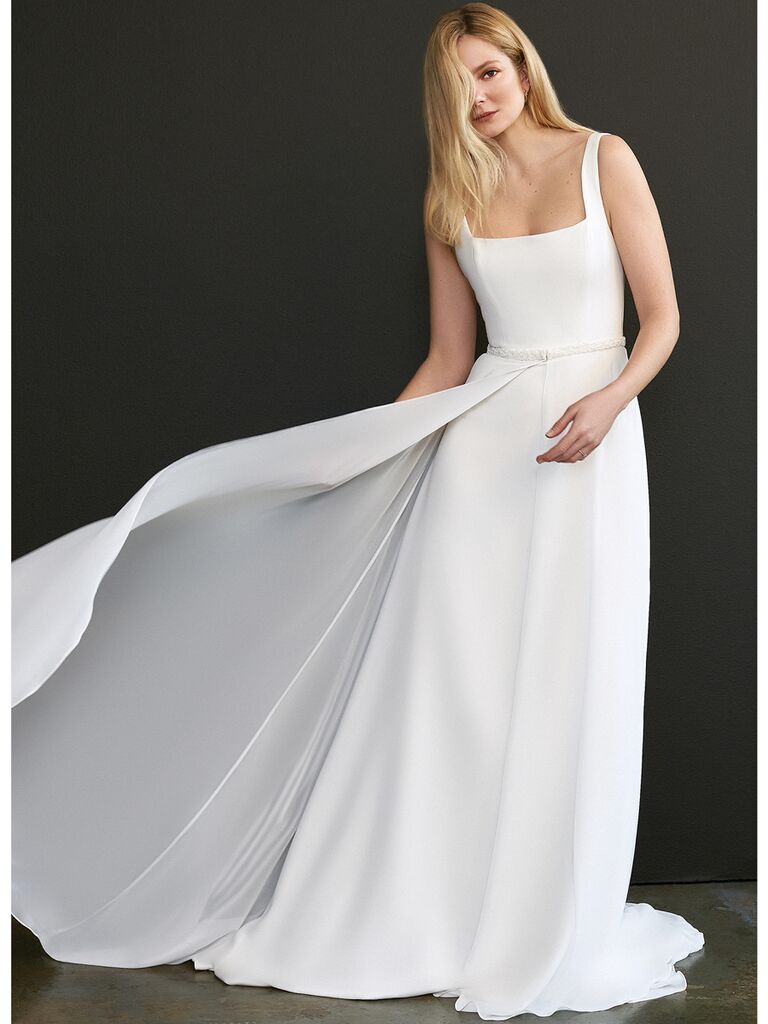 "Monty" gown with A-line chiffon overskirt.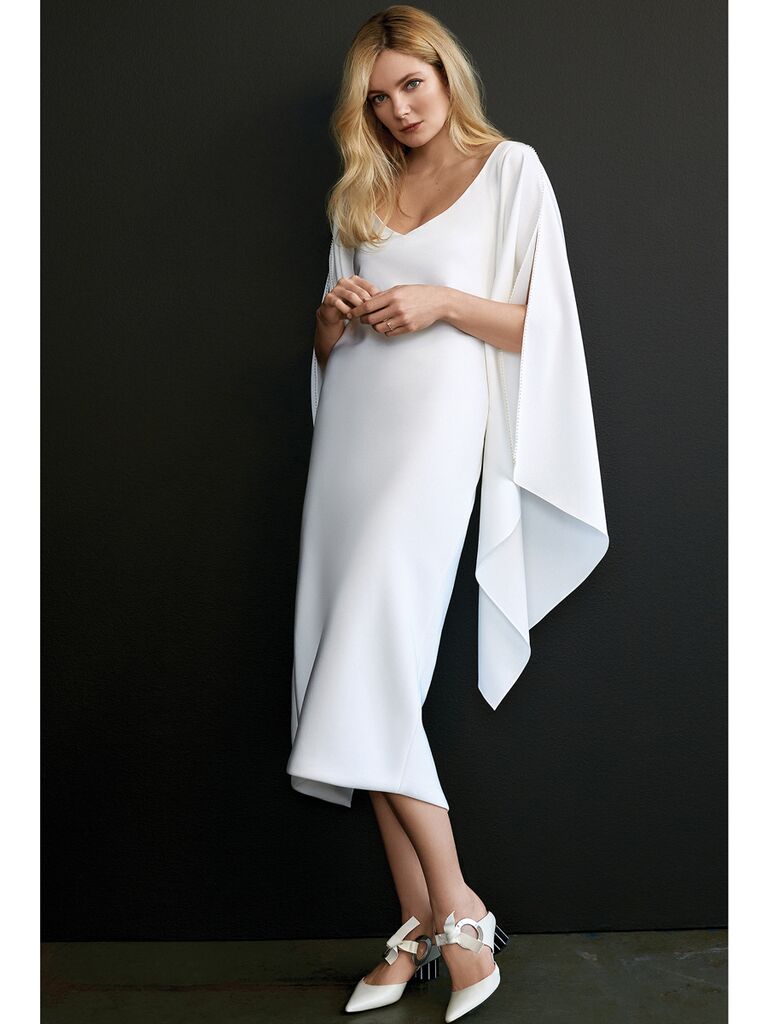 "Natasha" satin low V-necked cocktail gown.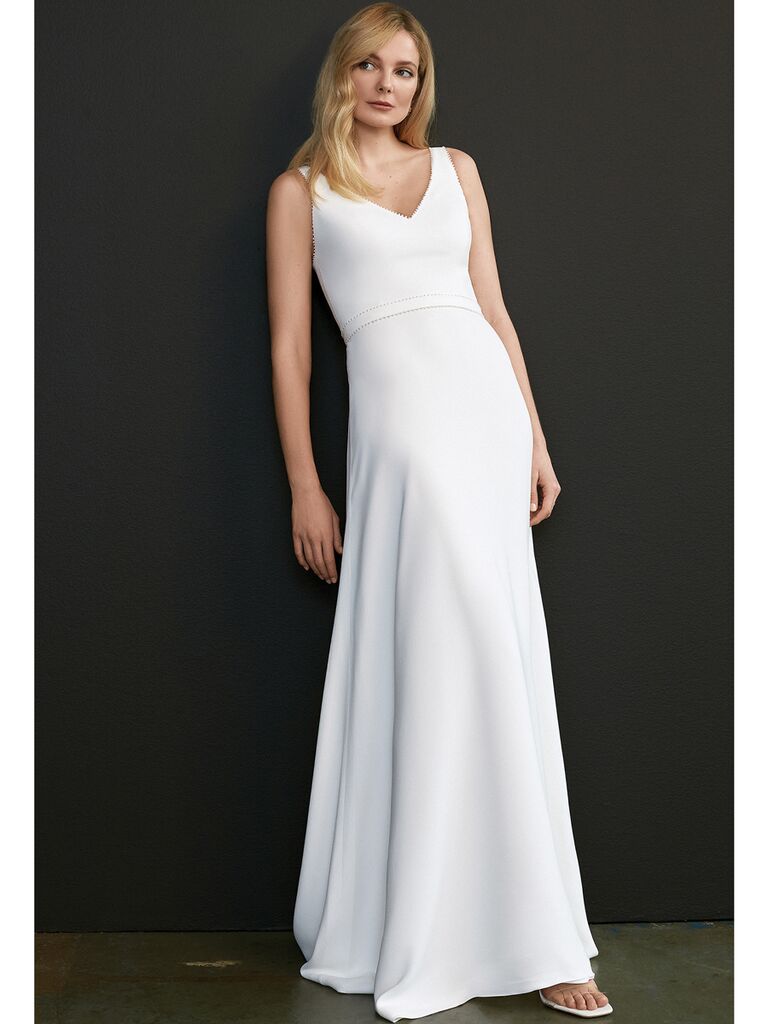 "Rene" heavyweight stretch crepe, A-line gown with a fully corseted bodice embellished with a pearl trim.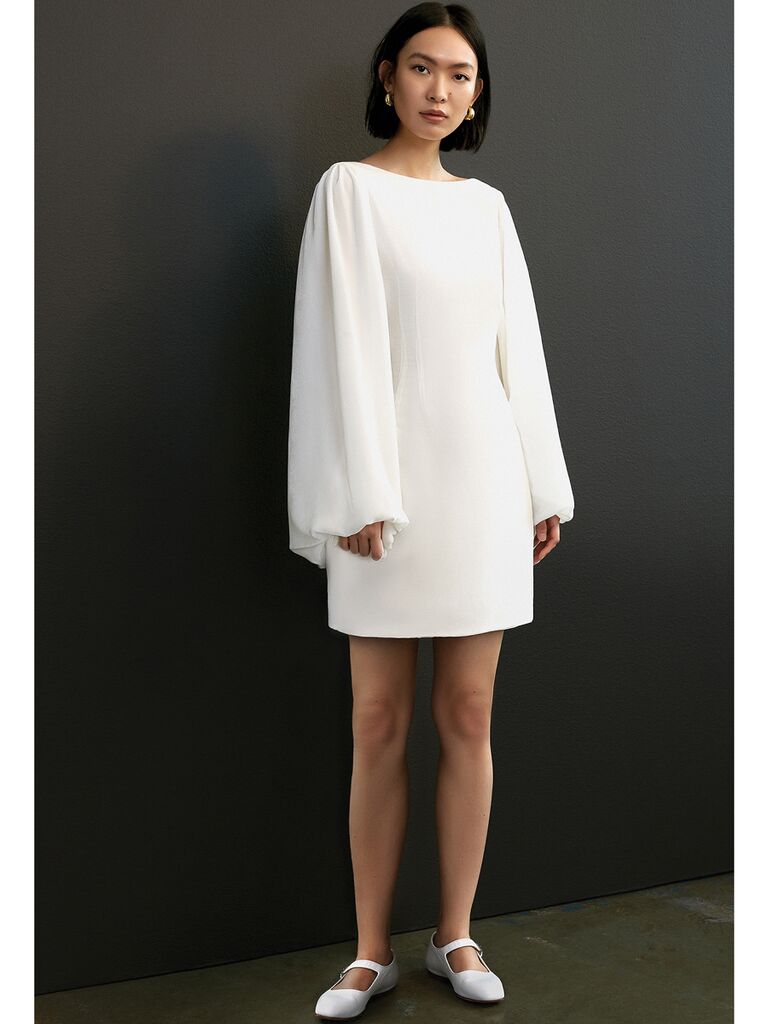 "Robin" short, velvet dress with balloon sleeves and low V-back.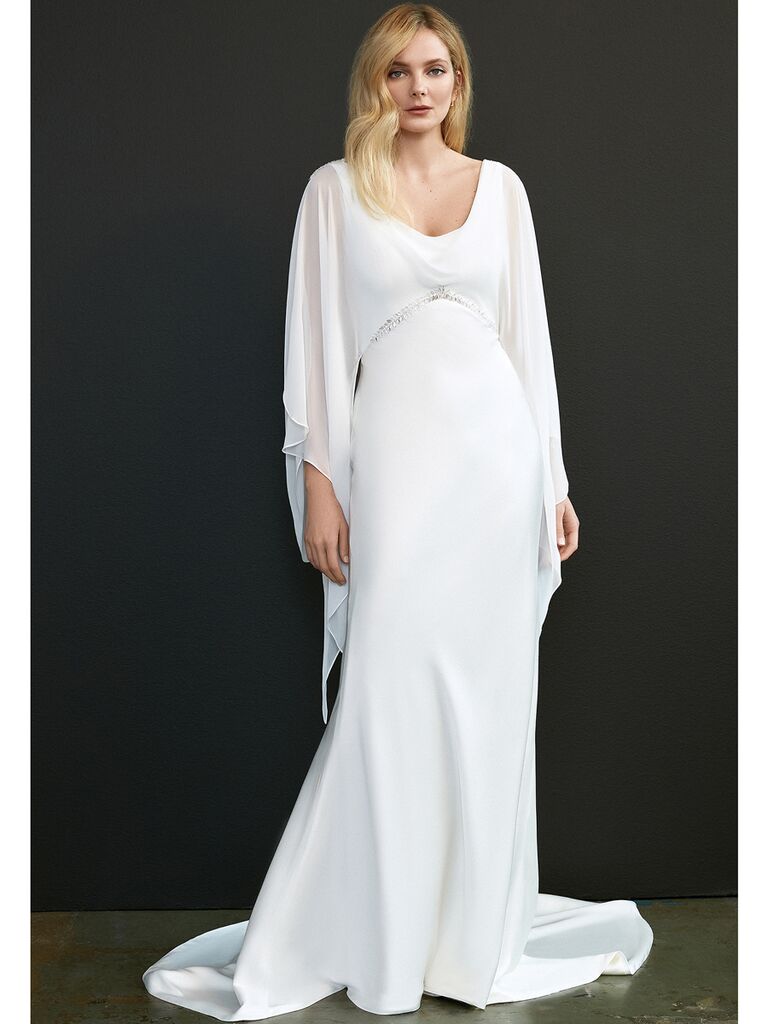 "Rosemary" heavyweight satin backed crepe gown with a subtle draped chiffon cowl neckline and butterfly wing sleeves.
To check out all the Bridal Fashion Week galleries, plus wedding dress advice and more, go to TheKnot.com/bridal-fashion-week.