See Danielle Frankel Wedding Dresses From Bridal Fashion Week
Here's the designer's latest collection to hit the bridal runways.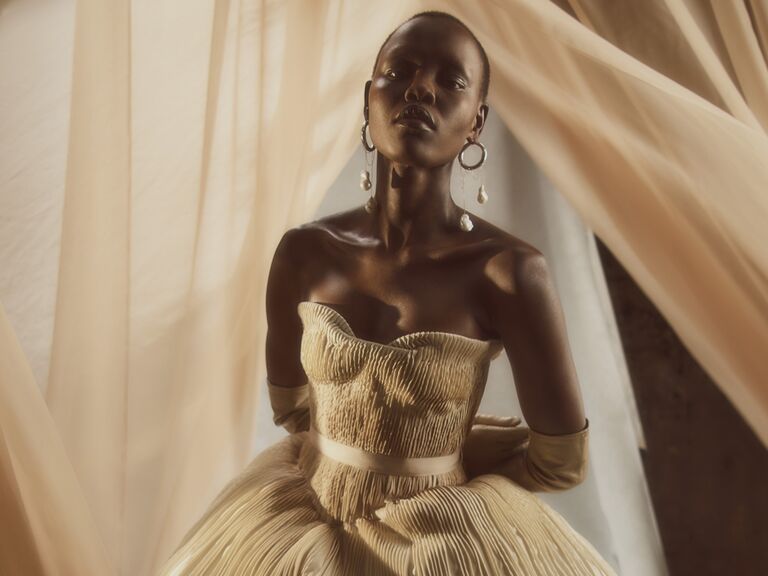 Danielle Frankel is a bridal designer based in New York City. Frankel taps into the way modern women are choosing to dress for their weddings with her flexible, multifaceted pieces. You can find everything from menswear-inspired suiting and architectural wedding dresses to romantic silhouettes with flowing skirts. The latest Danielle Frankel wedding dresses are easy to recognize, and the contemporary timelessness can't be ignored. Full of fresh and modern ideas, the Danielle Frankel Spring 2022 wedding dress collection continues to push the envelope of traditional design.
See every dress from Danielle Frankel's 2022 collection below.
Danielle Frankel's Spring 2022 Wedding Dresses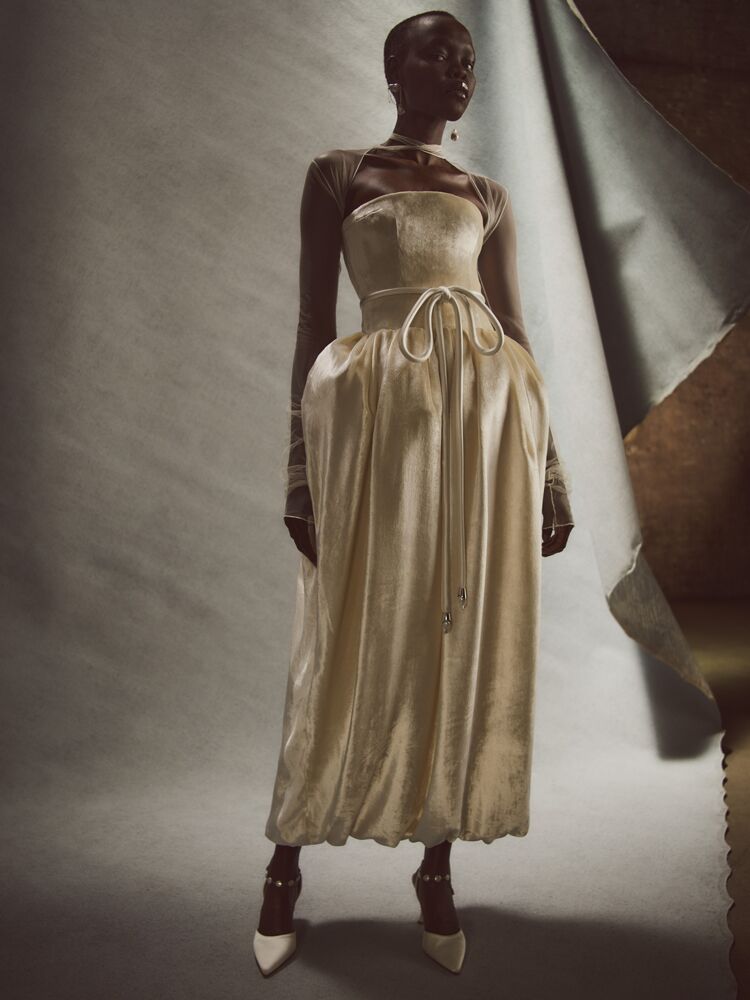 "Fida" Gown; strapless velvet wedding dress with bubble hem.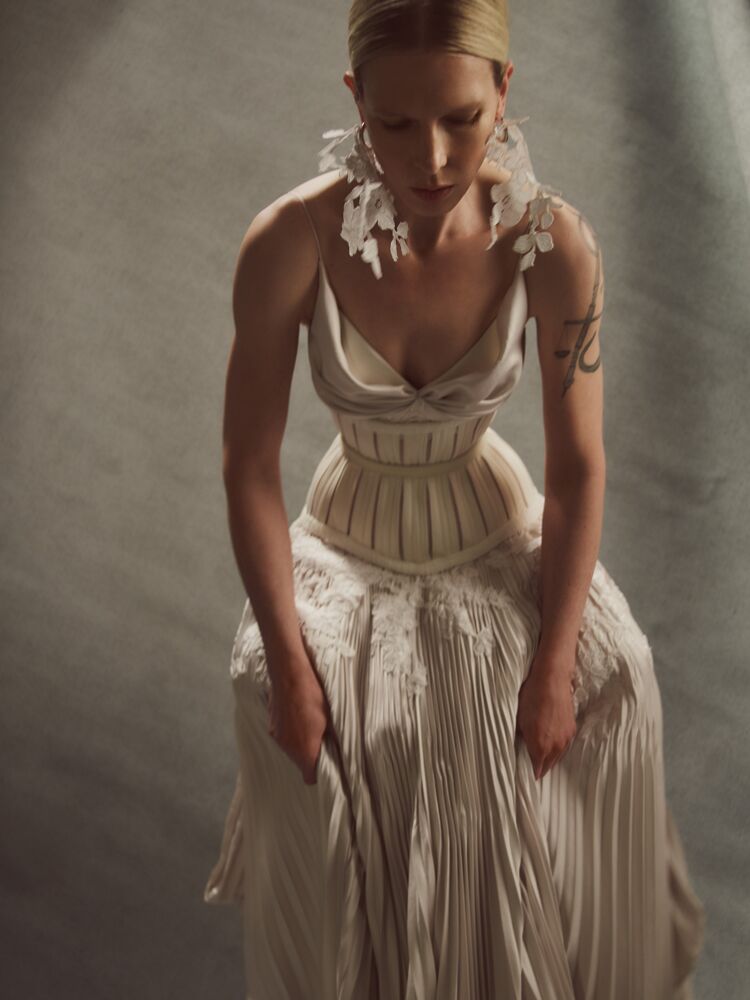 "Remy" Gown; pleated satin wedding dress with cotton corset and satin twill draped bra.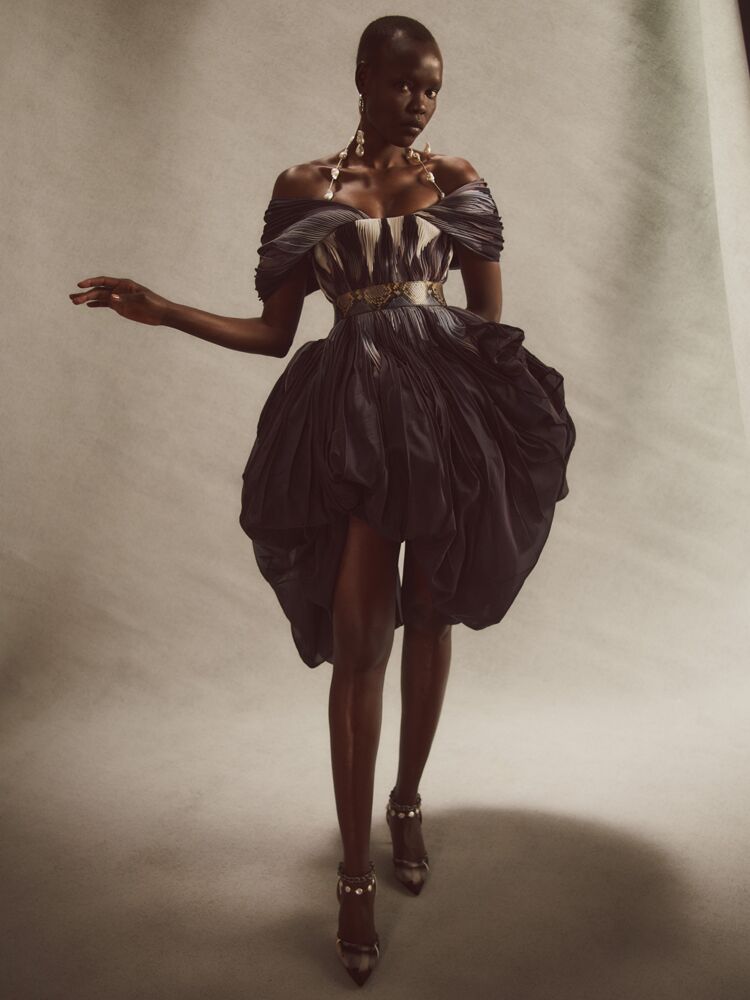 "Maya" Gown; black organza cocktail dress with short tulip draped skirt.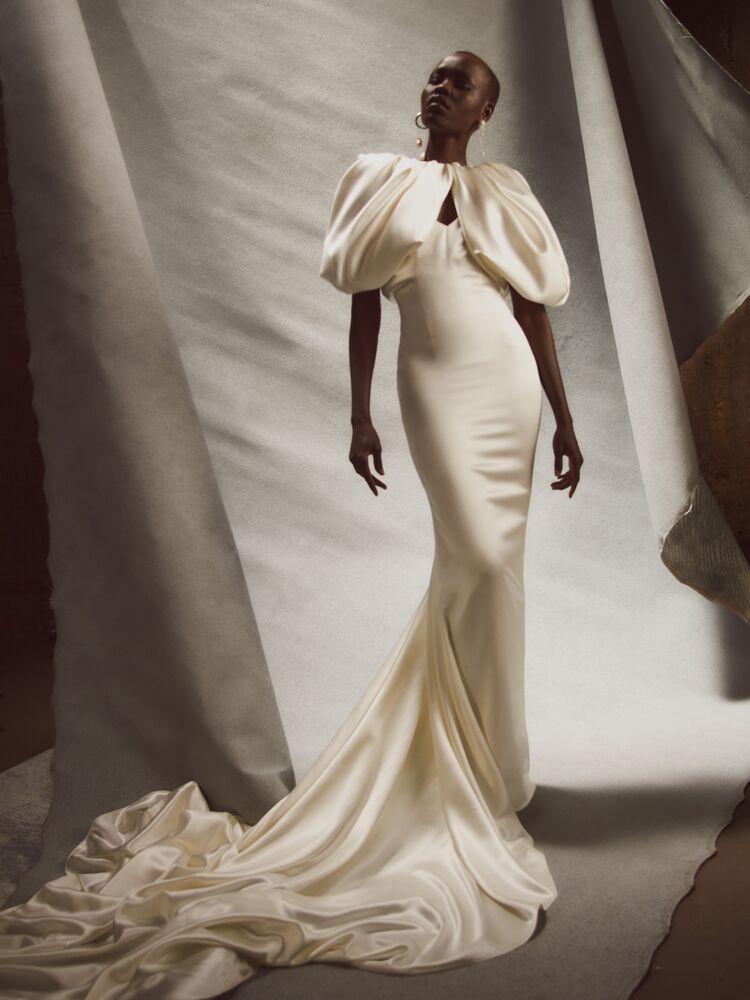 "Amalie" Gown; silk wool wedding dress with draped tulip sleeves, open back and long train.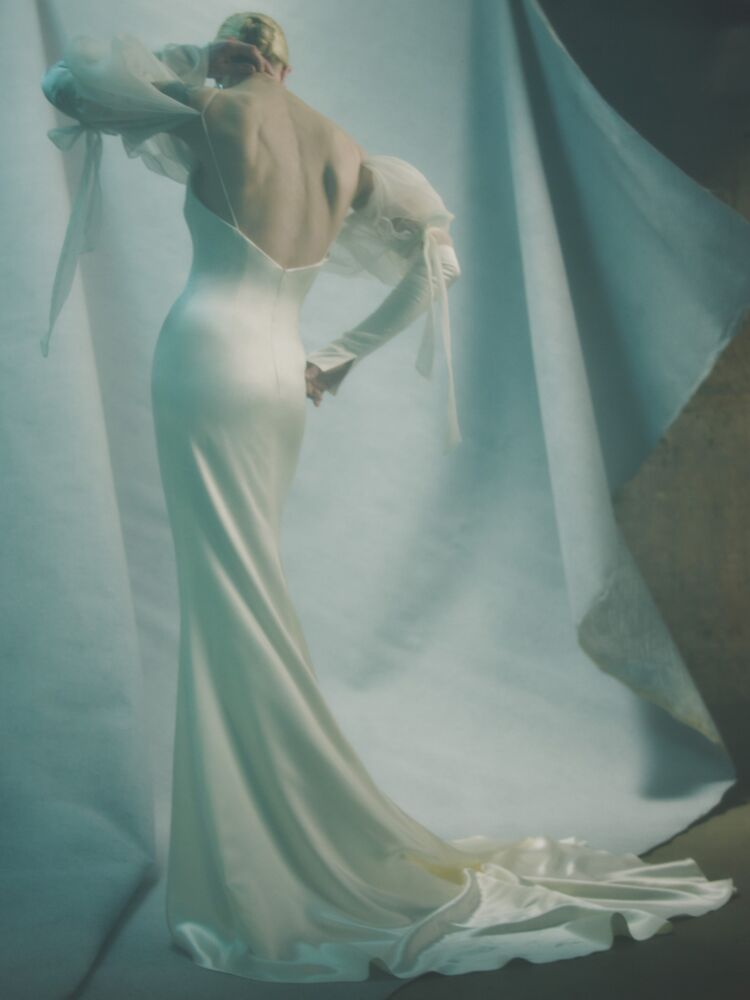 "Maren" Gown; silk wool sheath wedding dress with V-neckline and gauze draped long sleeves.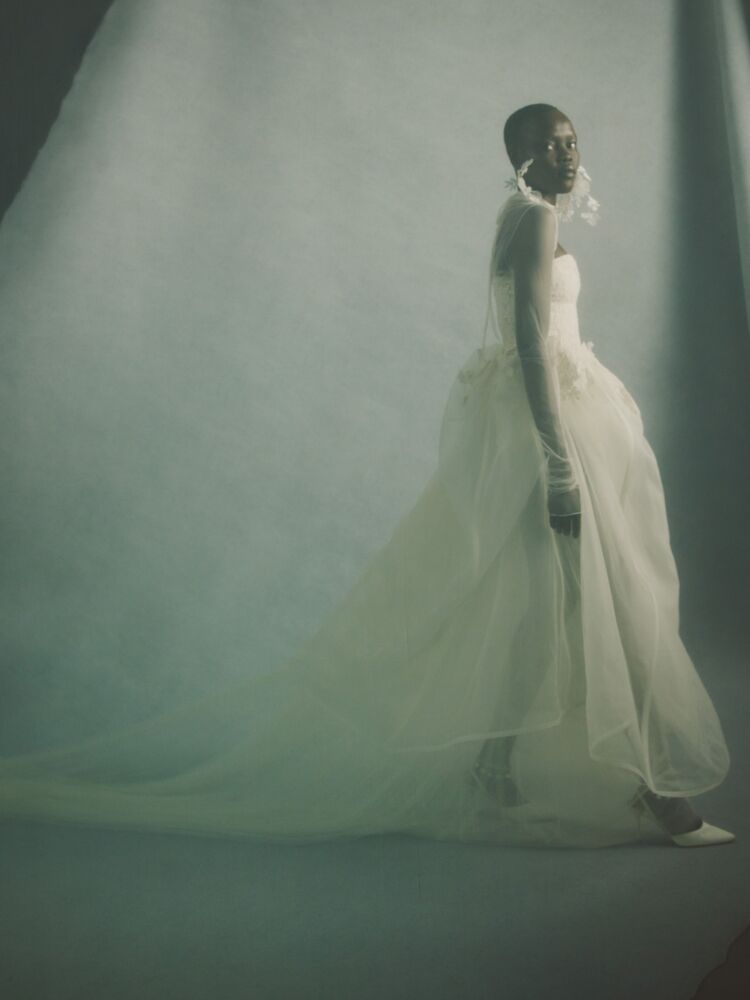 "Annelise" Gown; strapless tulle and organza wedding dress with Chantilly and corded lace accents.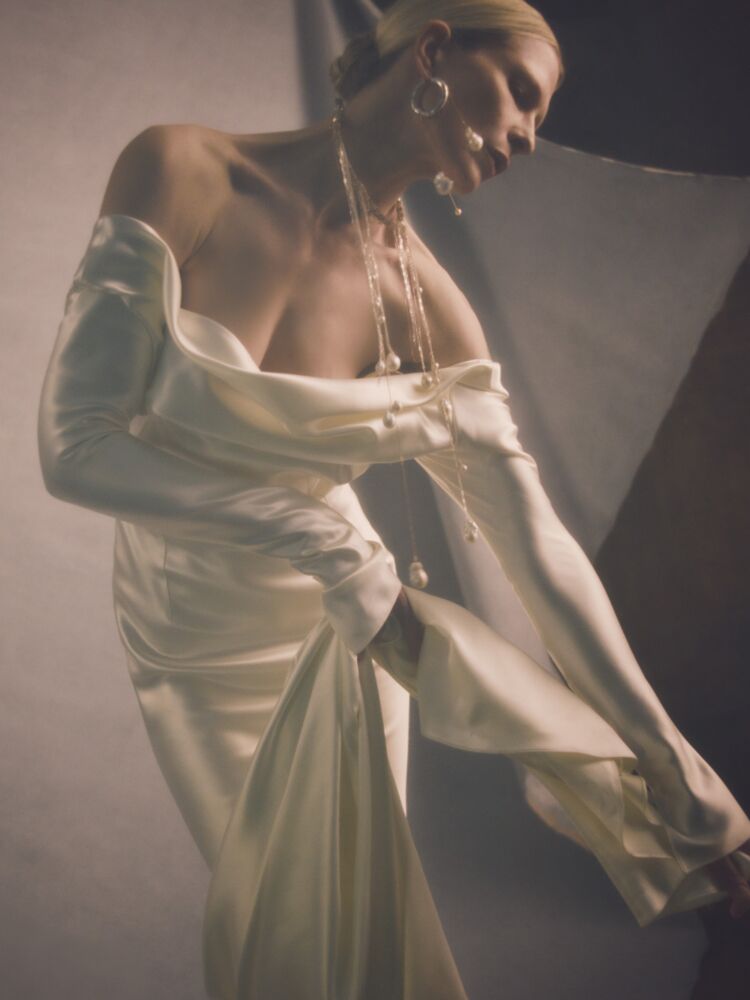 "Noa" Gown; bias- cut silk wool off-the-shoulder sheath wedding dress with wilted neckline and long sleeves.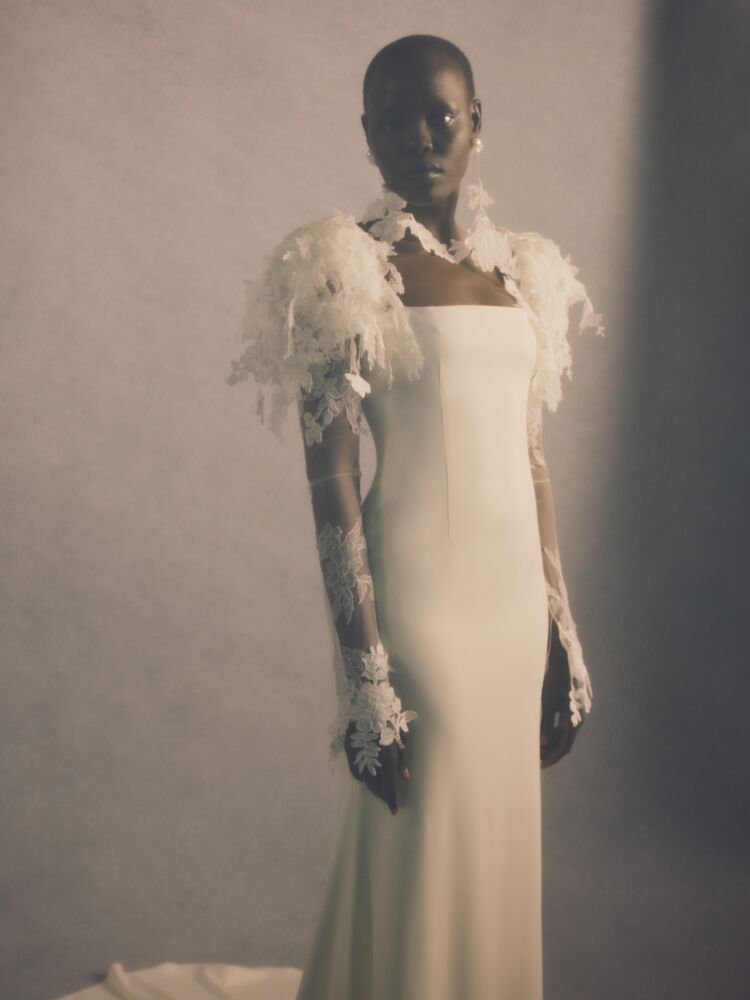 "Aria" Gown; sheath with square draped tulip capeneck, dangling lace from the shoulders and long sleeves.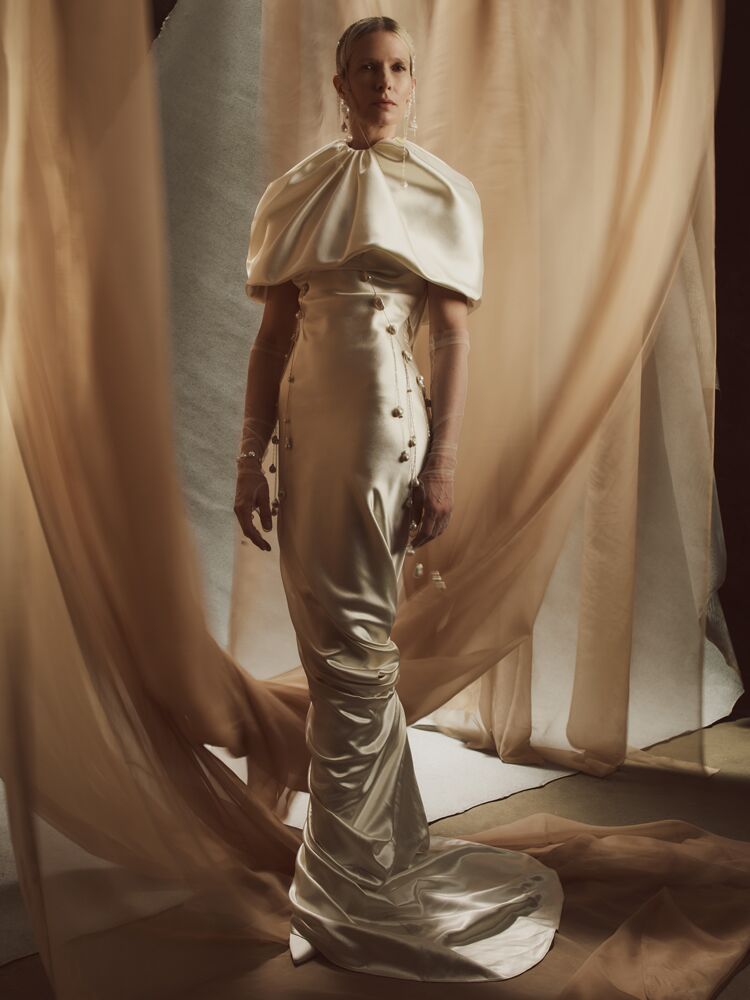 "Charlie" Gown and "Eugenie" Cape; sleeveless silk woo bias cut wedding dress with open back and silk wool draped tulip cape.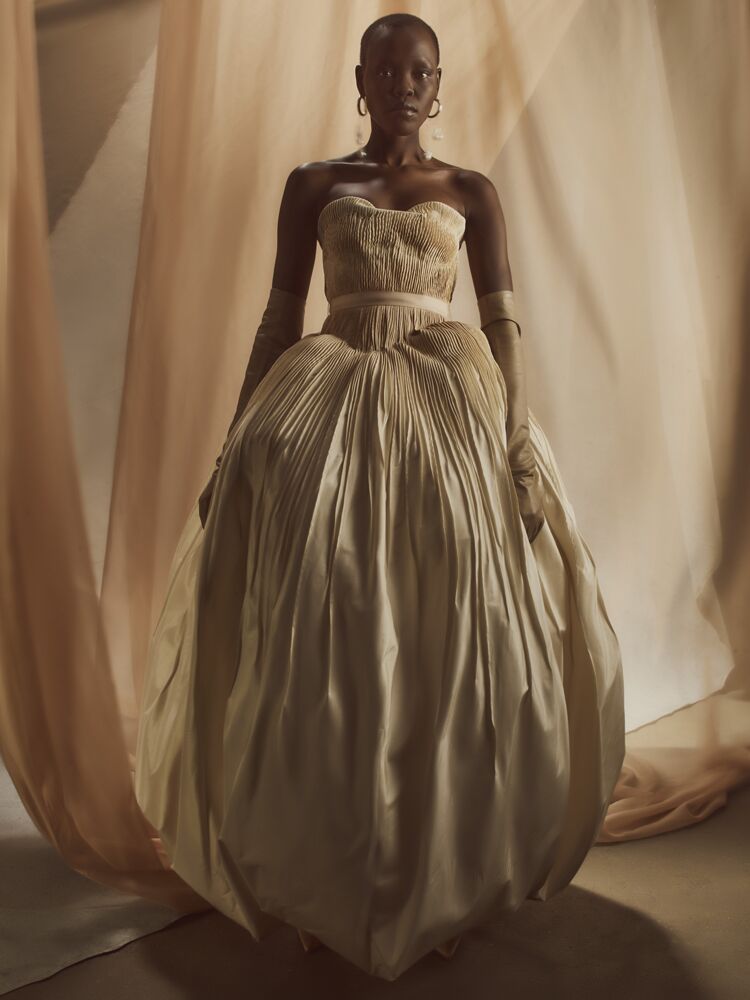 "Lennon" Gown; tucked almond taffeta strapless ball gown with grossgain belt and pleated skirt.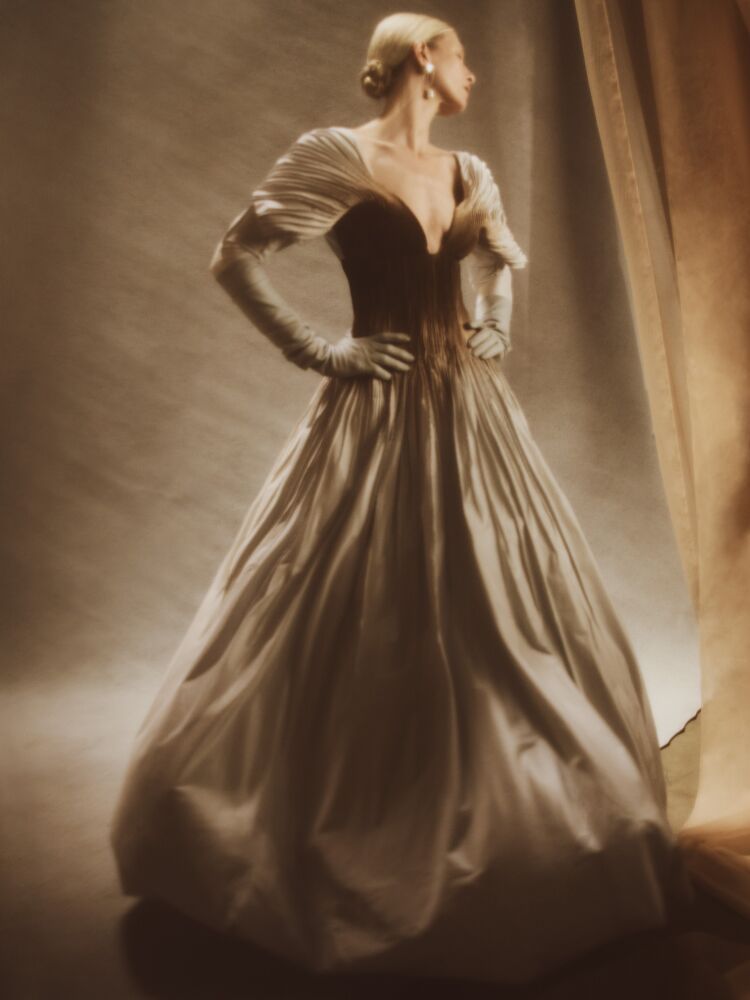 "Tabitha" Gown; tucked silk taffeta ball gown with long off-the-shoulder sleeves.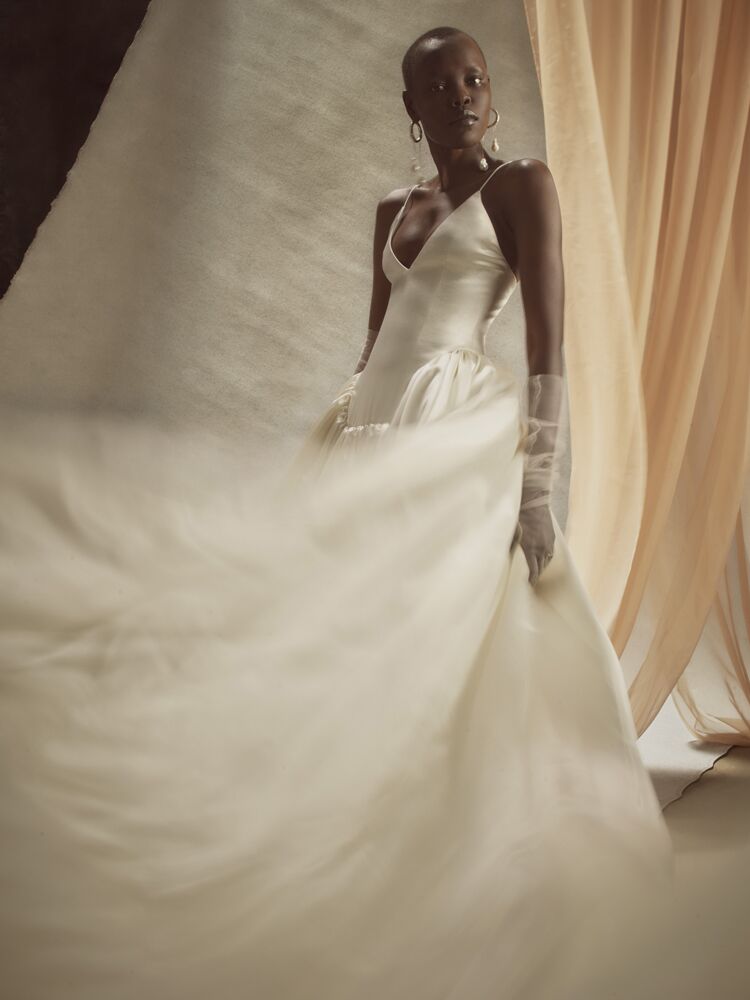 "Nina" Gown; sleeveless silk wool ball gown with shirred skirt, spaghetti straps and V-neck.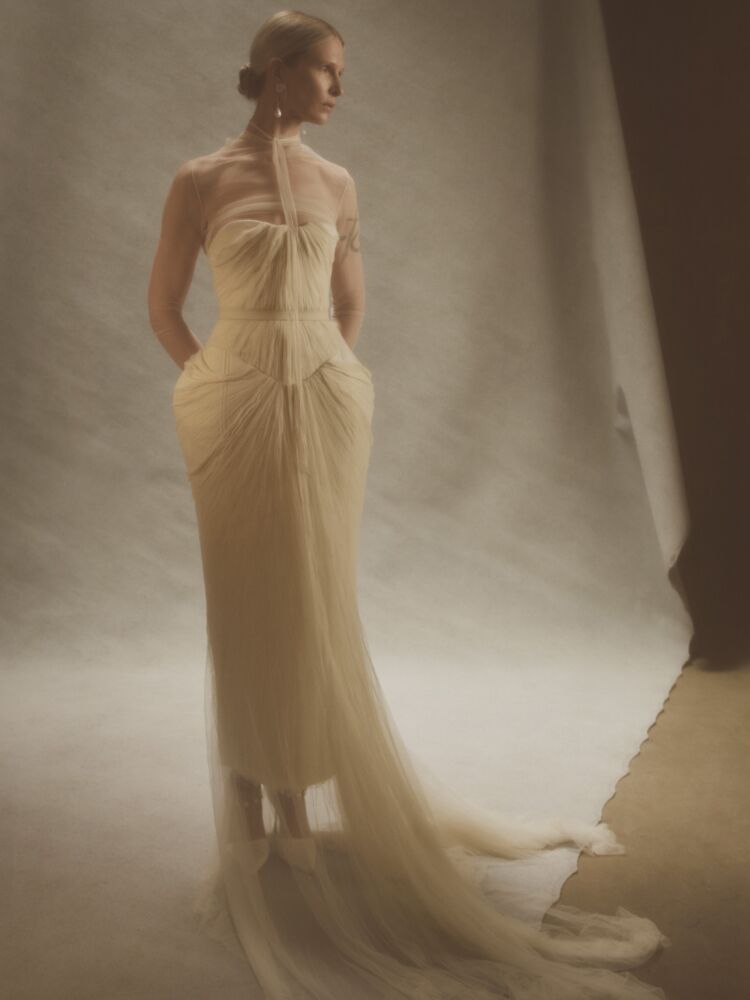 "Felicity" Gown; strapless pleated and draped tulle wedding dress with tulip silhoutte.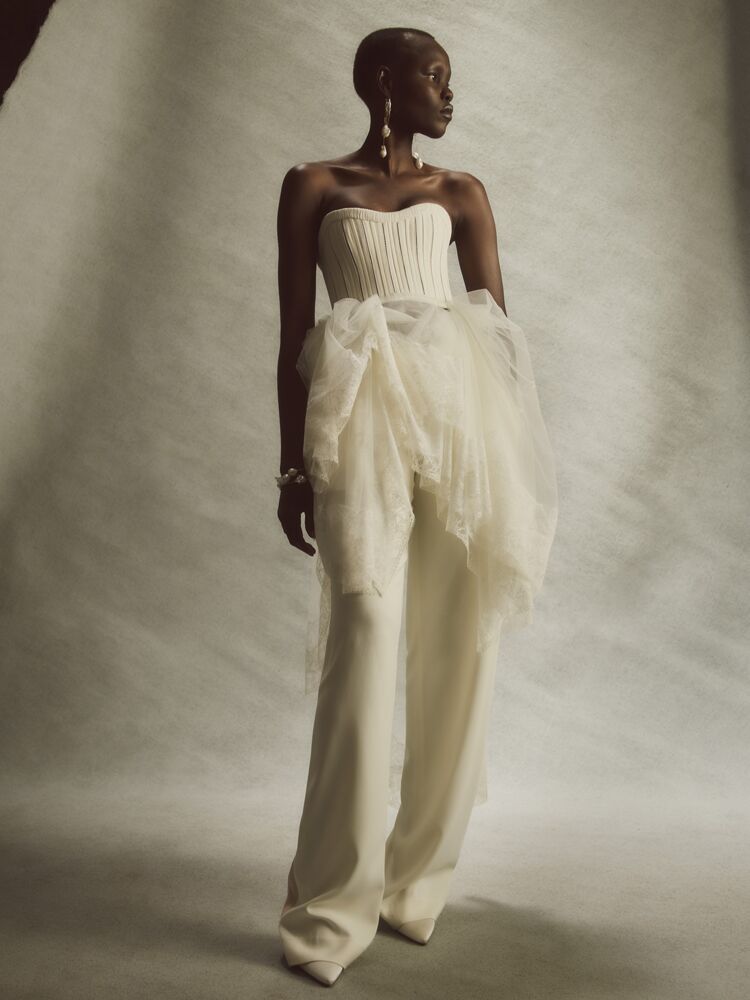 "Miriam" Pant; relaxed pant with grossgrain tuxedo detail.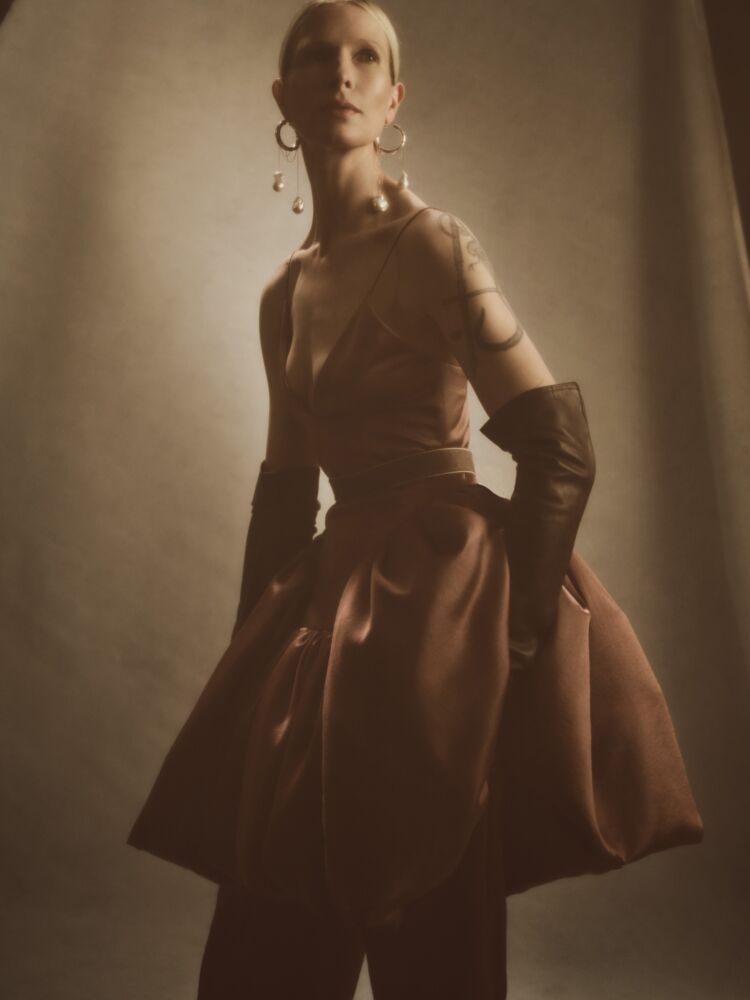 "Estelle" Dress; mini dress is rust satin twill with shirred skirt.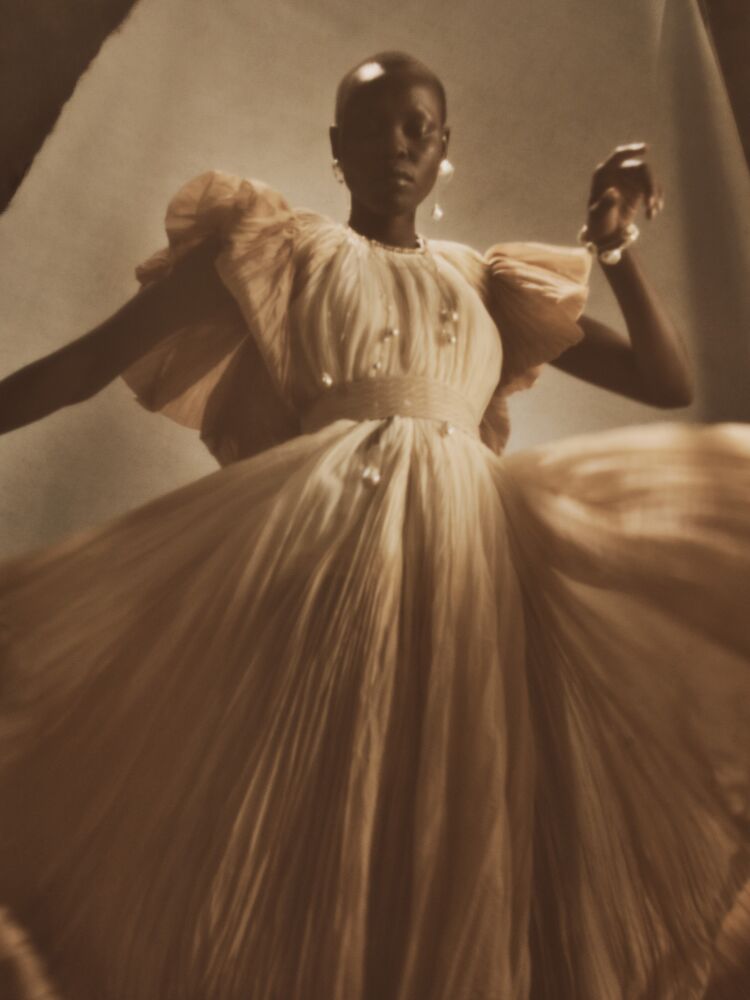 "Blythe" Gown' dip-dye pleated organza wedding dress with flutter sleeves.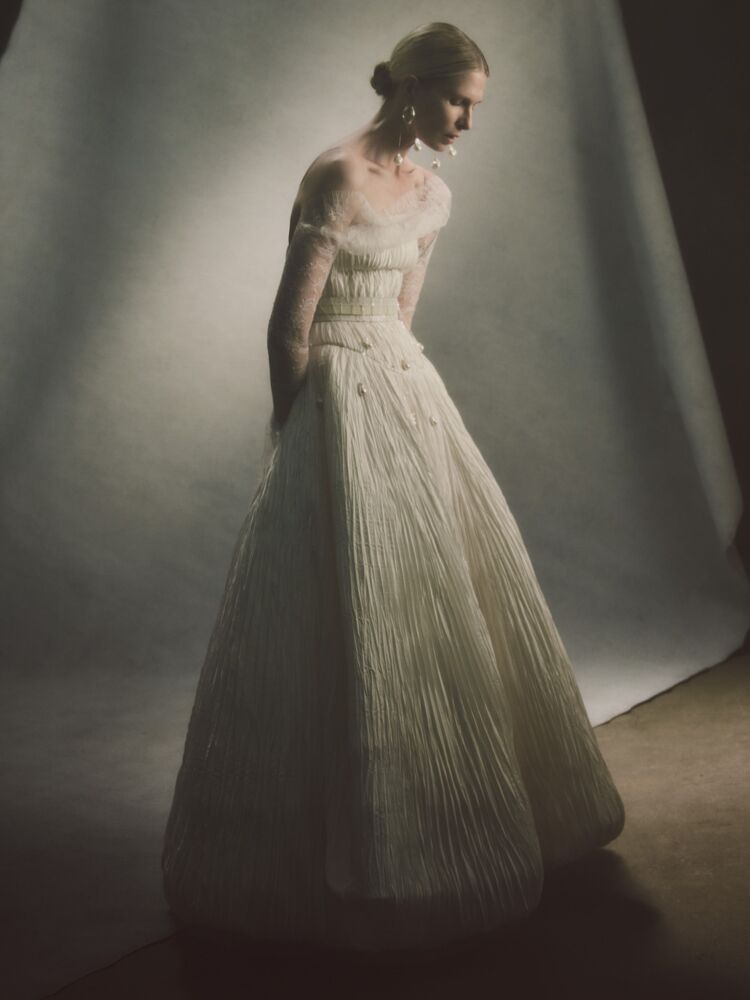 "Camille" Gown; pleated charmeuse ball gown with collapsed drop waist.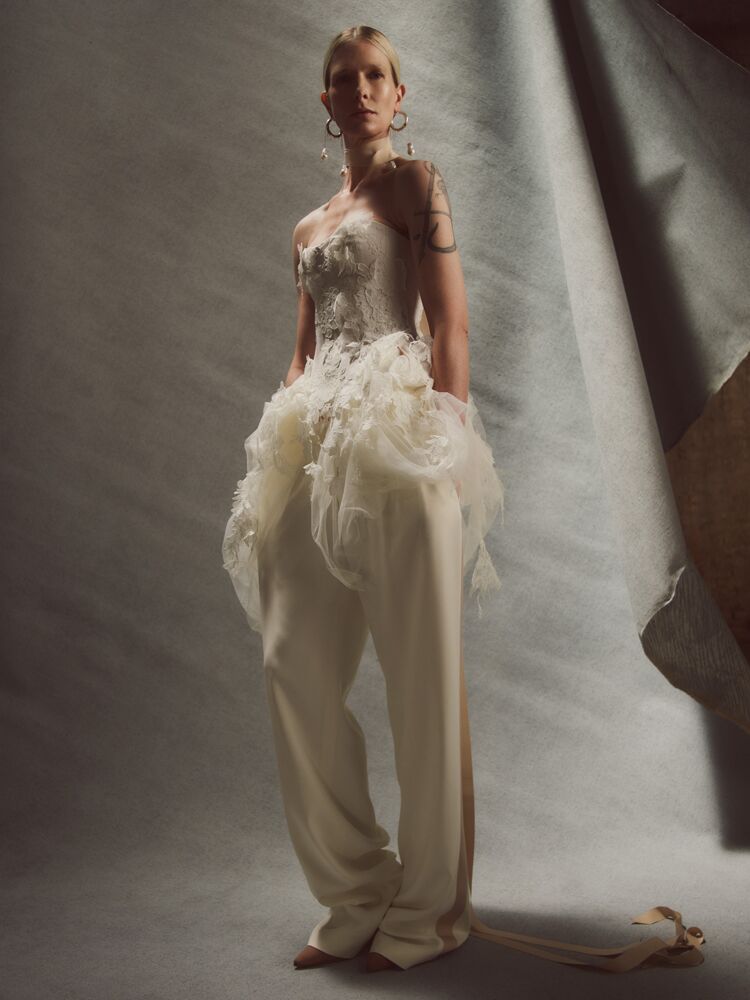 "Arielle" Bustier; strapless satin twill and tulle bustier with corded and Chantilly lace accents.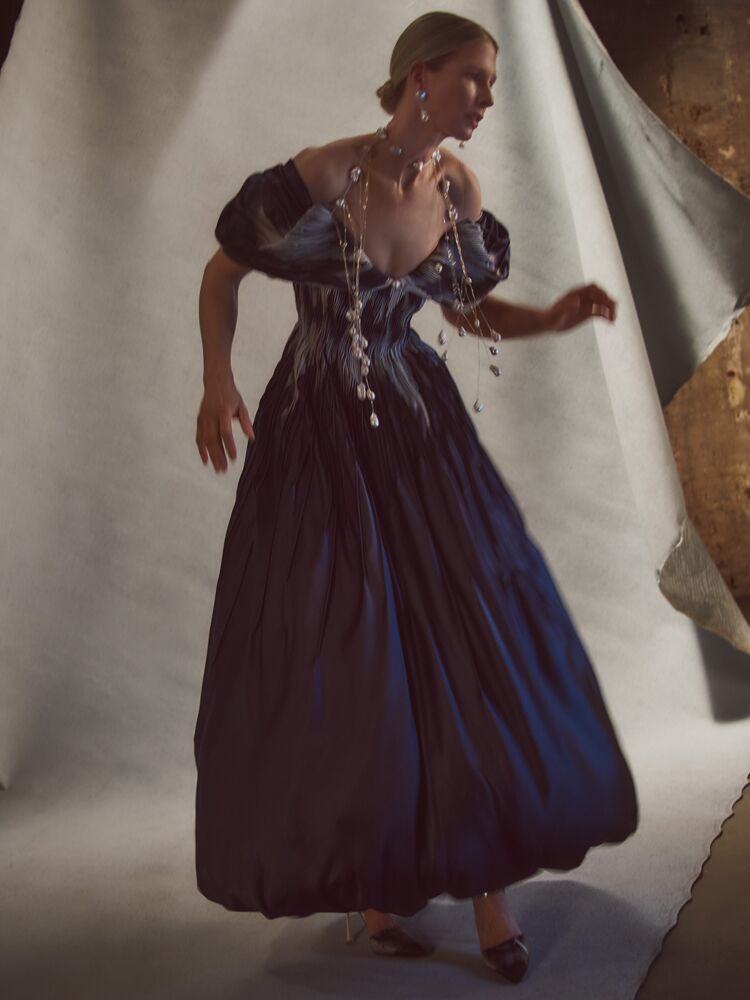 "Coty" Gown; black tucked satin twill wedding dress with draped off-the-shoulder sleeves.
Designer Danielle Frankel's Signature Style
Though Danielle Frankel is a bridal designer, her pieces are intended to be worn long after the celebration is over, featuring unique fabric pairings, playful accents and impeccably tailored pieces that fit beautifully. In all of Frankel's wedding dress collections, you will find unexpected looks fit for the contemporary bride who is searching for something out of the typical bridal box. Take a look at her past designs and you will see that she is not afraid to experiment with different silhouettes, embellishments, and textures. With a focus on fit and luxe materials, her work speaks to chic and modern brides.
A Brief History of Wedding Dress Designer Danielle Frankel
Before launching her very own bridal collection in 2017, Danielle Frankel worked on teams at both Vera Wang and Marchesa. Her prior design experience equipped her with a knack for traditional tailoring plus a deep familiarity with the industry. That, combined with her fashion-forward style, set her brand apart from the rest from the very start.
Danielle Frankel Collection History
The launch of Danielle Frankel was spurred by Frankel's outlook of the current bridal market and the opportunity for where bridal should stand within the broader fashion retail world. The fabrics, techniques and designs are simple yet intricate in both construction and finishings. Her Spring 2022 bridal collection ranges from minimalist gowns, like a slinky long-sleeved satin number with a dipped back, to classic styles with a bite, like a pleated dress with a portrait neckline and rounded sleeves.
Other Danielle Frankel Labels
Recently, Frankel introduced Objet, her jewelry and accessories collection, designed to accent and style her signatures. The limited offering highlights natural, raw pearls — clients can purchase one piece of only a hundred created in every design. Each comes marked and signed like the exclusive work of art that they are.
Famous Danielle Frankel Brides
Katie Lee, a cookbook author, cohost of Food Network's The Kitchen, and star of the Cooking Channel's Beach Bites With Katie Lee, wore a Danielle Frankel gown as she married TV producer Ryan Biegel in an intimate gathering on the Amalfi Coast. After Danielle designed Katie's dress for the 2018 Met Gala, she knew she wanted her to make her wedding dress as well.
Before her wedding to Karl Glusman, Zoë Kravitz donned a custom Danielle Frankel look to their rehearsal dinner at Restaurant Lapérouse in Paris on June 28, 2019. Kravitz looked completely stunning as she arrived wearing the crochet pearl dress over white boy shorts and a strapless silk bra. The custom Danielle Frankel look was both bridal, and in keeping with Kravitz's inimitable style.
Fun Facts about Danielle Frankel
For her own wedding in Los Angeles, Danielle wore a shirtdress styled with a vintage jacket from the '90s that she bought at a flea market — which became the starting point for creating her signature long coats.
To check out all the Bridal Fashion Week galleries, plus wedding dress advice and more, go to TheKnot.com/frontrow.