How to Include Hand Sanitizer in Your Wedding (Without Sacrificing Style)
Help guests stay safe (and squeaky clean) with these unique ideas.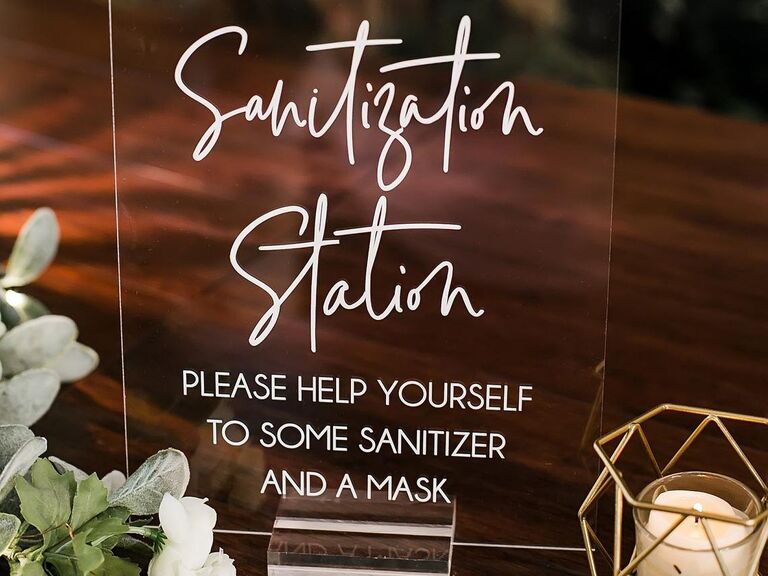 We have included third party products to help you navigate and enjoy life's biggest moments. Purchases made through links on this page may earn us a commission.
Weddings in the wake of COVID-19 aren't exactly the same as before—but that's not to say you can't still pull off a special celebration. So you have to take some extra sanitary precautions? Don't sweat it. We're sharing all the ways to include hand sanitizer in your wedding (that won't ruin the aesthetic). The first step is to check the latest guidelines to help you safely plan. From there, work with your chosen vendors. Your venue might already have hand sanitizer stations they'd be happy to set up for you. If not, some rental companies are offering freestanding stations for the big day.
Once you've sourced your wedding sanitizer, work with your planner or venue to figure out where it should go. We suggest setting up stations at entrances, exits and near restrooms where guests can clearly see them. Of course, the best way to make your sanitization stations visible is to decorate. Think: signage, flowers or even photos of you and your S.O. (aww!). Finally, you'll want to appoint someone to take care of refills throughout the day so you and your guests are never without.
From wearing wedding face masks to offering mini bottles of hand sani, there are lots of opportunities to look after your loved ones. Below, find creative ways to provide sanitizer on your special day, including stations, signage and hand sanitizer wedding favors.
In this article:
Hand Sanitizer Stations
There's a lot to consider when it comes to choosing hand sanitizer stations for your wedding. For an ultra-clean experience, go for contactless dispensers that'll automatically spout sanitizer right into guests' hands. On the flip side, if your wedding budget has a little less wiggle room, there are more cost-effective options that can still help your loved ones. First things first: If your vendors don't have what you're looking for, you may have to search elsewhere. The good news is we've done the work for you and found wedding sanitizer stations for every budget.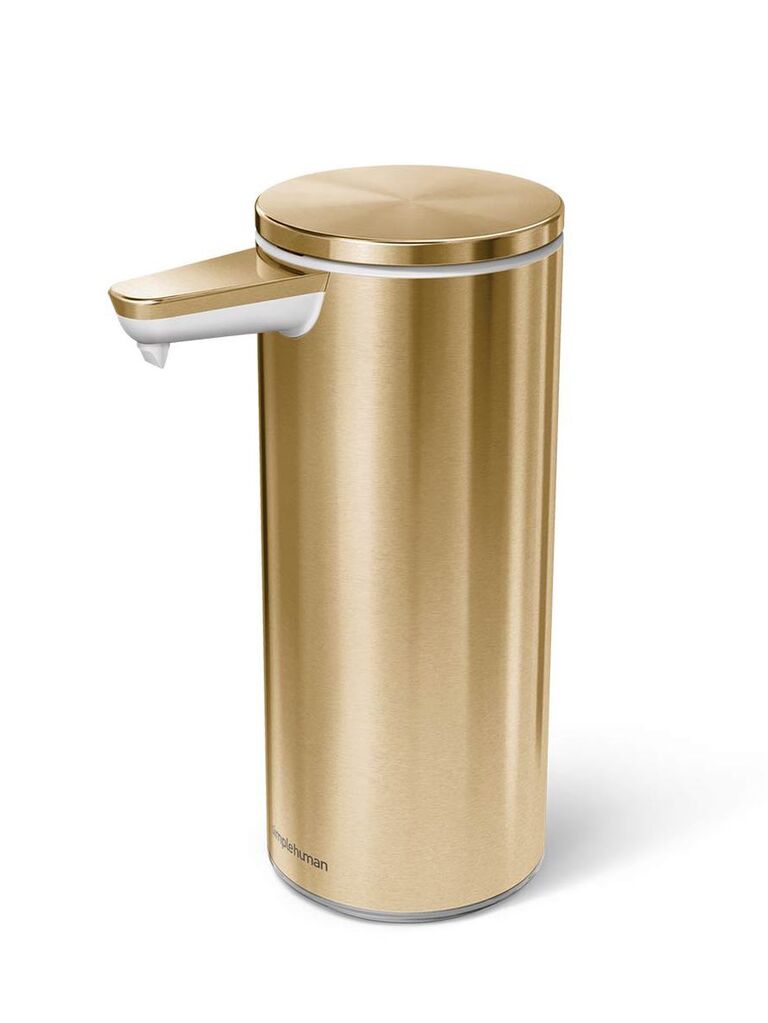 This contactless hand sanitizer pump comes in a selection of sleek metallic finishes, meaning you can choose the best one for your wedding theme. In addition to looking the part, it boasts an efficient, high-tech design. Refilling is made easy with a handy funnel opening, and if that isn't enough, it's rechargeable. (No more fussing around with batteries!)
simplehuman rechargeable liquid sensor pump, $60, simplehuman.com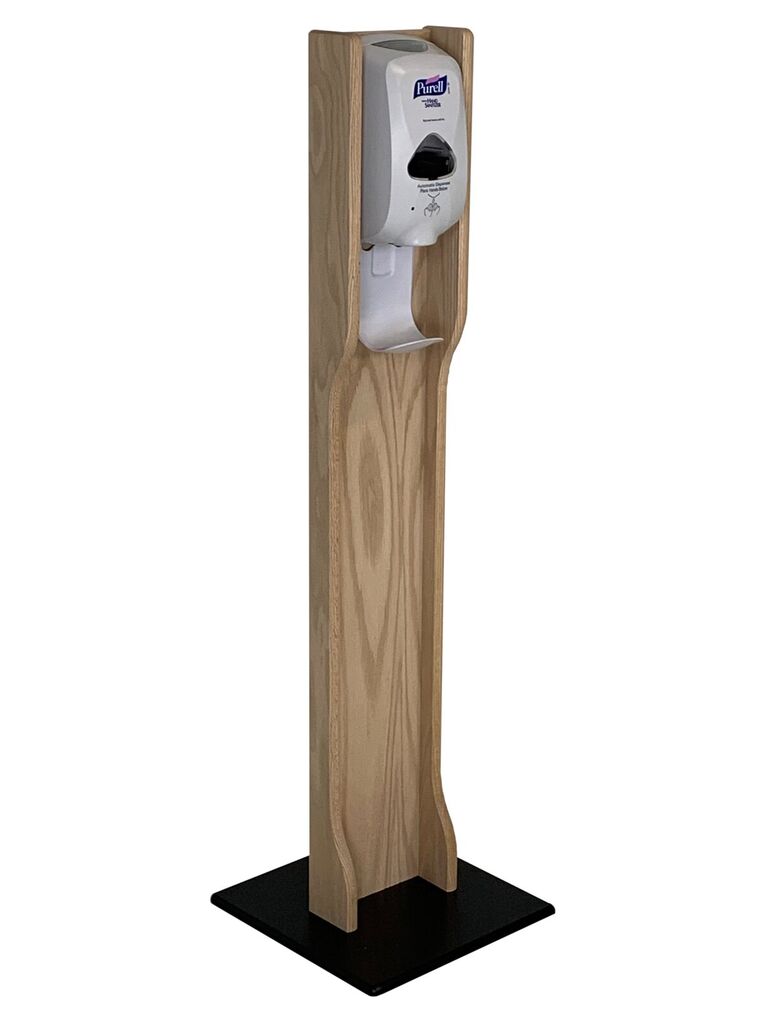 If you're on the hunt for freestanding hand sanitizer stations, we've got you covered. This elegant wooden stand might stretch the budget a little, but it'll look oh-so charming for a country wedding.
Wooden Mallet elegant hand sanitizer dispenser stand in Unfinished, $300, Wayfair.com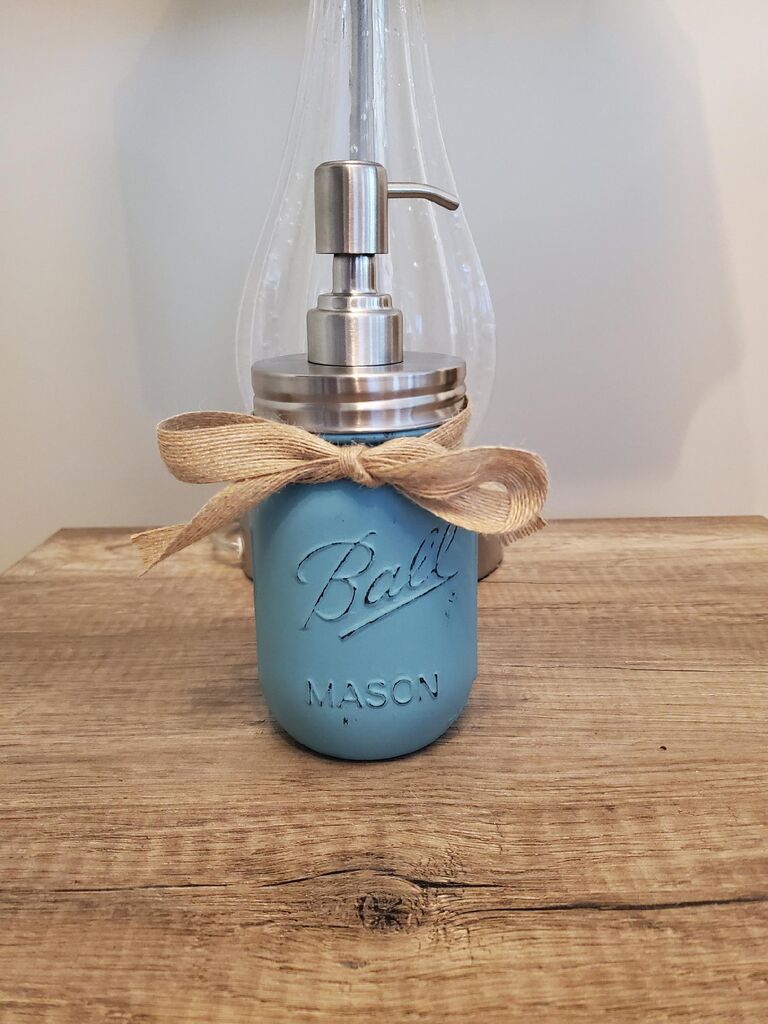 Speaking of rustic celebrations, this chic mason jar pump will take your hand sanitizer stations to the next level. Bonus: It comes in lots of different shades to match your wedding colors (and it's totally budget-friendly).
Ashlynn's Decor & More rustic/farmhouse mason jar dispenser, $14, Etsy.com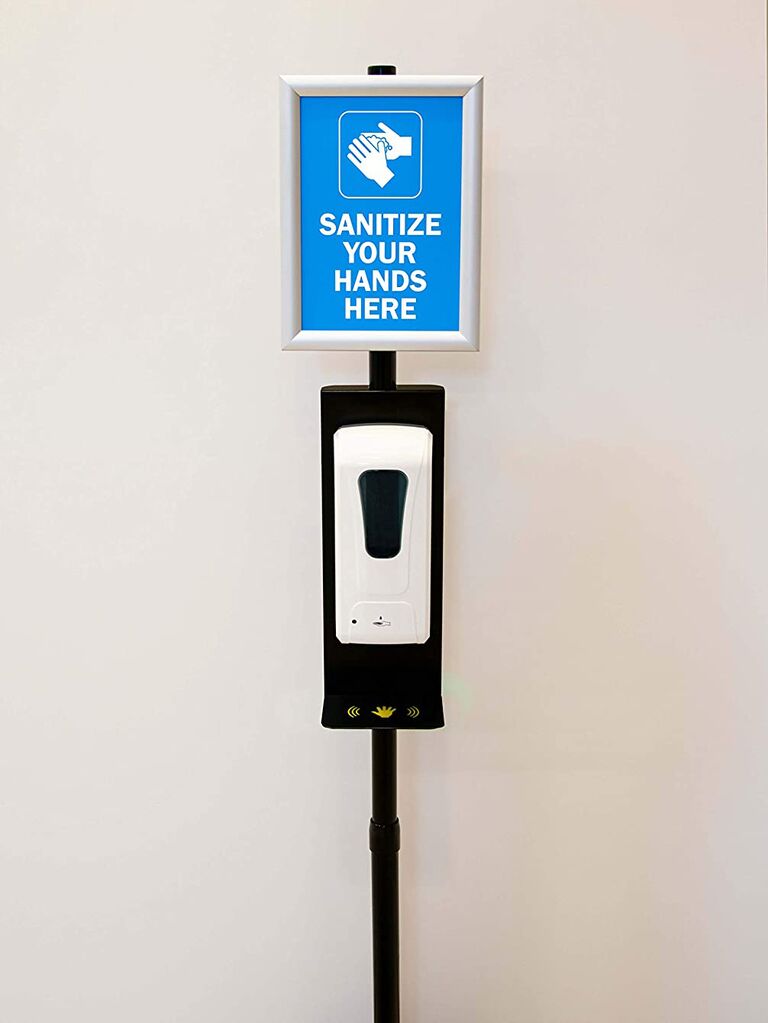 Finally, why not create your wedding hand sanitizer station with this minimalist metal floor stand? The smart-sensing dispenser offers a touch-free experience, and you're free to flaunt your best hand sanitizer wedding signage in the attached frame.
BLUEDLUXO hand sanitizer automatic touchless dispenser station, $210, Amazon.com
Hand Sanitizer Signs
Once you've decked out your wedding venue with hand sanitizer stations, the next step is to make them look the part. There's a lot you can do to bring floor stands up to scratch, and your planner or florist will be more than happy to talk you through some ideas. Another way of making your wedding hand sanitizer stations pop is to add signage. Not only does it look super cute, but it'll also encourage guests to keep up the cleanliness all day long. (You can even coordinate them with your wedding social distancing signs!) See our favorite hand sanitizer signs below that you can shop right now.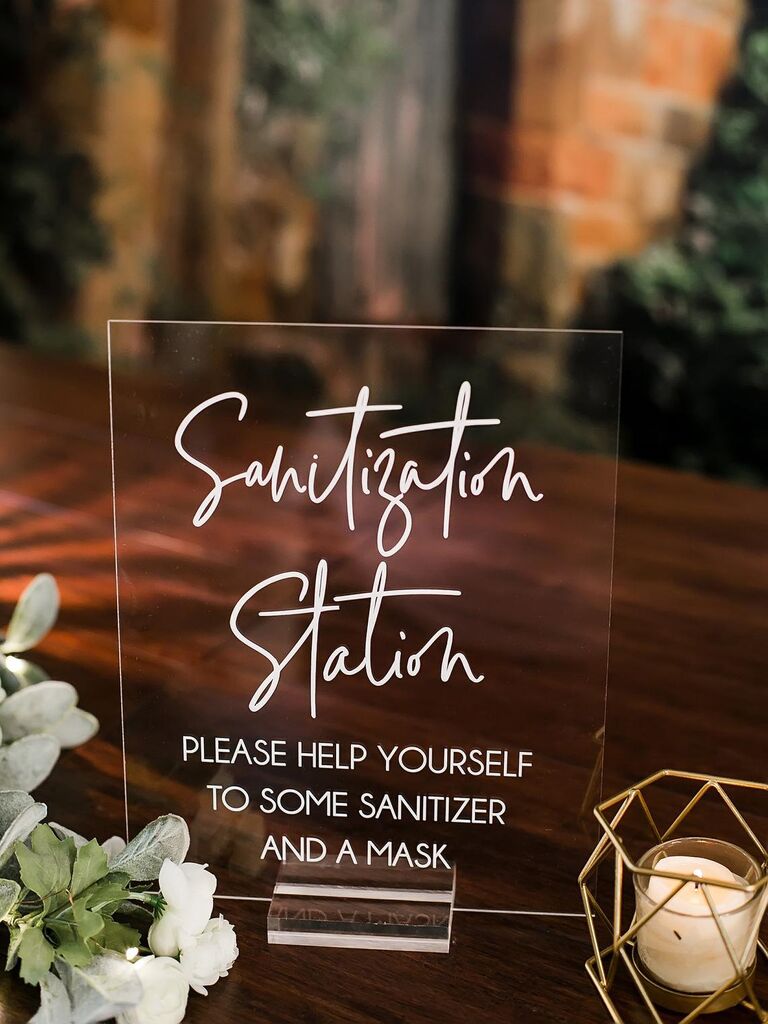 If you're planning on giving out face masks as wedding favors, set them up next to one of your hand sanitizer stations with this elegant acrylic sign.
Pink Posies and Pearls sanitization station wedding sign, from $18, Etsy.com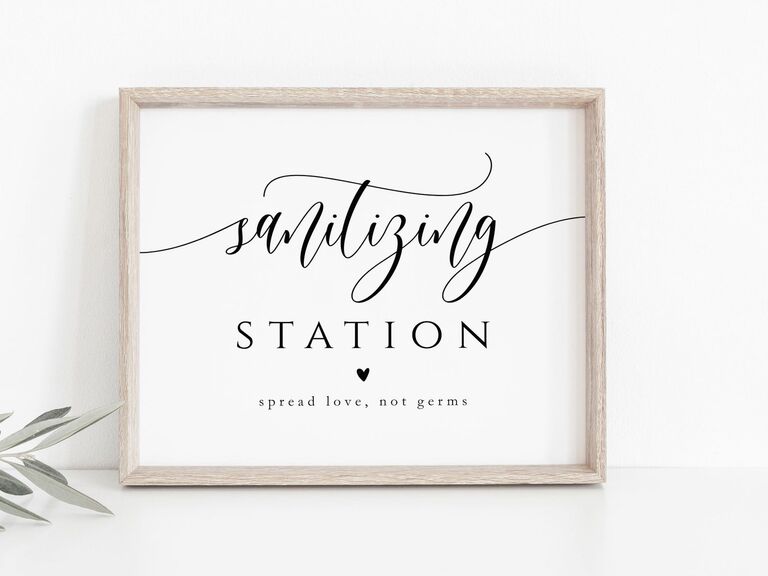 If your wedding date is almost here (OMG!), avoid shipping delays by printing sanitizer station signs yourself. This adorable download is a sweet reminder to "spread love, not germs."
Willow Lane Paperie sanitizer station sign, $5, Etsy.com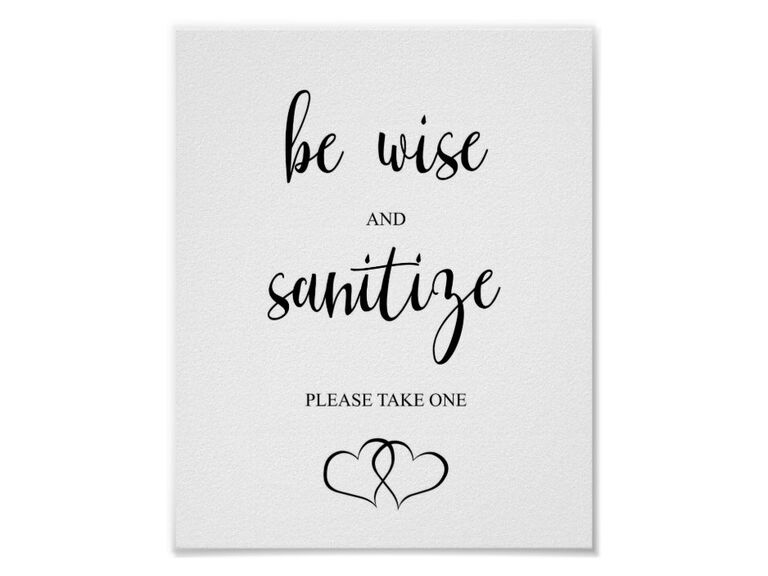 We've found the perfect sign for you to place next to your hand sanitizer wedding favors. This poster reads "be wise and sanitize," encouraging guests to get their hygiene on with a cute rhyme. Pair it with a sleek frame for an ultra-stylish sanitation station.
HillTop Printables wedding sanitize sign, $10, Zazzle.com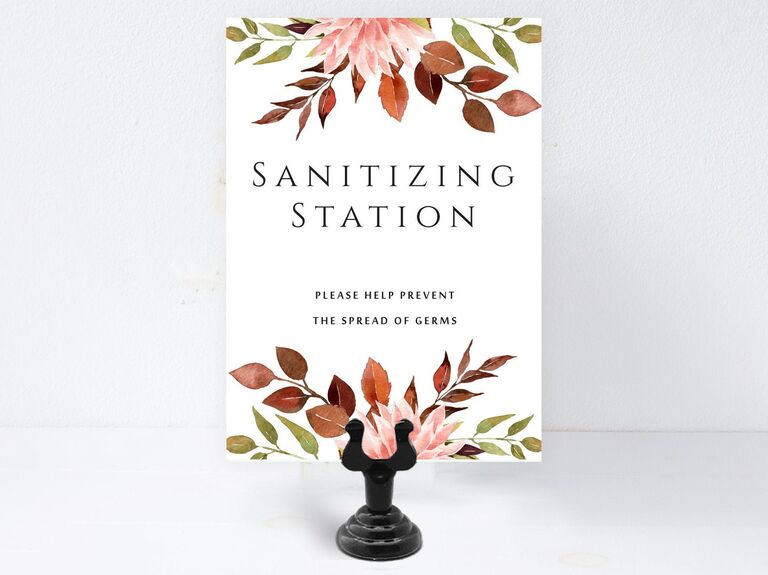 This affordable cardstock sign will make a stylish accompaniment to your wedding sanitizer stations. It comes with an ornate stand in black, gold or silver—your choice.
Green Ridge Designs sanitization station sign with stand, $6, Etsy.com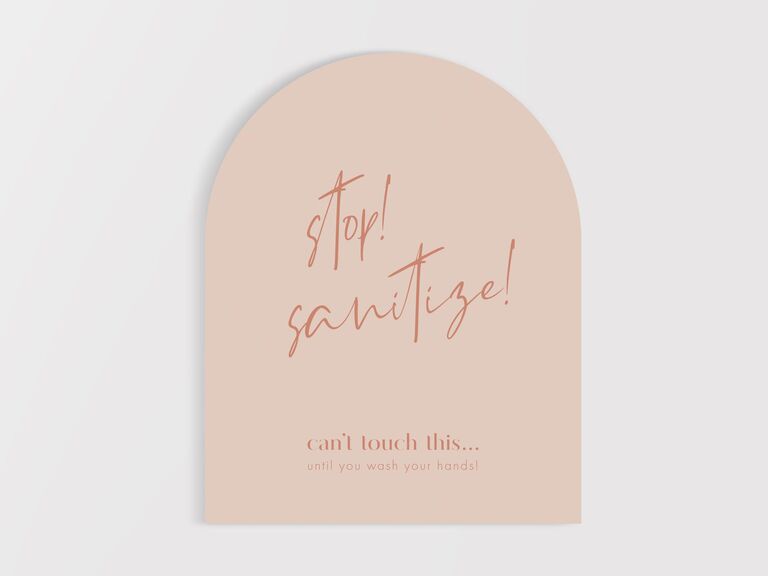 Who said hand sanitizer signs can't be fun? Get out your best MC Hammer impression with this unique poster that reads "Stop! Sanitize!" It comes in an elegant hue of blush or terracotta, with a modern arch design.
maya & love Morocco hand sanitizer sign, $20, Etsy.com
Hand Sanitizer Wedding Favors
Hand sanitizer is quickly becoming one of the most popular wedding favors you can give. Lucky for you, there are lots of cute ways to present it to guests that they'll totally adore. Try personalizing mini bottles of Purell with your wedding details or a cute slogan to make attendees smile every time they sanitize. Your loved ones will appreciate your concern for their safety, as well as the chic personal touch. If stick-on labels aren't quite your style, opt for sleek leather hand sanitizer covers or colorful pocket dispensers. For a safe (and budget-friendly) option, you could also pick up some mini travel bottles and fill them yourself—that way, you can be sure your wedding hand sanitizer is CDC-approved with at least 60% alcohol.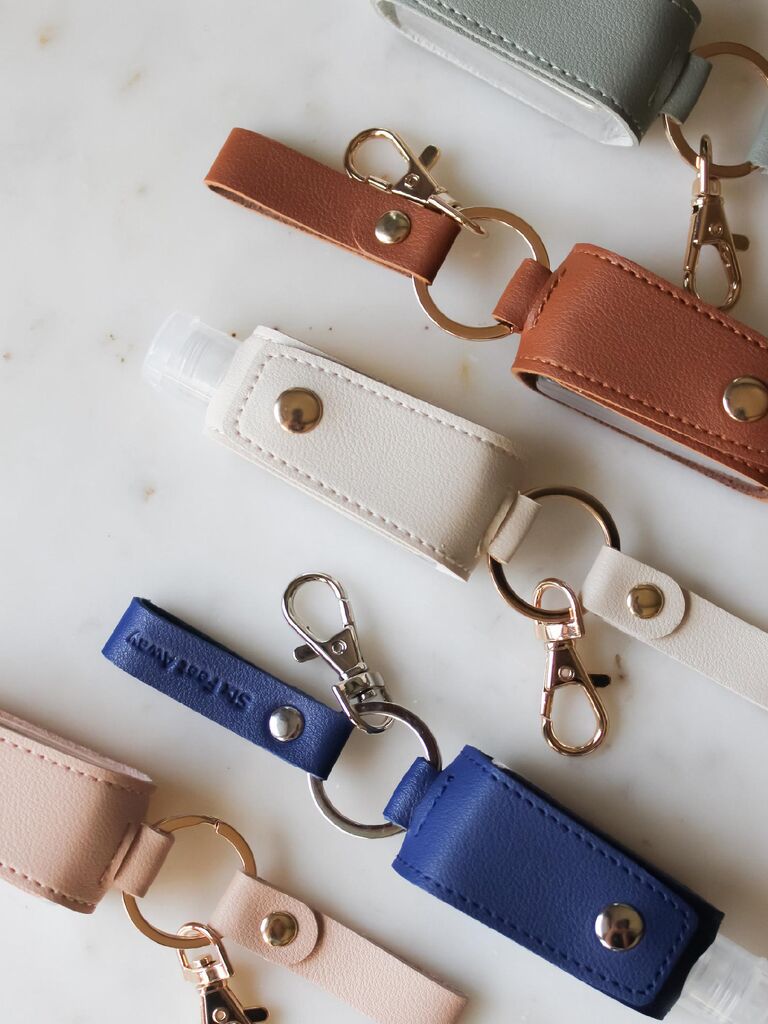 The only thing better than contactless dispensers is giving your guests individual bottles of hand sanitizer. That way, they'll have their own personal supply to use throughout the day. Fill these stylish faux leather wedding favors with the stuff before handing them over for your guests to clip to their keys, clutch or whatever they prefer.
Six Feet Away Co. vegan leather hand sanitizer keychain, $18, Etsy.com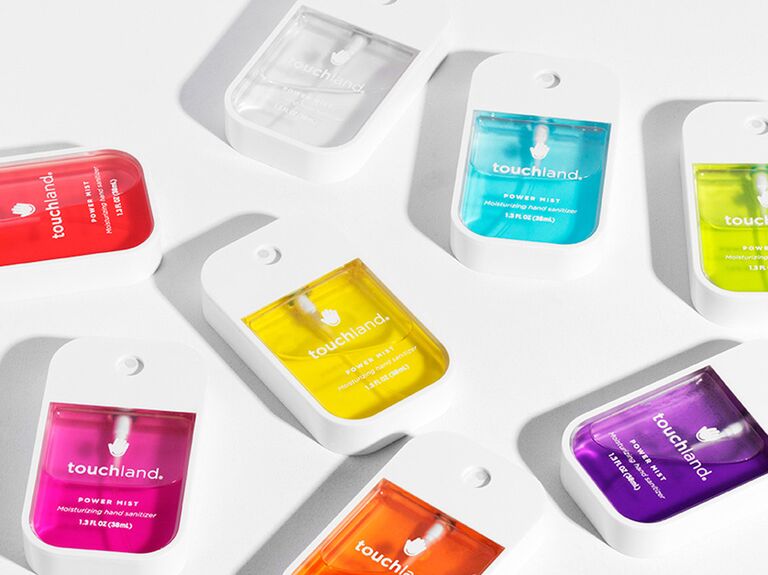 Add a splash of color to your special day with these rainbow-inspired wedding favors. Designed to hydrate and soften as well as disinfect, this sweet-smelling sanitizer is worth the price.
Touchland Rainbow Collection hydrating hand sanitizer mist, $96 for a set of 8, Touchland.com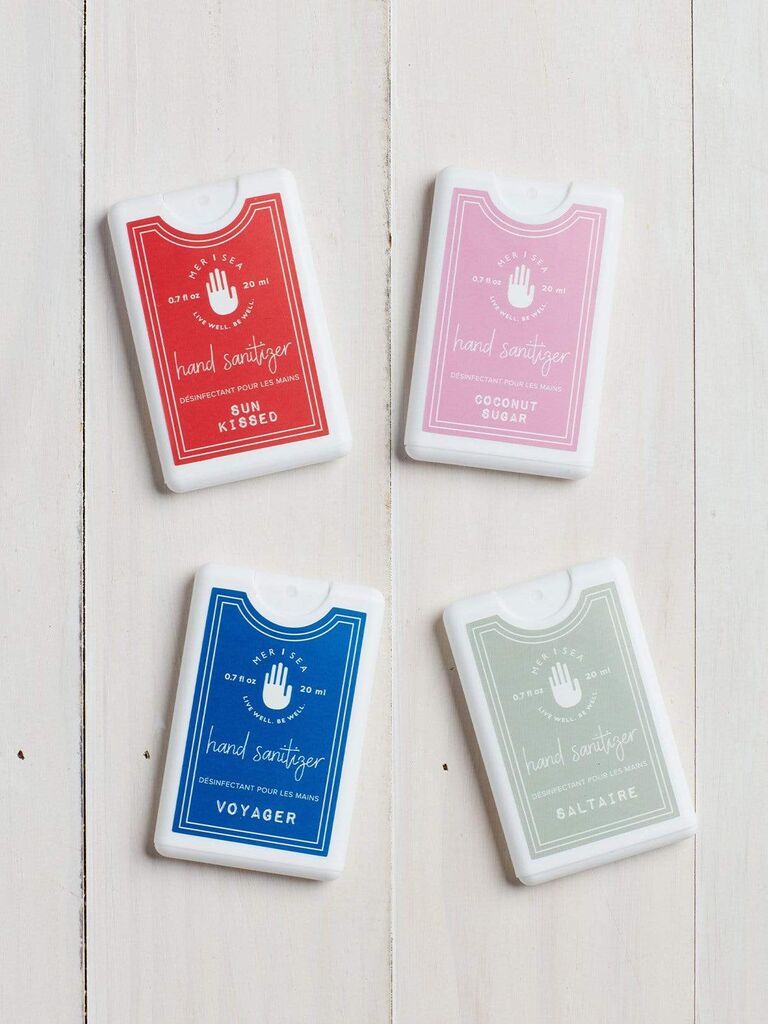 If you're looking for something a little more affordable, these pocket-sized sanitizers are just as colorful (and just as effective when it comes to killing germs).
Mer-Sea Saltaire pocket hand sanitizer, $6 each, MerSea.com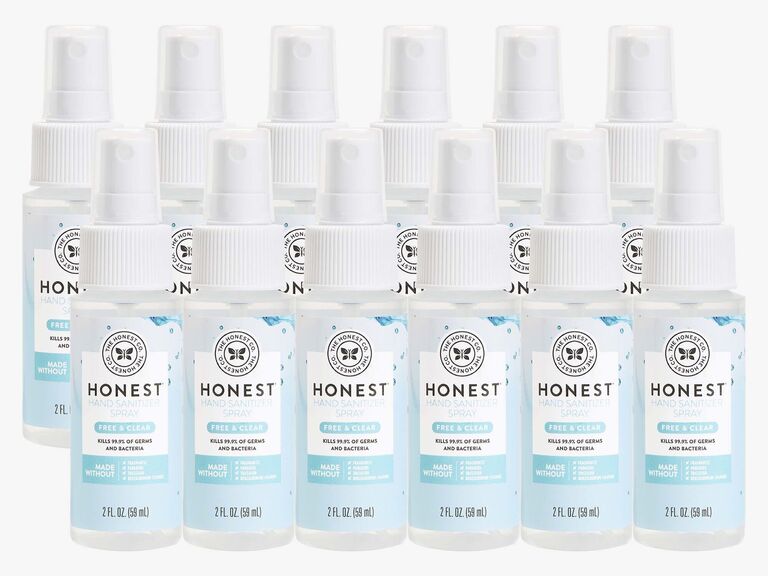 Here's another option if you want to bulk buy hand sanitizer for your wedding favors. This brand specializes in using natural ingredients to make everyday products safe and simple. (Of course, if simple isn't your style, you can always jazz them up with some personalized labels.)
Honest Free & Clear hand sanitizer spray, $42 for a set of 12, Honest.com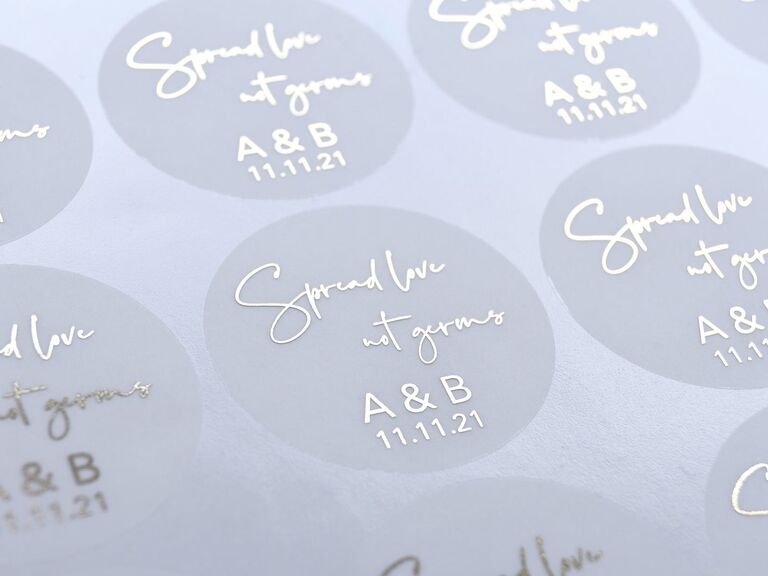 Make your hand sanitizer favors feel extra special with elegant stickers featuring your initials and wedding date. There are a variety of gorgeous colors for you and your S.O. to choose from.
The Foil Stationery Co wedding sanitizer stickers, from $1 for a sample, Etsy.com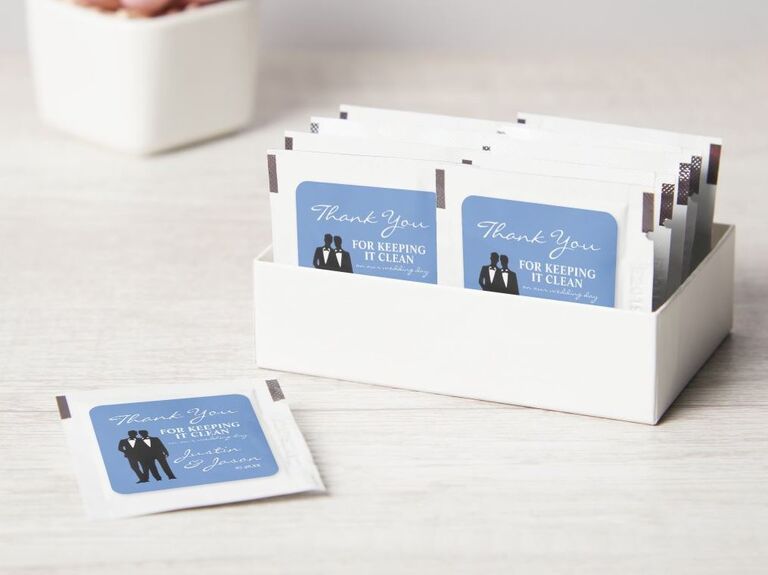 Make sanitizing hands as mess-free as possible with these cute pocket wipes that read "Thank you for keeping it clean on our wedding day."
The Purple Bride Express Grooms hand sanitizer packets, $2 each, Zazzle.com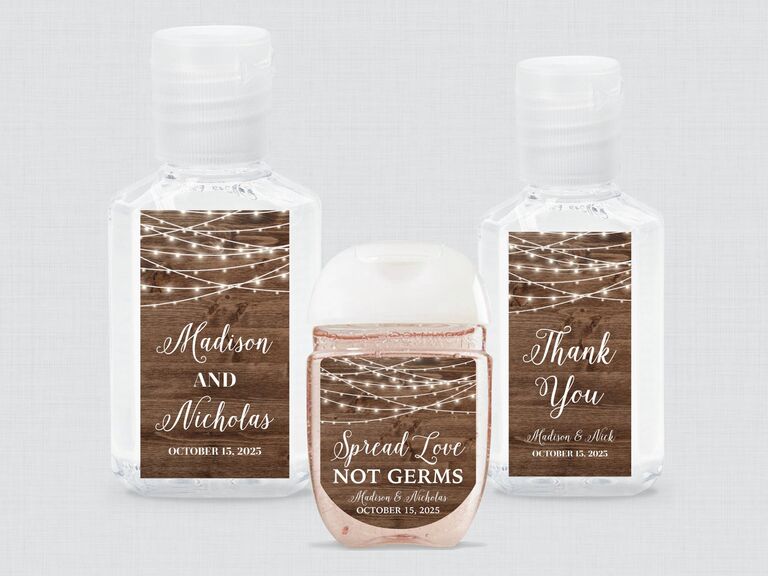 Or why not invest in some hand sanitizer labels that match your wedding decor? If string lights are your vibe, these rustic stickers will fit right in.
The Papered Wedding rustic wood and string lights hand sanitizer labels, from $29, Etsy.com