18 Wedding Head Pieces to Elevate Your Big Day Look
Take your bridal ensemble to the next level.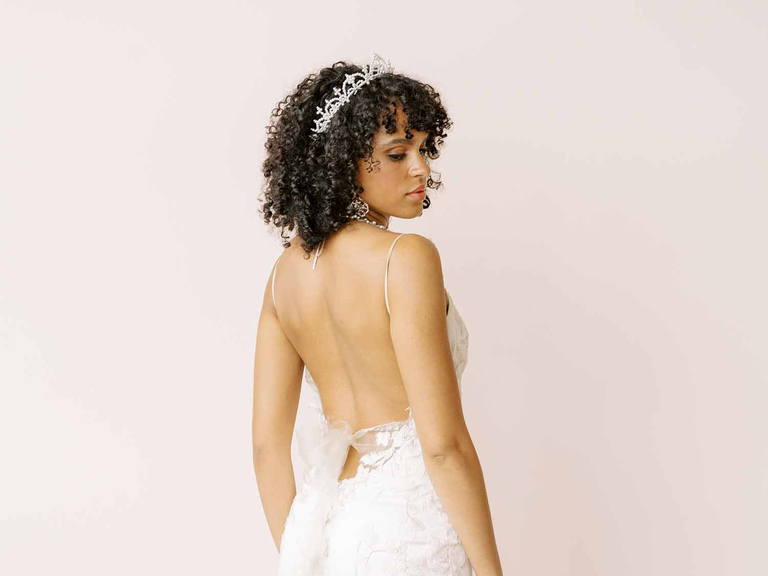 We have included third party products to help you navigate and enjoy life's biggest moments. Purchases made through links on this page may earn us a commission.
In 2023, bridal looks are all about accessorizing. From long opera gloves to removable overskirts, it's the accessories that truly elevate your wedding day look and make it feel one-of-a-kind. Our favorite of-the-moment accessory? Bridal head pieces. From headbands to hair pins, tiaras and even hats, a head piece is quite literally the cherry on top of your wedding day look.
To keep it simple, we're not counting traditional veils—that's another topic entirely—but we've got just about everything else in this roundup of the most on-trend accessories to guarantee your head is in the clouds (or rather, on cloud nine) for your wedding day. Scroll through below, then check out our FAQs with one of the top bridal accessory designers, Jennifer Behr. She weighs in on how to select a wedding headpiece, what's trending now and more.
In this article:
The Best Wedding Head Pieces
Our roundup has something for every style and budget, from designers and labels as varied as Lele Sadoughi (whose non-bridal headbands you've probably seen all over Instagram) and María Elena (queen of crowns), to budget-friendly picks from Lulus and ASOS. (Psst, Etsy is a great resource for unique bridal accessories, as well.) There's something here for every fashion-forward bride—from demure bows to royal-inspired fascinators.
1. Jennifer Behr Violette Headband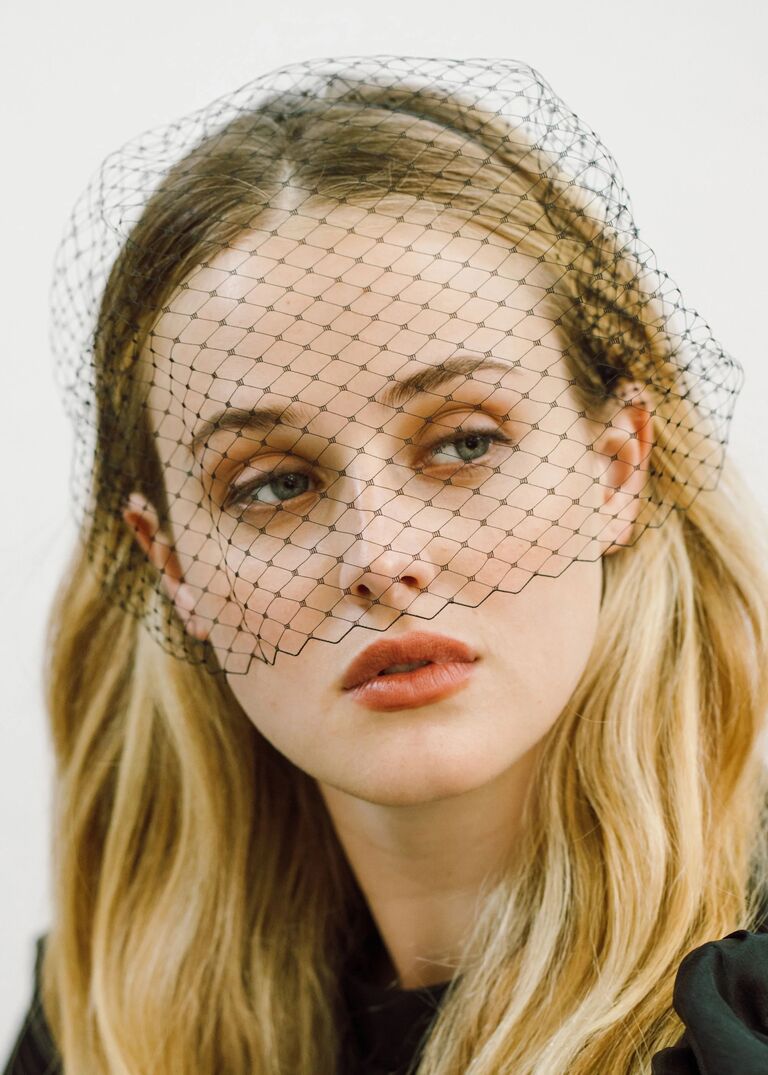 Jennifer Behr is a leader in the bridal accessories space, and her collection has no shortage of options. We're currently loving her chic and simple birdcage veil (affixed to a silk-wrapped headband, of course). It's the perfect mix of vintage and fashion-forward, and is available in classic cream and metallic silver—or black for a moody, edgy touch.
2. Eden Luxe Brial Dans Les Etoiles Stars Headpiece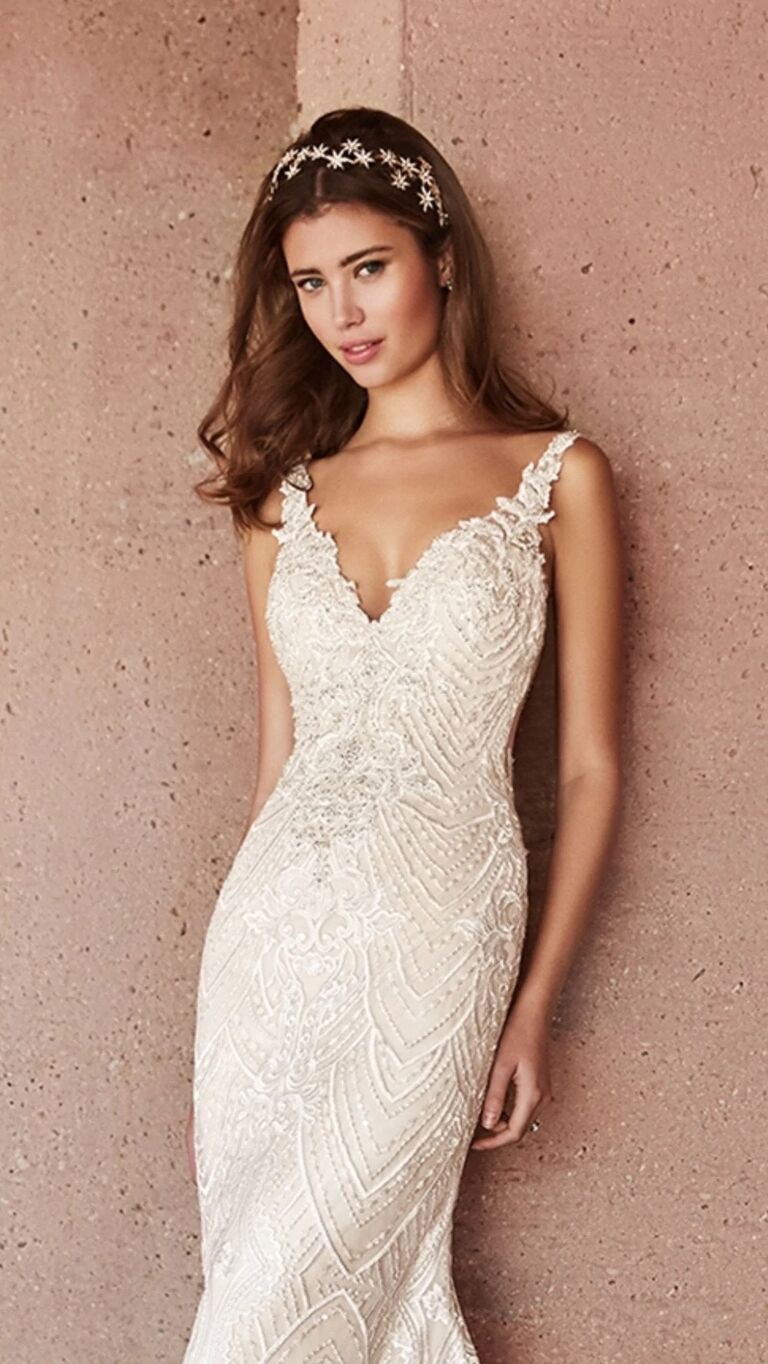 Celebrating a love that was written in the stars? Bring out your celestial goddess with this stellar head piece that swaps traditional florals for shimmering stars, embellished with Austrian crystals (who needs rhinestones when you can have crystals!) on a flexible wire headband.
3. Lulus My Dearly Beloved White Organza Oversized Bow Hair Clip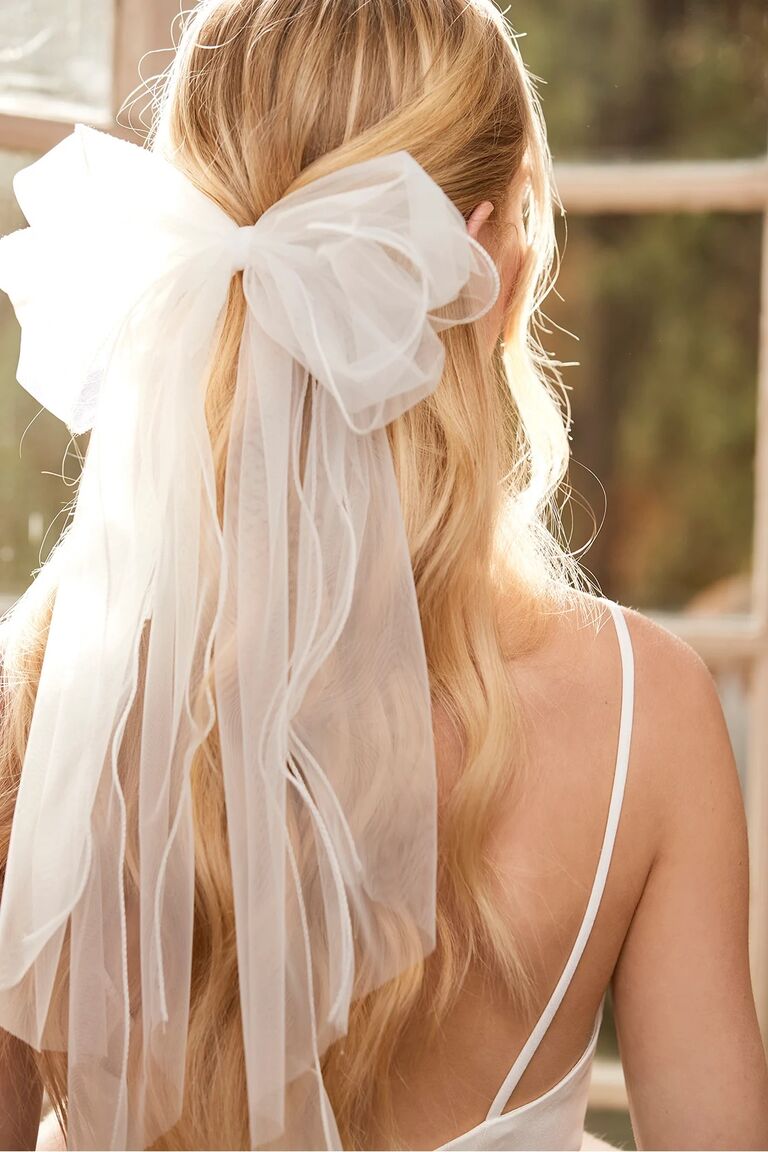 If you're looking to break tradition but still be demure, swap the classic veil for an oversized organza bow. This one is as sweet as can be and works perfect with on-trend half-up hairstyles. Bonus: It's super affordable.
4. Lele Sadoughi Ivory Daisy Embellished Knotted Headband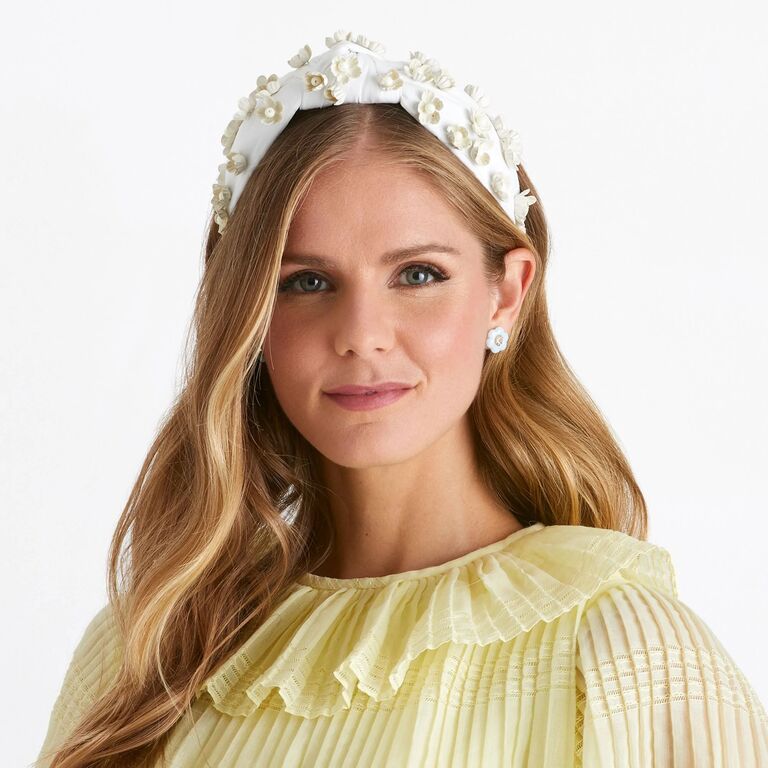 Headbands have made a major comeback in everyday fashion—so why not for bridal, too? This hand-knotted ivory wedding headband features hand-sewn floral appliqués with white resin beads in the center, a perfect complement to floral wedding gowns.
5. Twigs & Honey Pearl Romance Tiara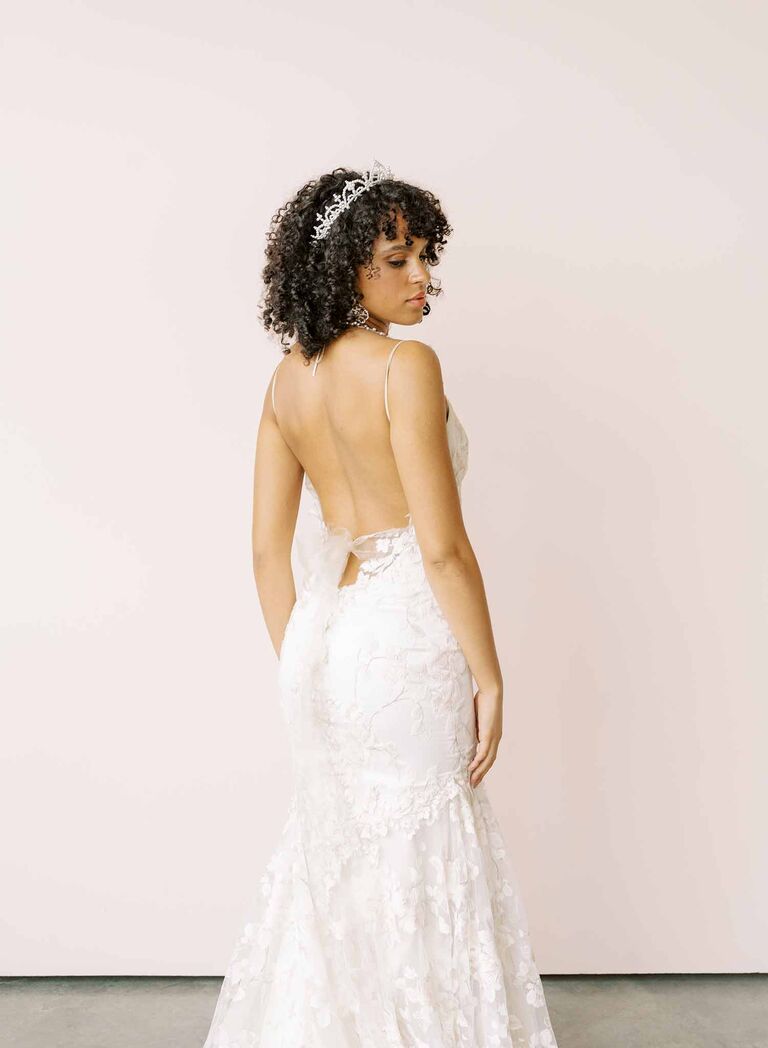 A super classic pearl tiara at first glance, this one has a unique twist: It can be worn two different ways. For the ceremony, wear it like a crown atop a low updo, then let your hair down at the reception and flip the head piece upside down to wear at the back.
6. David's Bridal Floral Crystal Spray Hair Clip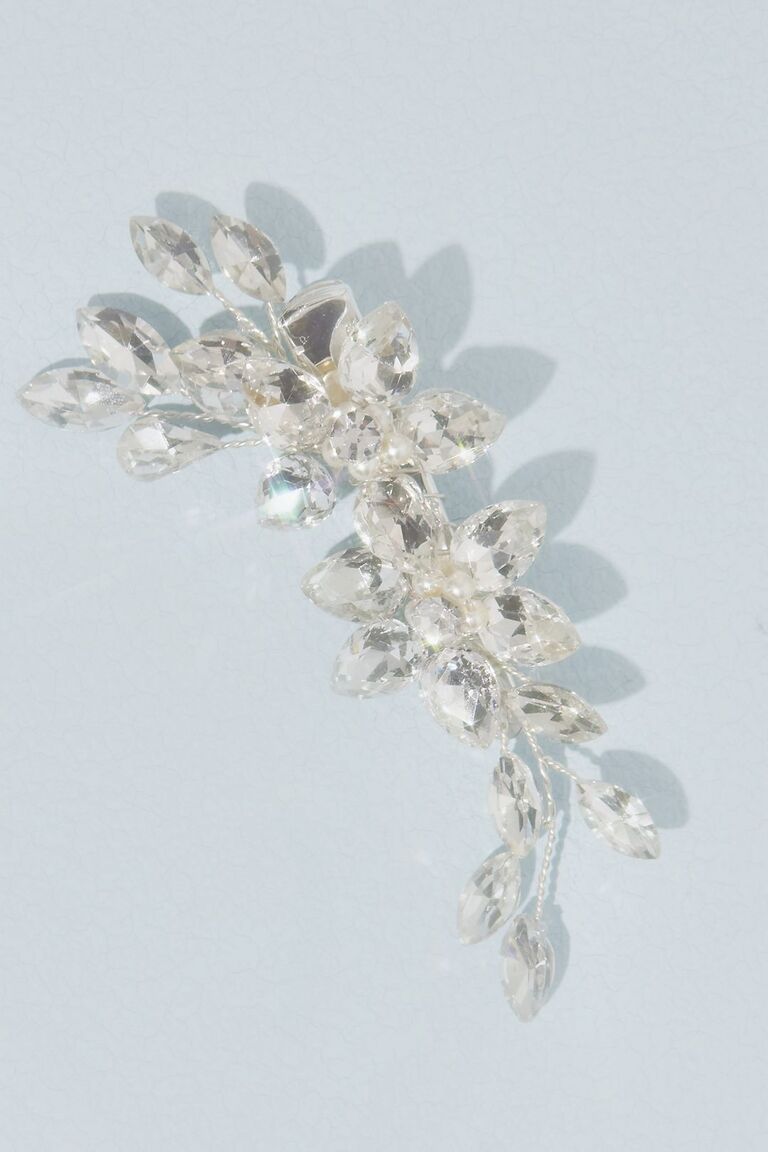 Affixed with a simple clip, this bridal accessory is a shimmering spray of florals rendered in crystals. It can add a touch of glam to a refined garden wedding ensemble, or amp up the drama when paired with a ponytail at your reception. And, its affordable sale price means you can mix and match to change up your look from day to night.
7. María Elena Headpieces & Accessories Bianca Crown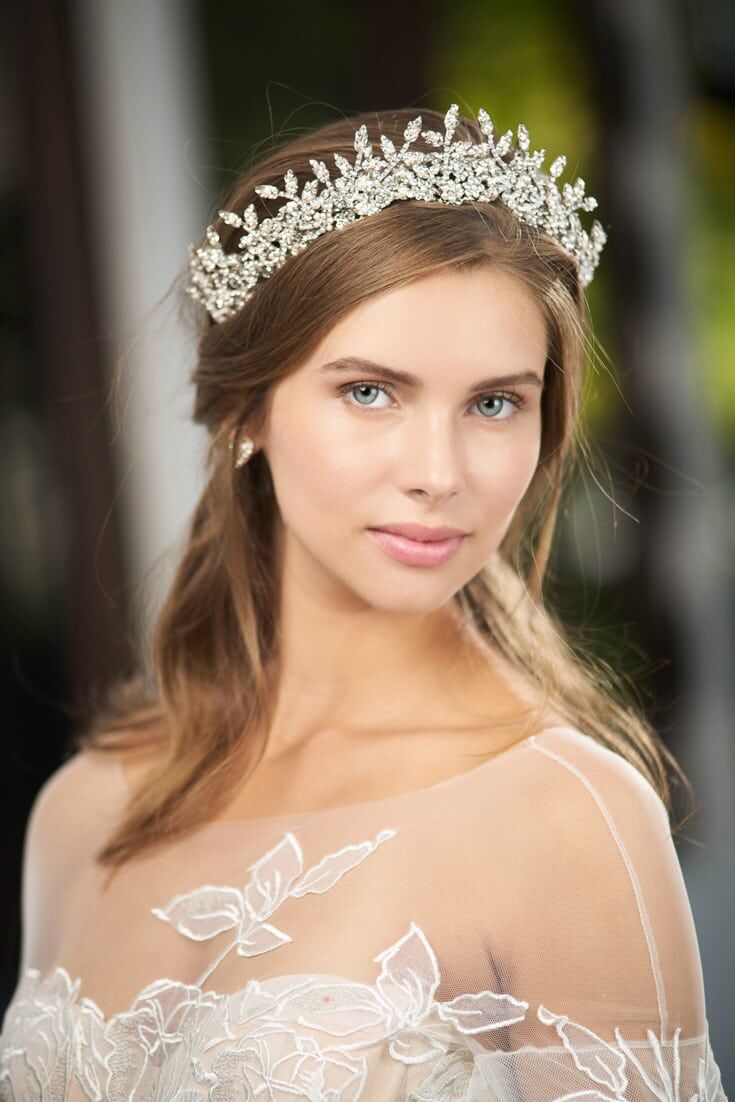 You'll feel like an absolute queen on your big day in a bridal crown from this accessories designer, whose pieces are totally worth the splurge. Our top pick is a vintage-inspired silver bridal tiara adorned with crystals in a leafy array.
8. Serafina Robine Hair Pin Set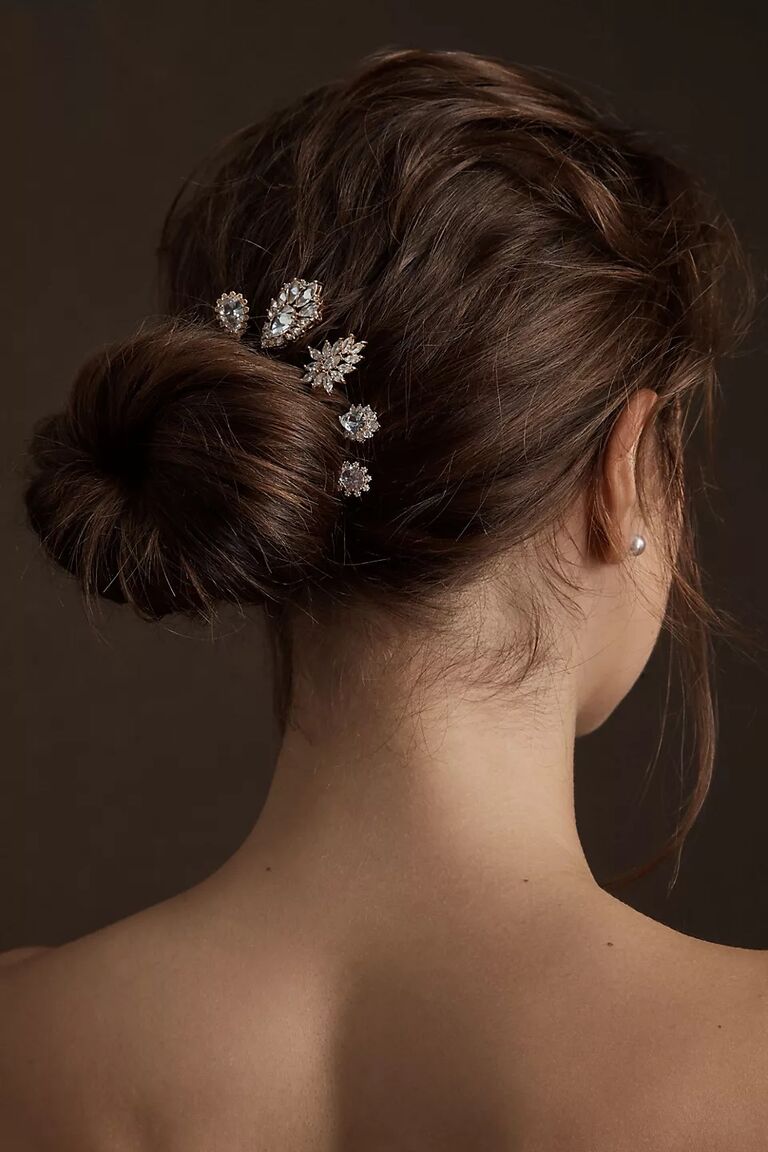 Bridal head pieces don't have to be over the top. Take this hair pin set, for example. A set of five crystal pins can be scattered throughout your updo for a touch of shimmer and chic detailing. Snag an extra set to hand out to bridesmaids for a subtle element that ties all your looks together.
9. Jorsnovs Shiny Cubic Zirconia Hairband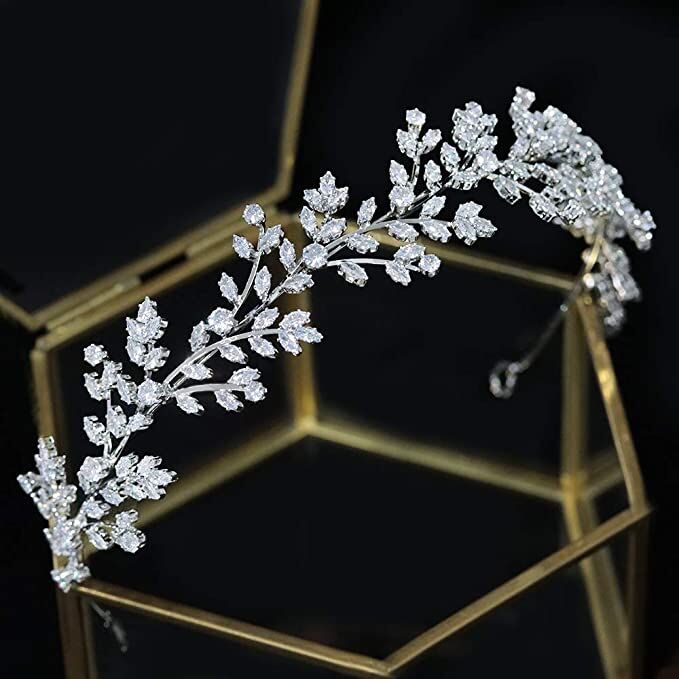 Cubic Zirconia is an affordable alternative to diamonds, so feel free to go all out. In this headband, gems are inlaid across a silver band in a leafy arrangement for a pretty and nature-inspired topper.
10. Deseda Modern Love Scarf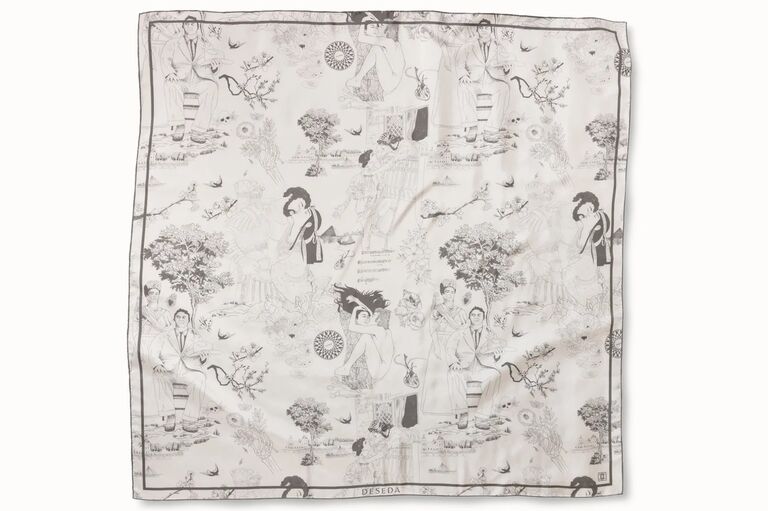 Beach brides, this one's for you. Wrap your head in a limited-edition silk scarf instead of a veil—and there's no better wedding day motif than the one depicted on Deseda's Modern Love scarf. The featured design by artist Kasia Niemczynska showcases four great loves stories spanning the ages: Antony and Cleopatra, Romeo and Juliet; Frida and Diego and John and Yoko.
11. ASOS DesignB London Double Row Headband in Pearl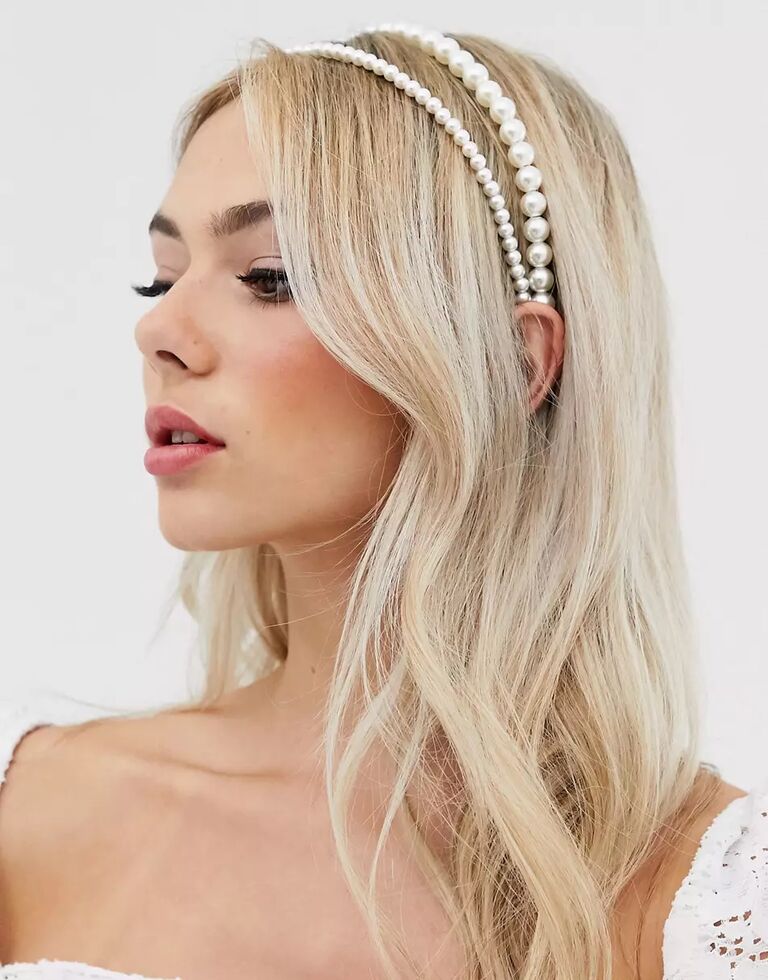 ASOS offers something with a similar vibe to the crystal baguettes—but where the above was more Marilyn, this pearl bridal variation is all Audrey Hepburn. Two parallel rows of pearls—one small, and one larger—connect at the base for a unique two-piece look.
12. Katherine Elizabeth Millinery Aimee Hat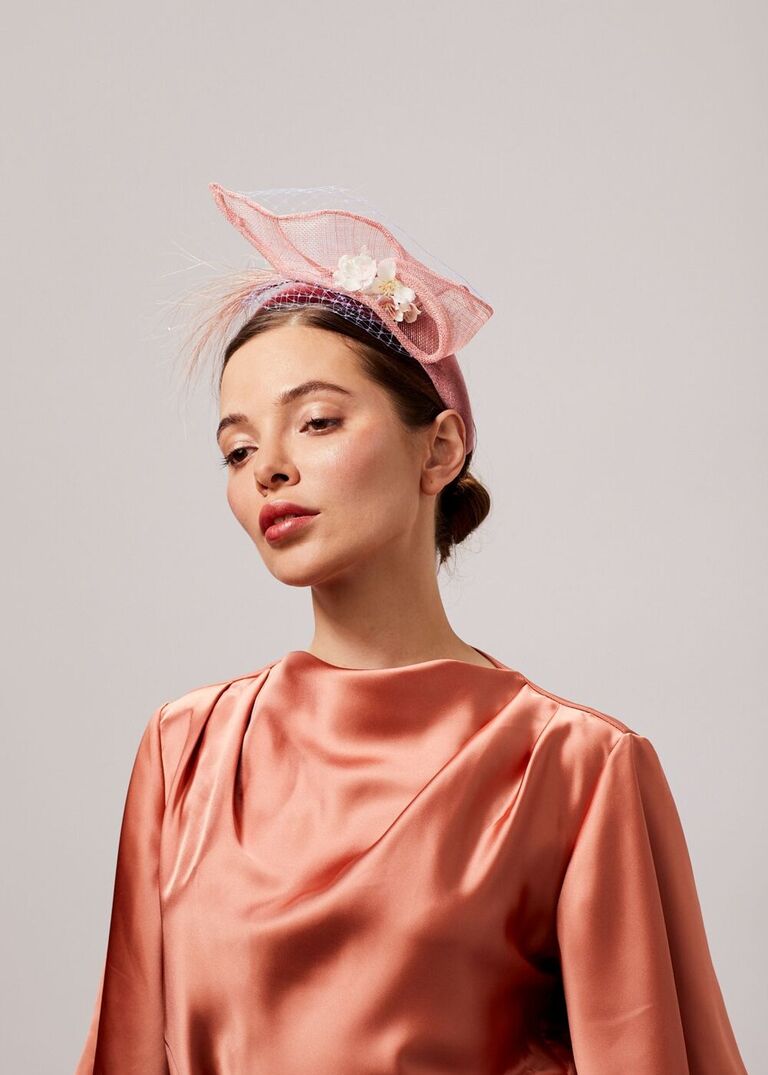 For the ultimate royal wedding look, opt for a hat or fascinator. This blush-hued version from London-based milliner Katherine Elizabeth features a sinamay straw detail on a velvet headband and silk Japanese blossoms to complete the look. It's a sweet pop of color for the bride, or a chic topper for wedding guests.
13. Brides & Hairpins Nefeli Vine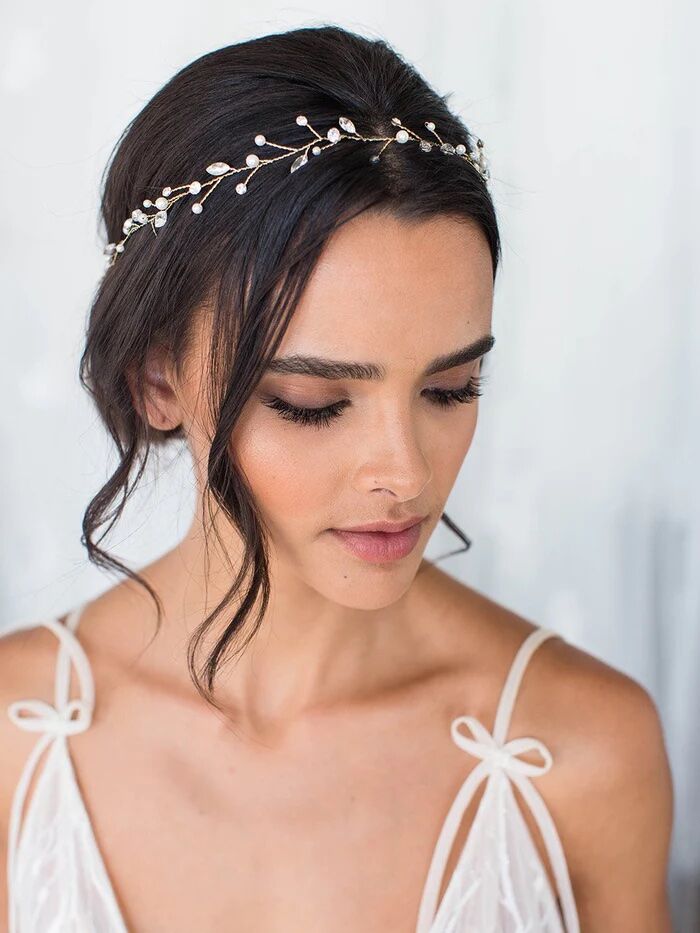 A delicate wedding hair vine perfect for boho brides, this piece would fit in perfectly at a woodland wedding. Hand-wired with Swarovski crystals and freshwater pearls in an organic formation, the vine features pretty ivory ribbons to tie it on yourself like a crown (it can also be secured with bobby pins). Bonus? The vine can also be worn around the waist as a belt or sash.
14. Erdem Bridal Bow Beaded Headband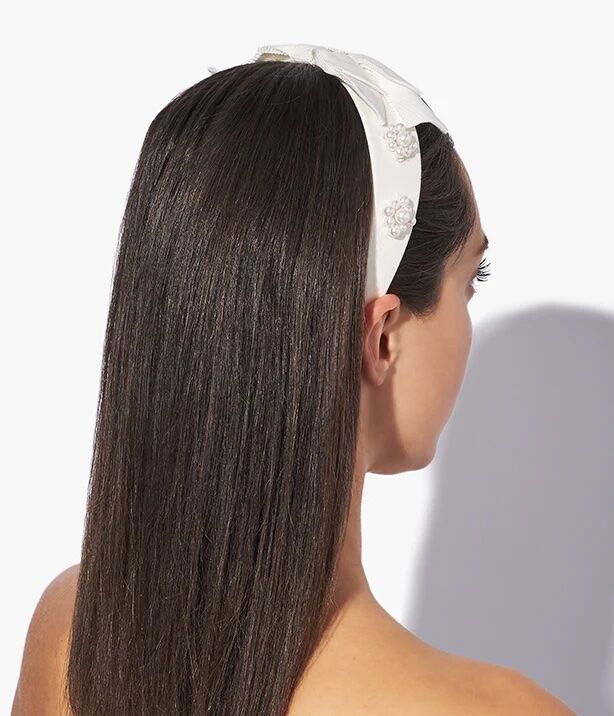 Ideal for brides going for oh-so-chic, this designer headband features a girlish grosgrain bow and miniature blooms of faux pearls. It can complete an updo, but we also love the look worn with voluminous flowing waves.
15. Jennifer Behr Monarch Hairpins, Set of 2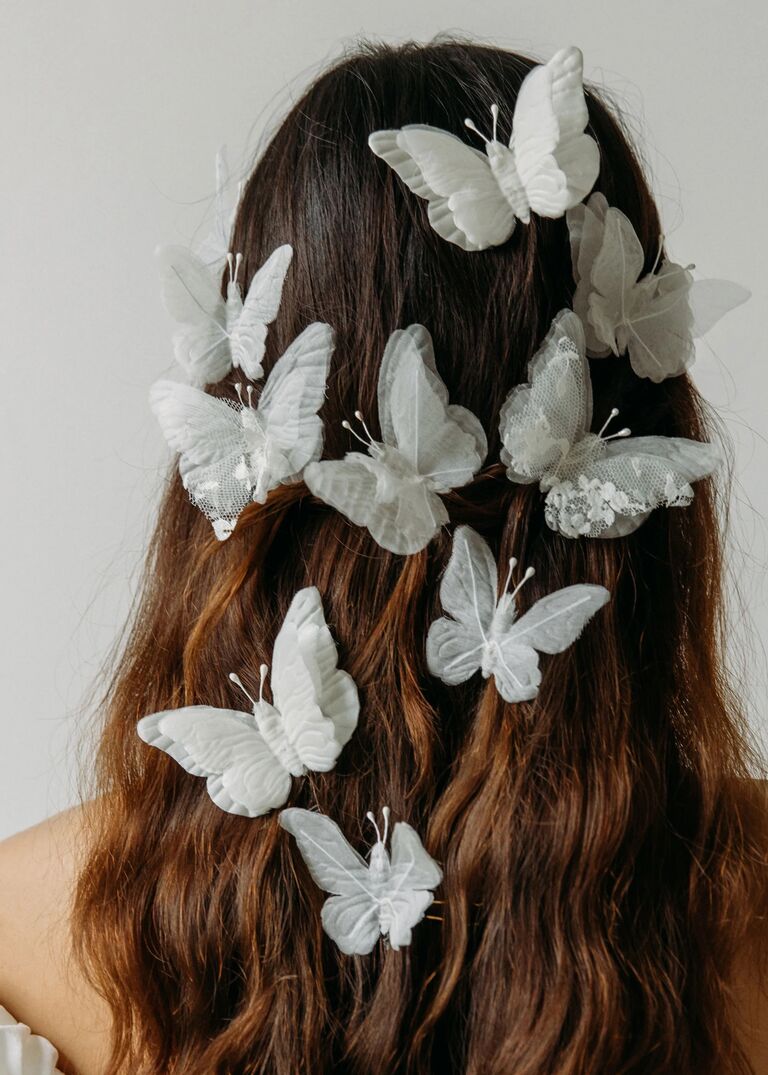 If your wedding vision is a whimsical fairytale garden—and why shouldn't it be?—then these monarch hair pins are a must-have. Made from layers of silk chiffon and inspired by van Gogh's "Butterflies" series, the clips come in a set of two—but we love the idea of layering on even more for a fluttering and dreamy 'do.
16. Lelet NY Alaia Fringe Crystal Headband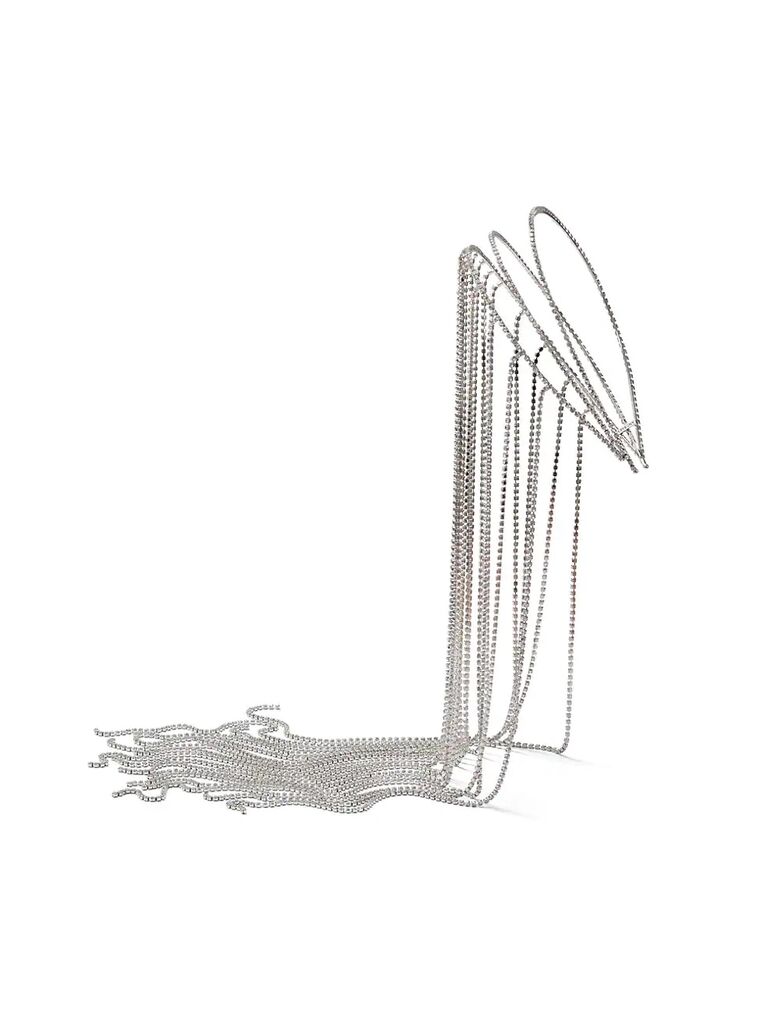 Cue the disco! This layered headband brings all the Cher vibes to your wedding day look with a row of long glass crystal fringe. Wear it over flowing hair, and add sparkly eyeshadow and dramatic jewelry to take the look all the way.
17. Ellee Couture Boutique Elianna Swarovski Bridal Headband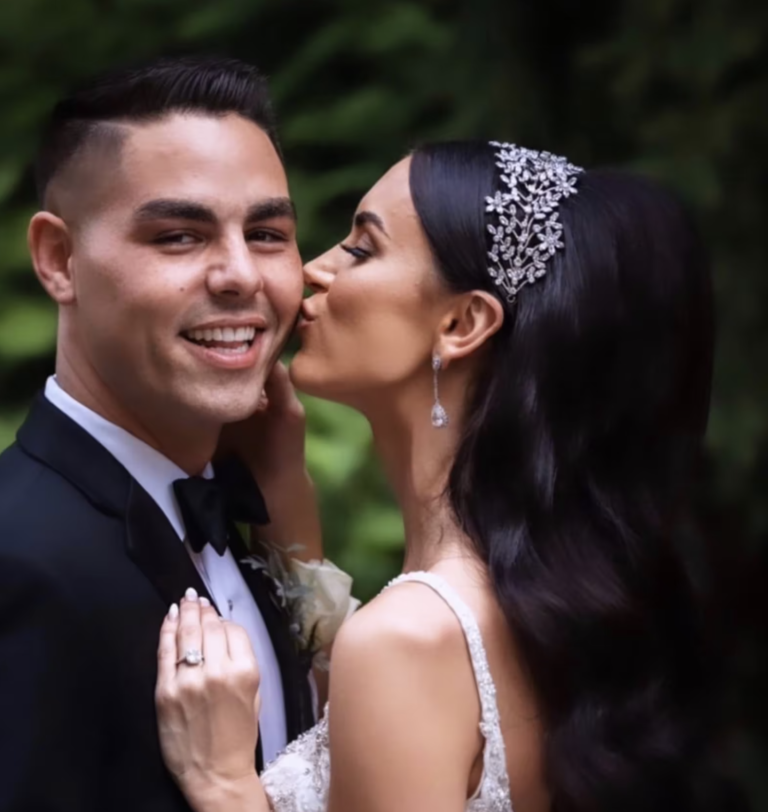 An extra-wide floral headpiece rendered in cubic zirconia and brilliant Swarovski crystals, this piece is handmade by a star seller on Etsy. Available in silver, gold or even rose gold, the look is versatile enough to match your wedding aesthetic.
18. Dareth Colburn Fiona Crystal Comb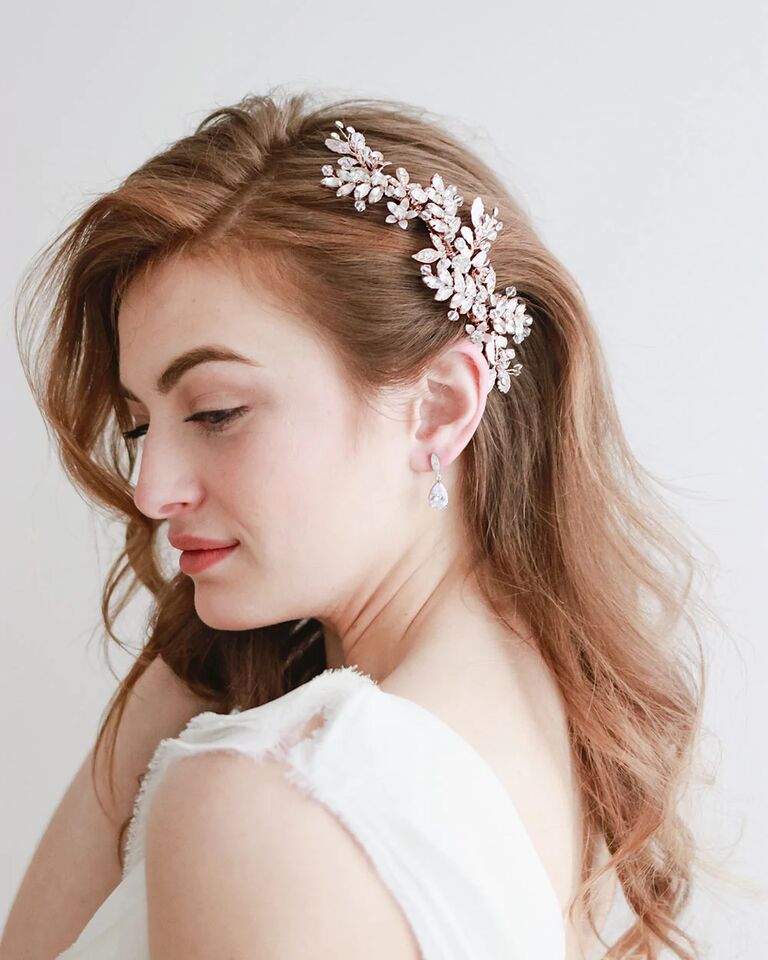 Ideal for side-swept hair styles, this chic bridal hair comb adds a touch of vintage whimsy to your wedding day look. Its jeweled leaves, marquise and round gemstones and crystal beads are wired together in a shape that rests perfectly on the head. Plus, it looks great with or without a wedding veil.
Wedding Headpiece Frequently Asked Questions
When it comes to bridal accessorizing, there is no greater resource than Jennifer Behr, who launched her eponymous luxury and bridal hair accessories brand in 2005 and has since dressed celebrities for coveted red carpet events like the Met Gala and the Oscars. Here, she provides her input on brides' most-asked questions—and offers expert shopping tips.
What types of wedding head pieces are on trend?
Brides have been wearing head pieces all throughout history, so the accessory in and of itself isn't a trend; it's classic. However, "we do see different trends inside of the category, such as pearls and crystal, which are both popular right now," Behr says. "You can take the simplest white dress and make it into a bridal moment with the right head piece."
Trends change season to season, as well. "We often see our spring and summer brides gravitate toward laurel leaves and florals, and for fall or winter they turn to the stars," Behr adds. "Everyone loves pearls year round." Case in point, the designer's Bailey Pearl Headband is her most popular bridal style right now.
What kind of bridal vibe does a head piece best fit?
Any! "Accessories are always the piece that allows you to really individualize a gown, and they're the most special part of any bridal look," Behr says. With so much variety—from pearl headbands to embellished tiaras to delicate floral crowns—any bride can make a unique statement with a head piece. Beware treating jewelry, head pieces and other accessories as add-ons or afterthoughts, though. iInstead, they are the final elements that complete your bridal look.
What factors should be considered when choosing a bridal head piece?
There are a number of factors to keep in mind when shopping for a bridal head piece, the two most important being how you are wearing your hair and the design elements in your wedding dress, Behr says. "You want the dress and head piece to be speaking the same visual language, even though they don't have to match. For example, if your dress is all embellished with crystal, most likely you'd be better off with crystal and silver accents rather than a gold leaf." She continues: "Pearls go with pearl embroideries, and we also love them with very clean, modern looks. When considering hair, headbands fit all hair types, but you do want to decide on your hair style and how the head piece will fit into that."
One of Behr's biggest recommendations is to bring the head piece to your wedding hair trial. Better yet, "while making your decision, you can send photos to your hairstylist before your consultation to get their feedback," she adds. The stylist will know how to secure head pieces well so that they stay in place all day long.
Can bridal head pieces be styled with veils?
Opting for a bridal head piece does not mean you have to compromise on tradition—you can still don a veil with the accessory. "We love head pieces with veils," Behr says. "You can add a veil with a comb, or drape it over the whole look. You can also take off the veil after the ceremony and still have a head piece that makes up a complete look." Transformative gowns are all the rage right now, so why not wedding hair accessories, too?