Points for Your Wedding Transportation Contract
Don't drive away just yet! Check off these key points for your transportation contract.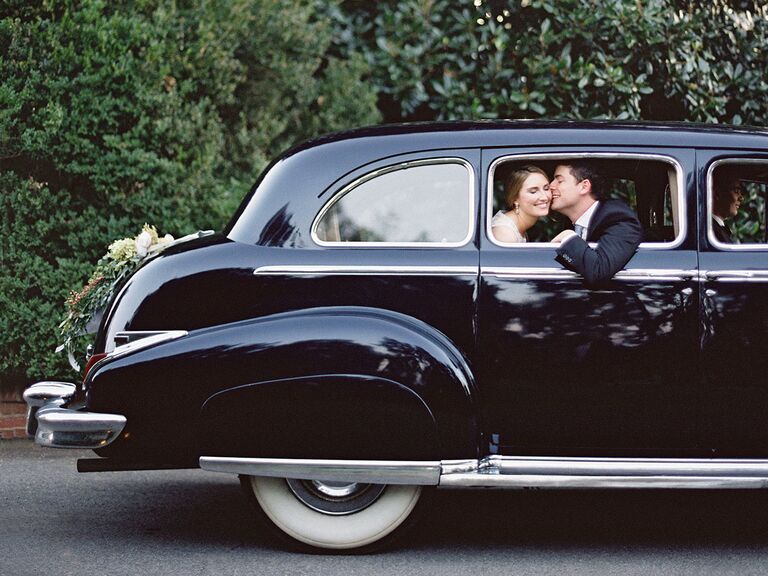 Jose Villa
Whether it's a luxury bus rental to get you and your guests from the ceremony to the reception or a classic limo ride, most couples have some sort of transportation during their wedding. While this particular aspect of your wedding may not seem as important as, say, finding that magically perfect venue, be sure to get everything in writing and include these points in your contract.
Arrival time for the beginning of the night (pad an extra 20 minutes to be safe) and reception departure time.
Total time you'll be renting the vehicle.
Addresses of places where you'll need to be picked up and dropped off.
The size, color and model of the vehicle (with the license-plate number if you've chosen a specific car).
The name of the driver you want, if you want someone in particular.
The number of passengers.
Gratuity for the driver(s).
Any special requests you have, like the kind of champagne you want on board, a certain type of music player you need, such as an USB connection, or a specific dress code for the driver.
Repercussions clause (your liability if any damage is done to the vehicle).
Any cleaning fees that might apply—if you end up leaving a mess in the car that requires professional cleaning, you may have to fork over extra cash.
A note to confirm that the company is licensed and insured with the county (this means the drivers are approved through the government and the vehicles have been inspected).
Find wedding transportation options in your area here.
Check out fun and unique transportation ideas here.