35 Creative Takes on the Wedding Getaway Car You'll Love
Make your exit just as memorable as your entrance.
While the standard "just married" sign and tin cans on your car is always reliable, why not up your wedding getaway car game? Get creative with your wedding transportation and hop into a vehicle that fits your wedding style. And no matter your taste and wedding budget, there are tons of getaway vehicles that'll wow your guests. Check out these 35 fun and imaginative ways to take your first ride into the sunset as a married couple.
Wedding Getaway Car Tips
Before you start looking at our list of amazing getaway vehicles, there are a few things you need to consider. First, you should book your getaway car at least nine months before your wedding day. This way, you don't have to worry about not getting your desired ride, which is especially important if you're getting married in peak wedding season. Second, your wedding day attire may determine which getaway car you get. For example, if you want to wear a white ensemble and preserve it after the wedding, riding a dirt bike as your getaway vehicle probably isn't the best idea. Your wedding attire can also limit your mobility, so make sure to keep that in mind when deciding on an exit vehicle. Thirdly, try to match your ride to your wedding theme and location. For example, if you're planning a nautical wedding near the water, escape to your honeymoon on a water taxi instead of a vintage car. Finally, let your wedding photographer know your wedding exit plans. That way, they'll time their shots right and could even ride with you for some photo ops.
1. Horse and Carriage
For this elegant and rustic wedding, the happy couple rode away in a horse-drawn carriage at the end of their festivities. This getaway vehicle is a slower mode of transportation so take this precious time with your spouse to relax and enjoy each other's company after an eventful day.
2. Vintage Taxi
If your wedding is in a thriving metropolis, a classic yellow taxi could be all you need to exit your reception on a high note. By using this vintage wedding getaway car idea, you're participating in the something old tradition while simultaneously being cool and cosmopolitan.
3. Tandem Bike
Sporty couples who love biking together can take a spin on a tandem bicycle as a perfectly whimsical way to travel. Decorate the handlebars with flowers or streamers in your wedding colors, and if your day has a throwback vibe, rent a vintage bicycle. If you're wearing a dress, be mindful about the skirt or train of your gown since there's a risk of it getting stuck in the bike's spokes or chain.
4. Ski Lift
At this picturesque outdoor wedding, the ski lifts were free, and went from the hotel to the ceremony and reception location. The couple used the lifts as a convenient mode of transportation for their guests and their getaway ride. But before you choose this option, speak with the ski lift operator about whether or not it's okay to ride for people wearing long dresses.
5. Pink Vintage Convertible
This couple chose a blush pink convertible to complement their pink-and-blue Southern wedding. Matching your getaway car to your wedding color scheme makes the entire event feel cohesive.
6. Tractor
At this rustic barn wedding, the couple went the untraditional route and drove off on a tractor as their wedding send-off car. They even added fog machines instead of the traditional wedding exit toss options, which personalized their exit even more.
7. Water Taxi
Is your wedding reception taking place on the water? Make a splash (literally) with a boat exit. Whether it's a speedboat, pontoon or even a yacht, being on the water together will add a festive nautical vibe to the day.
8. Moped
Some say your exit is just as important as the entrance, so why not have some fun with your getaway vehicle choice? After your wedding festivities, hop onto some mopeds and ride off into the sunset.
9. Trolley
If you don't want to leave in the typical shuttle bus at the end of the night, rent a trolley as an alternative wedding getaway car. You and your partner can go by yourselves to get some alone time together or invite your wedding party to join you on the trolley ride for more celebratory fun.
10. Fiat
For this couple's gorgeous Italian destination wedding, they kept their wedding location in mind for their getaway car choice. Fiats are a classic Italian car, so using one for their wedding exit just made sense.
11. Motorcycle
If one of you has a motorcycle license, go for a fast and furious wedding day farewell. Get your adrenaline pumping after the reception like this couple did at their camp-inspired wedding.
12. Vintage VW Bus
Having a '70s-inspired wedding day? Then rent a Volkswagen bus––it might be retro, but it'll never get old. Hop in one to leave your guests in peace and happiness after your reception.
13. Golf Cart
Getting married at a country club with a golf course or within a golf course community? Then opt for a playful mode of transportation and roll away on a golf cart. You can attach a "just married" sign on the back and tinsel streamers to the front columns.
14. Airplane
For the couple who loves to make a statement, a propeller jet ride is an insanely cool exit. You'll definitely have to look far in advance for a small aircraft for hire, but just think of all the photo opportunities you'll have with the fold-out staircase and airport runway.
15. Jeep Decorated for Traditional Indian Wedding
Incorporating your culture doesn't have to stop at your ceremony and reception. Honor your heritage in your wedding getaway car decorations. At this Indian wedding, the couple outfitted their Jeep with traditional Indian floral decor.
16. Rowboat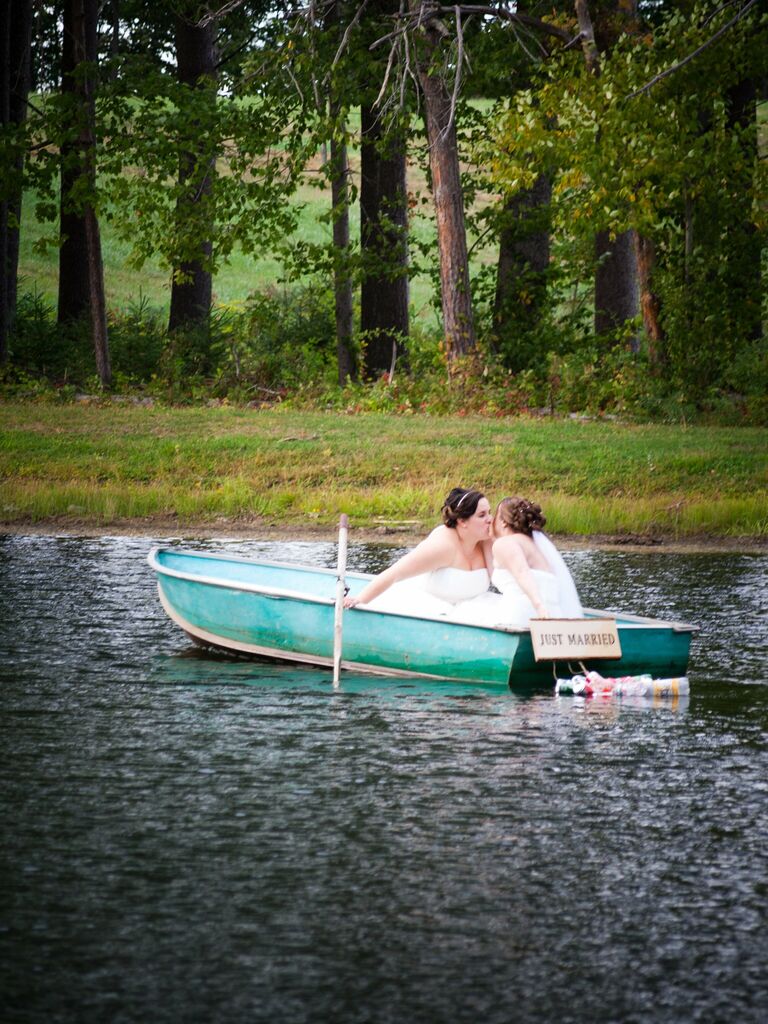 Want an upper body workout and a unique way to leave your water-adjacent wedding venue? Then rent a small rowboat for your getaway. If you want it to feel like more of a team effort, kayaks and canoes work for this idea too.
17. Pedicab
Perfect for city weddings, pedicabs often line the streets of downtown areas. If you and your wedding photographer are feeling spontaneous, hailing and riding in one can make for memorable photos—not to mention the chance to show off an impressive urban skyline.
18. Vintage Chevrolet Truck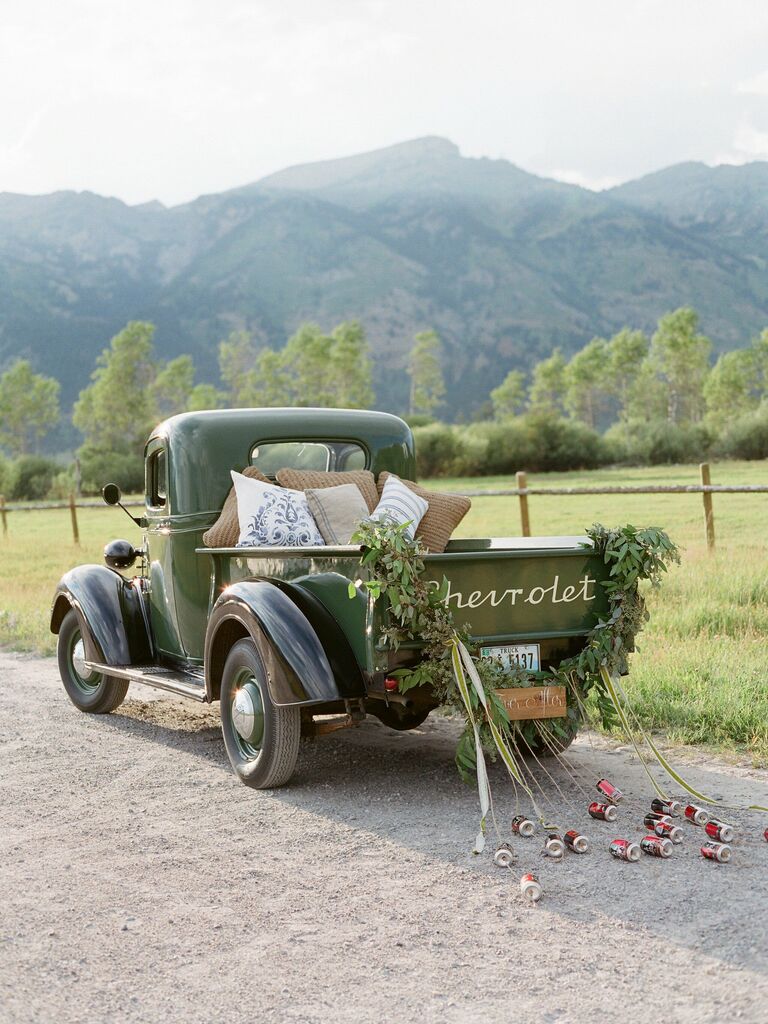 Let everyone know you've just got hitched by riding in the back of an old pickup truck. We love how this couple put stylish and comfy pillows in the truck bed and attached the classic clanging trail of tin cans. The garland of greenery freshens up this timeless getaway too.
19. Skis
At this snowy mountain wedding, the couple added their love for skiing to their big day. After the reception, they skied down the mountain together while still in their wedding day outfits. If you want to get an amazing skiing photo like this couple did, first, make sure your skiing skills are up to par so you can ski down in your wedding attire and second, look for a wedding photographer that takes great photos and can ski while doing so
20. Ford Model A
To add a dose of glam, roll out of your venue in an old-school wedding exit car. You can decorate it with traditional signs and ribbons or let the car speak for itself if it's exceptionally cool. It doesn't have to be an expensive rental either—if there's a special older car in the family, your wedding is the perfect time to take it for a spin.
21. Dogsledding
If you love the outdoors and trying something new, you'll love this adventurous getaway vehicle idea. For the couple's elopement, they took turns dogsledding to and from the ceremony site. So if you want to use some helpful hounds for your wedding day escape plan, research which dogsledding companies are near your wedding venue.
22. Hot Air Balloon
If neither of you are afraid of heights, taking an intimate hot air balloon ride is a breathtaking way to leave your daytime reception. Besides being a unique send-off, it's also a great photo op all your guests will enjoy.
23. Helicopter
It'll take some coordination with your wedding venue, but if you have access to a helicopter pad, nothing will feel (or look) cooler than waving goodbye to your guests from above. With your helicopter pilot's permission, you may even be able to paint your and your partner's names and wedding date on the chopper.
24. Scooters
Don't put too much pressure on what your getaway vehicle should be. Take a page from this couple's book, who simply used children's scooters as a funny wedding getaway car idea. You won't be able to get very far in these, but at least you and your spouse will have a good laugh and start your marriage off with a funny memory.
25. Snowboards
Want a different way to hit the slopes? Try snowboarding down with your significant other. For this winter wedding, the bride wore a "stunt" gown during their trip down the mountain, which is a great idea if you want to keep your wedding dress from getting damaged.
26. Georgia Tech Vintage Car
Give a nod to your and your partner's alma mater by having your wedding getaway car decked out in college decor. You can rent a vehicle that's professionally decorated or take on the job yourself for a little DIY fun before the wedding.
27. ATV
Let your sense of adventure be a determining factor in your getaway vehicle decision. An ATV might be a little loud, but it'll definitely be a memory you and your guests will never forget.
28. Cinderella Carriage
Leave your wedding like a prince or princess with this elegant twist on the traditional horse-drawn carriage. We guarantee it'll enhance your regal wedding theme––just make sure your venue allows animals on the property.
29. "Back to the Future" Car
Ride off into your and your partner's new future in a DeLorean time machine as your wedding getaway car. We love the salute to the "Back to the Future" movie and having a car every guest will be dying to take a picture with.
30. Sleigh
For couples having a winter wedding, consider using the season to your advantage. At this snowy wedding, the happy couple had a horse-drawn sleigh, but if you want to lean into more of a Christmas-themed getaway vehicle, see if you can get a reindeer-drawn sleigh.
31. Mini Vintage Convertible
Go miniature for your after-wedding escape. At this boho, vintage-inspired backyard wedding the bride used her grandfather's retro MG as their getaway car.
32. Horses
Why not end your wedding day galloping to your next adventure with your partner? No matter if you have an affinity for Western movies or just love horses, this is a great idea for rustic, country or bohemian-themed weddings.
33. Beach Station Wagon
Play into your wedding location for your final getaway car wedding idea. To honor the bride's birthplace, the couple had a Hawaii-inspired wedding with a beach station wagon as their exit car.
34. Glider
Love to fly? Sail off in a glider, an aircraft that can fly without an engine, after your reception. It's a unique form of transportation that'll definitely wow your guests.
35. Luxury Sports Car
If you want a modern but unconventional option for your wedding send-off car, rent a sports car. The photo opp with a stylish sports vehicle of your choice will be a perfect fit for a glamorous and luxurious wedding.