The Logistics of the Getaway Car
All you need to know to make your grand exit.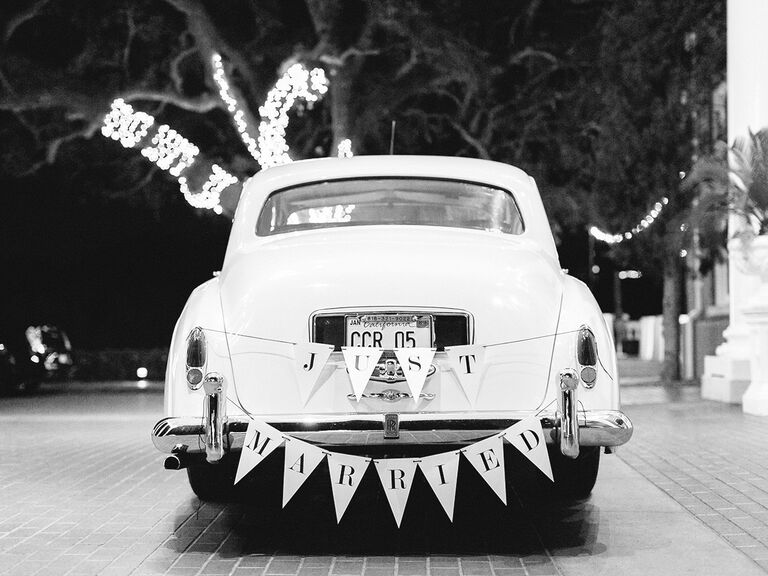 RYAN PHILLIPS PHOTOGRAPHY
Some of our favorite wedding photos are of couples making their grand send-off as newlyweds. From sailing out into the sunset to sparklers lighting up the night, couples are truly personalizing their wedding good-byes. But there are some things to consider when planning your getaway. Read our list below.
Have a Send-Off at Your Reception—or Your Ceremony
Want to make a grand getaway, but rather have it be your ride to your reception? Making your exit can come after the ceremony or reception—the choice is up to you. Logistically, it may even be easier to have it after your ceremony, since you're going to possibly need transportation from the ceremony to the reception anyway. Plus, this will give you and your partner some alone time to really soak in all that just happened—you're officially newlyweds!
Pick Your Vehicle
We've seen all types of getaway vehicles: boats, classic cars, rickshaws, Vespas, bikes—you name it. When choosing your mode of transportation, think about your wedding style. If you're having a rustic wedding at a barn, maybe an old-fashioned horse and carriage is the perfect pick for you. Doing it up Gatsby style? A white Rolls-Royce would add to the glamour of the day.
Decorate As Needed
A classic "just married" sign would do the trick here. Or go old-school with streamers and cans if you wish. But be wary of the classic shaving cream—it could damage the car's paint. Collect everything you want to decorate the car with, and hand it off to a member of the wedding party or a close friend or family member the day before the wedding so they can do the job for you. Connect them with the driver, and tell them to contact them to arrange a time before the ceremony or reception to meet. And, of course, make sure everything you're using to decorate the vehicle is A-OK with the transportation company.
Be Photo Ready
Let your photographer know if you plan on having a sweet send-off after your ceremony or reception. That way, they'll time their shots right (and they could even ride with you for some photo ops). If you plan on using a bicycle built for two for your exit, keep in mind what kind of attire you'll be wearing. If your dress is a big ball gown, biking off into the sunset may not be ideal—and won't make for the prettiest photos. With any mode of transportation you choose, practice getting in and out of it while wearing a similar-style dress or a slim-fitting suit, so you'll know how much maneuverability you'll have on the day of.
Get inspiration for your getaway here.