12 Wedding Transportation Mistakes Not to Make
Avoid these common transportation oversights to guarantee a smooth ride on your wedding day.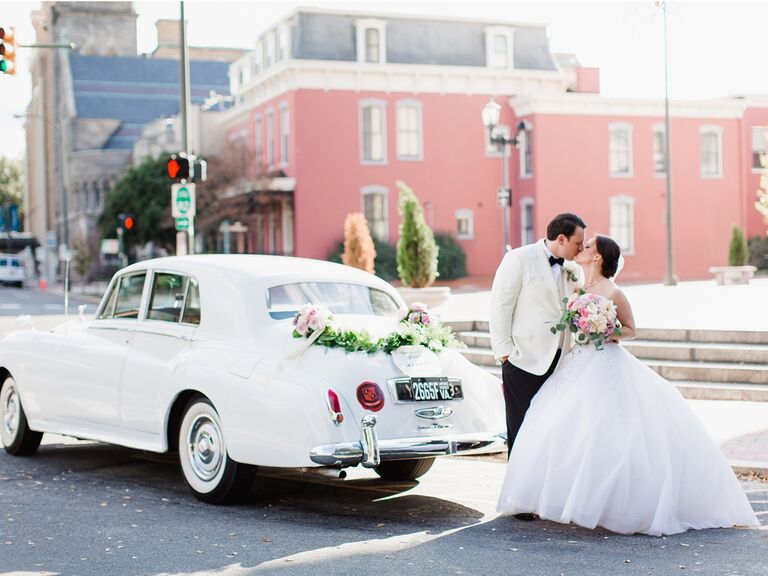 ANNAMARIE AKINS PHOTOGRAPHY
From trying to handle all the rides yourself to letting guest parking become a free-for-all, here are 12 common mistakes to avoid when planning your wedding transportation rentals and logistics.
1. Not Hiring Pros
The first step to no-hassle wedding transportation is to hire transporation pros. You won't have to worry about coordinating different rides with several separate cars—your entire entourage can be with you every step of the way if you want. That peace of mind alone is enough to make transportation a priority in our book, but there's also the added bonus of having a variety of stylish, photo-ready options, from Mustangs and white limos to double-decker buses.
2. Only Considering the Standard Limo
Like every other aspect of your day, your wheels should complement your personal and wedding style. From a decked-out party bus to a bicycle built for two, you have countless ways to get from point A to point B. Stage a photo-worthy getaway by choosing a ride with flair: We love the idea of a vintage convertible for a rustic outdoor wedding, a pedicab draped with flowers for a laid-back city affair or a tandem bike topped with streamers for a beach event. Or keep it classic with a white Bentley or black Rolls-Royce.
3. Making Guests Fend for Themselves
While you're not required to provide shuttles for guests, it's thoughtful to help out-of-towners and anyone else without a car find transportation in an unfamiliar town. And if you have room in your budget, you (or your designated day-of crisis manager) won't have to worry about giving directions to lost guests, late arrivals interrupting the ceremony, finding a lot big enough for 100-plus cars or making sure tipsy guests get home safe. A charter bus, which holds up to 60 passengers, will get the job done, but it's not your only option. A vintage trolley will give your guests a dose of nostalgia (but only for short trips of five miles or less—these oldies aren't built for highway speed), and yellow school buses make for a charming alternative with a little more mileage (but many of those don't have air-conditioning, so steer clear during the summer if the trip will be a long one). If you're not hiring transportation for your guests, suggest an on-demand transportation service or post the numbers for a local car or taxi company on your website and also print them on cards to display near the exit so anyone who's been drinking can make it home safely. You can also arrange to have a stream of cabs waiting at the end of the reception.
4. Not Verifying the Car Owner
It's smart to know who actually owns the vehicle you're renting. If the transportation company you're dealing with doesn't have the car you're looking for, they may "borrow" a car from another vendor (and basically pay them a rental fee). Here's where it can get sticky: By adding another middleman into the mix you put yourself at greater risk for a late ride or, even worse, a no-show. If you have your heart set on a particular car, you're better off finding a vendor that actually owns the one you have in mind.
5. Skimming the Contract
Errors or omissions on your transportation contract can mean a late or no-show ride (which might mean a late couple and/or guests). You could also be on the hook for an accident that damages another car, for any stains from spilled bubbly or a service fee you didn't account for in your budget. So read each contract point carefully. Before you sign, triple-check the date, hours and pickup locations; drivers' names and attire; make, model and color of the cars; and that cancellation and refund policies are all included and completely accurate. Finally, confirm the company is insured and ask if it's licensed in the county in which your wedding is taking place.
6. Only Thinking About the Wedding Day
Between the engagement party, bachelor or bachelorette, rehearsal dinner, after-party and honeymoon departure (and return) you'll be making a lot of entrances and exits. Since drinking is usually a part of many of these events, have a transportation plan for all the pre- and postwedding parties, whether it's hiring a town car for you and a shuttle bus for your guests, or just having detailed cab info on hand at each event. After the wedding, whether you're off to your new married abode or to the airport for your honeymoon, sneak away in private like celebs in a sleek black SUV or town car (and make sure the vehicle's big enough to fit all of your luggage). And to make your return from your honeymoon easier, book a round-trip ride to and from the airport so you'll have a car waiting for you when you touch down.
7. Disregarding Potential Delays
The timing of your transportation can mean the difference between a wedding that flows effortlessly from event to event, and a day with rushed traveling, awkward delays or guests who don't know what to do with themselves. Figure out travel times and routes ahead of time (so you can include them in your contract) and add 20 to 30 minutes of "padding" for traffic and any other potential delays (like a local event or even weather issues) to all of your day-of routes.
8. Letting Guests Figure Out Parking for Themselves
Even if you're providing transportation, make sure there's plenty of parking for guests who prefer to drive themselves. Talk to your reception site manager and find out what your parking options are and if staff (parking attendants and valets) will be available. If it turns out you have to hire an independent service, tailor it to your needs. A full-service valet team, who will park your guests' cars and retrieve them at the end of the night, is only necessary if parking is scarce at your venue or if the lot is far away, so guests don't have to hoof it in formalwear and elderly guests can easily get there. If there's enough parking nearby, you can hire attendants that merely direct traffic, hold signs and guide drivers to empty spaces.
9. Skipping the Call Sheets
Type up "call sheets" with the names of all passengers, all pickup and drop-off addresses and times, detailed directions to and from each destination and alternate routes, as well as your or your wedding planner's (or another designated contact) cell number. Give your drivers this information in advance and also pass the sheet to a few point people in each vehicle. Then, the day before the wedding, call to confirm these arrangements with the car company. Trust us, it's better to be a type-A list maker now than have to deal with MIA limos later.
10. Leaving Out the Photographer
You're going to want shots of you two on the way to the ceremony and of your first moments as a married couple en route to the reception, so remember to save a seat for your photographer.
11. Overlooking Your Gifts
Although most guests will ship gifts directly to your home, it's still smart to designate one or two people to drive a larger car to the reception in case you need room to pack any gifts at the end of the night, as well as any leftover centerpieces, flowers, keepsakes or cake.
12. Forgetting About Your Dismount
Modes of transportation like horses and carriages, sporty cars, motorcycles, Vespas and tandem bikes are super-stylish, but they can potentially make an exit in wedding formalwear difficult. Getting out of a lowrider gracefully or moving on a two-wheeler with a long train and heels requires some skill. So before your day, think about how you'll make your exit from each vehicle. If you can practice while inspecting the car in person, even better.
For more transportation inspiration, see 17 creative takes on the getaway car.
Ready to search transportation companies in your area? Let's go!