12 Creative Ways to Photograph Your Wedding Rings

Show off your bands with these fun backdrop ideas.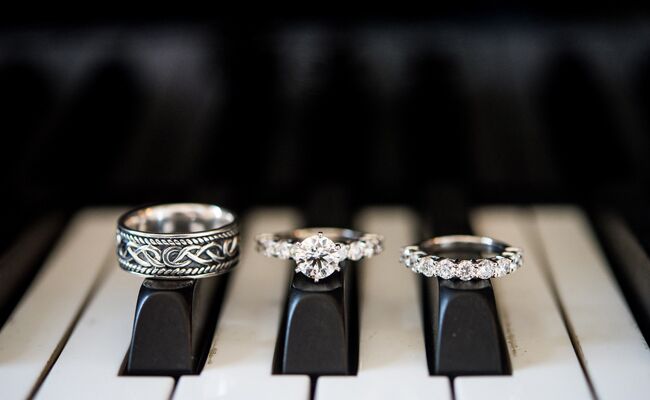 It's a given that there will be plenty of ring photos in your wedding album — particularly when you're exchanging rings at the ceremony. But if you want a clean backdrop to showcase your newlywed bands and your dreamy engagement ring, consider playful props like piano keys, flower petals, cupcakes or even golf balls to add some personality to your ring shot. Your photographer can help you stage a creative backdrop tying into your wedding theme, or you can borrow some ideas from these couples for out-of-the-box ways to display your ring.
On Top of Piano Keys
From the album: An Elegant Garden Wedding in River Vale, New Jersey
On a Fresh Peach
From the album: A Grande Ritz Palm Wedding in Duck, North Carolina
In a Cupcake
From the album: A Parisian-Inspired Wedding in Paterson, New Jersey
On Top of a Cookie Stack
From the album: A Lauxmont Farms Wedding in Wrightsville, Pennsylvania
On the Daily Newspaper
From the album: A Rustic Barn Wedding in Hudson, New York
In a Sentimental Jewelry Dish
On Your Bridal Flowers
From the album: A Classic Southern Wedding in Charleston, South Carolina
In Vintage Ring Boxes
From the album: An Elegant Garden Wedding in Louisville, Kentucky
On Nautical Rope
From the album: A Boston Yacht Club Wedding in Marblehead, Massachusetts
On a Monogrammed Golf Ball
From the album: A Classic Country Club Wedding in Haddonfield, New Jersey
On Mini-Skis
From the album: A Homestead Wedding in Glen Arbor, Michigan
On Your Cake Topper …Even if Your Cake Topper Is a Monster!





From the albums: A Plaza Hotel Wedding in New York City; A Summer Woodland Wedding in Portland, Oregon
The Knot and Simon G present Ring It On, a sponsored series full of creative tips and ideas for all things wedding rings. Visit Simon G. to view the latest collections.