19 Paper Anniversary Gifts to Celebrate Your Love Story
A great paper gift is worth its weight in gold.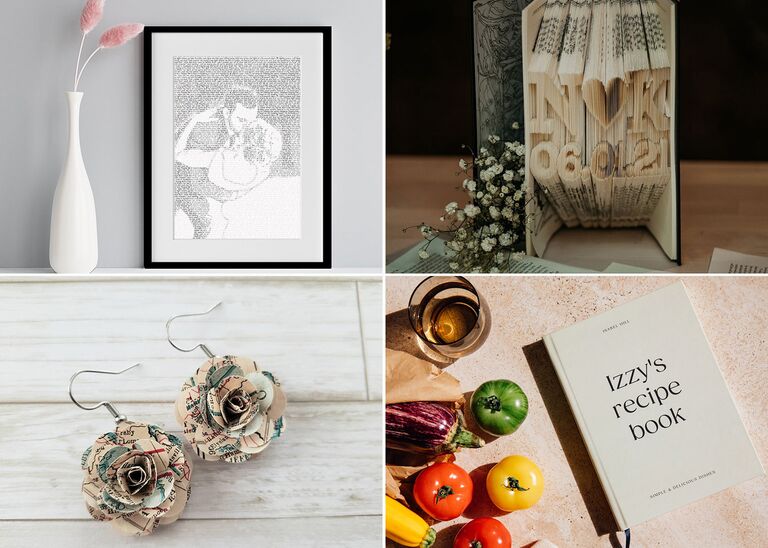 We have included third party products to help you navigate and enjoy life's biggest moments. Purchases made through links on this page may earn us a commission.
No matter what year of marriage you're actually paying tribute to on your anniversary, paper anniversary gifts will always make a serious impression on your partner. There's symbolism around it, too, with it being the designated material for one-year anniversary gifts. For us, a paper gift is layered with meaning—it kind of harkens back to childhood, when you'd make a keepsake for your favorite people on their birthday or another special occasion. Whether it was a paper airplane you engineered at recess, a paper-mache vase you crafted in art class or an origami animal you learned how to make on a playdate, these simple gifts felt steeped in sentiment. Even now in your adult years, creative paper anniversary gifts can bring up the same toasty feelings. So, if you're surveying one-year-anniversary gifts or just feeling especially drawn to a paper present to celebrate this year of marriage, you have our full support. Lean into it!
In this article:
Paper Anniversary Gift Meaning
Paper is a material with special meaning when it comes to anniversaries. Learn more about it below.
The Best Paper Anniversary Gifts
Here's the thing: You can give a paper anniversary gift whenever it feels right (well beyond the milestone, even). From hand-painted playing cards to a pet calendar showcasing your own fur baby, these are the paper anniversary gifts you'll want to bookmark for your next best day ever—one year from the day you said "I do" is just the first of many to come.
1. FOSTER Beach Playing Cards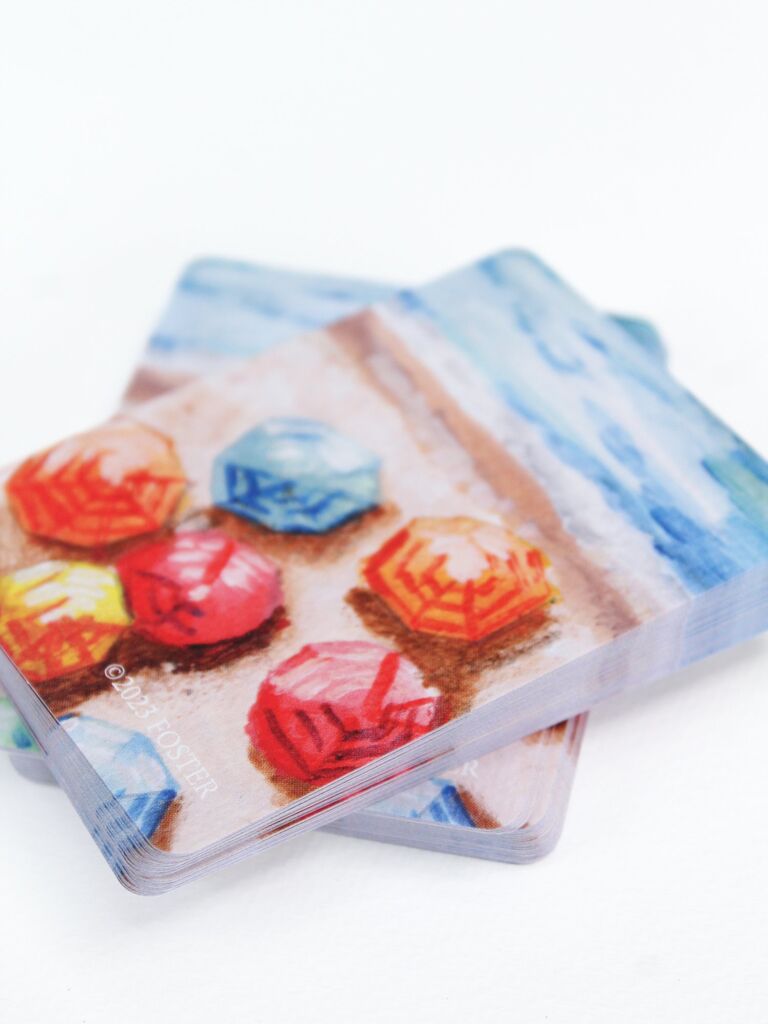 A deck of playing cards is a versatile and timeless paper anniversary gift, especially if the two of you are big fans of cozy game nights at home. And this hand-painted design, featuring playful motifs like a pineapple and cherry-topped Mai Tai, a pair of flip flops and a seashore covered in brightly colored beach umbrellas is a great choice if you'll be celebrating the occasion with your feet in the sand. Deal us in!
2. Ballard Decor Vintage Map Flower Earrings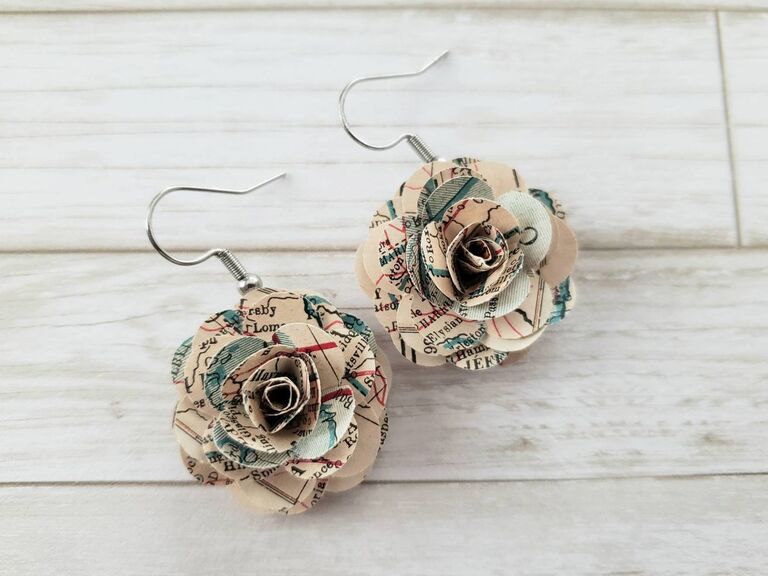 Decorative floral earrings make great anniversary presents, but earrings made out of paper? Well, they make a statement. If one of your favorite core memories in life together is the Americana-style road trip you took the summer before you got engaged, these earrings—crafted from vintage maps dating back to the 1920s in all their muted blues, blush, red and beige glory—are the perfect complement. They come in a precious gifting tin and the paper on the earrings isn't even glossed or sealed, which helps keep the original map texture intact.
3. Better Together Personalized Book of Love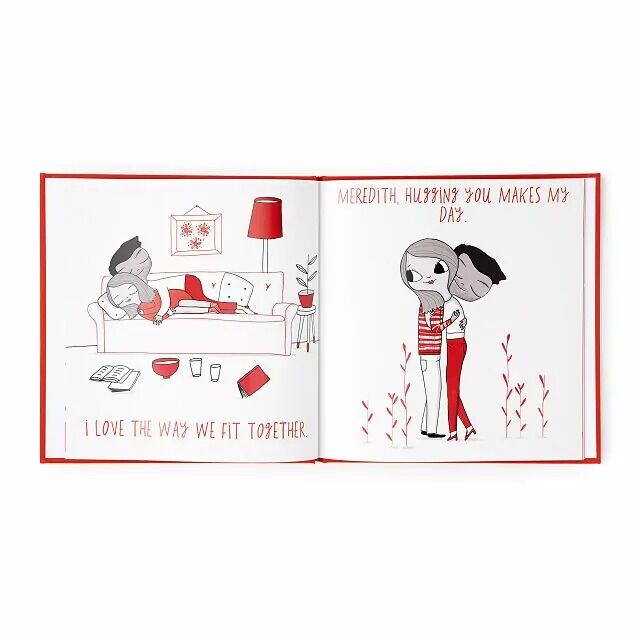 It's one thing to talk about your love story in the abstract, it's another when you can flip through a book dedicated entirely to your tale. You can design the cover art, personalize the characters in your likeness and reminisce about everything you do together—from the mundane to the extraordinary. Plus, who wouldn't be thrilled to receive tangible proof that you're truly "better together?"
4. Smartphone-Controlled Paper Airplane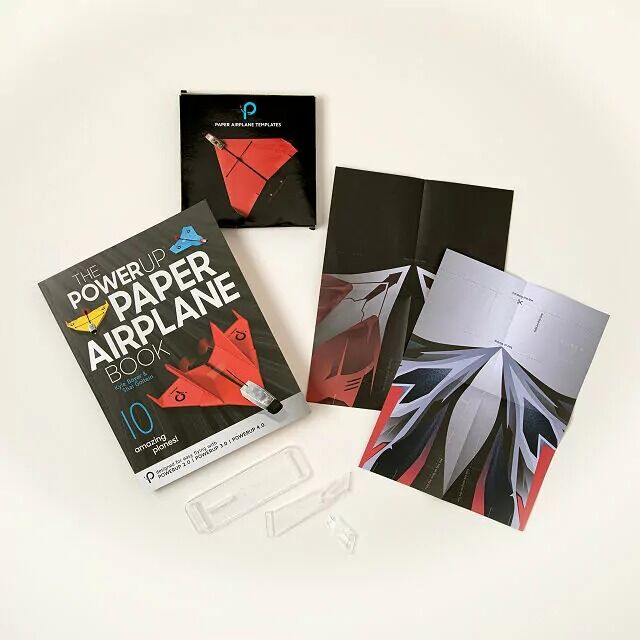 This is one of the coolest gift ideas ever, especially if your partner lives for childhood pastimes like constructing and flying paper airplanes (or if they're an aviator in real life). With this bundle, they can assemble their aircraft using the included paper airplane templates, attach the Bluetooth-enabled device, sync with the compatible app and then get ready for takeoff. Pro tip: Join them for the inaugural flight in the park, even if you'd rather be doing something else—because that's love.
5. FreshCut Paper English Daffodils Pop-Up Flower Bouquet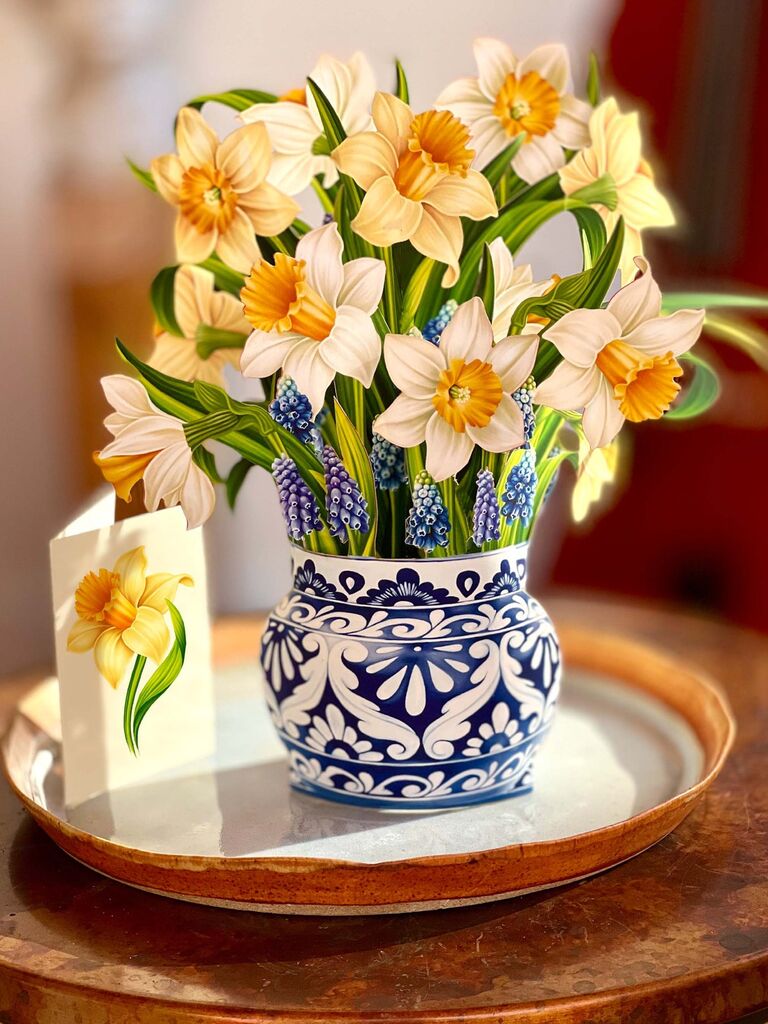 Whatever anniversary you're shopping for, you'll always spark a smile when a fashionable bouquet of flowers is involved. This deluxe English daffodil arrangement (a fitting choice, because daffodils symbolize resilience and success—two things a happy marriage needs on its side) is particularly noteworthy, because both the blooms and the corresponding card are 100 percent recycled paper. Bonus: For every bouquet sold, the brand will plant a tree in your honor.
6. Mix It Up: Date Night Generator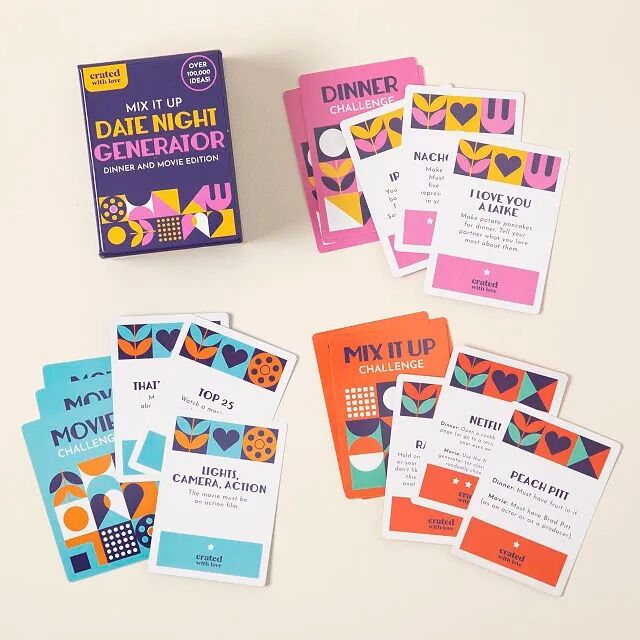 Whether you're newly married or have a decade or more of marital bliss under your belt, the classic dinner-and-a-movie date night idea still holds up. You just need to get creative with it to ensure the entertainment and the fare don't get stale. So, inspire your spouse with this cute date-night generator set that has you pick your dinner and movie from a stack of challenge cards. The "Mix It Up" pile throws a wrench into things, but that's where it gets fun.
7. Butterfly Tea Gift Set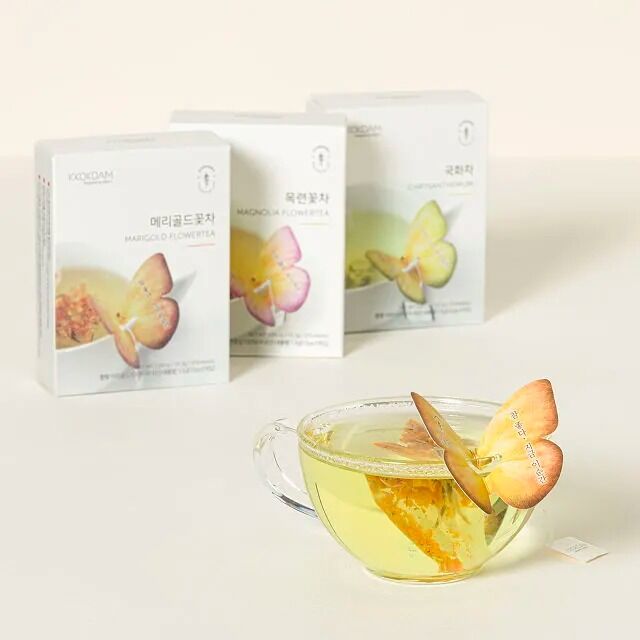 Butterflies symbolize new beginnings, so they're a perfect match for the paper anniversary gift theme. These adorable paper flutterbugs are affixed to floral (marigold, chrysanthemum and magnolia) tea bags, so whenever your spouse steeps a fragrant sip, they'll have a mariposa friend perched atop their teacup. It's a solid gift idea if your spouse enjoys afternoon tea time and they'll love it even more if you join them for a cup.
8. The Adventure Challenge…In Bed Scratch-Off Book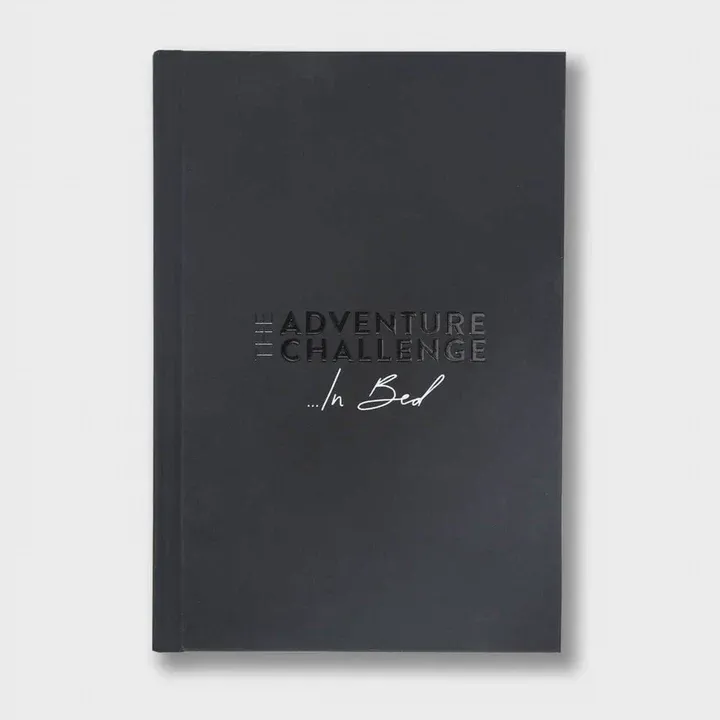 Paper gifts don't have to be boring, in fact, they can be downright titillating. If you've gotten familiar with The Adventure Challenge's best-selling bucket list-type scratch-off books, why not take things to a new level—lustful, perhaps? With each scratch-off activity, you can embark on new intimate adventures with your partner, from the comfort of your own bed. And if you want to get even crazier, grab the sex-coach-approved book with a camera, too. Do with that what you will.
9. Papier Joy Recipe Journal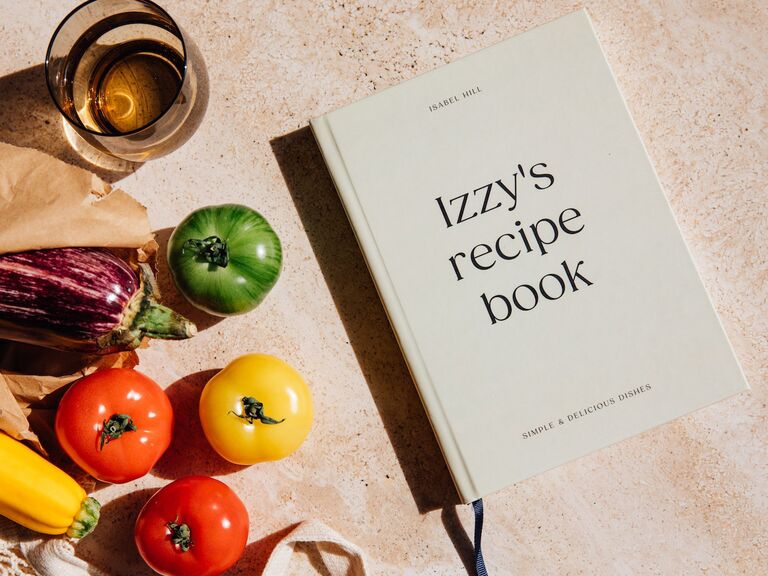 Have a spouse who thinks they're a "Top Chef" contestant? We see you and we raise you this recipe journal—a place for your culinary confidante to dream up new recipes and scribble down the secrets to their signature dishes (because someone needs to ensure they're preserved for future generations). And how's this for a delicious bonus? You can even personalize their book, with their name or what you call them, for free. Yes, they're going to eat it up.
10. Ticket Stub Diary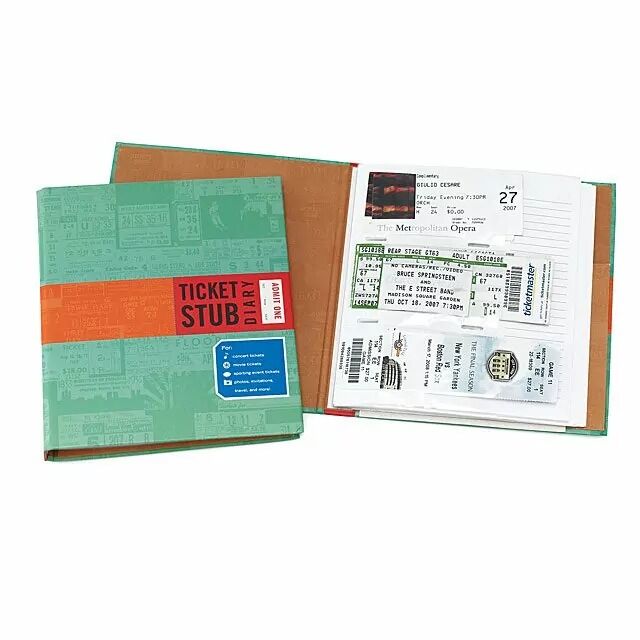 The best paper anniversary gifts are ones that you can enjoy together. So, show your love they're the "best thing that's ever been" yours with a ticket stub diary teaser. They'll open it, see the clear-sleeved ticket slots and know (or hope) that a companion concert gift is right around the corner. If that means you'll be taking them to see Taylor Swift (and Insta captioning with their favorite lyrics), color us impressed. A truly momentous end of an era.
11. Studio Jones First Dance Lyrics Art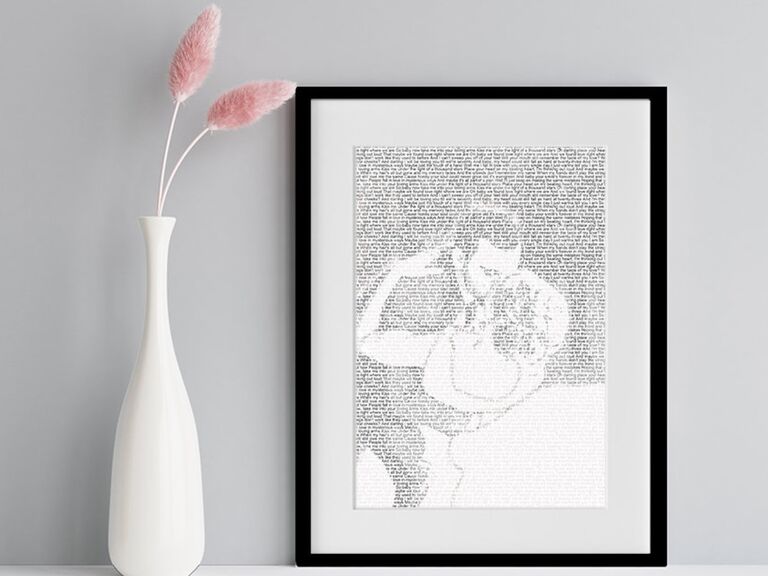 We love some wedding vow art, but we're even bigger fans of song lyric wall art, because songs have a way of staying in your head for a long time. If you know your (dance) partner still lights up whenever they hear your first dance song play on the radio, consider getting them this printed poster to matte, frame and hang. You'll purchase the listing, send your photo and lyrics to the Etsy seller and then get a proof to approve before it goes to print. (If the sappy stuff isn't your jam, you can also use a photo of their fave musician on tour, adorned with lyrics they love.)
12. Books and Timbers Bookami Folded Book Art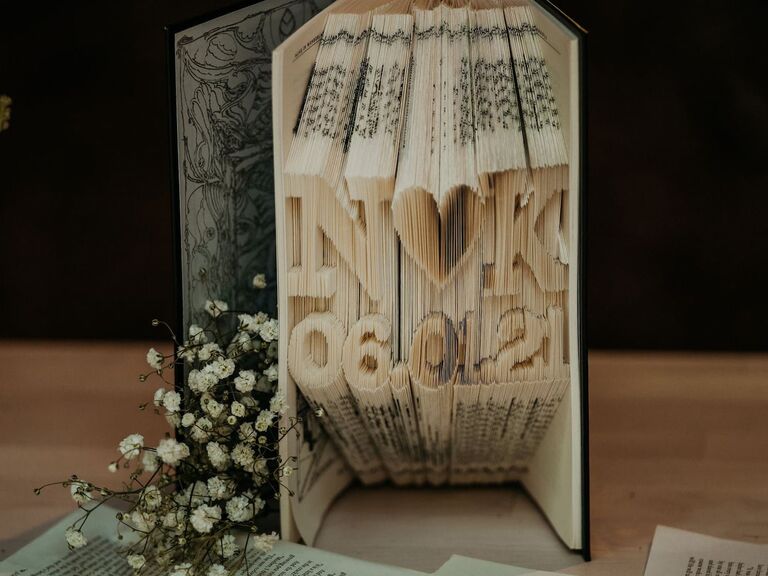 When you're married to a bibliophile, a paper anniversary gift will always be one for the books. So, think long and hard about what you want folded into your "bookami," whether it's their name or your wedding date, and then decide where you'll want it displayed. We love this Etsy shop, because you can go with a generic hardback novel OR you can make a special request and have the artist source your book of choice. You'll need to pay the standard rate plus the price of the book, but it's well worth it if you know your partner will appreciate it.
13. The Minted Coloring Book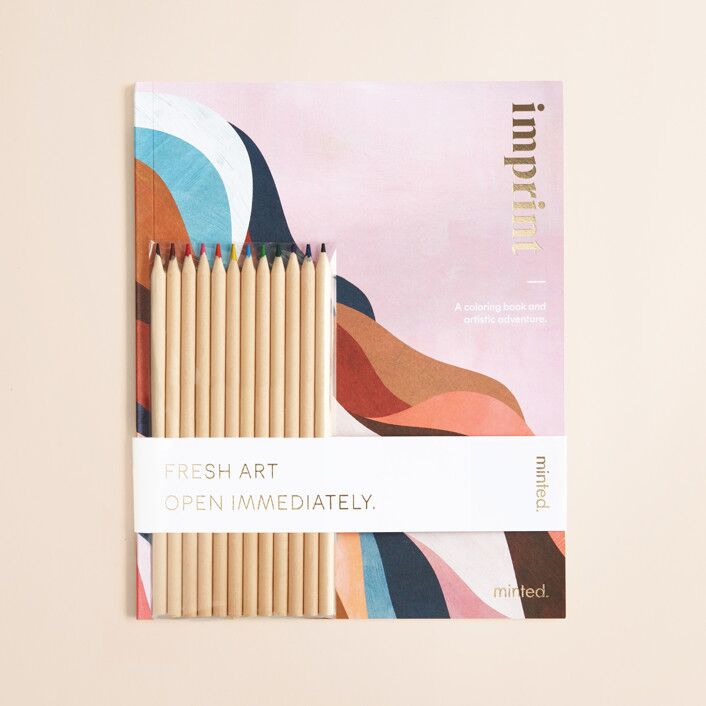 We love the unique illustrations featured in this adult coloring book. Not only are the fill-in pages embellished with thoughtful accents like gold foil, they're also perforated for easy rip-outs. The natural wood colored pencils don't hurt, either.
14. Dear Elouise Custom House Illustration Stationery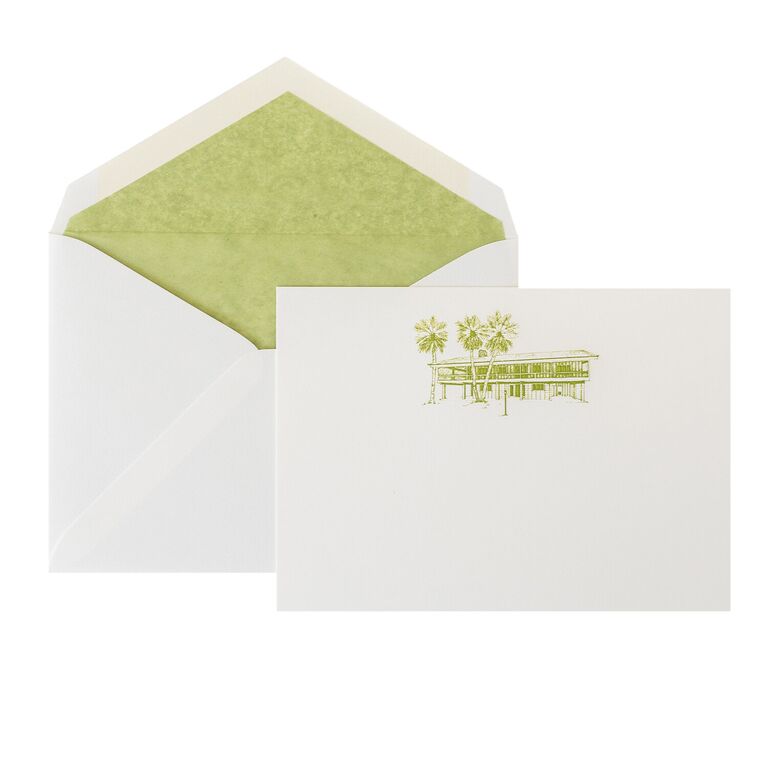 Like we said before, paper anniversary gift ideas may be simple, but they hardly disappoint when sentiment is concerned. Personalized stationery kind of represents adulthood to us and this set is particularly meaningful because you can have an illustration of your home engraved or pressed on top of the cards—in a plethora of ink colors and metallics. Brent Ellis and her talented studio team serve clients all over the world, creating cohesive collections of paper for life's most treasured moments and an anniversary is certainly one of them. They're a splurge, but are worth it for the enthusiastic letter writer
15. Murder Mystery Puzzle Book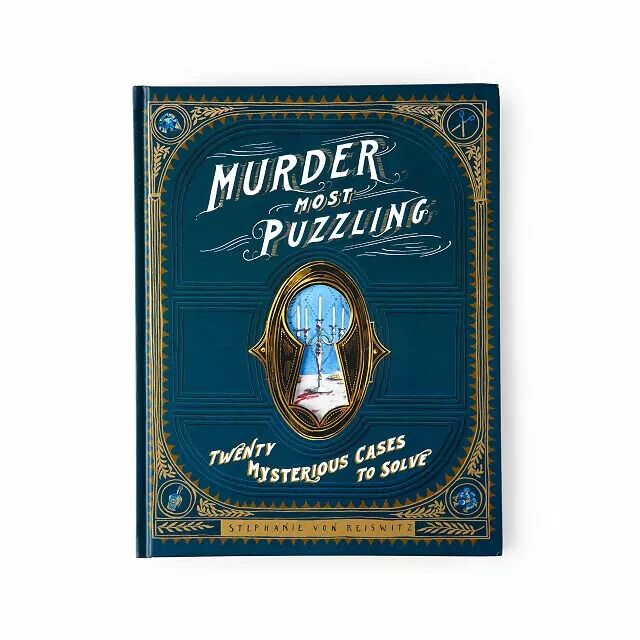 Yes, anniversary gifts that can be shared are wonderful, but they don't have to be. In fact, sometimes the perfect gift is one that your better half can enjoy all on their own. If your honey happens to be a whodunit whisperer, then treat them to a little "me" time with this book of "20 diabolical cases." To crack them, they'll need to put their very best puzzle-solving skills to task.
16. Give a Laugh Drawings Hand Drawn Caricature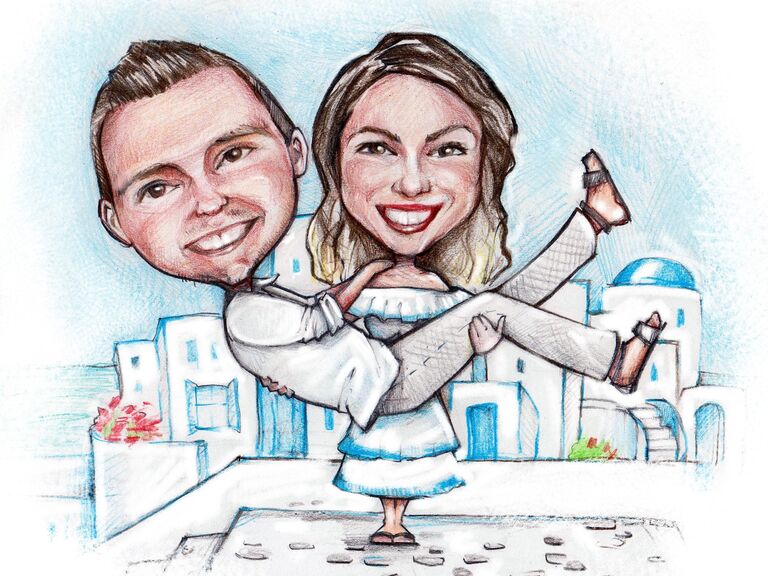 How about a humorous paper anniversary gift? Take a picture of you and your spouse or use one of their hobbies or all-time-favorite franchises ("Star Wars," the New York Yankees) for fodder and commission a custom caricature portrait. This designer will send you a mock of the drawing first to collect any feedback for the final rendering and then you'll get a digital, high-resolution image file back in seven to 10 days. Just be warned: This might become their new profile pic.
17. Anthropologie Paper-Mache Decorative Vessel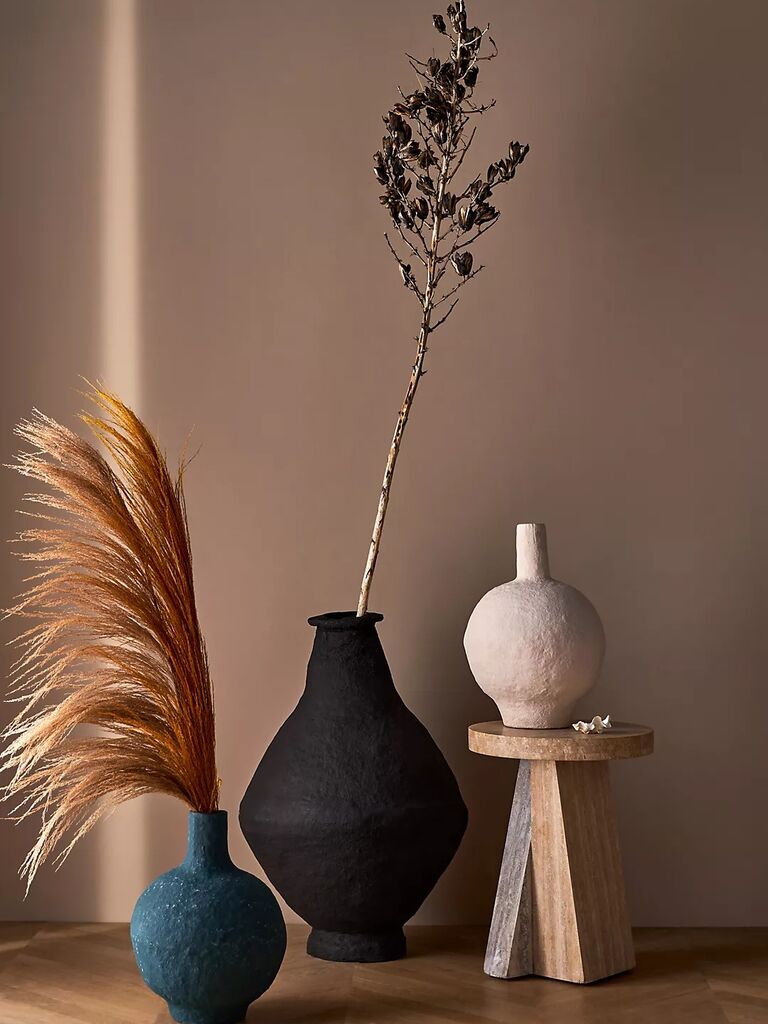 Alright, so this one isn't exactly paper, but we'll still allow it, because we'd gladly accept it as our own paper anniversary gift. Crafted from delicate paper-mache, this eclectic vase can vibe on its own or be filled with dried stems. Who knows, such elevated art might even inspire you to commit to that couples' pottery class they've been bugging you about…
18. Paper Insert Personalized Cuff Links
Chic cuff links are a great gift for any groom, but if you're already married, you can still spiff up your spouse with a pair of customized with your wedding song lyrics, your favorite quote or words the two of you live by. Decide between antique silver or gunmetal jewelry, choose your text style (black or white script or type) and then—once your order is placed—send the seller your "words" through the Etsy chat function, which will be printed on quality photo paper. All that's left to do is make reservations for a fancy anniversary dinner, where semi-formal dress is the standard.
18. Paper Culture Pet Calendar With Stand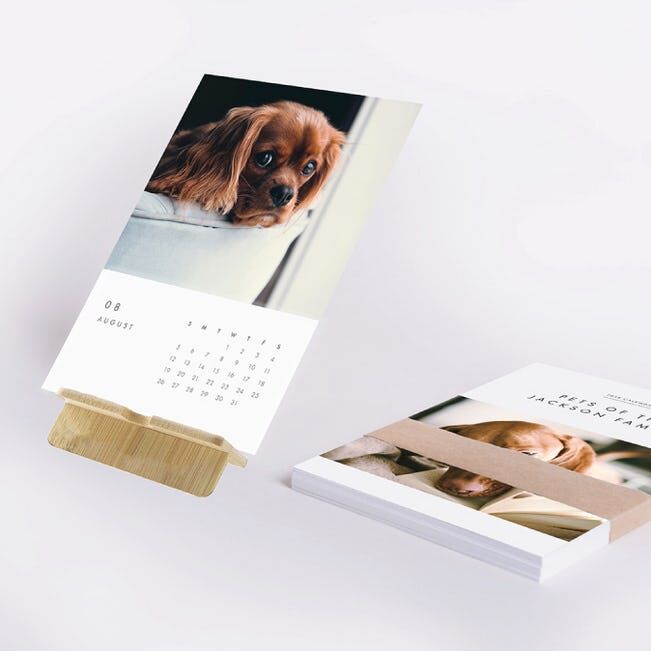 If you suspect your spouse loves your pet more than they love you, you can't go wrong with a calendar featuring ALL the puppy pics. Every pet calendar comes with its own bamboo stand to display it wherever they want (their desk or in the kitchen). The 12 calendar cards are printed on 100 percent post-consumer recycled paper and, as an extra perk, a tree is planted with every order.