19 Alexandrite Engagement Rings With Nontraditional Flair
Roses are red, violets are blue. Alexandrite can be both.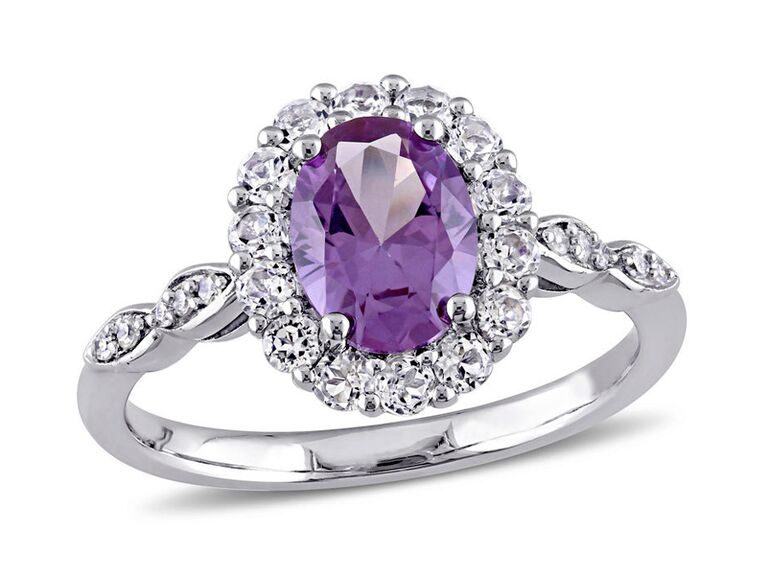 We have included third party products to help you navigate and enjoy life's biggest moments. Purchases made through links on this page may earn us a commission.
An engagement ring is forever, so you should choose one that continues to surprise and excite you even after years of wearing it daily. The solution? Pick a sparkler with a stone that changes its color throughout the day. An alexandrite engagement ring checks that box and also symbolizes good luck and love.
Genuine alexandrite is rarer than diamonds, making them an extra-special choice for an engagement ring. The gemstone's characteristic blue-green to red color change made it especially popular in Russia in the 1830s, after it was discovered in the Ural Mountains. Today, most alexandrite used in jewelry is lab-grown or sourced from Brazil and Sri Lanka. The unique gemstone is also the birthstone for June, along with moonstone.
Below, check out our guide to choosing an alexandrite engagement ring—plus editor-approved bling you can add to your cart right now.
What Is Alexandrite?
Alexandrite is a variety of the mineral chrysoberyl. First discovered in the Ural mountain range of Russia, the gemstone was named after Czar Alexander II, the heir to the throne at the time. Alexandrite became a symbol of Russian royalty because of its rarity (the Ural deposits have since been depleted) and also because two of the stone's distinct colors happened to be the colors of Russia's military uniforms at the time—red and green.
Today, alexandrite is found in minimal supplies in Tanzania, Brazil, Sri Lanka and Zimbabwe, making it the rarest gemstone in the world. The price of a single-carat genuine alexandrite can reach up to $15,000. Because of that, jewelers mostly use lab-grown gemstones that have the same properties as natural alexandrite. These lab-created stones often have a blue-to-purple color range making them an excellent option for to-be-weds looking for a colorful engagement ring.
What to Look For in an Alexandrite Engagement Ring
Color—or its variety— is the most important factor when shopping for an alexandrite wedding ring. The most exceptional examples of this gemstone look emerald-green in direct sunlight and change to dark ruby red under incandescent light. For a stone to be classified as an alexandrite, it needs to change its color by at least 30 percent. That means that not every color change chrysoberyl is an alexandrite, so make sure you buy your engagement ring from a trusted seller. Synthetic alexandrite can also be pricey, as it can exhibit the same dramatic color-change characteristics of genuine alexandrite. Have a professional gemologist look at your stone before purchasing an alexandrite engagement ring so you know exactly what you're buying.
Why Choose an Alexandrite Engagement Ring
Alexandrite make excellent engagement ring stones because they're durable and can stand up to daily wear and tear; they score 8.5 on the Moh's Hardness Scale, just below sapphires and rubies, which are a 9. Jewelers also love them because they can be mounted on to almost any setting without the fear of cracking or chipping as is the case with more delicate stones.
Cleaning your alexandrite engagement ring is also easy—mild soap and water are usually enough. Still, if you'd like to go the extra mile, the stone can also handle the occasional ultrasonic cleaning.
And of course, the June birthstone's color-change characteristics will certainly please nontraditional to-be-weds looking for an alternative to the classic white diamond engagement ring.
Alexandrite Engagement Rings You Can Buy Now
Feeling an alexandrite engagement ring now? Shop editor-approved styles you can buy right now.
Allurez Vintage Alexandrite & Diamond Engagement Ring Bridal Set 18K White Gold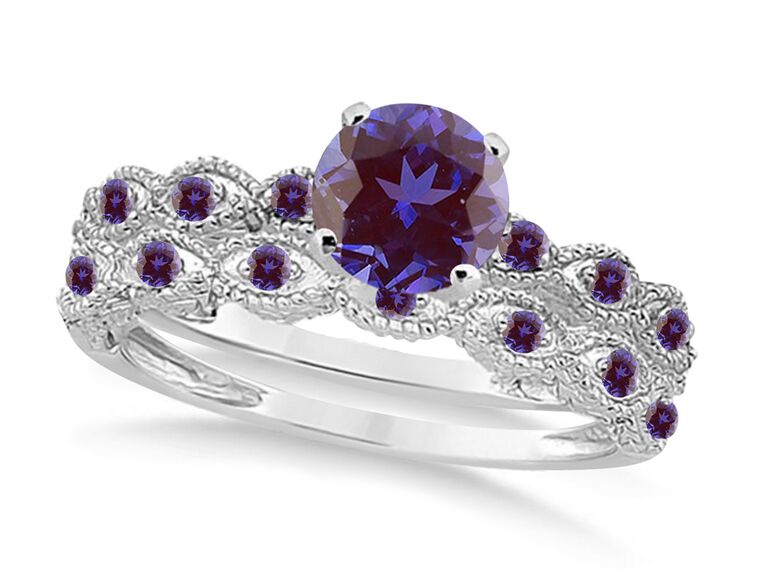 This bridal set is all about color. A round-cut natural alexandrite stone is accented by smaller alexandrite for a seriously vibrant effect.
Brilliant Earth Coastal Ombré Ring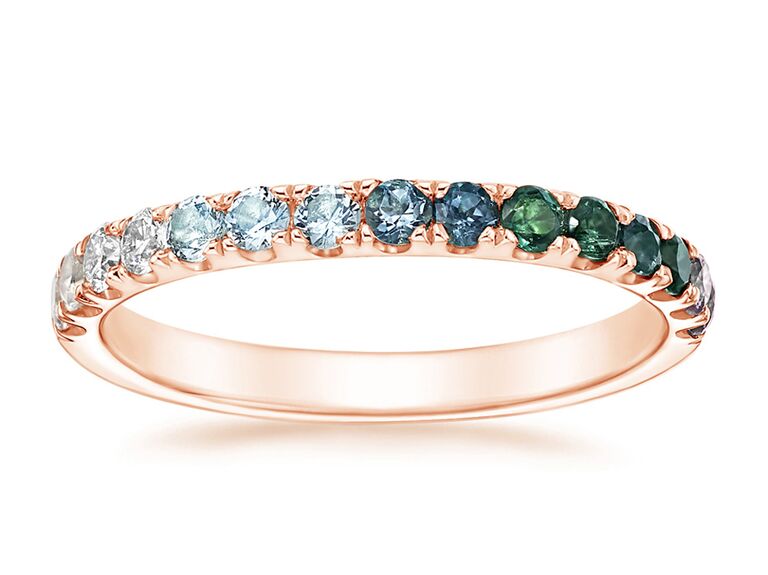 You don't have to opt for a traditional engagement ring. This rose gold wedding band catches the eye with the ombré effect created by 15 gemstones, including diamonds, alexandrite and sapphires. It's a striking enough to wear on its own or add to your wedding stack.
Chatham Alexandrite Ring
This sculptural pear alexandrite engagement ring is a no-brainer for the alternative bride. The über-modern setting consists of a pear-cut center stone set between two bypassing white gold ribbons encrusted with lab-grown white diamonds.
Gemvara Adele Ring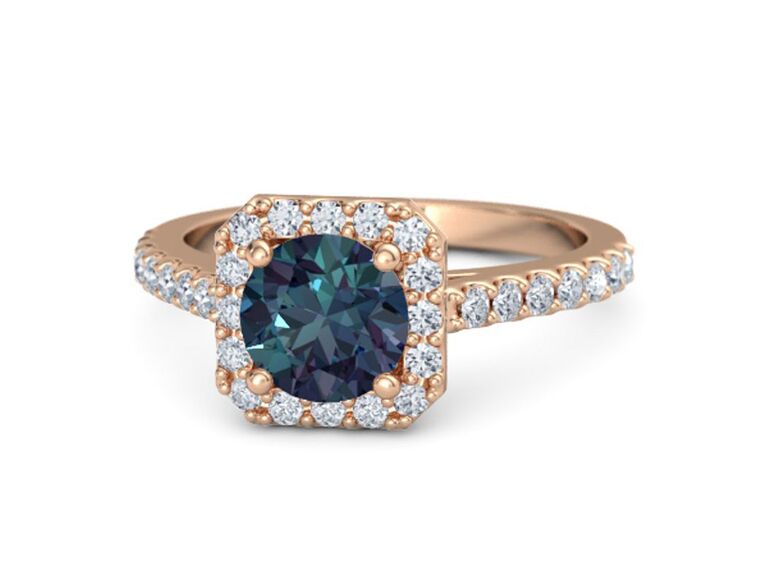 This stunning alexandrite diamond engagement ring brings the bling. A glam diamond halo and pavé rose gold band enhance the sparkling lab-grown alexandrite center stone.
Zales Pear-Shaped Lab-Created Alexandrite Wide Filigree Ring in 10K Gold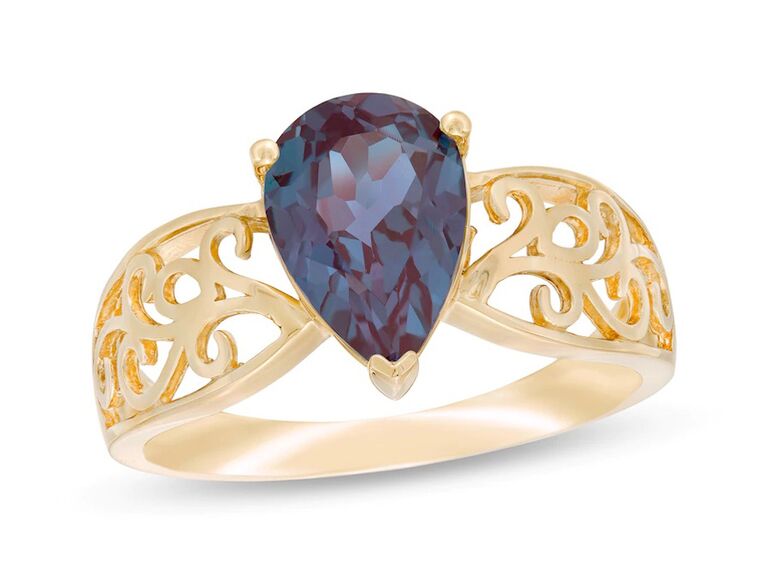 Boho brides, take note. A dazzling solitaire pear-cut alexandrite stone in an elaborate yellow gold setting with filagree details has a totally whimsical vibe.
Staghead Designs Starla 14K Gold Alexandrite Starburst Engagement Ring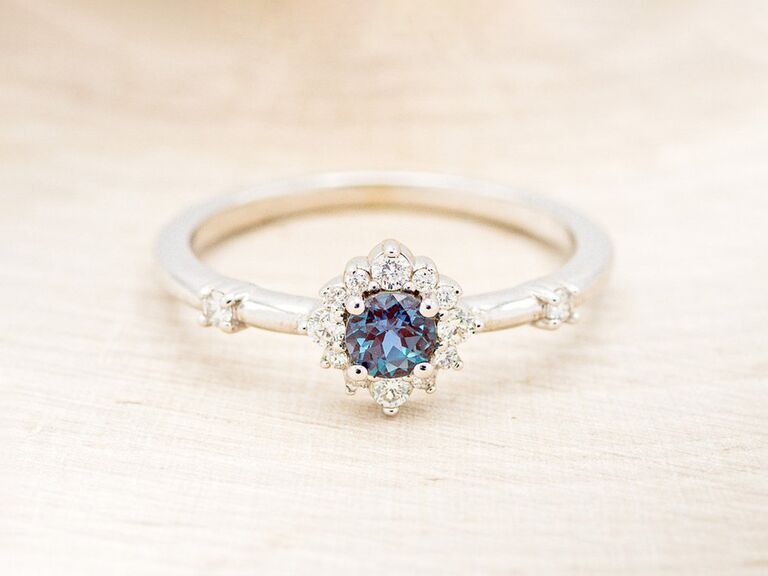 This elegant ring has serious heirloom quality. A round lab-created alexandrite stone surrounded by an ornate starburst halo gives a nod to a bygone era.
Gemvara Double-Edged Ring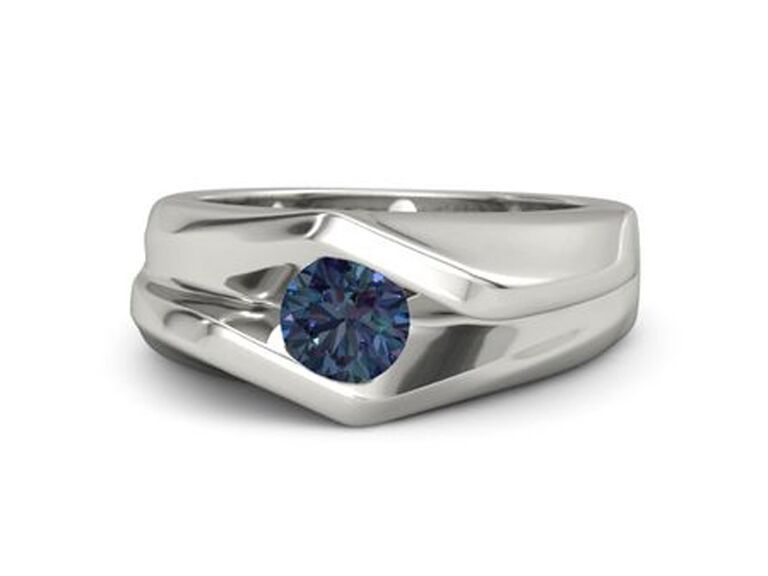 This contemporary alexandrite engagement ring has a 6.5 mm round center stone accented by the two jagged edges of the platinum band. Another plus? The modern design can be customized to your gemstone and metal preferences.
Helzberg Diamonds Lab-Created Alexandrite & White Sapphire Ring in Sterling Silver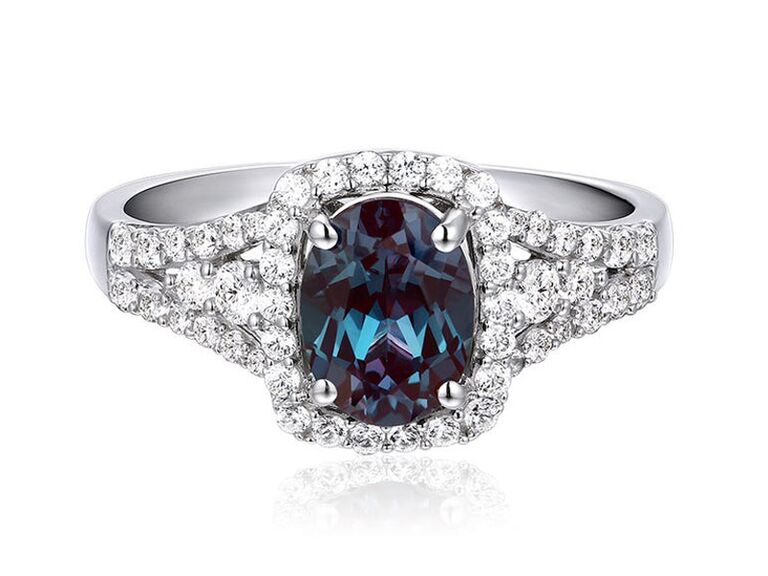 A stunning and affordable option, this alexandrite engagement ring puts on quite the show. An oval center stone is accented by more than 40 lab-grown white sapphires. The gemstones are set in a sterling silver band.
Capucinne Dora Alexandrite Ring Set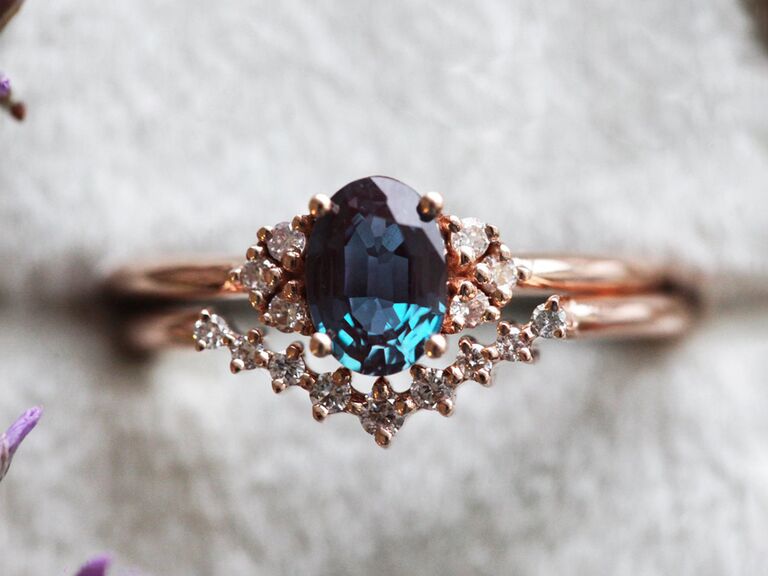 This alternative bridal set is the stuff of dreams. The engagement ring features an oval-cut alexandrite framed by diamonds, while the curved wedding band perfectly complements the ring and adds just the right amount of sparkle.
Gemvara Satin Finish Jet Band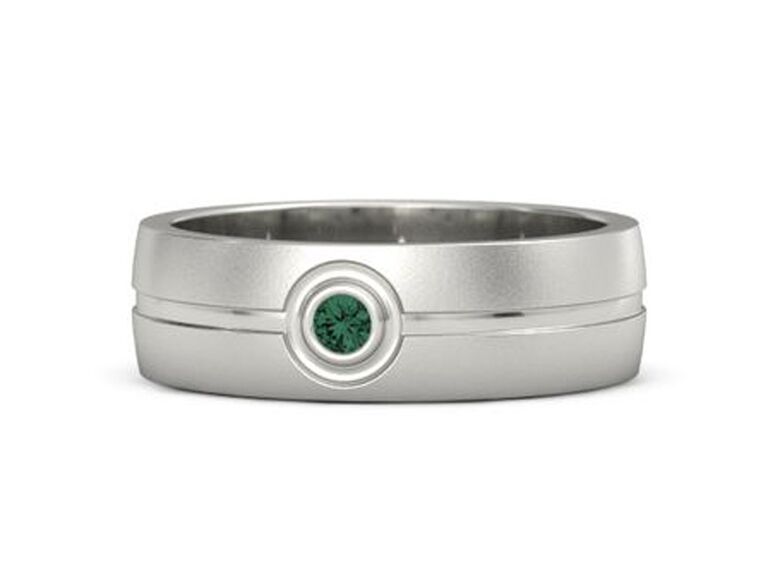 The pièce de résistance of this elegant men's engagement ring is a 2.7 mm lab-created round alexandrite gemstone highlighted by a polished midsection of the matte platinum band.
Zales Oval Lab-Created Alexandrite, White Topaz and Diamond Accent Frame Ring in 14K White Gold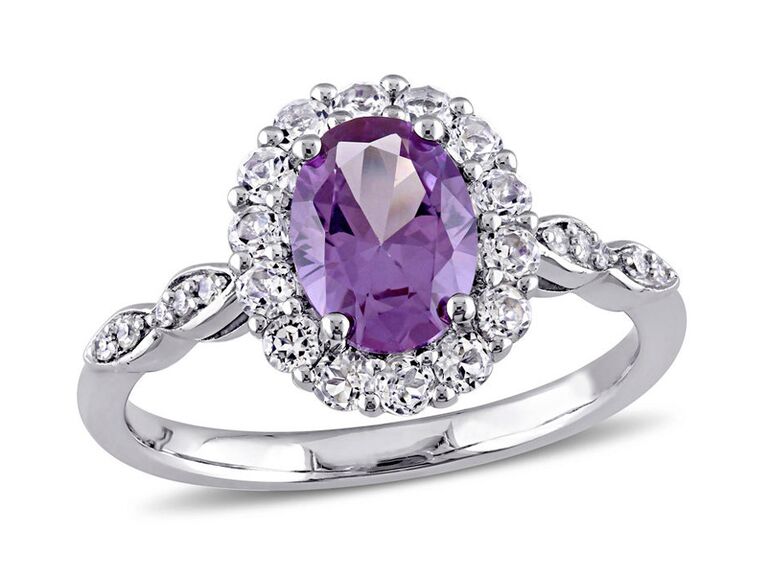 Get ready to turn some heads. A sparkling halo of white topaz gemstones encloses an oval-cut lab-created alexandrite. The ring's shank is adorned with marquise-shaped frames set with tiny diamonds for even more bling.
Brilliant Earth Three Stone Trellis Ring With Pear Alexandrites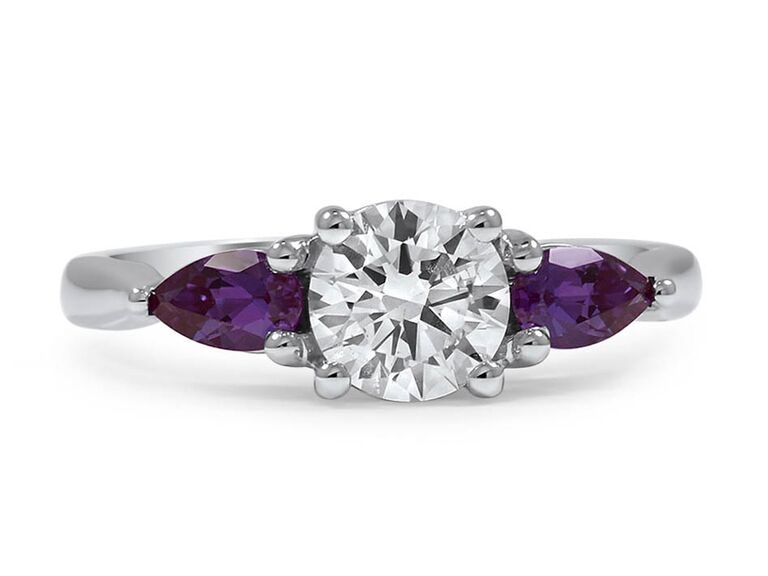 Two pear-cut lab-created alexandrite flank a white diamond for a dazzling effect. Bonus: This ring style can be fully customized to your gemstone and precious metal preferences.
Gemvara Candace Ring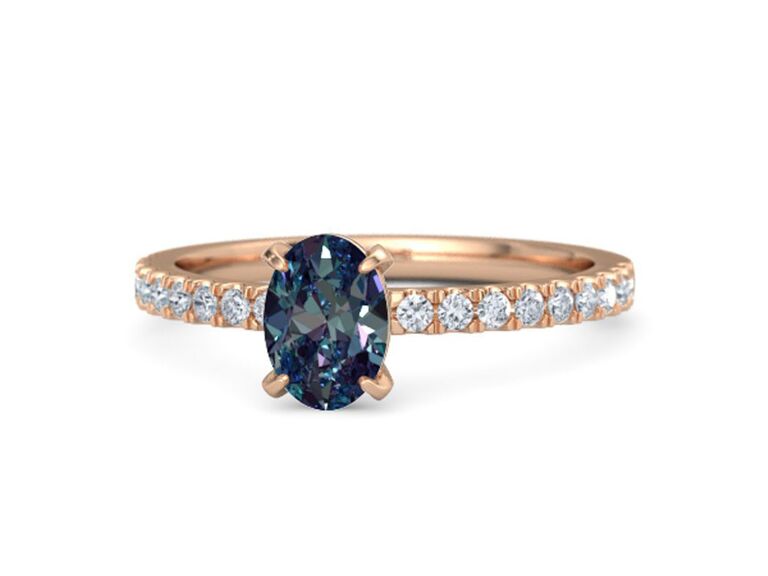 If simplicity is your thing, say "yes" to this oval alexandrite ring that features a lab-grown center stone and a delicate diamond-encrusted rose gold band.
Capucinne Daphne Art Deco Baguette Engagement Ring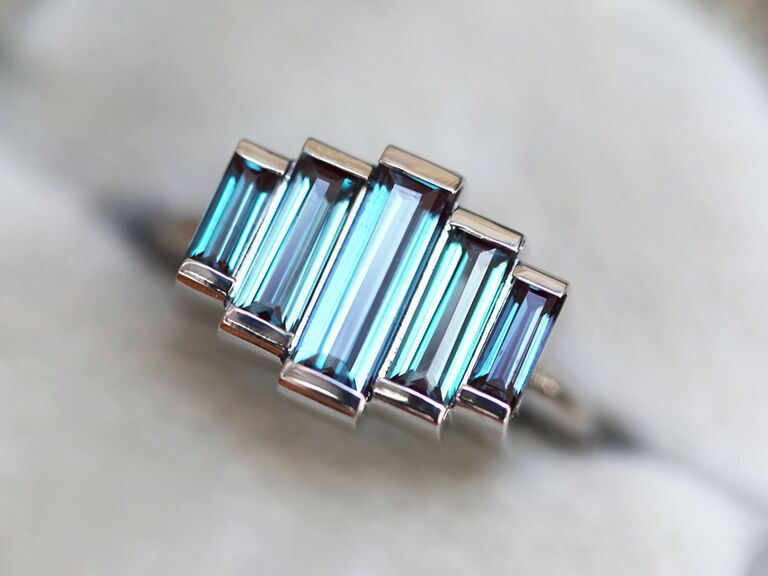 Five baguette-cut lab-grown alexandrite gemstones arranged vertically in a prong setting make for a glitzy, art deco-inspired design. The ring can also be customized in various precious metals—here, it's shown in white gold.
Gemvara Lotus Ring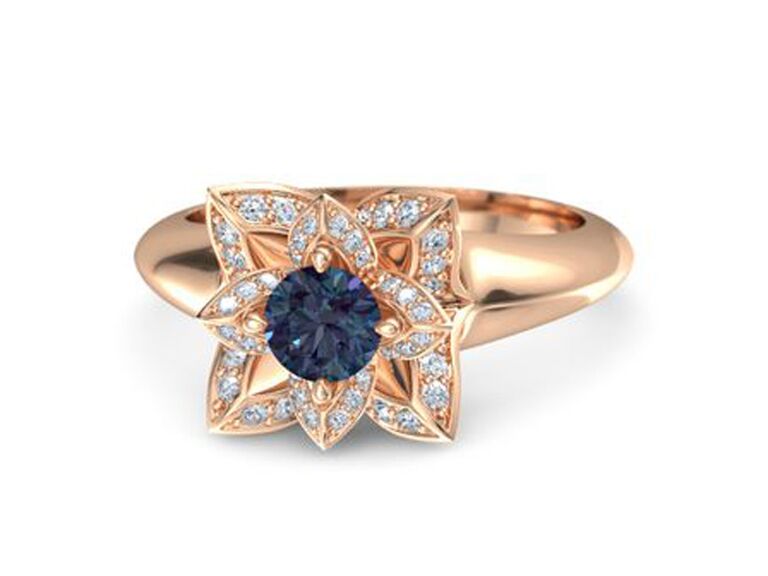 The Lotus represents rebirth and transformation, so it's a perfect symbol of you and your partner's new life together. This round-cut alexandrite engagement ring takes inspiration from this ancient flower and features rose gold 'petals' with diamond accents and a polished rose gold band.
Zales Oval Lab-Created Alexandrite and Diamond Accent Bypass Swirl Shank Ring in 10K White Gold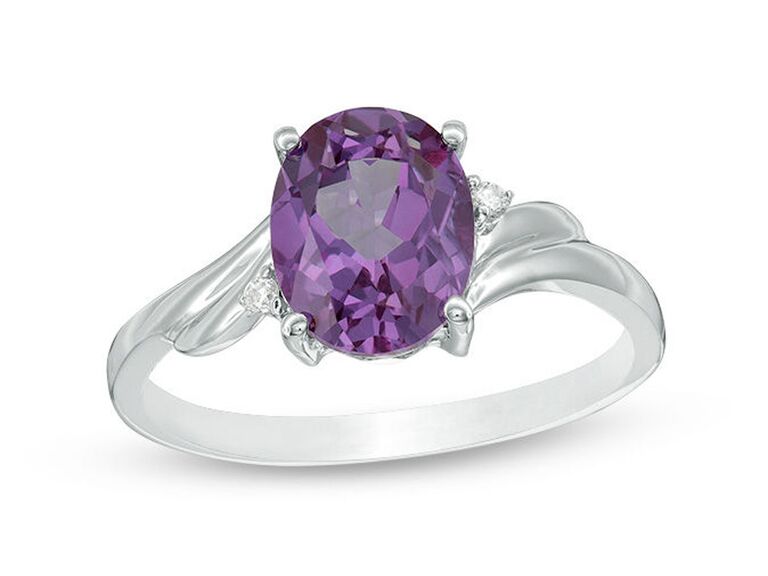 Sometimes less is more. A streamlined bypass setting with petite diamond accent stones puts all the focus on a gorgeous oval-cut alexandrite center stone.
Staghead Designs Emerald Cut Chatham Alexandrite Asymmetrical Art Deco Engagement Ring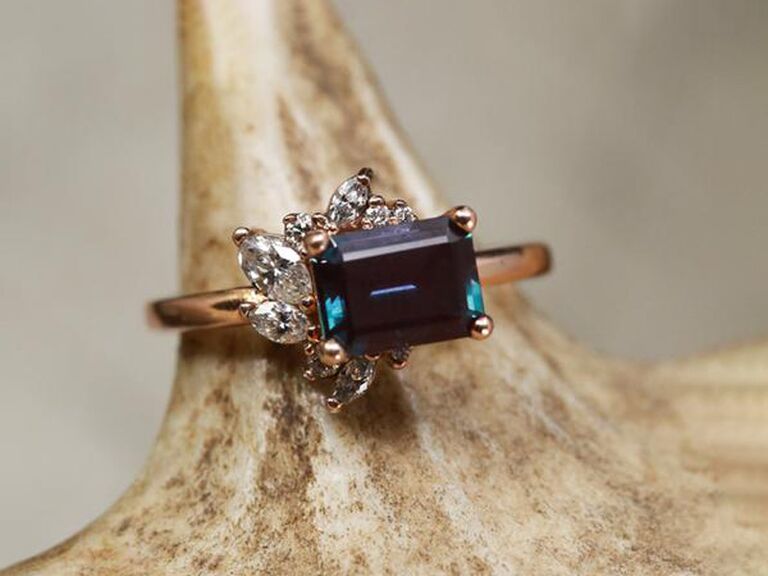 In the market for a nontraditional engagement ring? Check out this stunner with a lab-created Chatham alexandrite accented by an asymmetrical arrangement of marquise diamonds. The vintage-inspired design is complemented by a delicate wedding band in 14K rose gold.
Gemvara Emerald Isle Ring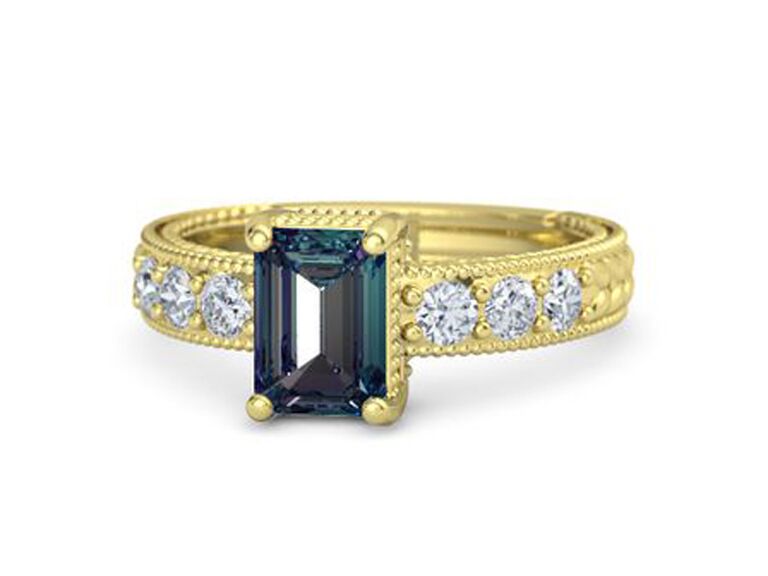 An emerald-cut solitaire and ornate setting give this gorgeous alexandrite engagement ring an antique feel. The center stone is accented by six round moissanites set along the shoulders of a yellow gold band with braided motifs.
Three Stone Alexandrite Engagement Ring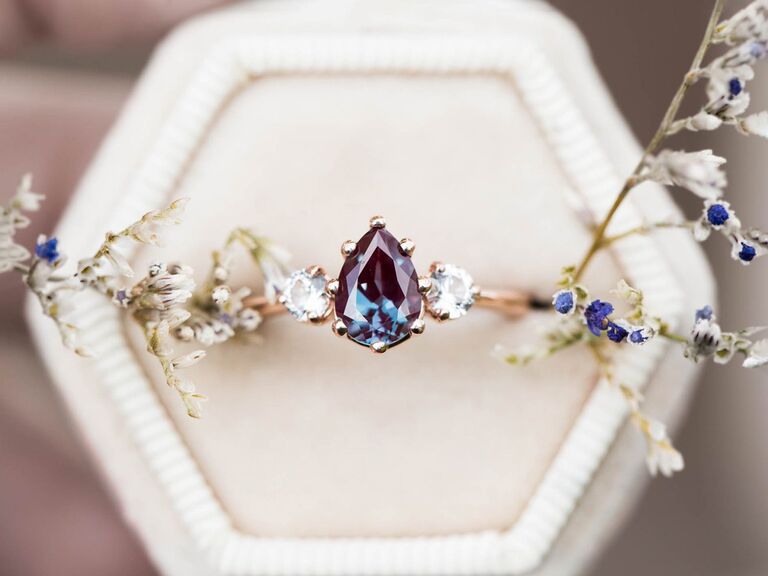 Is boho bling your thing? Check out this feminine three-stone engagement ring that features a pear-cut Chatham alexandrite and two round white sapphire side stones. The three-stone setting is a beautiful symbol of you and your partner's past, present and future.